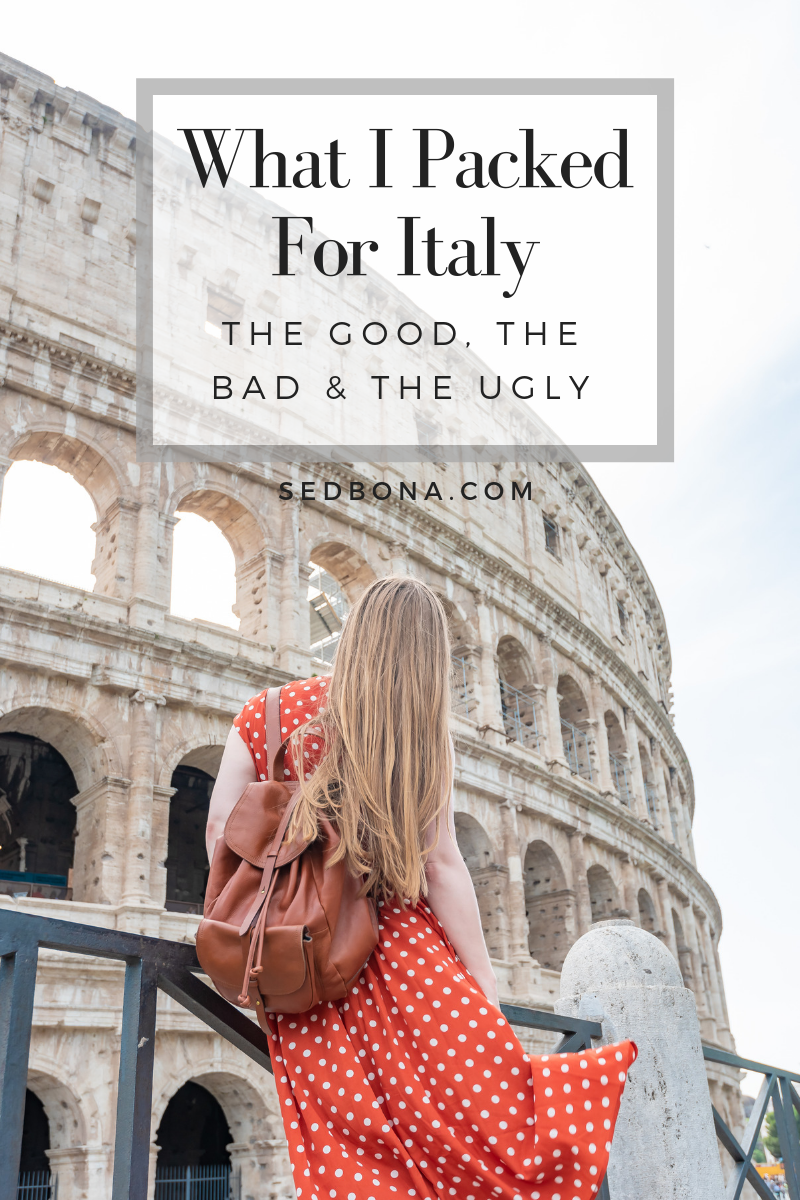 It's only been a few days since I've been home from Italy but I'm already pining to go back. It hasn't helped that Chicago has had some of the dreariest summer weather I can ever remember but can you really blame me?
Few places speak to your soul the way Italy does.
The people, the culture, the history, and THE FOOD… a few short days can give you a lifetime of inspiration!
And inspired I am! I have so much to share with you from my trip food-focused through Umbria and my first trip to exciting Rome. But for now, I wanted to share with you an honest, in-depth look at what I packed in my carry-on for this 11-day journey through Italy. The good, the bad, AND the ugly…
What I Packed for Italy
The Good, The Bad And The Ugly
---
What I DIDN'T Pack For Italy:
Jeans — While jeans are common in Italy, they aren't nearly as common as they are in most parts of the world. So I opted for breezy culottes and dresses and left my heavy, bulky jeans at home. I saved space in my suitcase for souvenirs and managed to blend in better with the locals — win-win.
Jumpsuits — God bless any woman who travels in a jumpsuit but I just cannot do it. While I love the look and am always eye-ing cute jumpsuits when I travel, I know well-enough that even expensive restaurants in Rome can have… unsanitary bathrooms. I like to avoid the struggle and trouble of completely stripping down every time I need to answer nature's call so I leave my jumpsuits at home.
My Engagement Ring — I learned this trick from my grandmother and I almost never travel with my "real" engagement ring. I travel with a nice fake I inherited from her when she passed. It keeps "some" of the Italian men at bay (it's certainly preferable to not wearing any wedding bands at all) but isn't valuable enough to sweat over when it gets dirty or lost.
Sneakers — I probably would have brought one pair of sneakers to Italy if I'd traveled there during the colder months but in summer, you won't need them. I brought only sandals and didn't miss my sneakers once. And I managed to avoid the American cliché of wearing sneakers in Europe too. Even chic, designer sneakers peg you instantly as a tourist in Rome!
What do you pack when you travel to Italy?