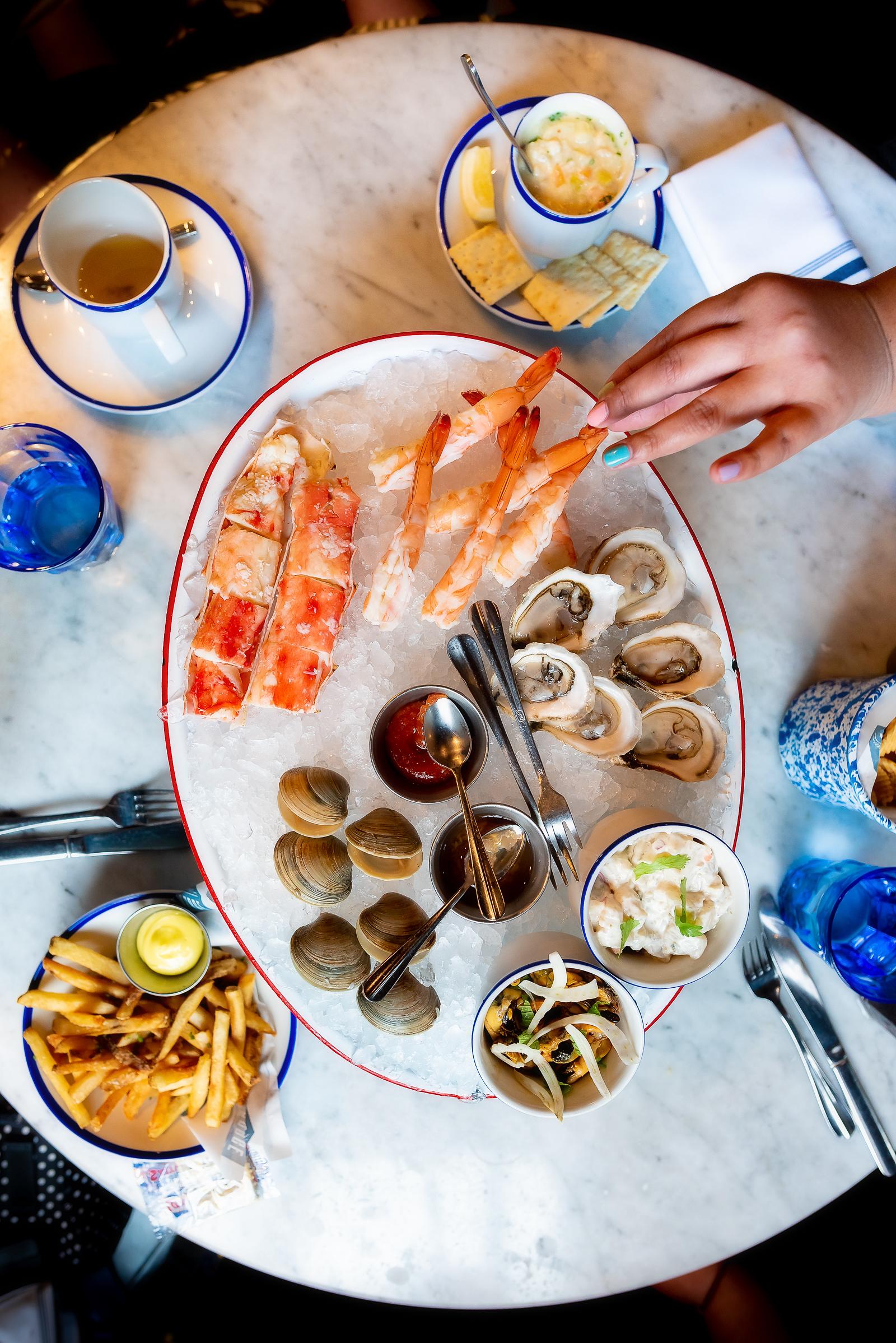 One of the things I love most about living in Chicago is our amazing food scene.
Well, actually THE thing I love the most about living in Chicago.
But, despite my best efforts, occasionally a delicious restaurant sits on my "must visit" list for months, even years.
And then I trip inside and kick myself for not making it there sooner.
Cold Storage is just such a place.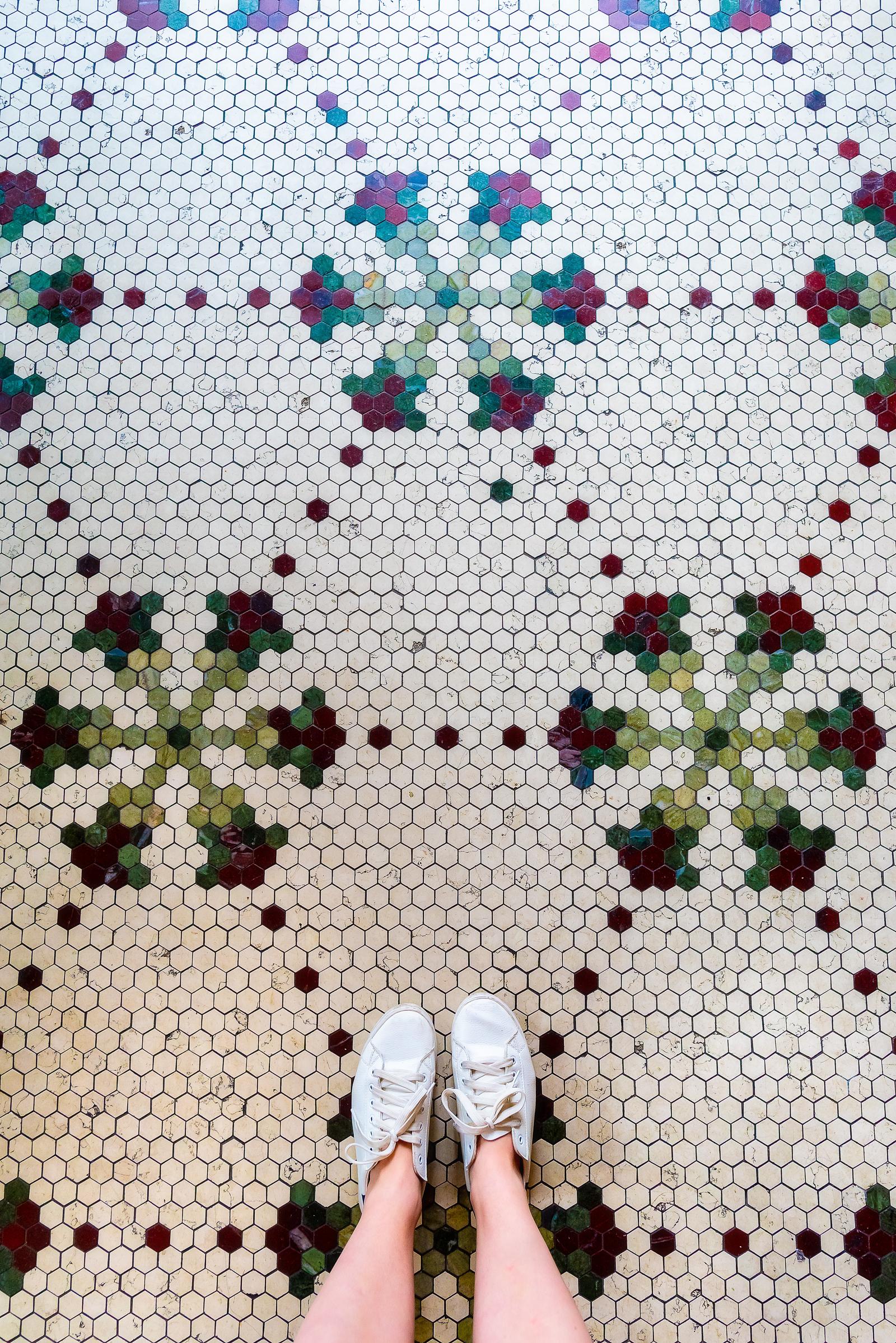 From the moment you walk in — onto the chic marbled floor tiling — you'll fall in love. As did Starr and Gigi when we walked in for lunch last month.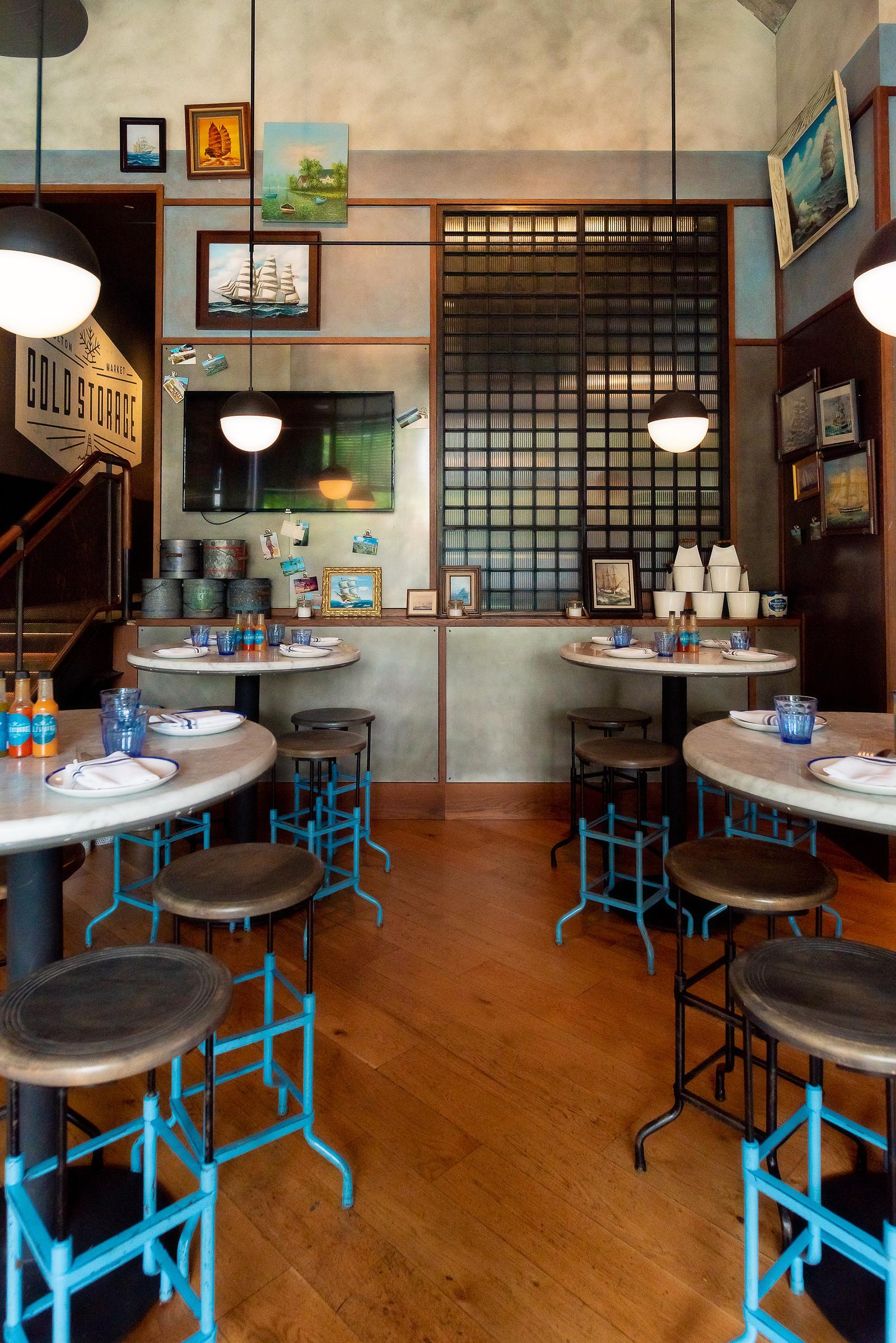 The space has a hip, urban-meets-New England Seafood House vibe.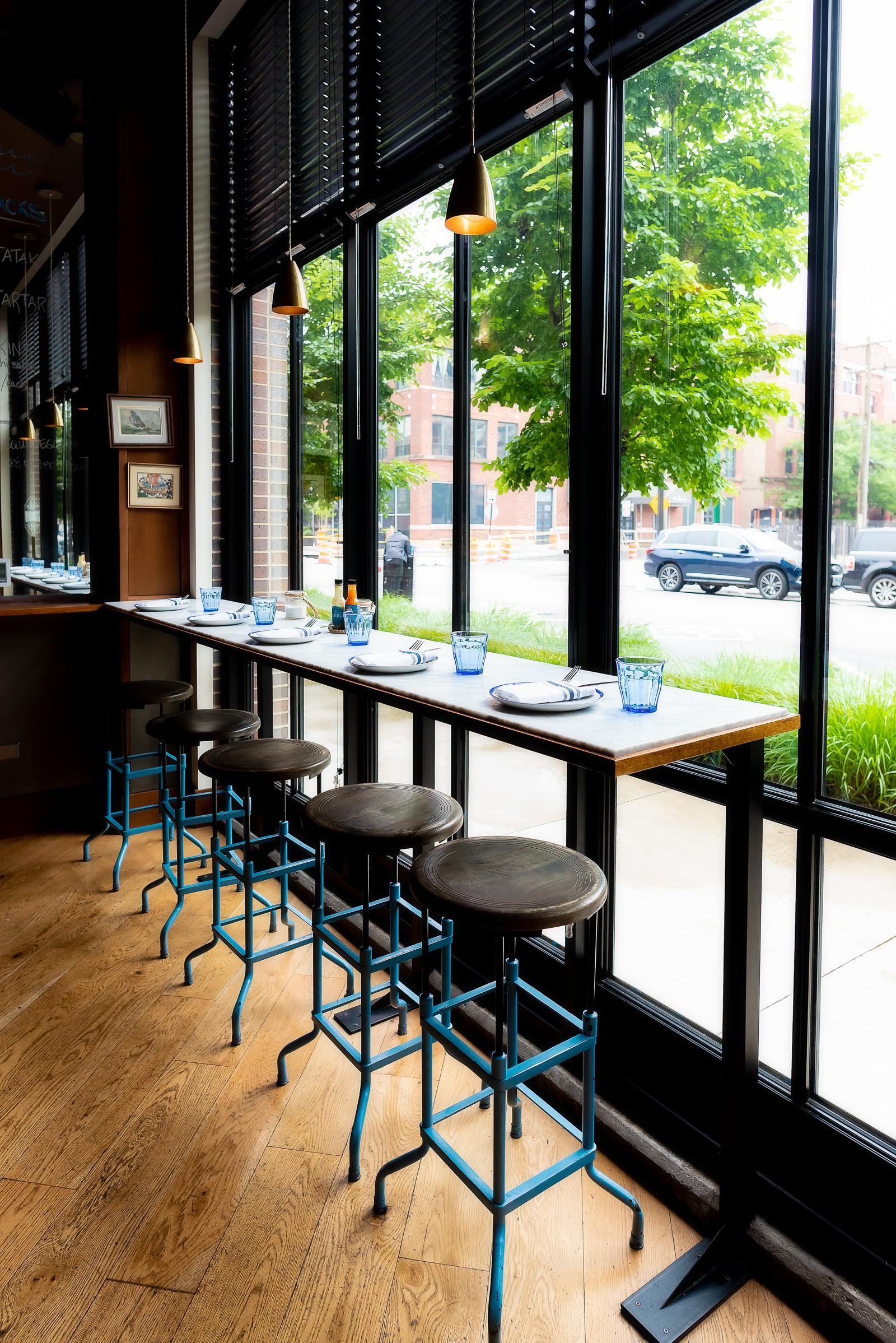 The perfect casual spot for a meal.
I was particularly smitten with their collection of nautical oil paintings (does anyone else love modern spaces with traditional oil paintings in them? It makes me think of Victoria Beckham's collaboration with Sotheby's in London last month).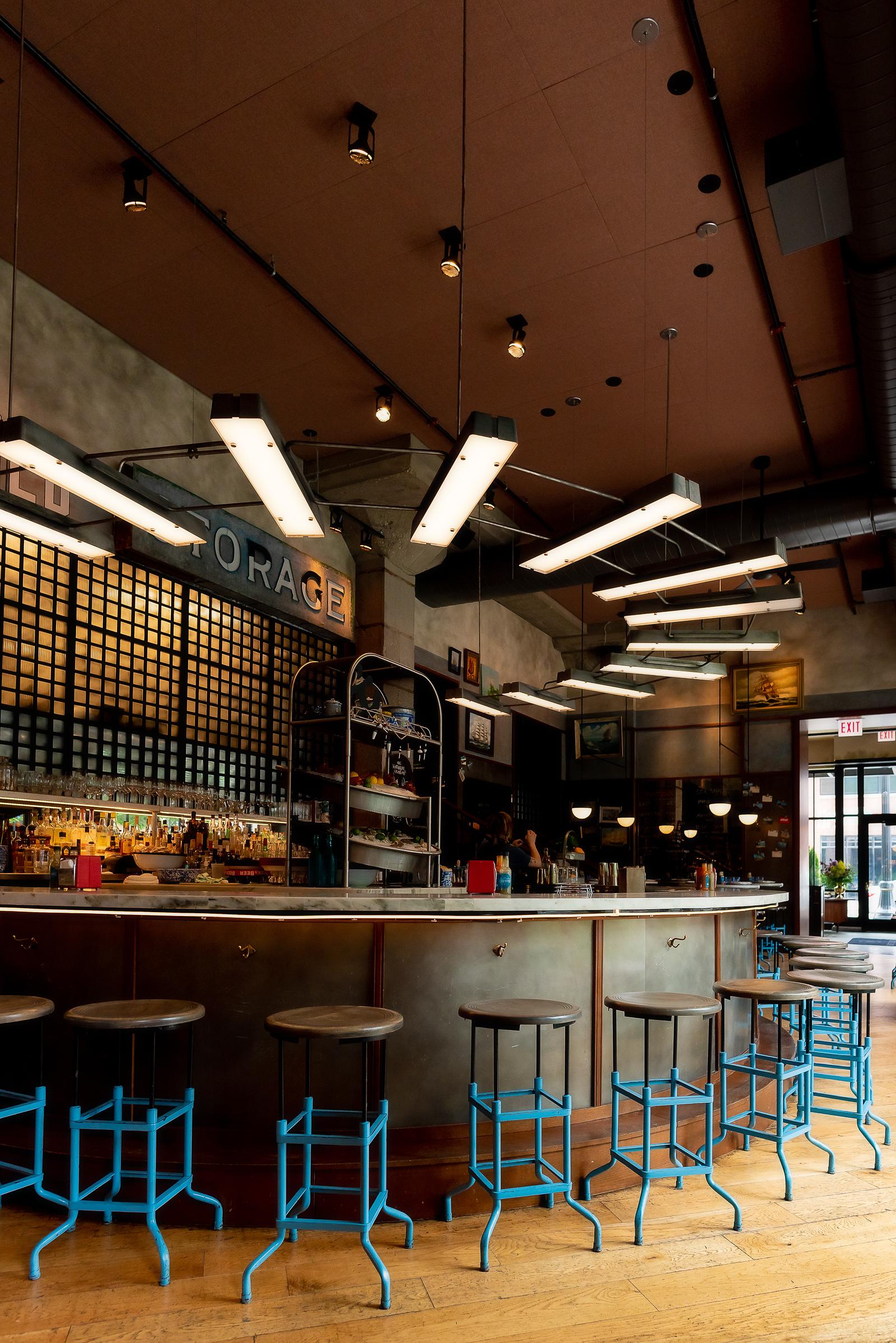 But we all swooned hardest for the striking central bar which radiates out through the intimate restaurant.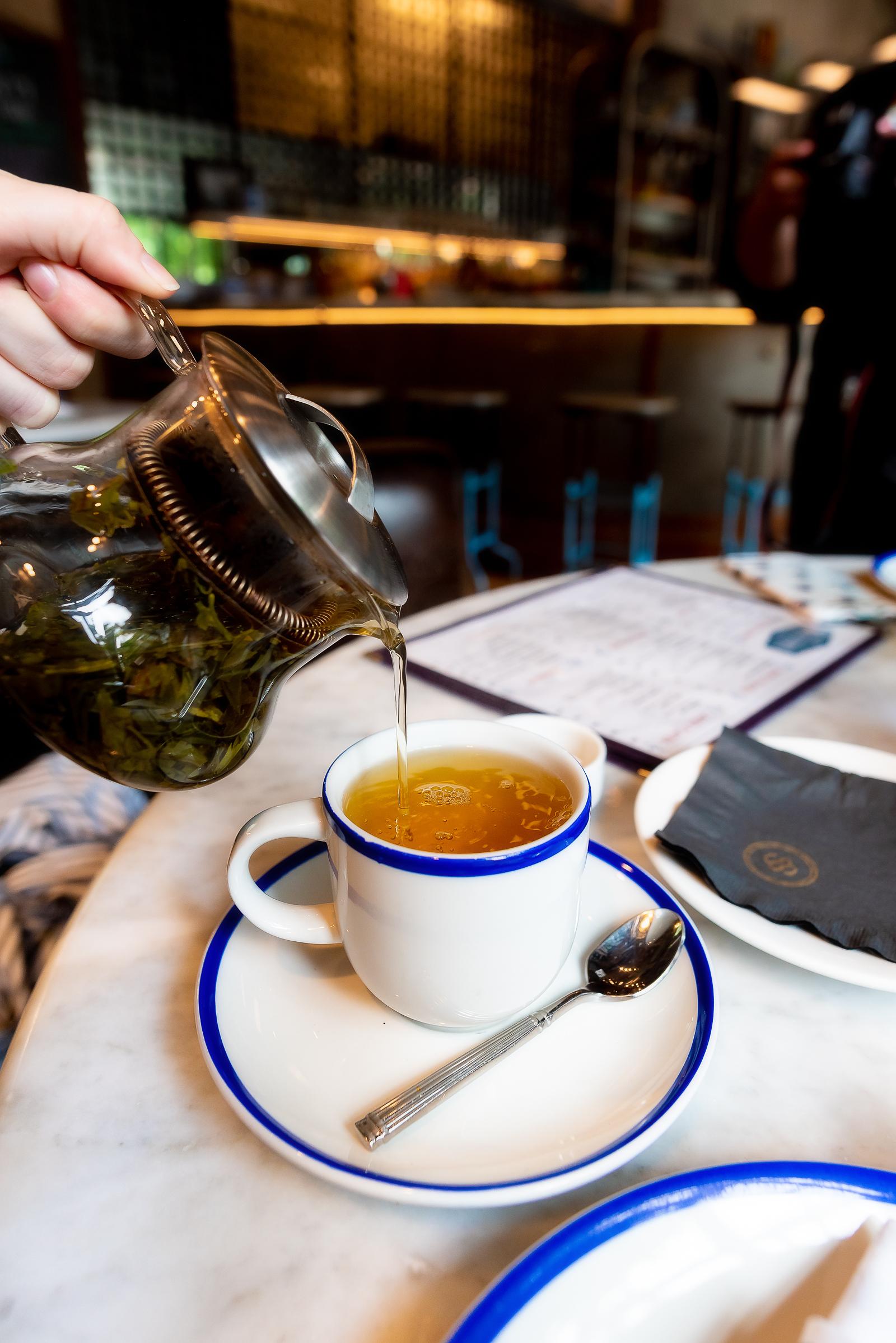 For starters, we began with some refreshments (am I the only one who still drinks hot tea in summer?).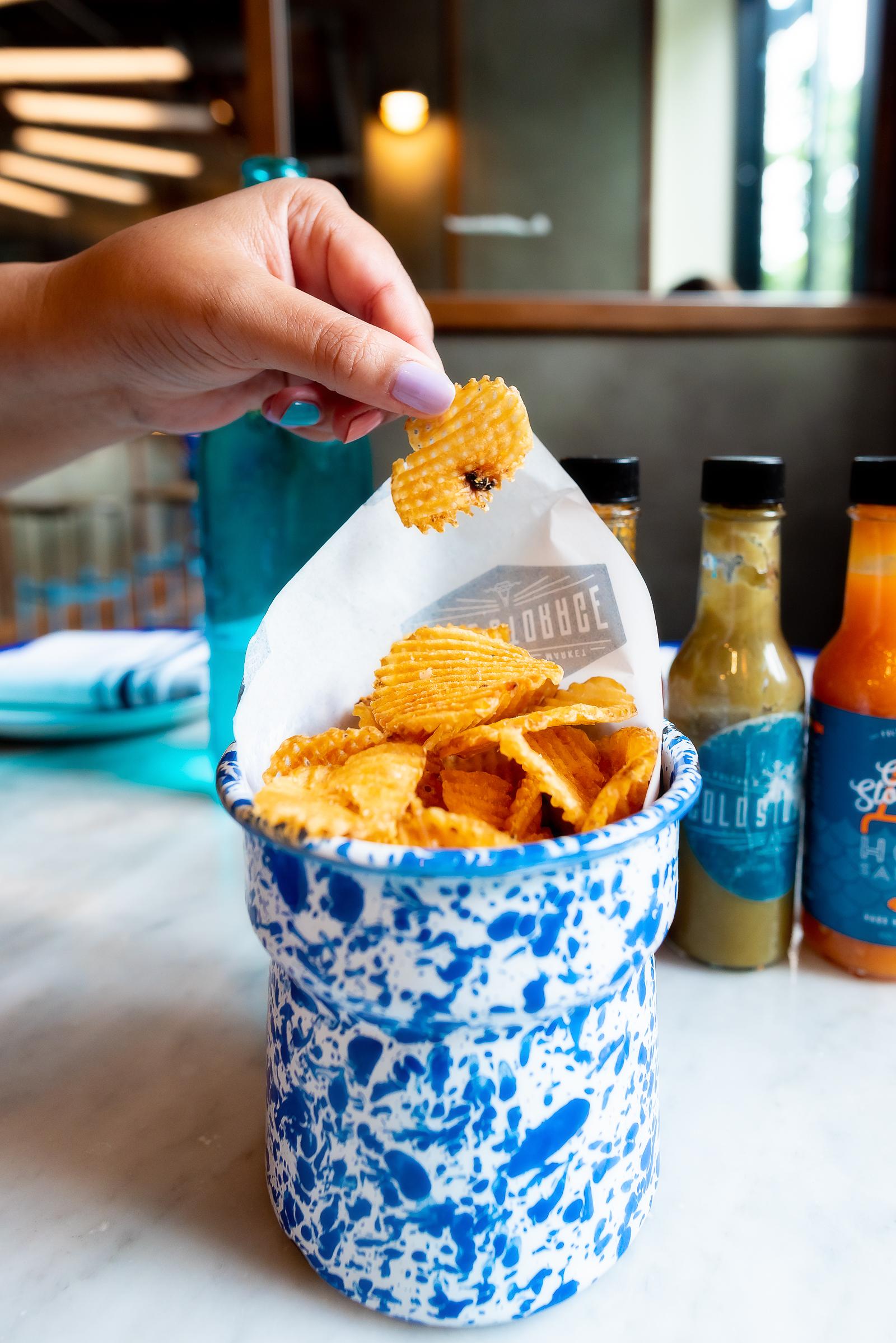 And these delicious house made chips which are served immediately after you sit down.
And after a long deliberation over Cold Storage's drool-worthy menu, we finally ordered.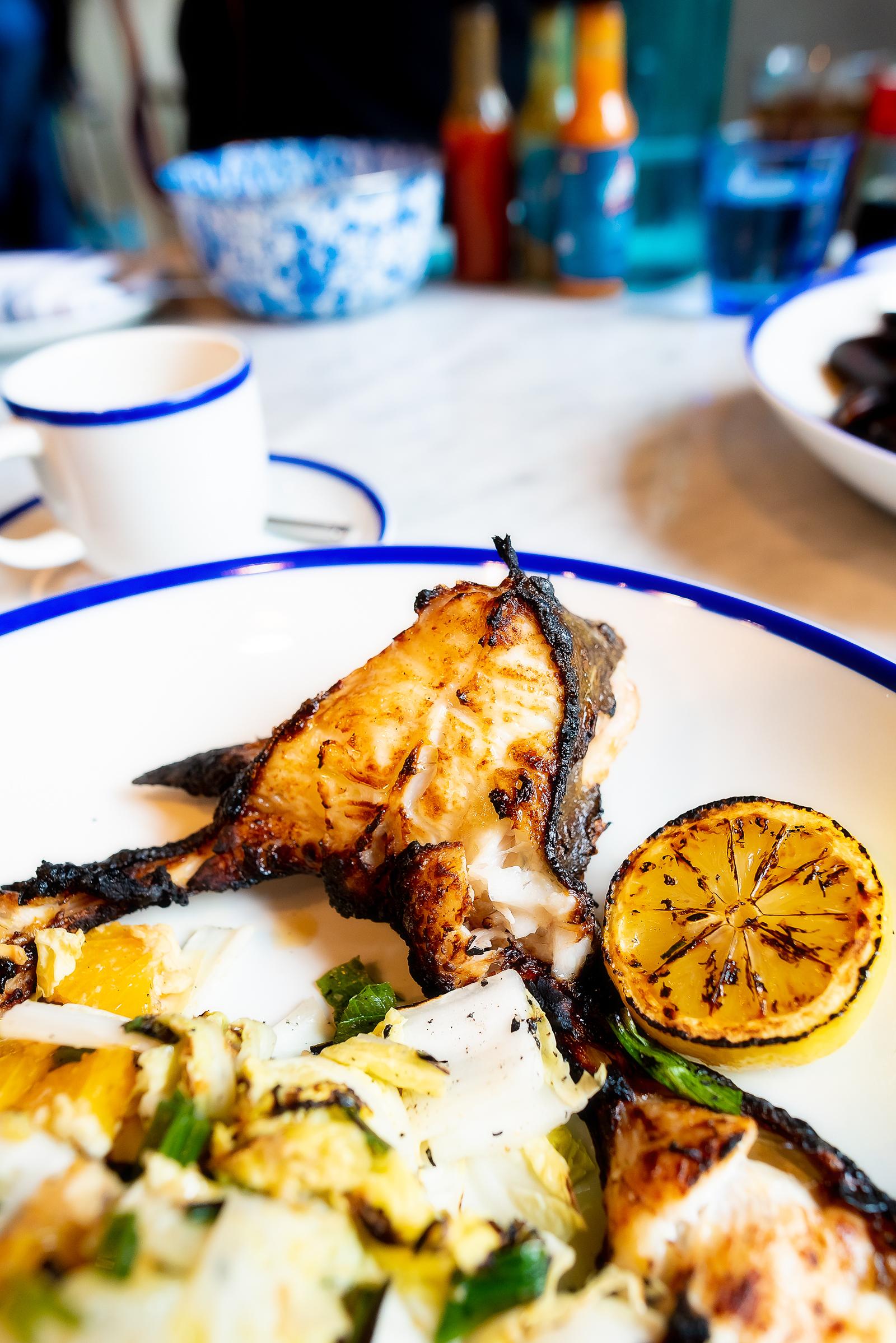 We started out with a special of roasted Halibut collar.
Ever had fish collar before? If you haven't you absolutely MUST! I've told you about it before and always order it whenever I see it on a menu (I'm obsessed). It's the most tender, delicate part of the fish and roasts into a delicious nibble similar to ribs.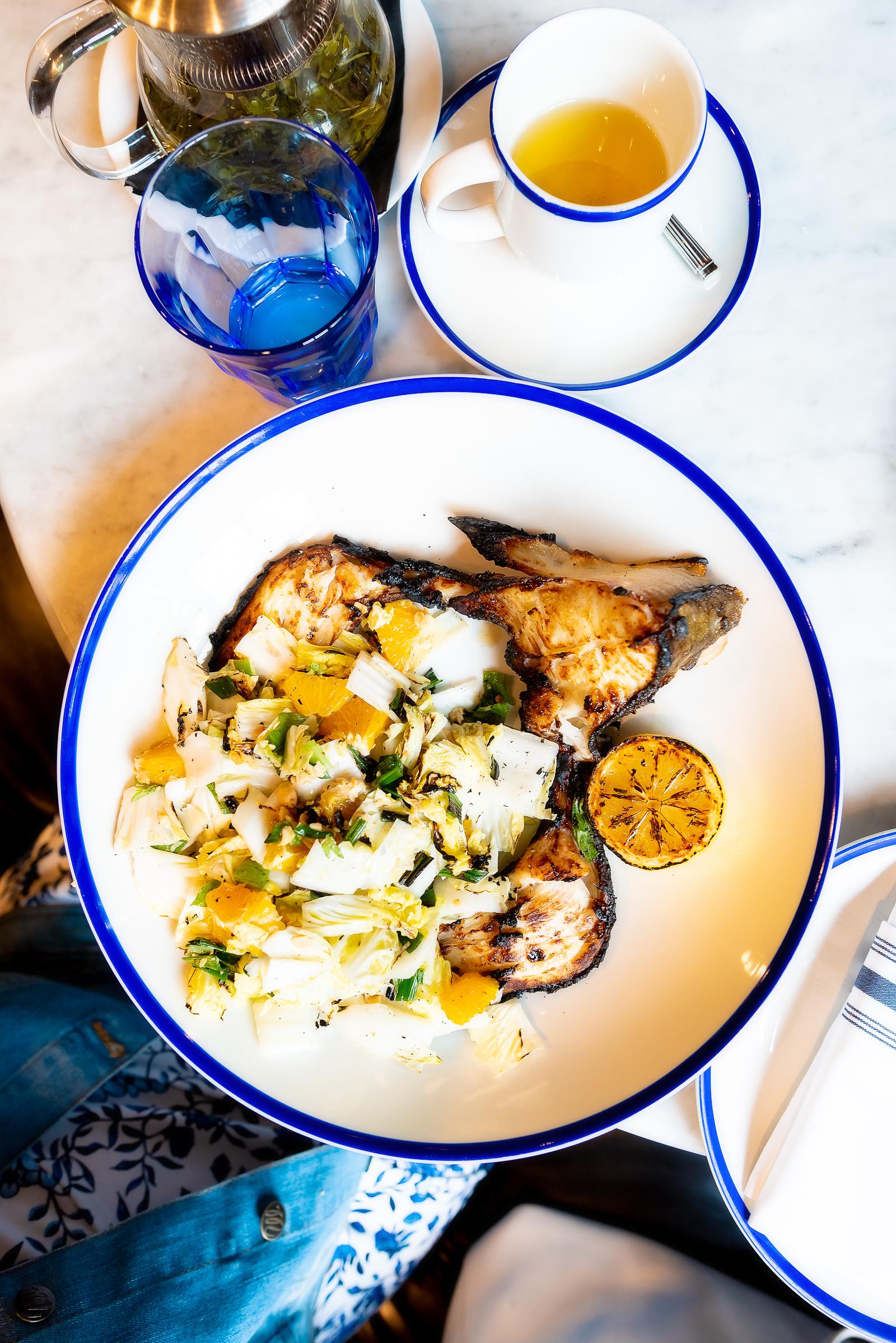 Cold Storage served theirs with a bright citrus and endive salad on the side which provided just enough acidity to balance the richness of the dish.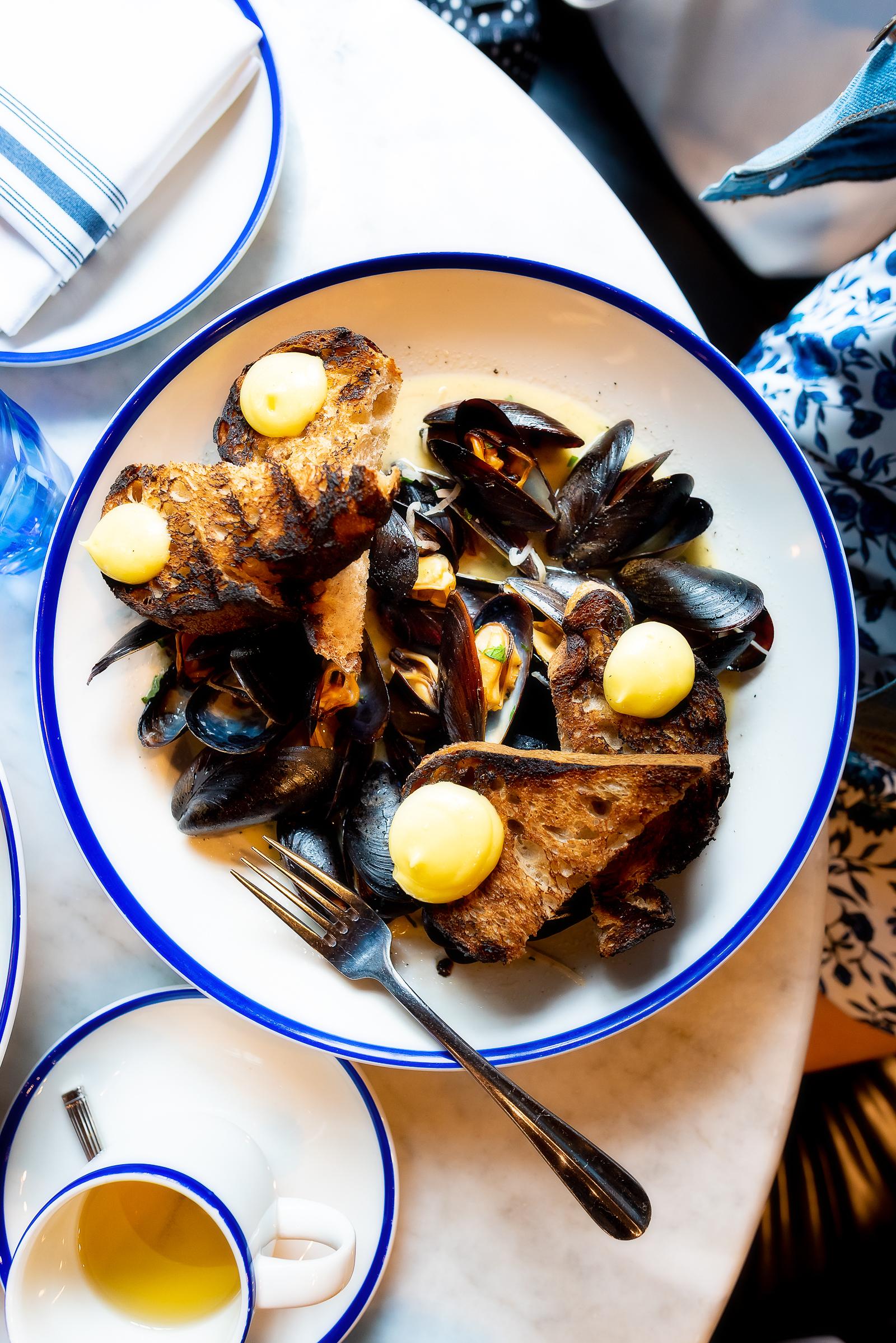 We also sampled the steamed mussels in white wine sauce which were HEAVENLY.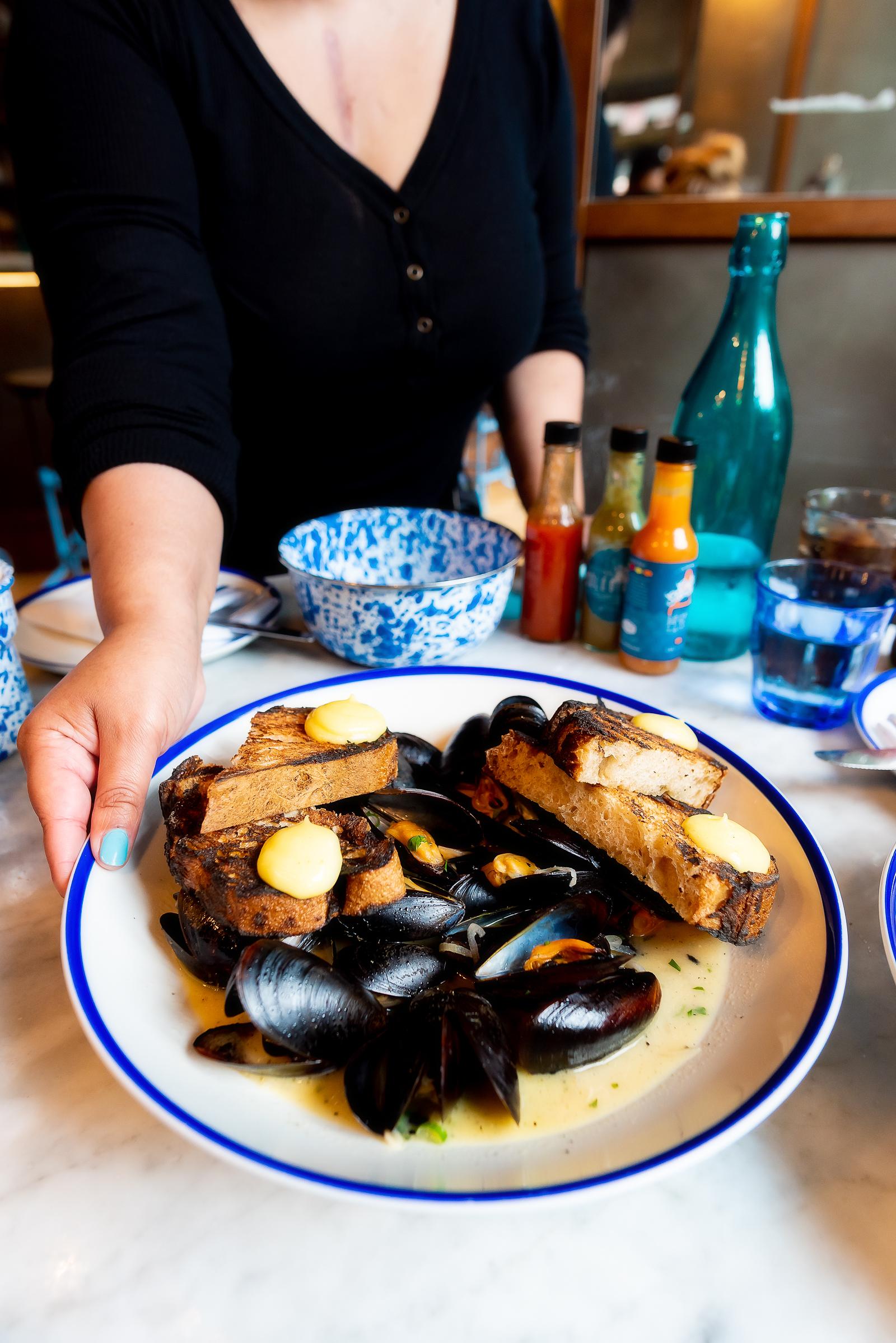 Absolutely "lick-worthy" really. As in, "it's so good, I'm going to discreetly lick this bowl while no one is looking" lick-worthy.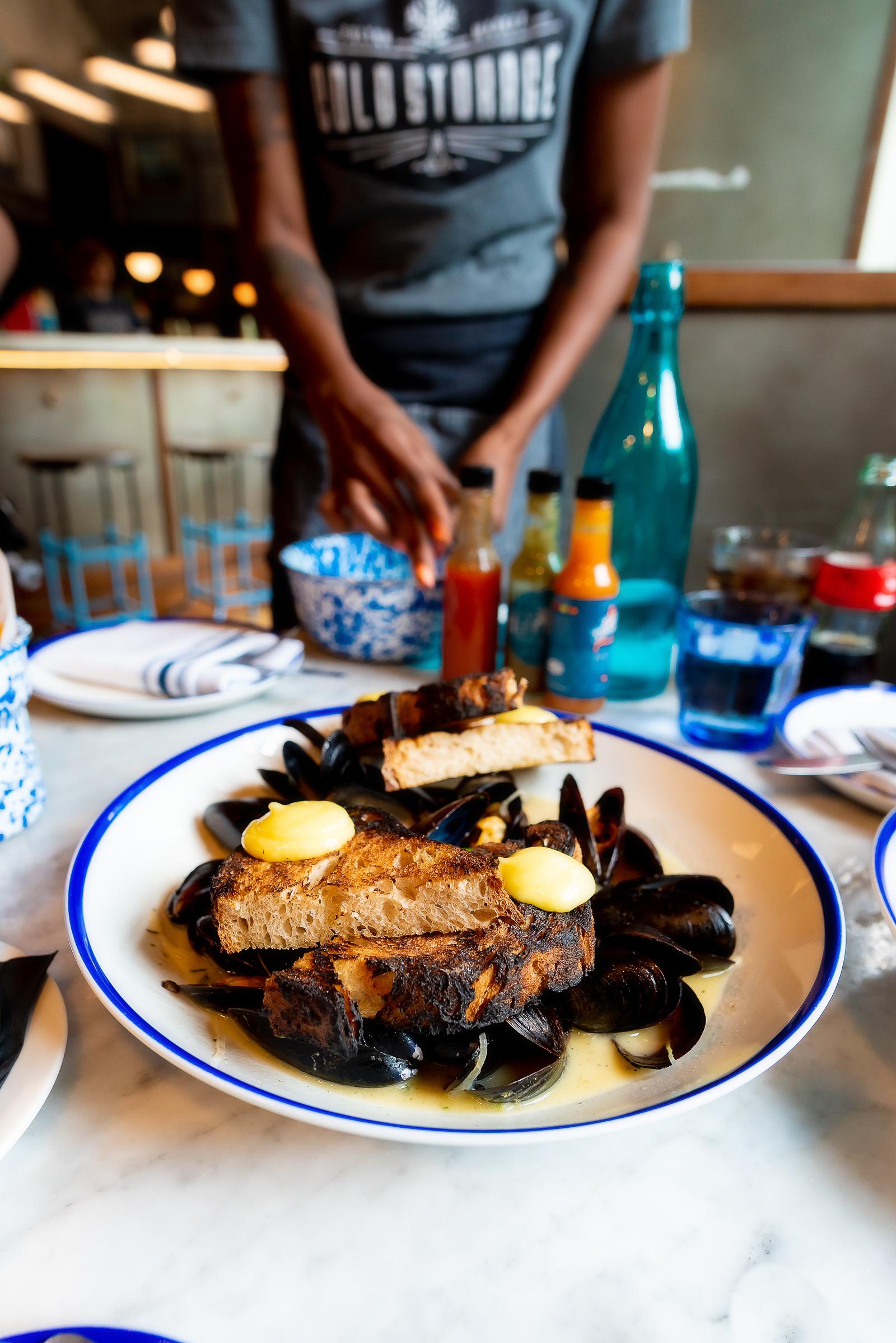 And the creamy aioli and crusty bread balanced out the fresh mussels so well.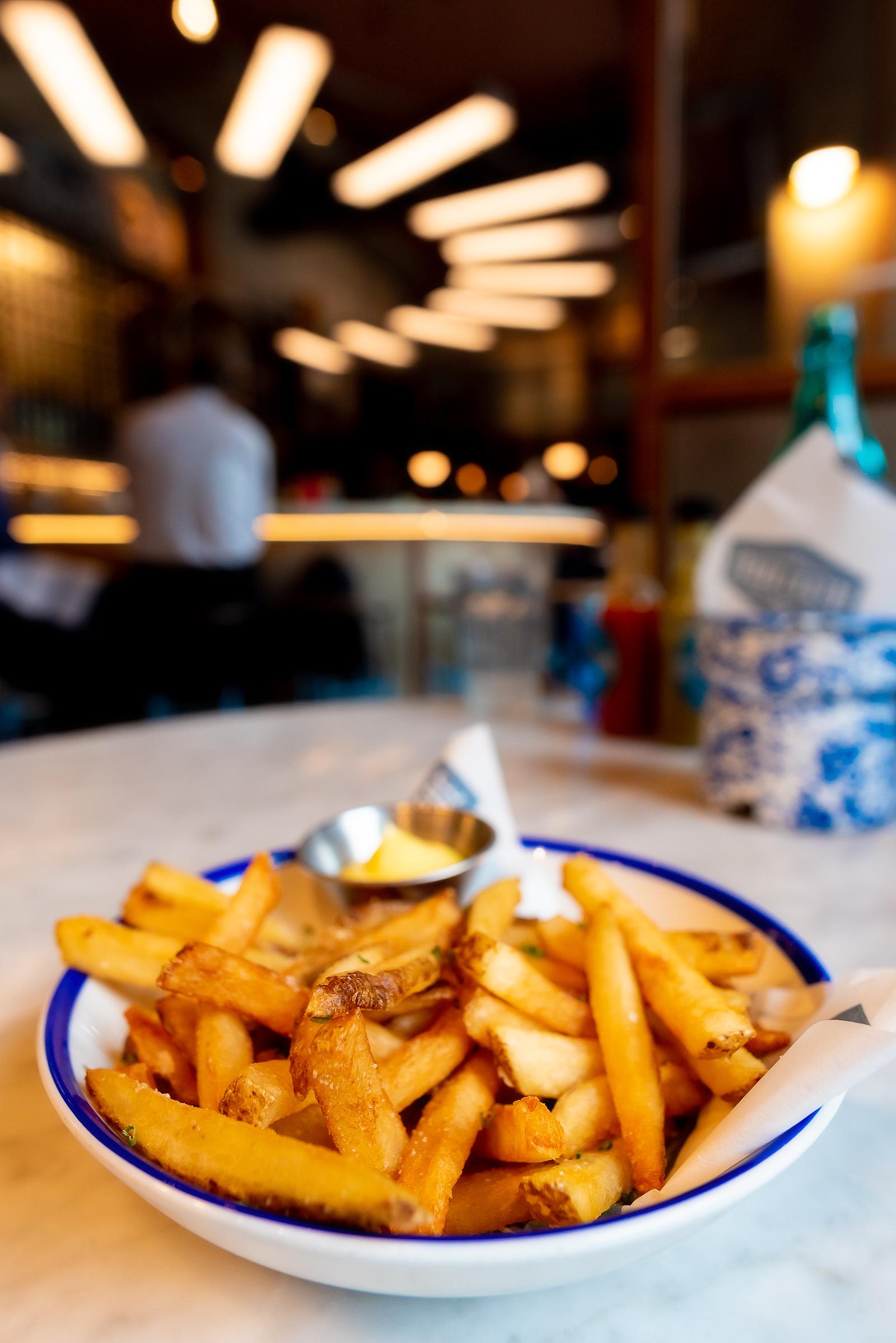 For our entrées we shared a side of malted fries with garlic aioli (because how could you NOT?).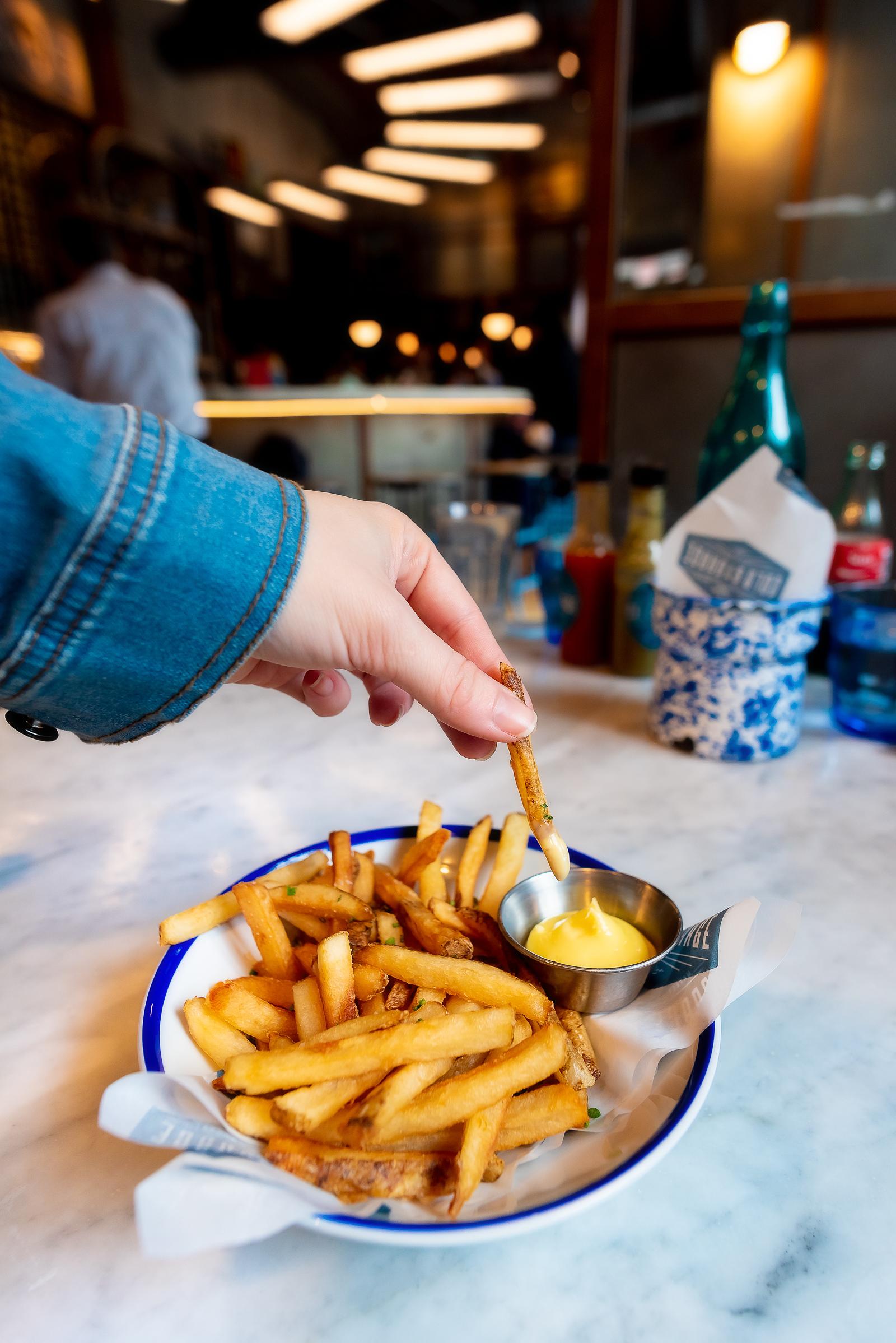 (Excuse me while I sneak one…)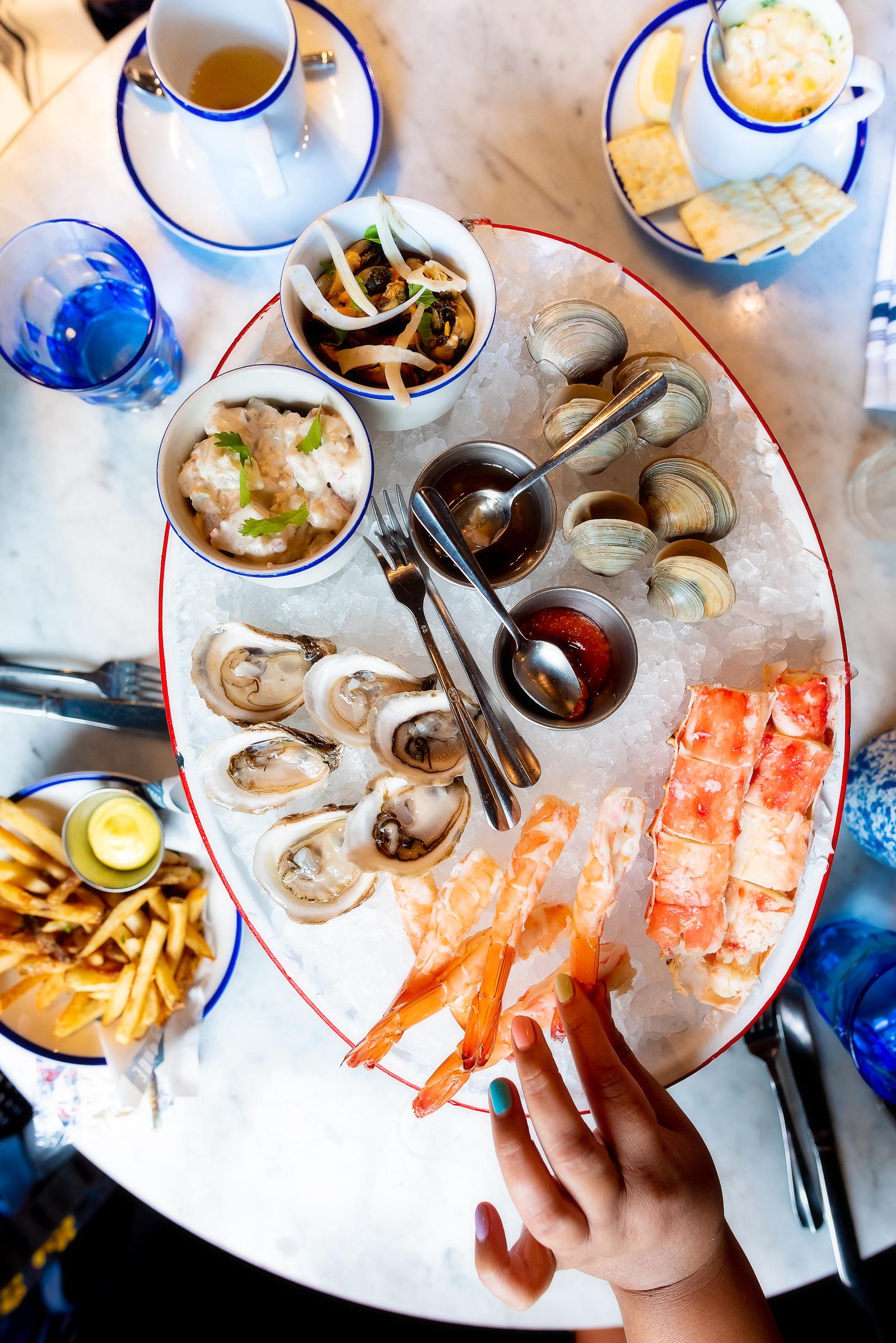 Then we all shared this incredible "John Hancock" seafood tower.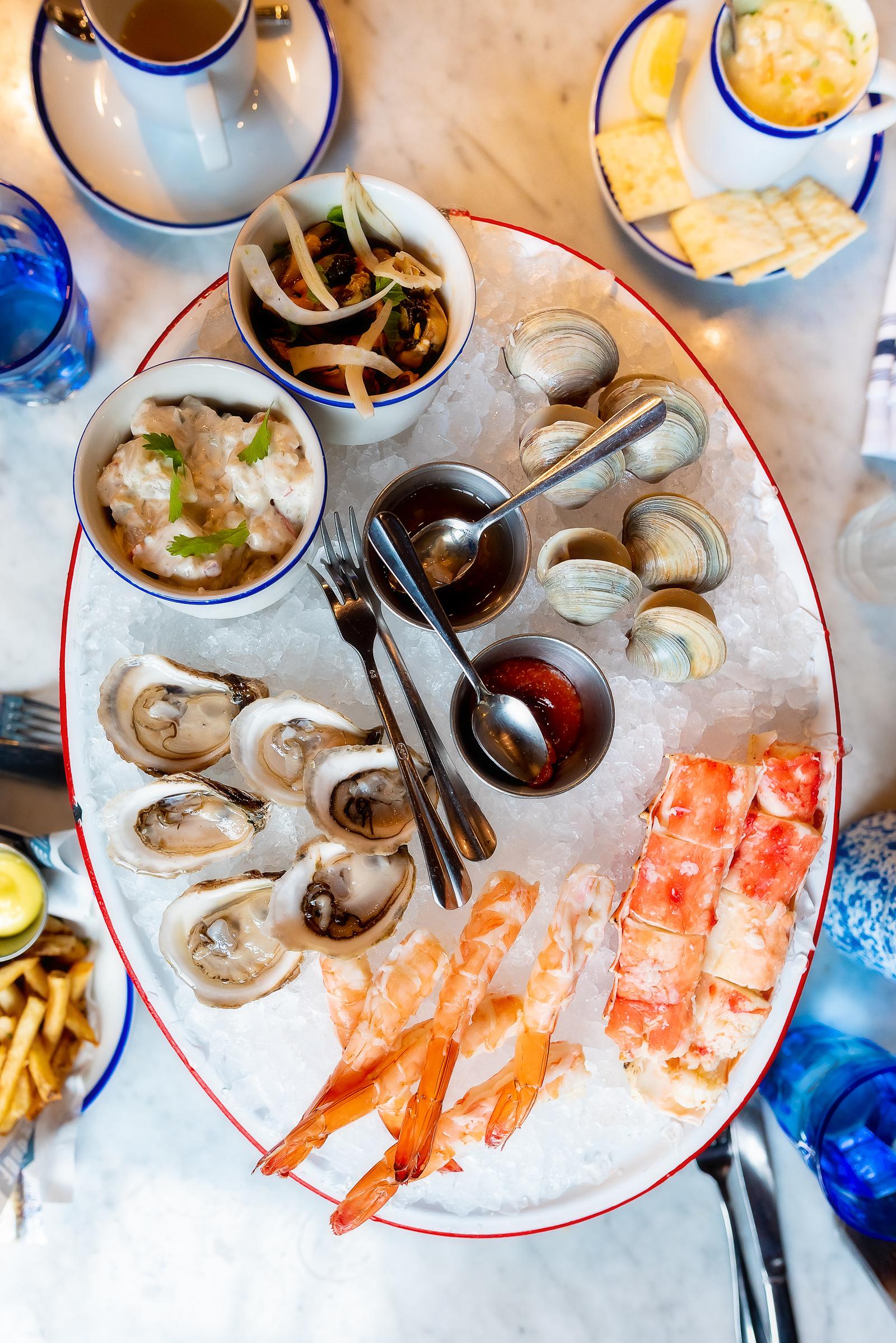 Cold Storage has three seafood tower options: a smaller "Water Tower", a larger "Sears Tower" and this middle-sized "John Hancock Tower" which was perfect for a lunch entrée. And don't you love the clever homage to Chicago's iconic buildings in their tower names?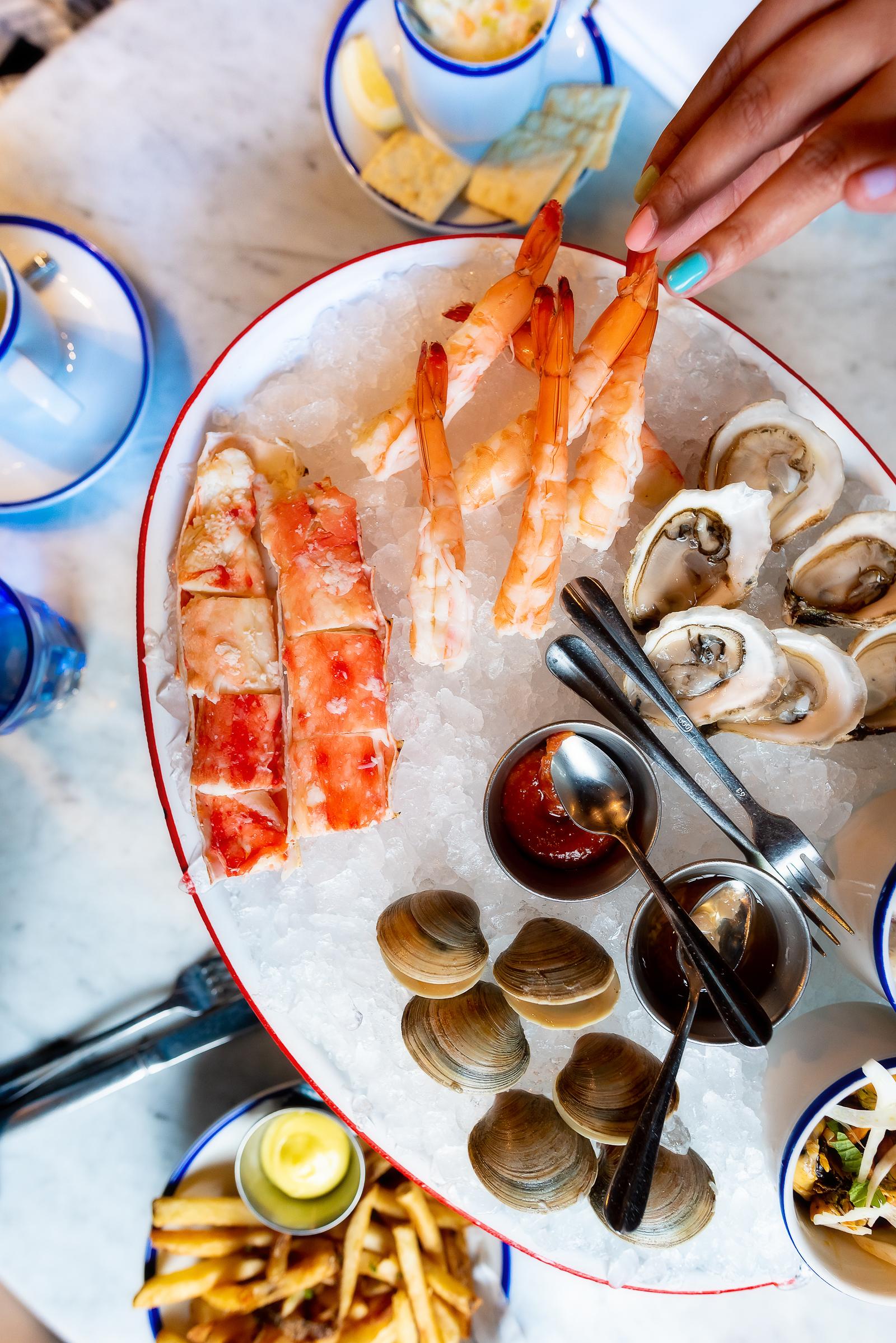 The John Hancock comes with oysters, marinated mussels, shrimp, clams, King crab, and scallop ceviche.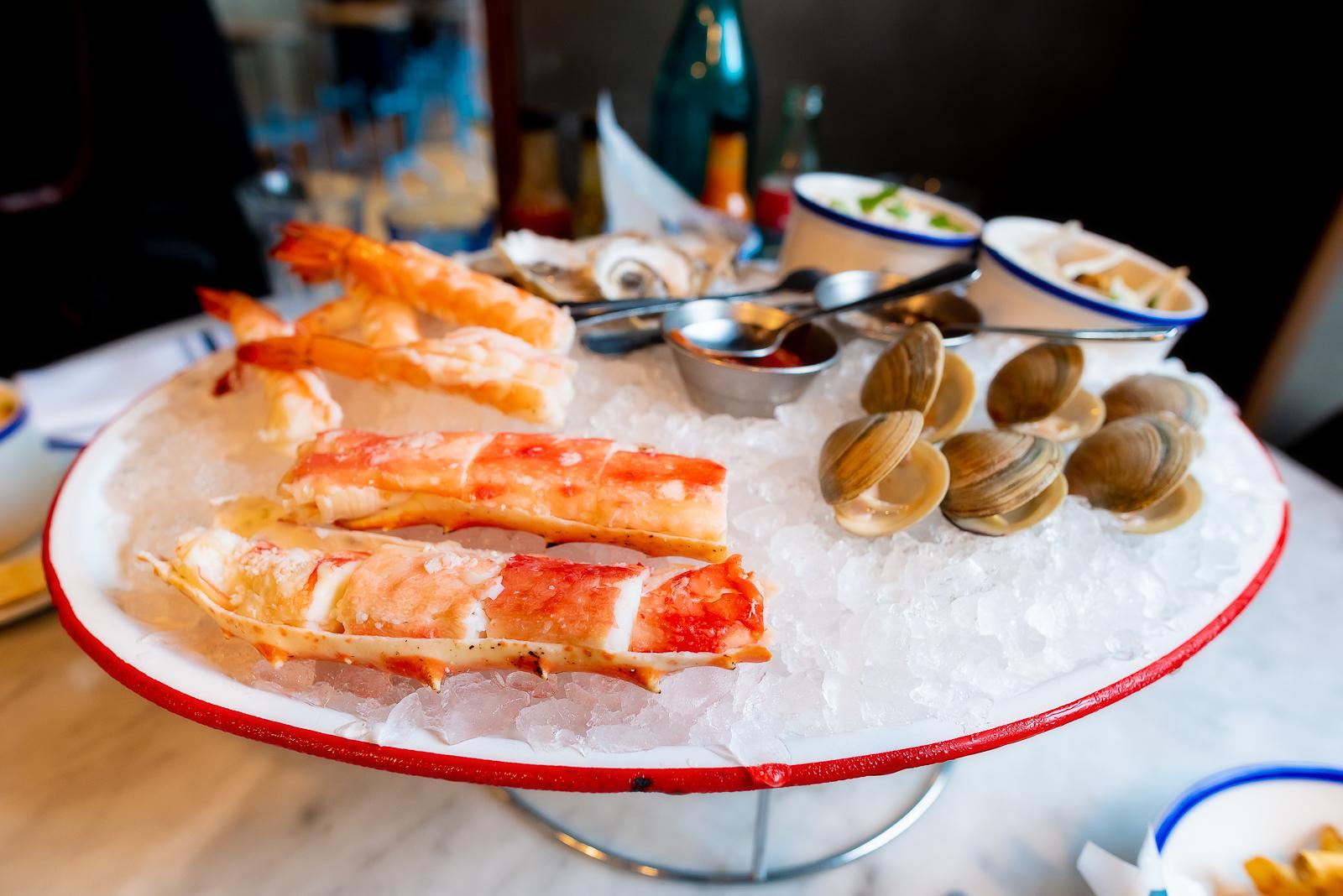 My favorite naturally being the king crab (which was so sweet and fresh!).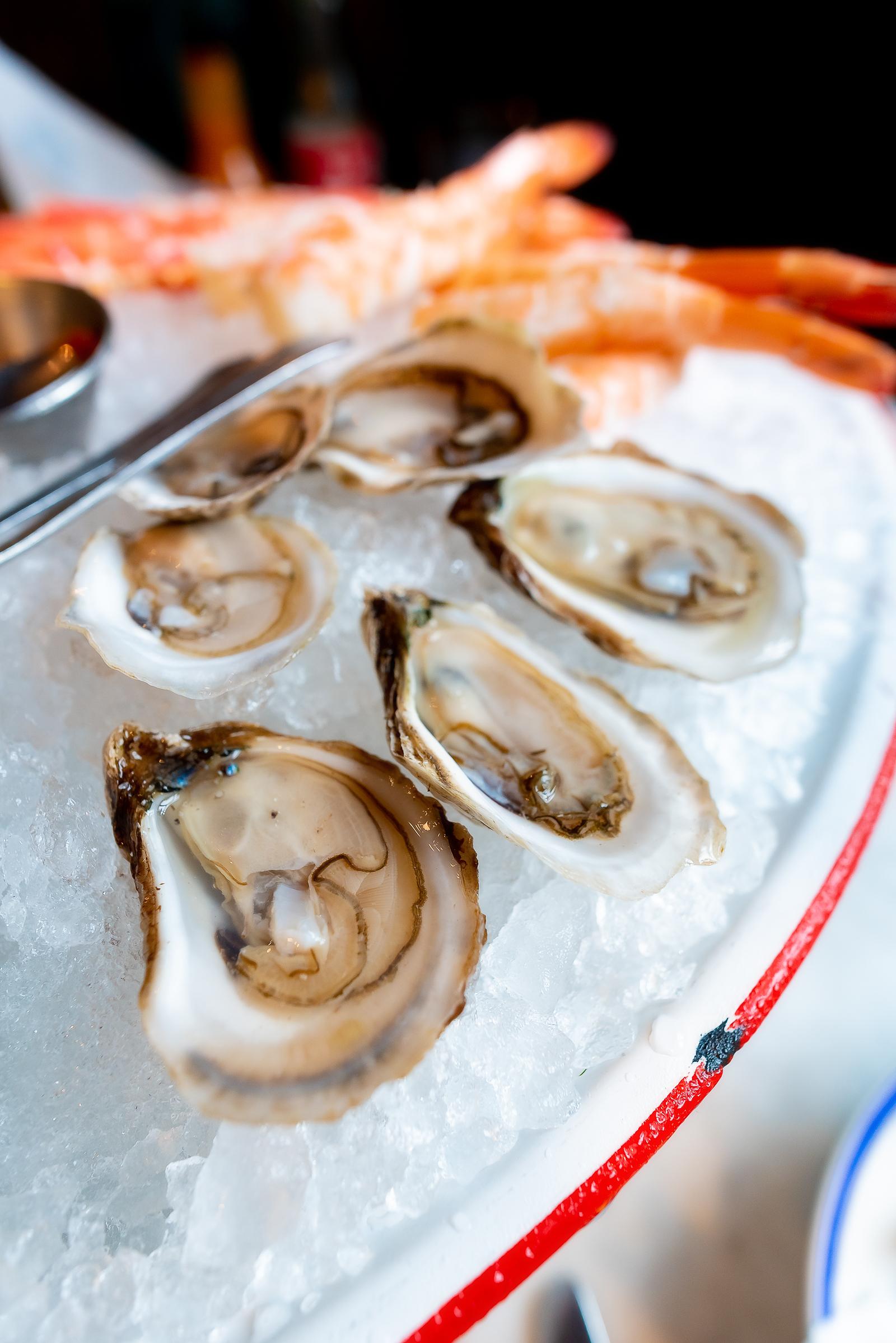 But the oysters were delicious too.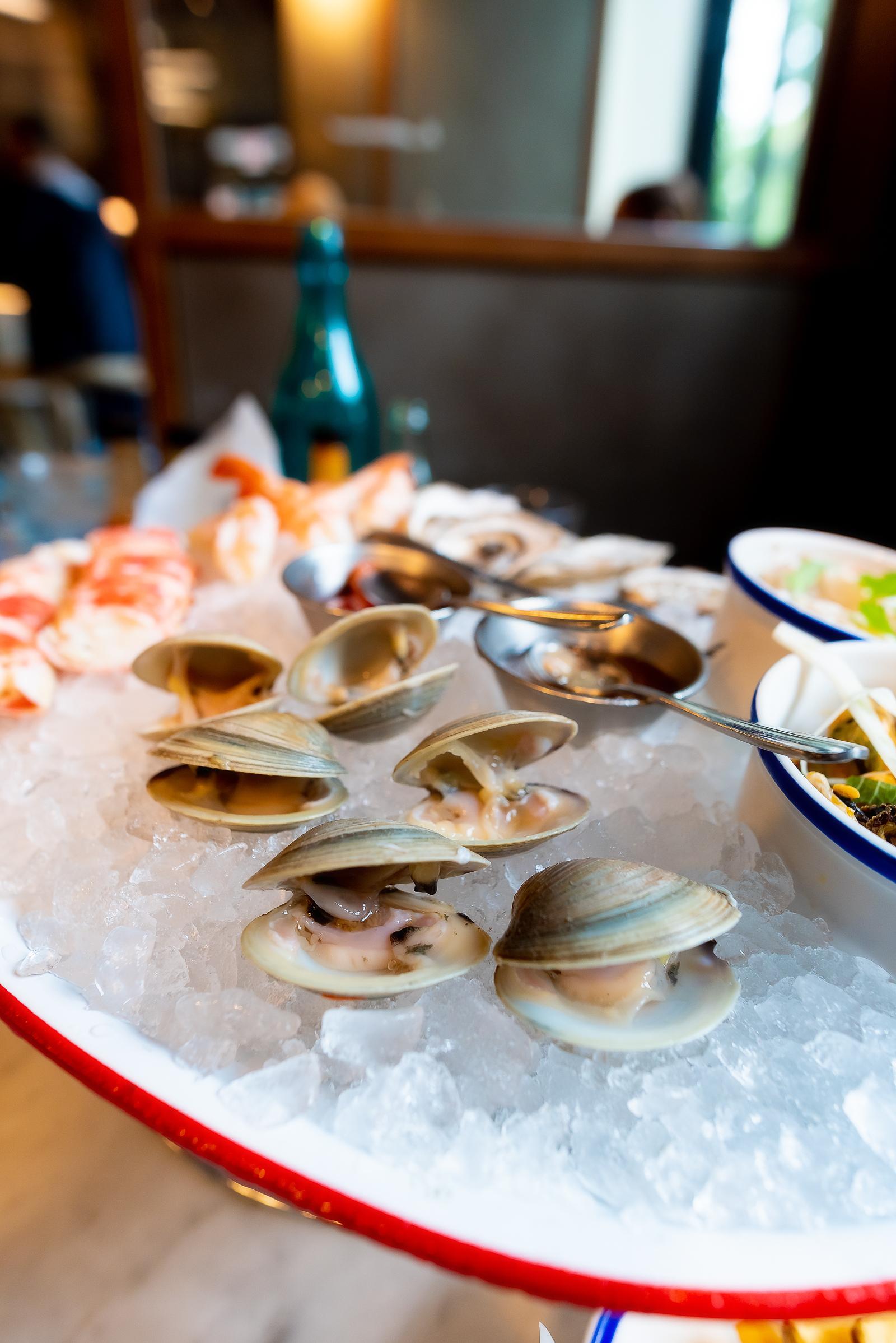 The clams were my least favorite of the tower though they are out of season right now.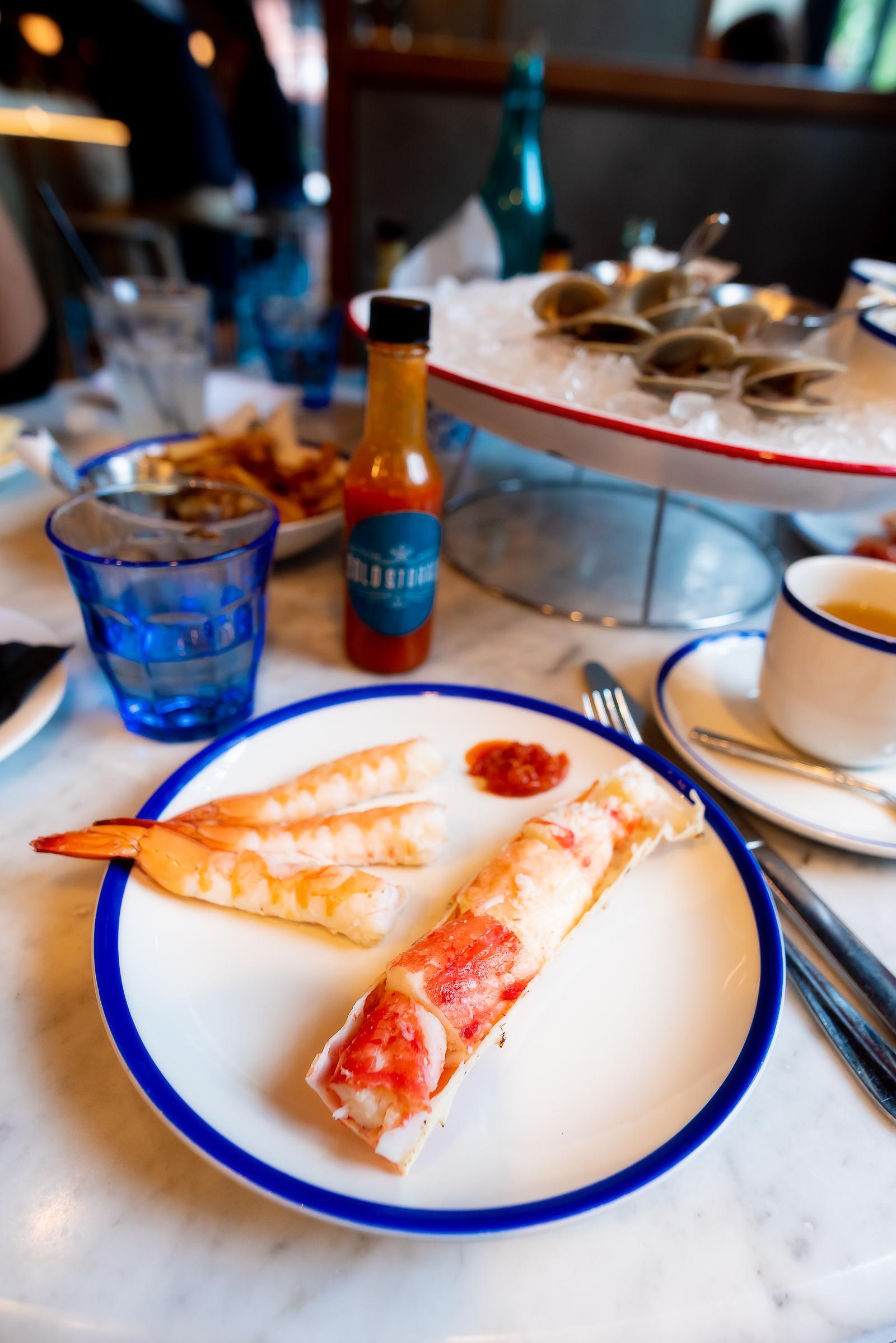 I know it's ridiculous but this is my ideal lunch — just piles of seafood and oysters with hot sauce!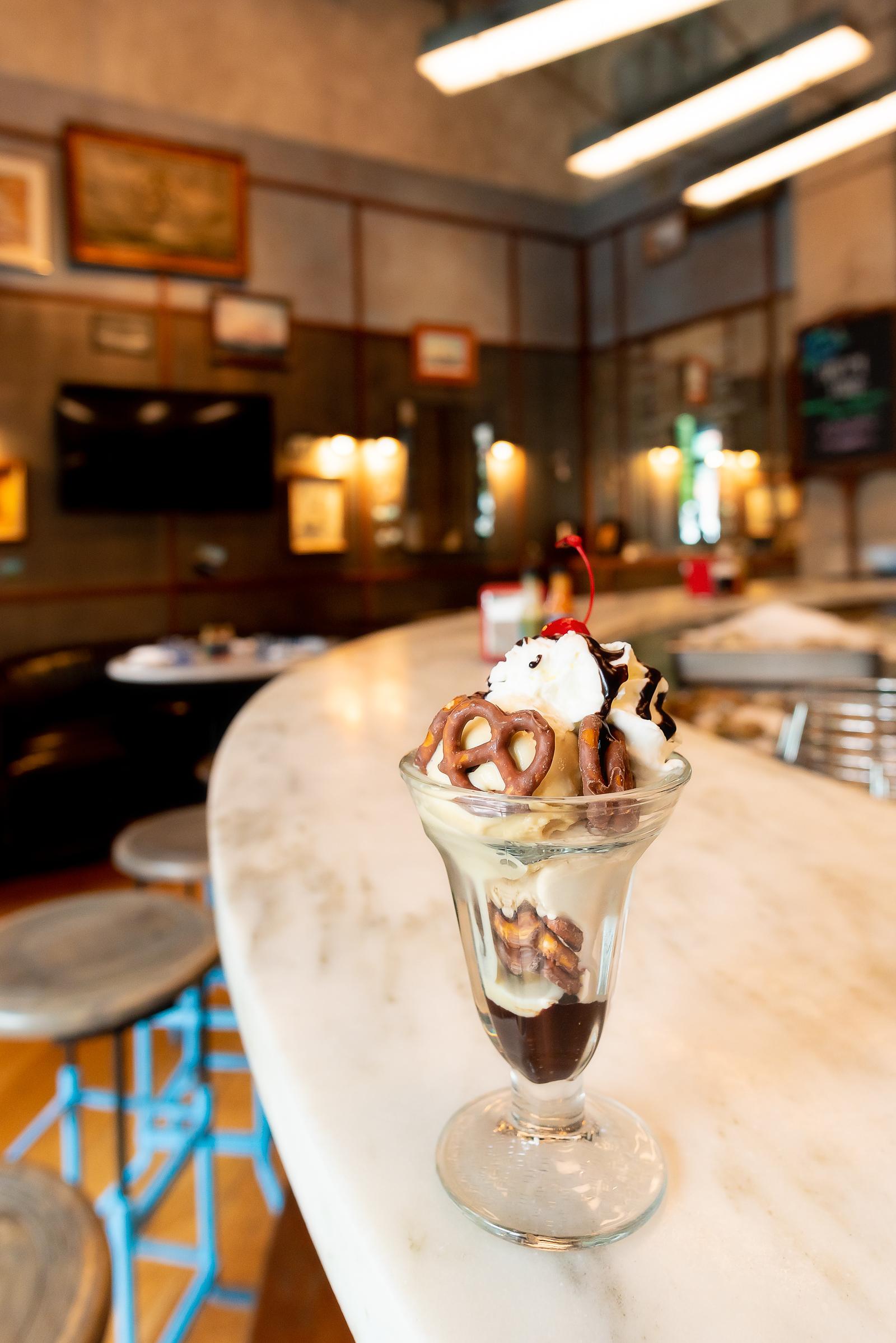 For dessert, Cold Storage is known for their EPIC Narwhal Sundae which is an eight-scoop sundae (YES, EIGHT SCOOPS) with hot fudge, caramel sauce, brownies, whipped cream and cherries.
Not feeling brave enough (or hungry enough) to tackle that sundae, we settled for this Sweet & Salty Sundae of pretzel ice cream, peanut butter ice cream, hot fudge, and chocolate-covered pretzels.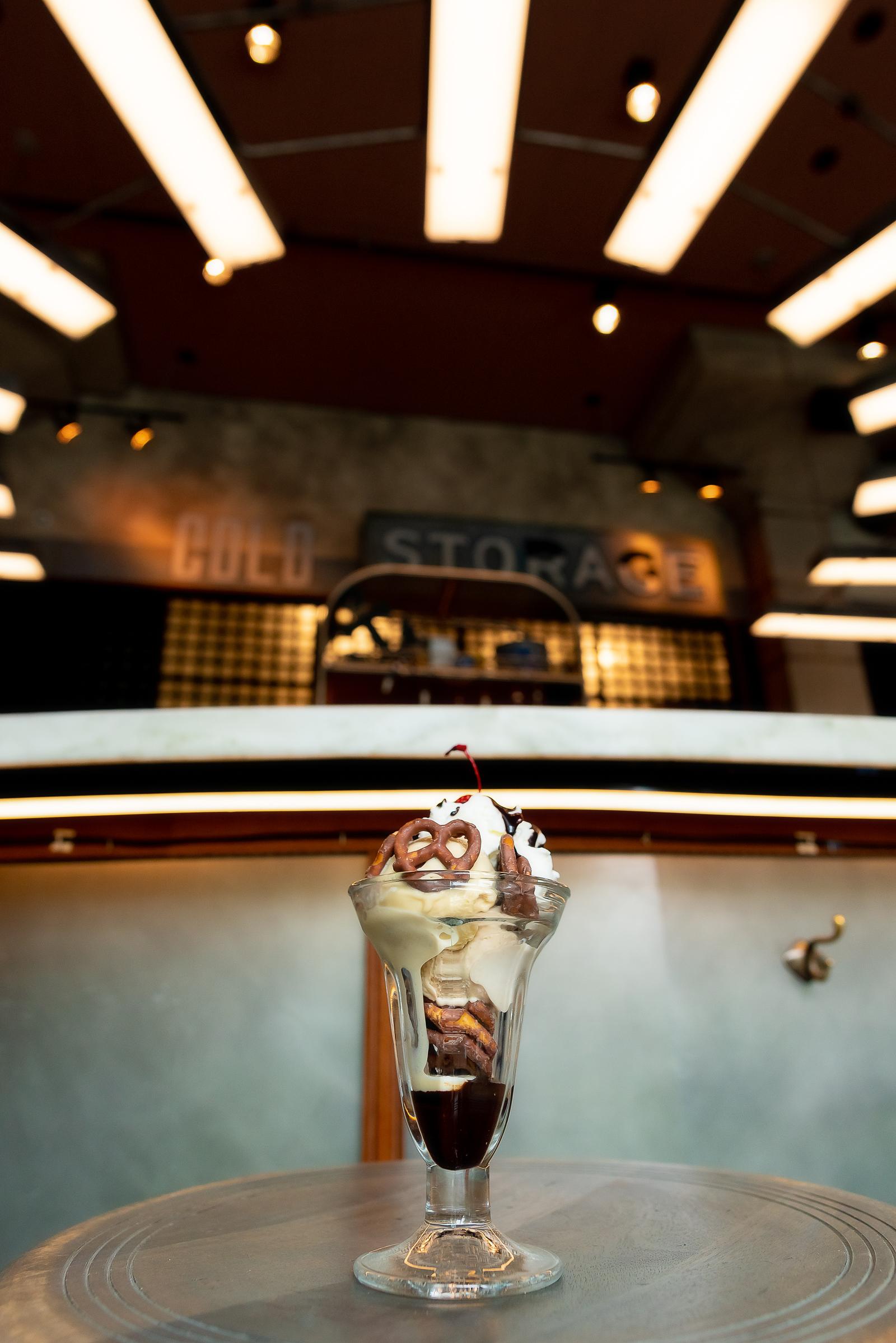 It was OUTRAGEOUSLY delicious. If you're into sweet and salty desserts especially.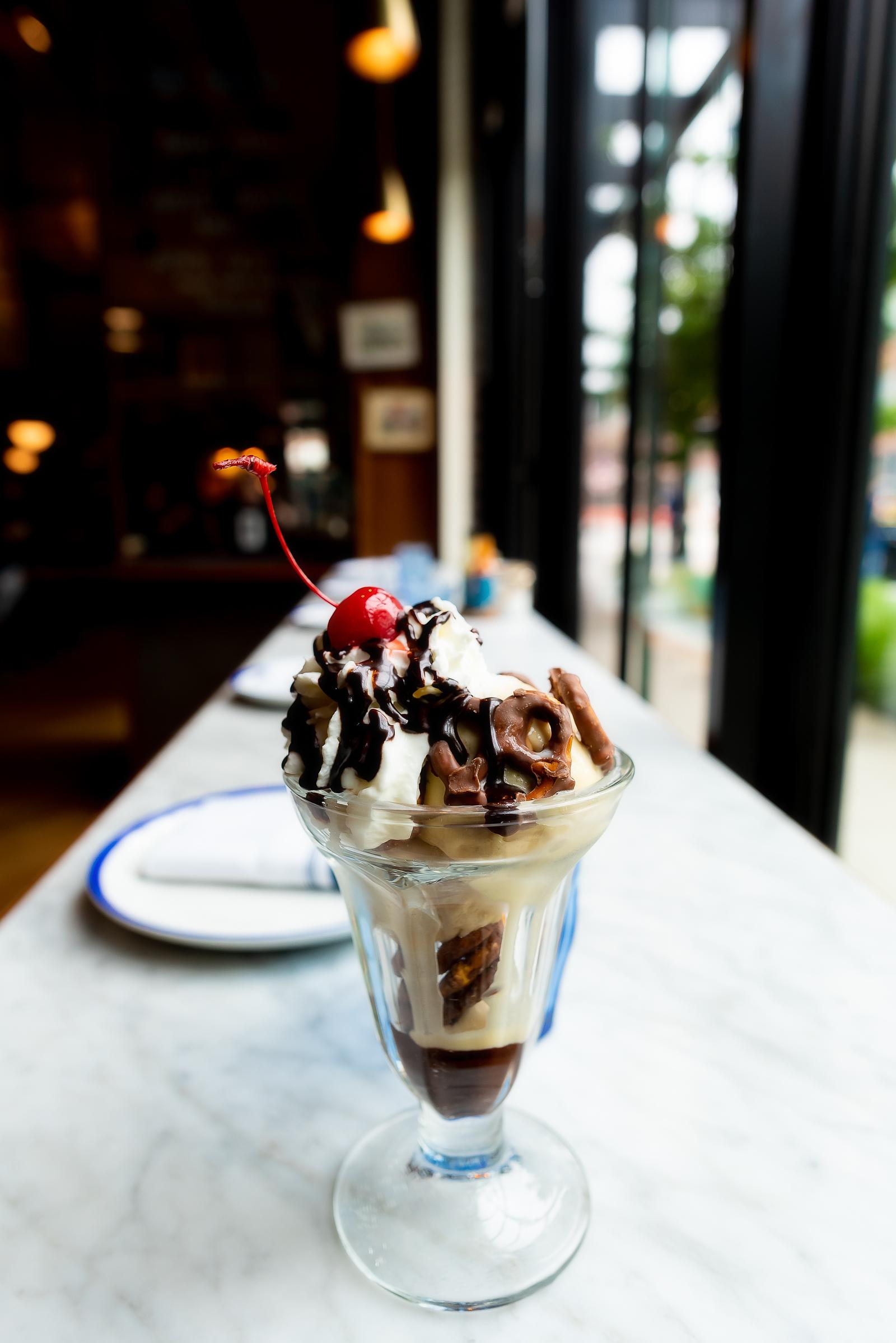 And barely managed to last more than a few moments after we were done shooting.
While Cold Storage certainly isn't Chicago newest restaurant, it's certainly worth a visit or revisit in the near future. Their seafood towers and ice cream sundaes alone make this the perfect summer spot!