"I go to Florida sometimes for vacation. I actually really like Florida. It's a weird place, it's surreal. It's so close, but you feel like you're in another world or on an island."
— Jemima Kirke
SHOP THE LOOK:
Dress – Zara (similar) || Sandals – c/o Hammitt || Bag – Cult Gaia 'Ark' || Sunglasses – Céline (bought on the Real Real) || Bracelets – Noir Jewelry and c/o Bauble Bar || Lips – Stila Stay All-Day in 'Bella' || Nails – CND in 'Cream Puff'
Photos courtesy of brilliant central Florida photographer Ashley Nicole Johnson
Today, after spending the last ten days in Florida caring for my grandmother, I'm flying home to Chicago to get caught up with my professional work and to prepare for an EXCITING work trip I'll be taking in two weeks (stay tuned!).
But part of me is certainly sad to leave — despite how excited I am to see my amazing husband and wonderful pugs again.
Florida is a fun place.
It's a weird place.
It's a vibrant, busy place — there's always something new happening.
And while my grandmother sadly lives just about as far from the beach as you can get in Florida, the palm trees are still prominent and the sun shines constantly. I've been enjoying all the Vitamin D and the break from the Chicago gloom this winter.
And, after spending so much time down here, I've started to develop a "Florida Uniform" of sorts. White dress + white nails + white sunglasses + these awesome white sandals.
White on white on white! Maybe it's just because white is so hard to wear during the harsh winter months in Chicago with all the usual snowy sludge and salt but maybe it's just because white feels so fresh to wear in winter. Especially when it includes white sandals.
Either way, it's become my distinctive Florida Uniform while down here and I don't see it changing anytime soon!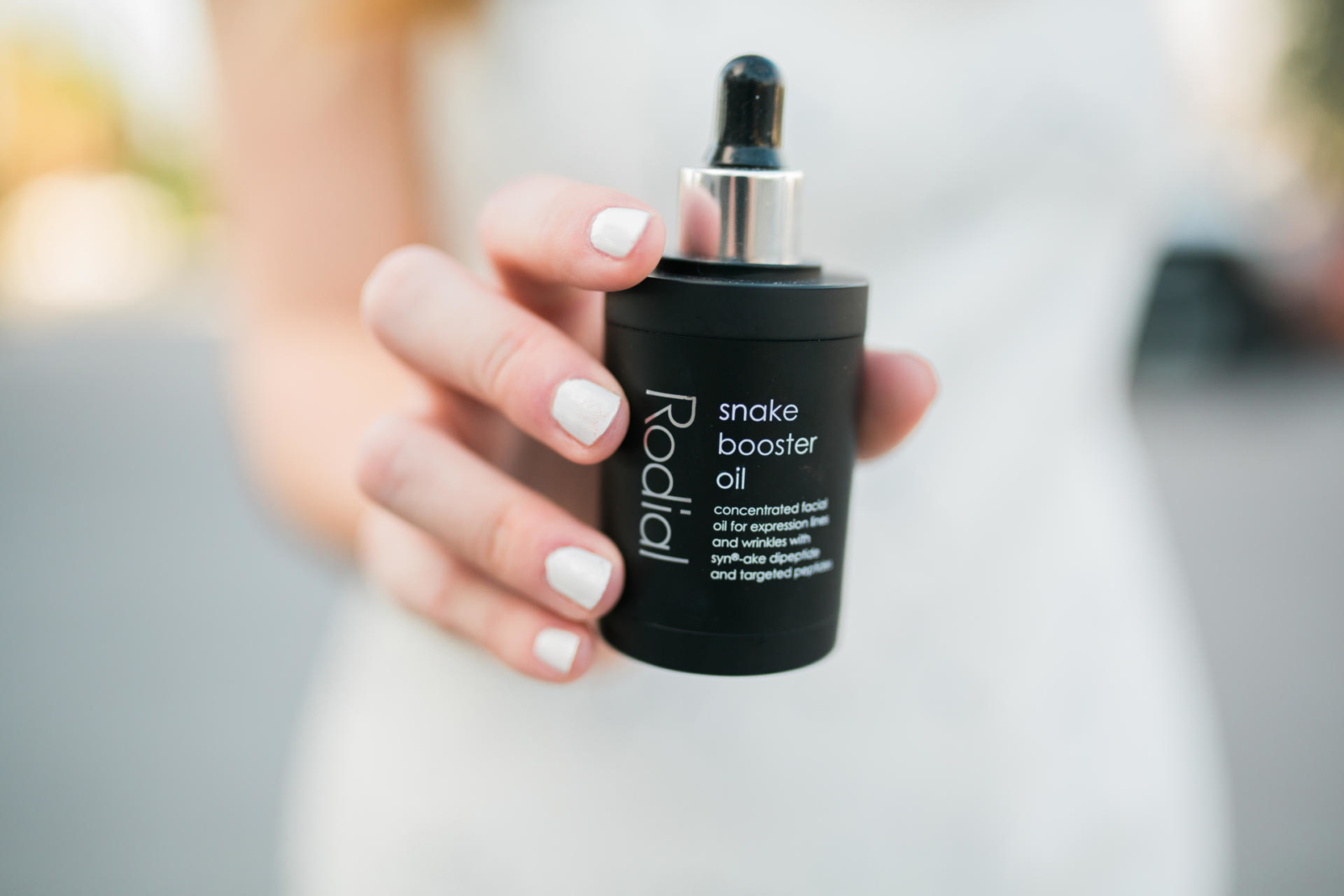 Also I've had quite a few questions from readers on how I get my skin photo-ready for shoots. Generally I rely on good skincare to keep my skin clear and glowing (especially since I'm so pale) but Rodial's Snake Booster Oil (c/o) has been a serious game-changer for me these past few months! It's expensive to be sure but a little goes a long way — I use this primarily before big events such as Snowball 2017 and before marathon photoshoot sessions at my favorite Chicago shooting locations.
It firms my skin and gives it a beautiful, well-nourished glow. The effect has been so great for me, I even bring it along to client photoshoots so my clients can use it before we shoot too. Have you tried any Rodial products before? I'm hooked and looking to explore more of their products soon!