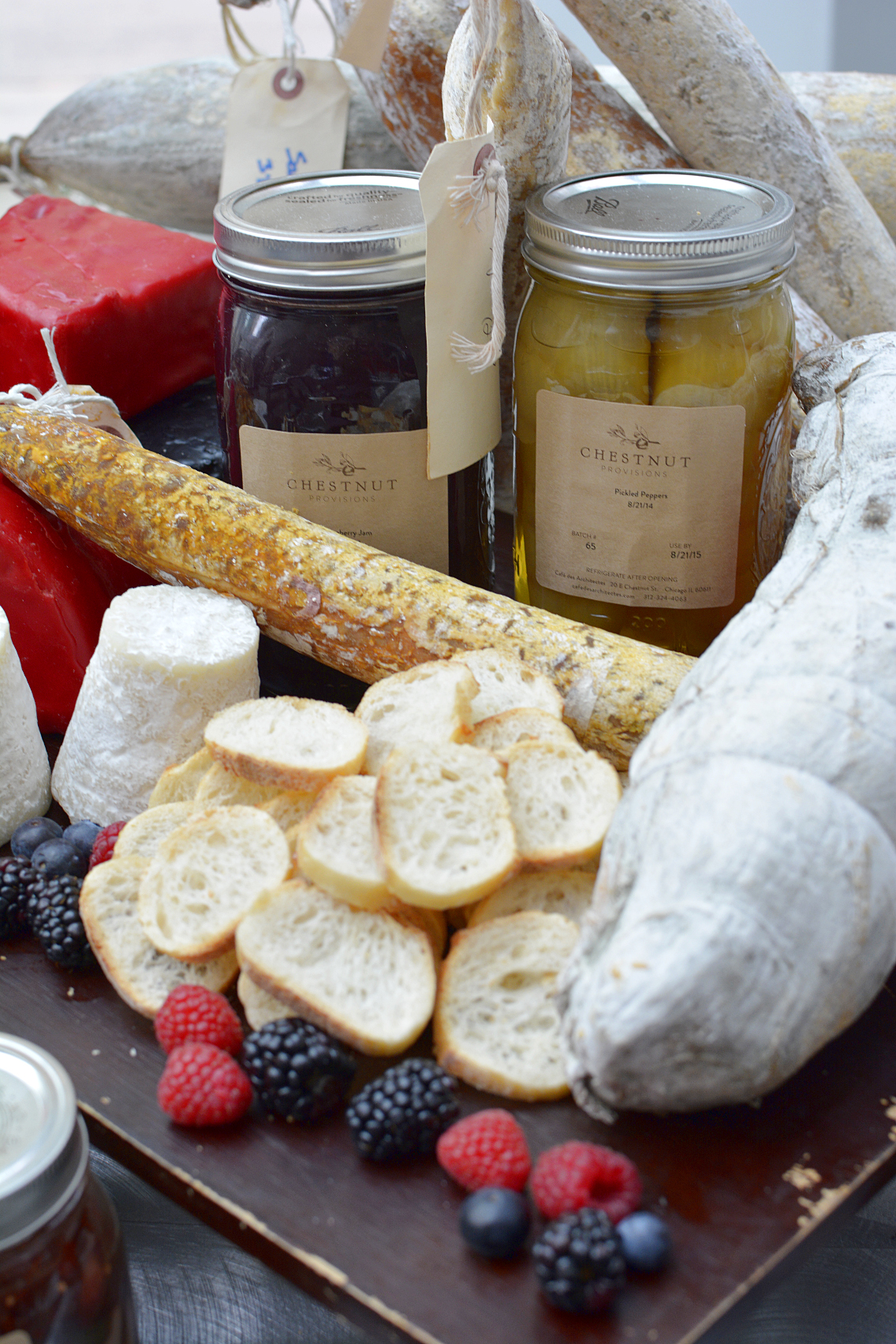 In the short time I've been blogging (it's still been less than a year!), I've learned quite a bit about Chicago's food scene.
But I've especially learned that if you're looking for a wow-worthy party complete with drool-worthy food, look no further than the Sofitel. Ever since their legendary Sofitel 'Revealed' exhibition in November (complete with live oil painting!), I've been in love with the space, the staff and the EPIC food selections. So when they invited me to their summer patio Chestnut Provisions Picnic, I could not say "YES YES YES!" fast enough.
I grabbed Anna of beautiful blog Noir Friday (I shoot most of her outfit photos so I'm a tad biased) and headed over on a cozy summer evening for a picnic of gourmet proportions!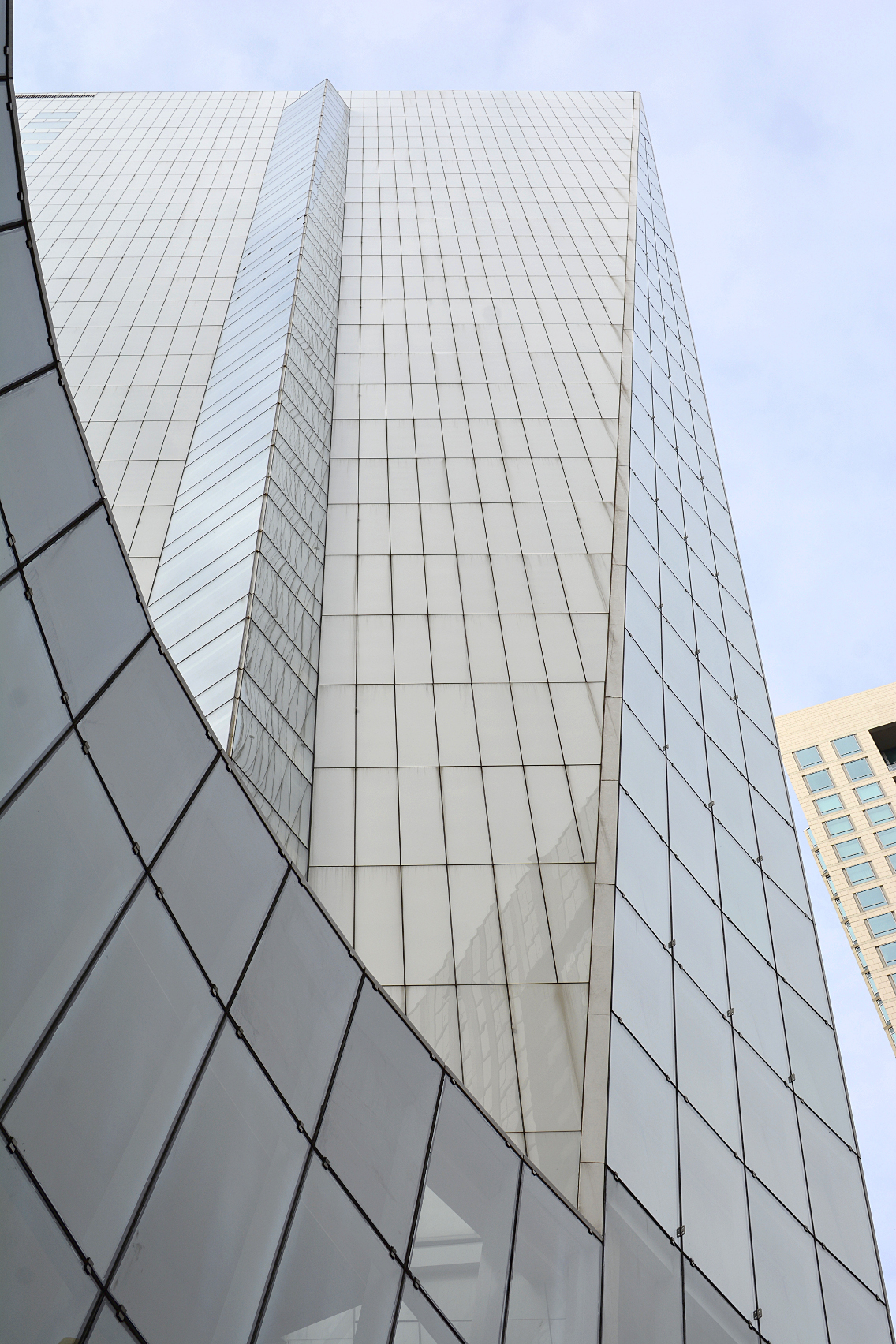 The Sofitel is a gorgeous, modern building off of Rush with an elegant facade of mirrored window panels that create stunning reflections to watch.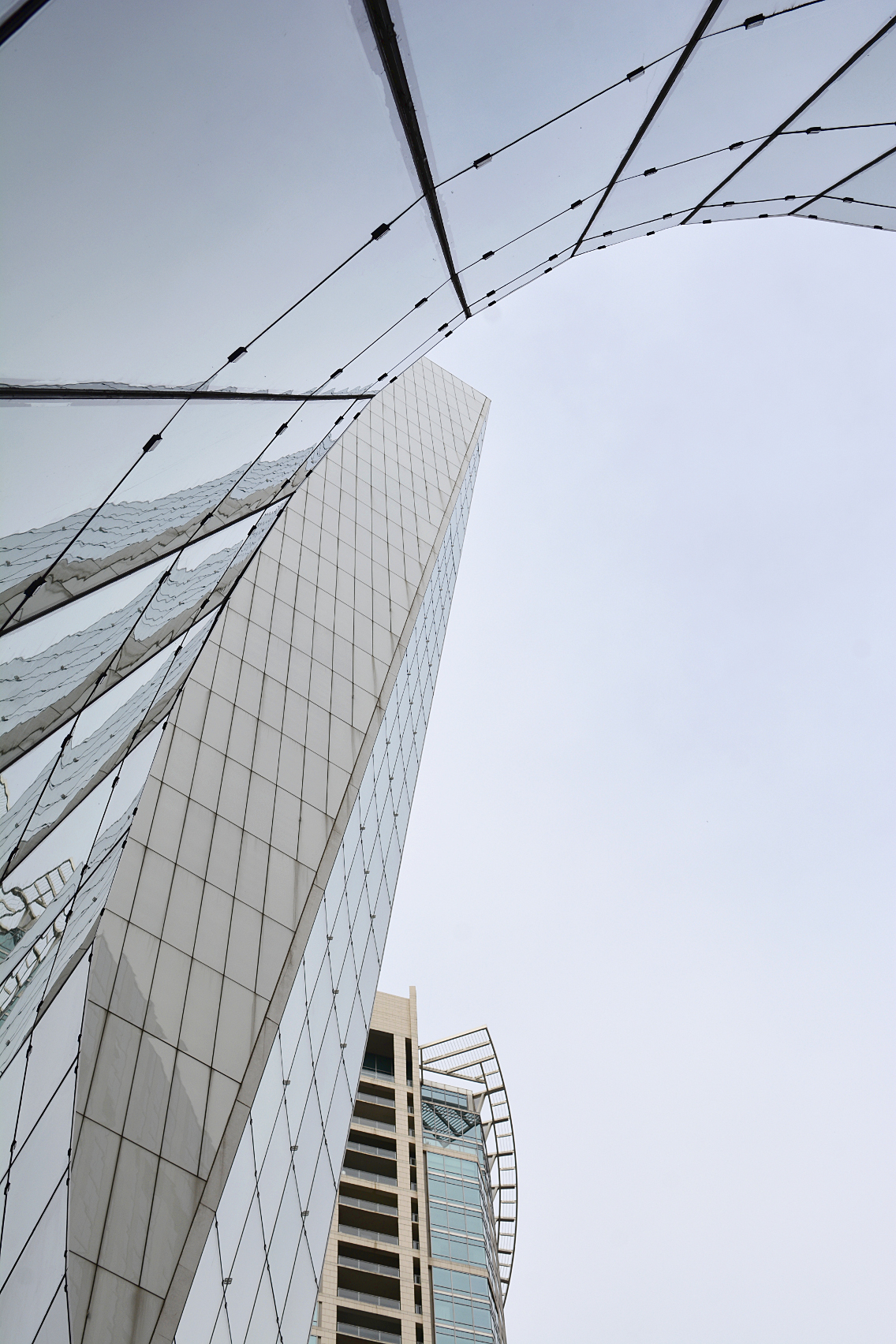 I always love shooting this building!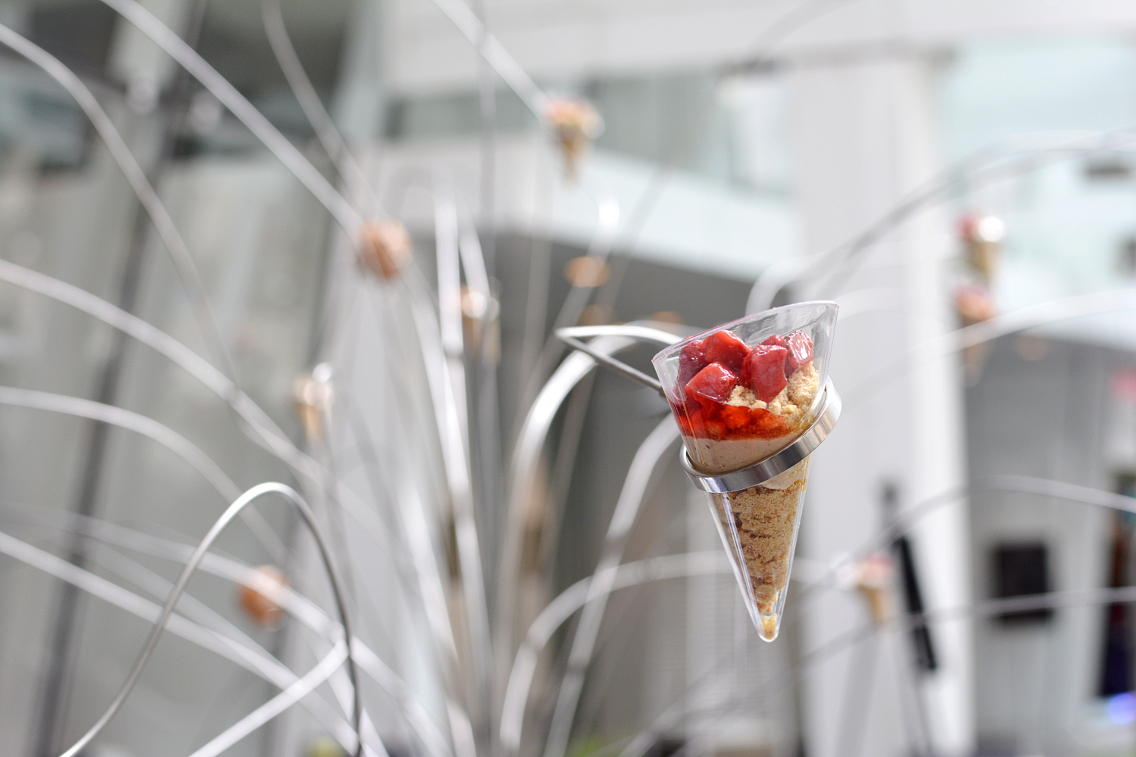 Walking onto the patio, we were greeted with these towering appetizer trees designed for guests to pluck their favorite savory nibbles from.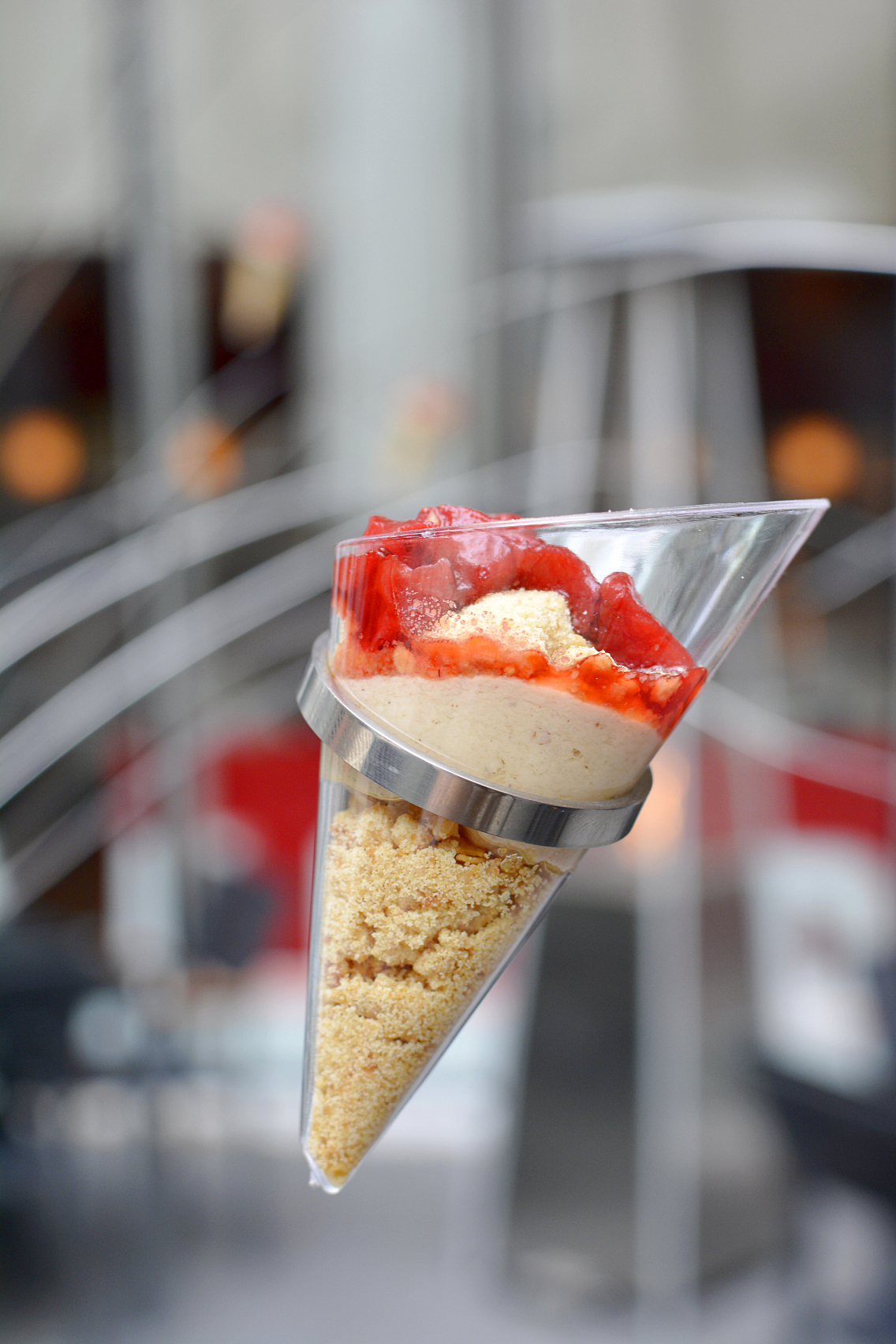 Like Foie Gras and Strawberry Verrines.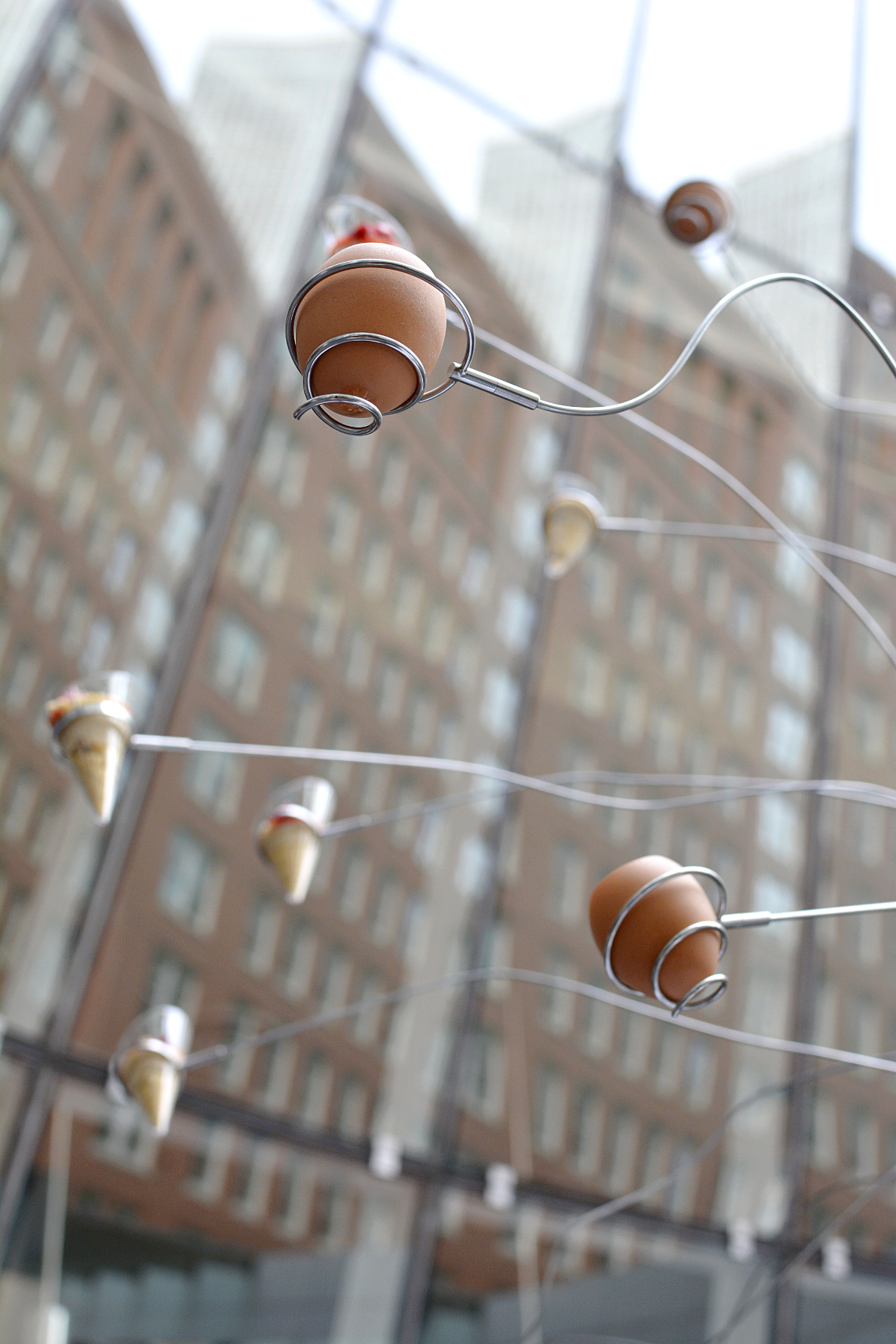 Or Miso Custard in Egg Shells.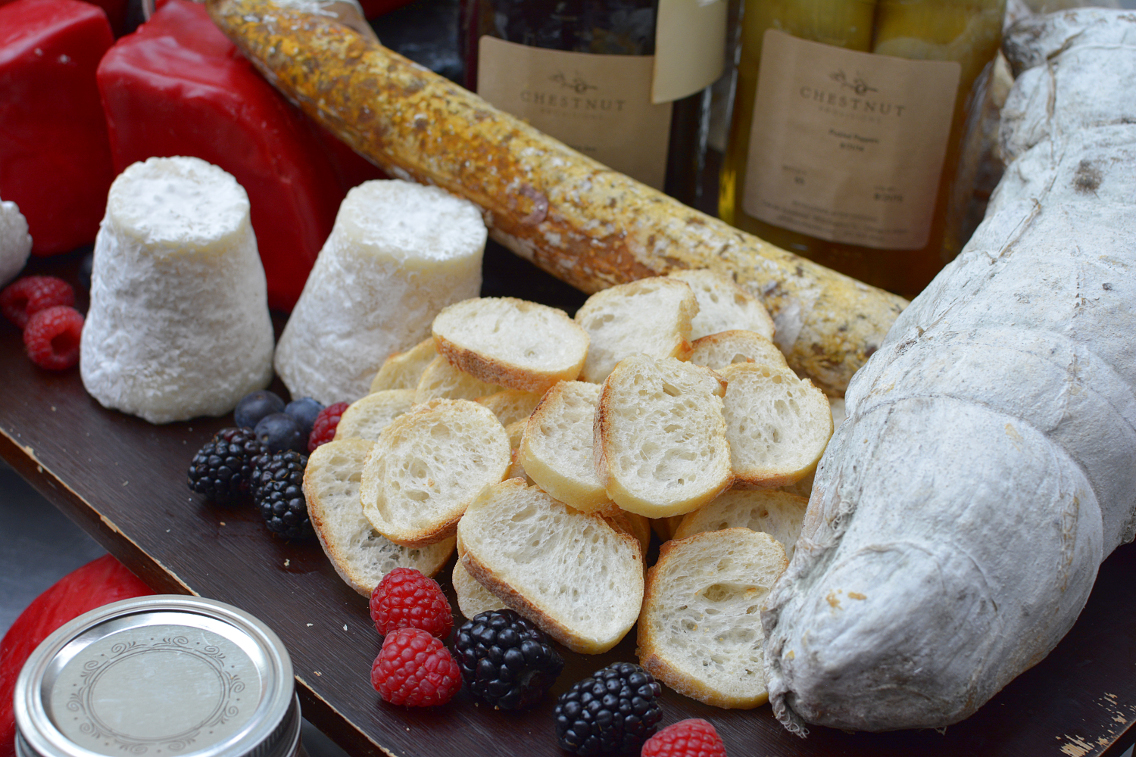 There was also a massive table of assorted charcuterie, Chestnut Provisions Tomme, Taleggio, and Chevre cheeses, as well as various accompaniments of pickled vegetables and jams. Chestnut Provisions is an artisanally-driven kitchen-to-table concept by Sofitel Executive Chef Greg Biggers meant to showcase the freshest seasonally sourced ingredients.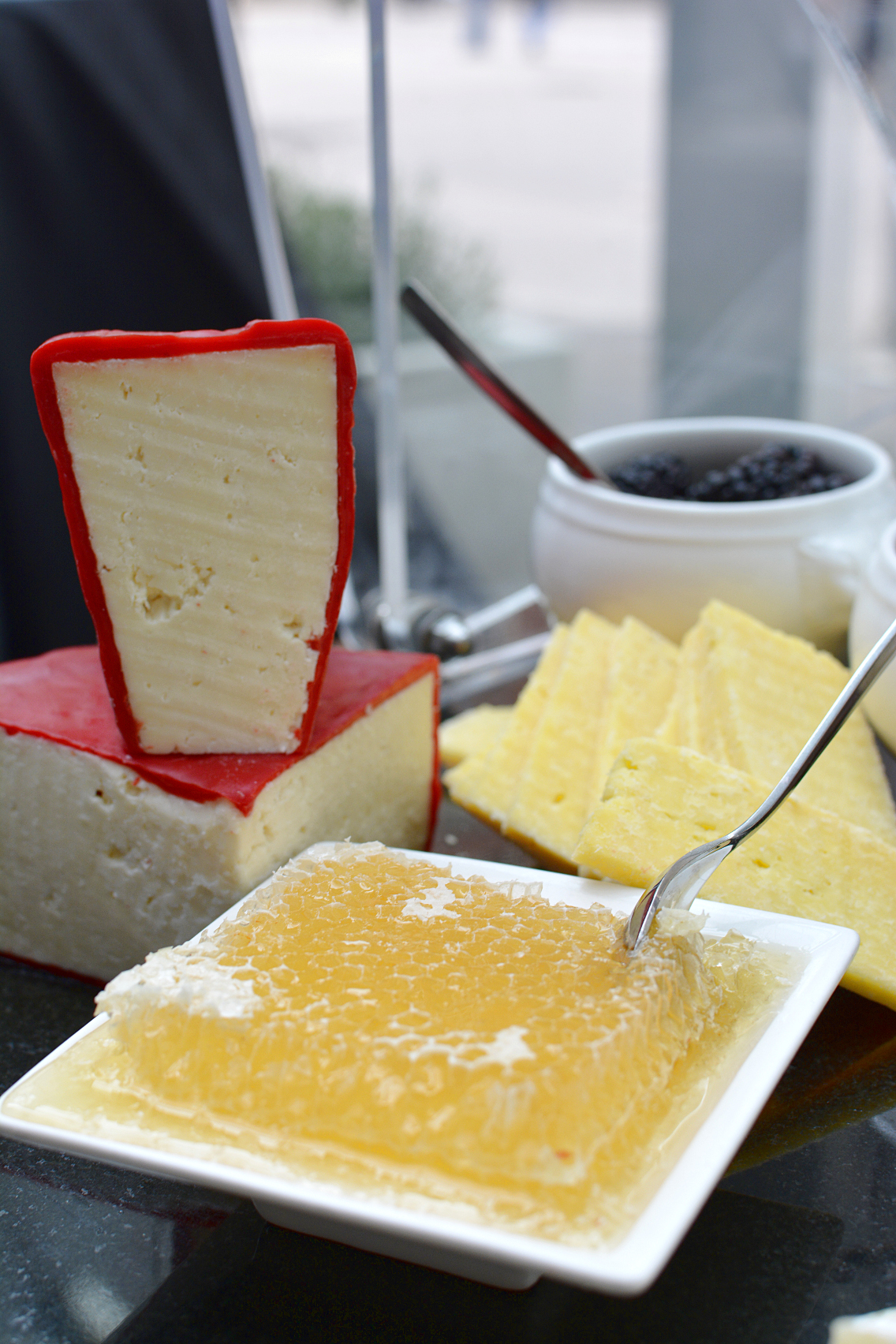 And the spread was QUITE impressive!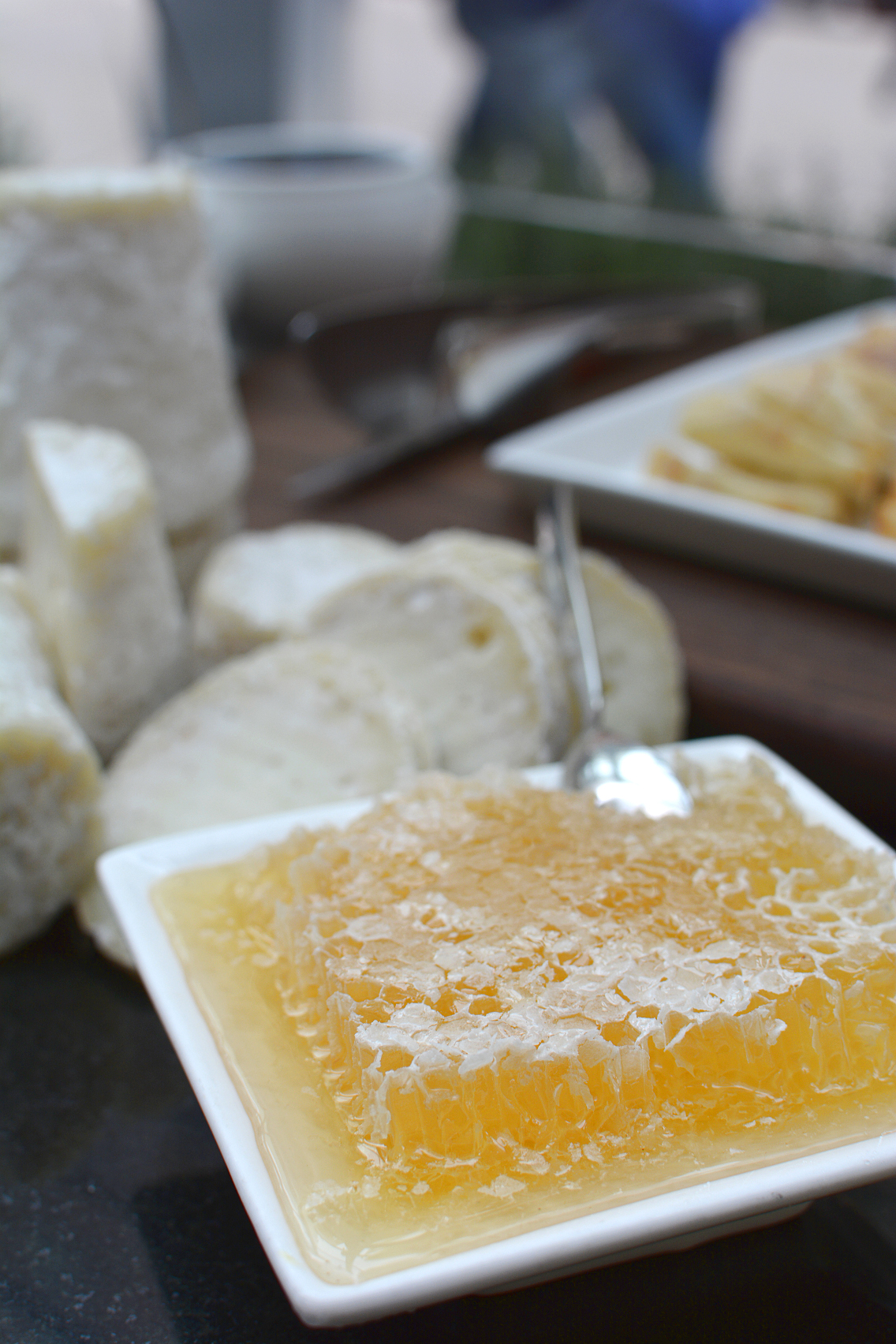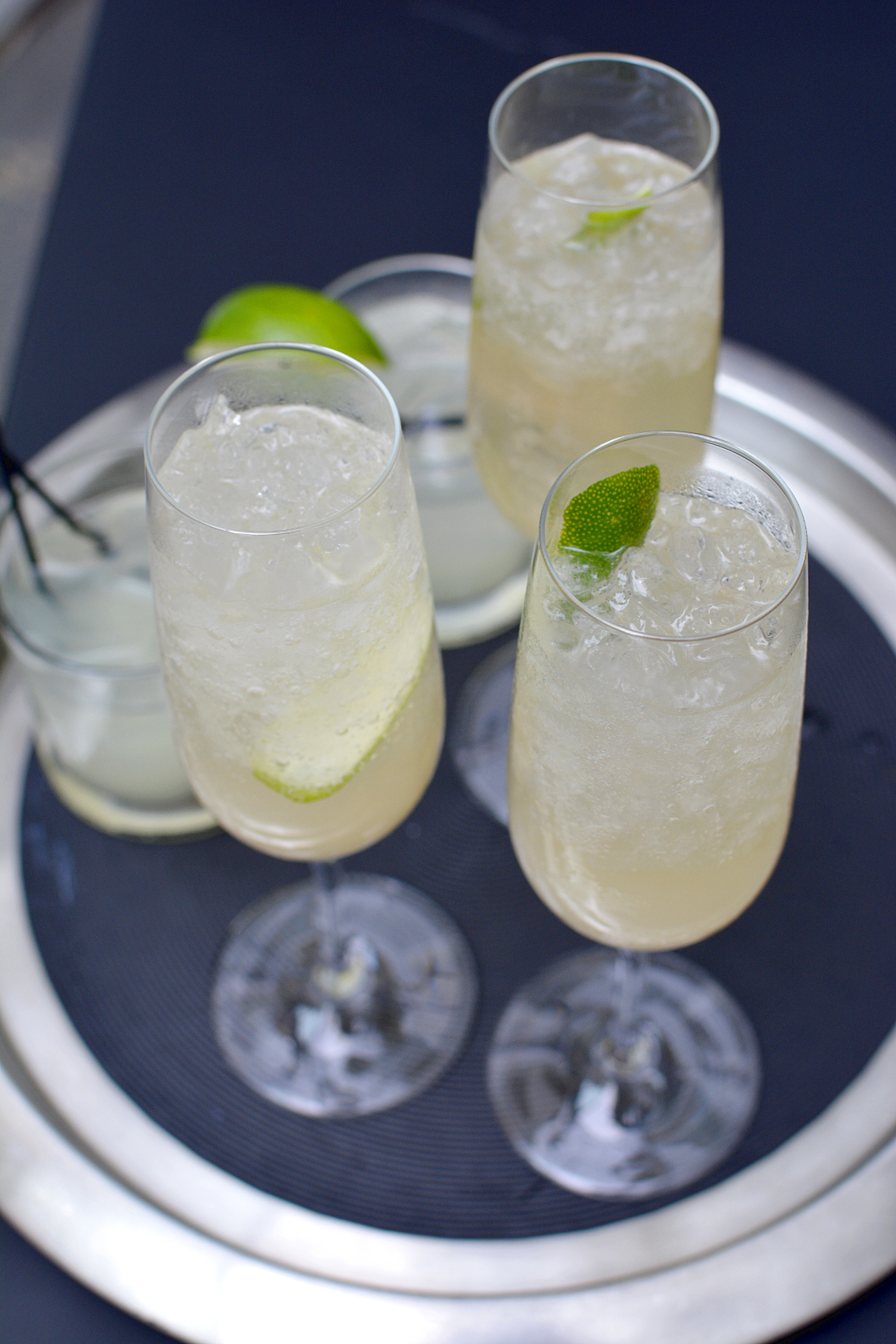 As were the delectable French cocktails being passed around.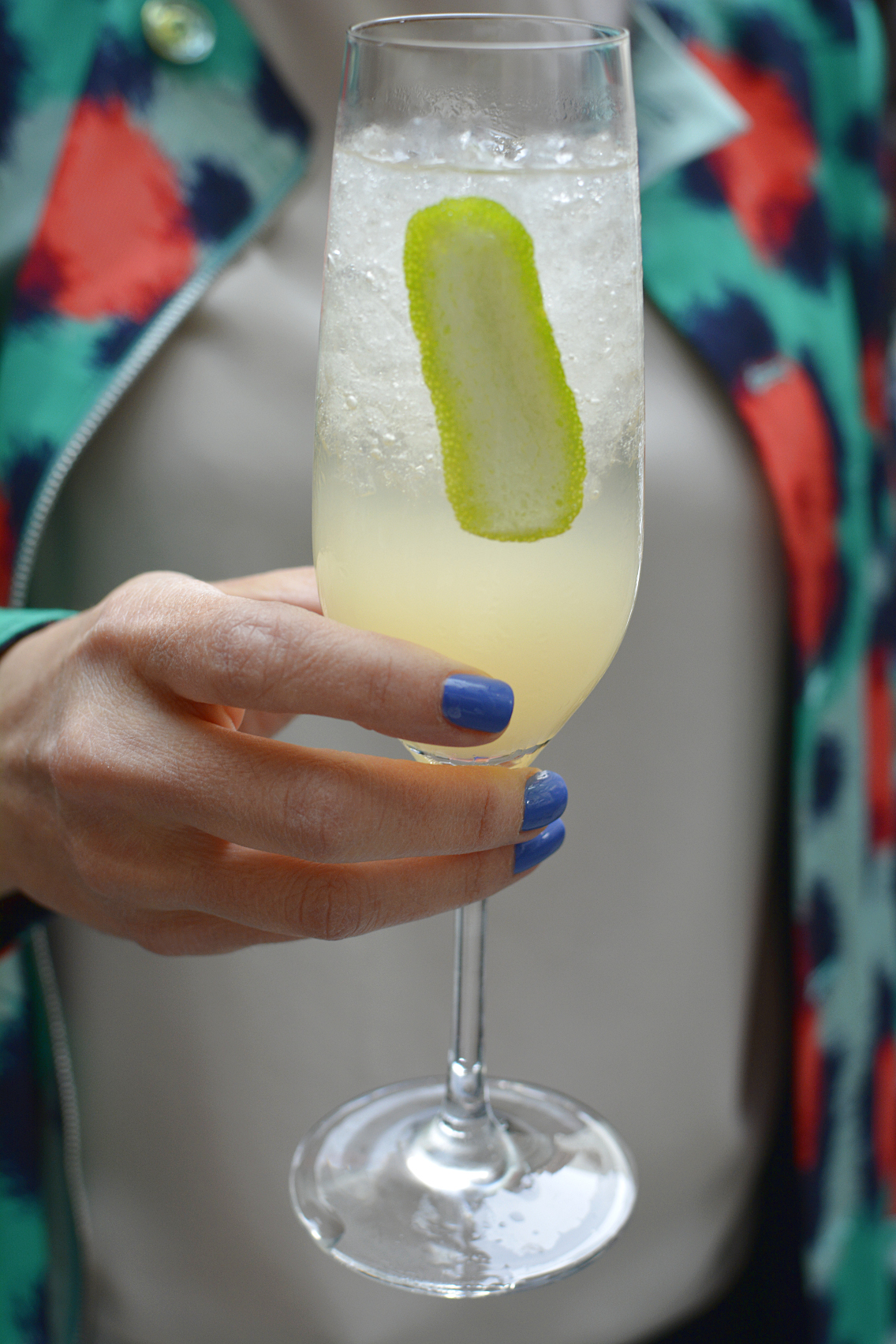 Which Anna sweetly modeled for me. Shhh don't tell anyone but she's my favorite hand model — especially since her colorful outfits make positively brilliant backdrops too.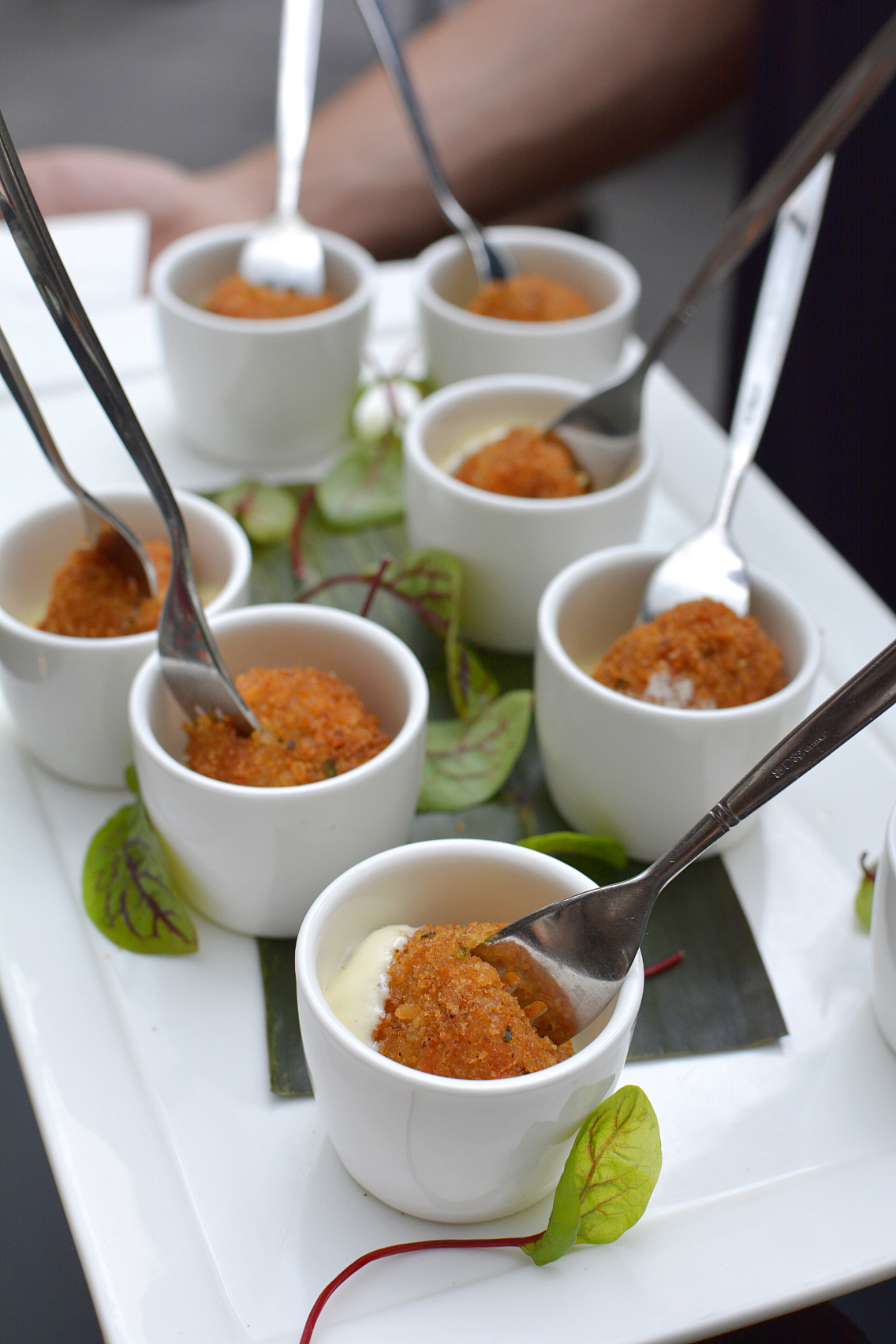 After filling ourselves with fresh cheeses and charcuteries, we sat down and the true feast began.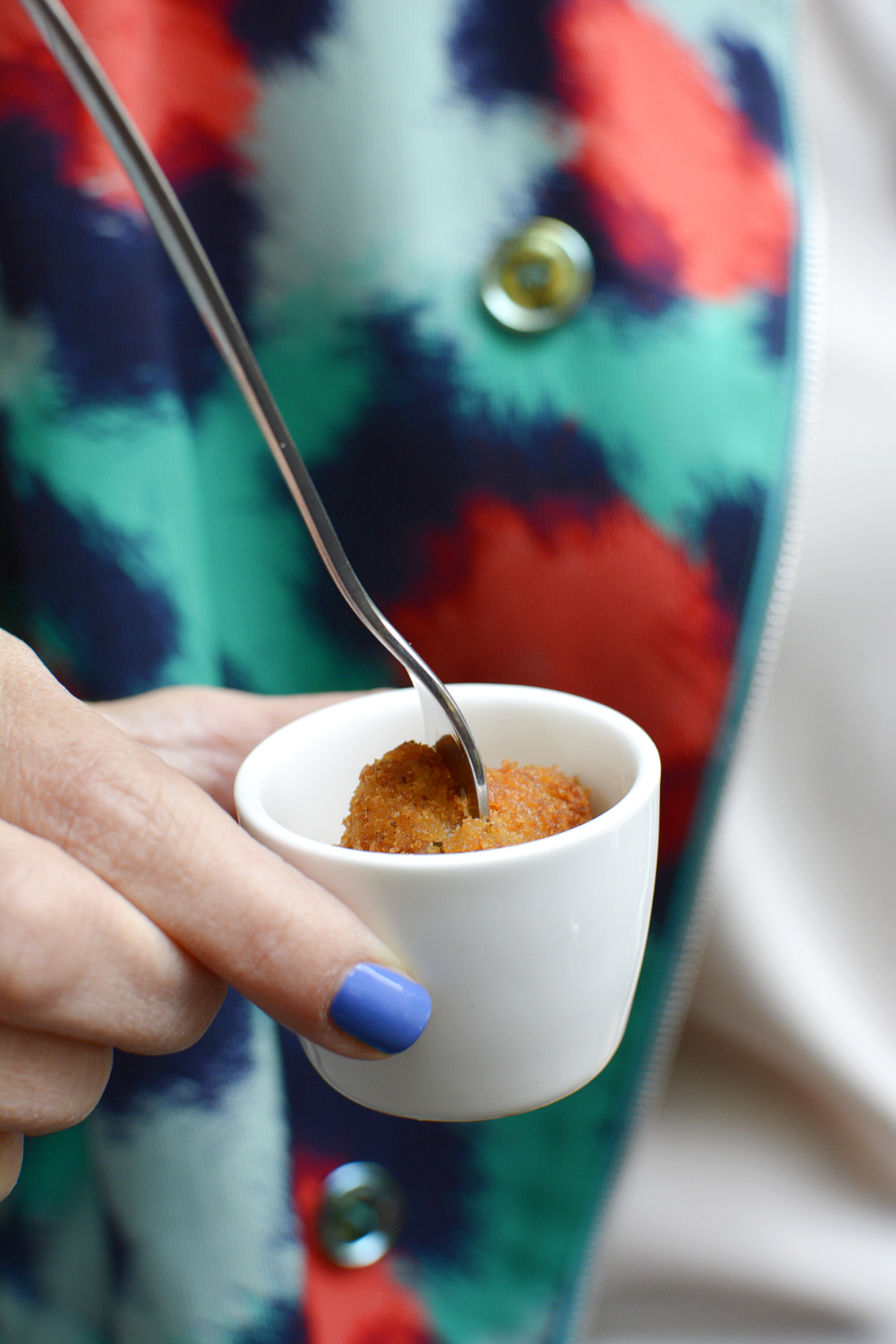 First up was this Foie Gras Torchon.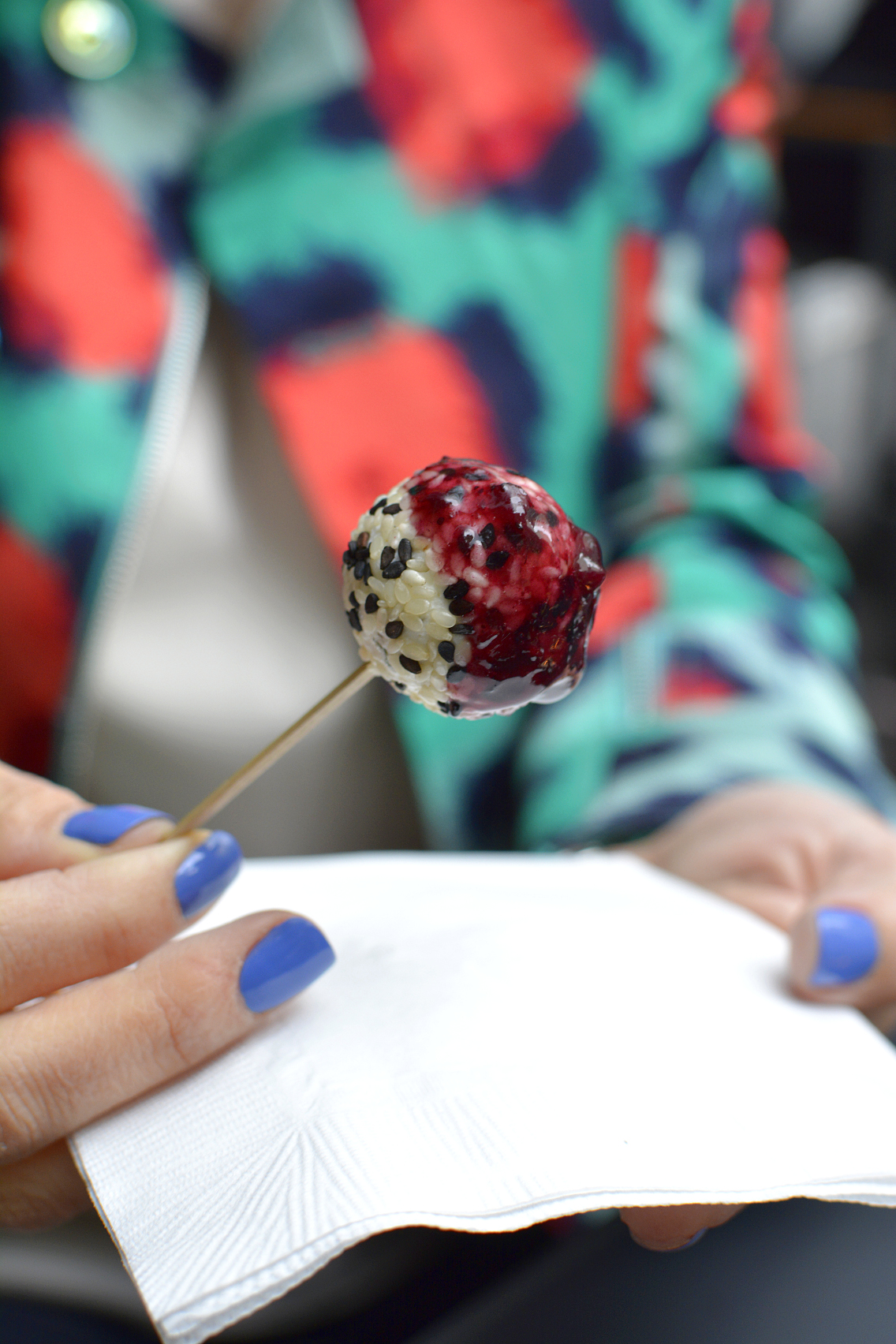 Then various colors and flavors of Goat Cheese Truffles. Each bite had a grape inside and the creamy mixture of tart juicy fruit and soft creamy cheese was TO DIE FOR and may have caused me to eat more than my fair share…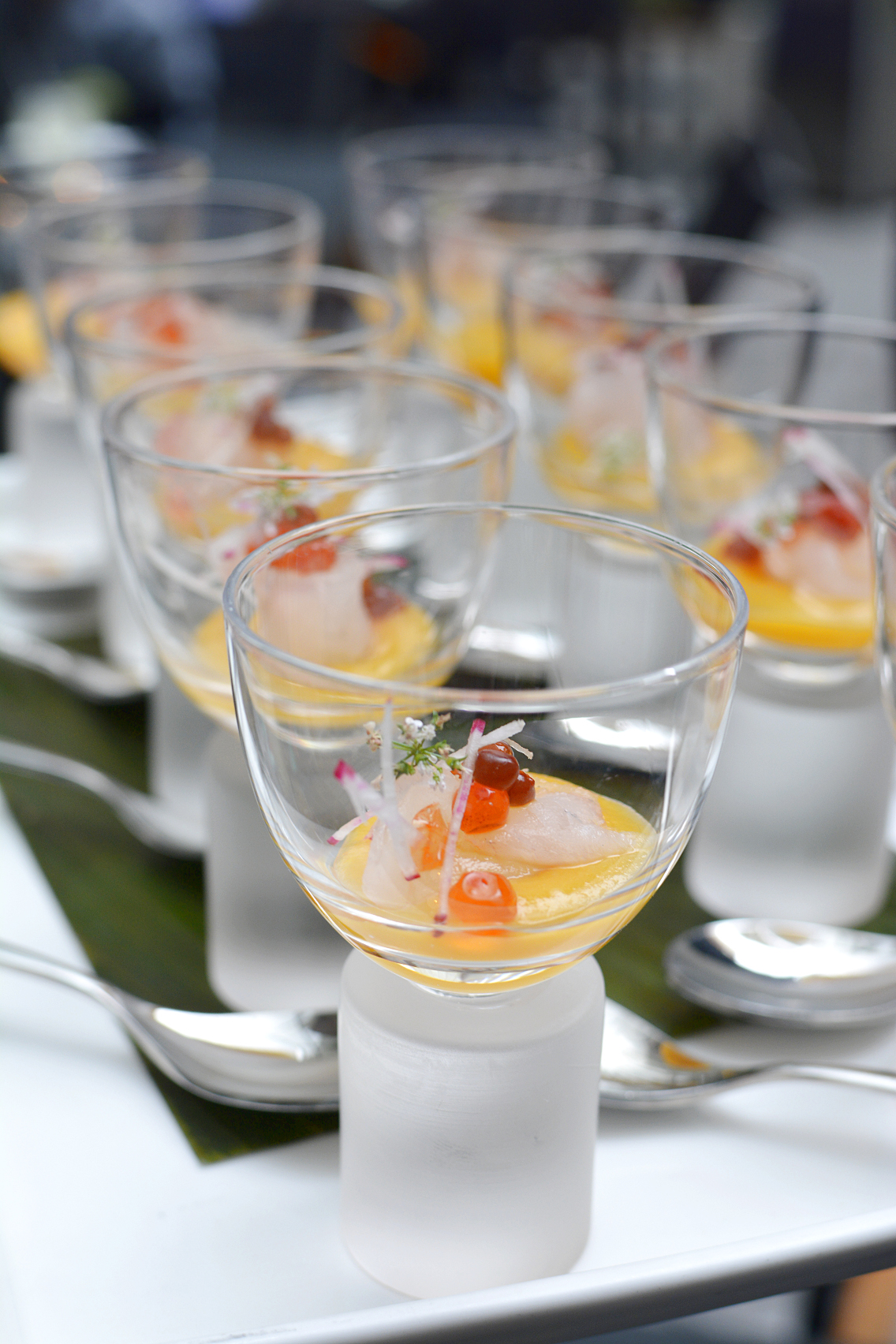 Next up came the Fluke Sashimi with Apricot jus, caviar and shaved radish.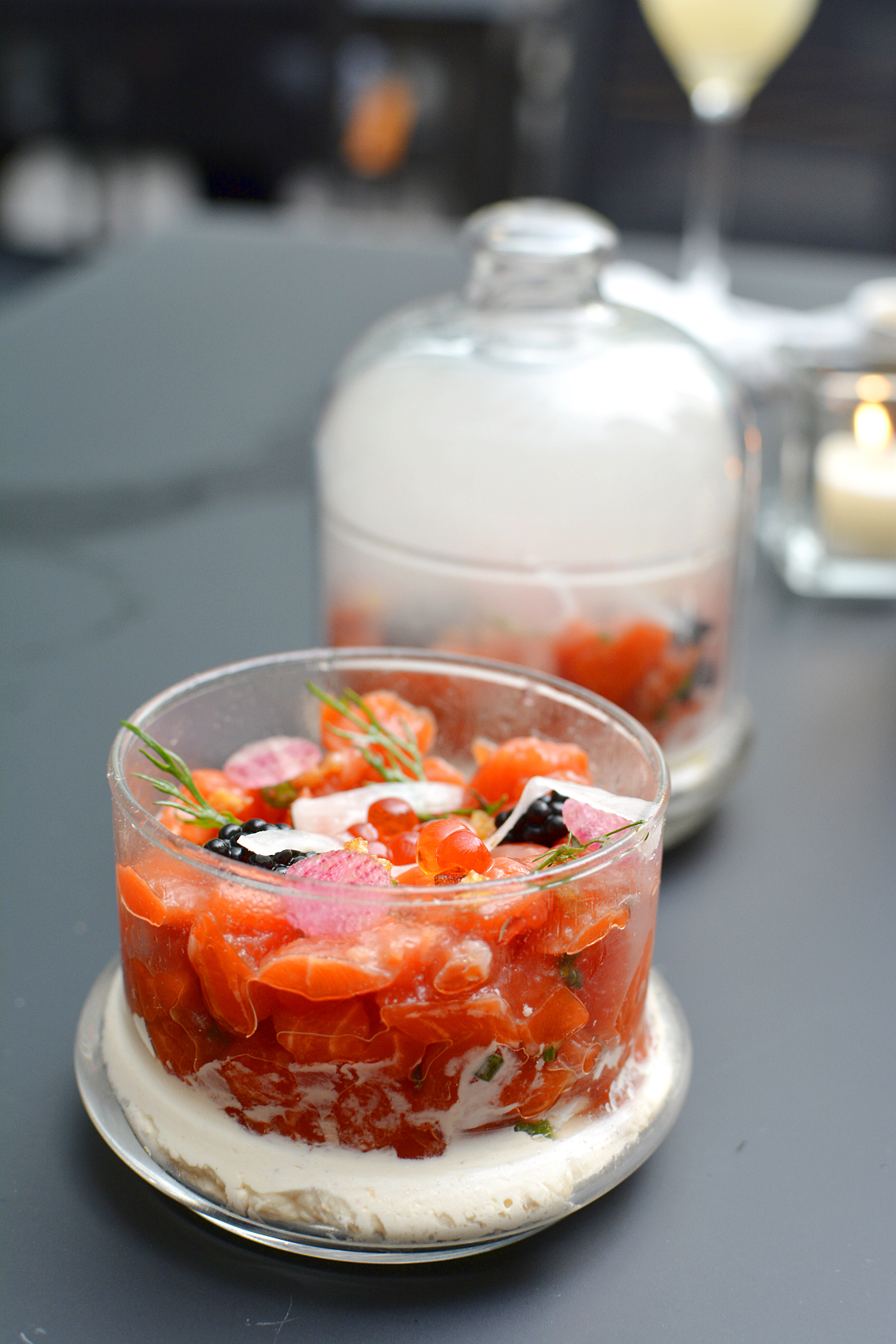 And then the most impressive starter I've seen yet on this blogging journey — Chef Biggers' Smoked Salmon Tartare with cream cheese.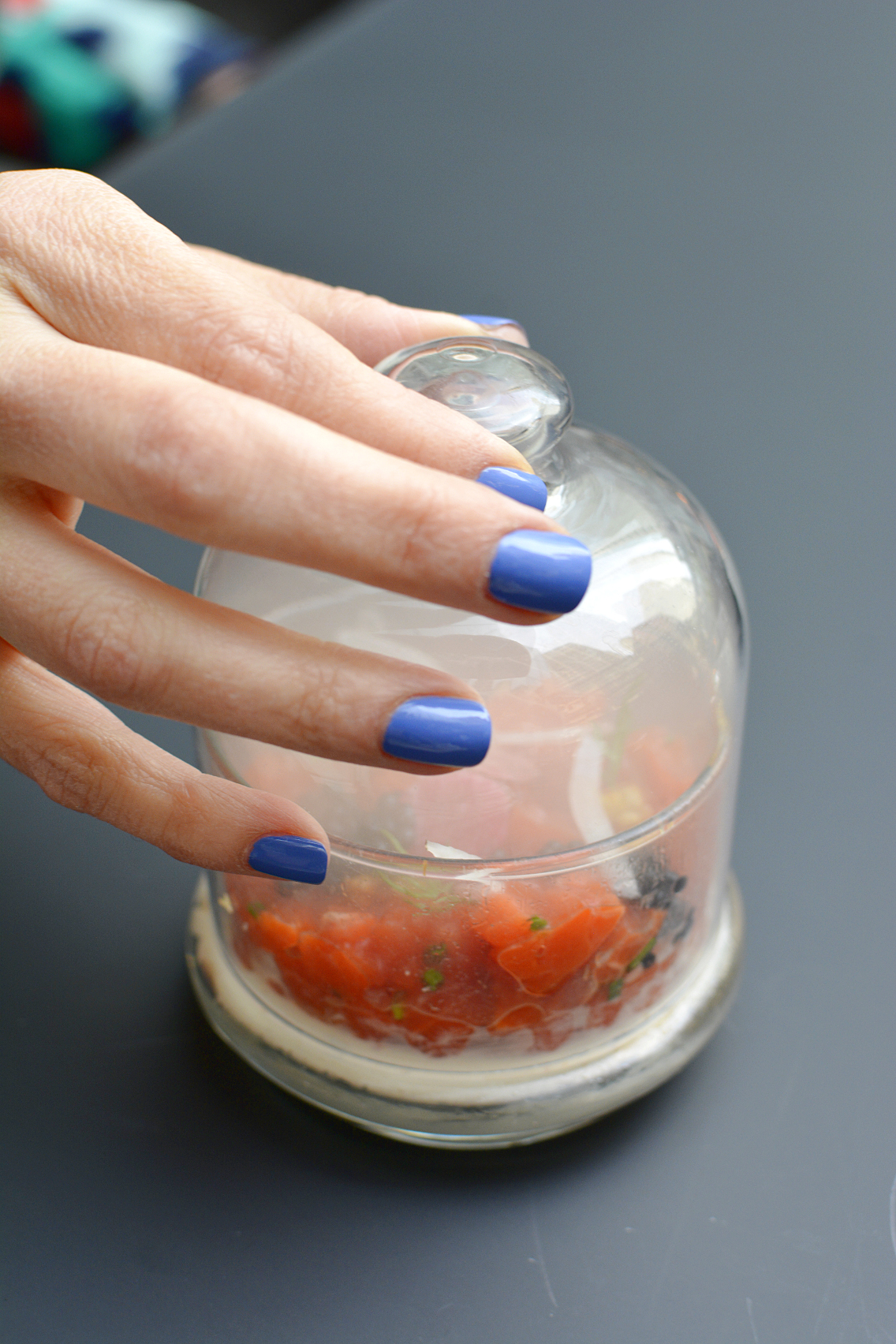 An epic, smoke-filled dome hiding a savory seafood secret…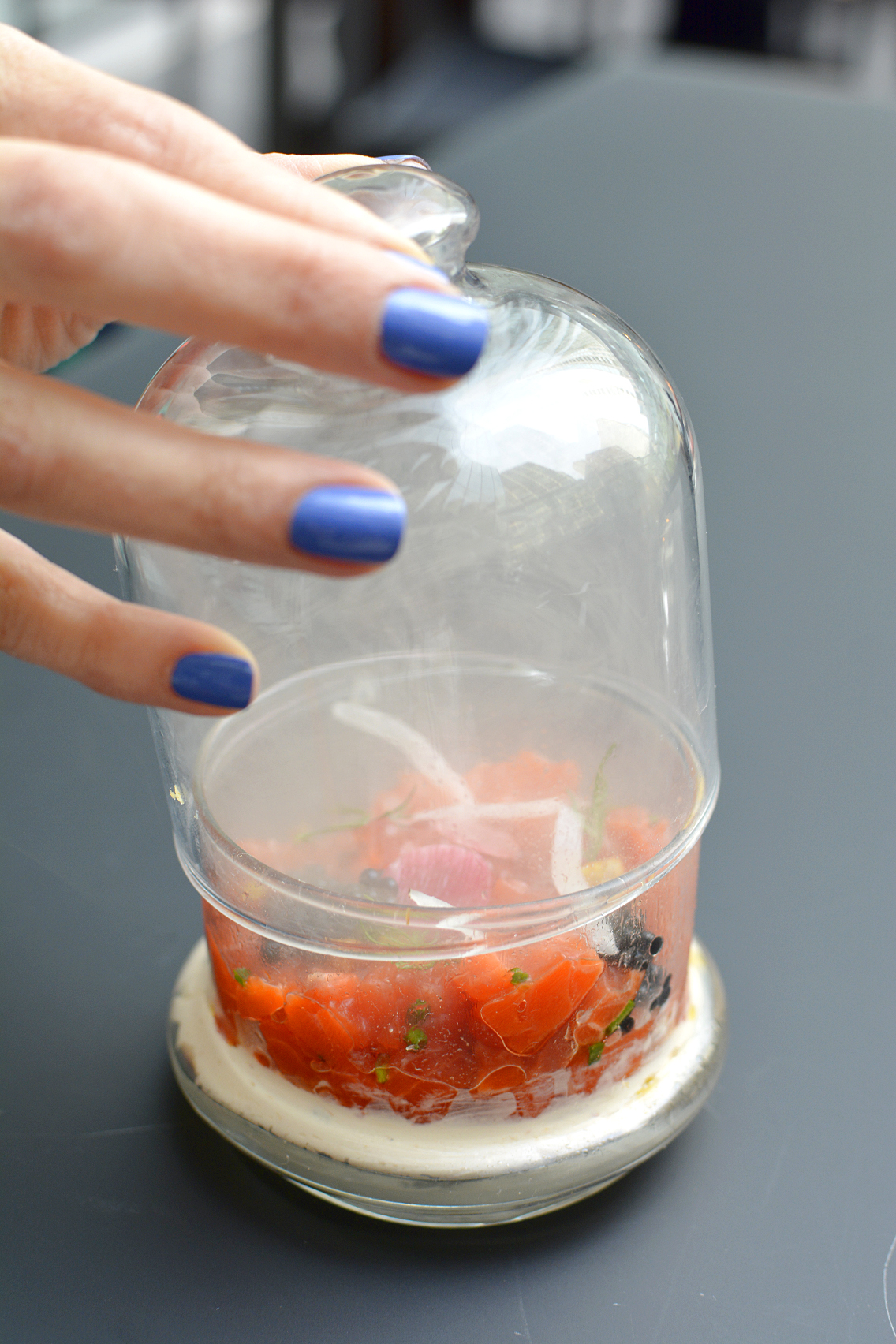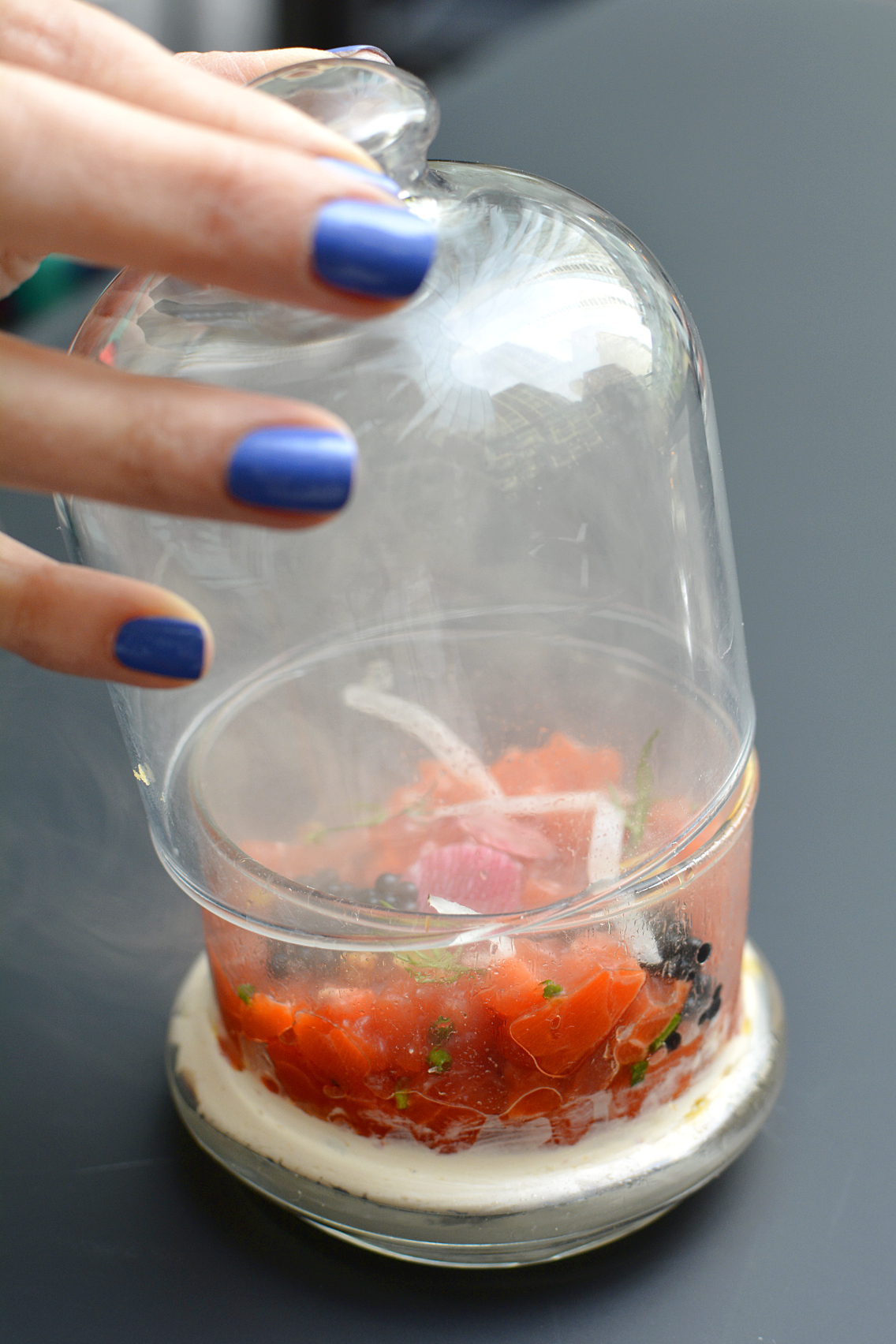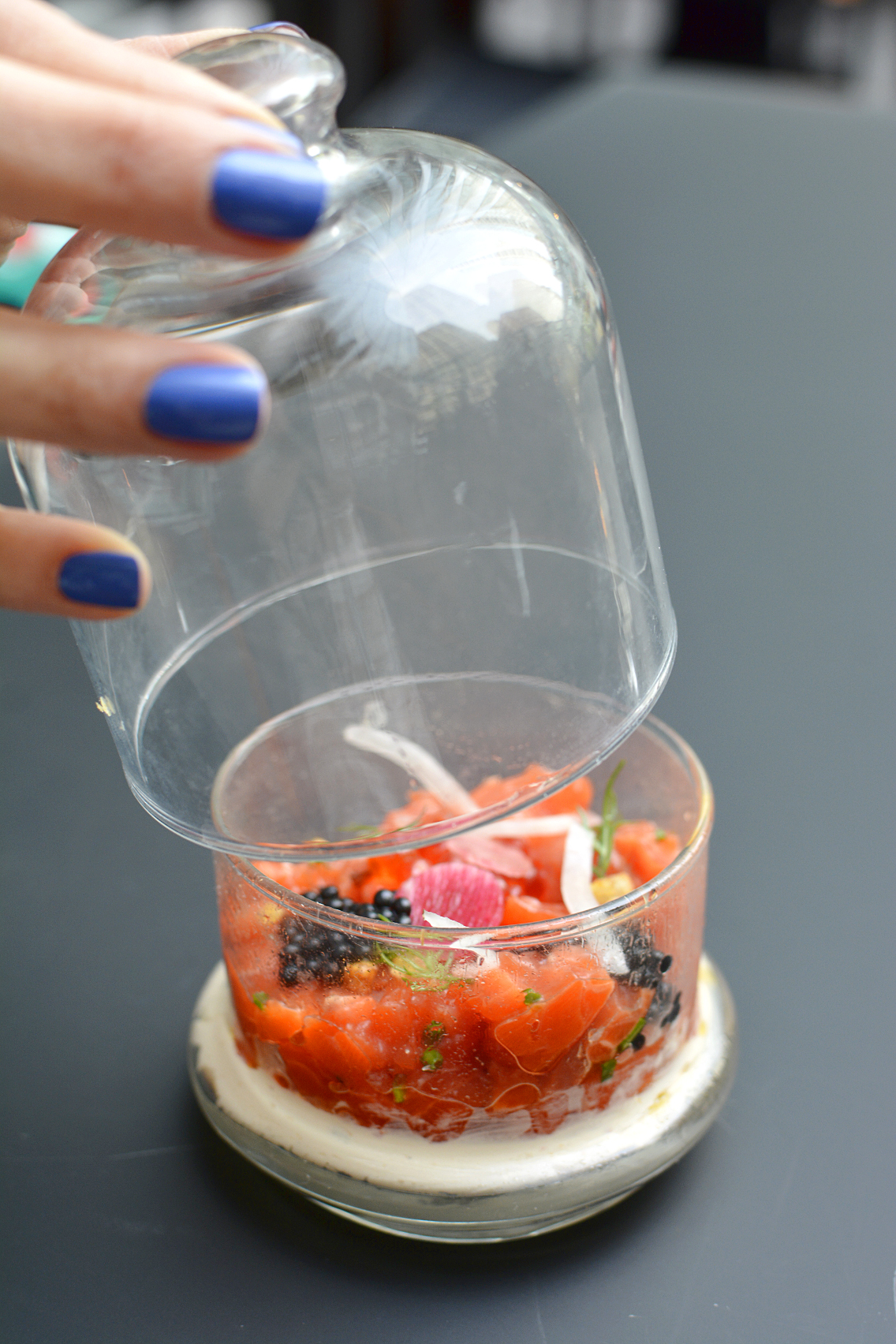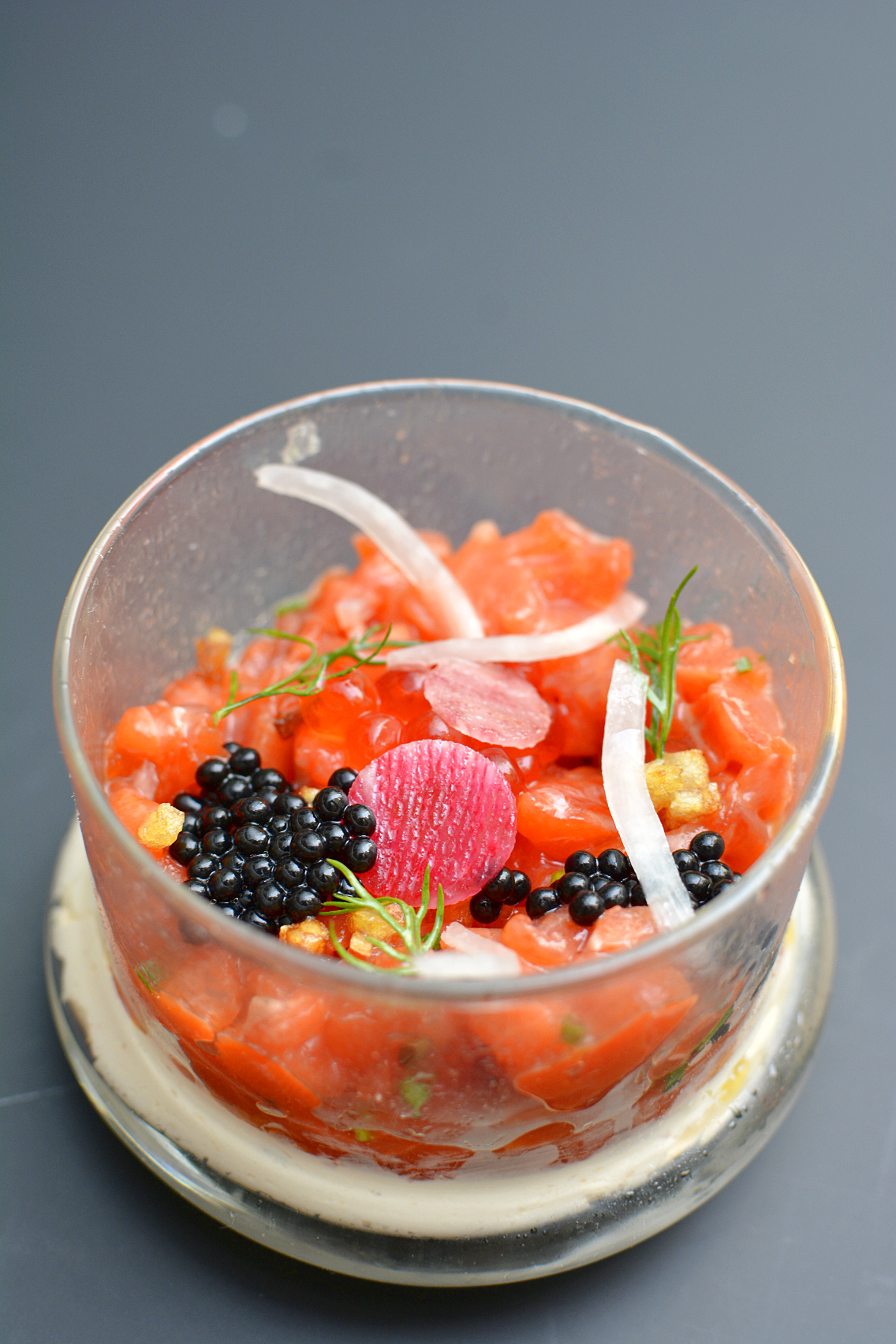 An enormous bed of cream cheese topped with fresh salmon, salmon roe, radishes and plenty of smokey goodness. I'm literally obsessed with the dish and even more so with the amazing presentation!
If you order one thing the next time you eat at Le Bar, make it this Tartare. If only for the satisfyingly dramatic reveal of that smokey dome…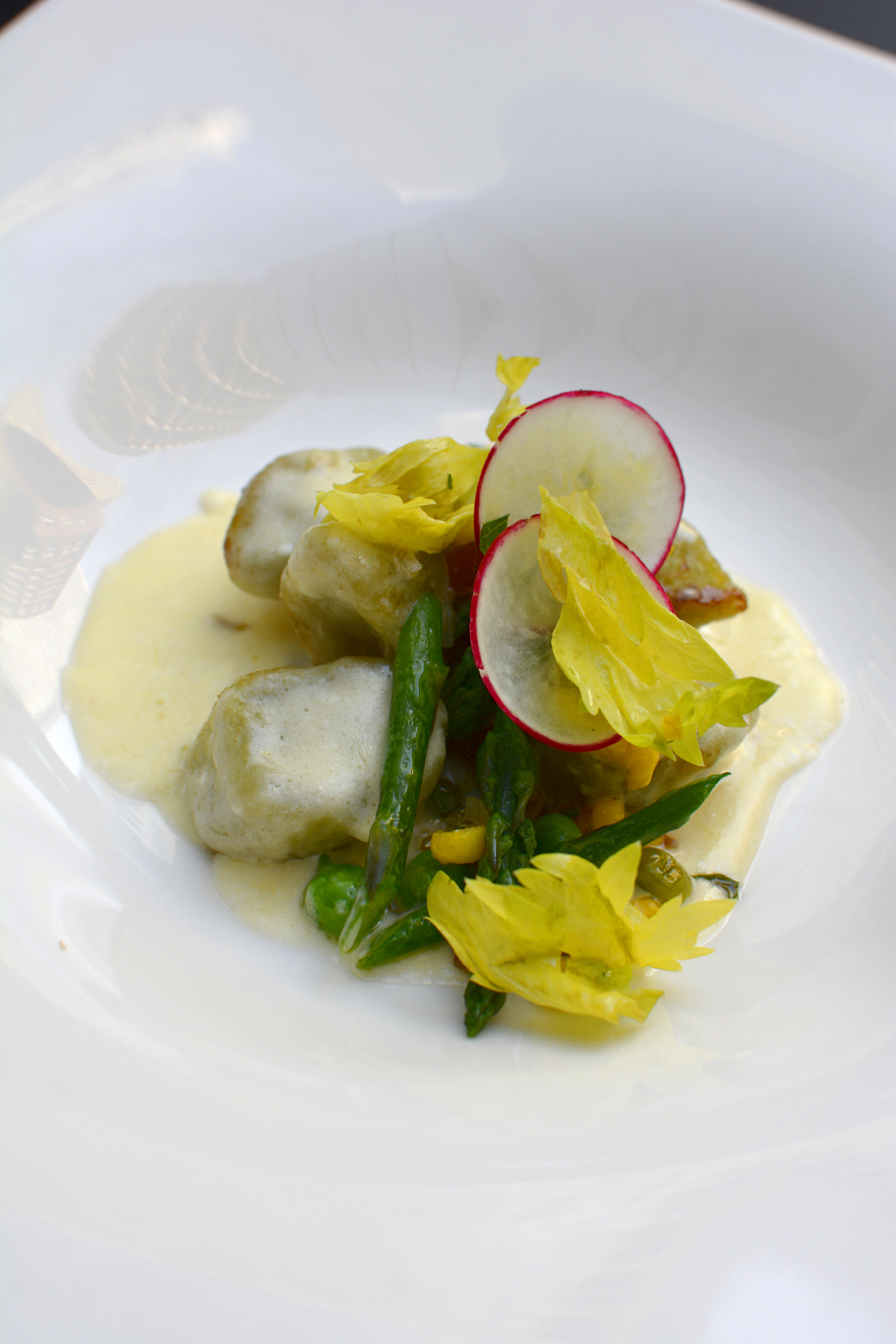 After filling ourselves on the first courses, we couldn't believe we hadn't even made it to the entrées until this delicious little number of Ramp Gnocchi appeared. Light and airy with a strong buttery herb flavor, these gnocchi were the perfect texture and heaviness to reignite our appetites. And the flavor profiles could not have been fresher!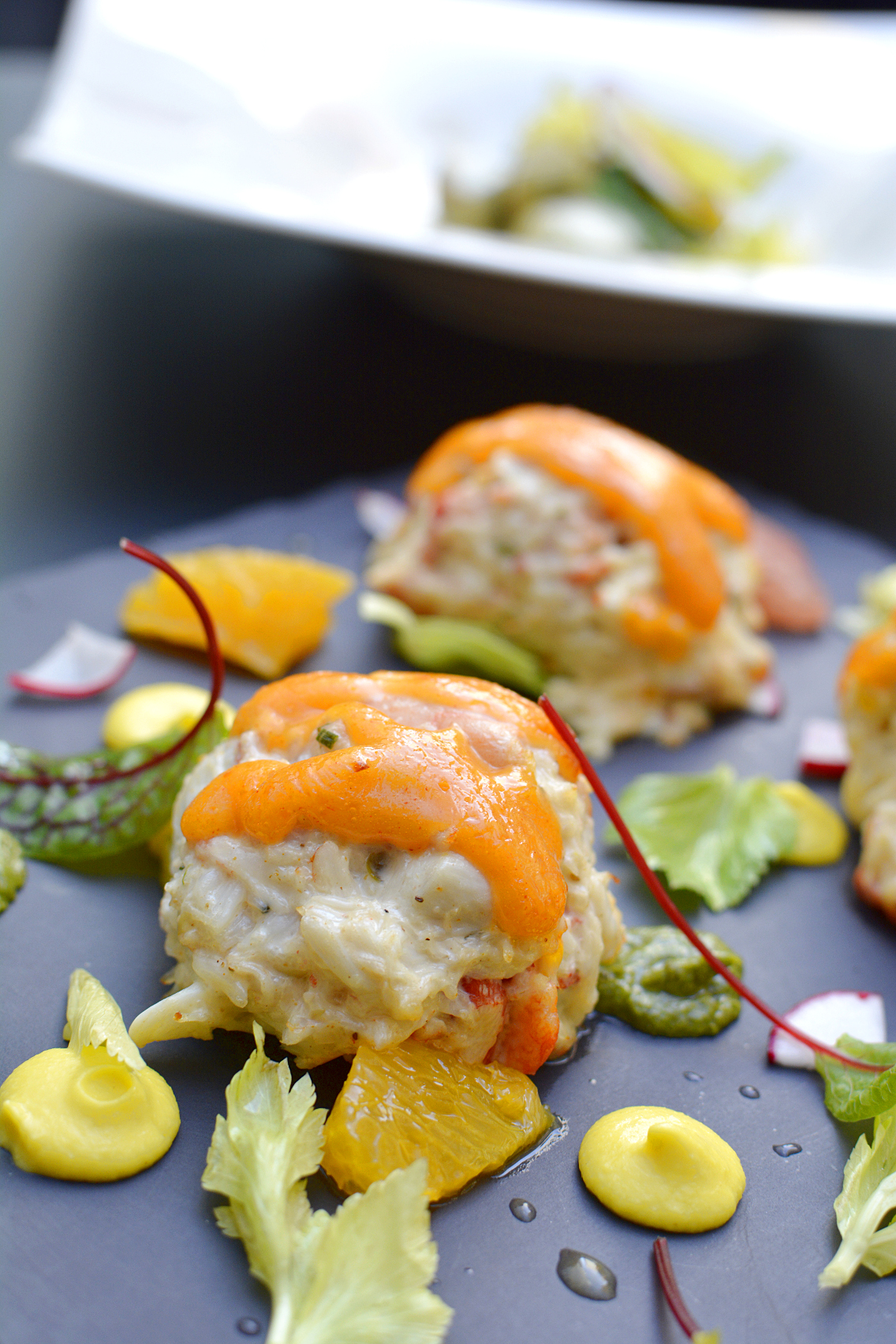 We also sampled the Maryland Style Crab Cakes which were moist, creamy and bright thanks to the garden of mustards and citrus wedges they came served on.
A deliciously different take on the traditional crab cake.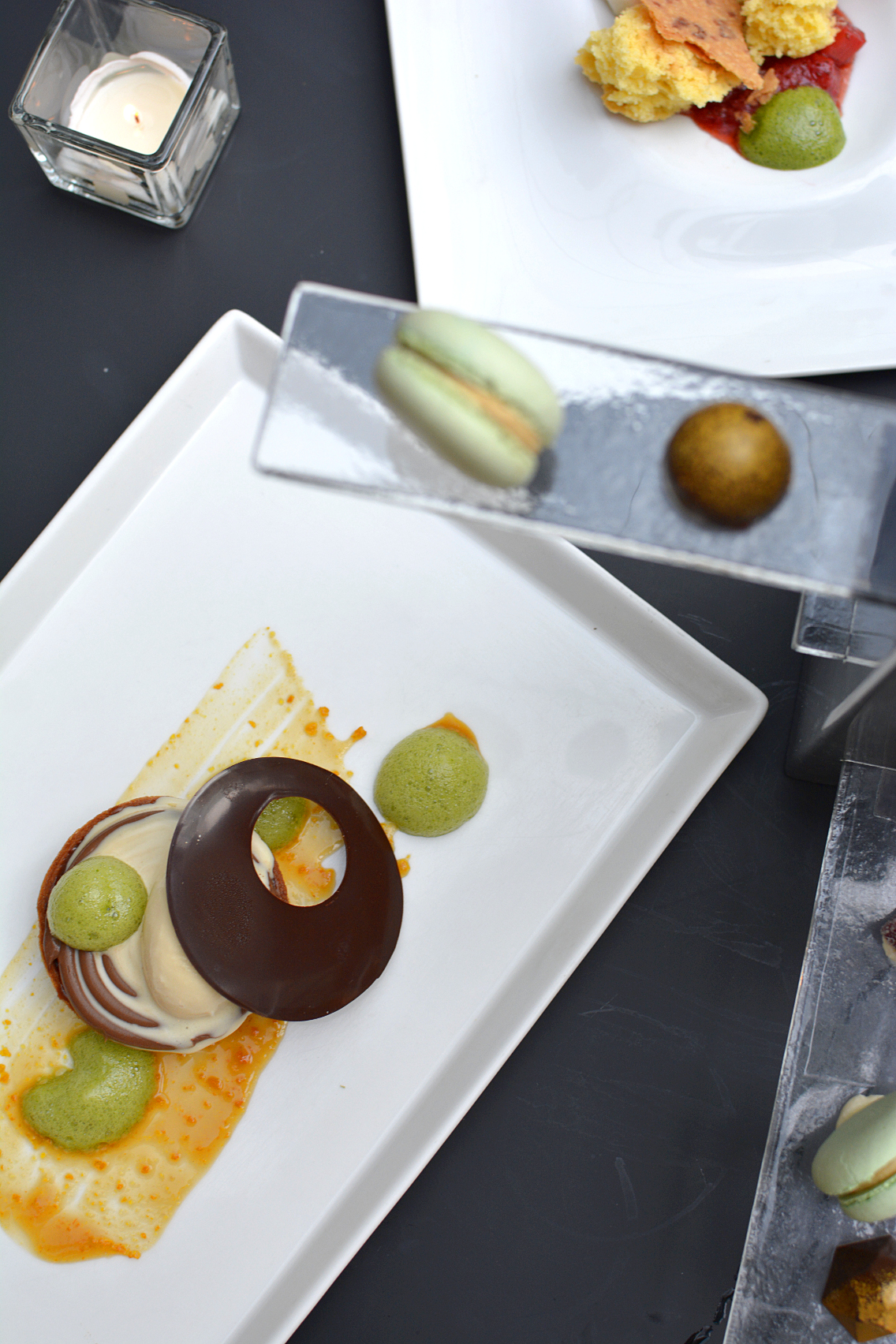 But by now you've no doubt realized that I have quite the sweet tooth so naturally I took twice as many photos of the desserts as any of the other courses…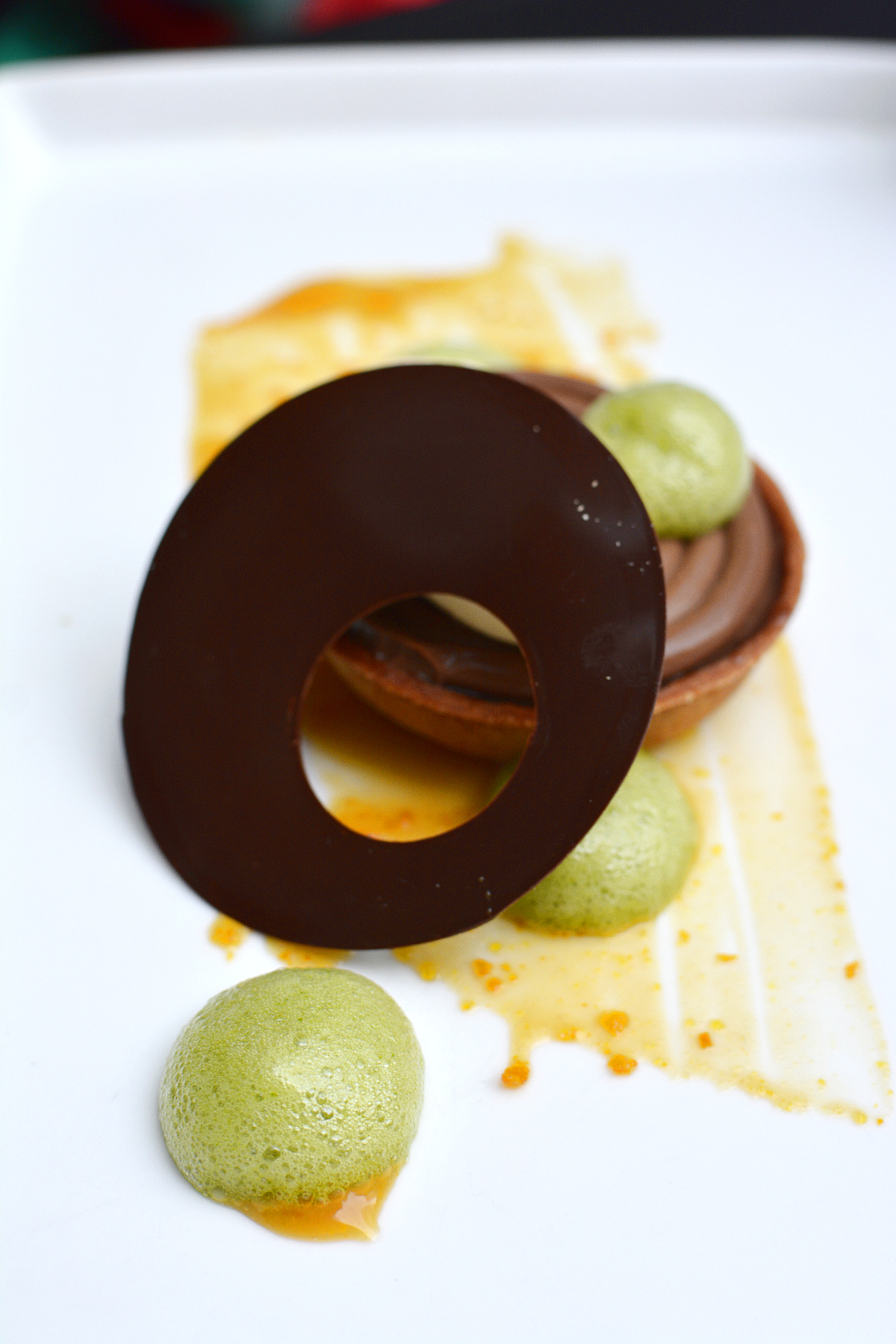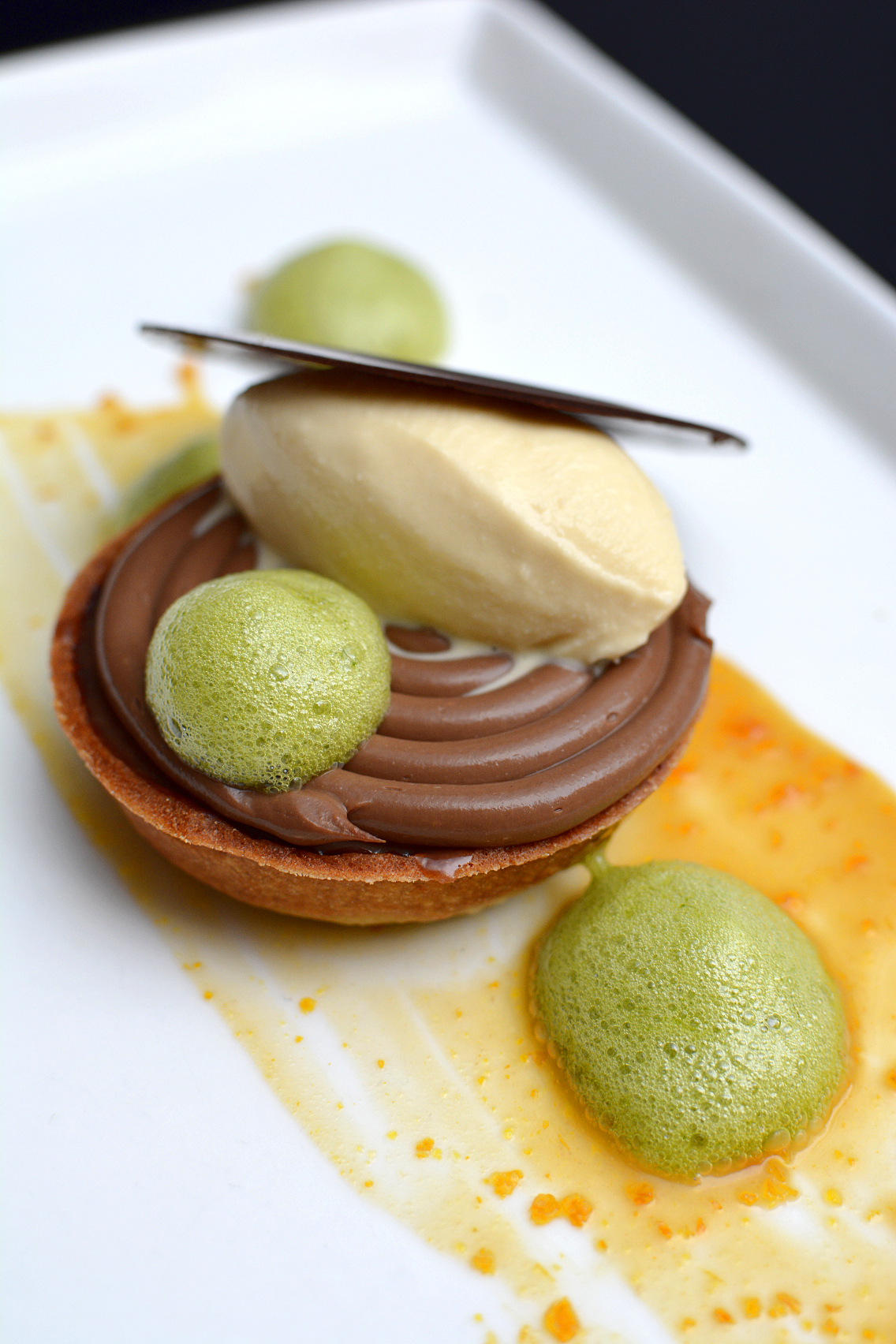 There was this artistic Chocolate Tart with Basil Foam.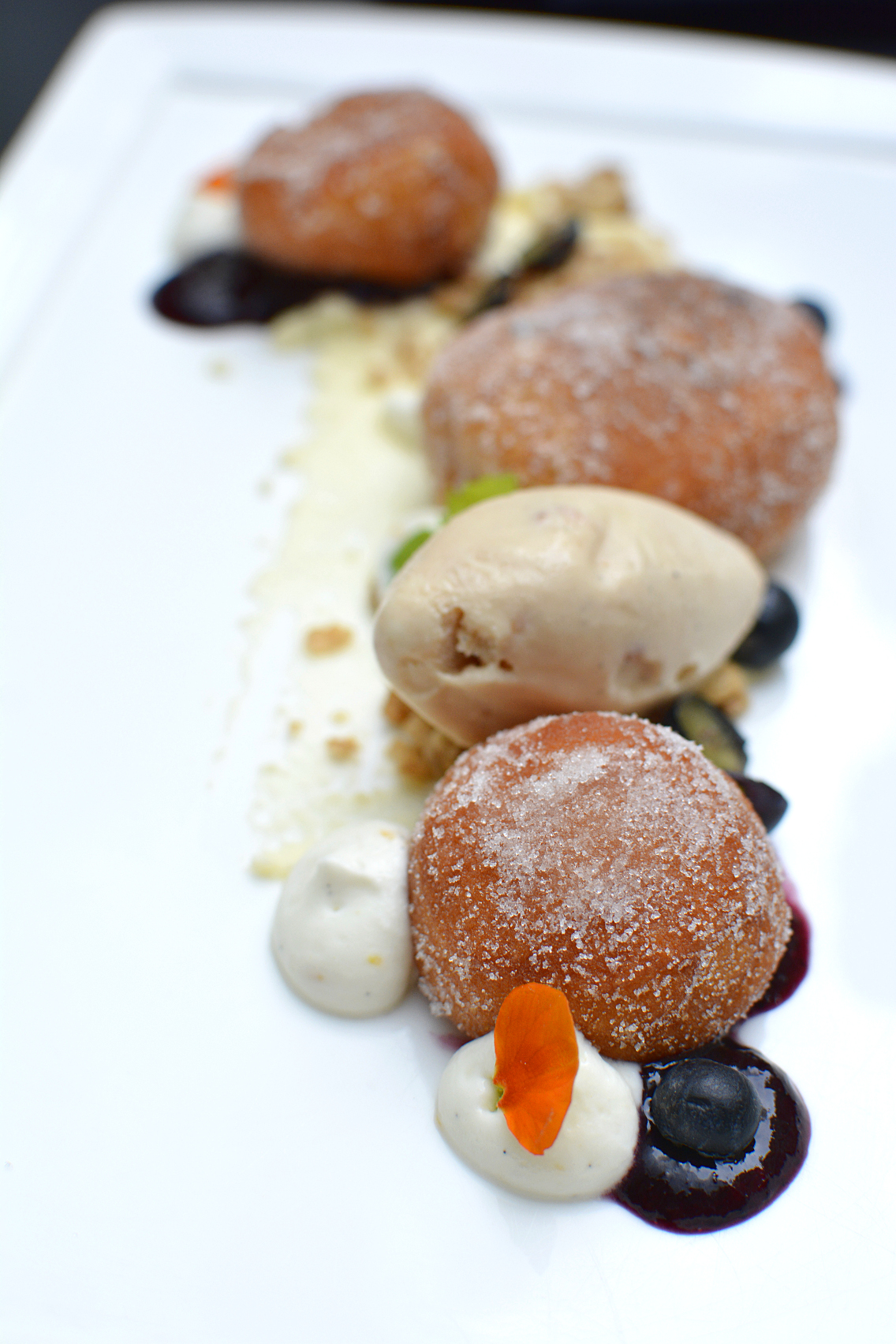 These sinfully delicious Blueberry Doughnuts.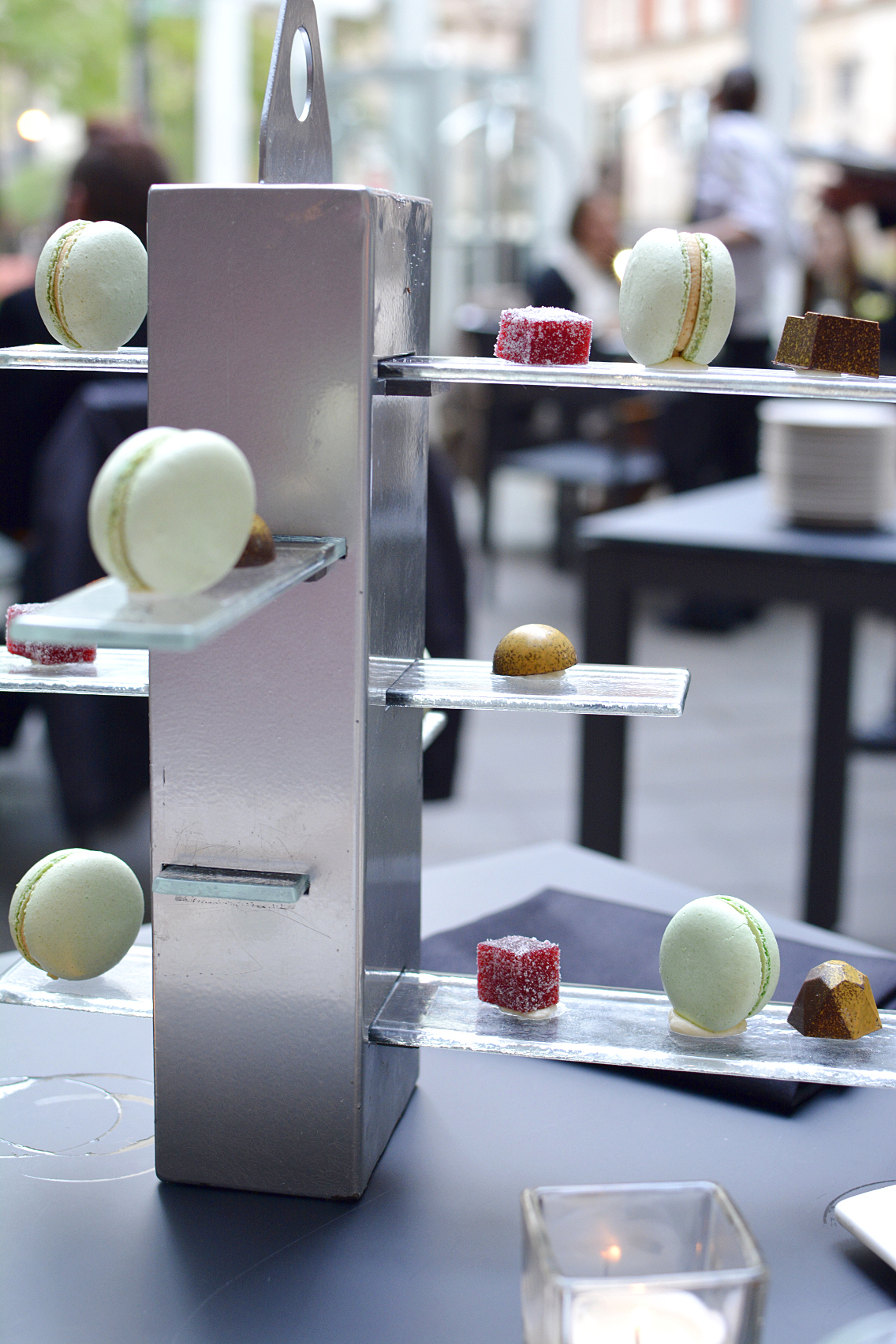 And this TOWERING structure of Mignardises! Macarons, pate fruits, and molded chocolates all perched on various architectural shelves ready to be plucked and savored like the sweet delicacies that they are.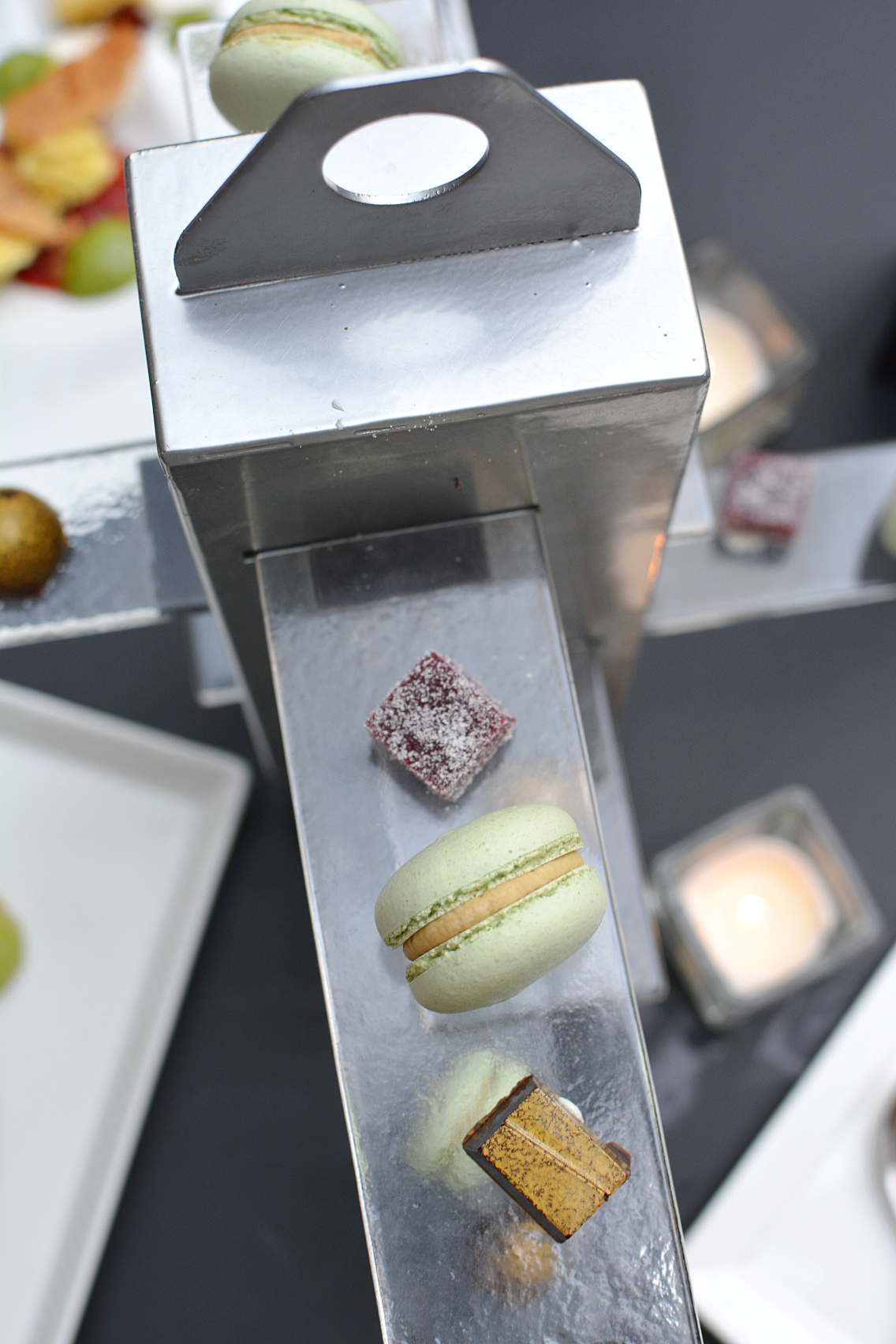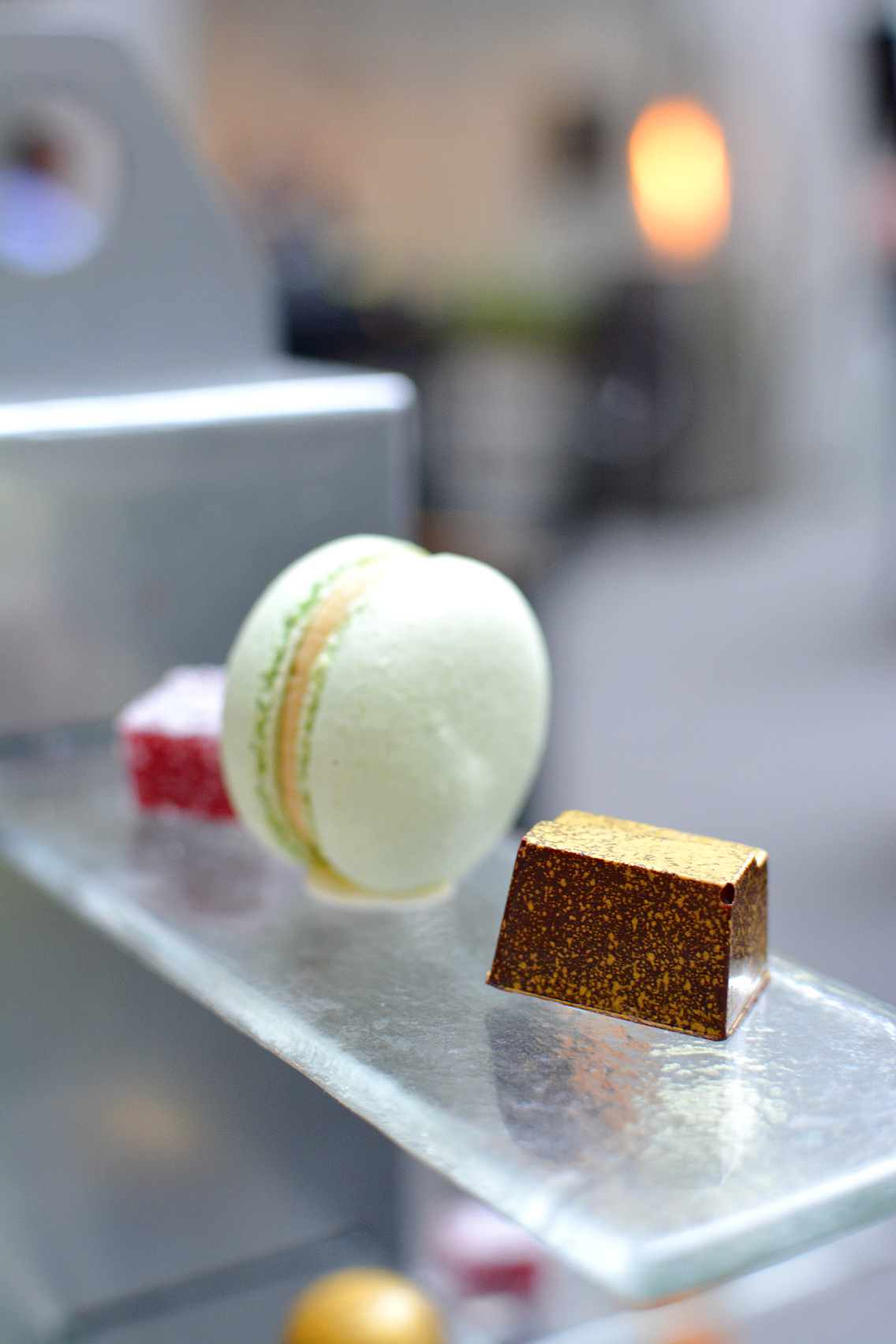 My favorites were these caramel-filled chocolates which just ooze and melt into your mouth in such a sinfully satisfying way.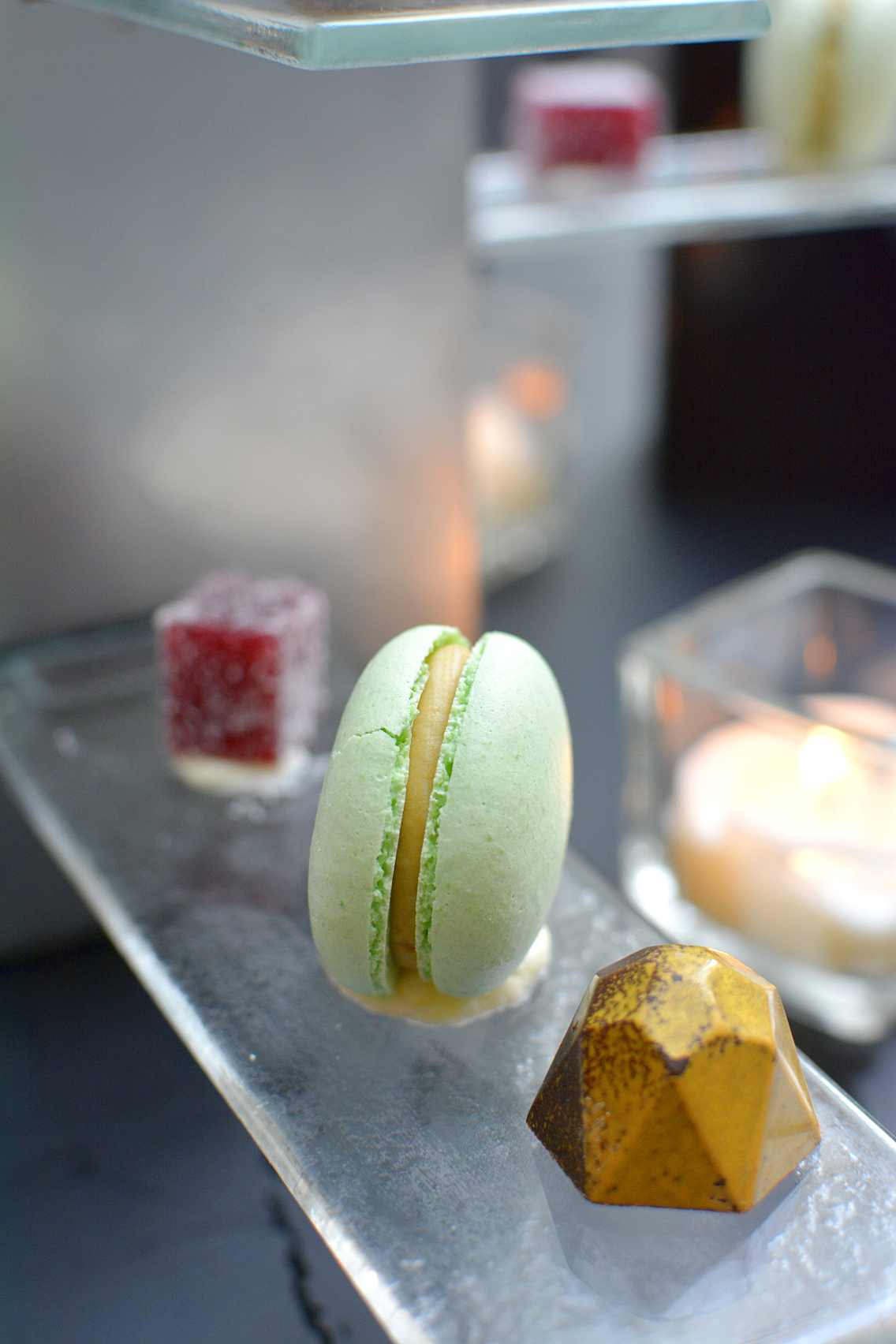 Chef Biggers has created a truly impressive spread of fresh, seasonally inspired dishes that lead you on a culinary journey unlike any other.
Head over to the legendary Café des Architectes and try the Chestnut Provisions Prix Fixe Menu for yourself — your palate will be thanking me!