This year on Instagram I've created a series of "what's in my bag" vignettes for every season. I like to change and rotate out my routine throughout the year so I wanted to share this autumn edition here on the blog too so I could expand on the idea and turn it into a seasonal post.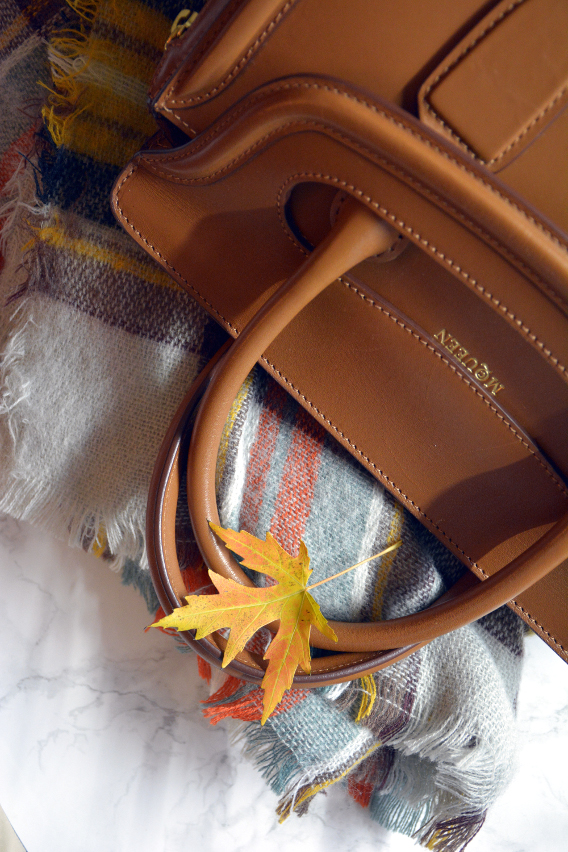 Alexander McQueen Small 'Heroine' Purse (sold out but on sale in red here)
Zara Plaid Blanket Scarf (here)
I use a few other bags throughout the fall (like this one and this one) but it's my 'burnt camel' Alexander McQueen Heroine Bag that I've used the most lately. I love its elegant pear shape and the classic profile in a warm color makes this perfect for fall. To stay cozy, I've been heavily dependent on my Zara blanket scarves (seen here and here) and often tie one to my bag in case the weather turns chilly.
Jo Malone 'Wood Sage & Sea Salt' Cologne (here)
Dr. Lipp Nipple Balm for Lips (here)
I've mentioned before that I'm addicted to this new Jo Malone scent — the woody, slightly mineral profile was designed to invoke the English coast, but it reminds me of the rocky beaches of Door County, Wisconsin too. And now that we've turned on our heater for the winter, I depend on four tubes of Dr. Lipp's Nipple Balm strategically placed around the house, in the car, in my desk and, of course, in my purse. My lips get very dry once the temperatures drop and this is the best lip balm I've ever used!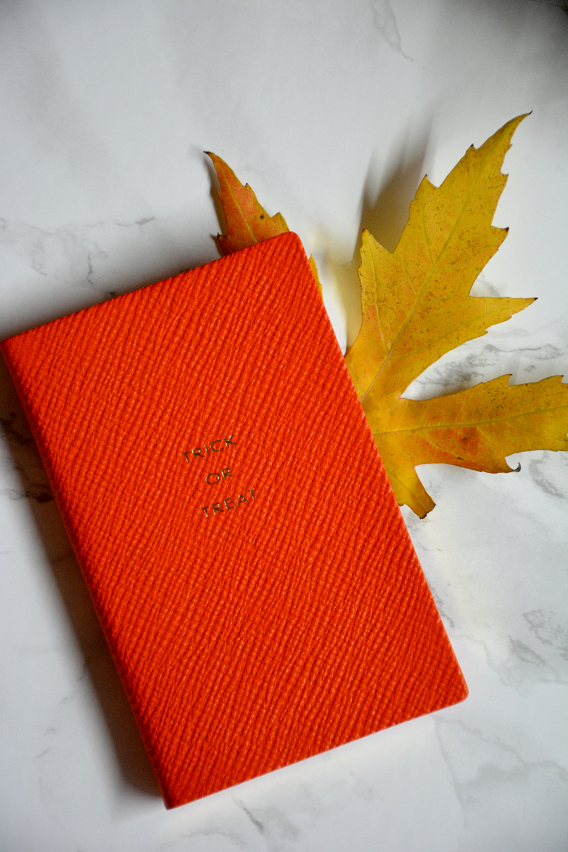 Smythson Notebook (sold out but love this and this)
My newest notebook is this adorable and festive 'Trick or Treat' notebook from Smythson that I snagged on sale for $10 (thanks for the tip Gigi!). I've used this all month-long to plan my latest tricks and treats! There's just something about jotting ideas down on paper – it's never the same when I do it on a screen so I always have at least one notebook in my bag at all times.
Modalu London 'Pippa' Wallet (similar color here)
Brooks Brothers 'Tattersall' Umbrella (the collapsible version of this umbrella, sold out but available in a navy pattern here)
For most of the year, I've used this 'Pippa' wallet that my Mom bought me for Christmas last year. It carries everything and is one of the most intelligently designed wallets I've ever used! Naturally I always carry my iPhone too (can't miss out on those Instagram shots!) and a collapsible umbrella for rainy days.