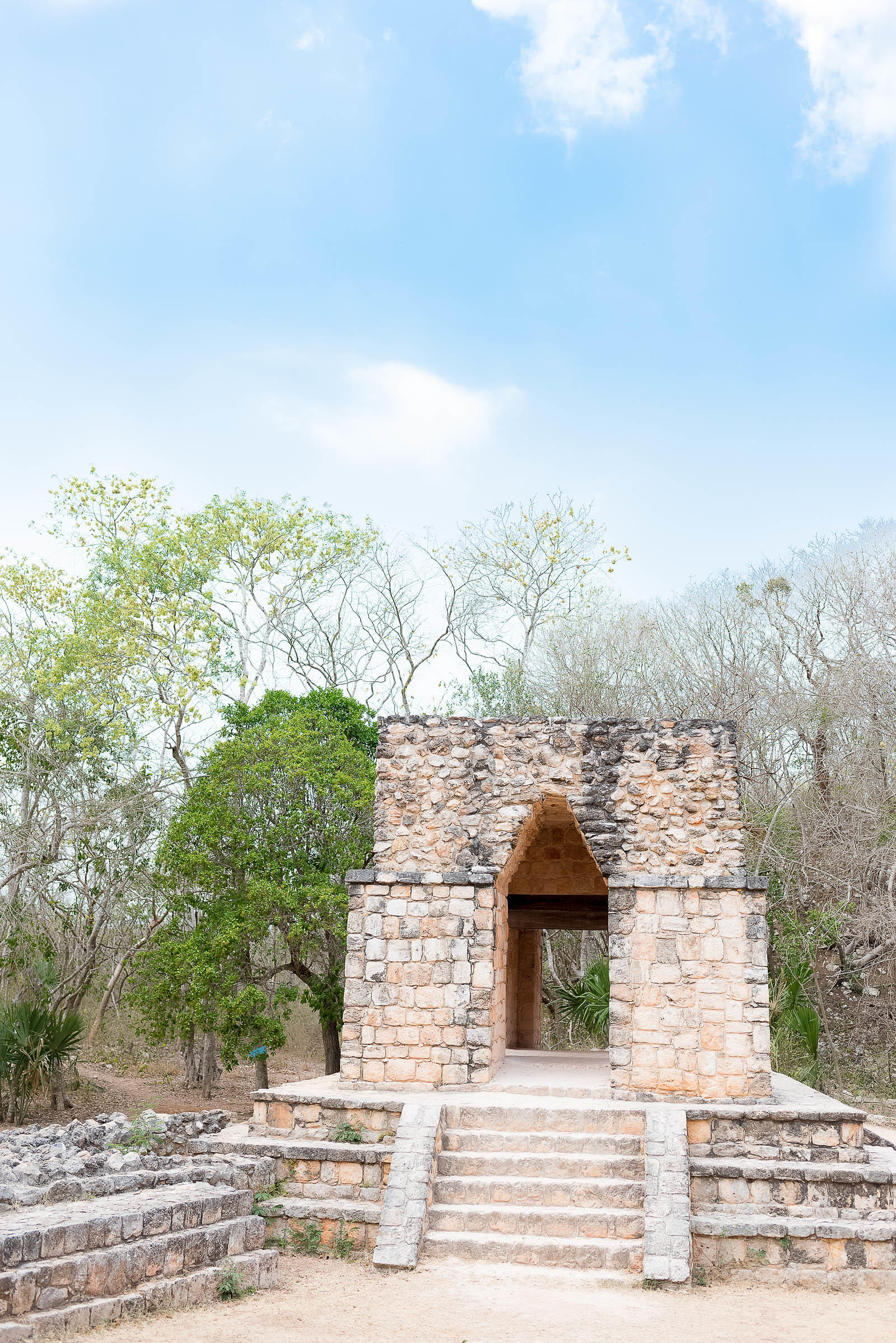 Mexico is a hugely popular travel destination for a lot of reasons but perhaps the most popular reason is to exploring some of the world's most majestic Mayan ruins. And some of the largest.
Everyone knows and has heard about Chichen Itza and Tulum — remember when I spent NYE there last year? I've been lucky enough to visit both (read my post on visiting Chichen Itza at Night!) and while I was seriously impressed with the beauty and size of each, being slammed between the crowds and throngs of people at these two Mayan ruins can be… unpleasant.
Anxiety-inducing really. Both sites are well-know around the world and boy do they draw masses of tourists each and every day.
While I always want to go and SEE these places, being there sandwiched between dozens of grumpy sweating tourists really does take the magic out of the experience.
What about a place just as magical — if not more so — than Tulum or Chichen Itza but without the crowds?
Welcome to Ek Balam!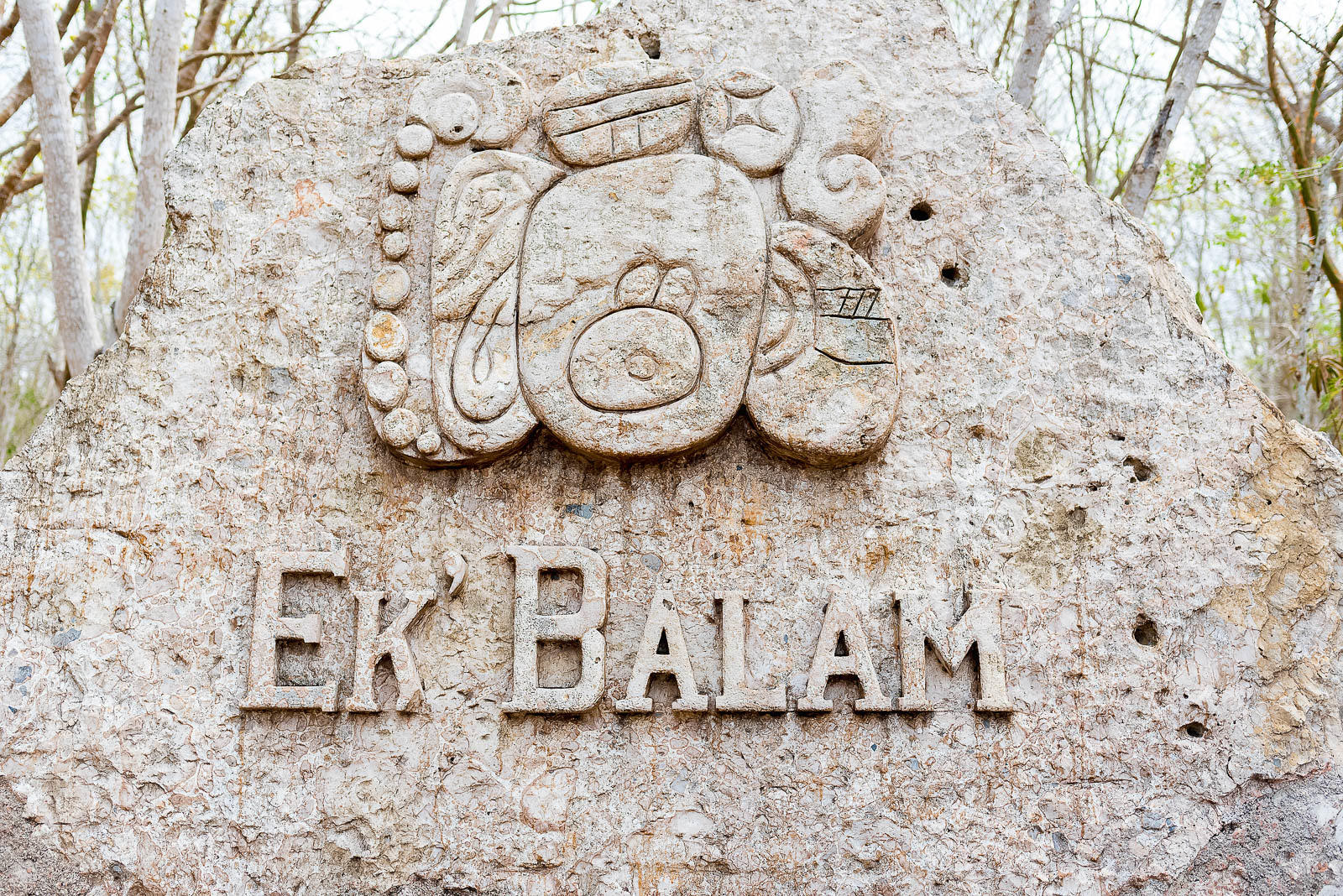 Ek Balam, which in Mayan means Black Jaguar, was occupied as a city from as early as 100 B.C. until its decline around 1200.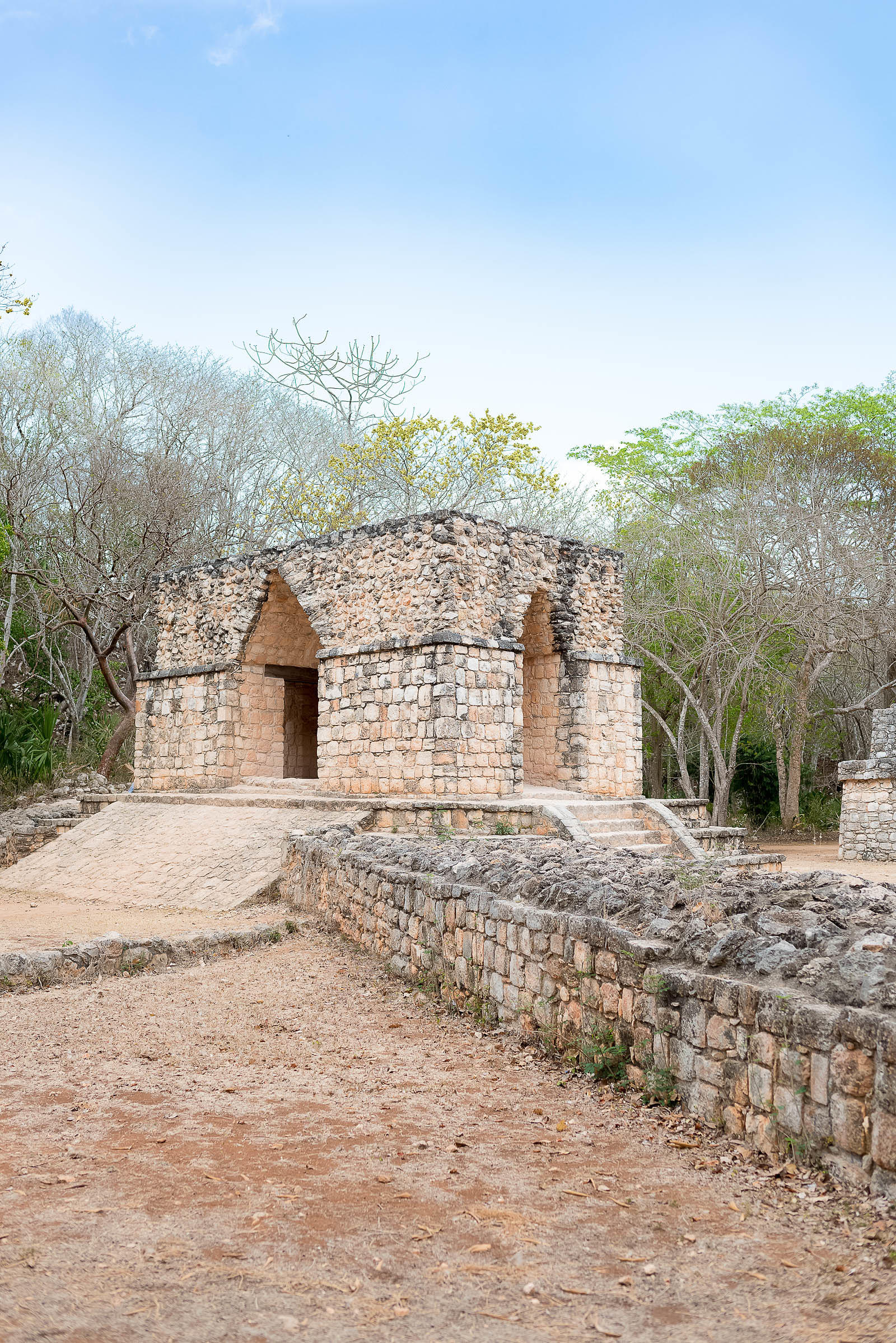 The site itself, while discovered in the 19th century, was not mapped and charted until the 1990's making it one of the newest and yet oldest Mayan archeological sites you can visit in Mexico.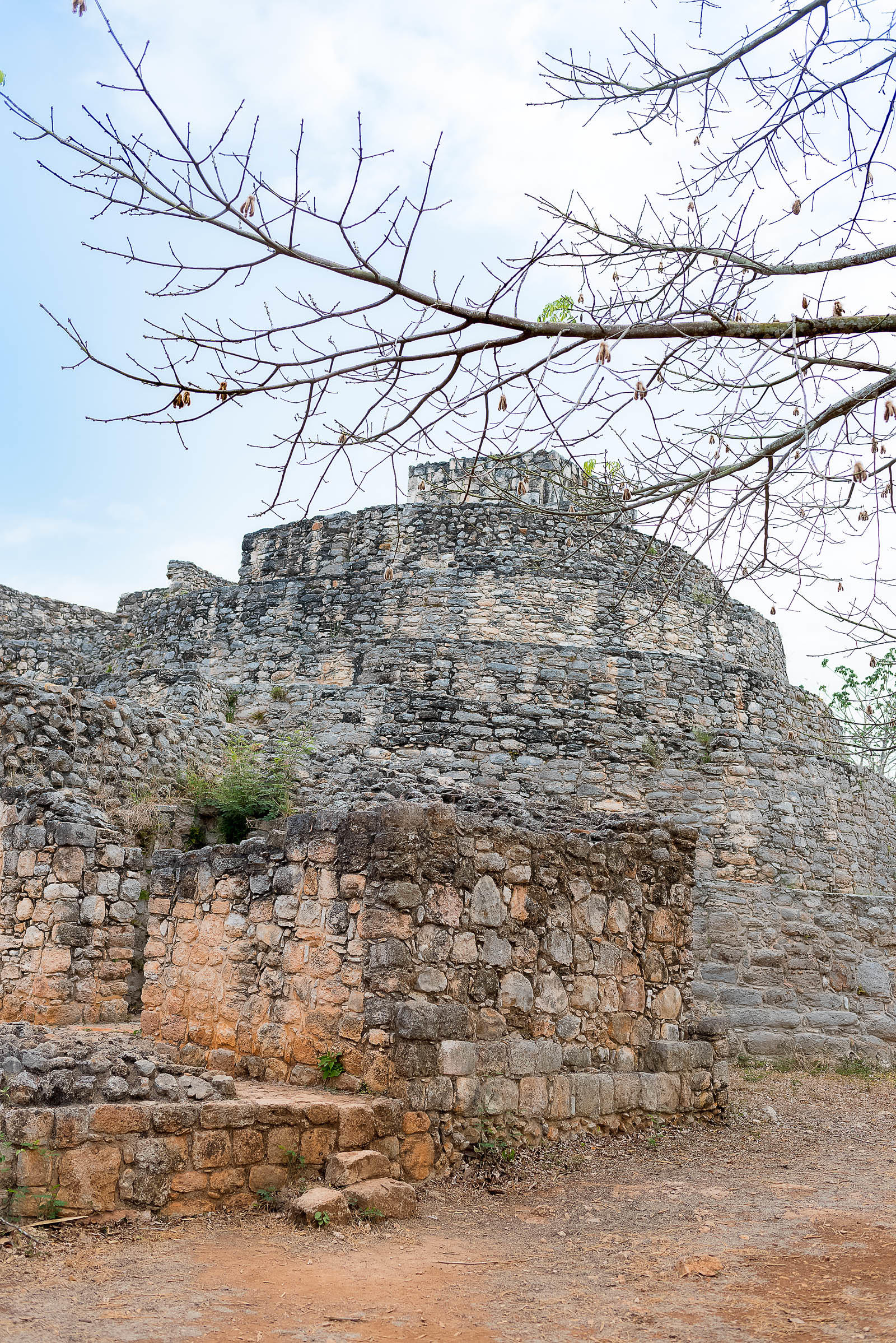 Compared to most of the Mayan ruin sites in Yucatan, Ek Balam will first shock you with its EMPTINESS.
Besides random large groups of German and French tourists (no Americans to be seen), you will likely get to be alone as you wander through the centuries old corridors and paved roads.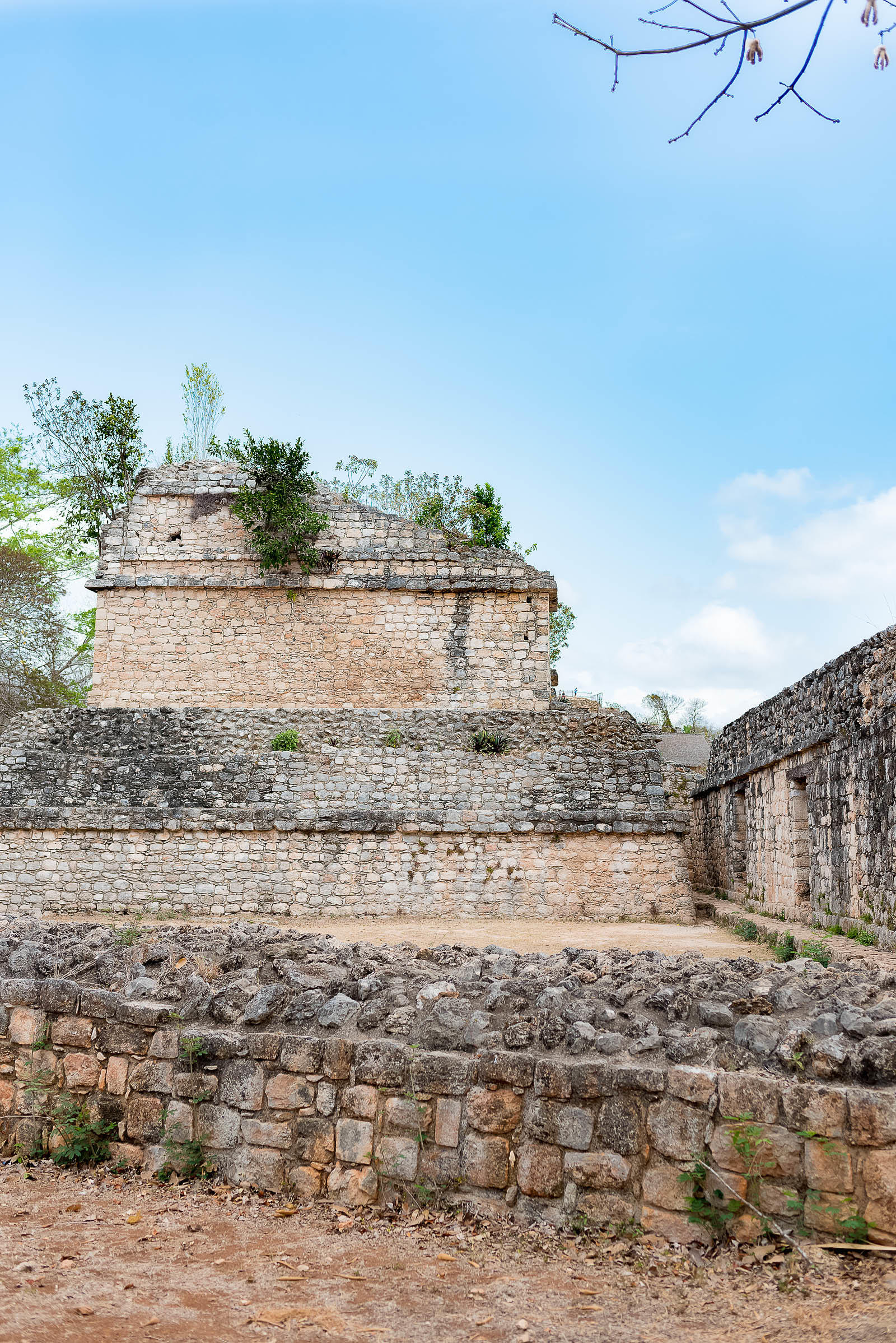 Completely and utterly alone with these breathtaking ruins. Talk about having a world wonder to yourself!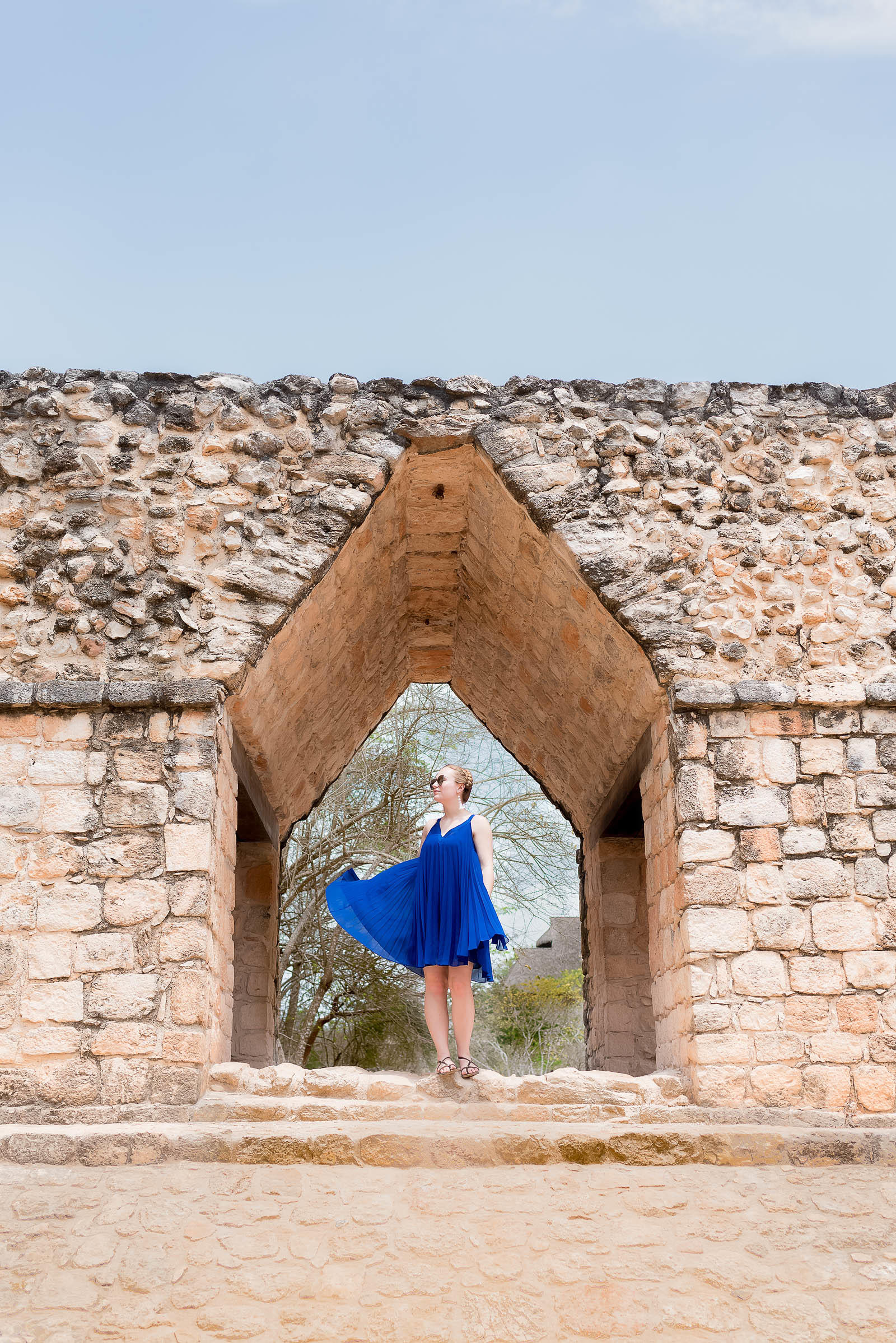 Not much is known about Ek Balam as much of Mayan history is still a relative mystery but we do know it was a powerful city thanks to this imposing tall entrance gate which naturally we walked through ceremoniously to enter.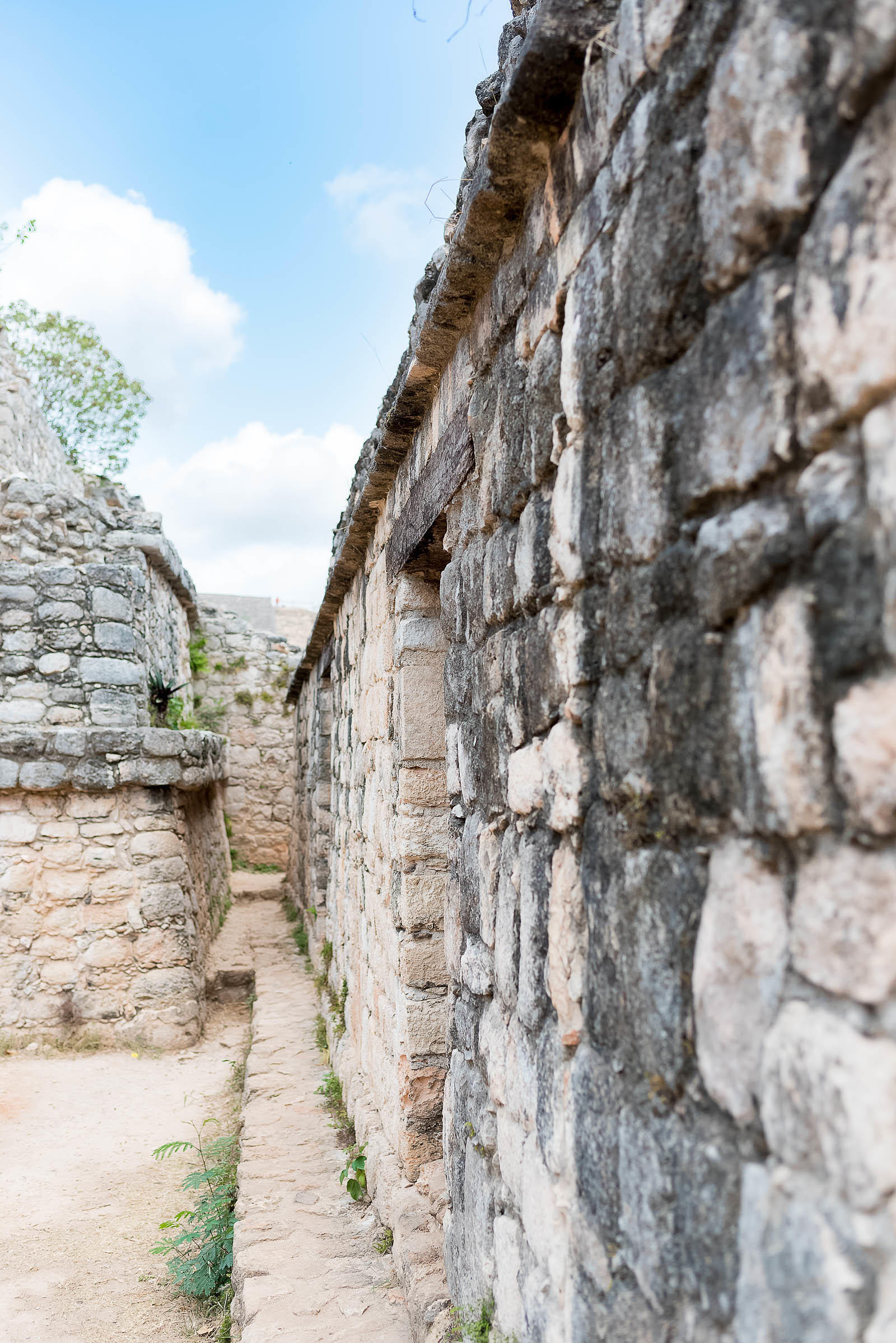 The buildings from this lost city are impressive.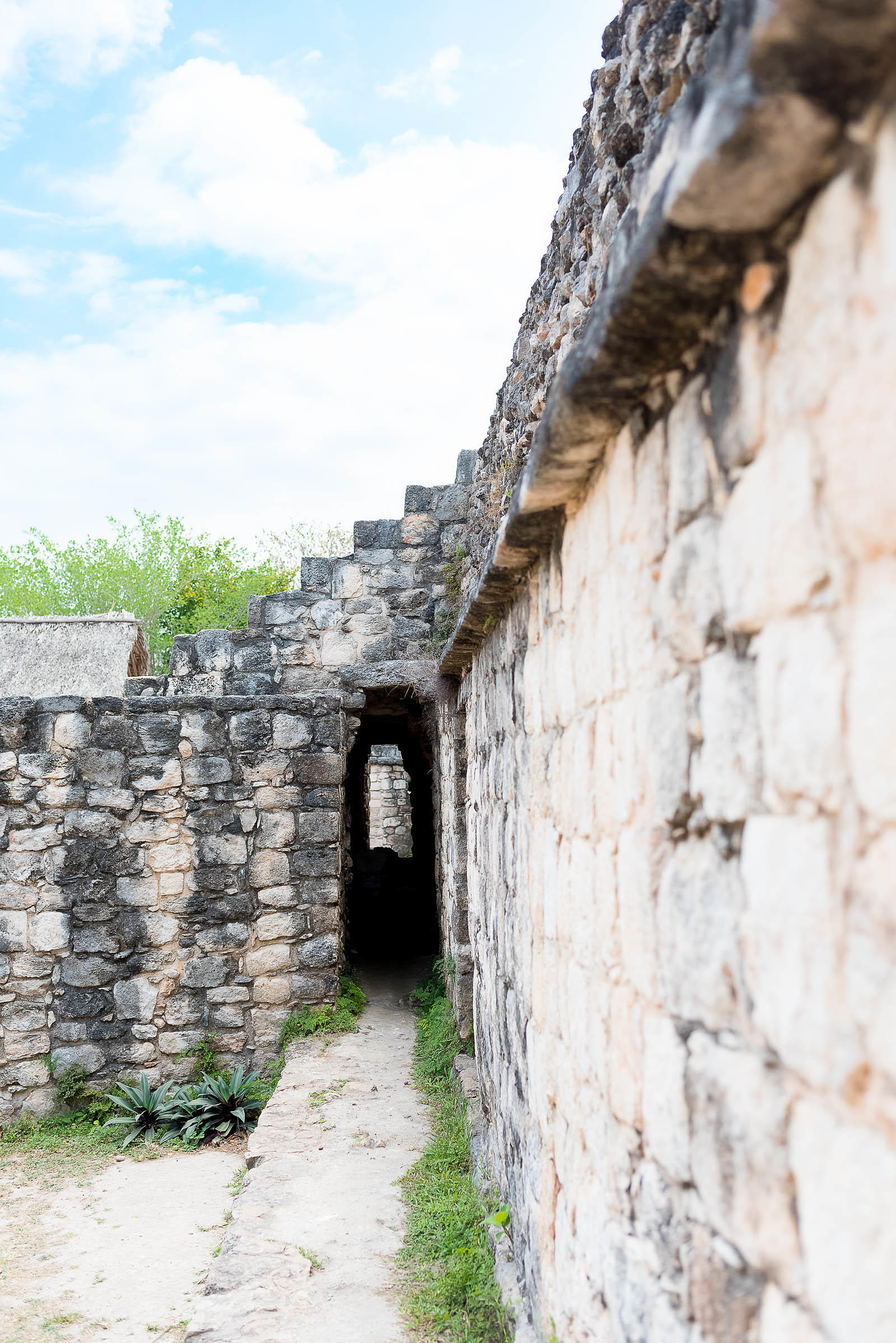 With plenty of winding tunnels and mysterious corners to explore.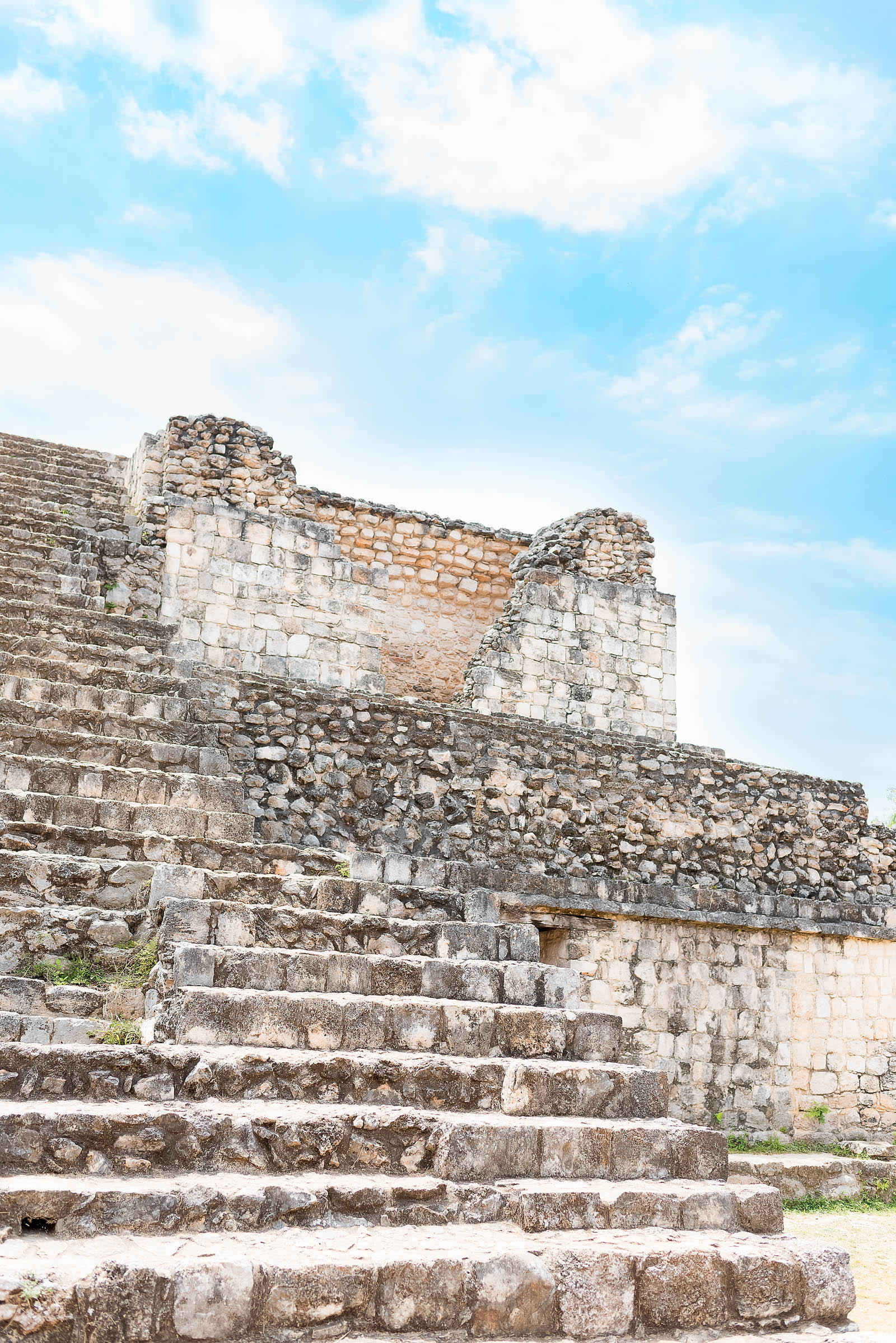 Not to mention several immense palaces and temples which soar into the Yucatán sky.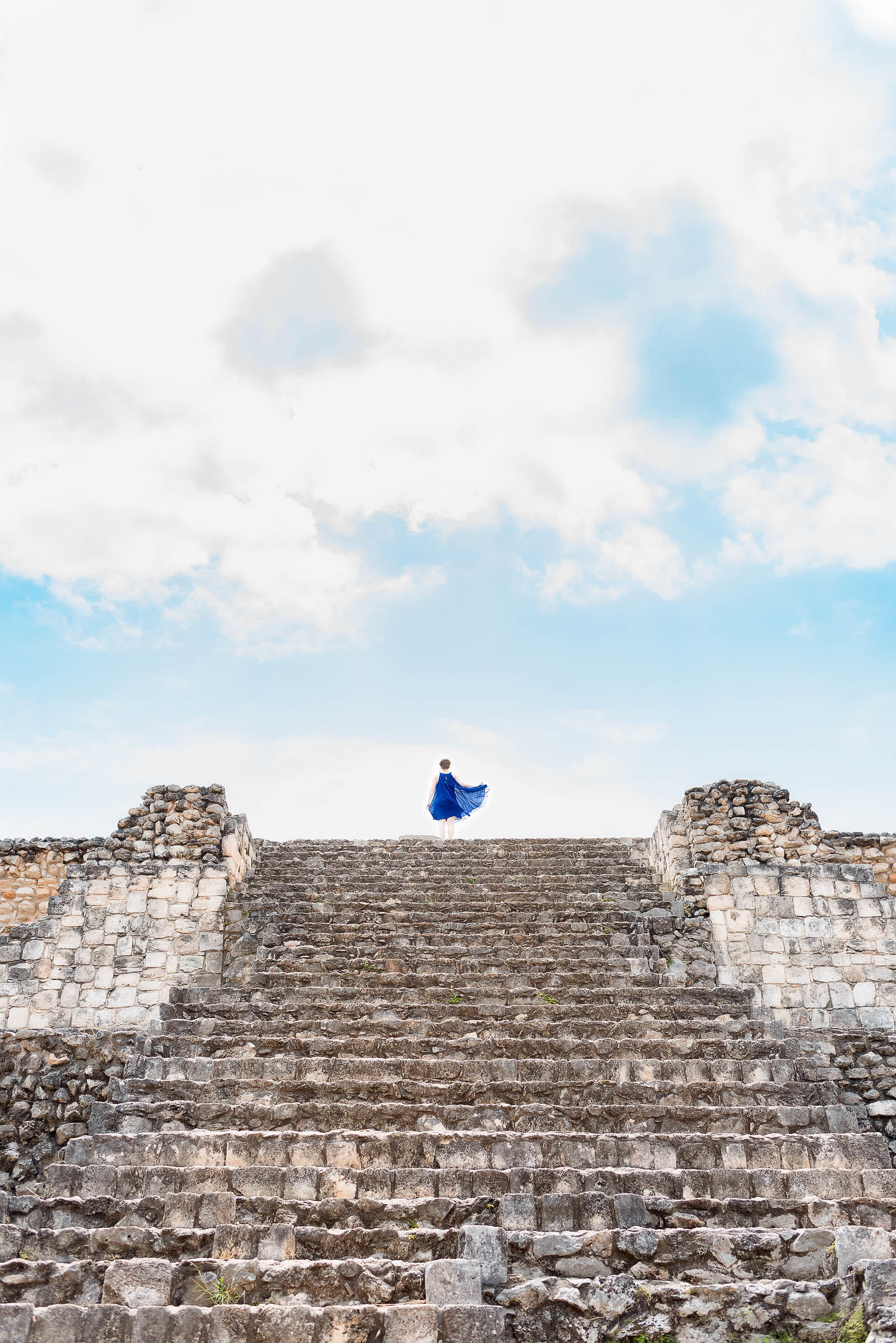 And which will give you a great, if terrifying, workout to traverse.
Our guides gave us a great tip for climbing these deceptively steep and tall steps — climb them at a diagonal! It helps distribute your weight more safely as these stairs really will make you shake in fear (seriously… every. single. one. of. us shook after this climb).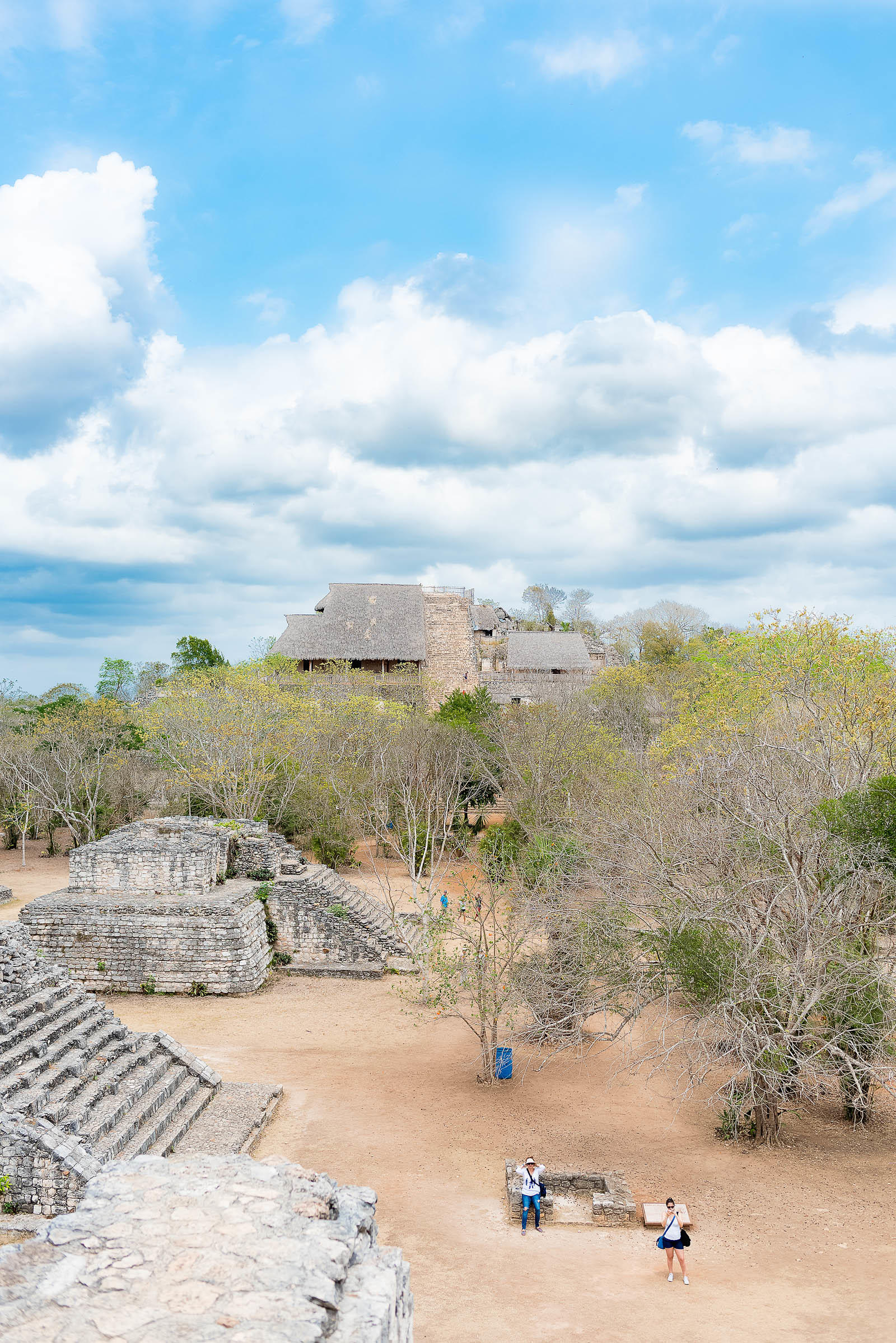 But the climb to the top of the palace is absolutely worth it if only for this stunning view — the large building beyond is the temple which we climbed shortly after and is even taller than the palace itself!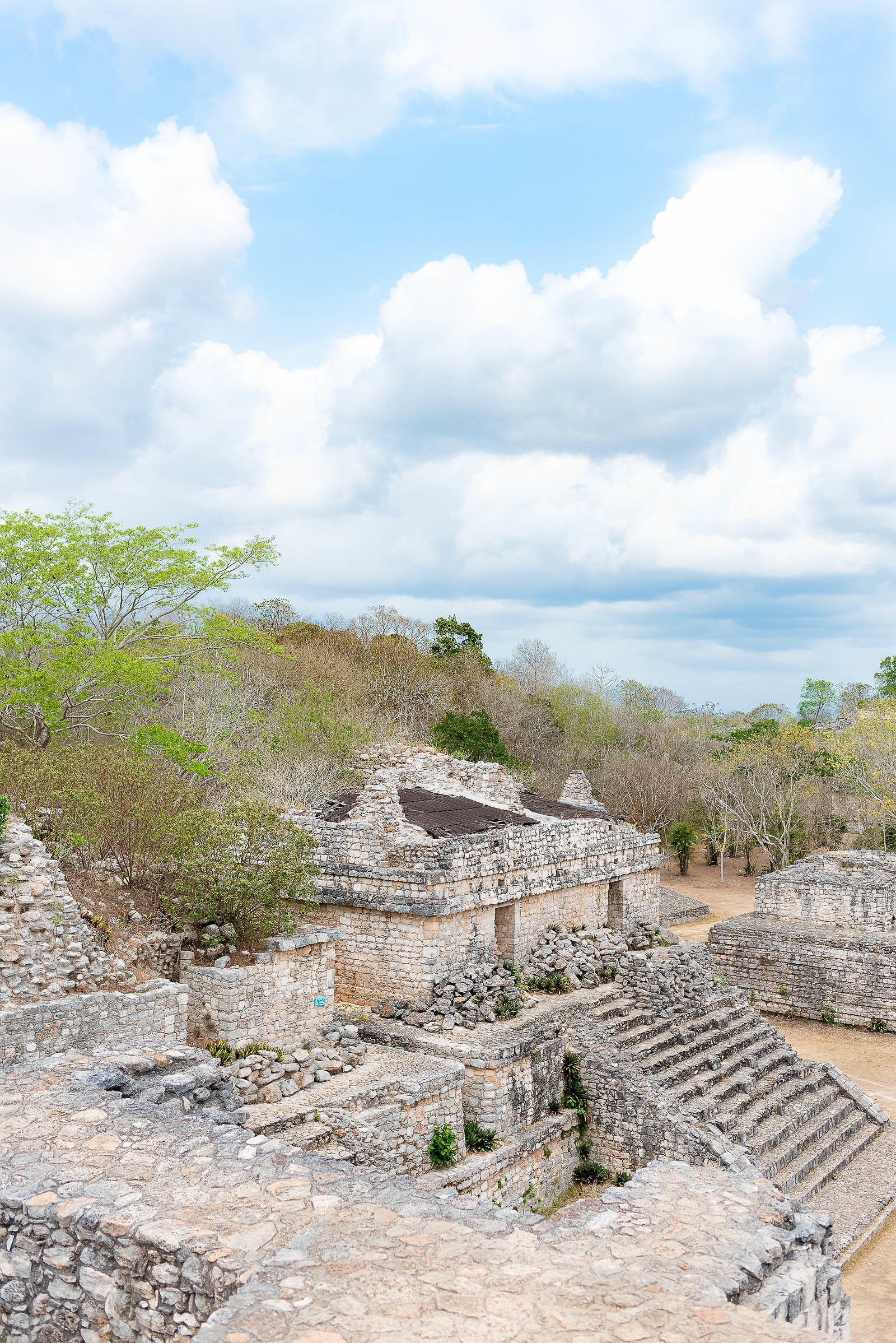 Isn't the site amazing from above?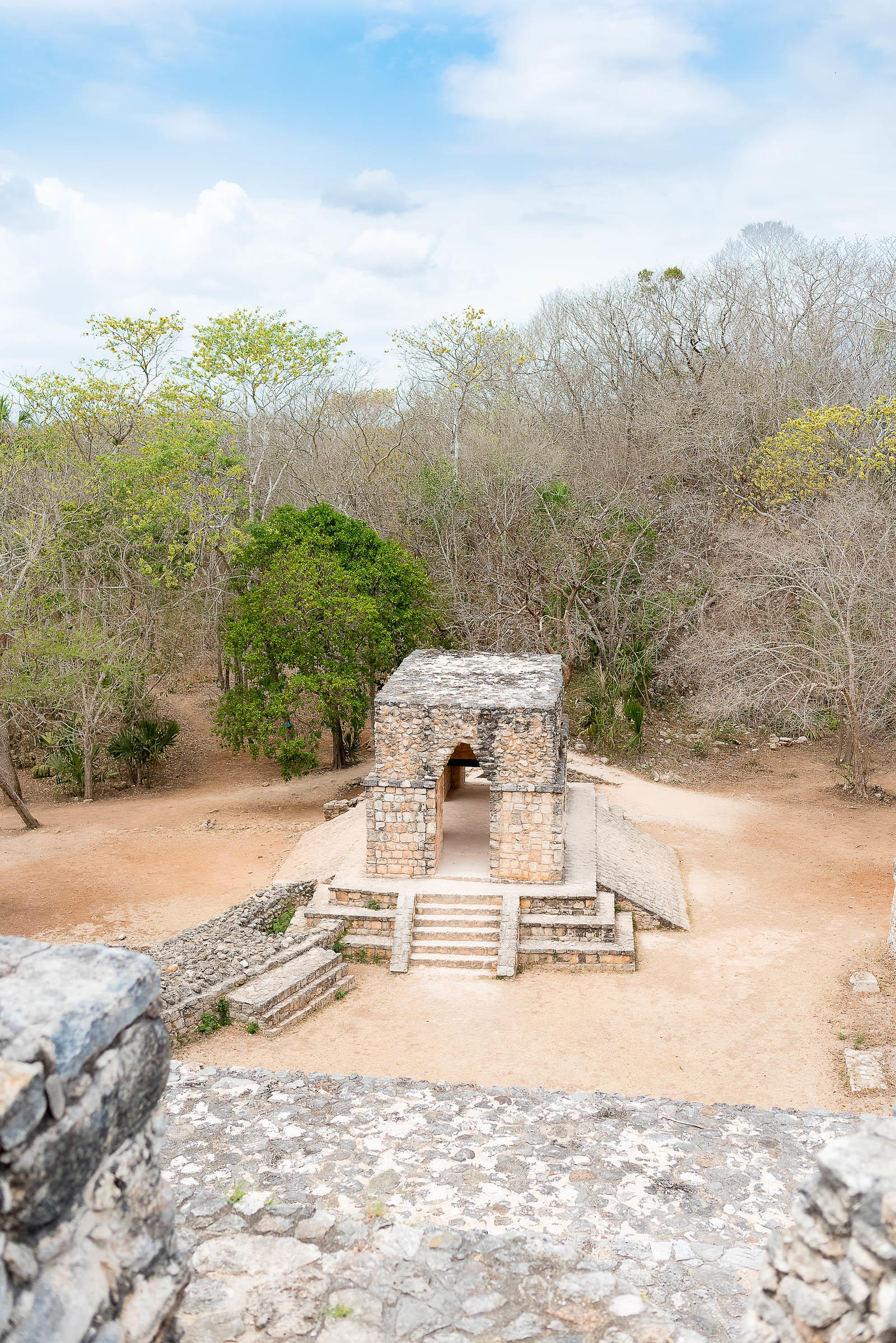 (a view of the entrance gate from the top of the palace)

We all couldn't believe how beautiful it was — Seth sat at the top for quite a while contemplating the view (and/or catching his breath since he decided to race to the top of the stairs…).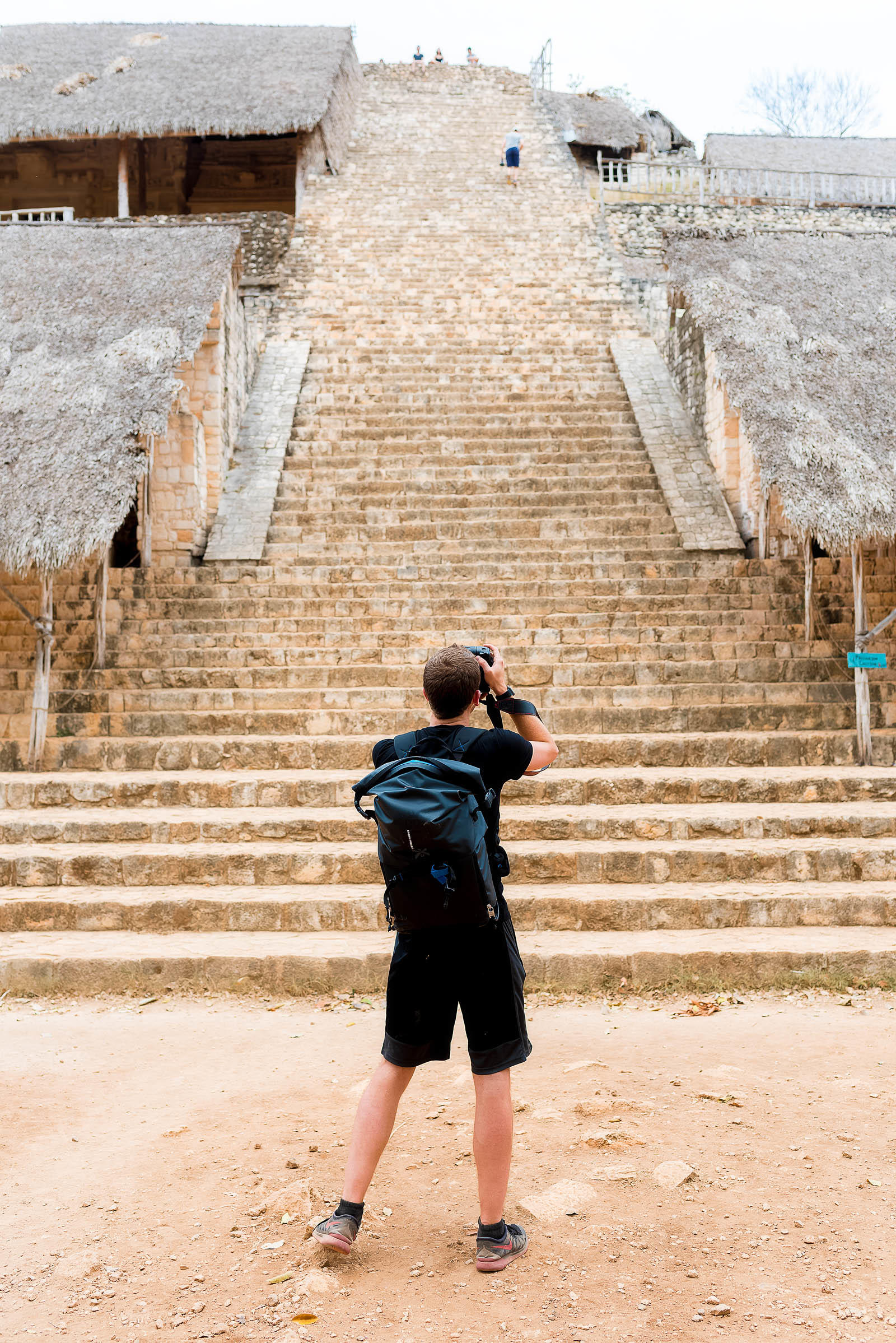 But the temple building itself is where Ek Balam's true majesty lies.
With its ridiculously impressive height and towering staircase, it's easily one of the scariest things I've ever climbed in my life. But also the most worth-it. Not to mention the most photogenic — oh, hi there Simeon!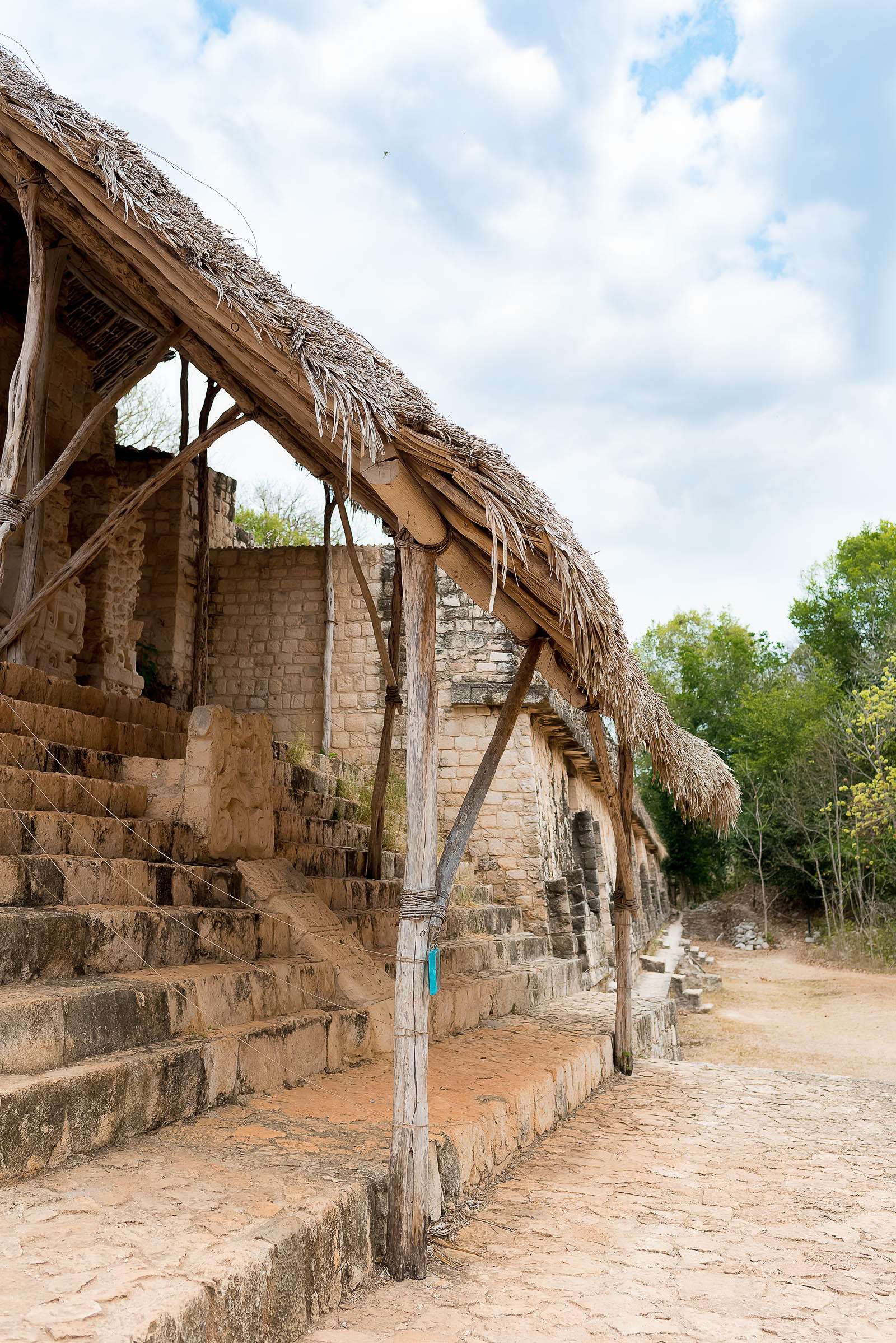 And so we started our climb…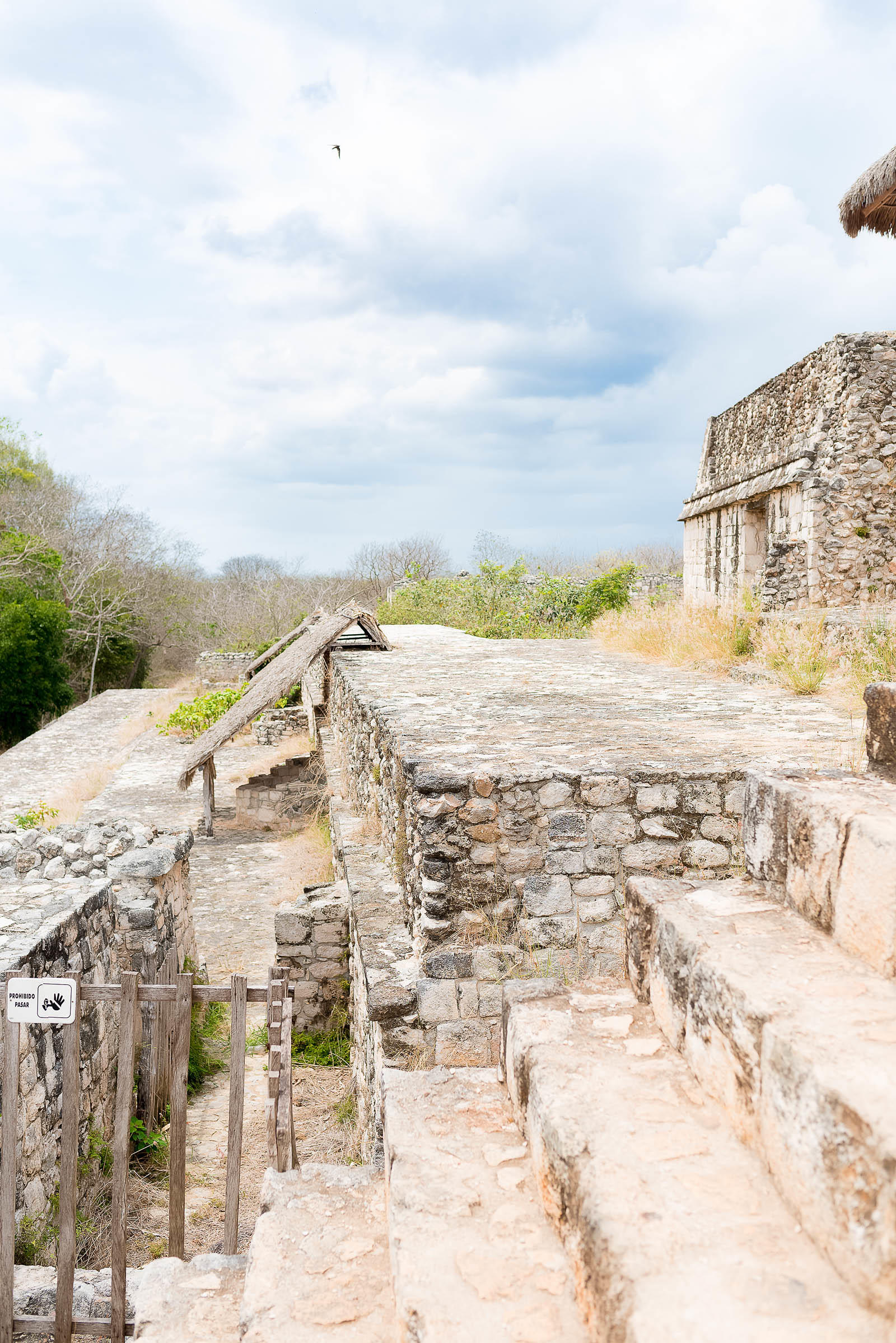 Going up and up and up…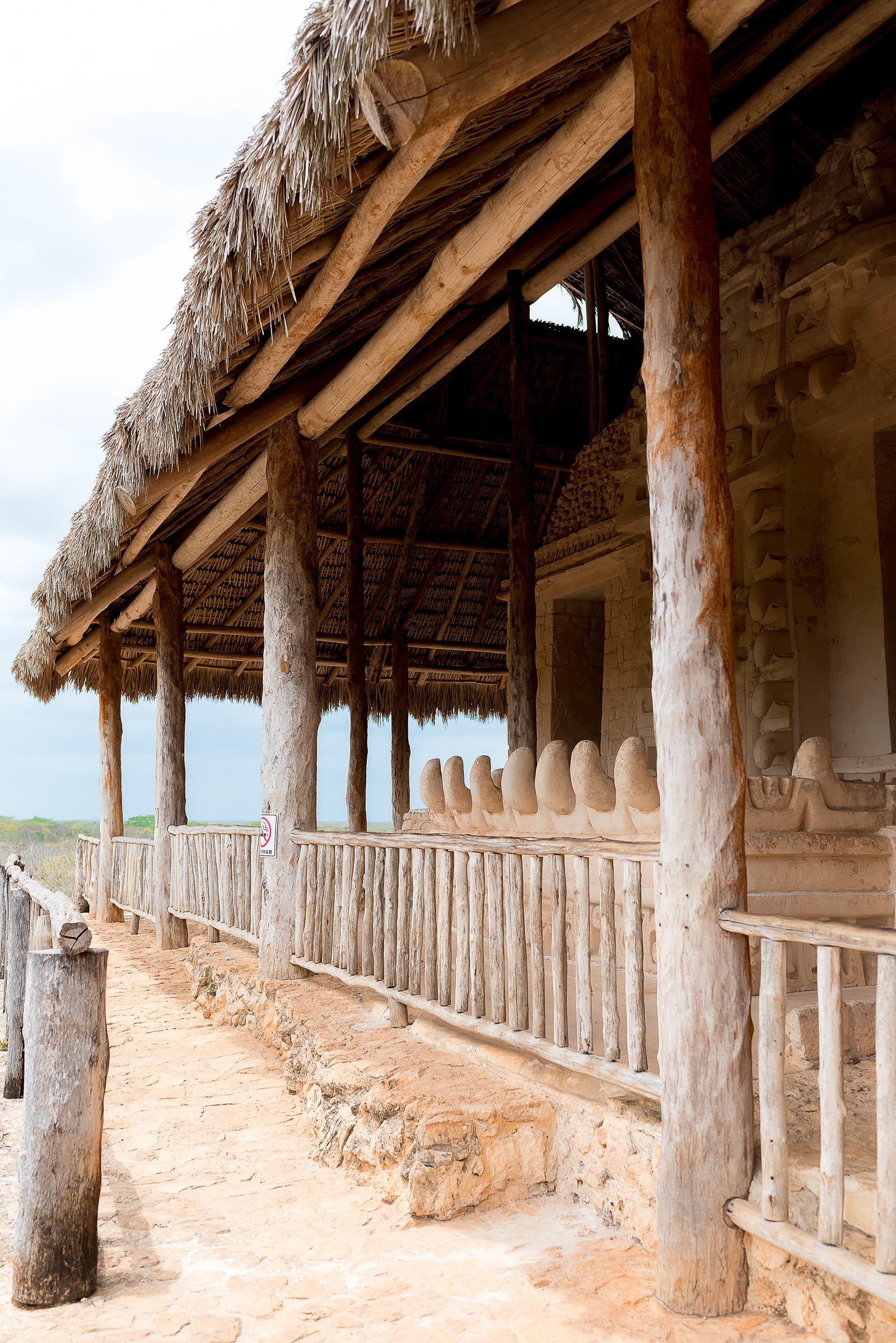 Until you reach this intriguing hut which was a surprise to the archeologists excavating the site.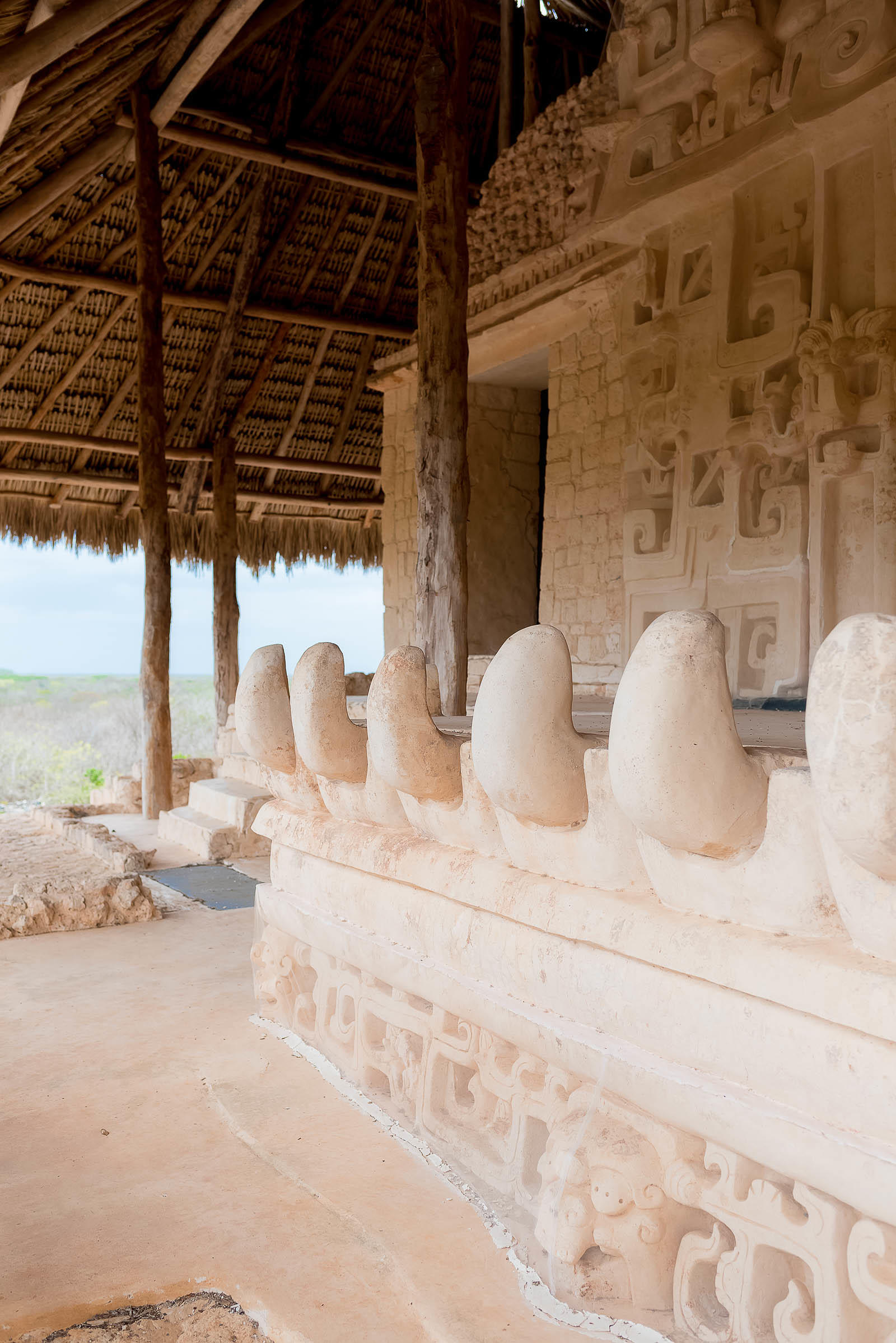 It's the tomb of a Mayan king — a very rare thing to find beautifully preserved atop a temple pyramid! And a very unique feature over the pyramids at Tulum and Chichen Itza.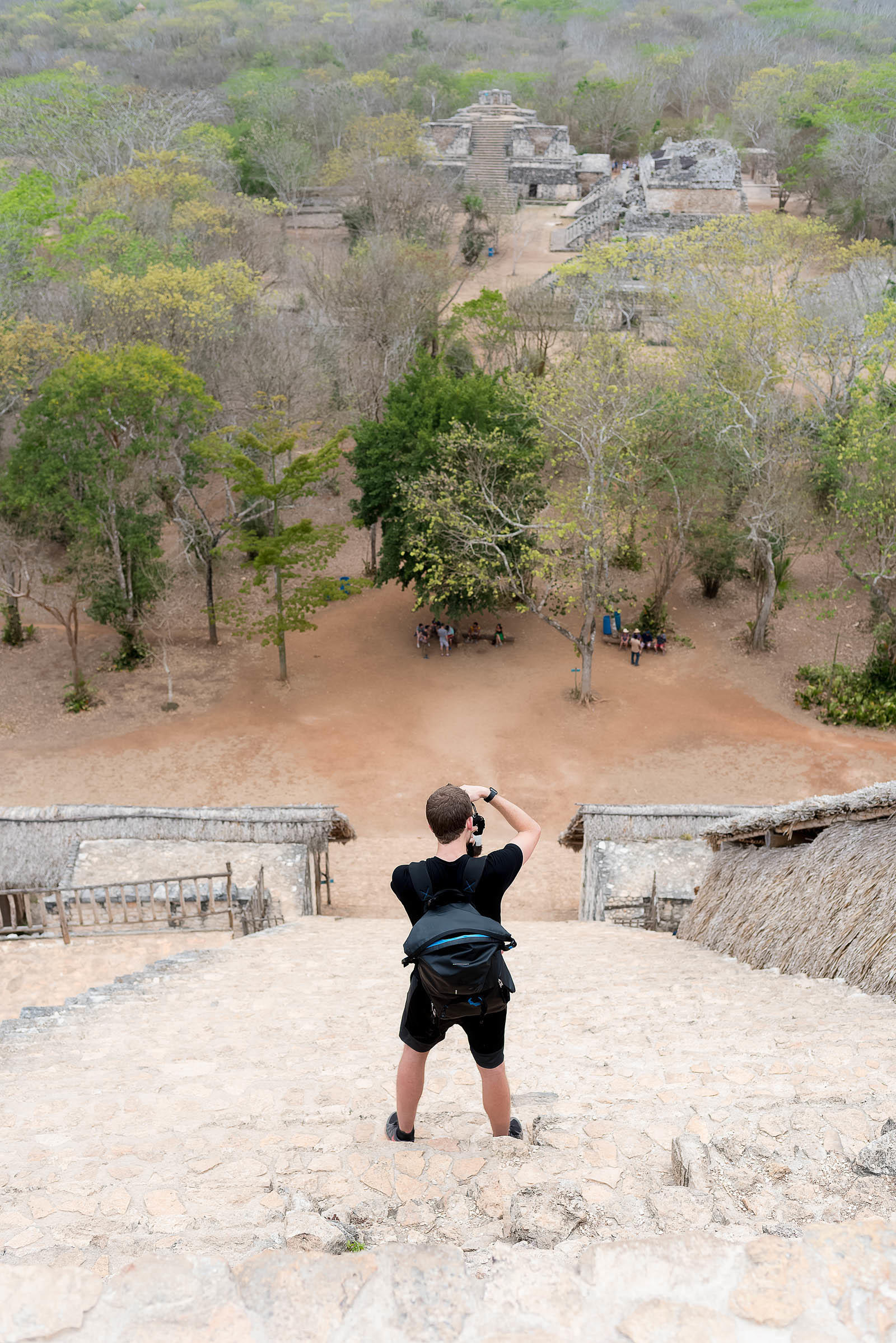 And again the hike past the tomb to the top is worth it for the breath-taking view. Despite the somewhat inevitable nausea that accompanies such a steep climb.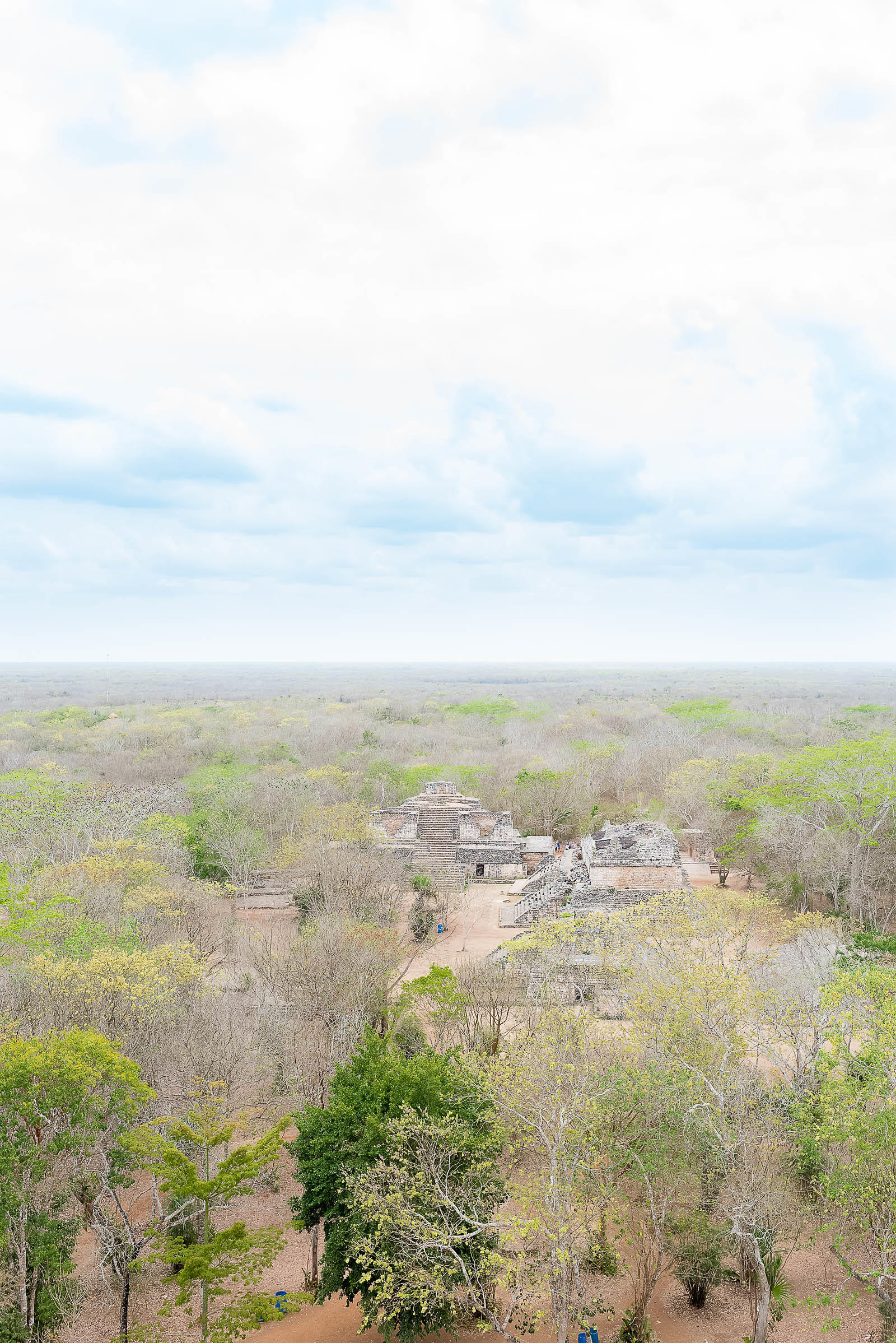 What a view!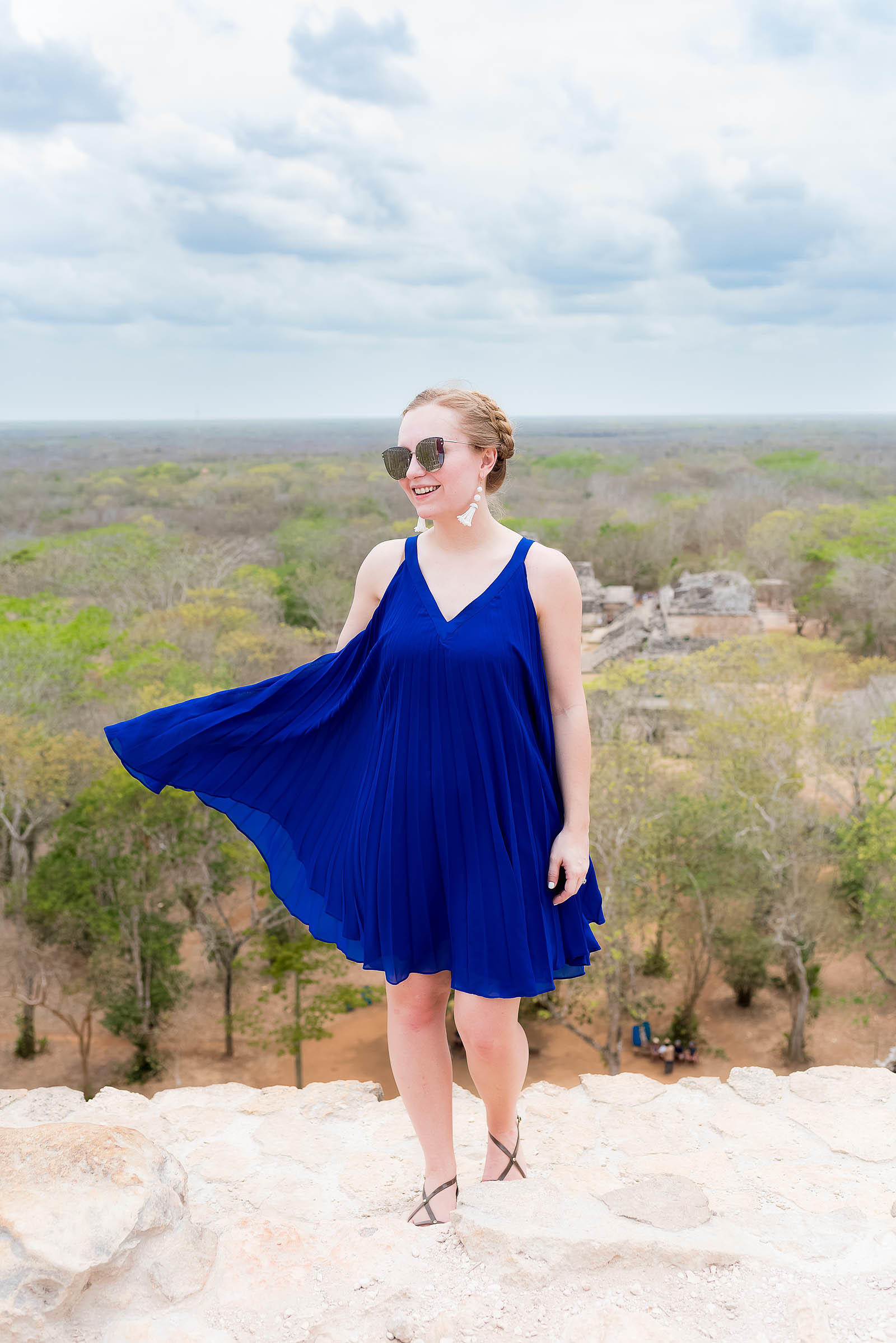 (Full Disclosure: I was shaking violently when we shot this photo. Pictures just do not do the steepness of these stairs justice… they are quite a plunge if you make a wrong move!)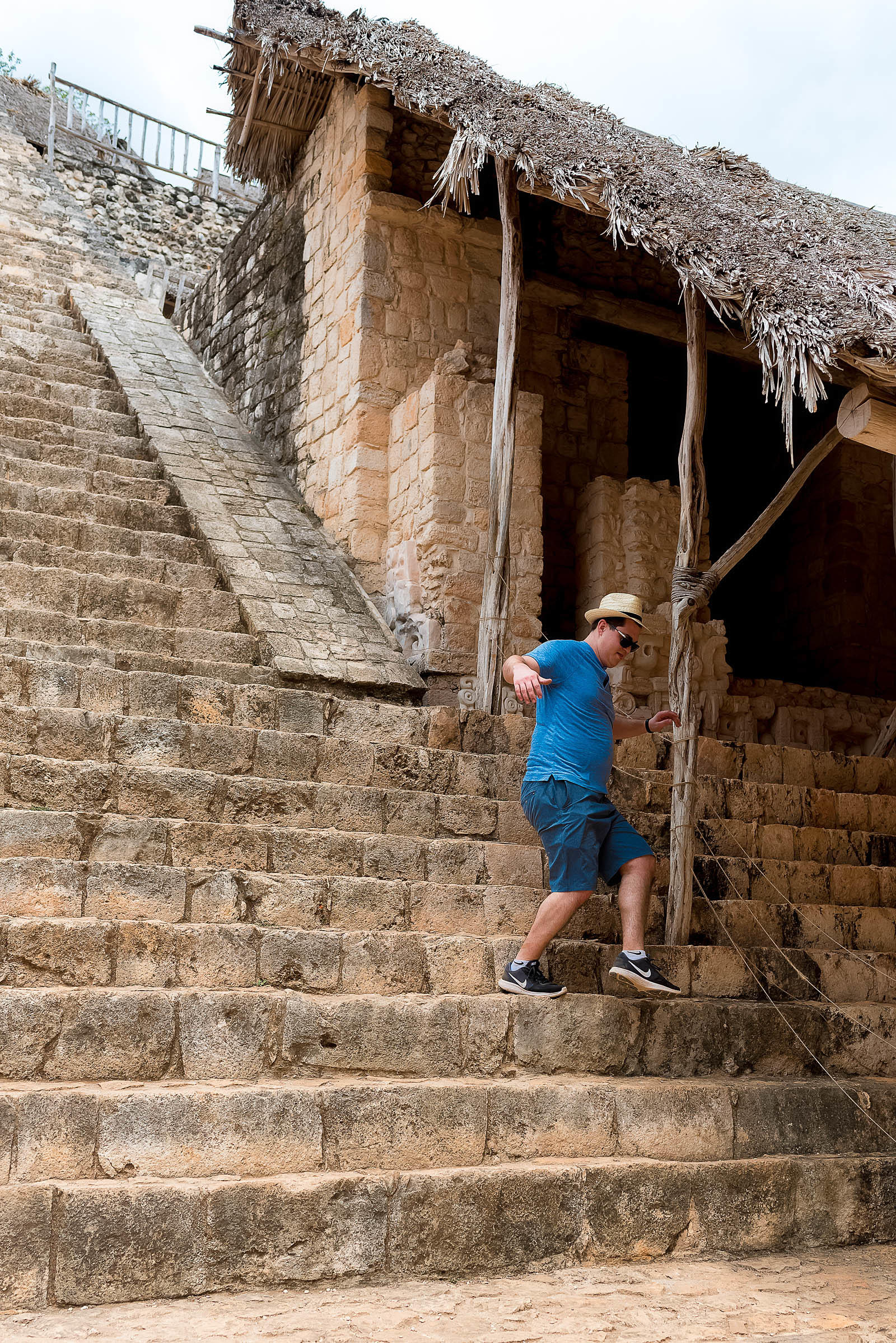 So after shooting to our heart's content at the top of the pyramid, we gingerly and diagonally descended the stairs, in much need of a beer and break from heights.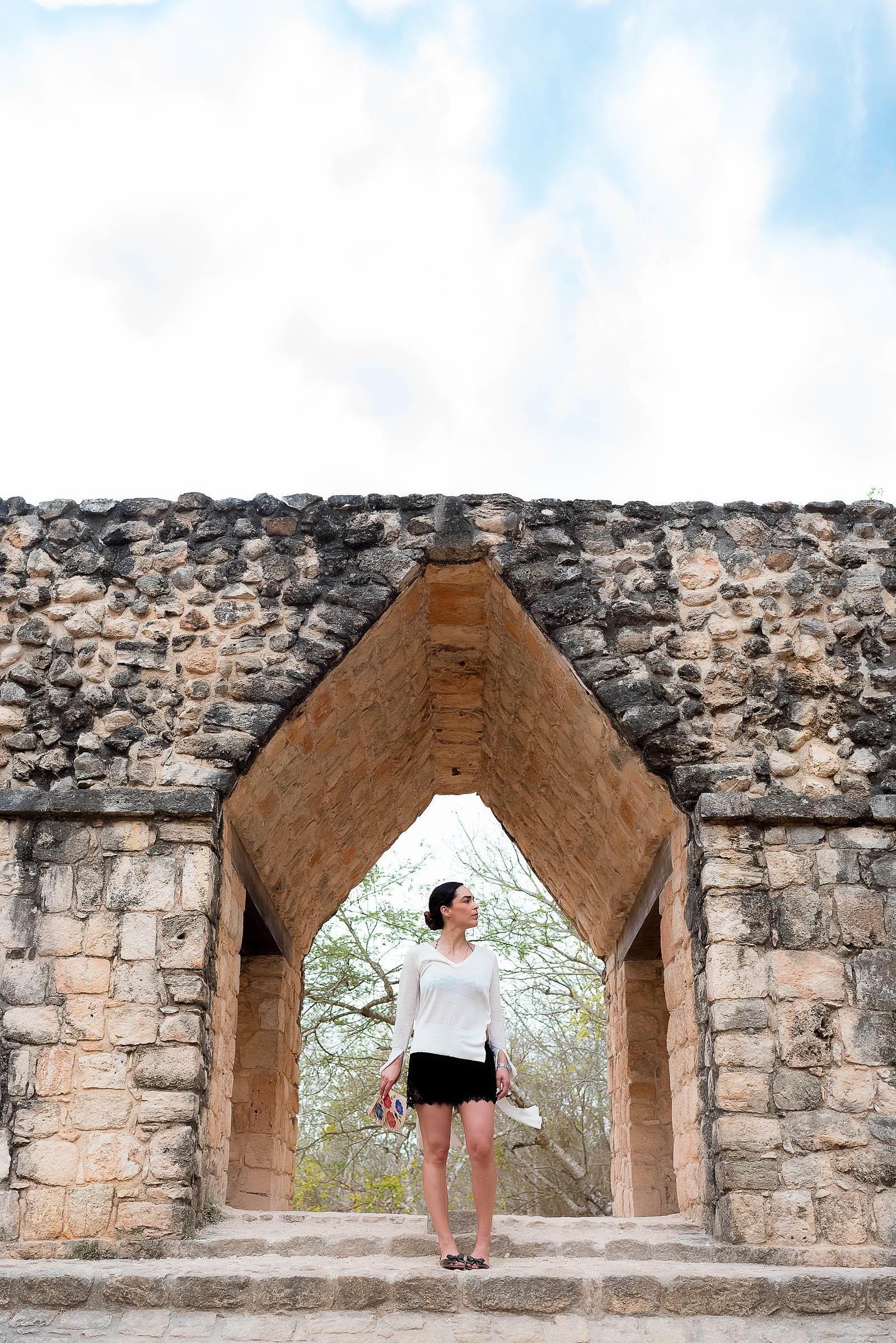 We passed back through the city's entrance gates (hi, Ana!) and headed back to main compound where…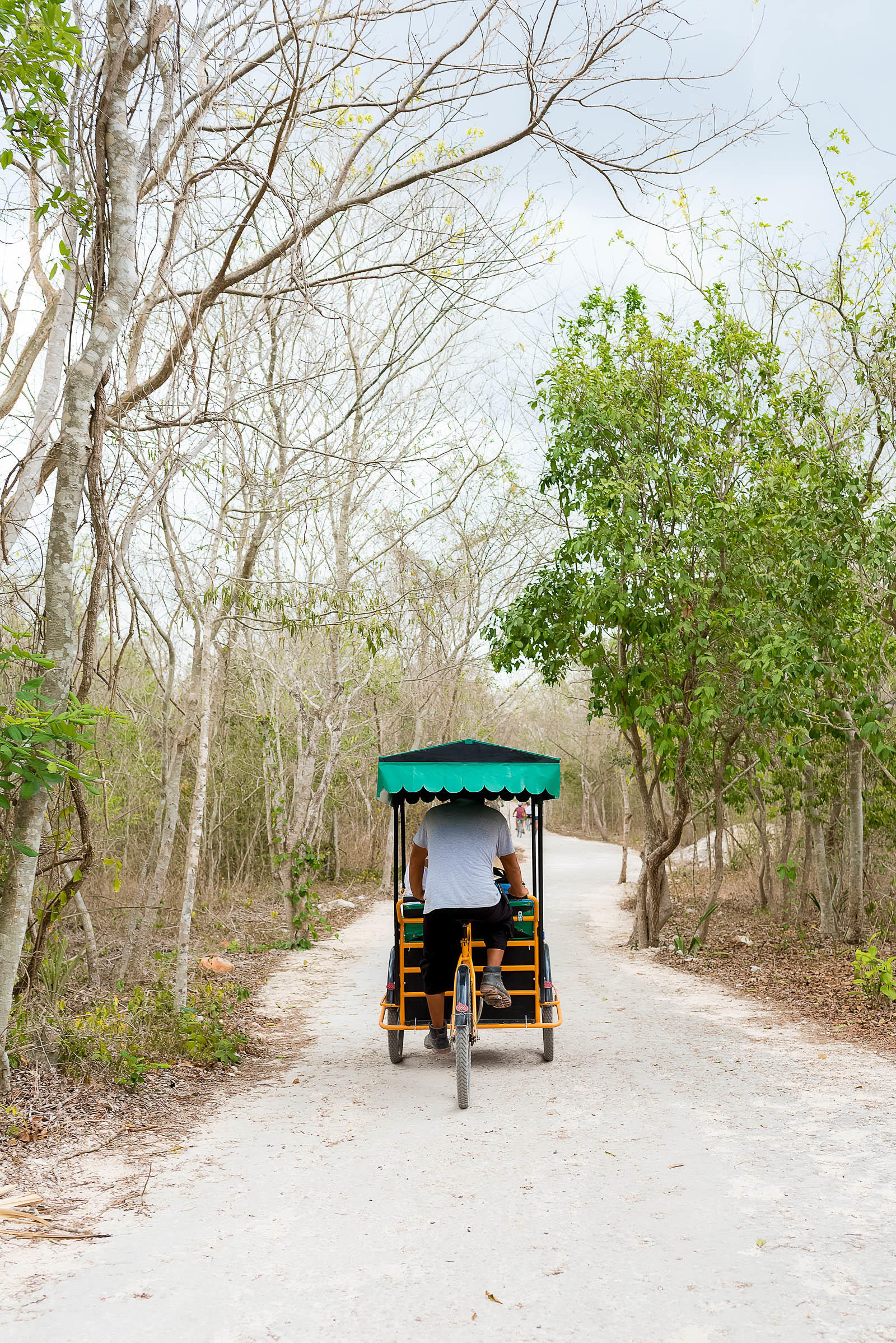 we hopped on bicycle rickshaws and took a quick, 10-minute ride over to Ek Balam's famous cenote!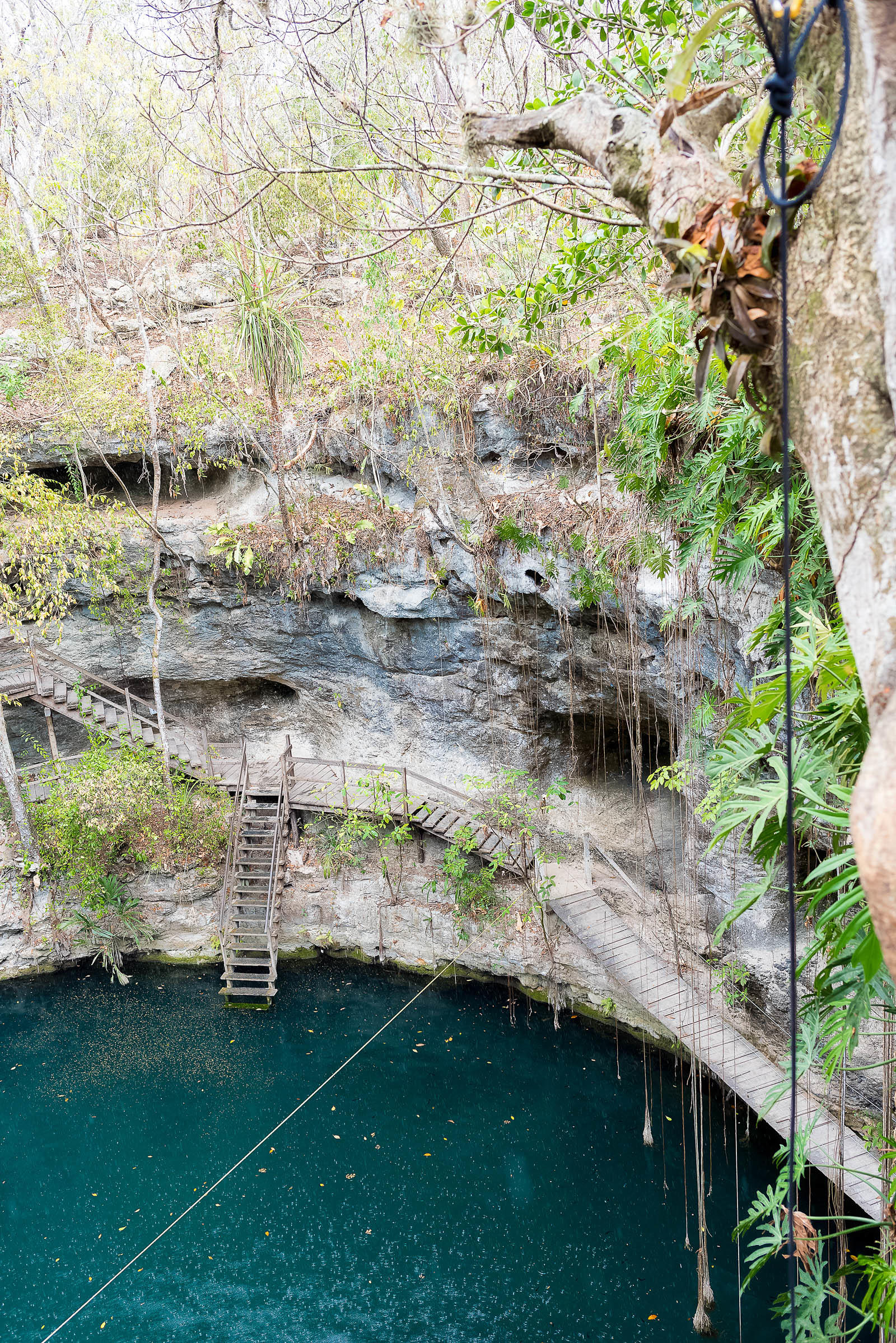 Isn't it amazing???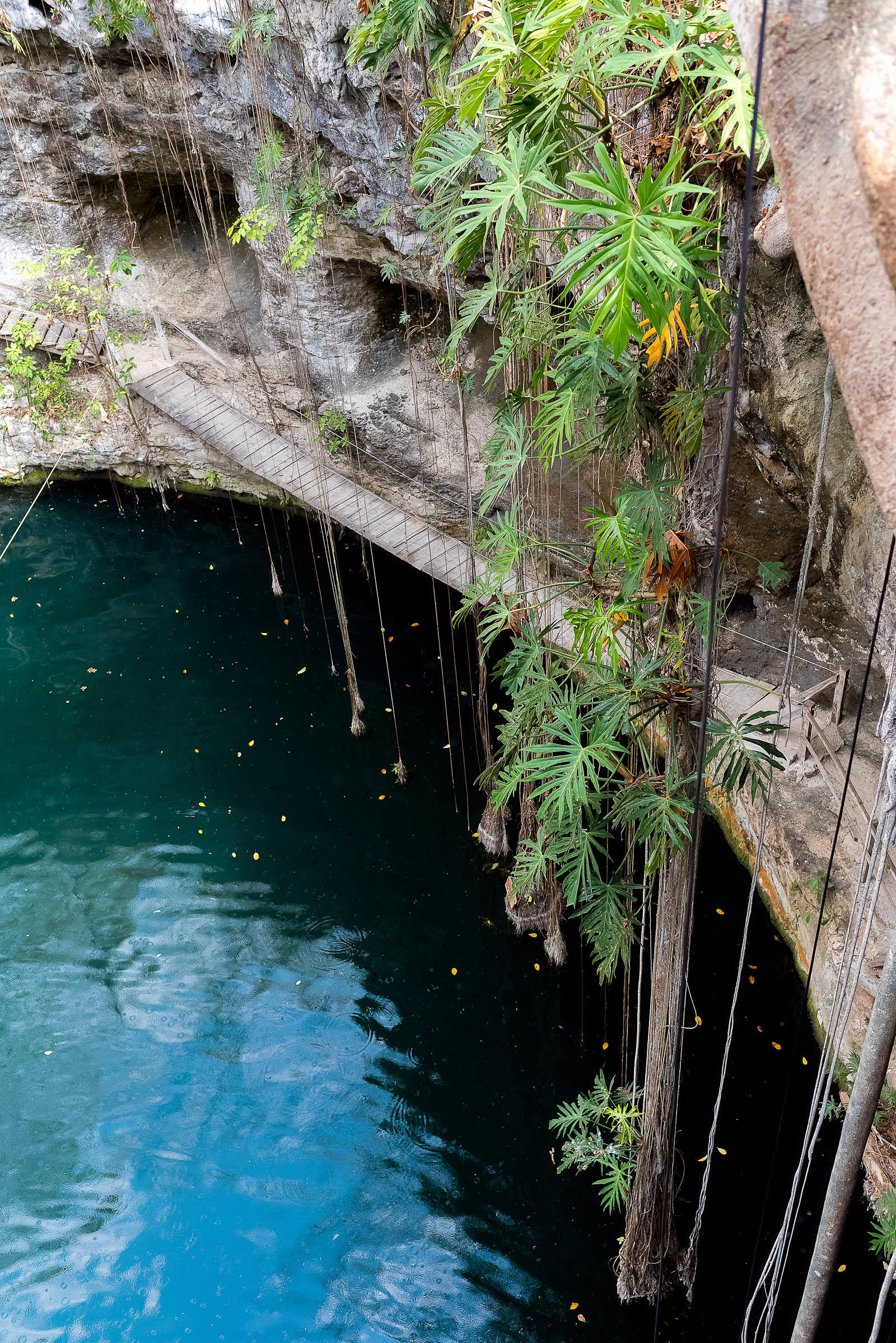 I'd always wanted to swim in a Mayan cenote and finally I was getting my chance!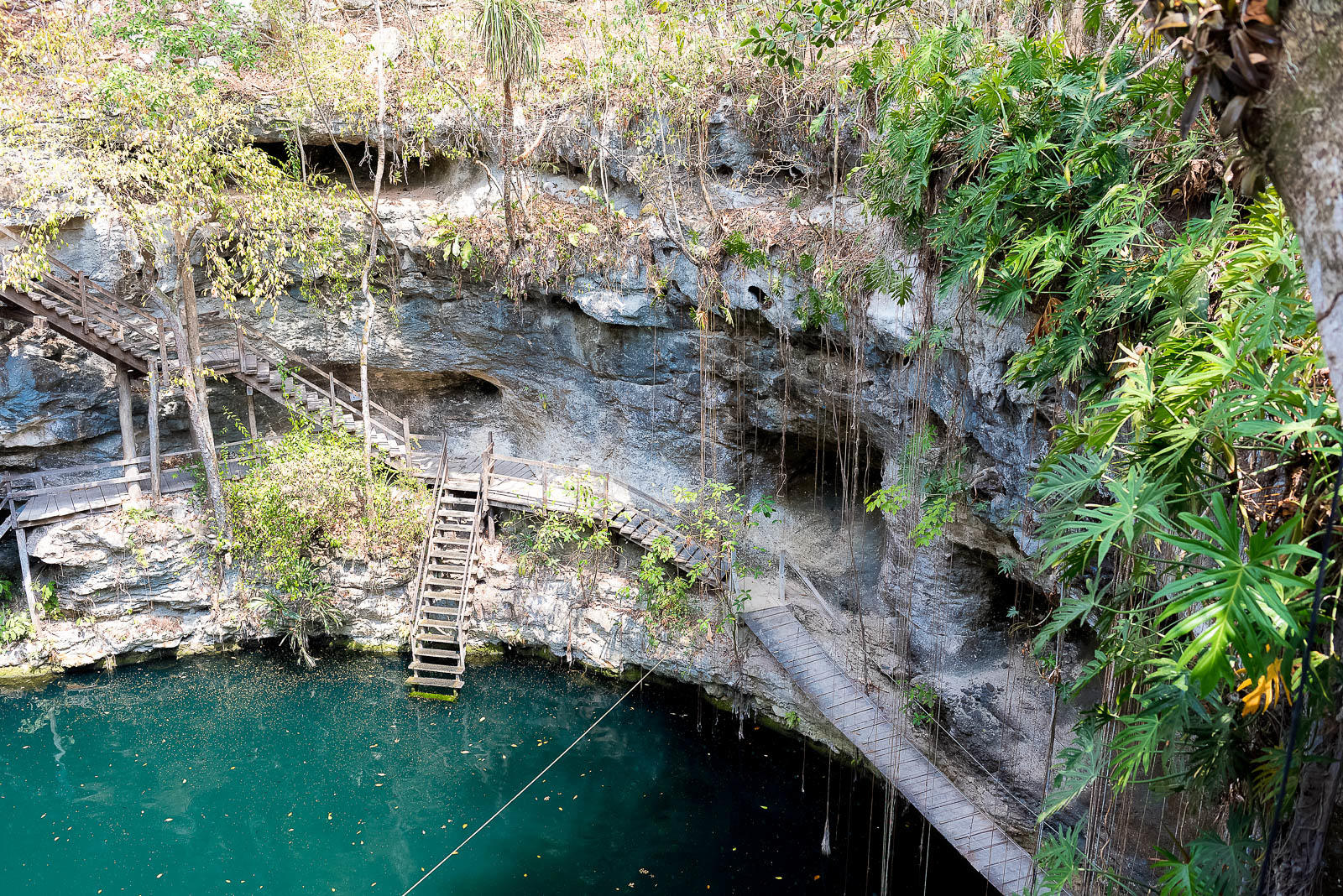 Ek Balam's cenote is quite deceptively deep and there are a few ways you can descend down…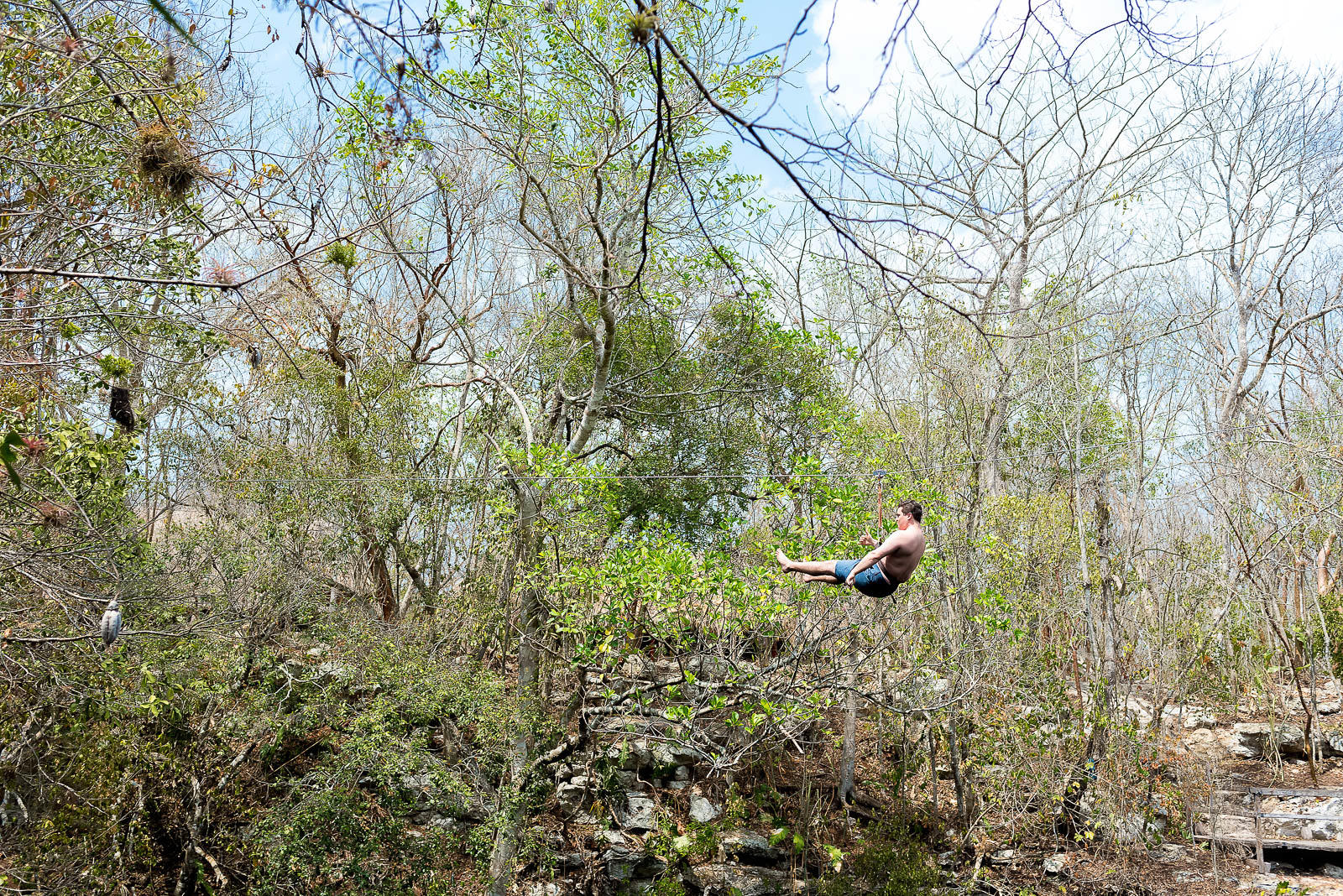 (or if you prefer, you can just zipline right over it!)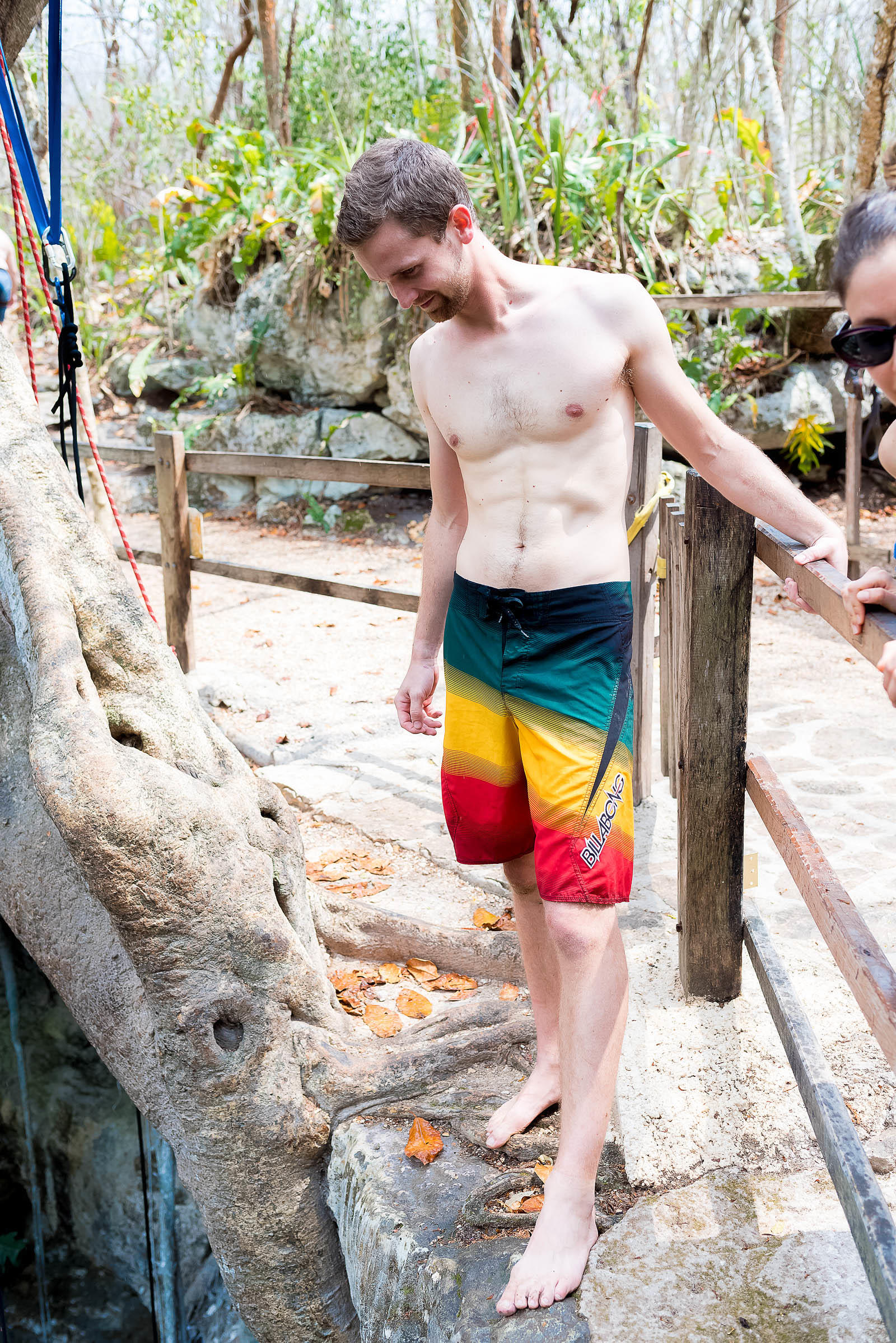 The first is only for the bravest…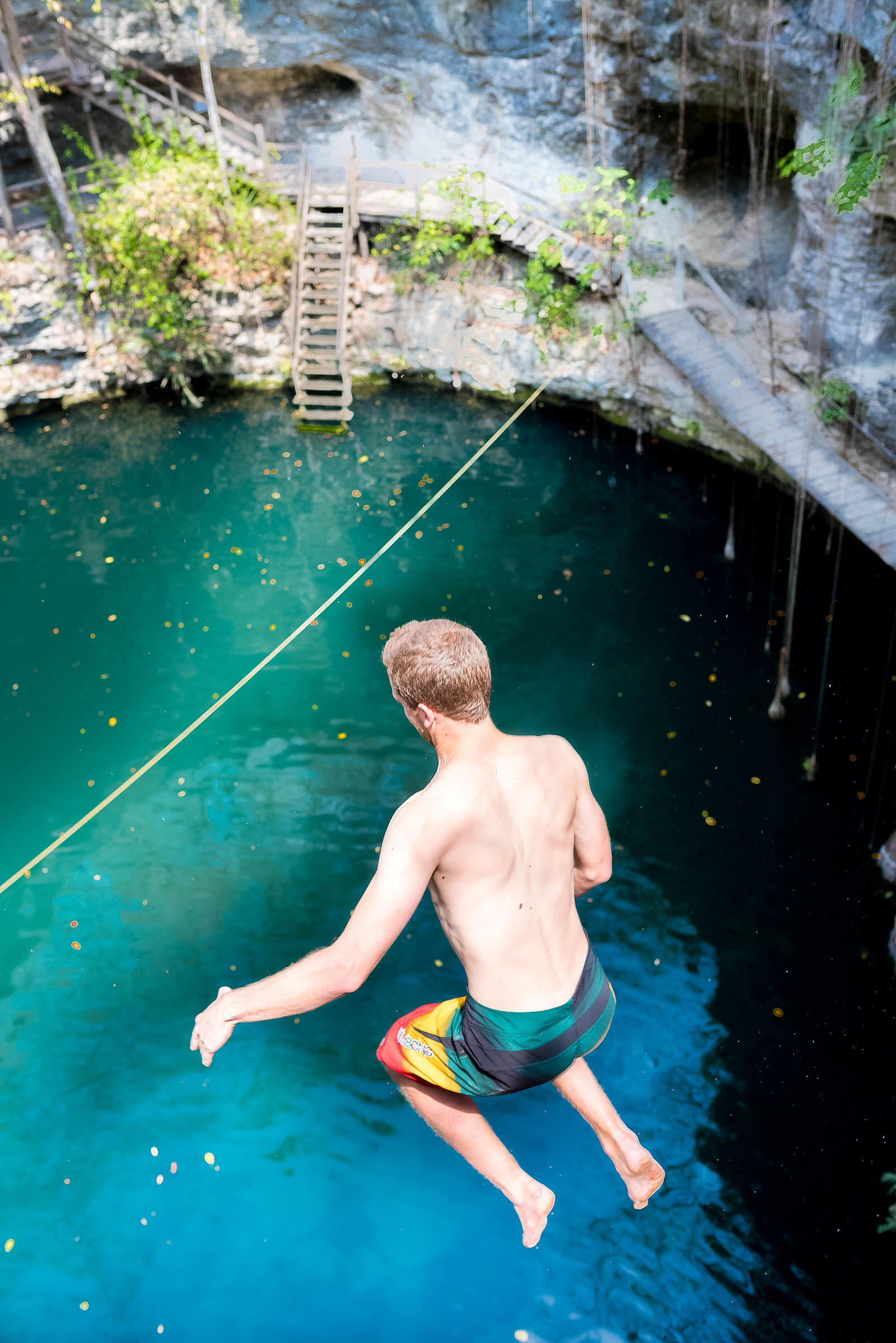 You can JUMP down!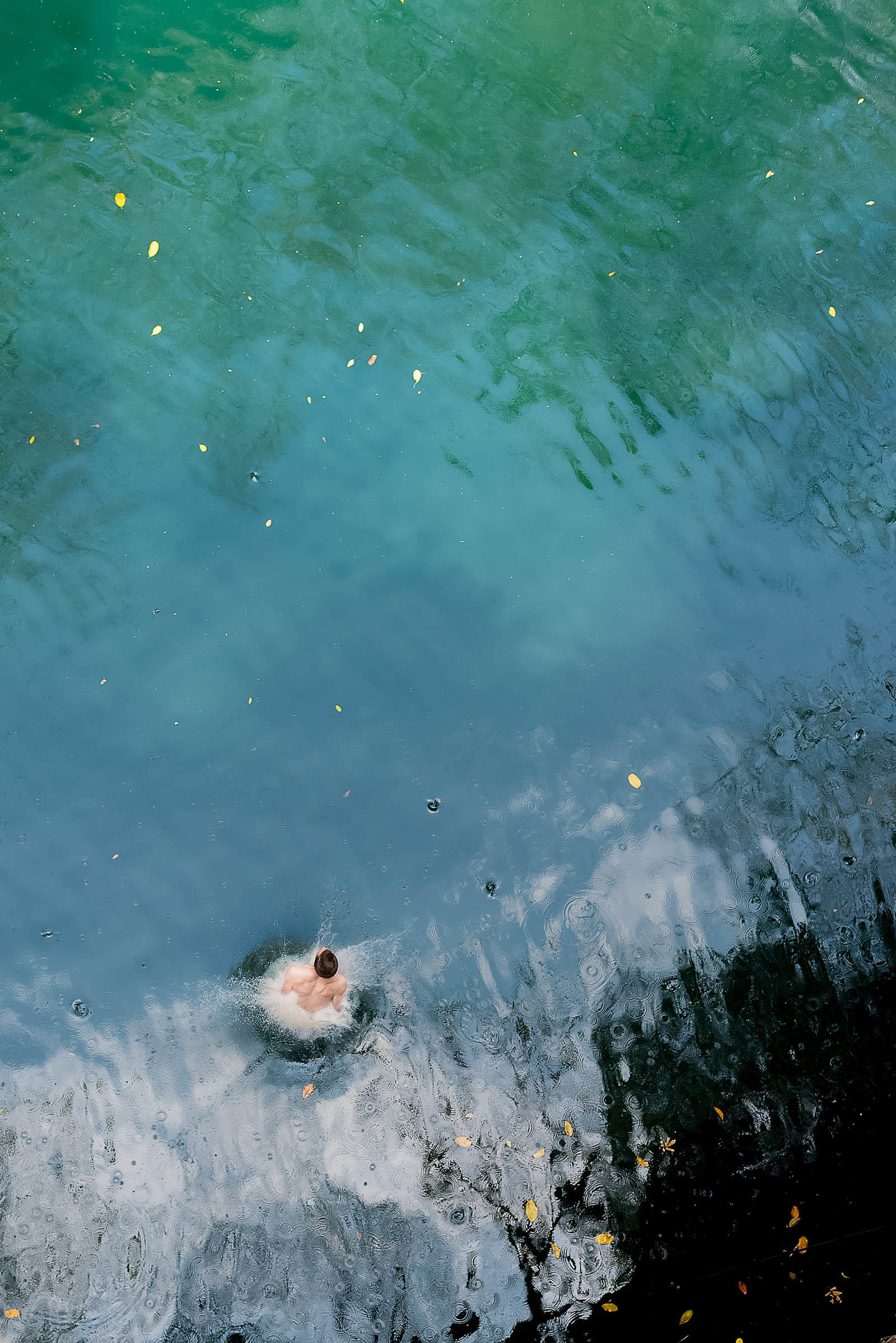 Seriously kudos to Simeon for braving such a steep jump!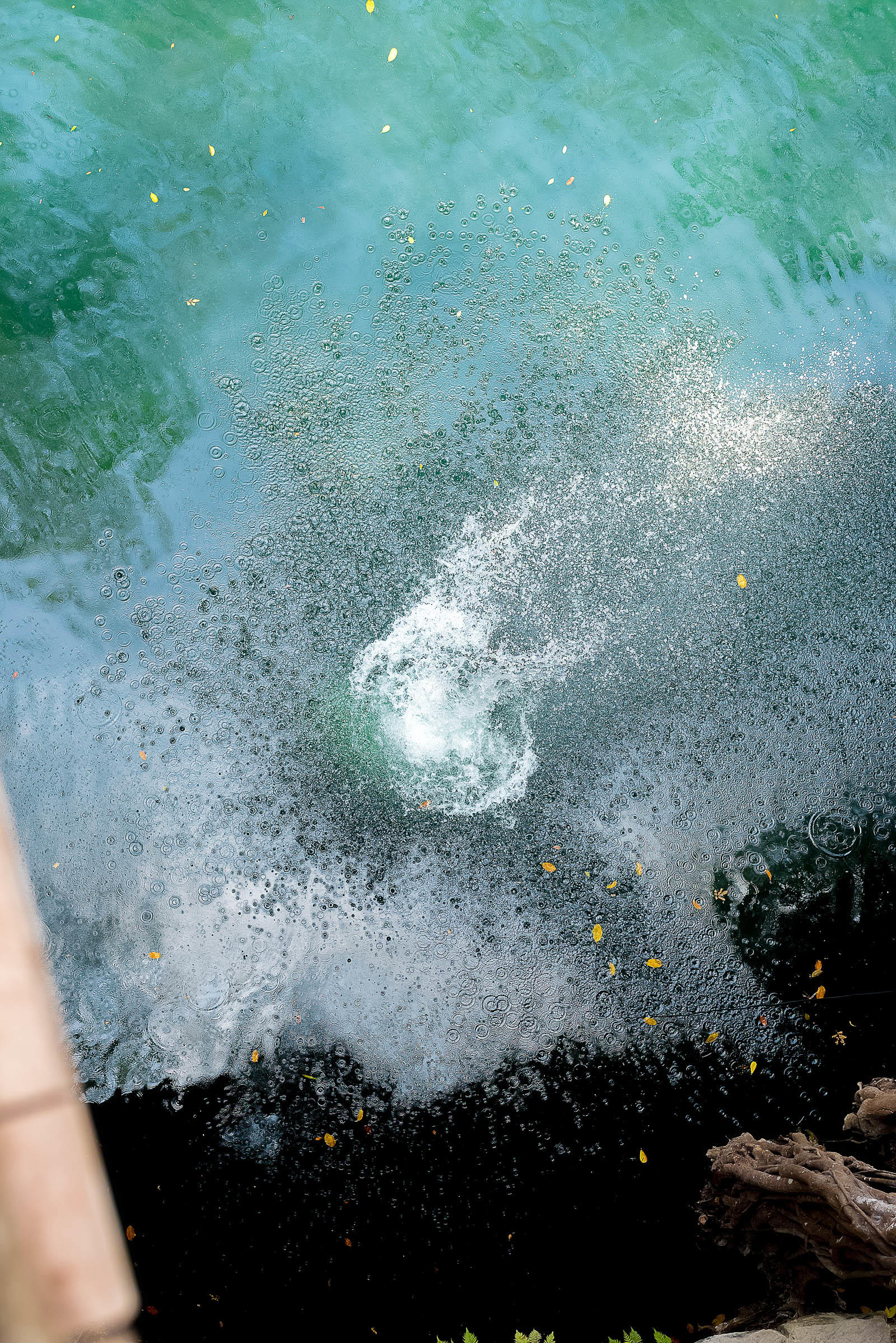 *SPLASH*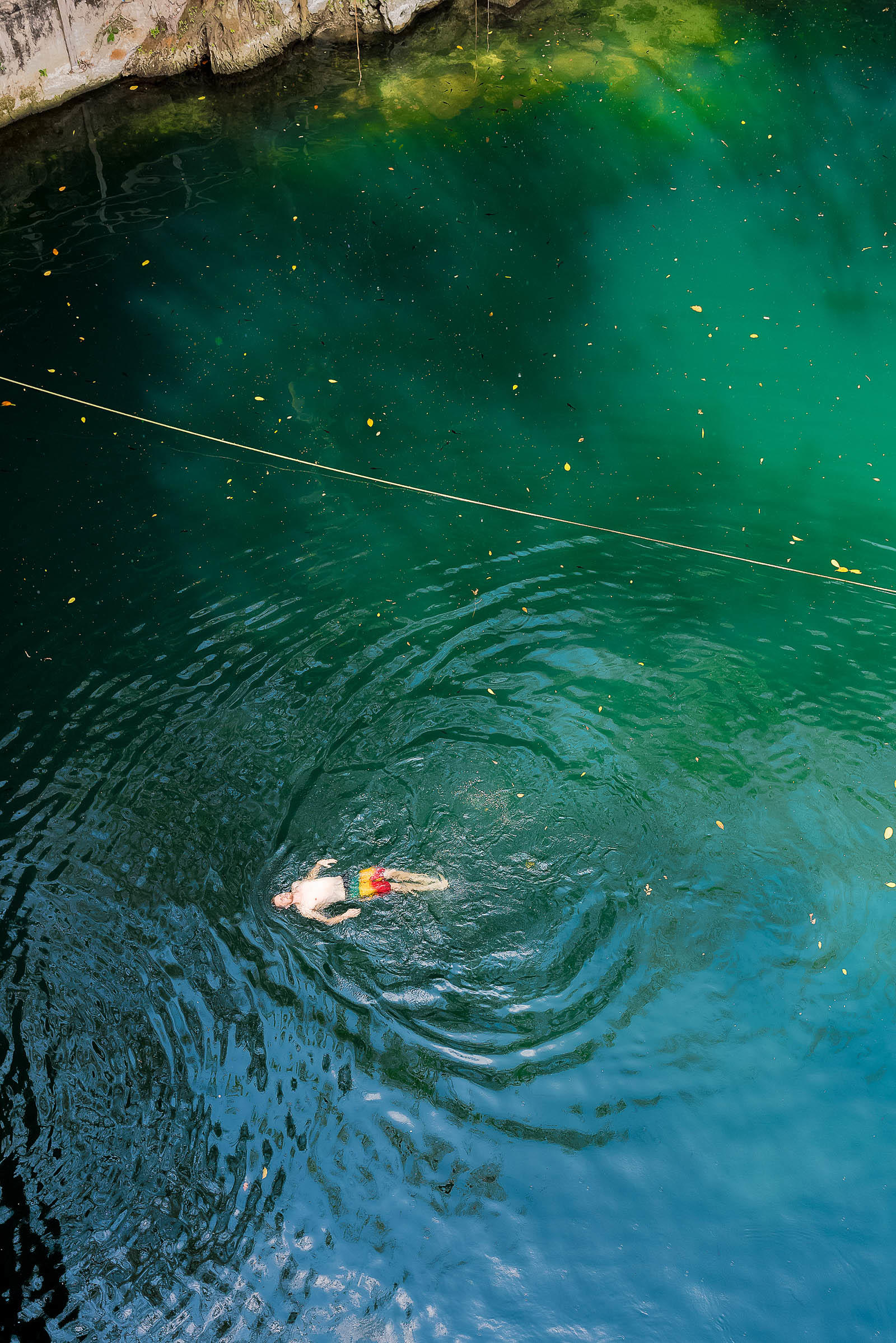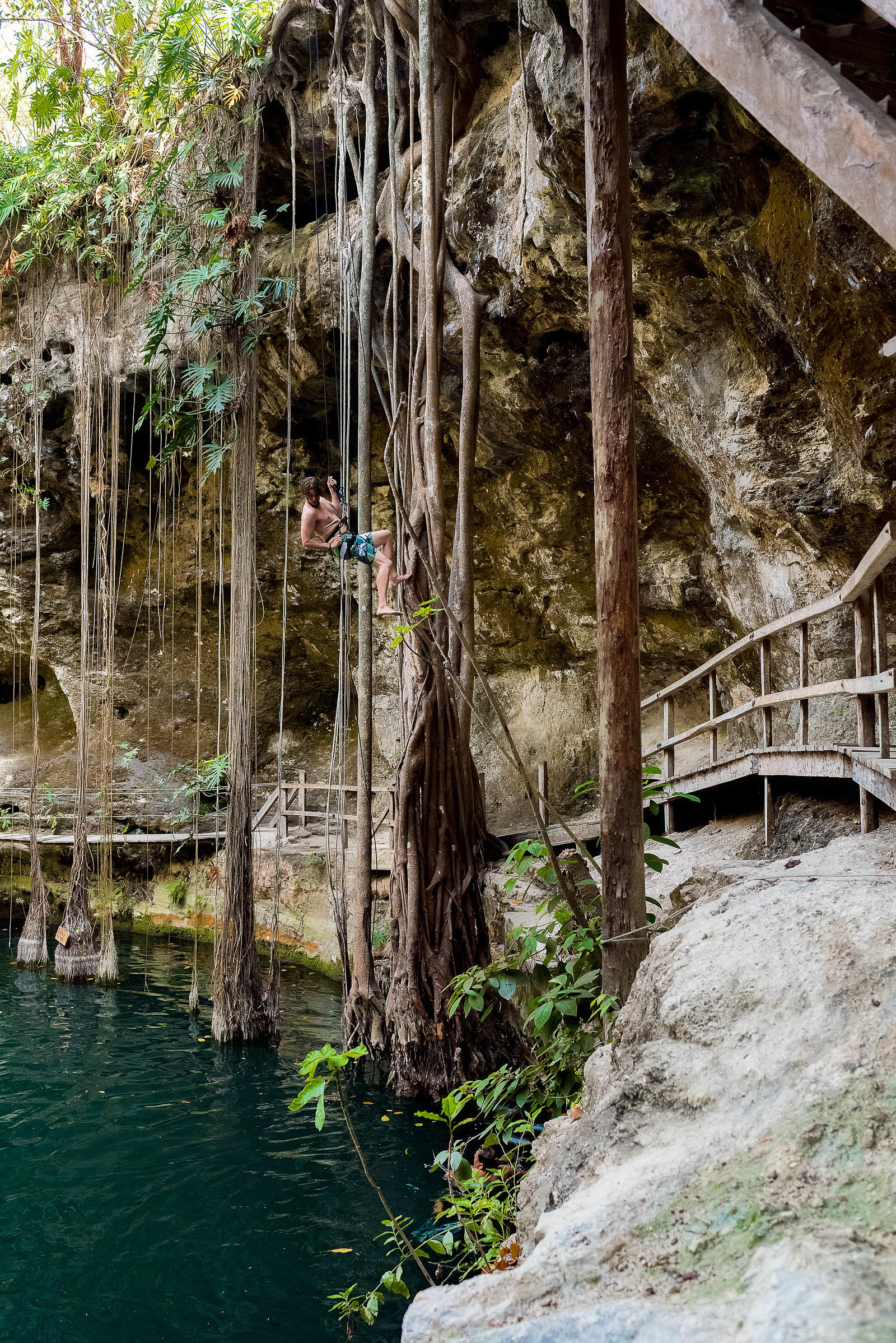 Or you can repel down into the water directly like Graham did…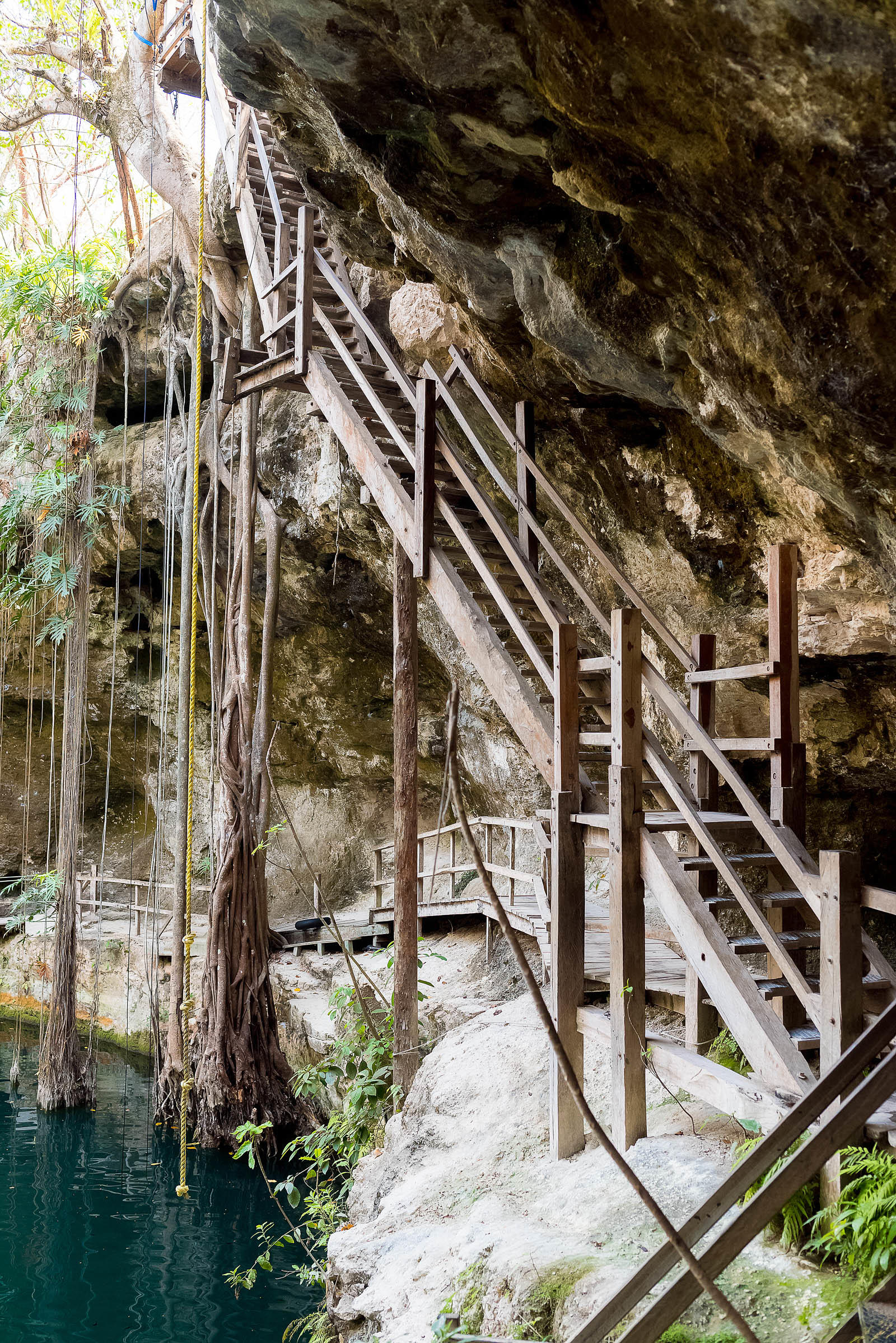 Or you can take the traditional route (which most of us opted for)… the stairs!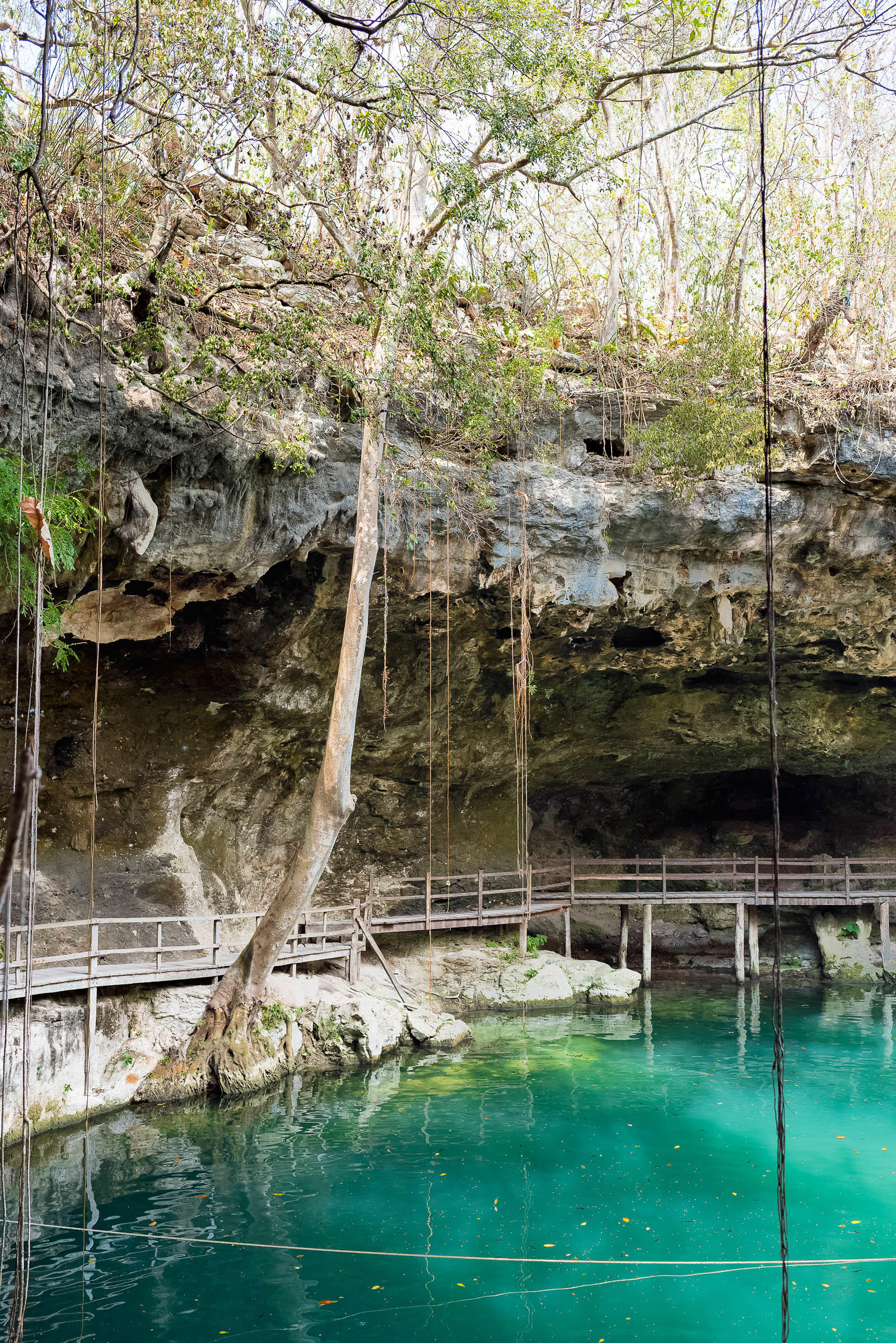 Once you're in the cenote you feel transported to another world.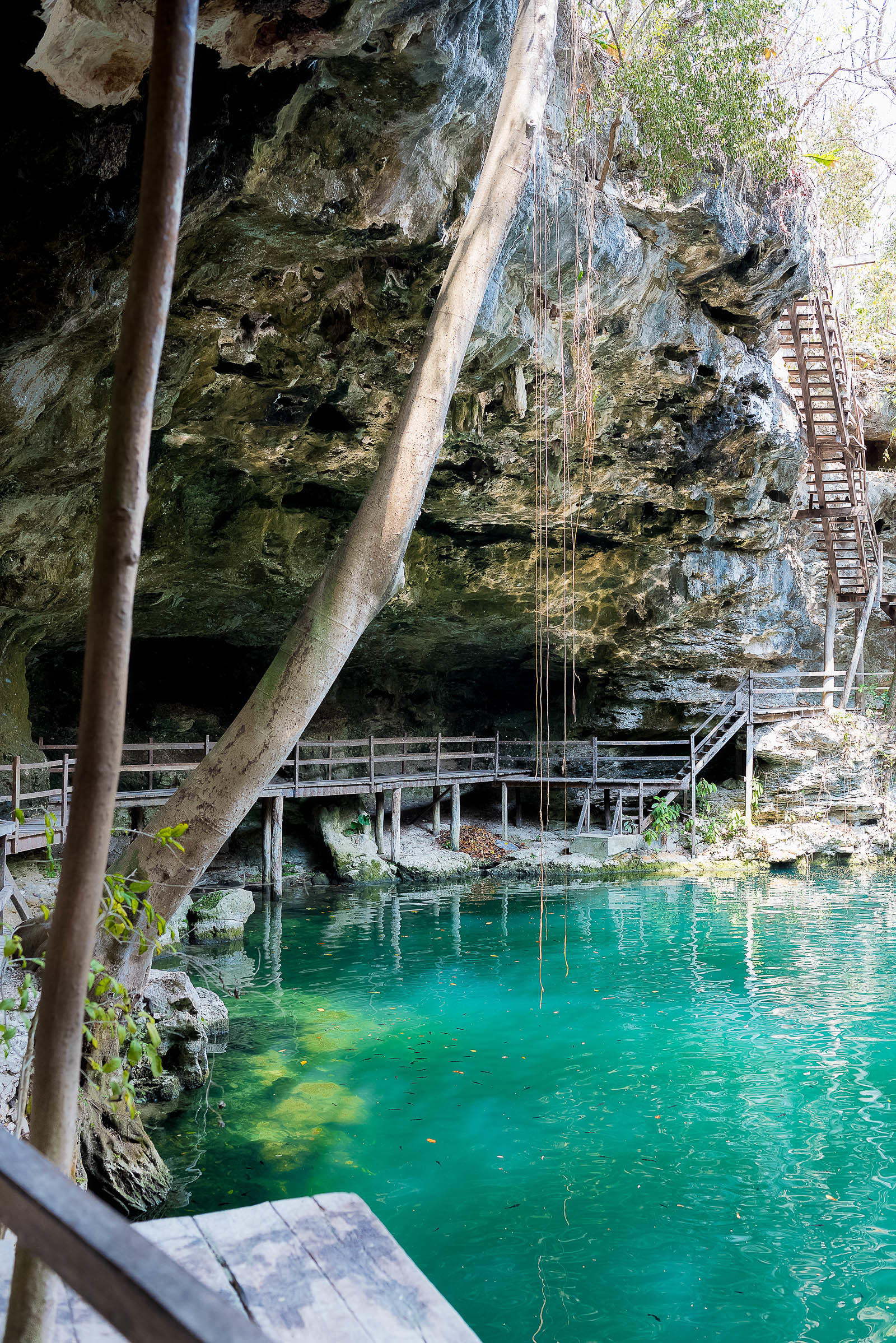 An eerily magical world.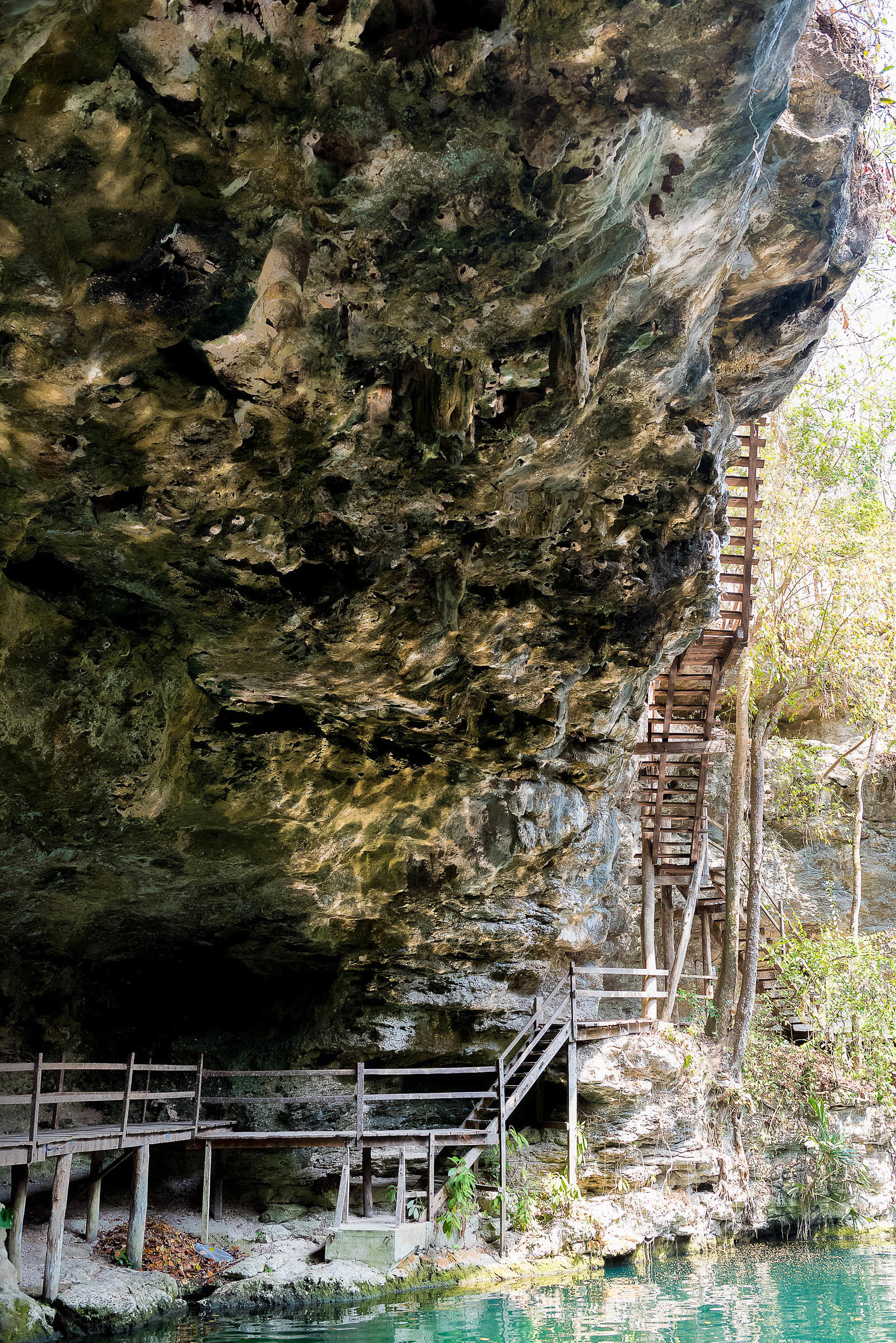 With some amazing reflections and lighting!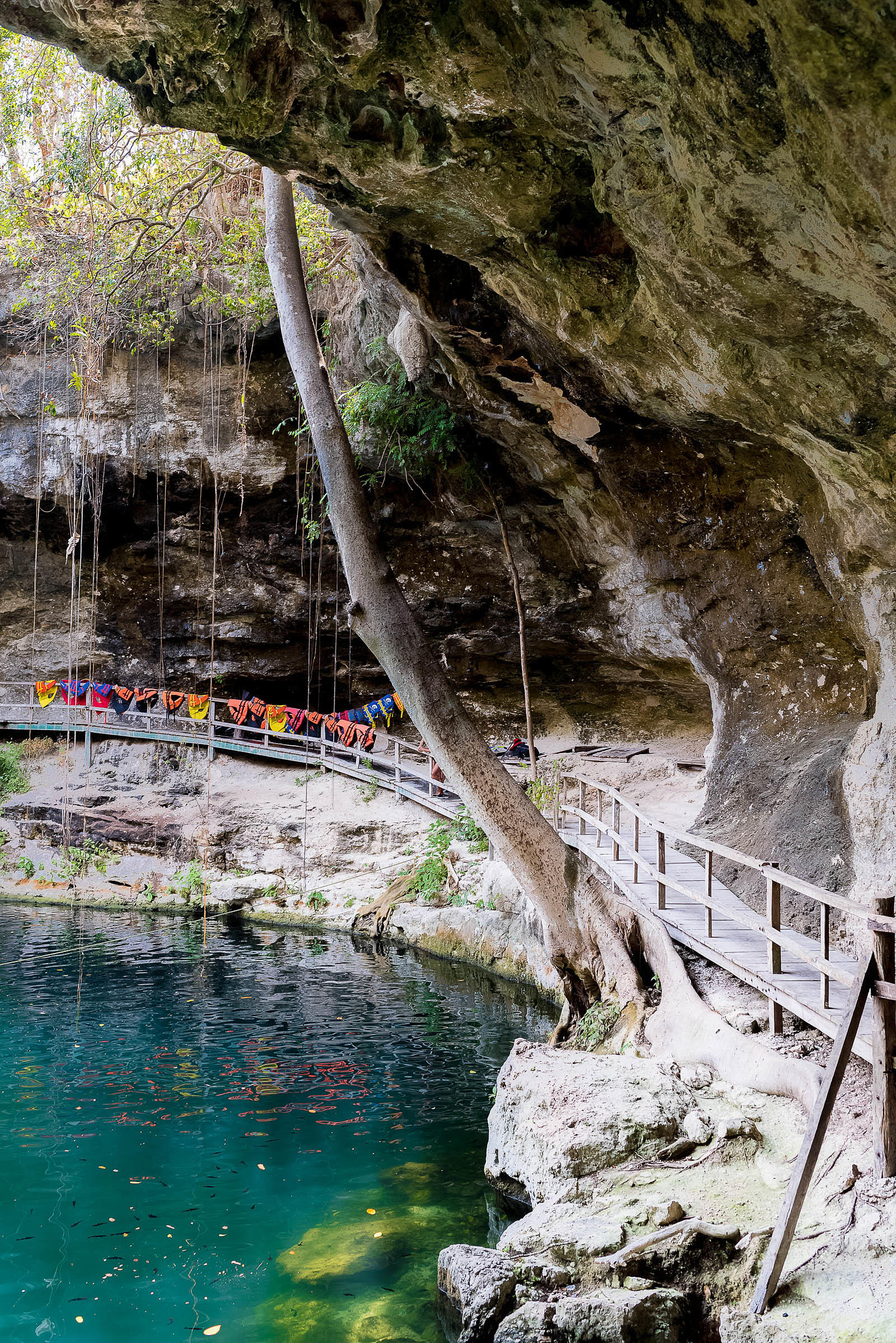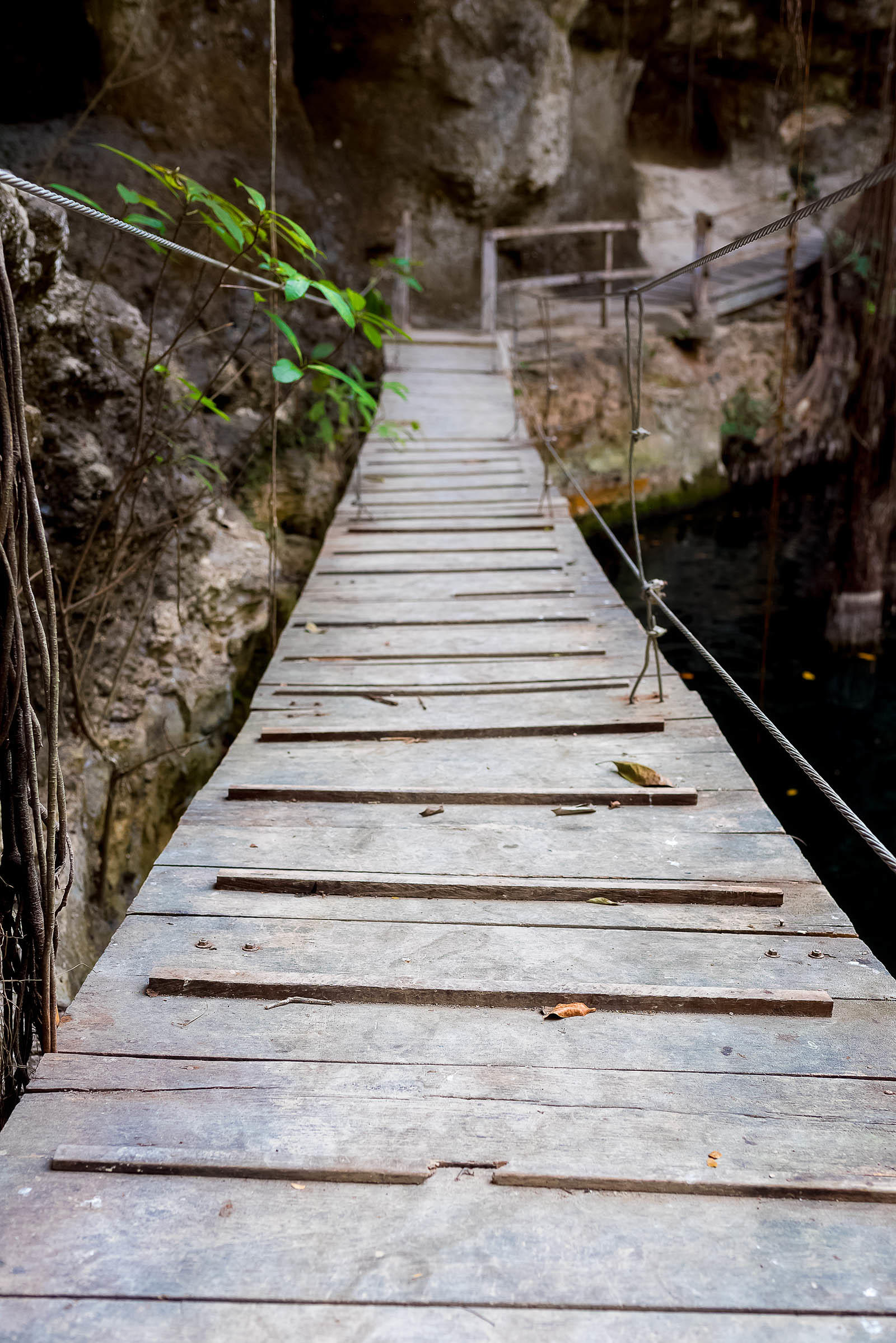 You can walk around the entire perimeter of the cenote thanks to a series of bridges and suspended walkways over the jagged rocks.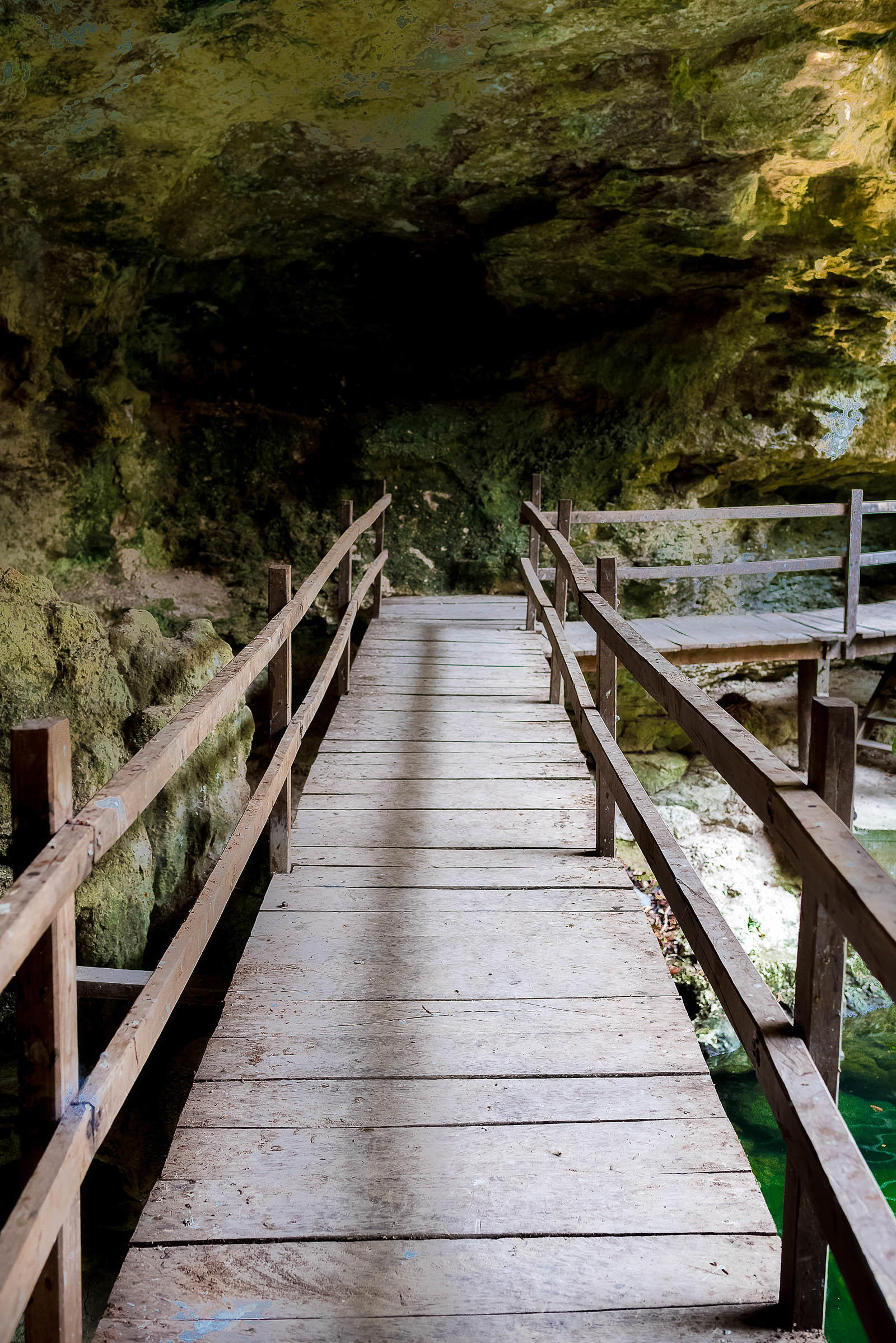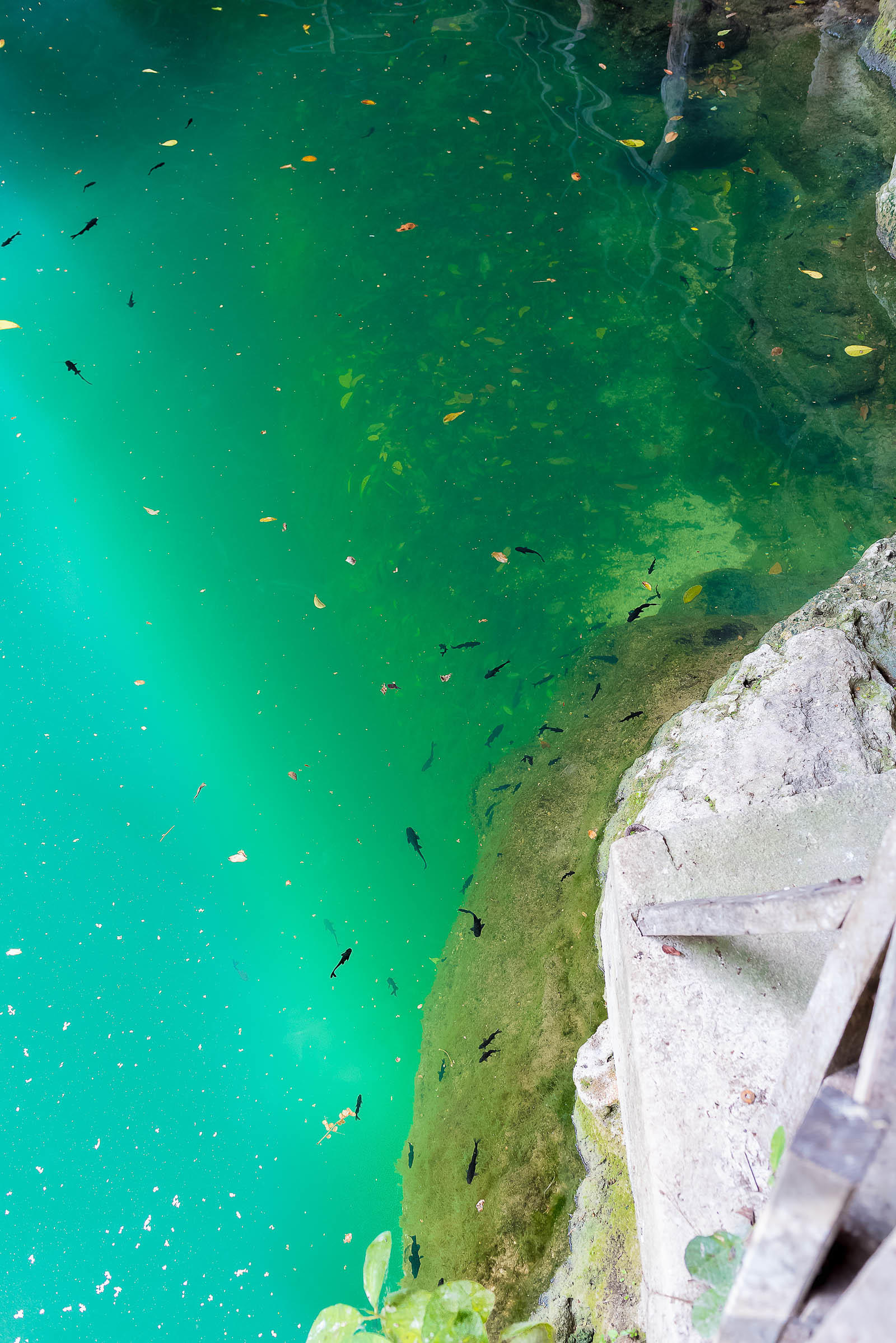 Which allow you to see deeply into the clear water below.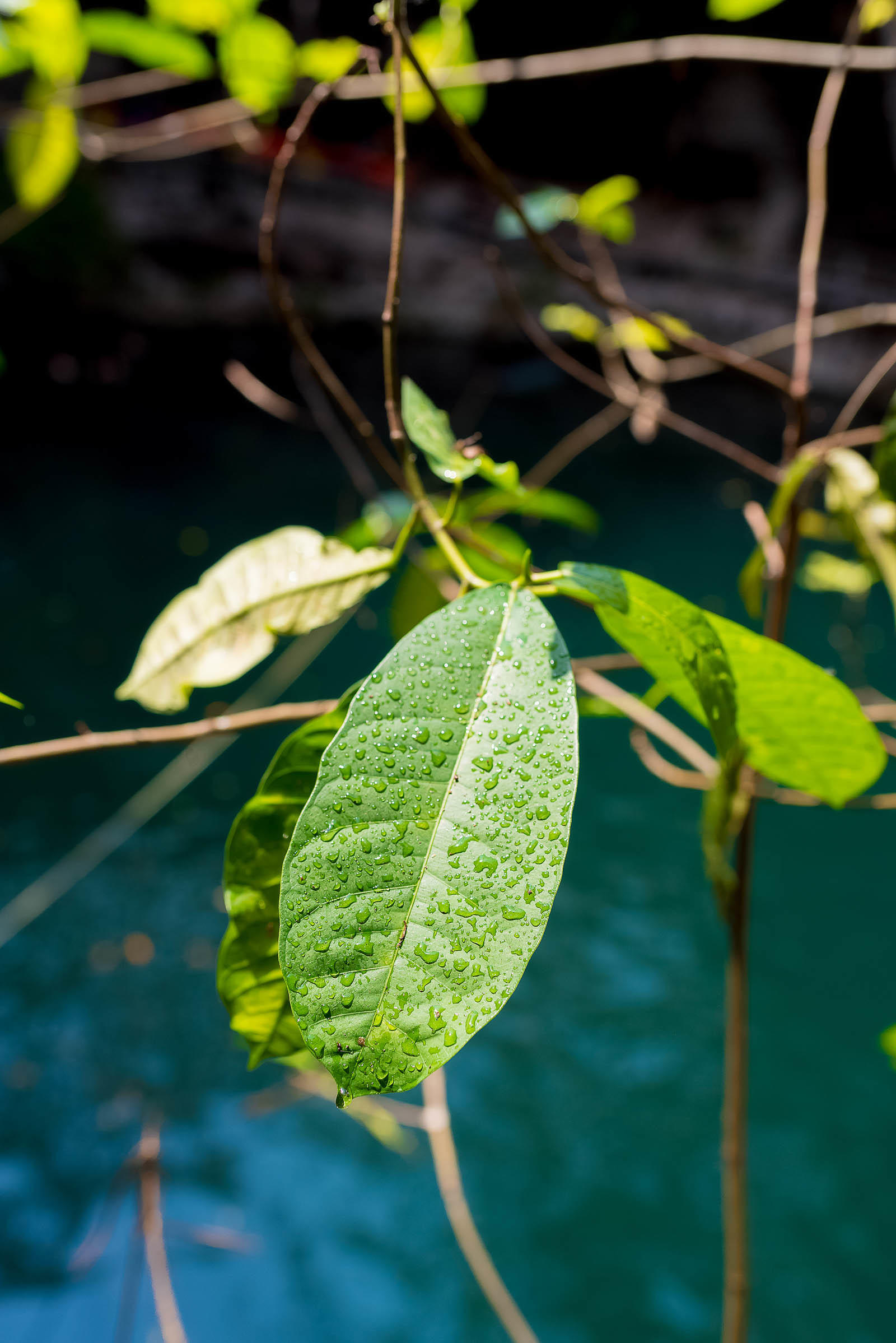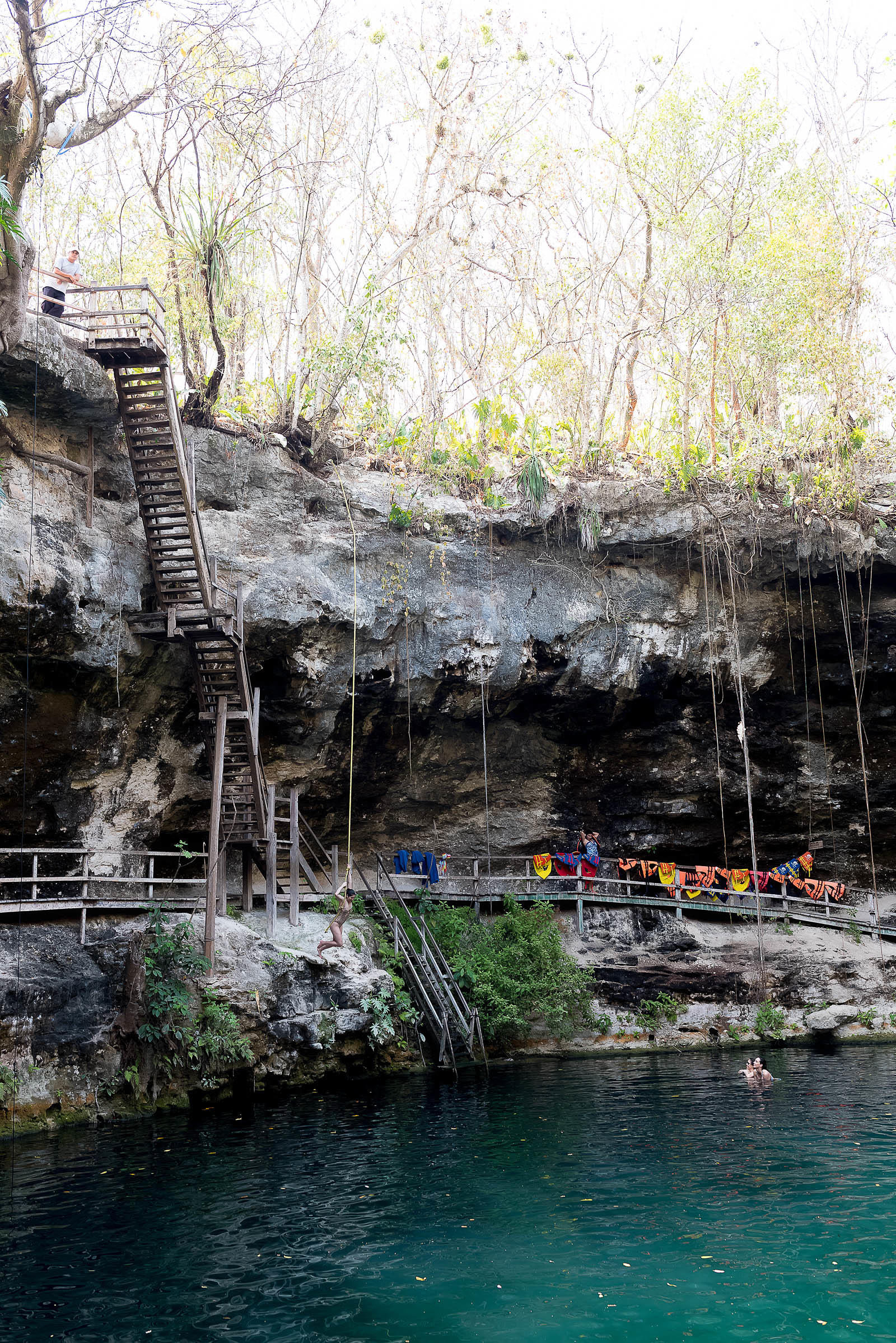 The cenote also has plenty of life vests, floats, and ropes to swing into the cenote with.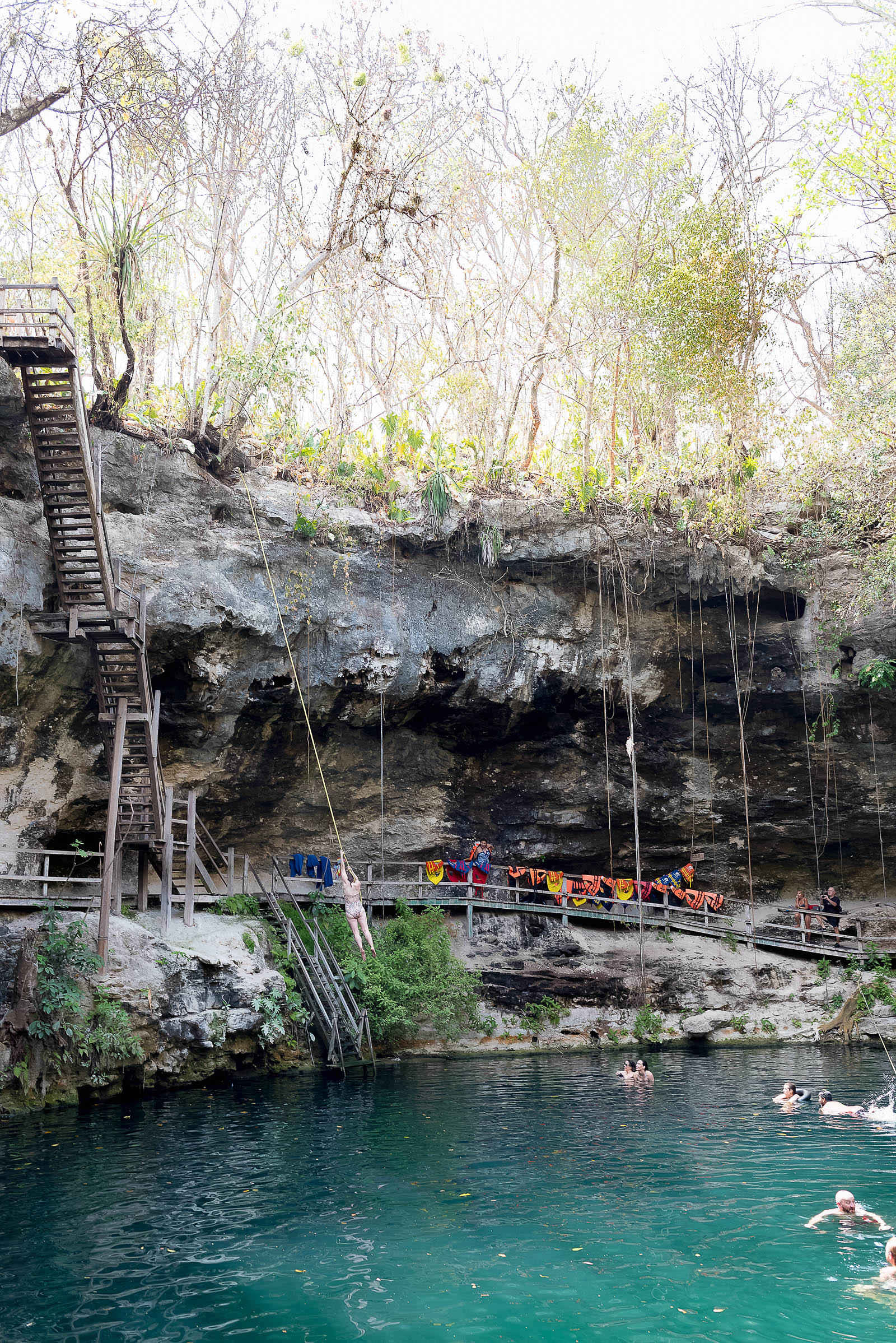 Here goes Erin! Oh wait I mean Tarzan…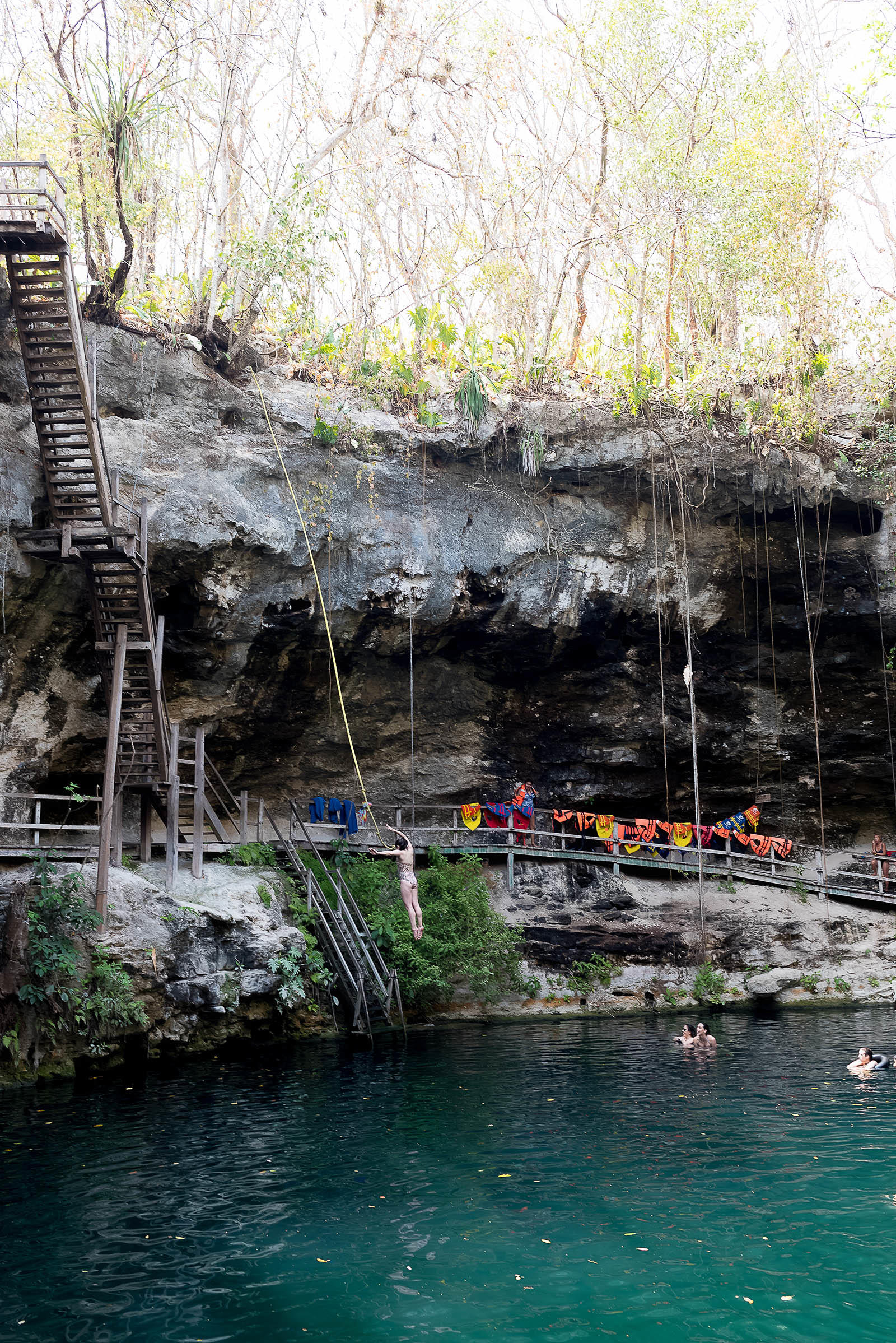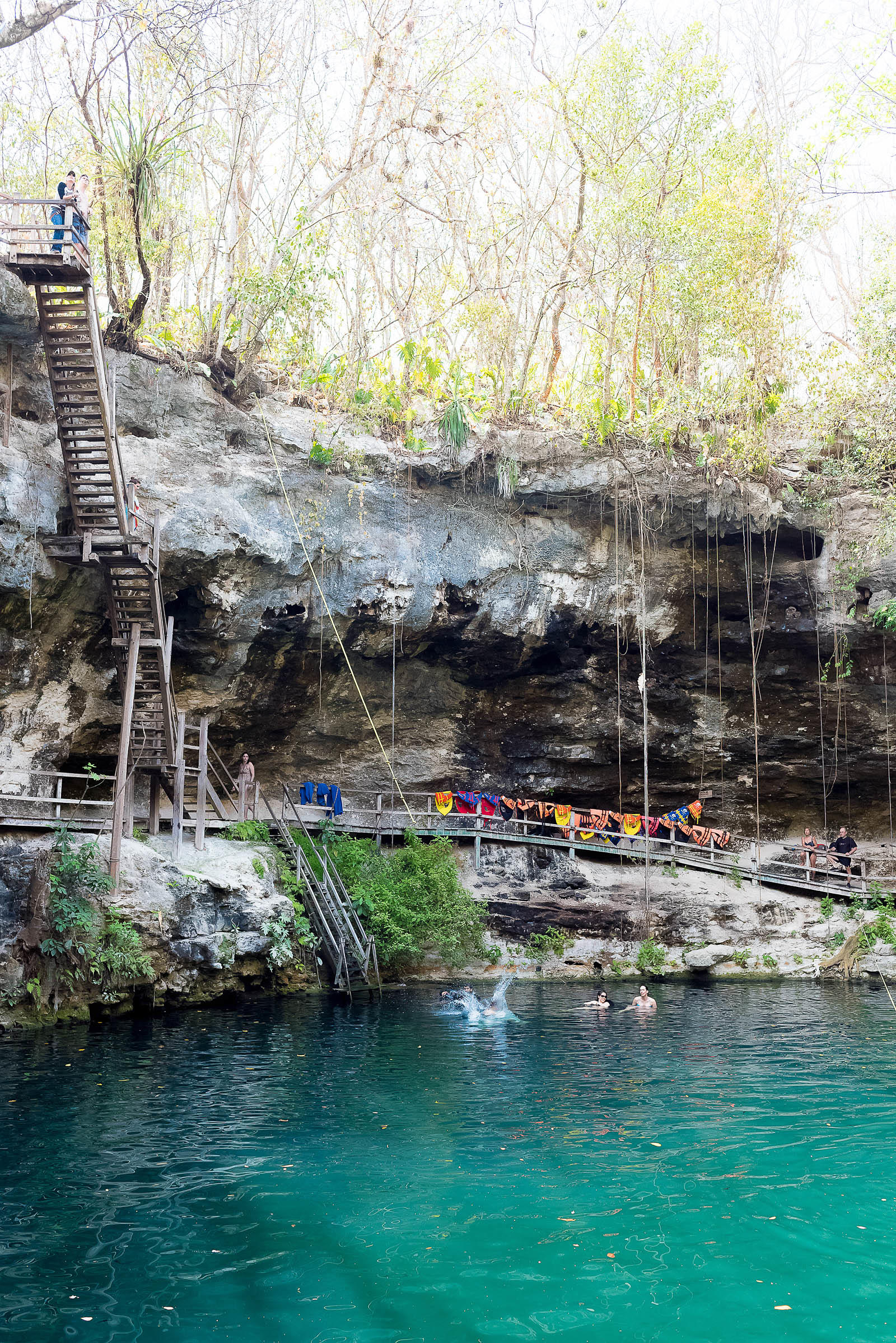 *SPLASH*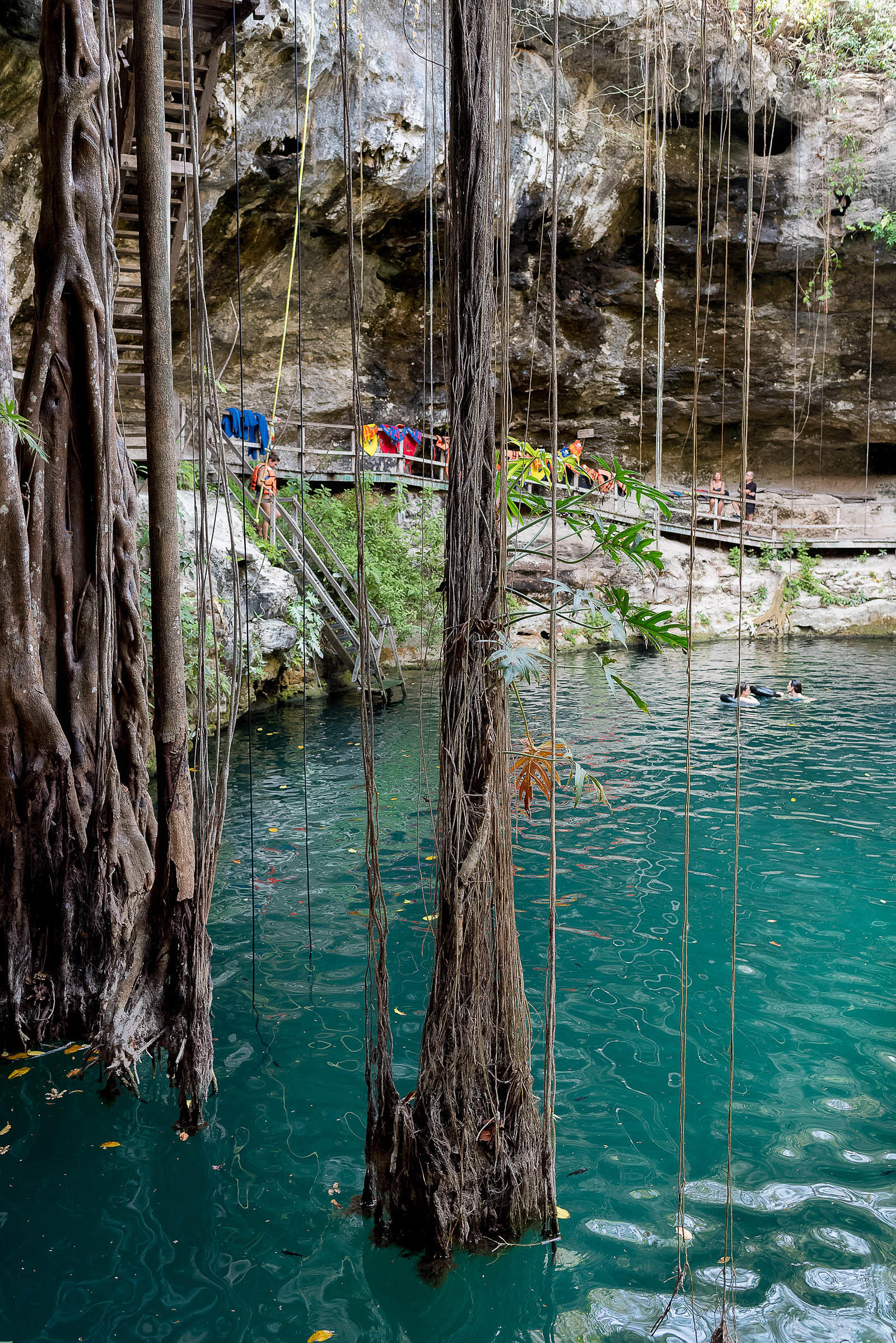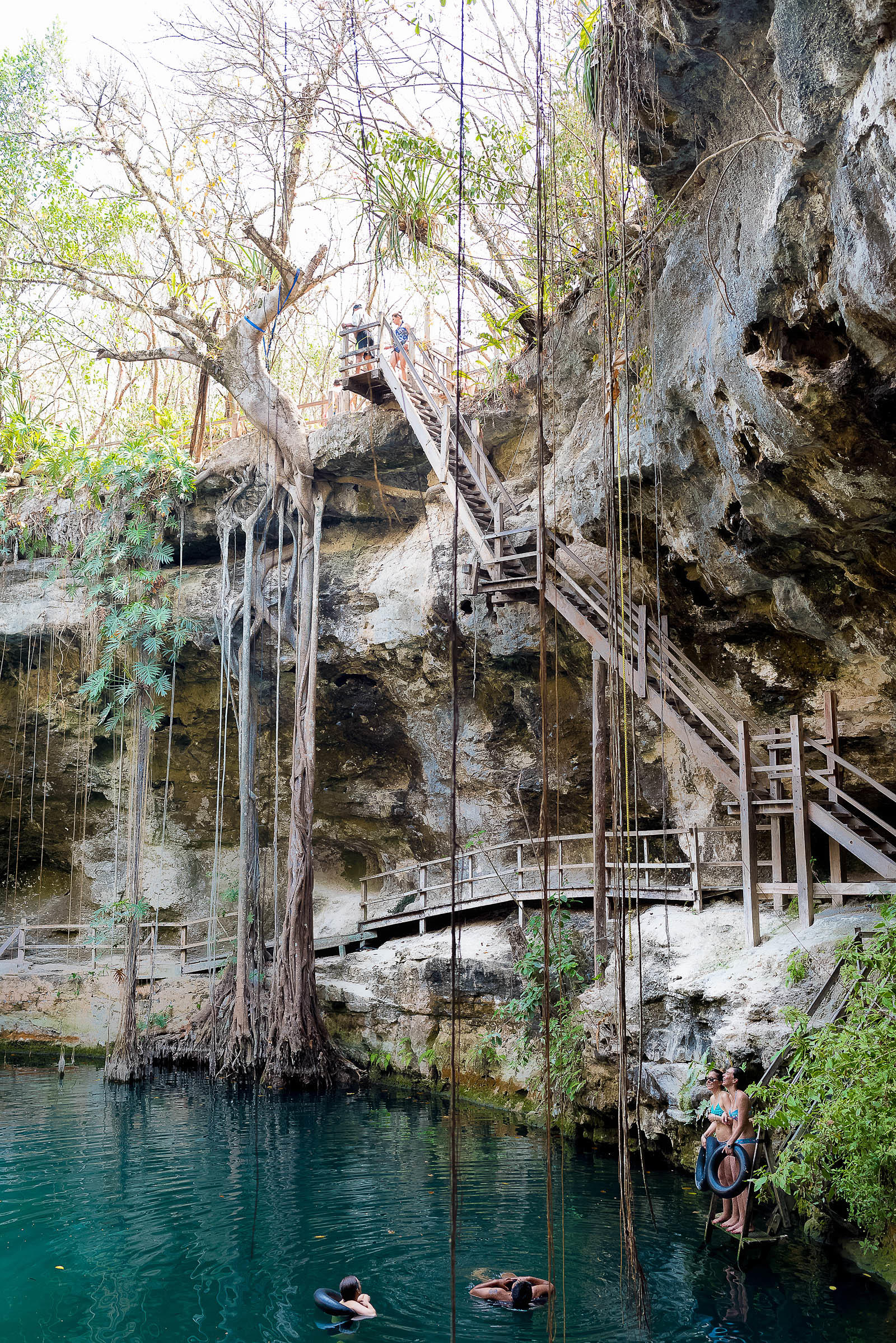 Ana and Sofia decided to just jump right in from the stairs together…
And…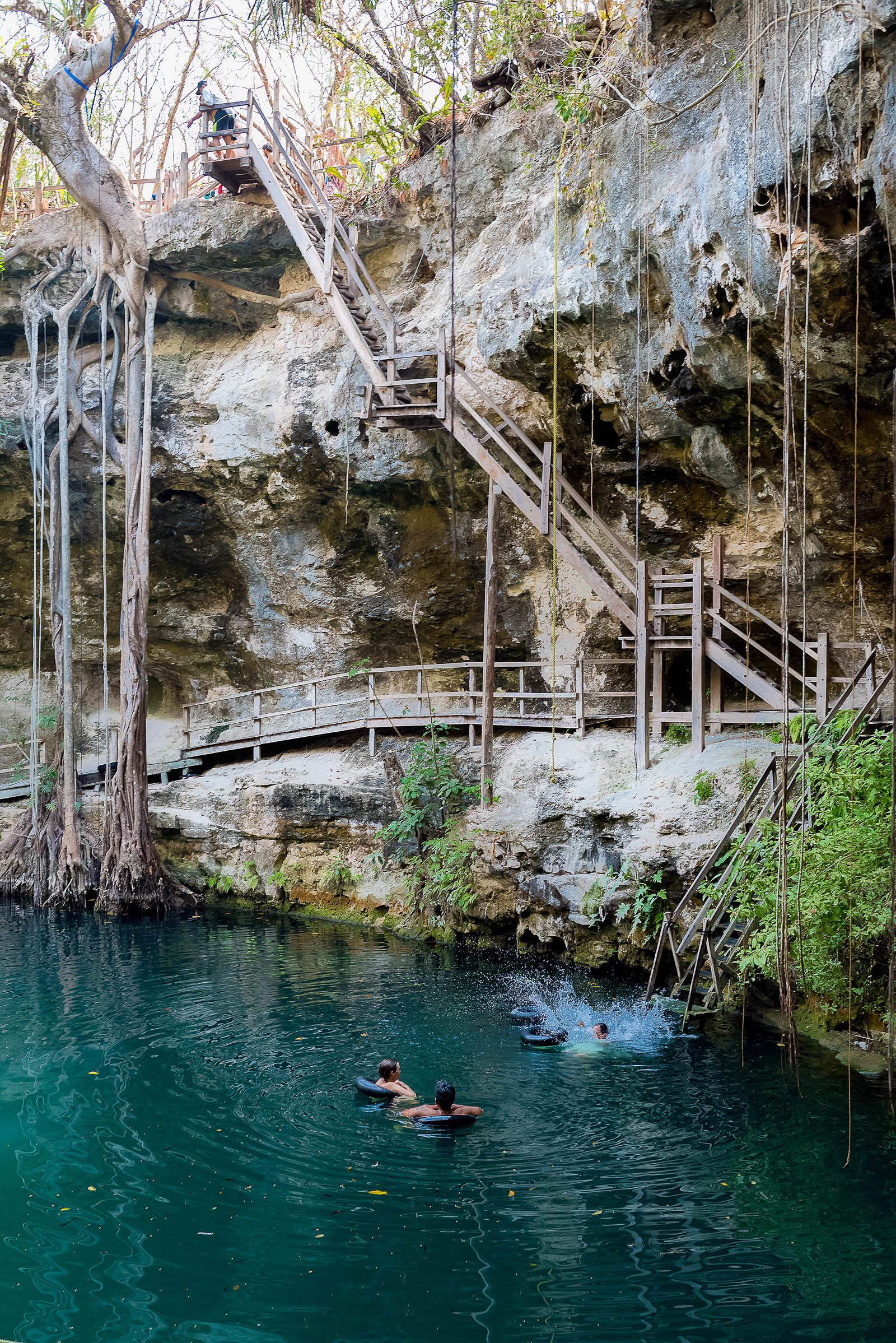 *SPLASH*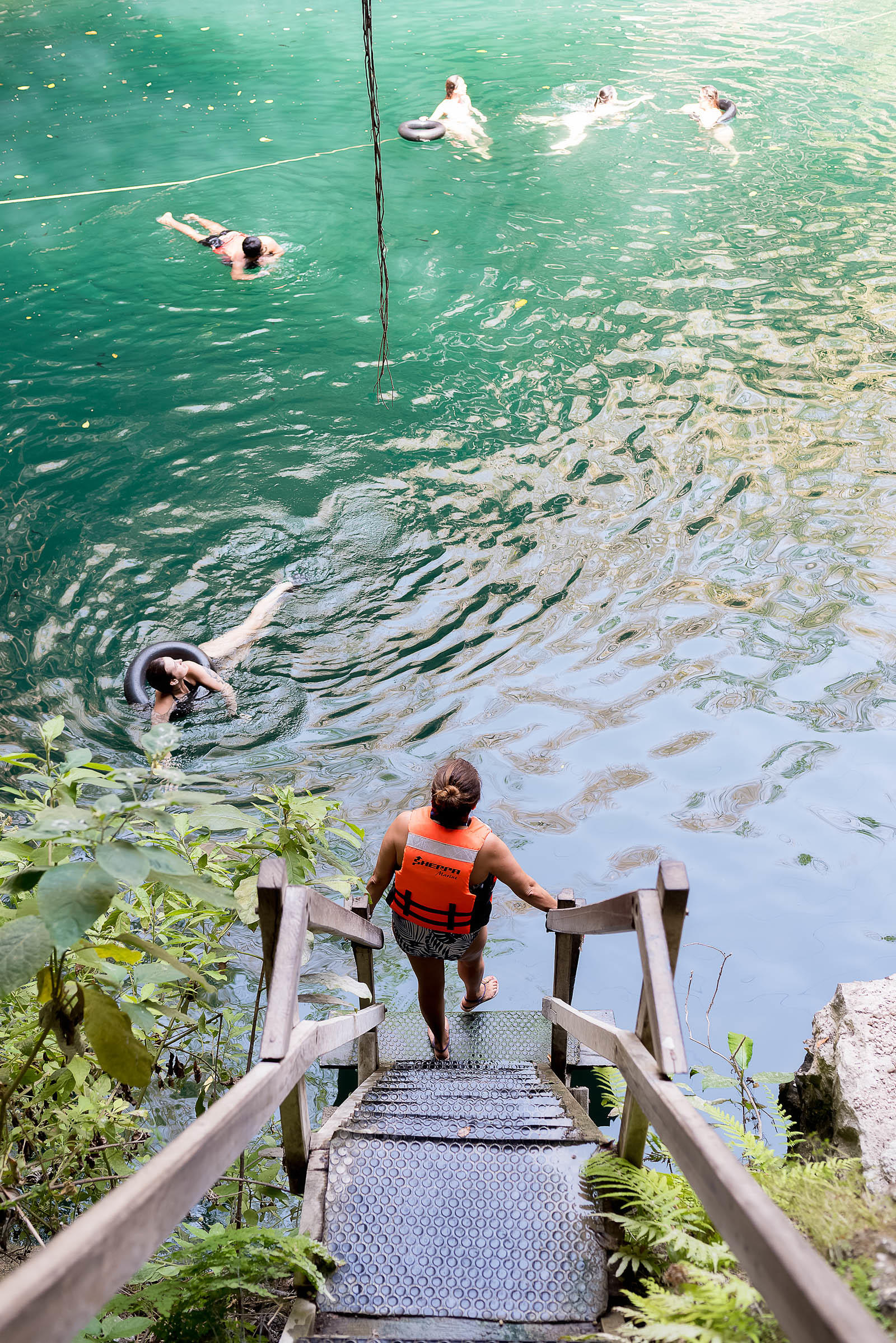 Many Mayan sites in Mexico are worth the visit but if you're looking for a relatively undiscovered site where you can climb the pyramids still (Chichen Itza no longer allows tourists to even touch the pyramid) and then cool off in a true, traditional Mayan cenote after, look no further than the hidden gem that is Ek Balam.
Disclosure: I received a complimentary visit to Ek Balam through the Mexican Board of Tourism to facilitate this post. Review and all opinions are ALWAYS my own.