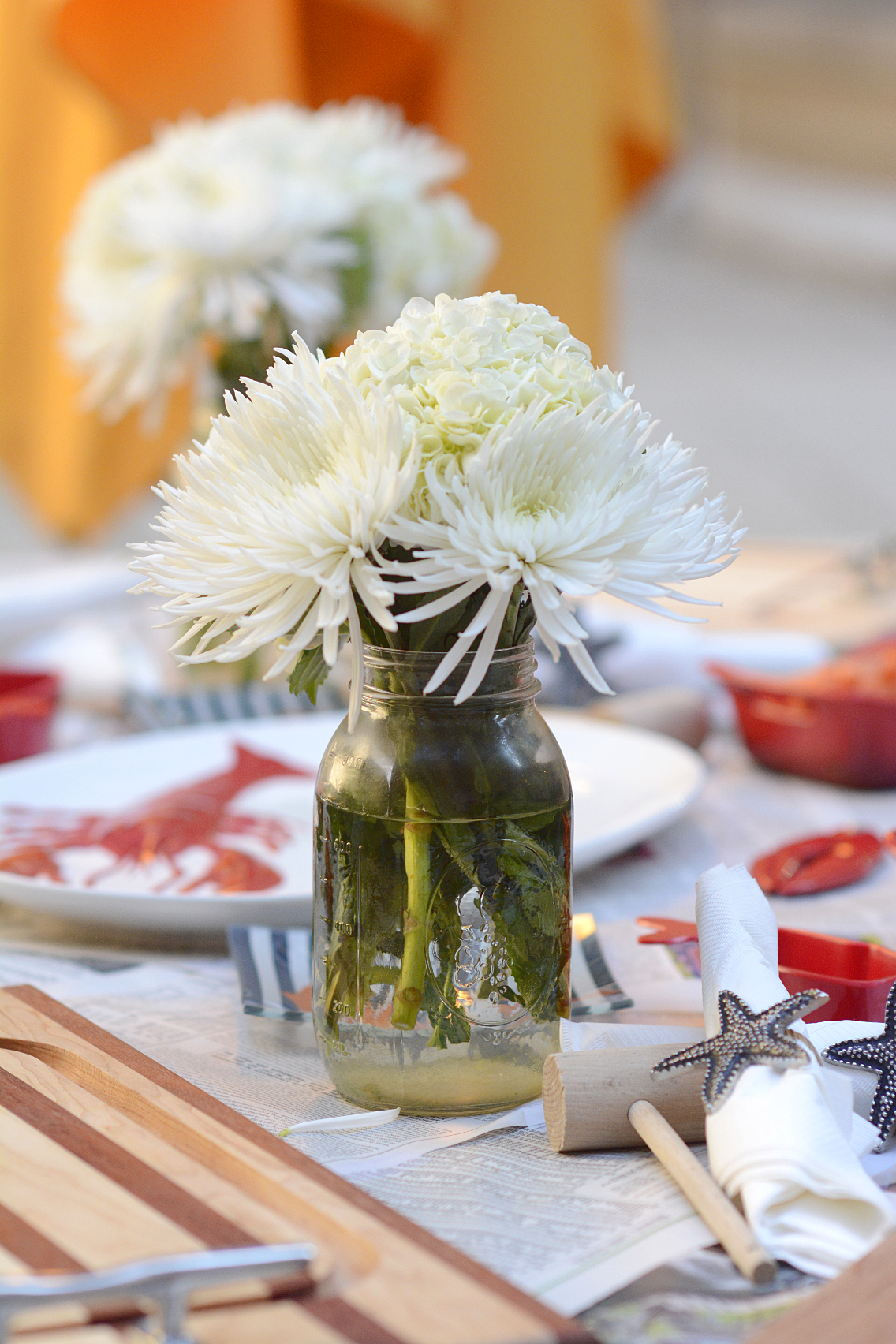 If you ask me, the best part about summer is enjoying a delicious meal al fresco with friends. Especially a delicious homecooked meal!
A few weeks ago, my girlfriend Katharine invited Hubby and I over for her annual Lobster Boil and it quickly became one of the highlights of our summer.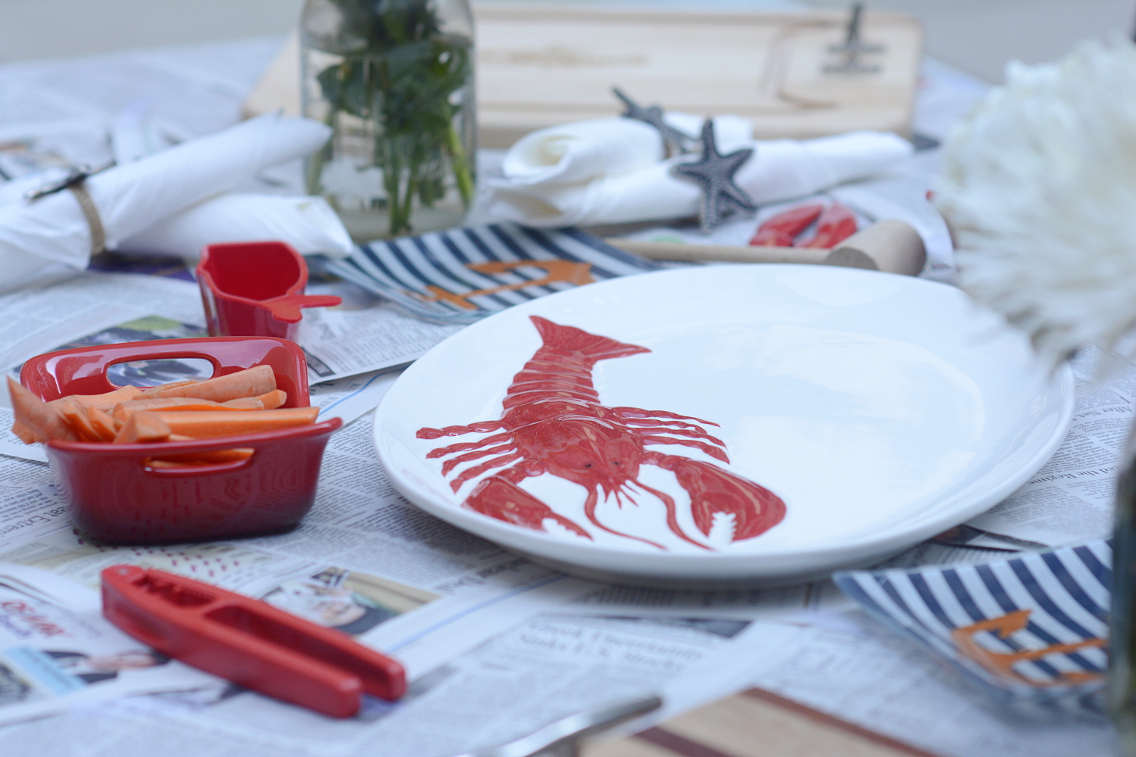 Doesn't she set a lovely table?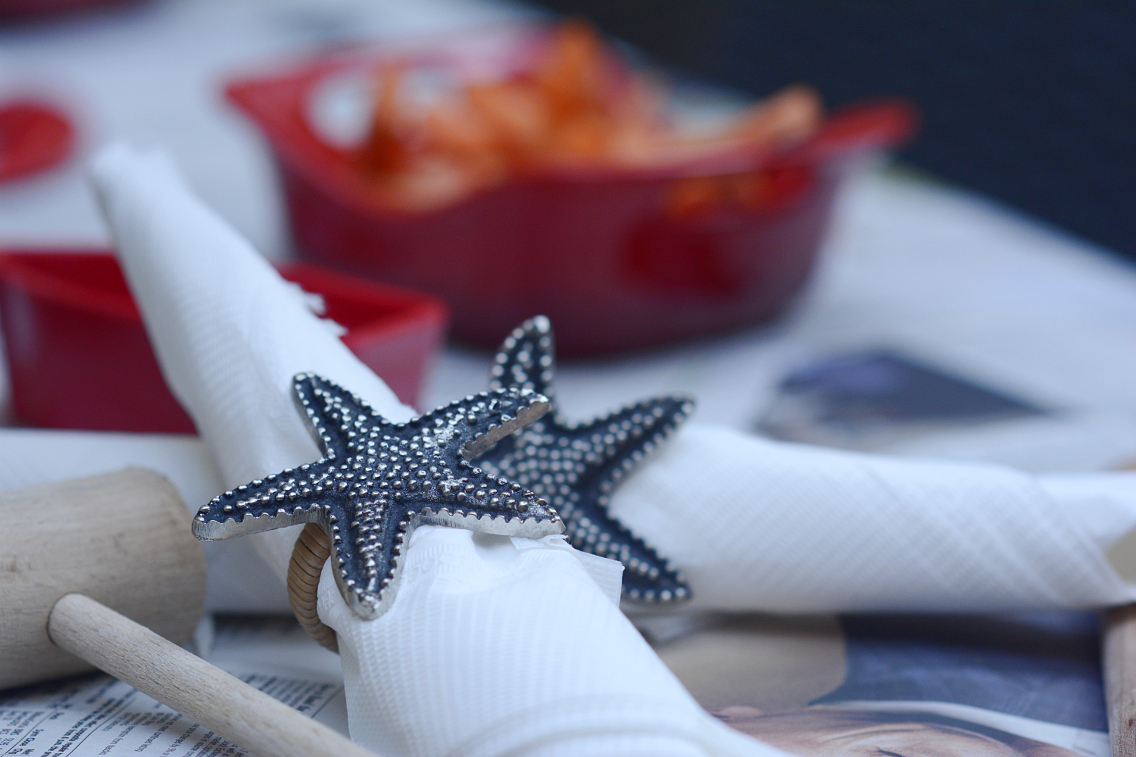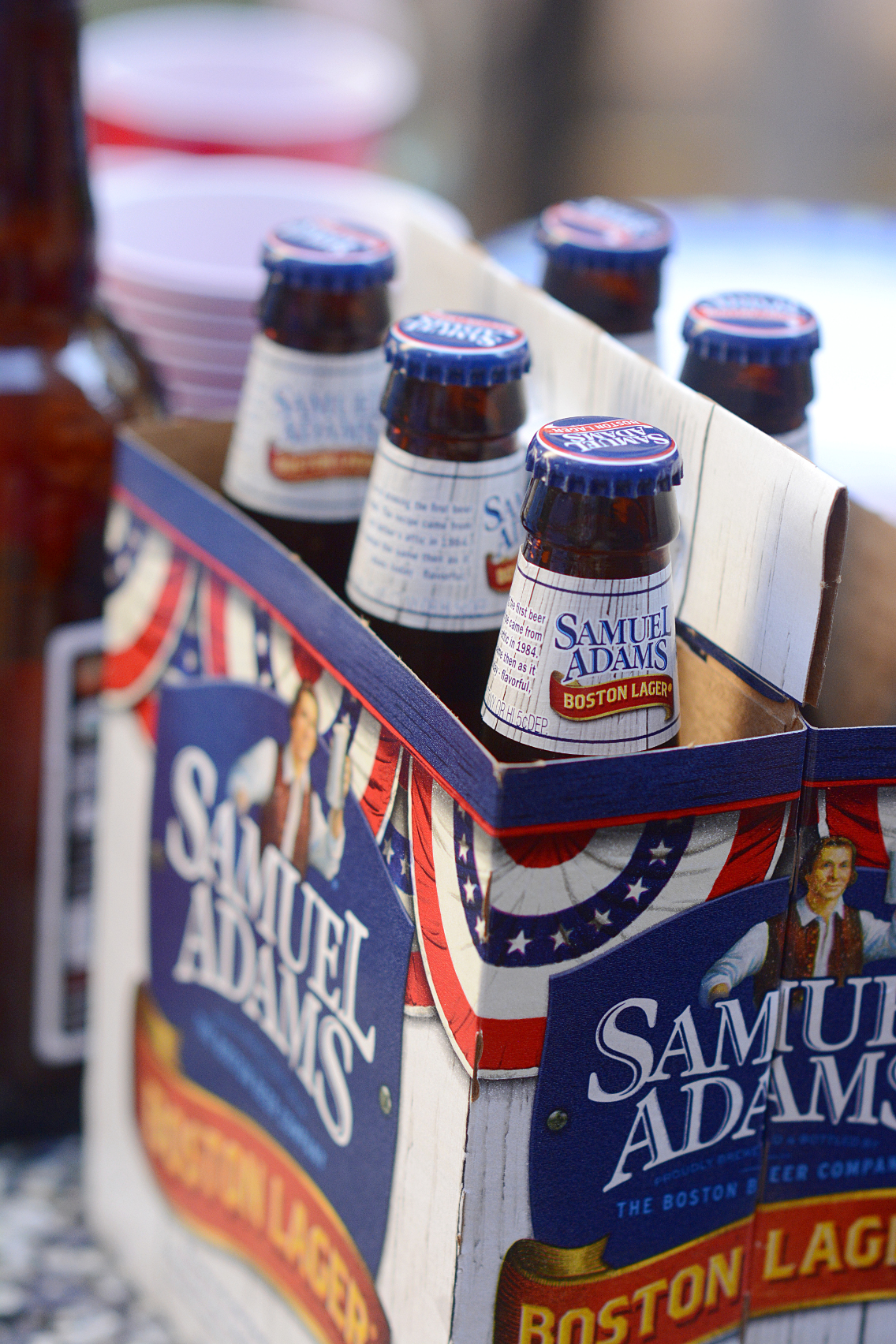 We started out with some necessary libations: wine for the ladies, beer for the boys.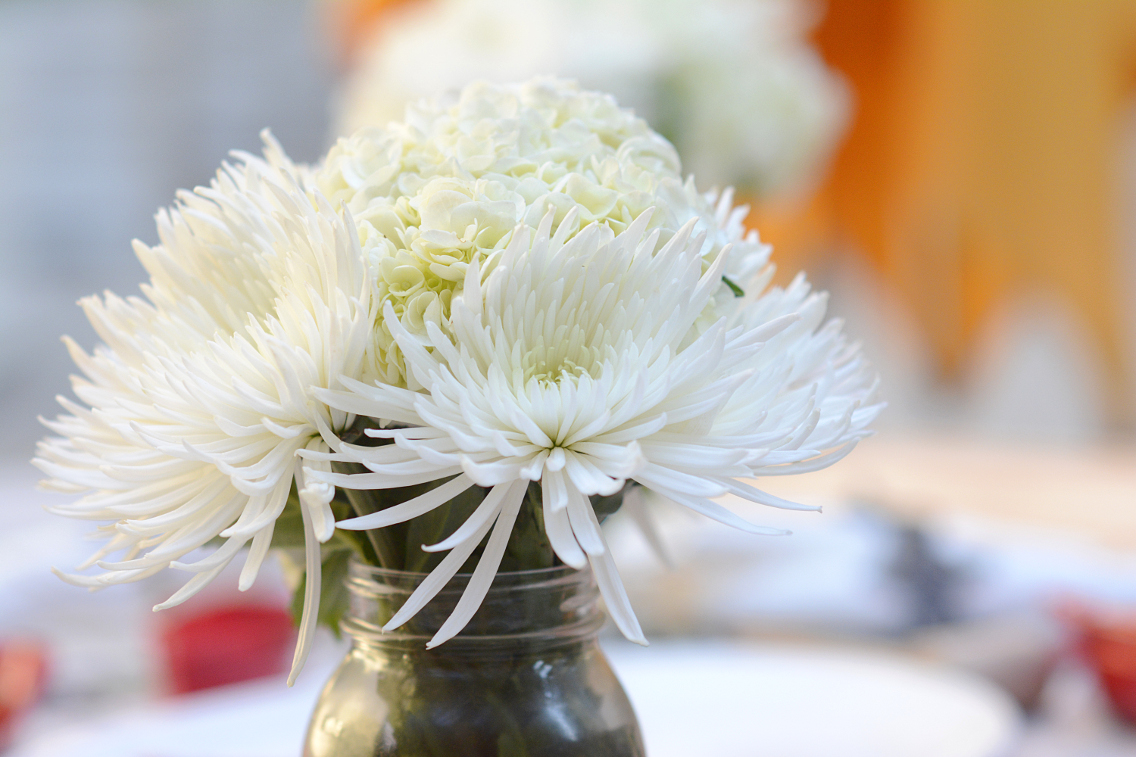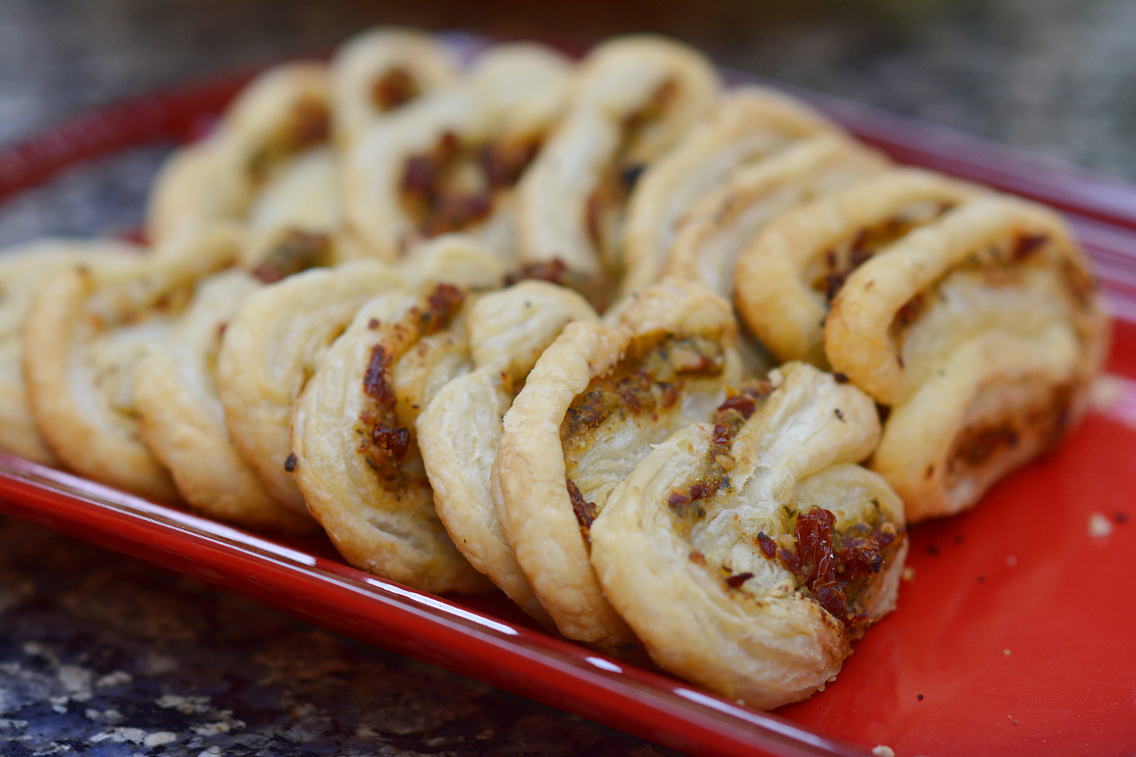 Katharine also pulled out a delicious tray of Ina Garten's Savory Palmiers: sun-dried tomatoes and pesto all stuffed into buttery puff pastry.
I'm sure you can imagine how quickly these disappeared!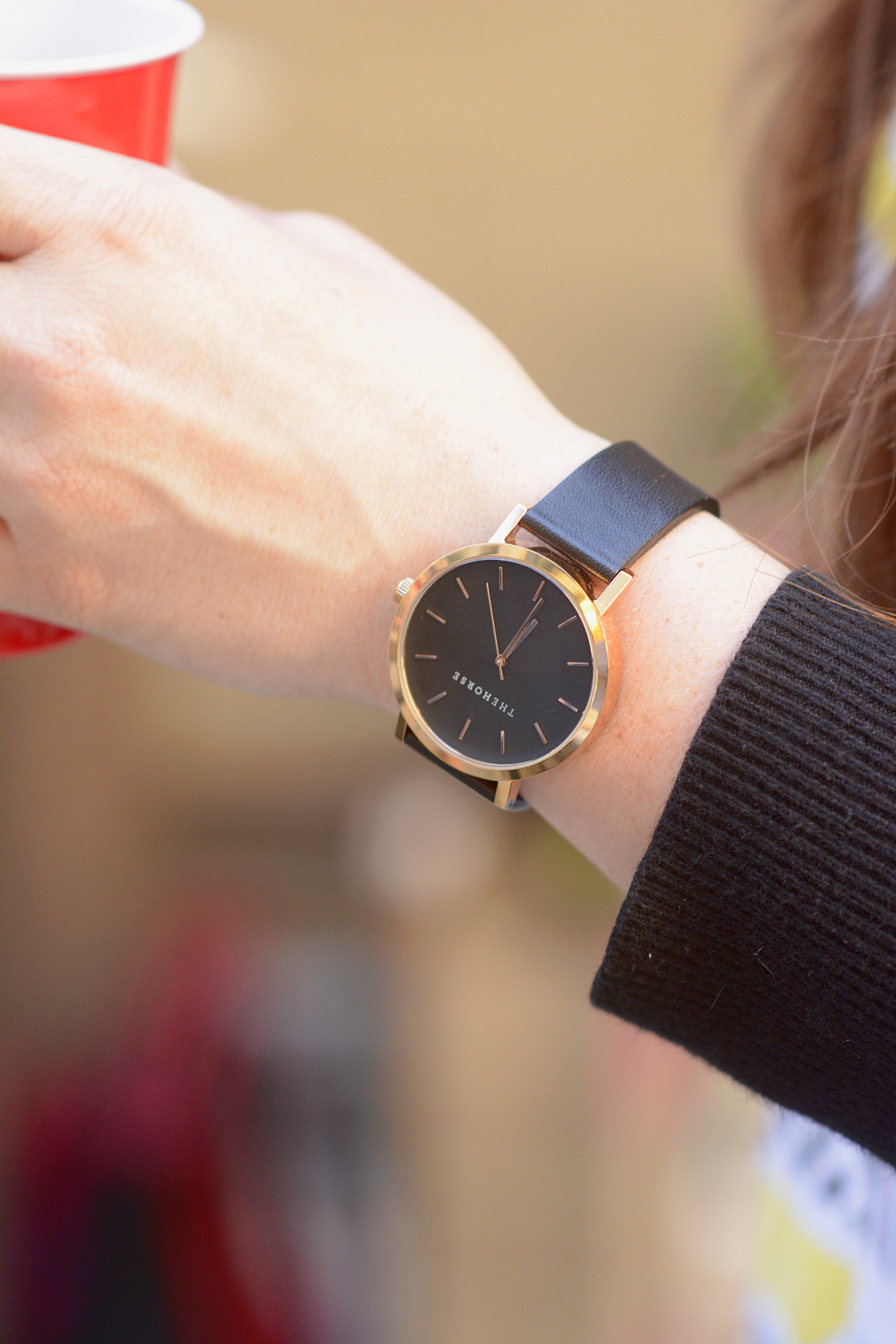 Lauren of Lion & Maven had this gorgeously sophisticated minimal watch on for the party that of course had me wanting a basic black and gold timepiece too.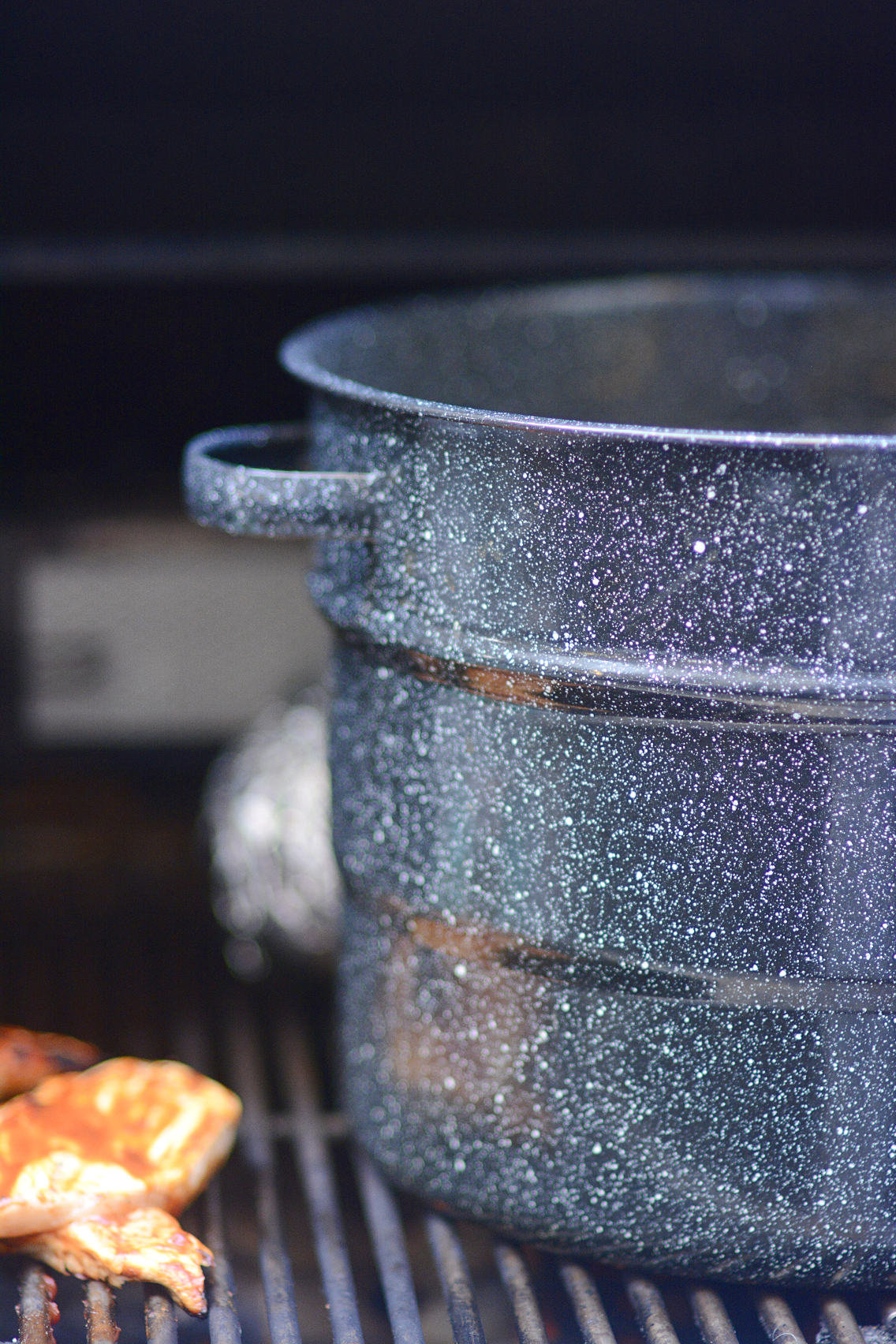 Now, the most important component to a successful Lobster Boil is, of course, the lobster boil POT!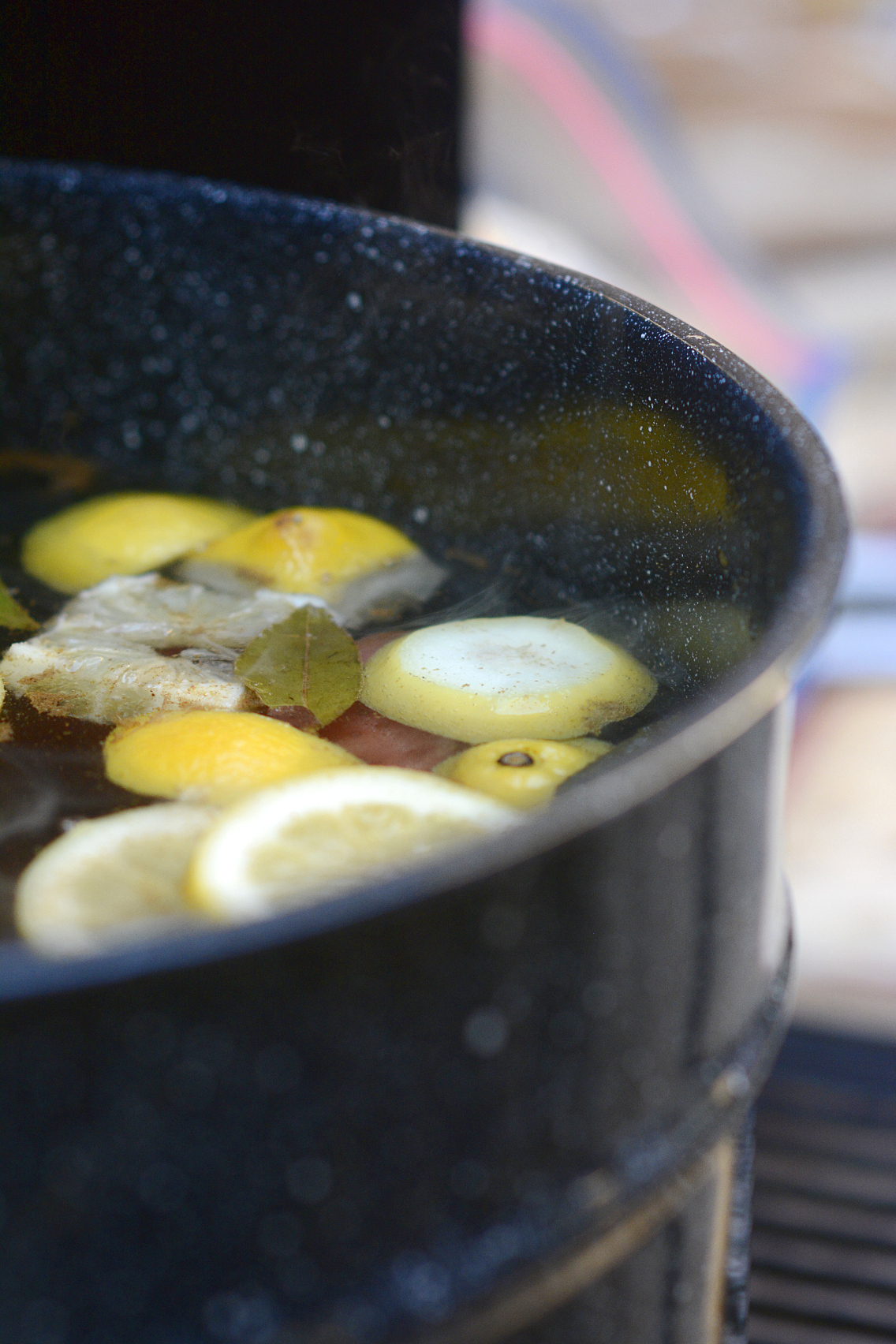 It needs to be ENORMOUS and simmering in plenty of flavorful spices and citrus slices.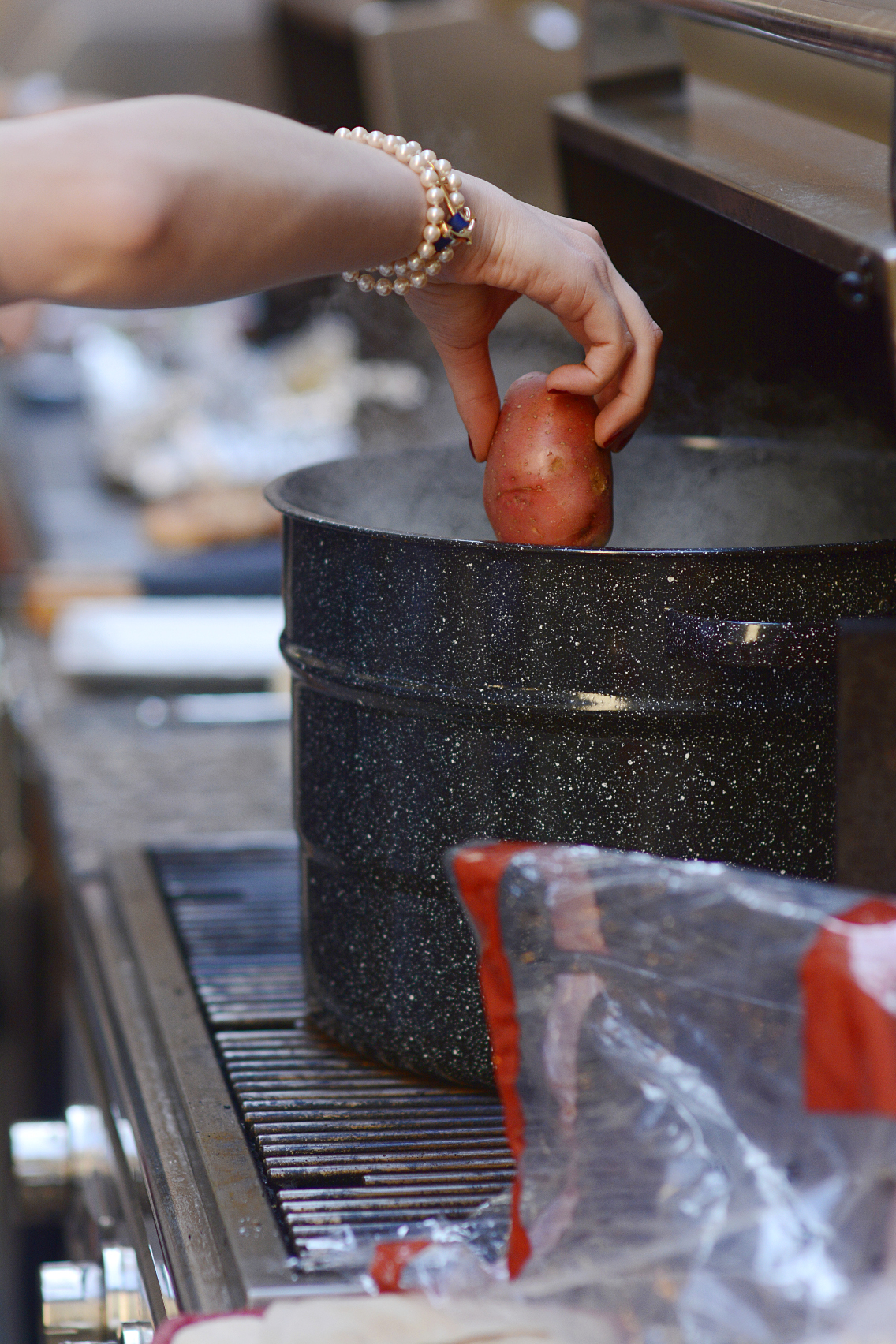 First, in go the potatoes.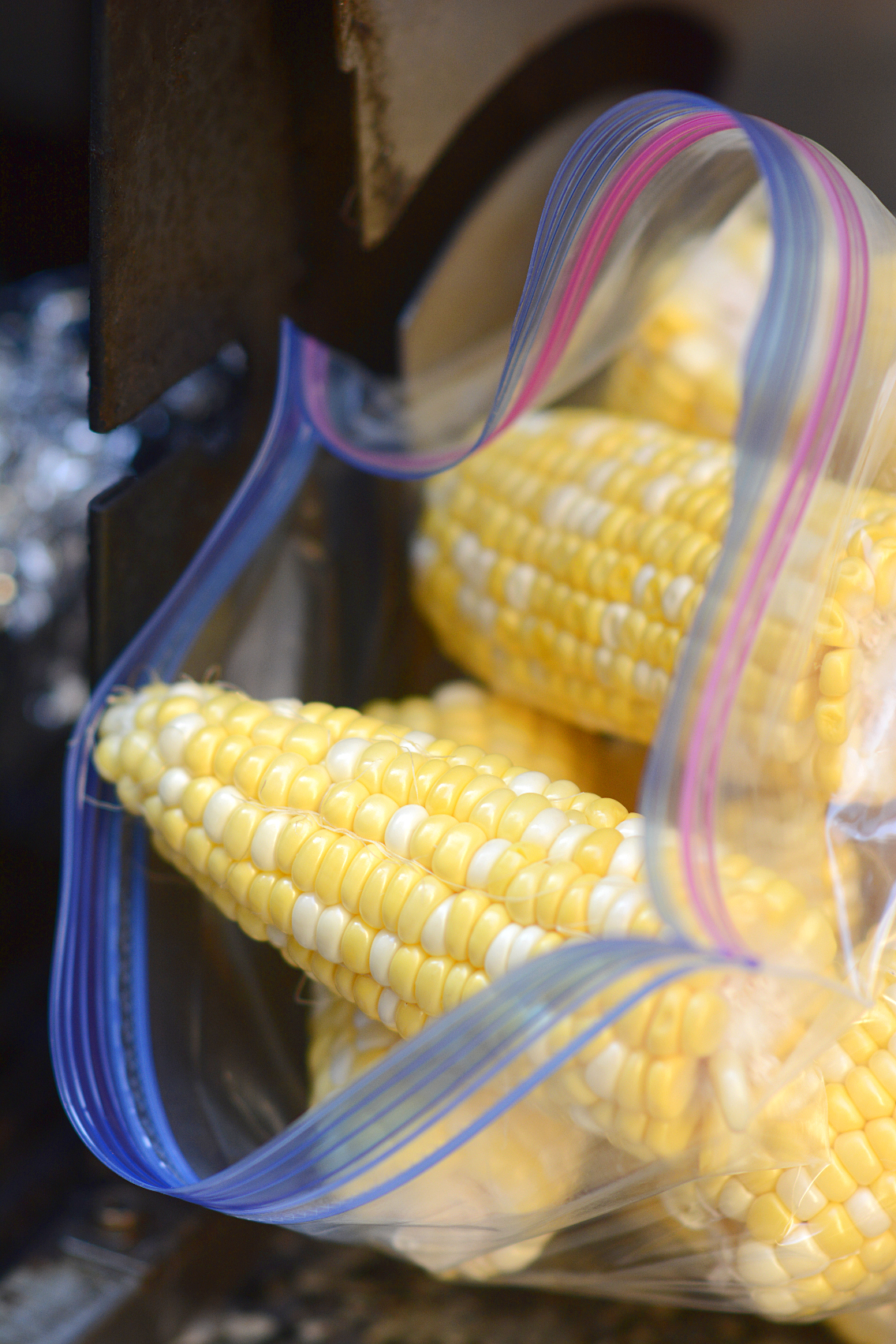 Next, the corn.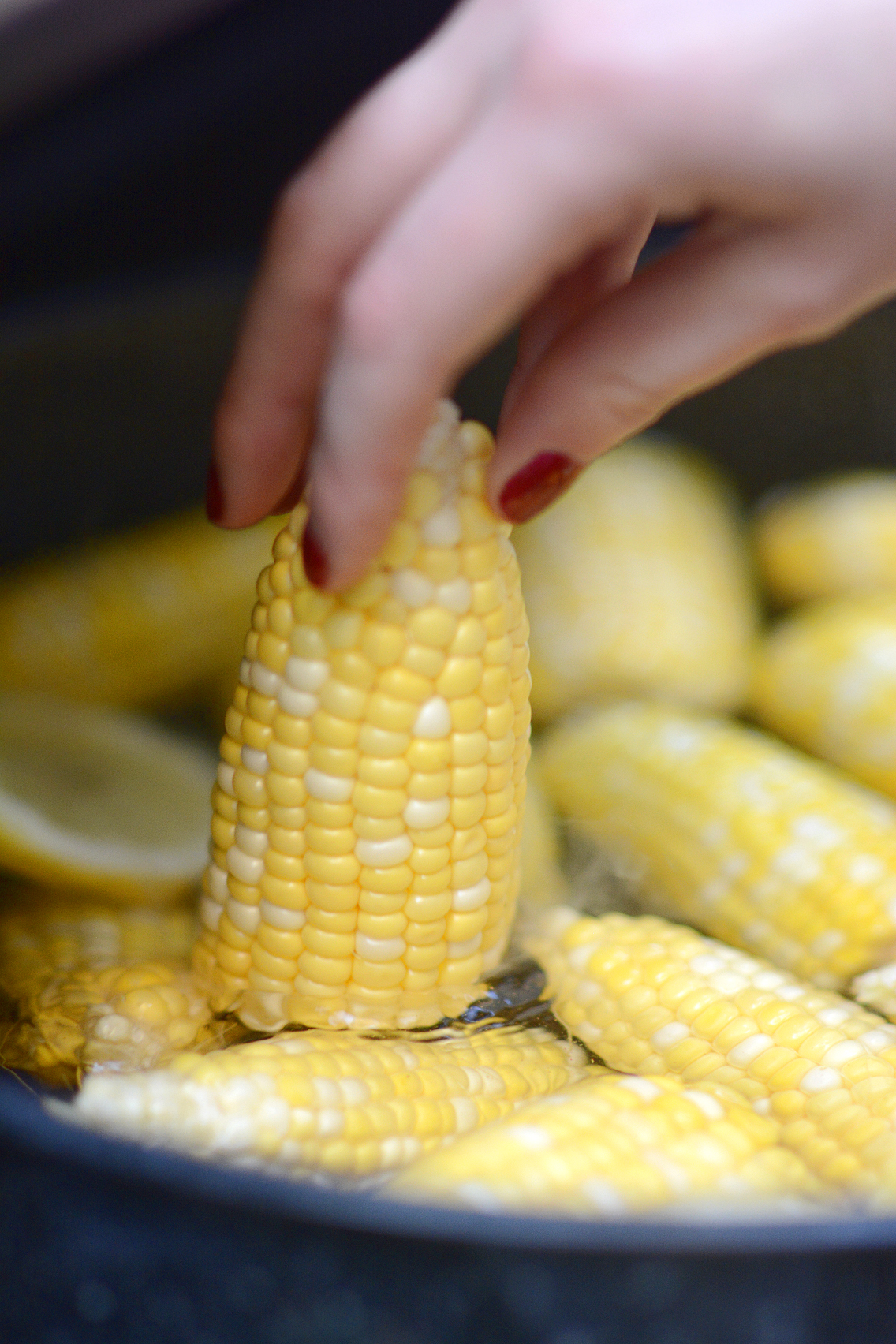 And…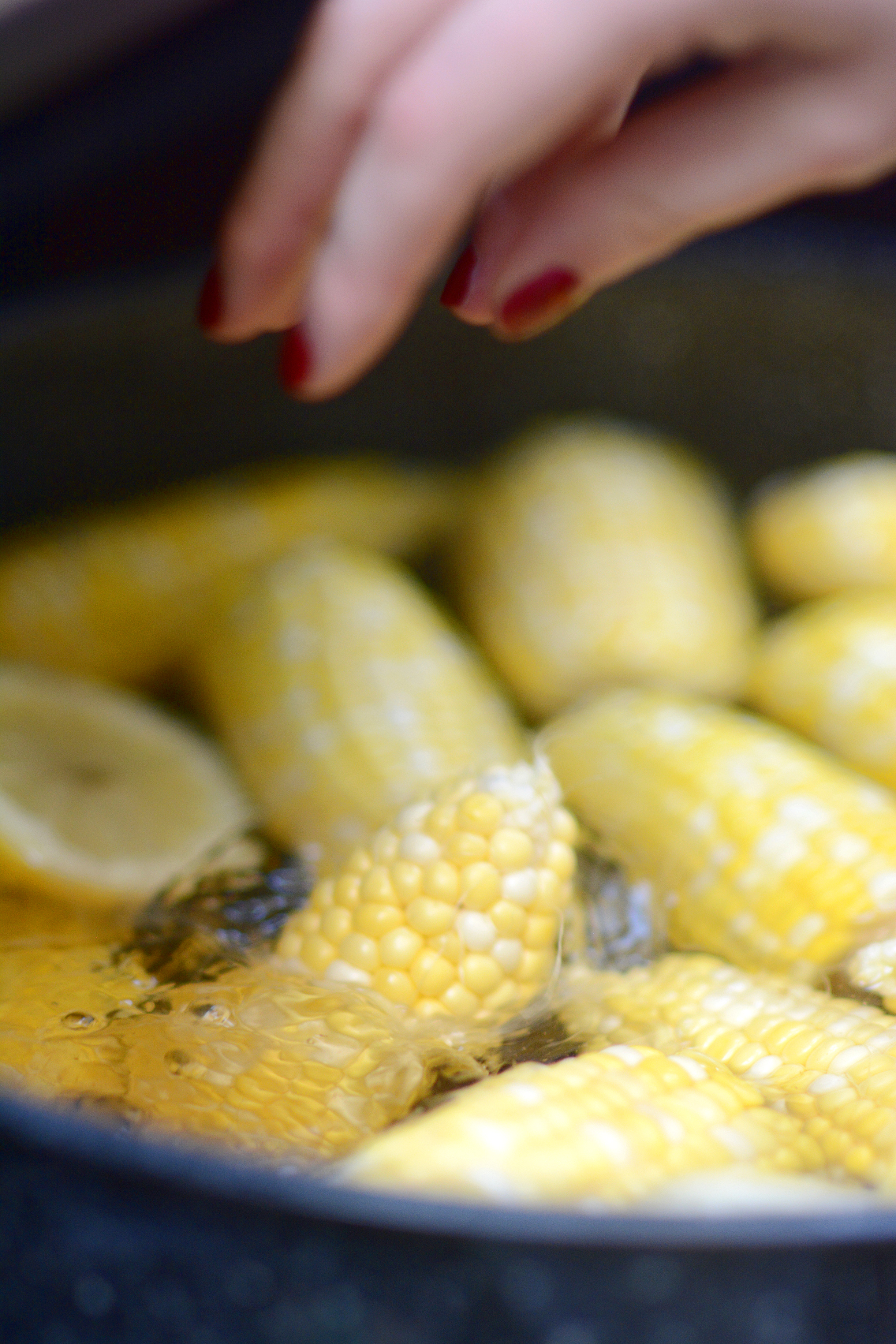 *PLUNK*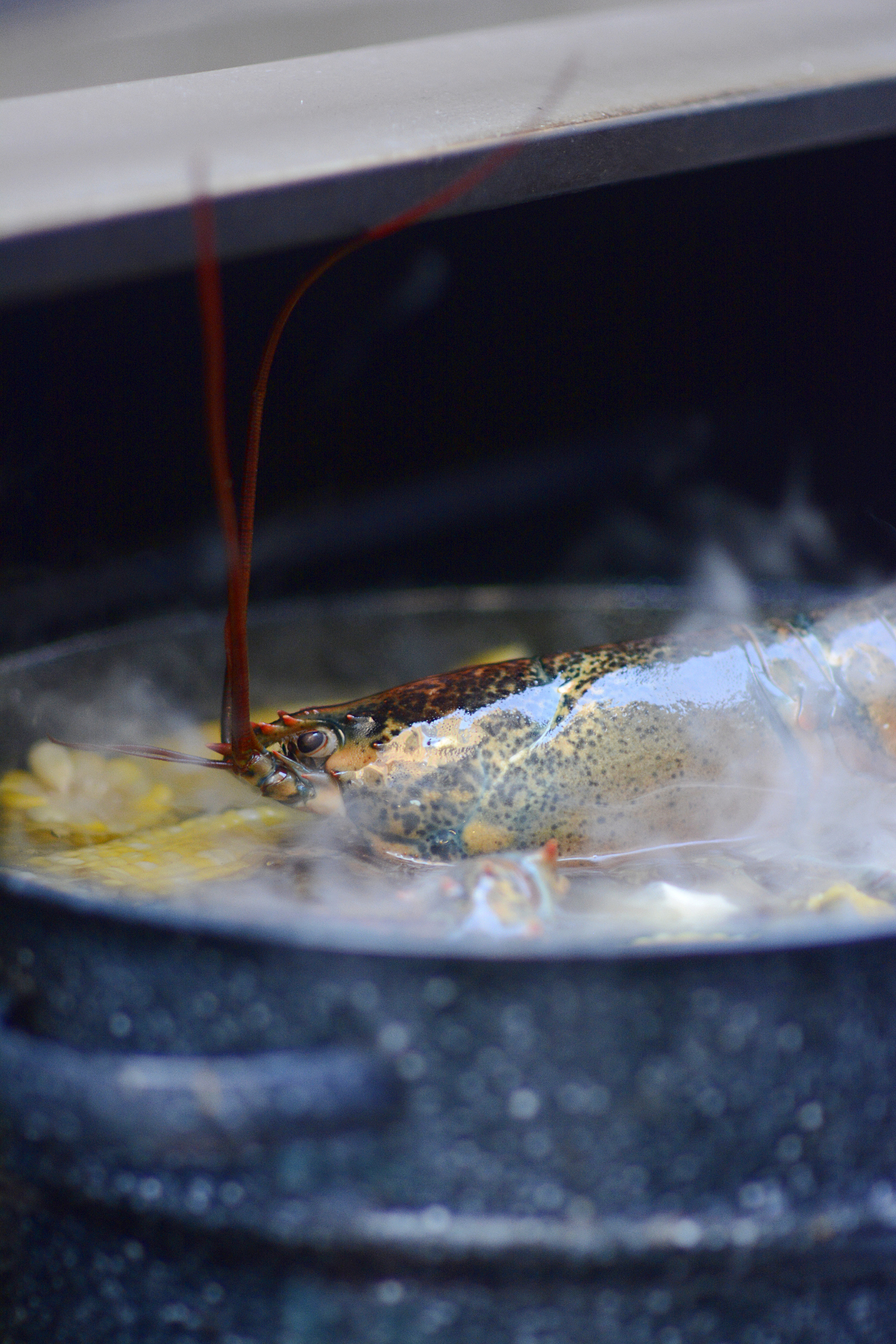 Next the poor lobsters themselves…
Then you put the lid on and wait.

Perhaps grilling a few more lobster tails on the side for good measure.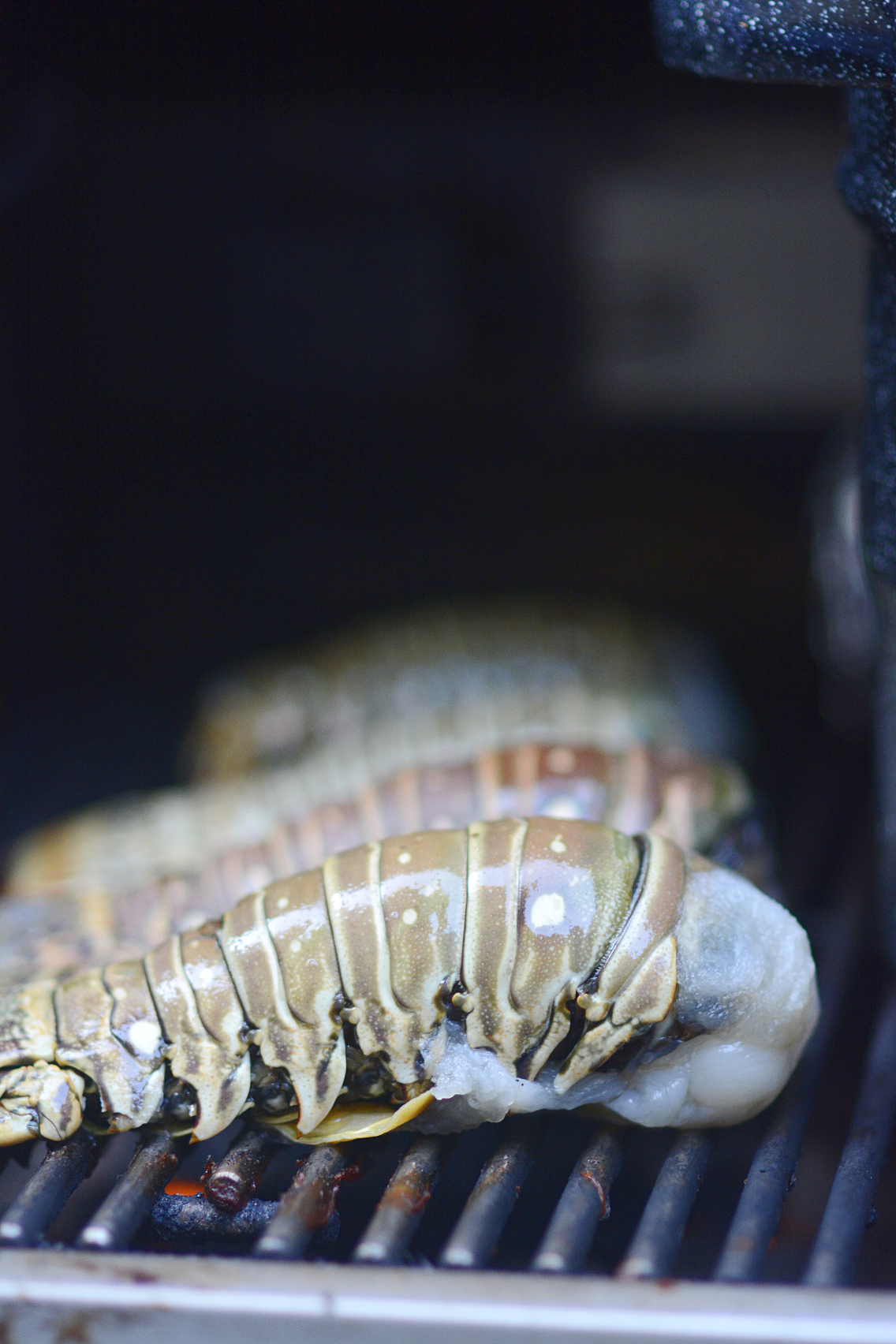 Because truthfully, you can never have enough lobster.
Waiting…
Waiting…
[Hungrily] waiting…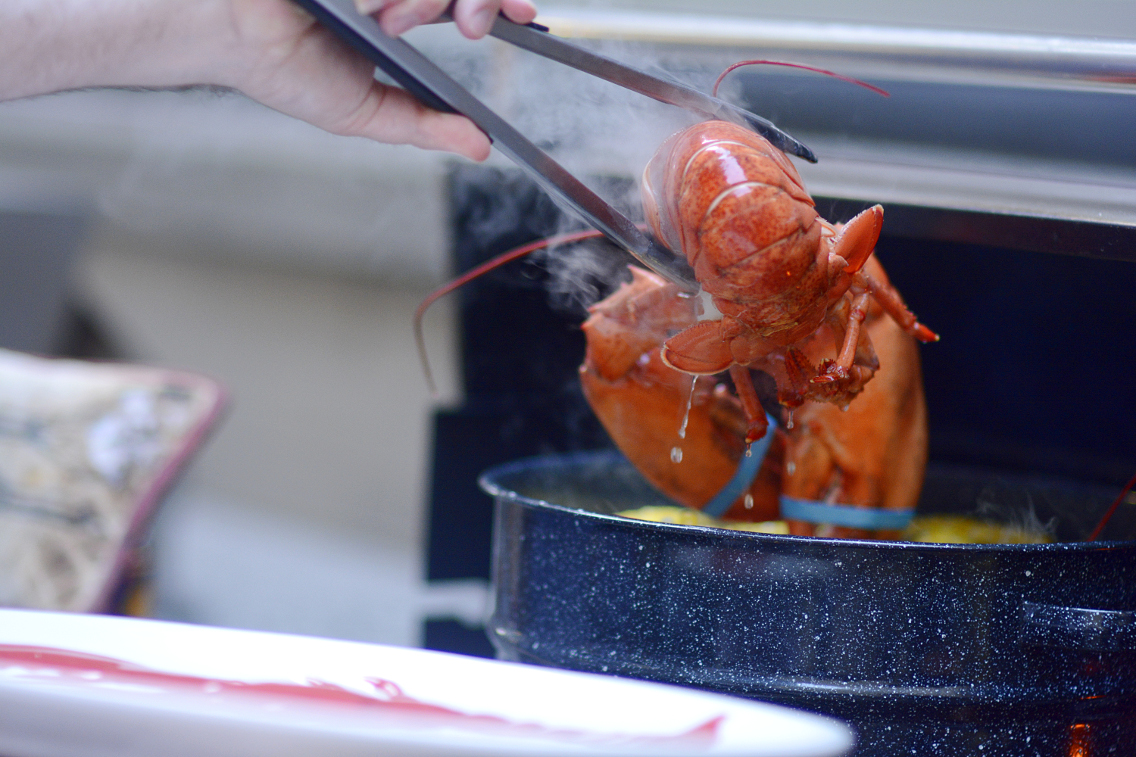 And then at last, you are ready to eat! First we fished out the freshly boiled lobsters.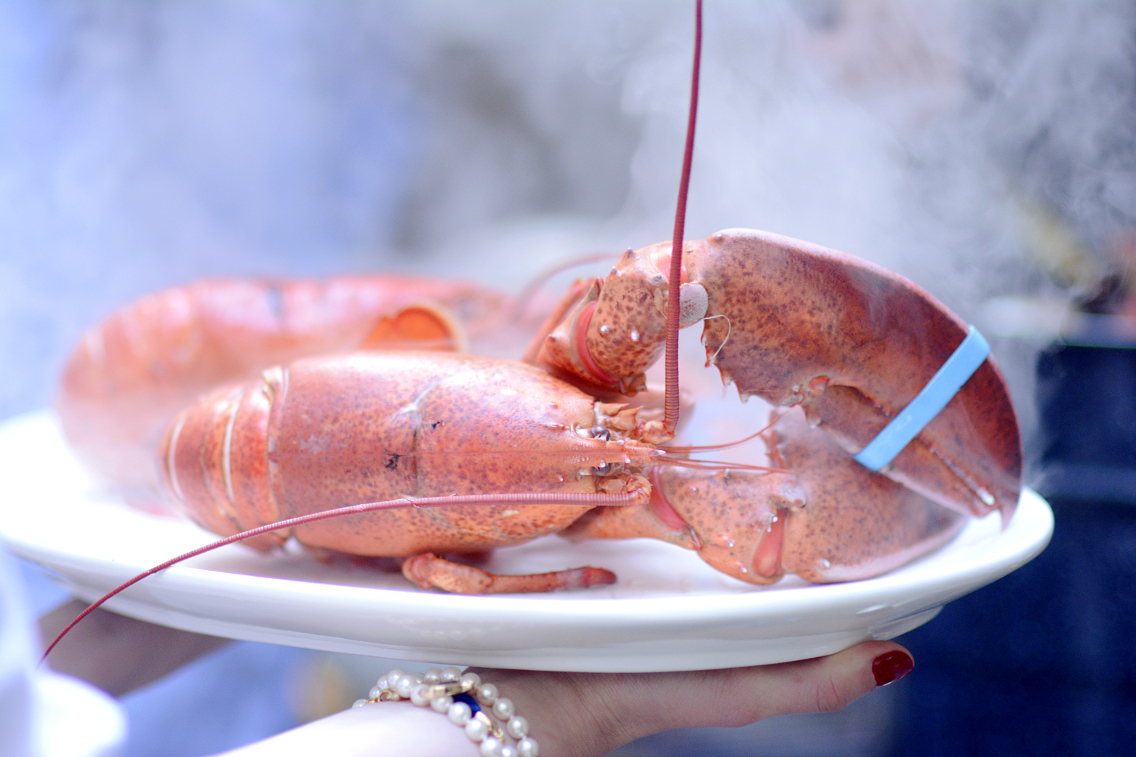 Hot 'n steamy!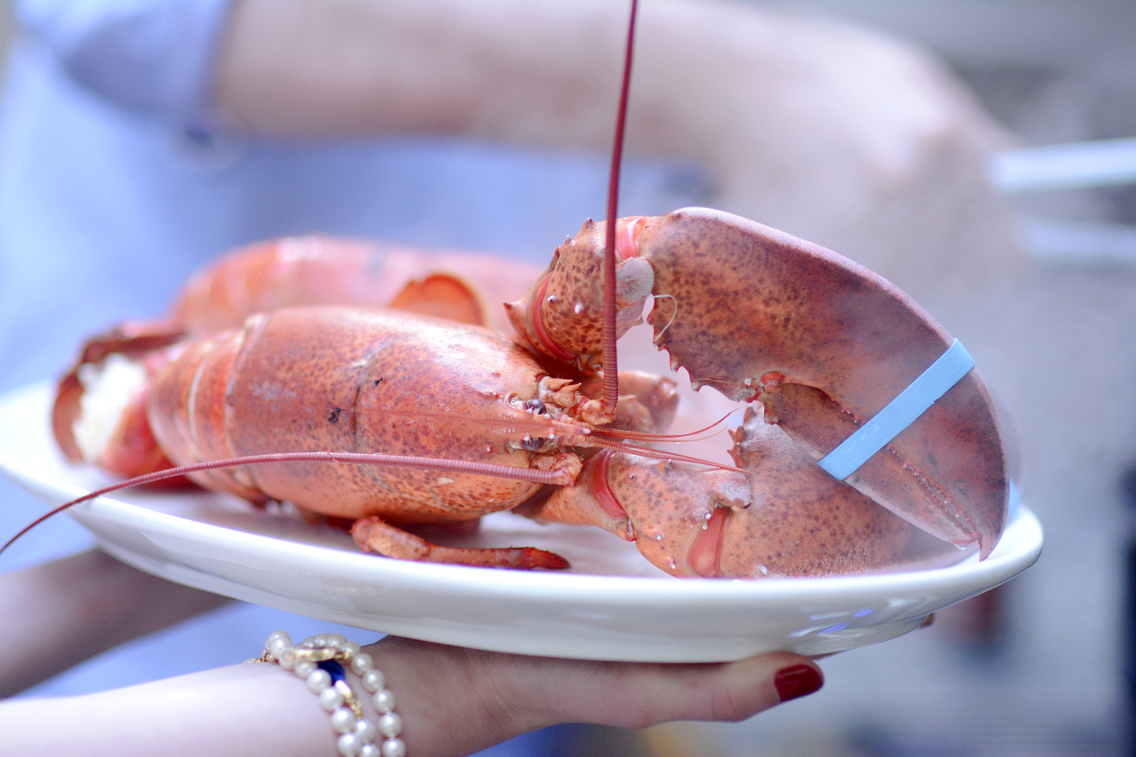 And oh-so-delicious!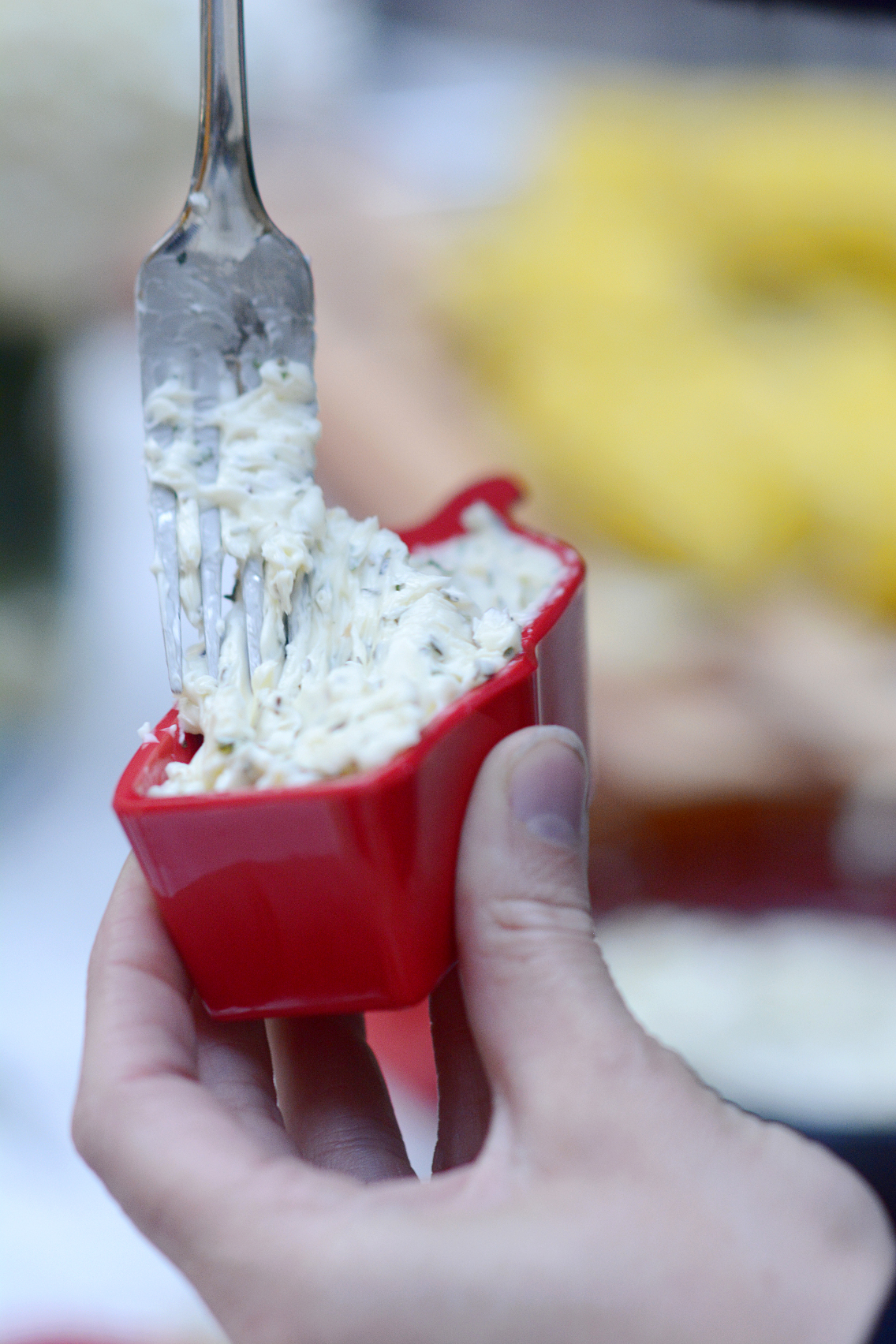 Lauren and I helped get the table ready with some freshly made herb butter.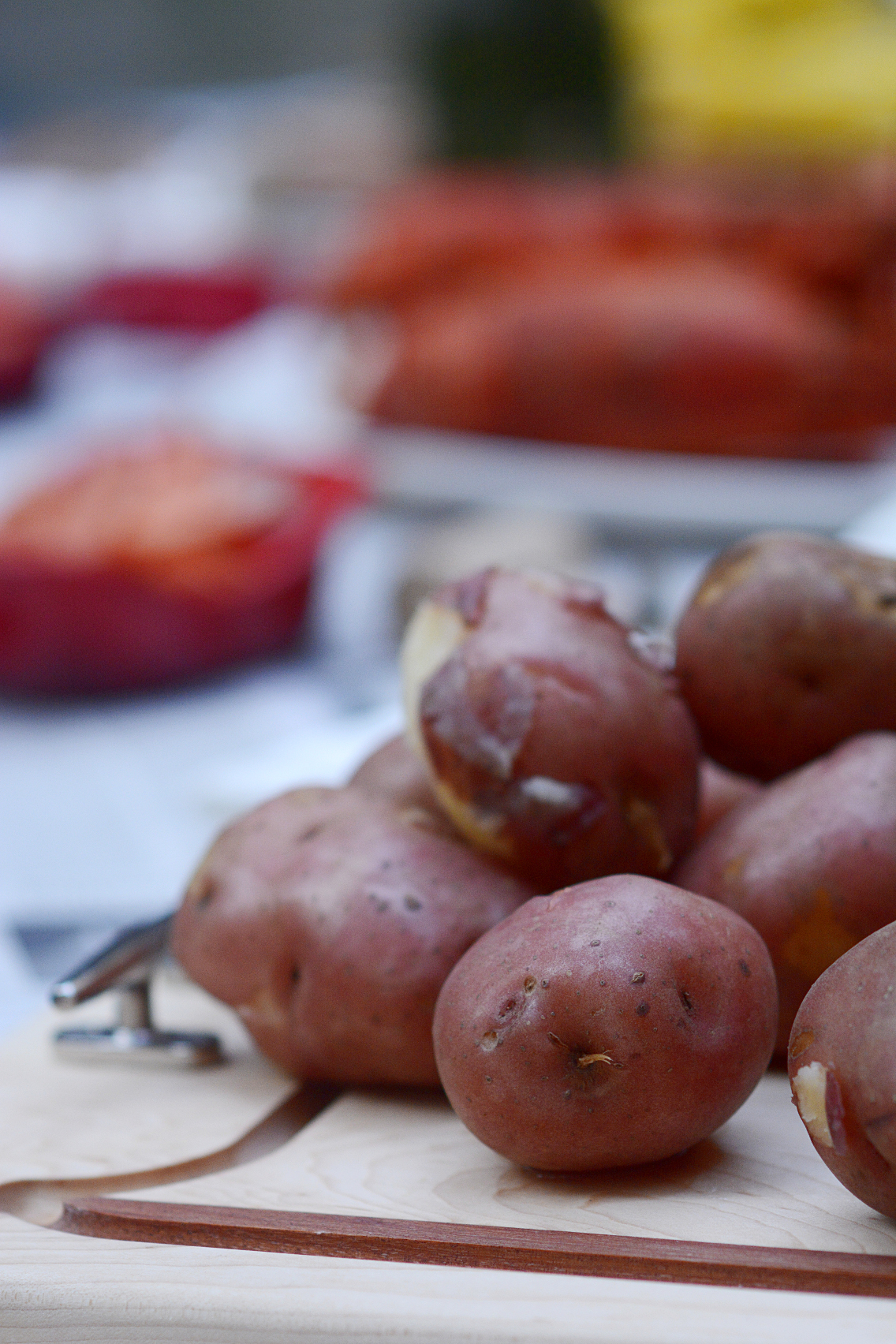 And a giant tray of the potatoes.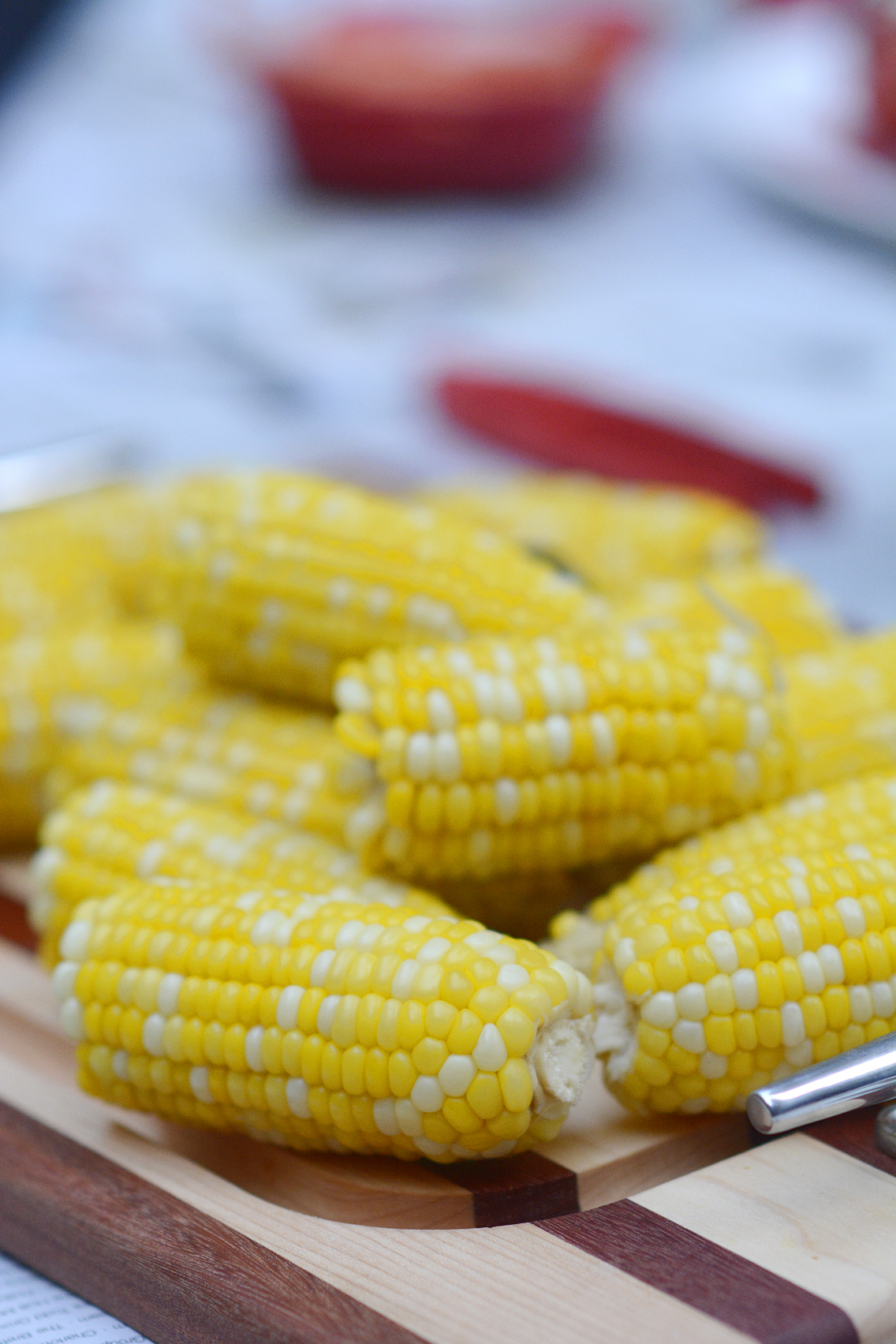 As well as the corn.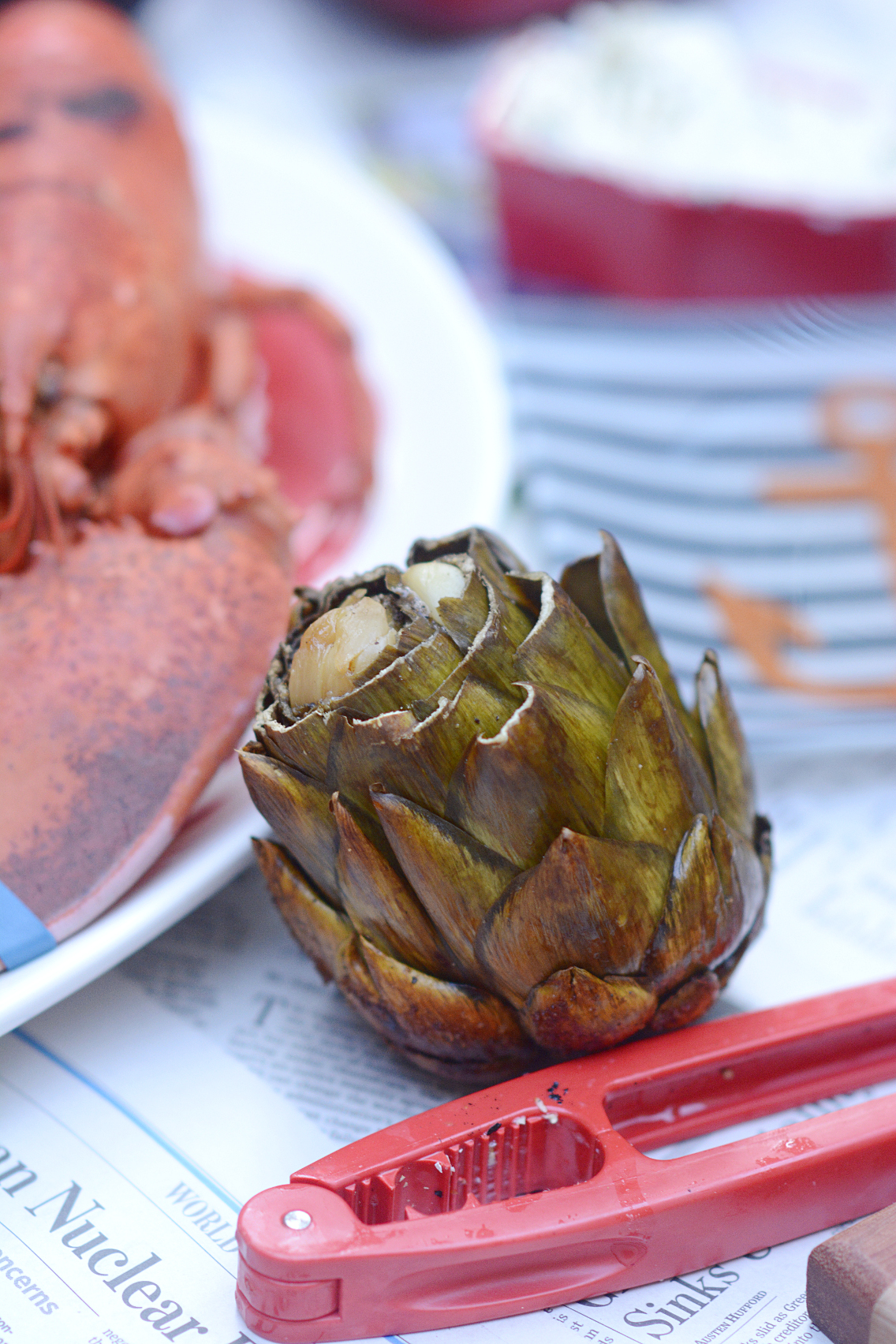 We also put out a few delicious artichokes as well.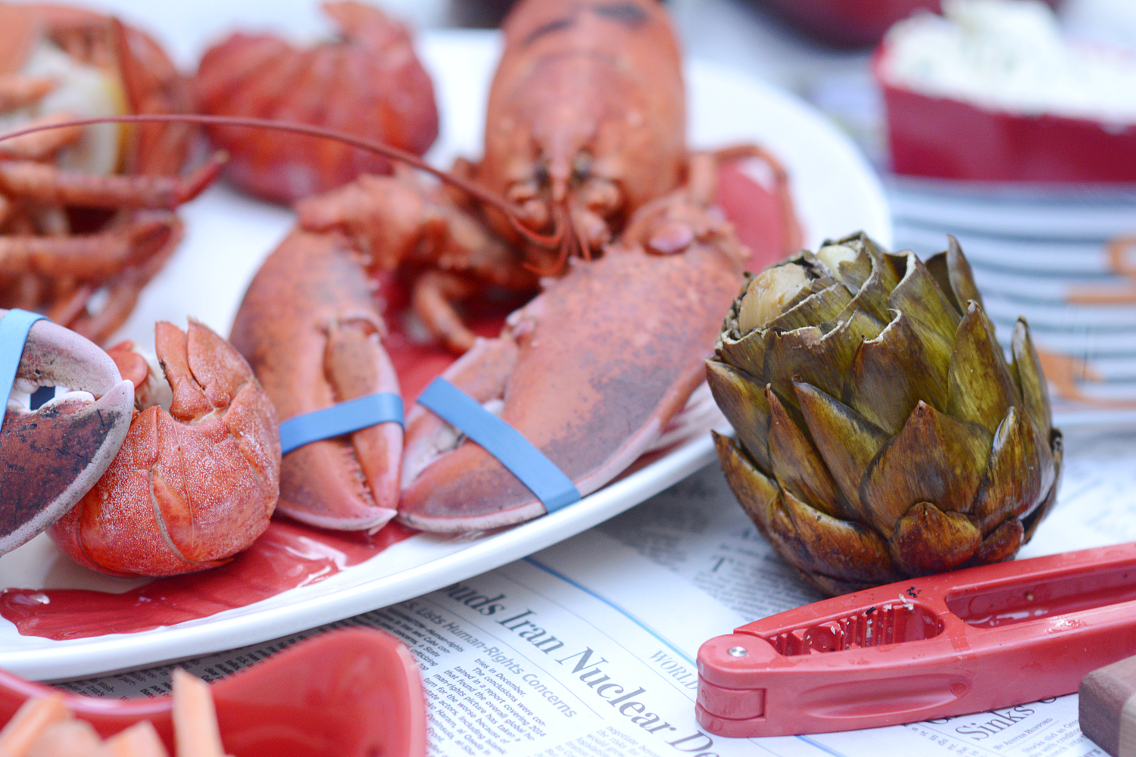 What a feast! My foodie heart was positively singing as we shot these final pictures before diving in!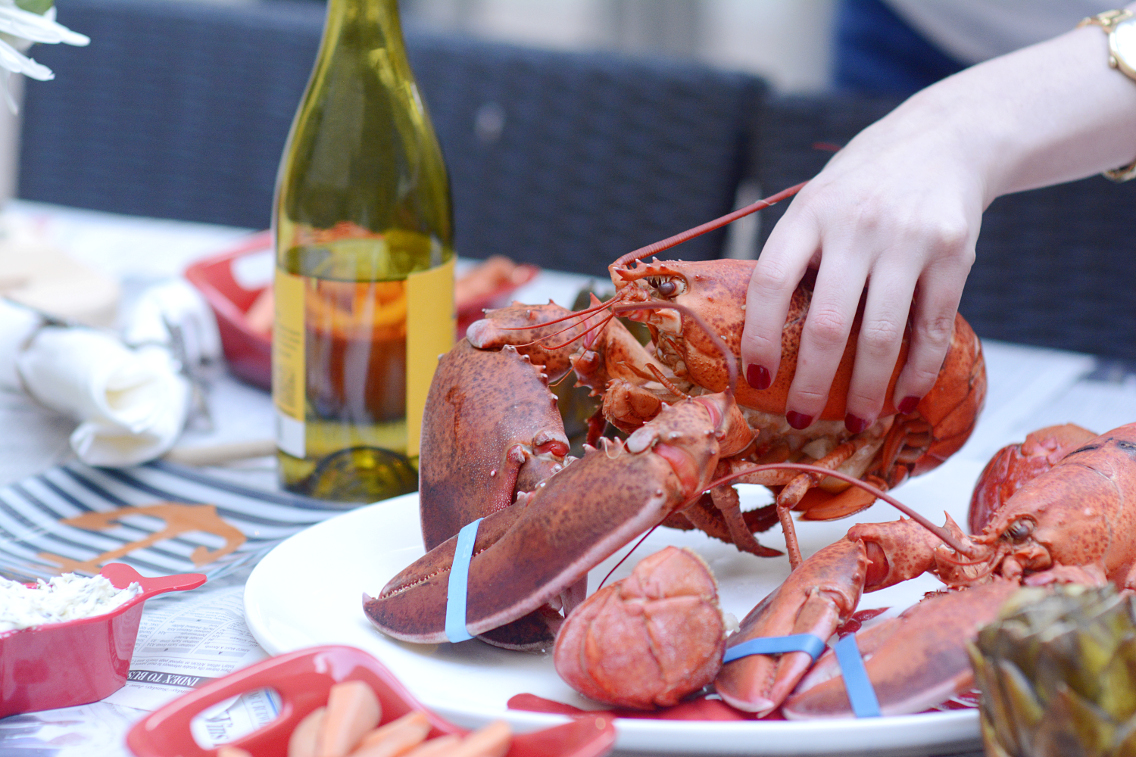 Time to crack open some lobsta!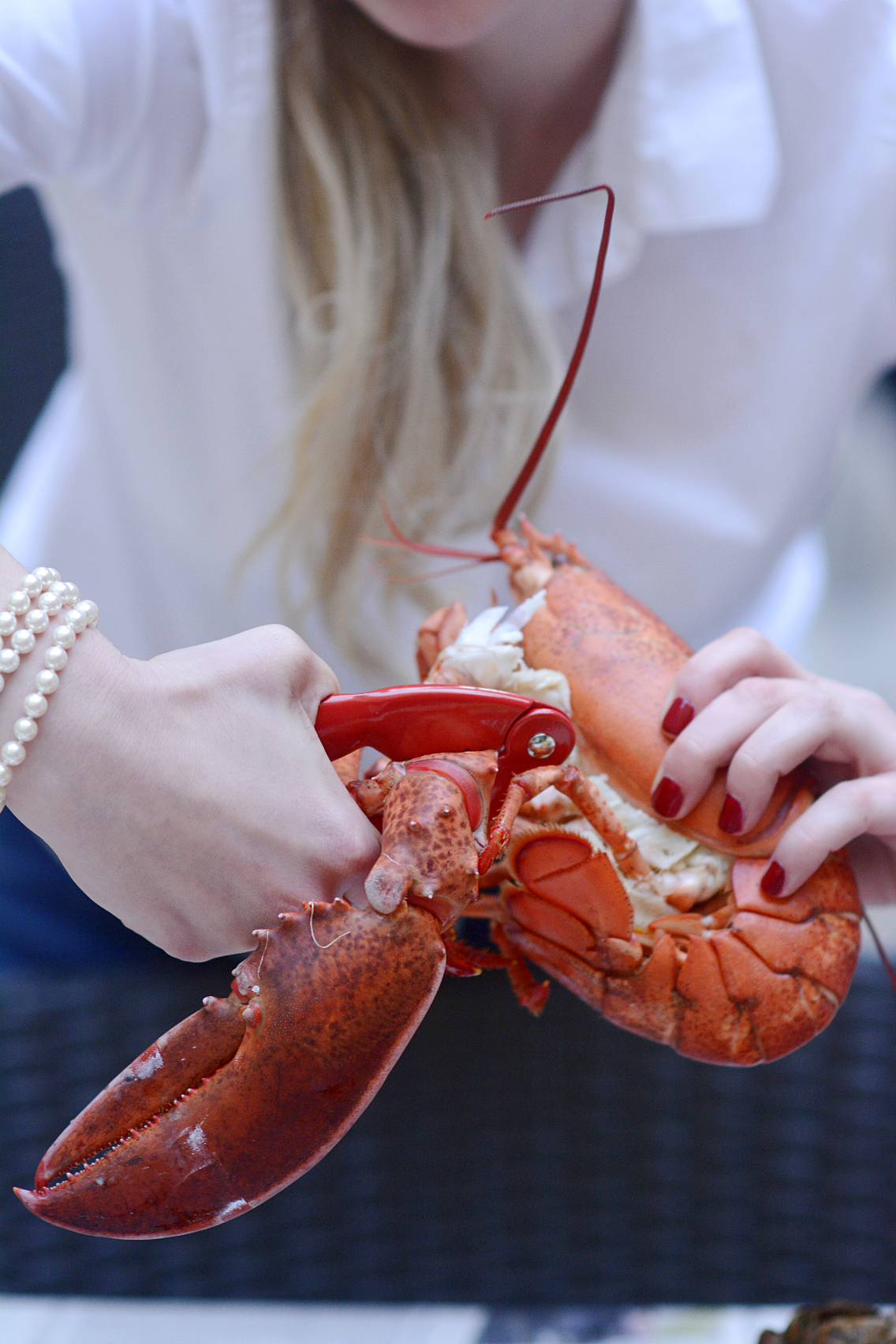 *TWIST*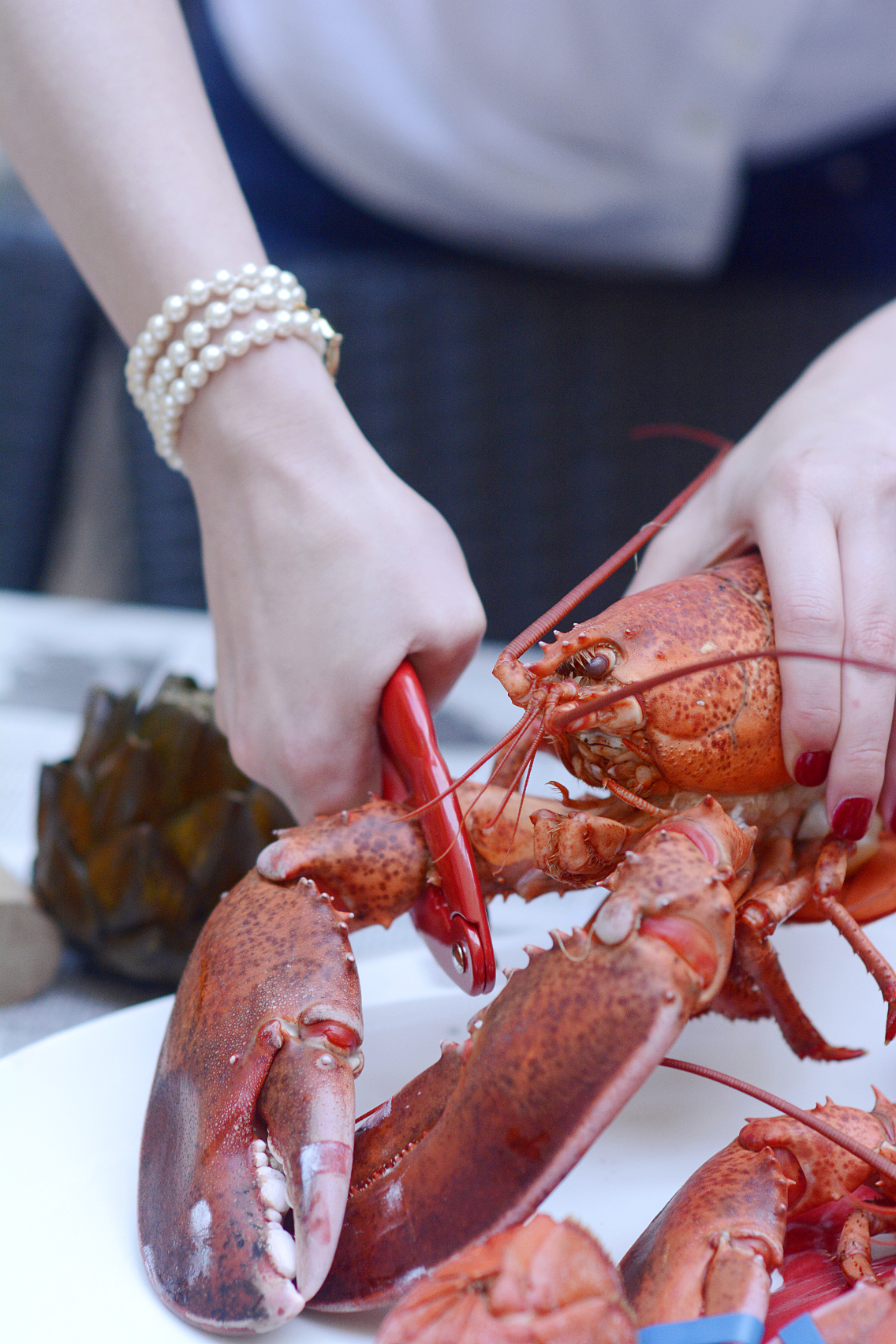 *CRACK*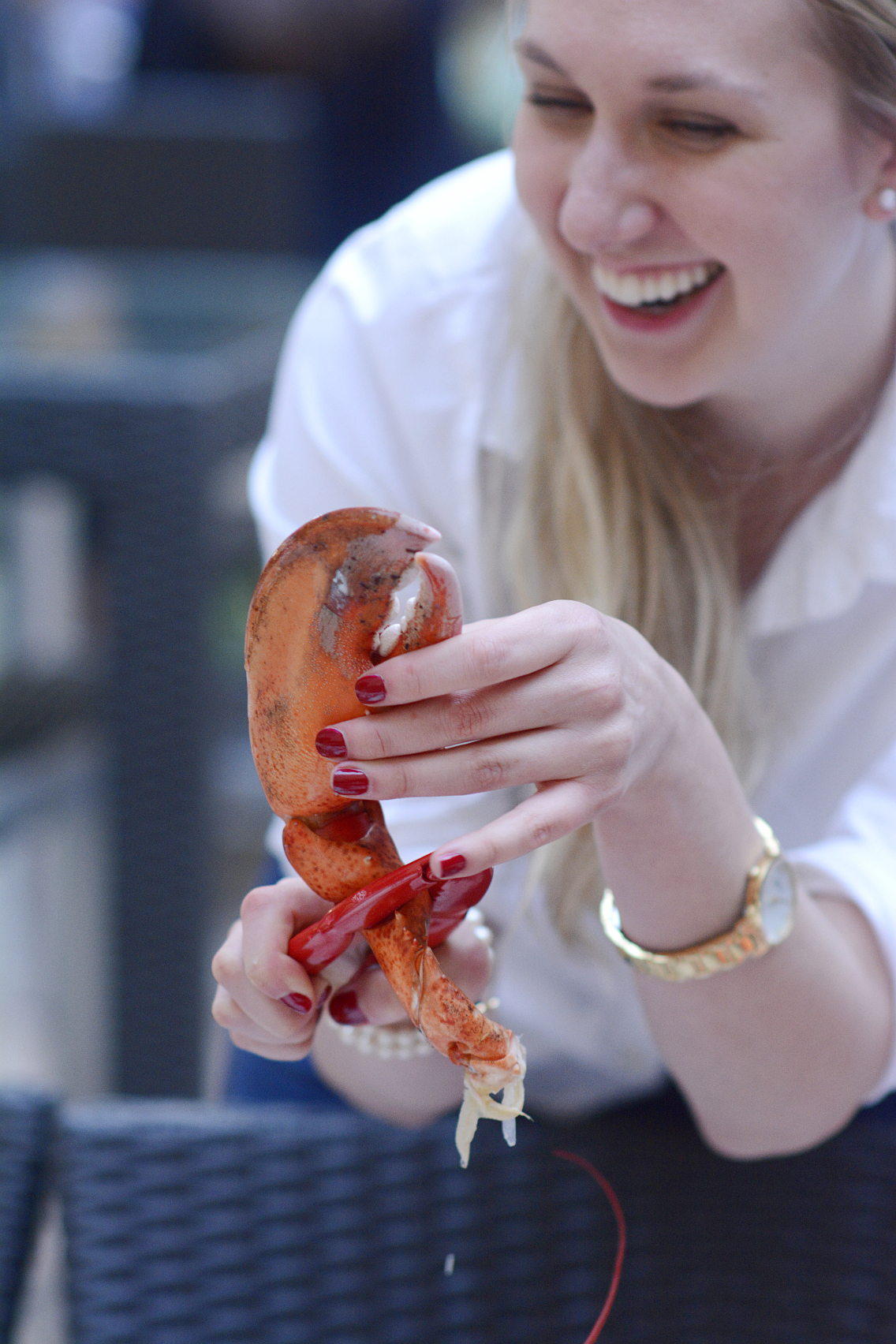 Victory!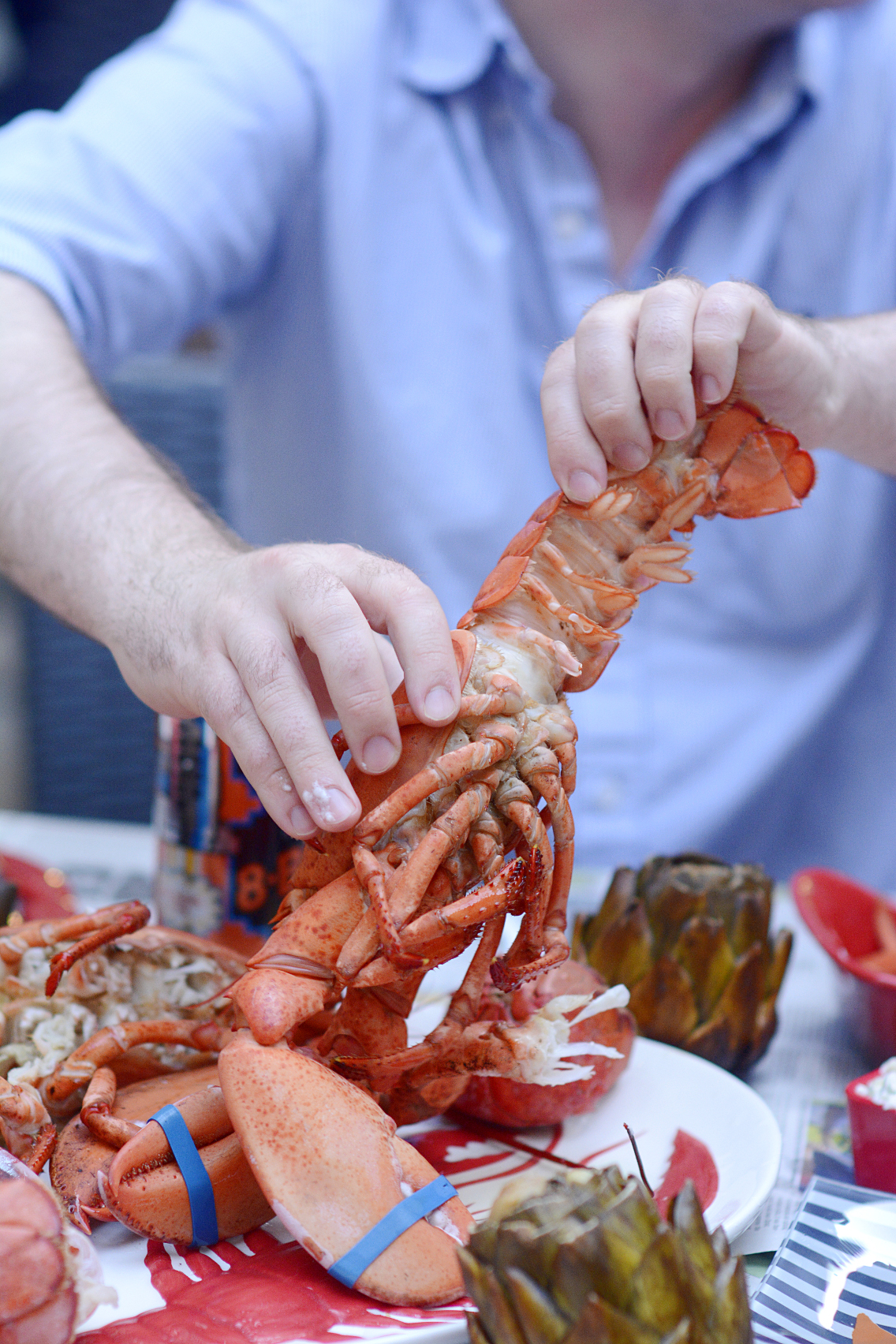 We all took turns breaking into the lobster and shelling out the meat which was quickly dunked in plenty of herb butter and devoured messily and happily.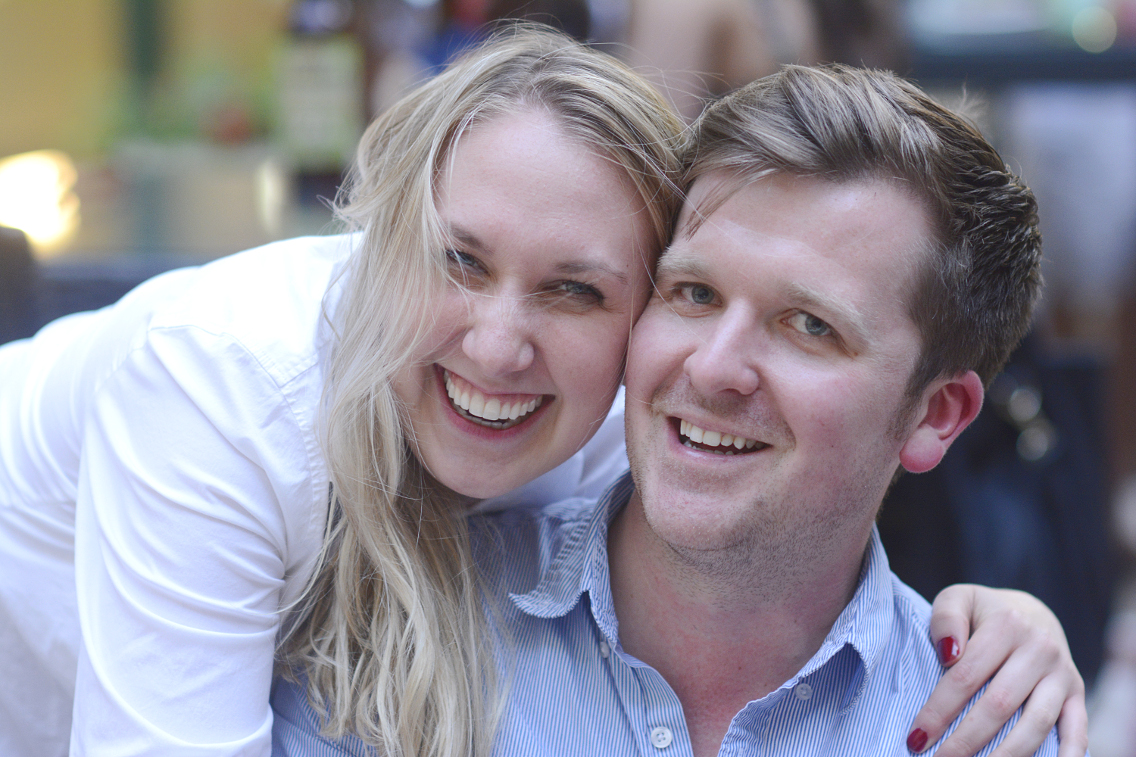 Aren't Katharine and her boyfriend Dan the sweetest? #lovethem
Wanting to host a fun lobster boil yourself this summer? I asked the Lobster Boil guru Katharine to share a few tips with us on doing it the right way!
How to Throw a Successful Lobster Boil
1. Plan ahead and make a cooking schedule — This tip is one I've picked up from years of watching Ina Garten on Barefoot Contessa…and it might be my favorite entertaining tip of all time. About a week before the boil, I make a list of everything I want to serve/cook and include all ingredients and cook/prep times for each item. This way I'm not surprised and caught off guard if things need to be cooked at the same time and I'm made aware of things I can do in the days leading up to the event; anything I can do before the day of the party is a bonus.
2. Help yourself to snacks and drinks — By this I mean two things. First, your guests will feel more comfortable eating your pretty displays of food and helping themselves to beverages if you are, too. Nothing is more uncomfortable than being the first to dive into a perfectly arranged board of food while the host or hostess stares at you. Second, it's easy to focus on entertaining and forget to eat; be sure you keep yourself from getting too tipsy or hungry at your own event…and always provide non-alcoholic beverage options.
3. Clean as you go — Lobster boils are messy and there is no getting around this. Lobster shells & insides, sticky fingers and slippery lobster crackers are just a few of the many things you'll deal with while eating. I always line the table in two layers of newspaper and have plenty of napkins on hand.
I also like to continuously manage "dirty dish chaos." I clean as I cook and make sure to have an organized pile of dirty dishes to bring inside so I don't have to rummage in the dark after guests leave.
4. Don't feel obligated to use live lobsters — I have gotten so many questions about using live lobsters vs. using packaged lobster tails and my answer is always: it's a personal preference. Some people are opposed to boiling lobsters themselves, and that's ok!
If you do opt for the live lobsters, be sure to anesthetized them in the fridge for a couple of hours; this is the most humane way to calm them before cooking.
5. Have fun and let it go — Plan on at least one or two things going wrong and don't let it ruin your fun night. During the first lobster boil we hosted, we had to move inside mid-storm. We were all soaking wet and everything I had set up was in disarray one hour into the party; despite the hiccups, we had a great time and decided to throw another one. This year, our patio was so crowded that we had to make-do with a much smaller space outside than I anticipated.
Next year, who knows what will happen but I guarantee it will be something…and that's ok.