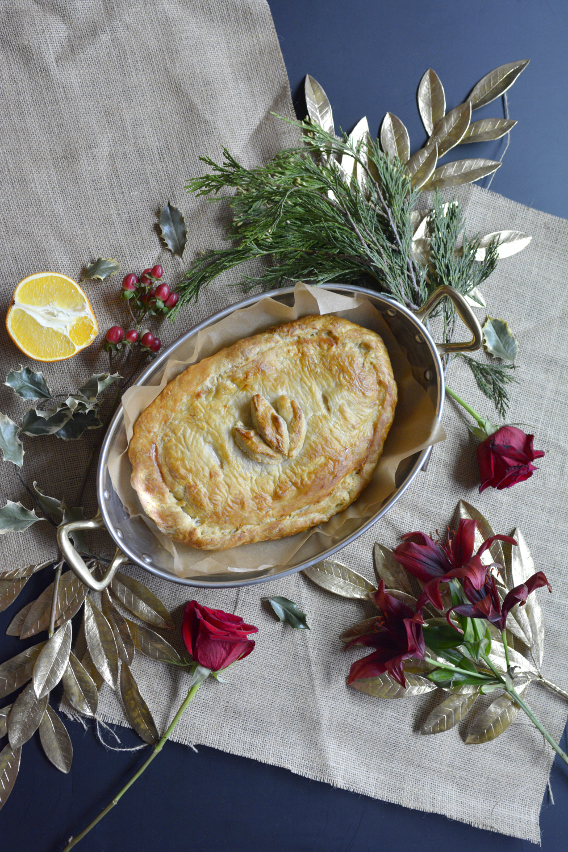 My mother's side of the family is 100% Polish Catholic which means we don't actually open our presents and celebrate Christmas on Christmas Day. Instead we celebrate with a large "fish only" meal (similar to Lent) on Christmas Eve, and while we eat our feast, Santa sneaks through the house and hides our presents. After dessert we all run around trying to find our gifts and end the evening stuffed, satiated and buried under our respective mounds of presents. You can read a little bit more about Polish Christmas traditions here in case you're interested!
Traditionally we eat a lot of different pierogi on Christmas Eve, as well as a few other family favorites (macaroni and cheese anyone?), but a year or two ago I started a new tradition of serving a large salmon wellington as well. Flaky layers of delicious puff pastry filled with creamy goat cheese, fresh spinach and a mound of beautiful salmon, all dunked in a homemade raspberry sauce? This dish's colors and presentation were made for a special Christmas meal! This recipe is great for other special dinners too – just change the filling flavors to suit the occasion. And while it looks impressive to guests, the process is actually simpler and less intimidating to make than you might think. So let's get started!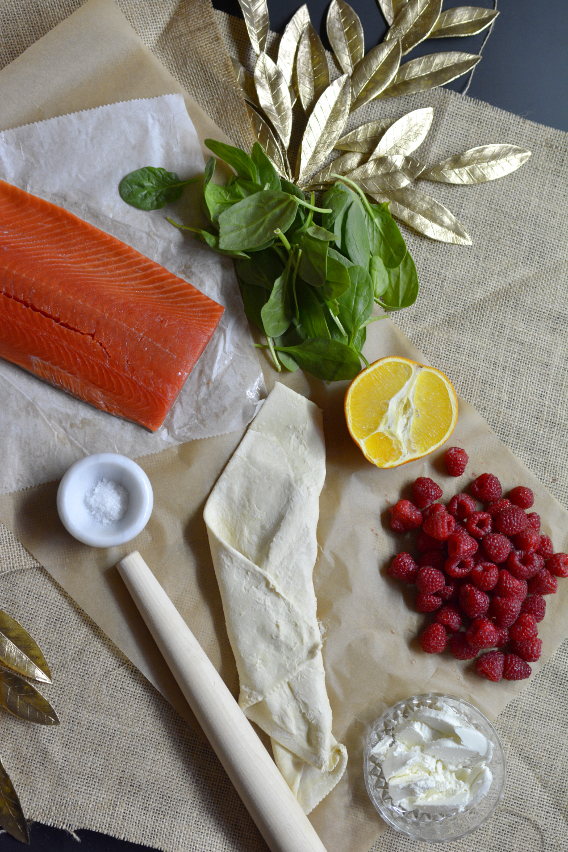 Start with your basic ingredients.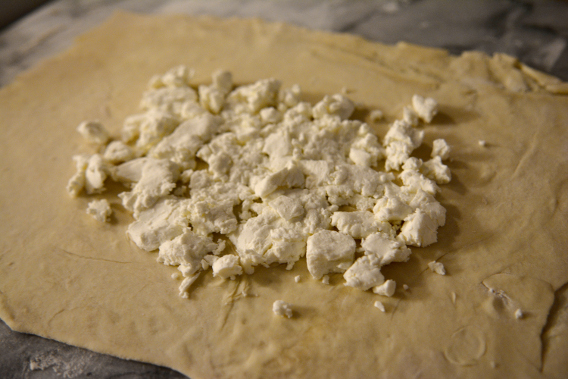 Roll out your first sheet of puff pastry (and excuse the poor quality of these photos, I had to shoot them in my dim kitchen since the puff pastry was threatening to dry out if I didn't shoot quickly) and sprinkle on a good layer of goat cheese. Other ideas for your bottom "creamy" layer could be a spread of dijon mustard, a smattering of sautéed onions, or even some Brie slices.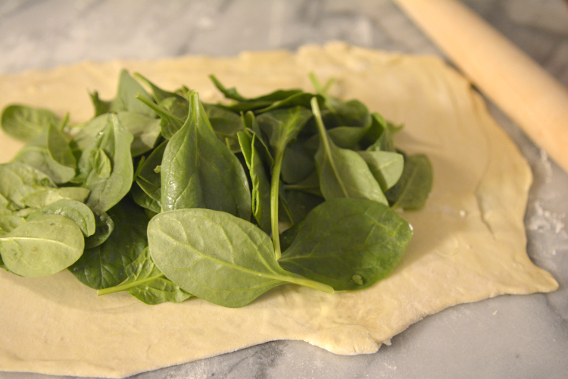 Next layer on your fresh spinach. Other ideas for this layer could be arugula, almonds, or even shaved brussel sprouts.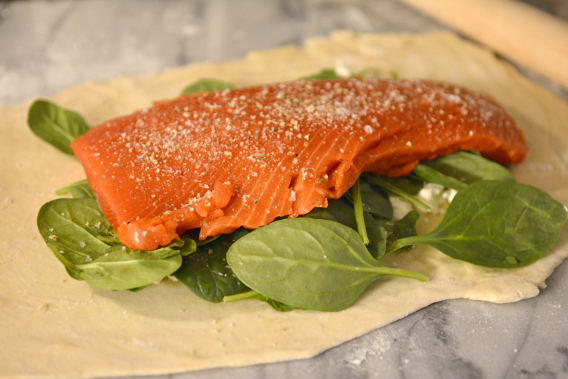 Skin your salmon (if necessary — and please do a better job than I did), season it and pile it on top of your fillings.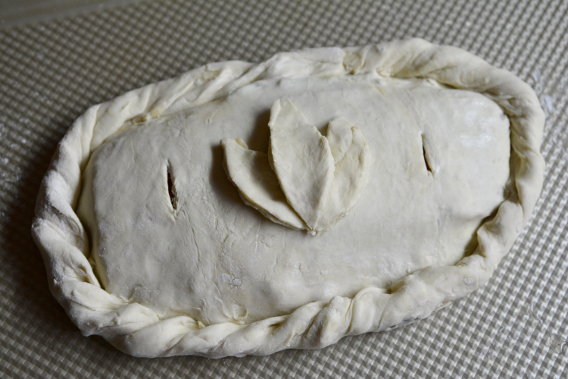 Next roll out your second layer of puff pastry dough and gently cover the salmon filling. Seal (described in detail below) and bake.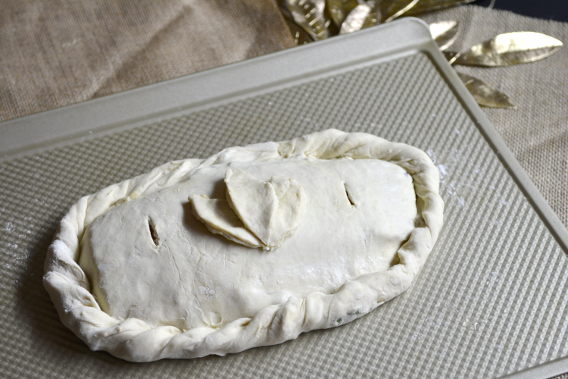 Salmon Wellington With Raspberry Sauce
Serves 6 – 8 people.
1 (17.5 ounce) Package Frozen Puff Pastry, Thawed
1/2 Pound Wild Caught Salmon Fillet
2 Cups Fresh Spinach
1 Cup Goat Cheese, Softened to Room Temperature
1 Tbsp Kosher Salt
1 Tsp Fresh Ground Pepper
1 Egg White, Beaten & Thinned with a Little Water to make an Egg Wash
Flour for Rolling
Raspberry Sauce (inspired by this epic raspberry sauce)
1 Pint Raspberries
1/4 Cup Sugar
1/2 Fresh Orange
Preheat oven to 375 degrees Fahrenheit (190 degrees Celsius). Skin salmon fillet (if necessary) and season with salt and pepper. Set aside. Roll out first sheet of puff pastry until about three inches wider in size than your salmon fillet on all sides. Place puff pastry on baking sheet. Take soften goat cheese and spread on puff pastry, staying about three inches away from the edges. Next pile on your fresh spinach, then lay your seasoned salmon fillet on top of the pile.
Roll out second sheet of puff pastry until, again, about three inches larger on all sides than your salmon fillet. Spread egg wash along the edge of the first sheet of puff pastry then cover the salmon with the second sheet, pressing the edges together firmly. Trim off excess dough at corners (you can use this extra dough to cut out decorations for your Wellington) then begin to twist the seams over and over again, working around the salmon fillet until you have 'sealed' the wellington. Next cut any decorations you choose (I usually cut leaf motifs since they're easy) and 'glue' them to your wellington using a little egg wash. Finally brush your wellington well with the remaining egg wash and cut three or four slits in the wellington to allow steam to escape.
Bake in your oven until golden brown, about 45 minutes (rotating halfway through). While your wellington is cooking you can devote your energy to the raspberry sauce. Place washed raspberries, orange half and sugar in a small saucepan and cook over medium-low heat for about ten minutes. Remove from heat and press through a mesh strainer. Return your sauce to the stove and keep on low heat until ready to serve.
Once the wellington is done and your sauce prepared, you are ready to dig in! Feel free to serve the wellington whole or pre-sliced at your meal with a healthy mug of raspberry sauce on the side. If you serve it sliced, I like to serve it on a bed of greens to enjoy as a salad with the sauce. Can you say Christmas on a plate?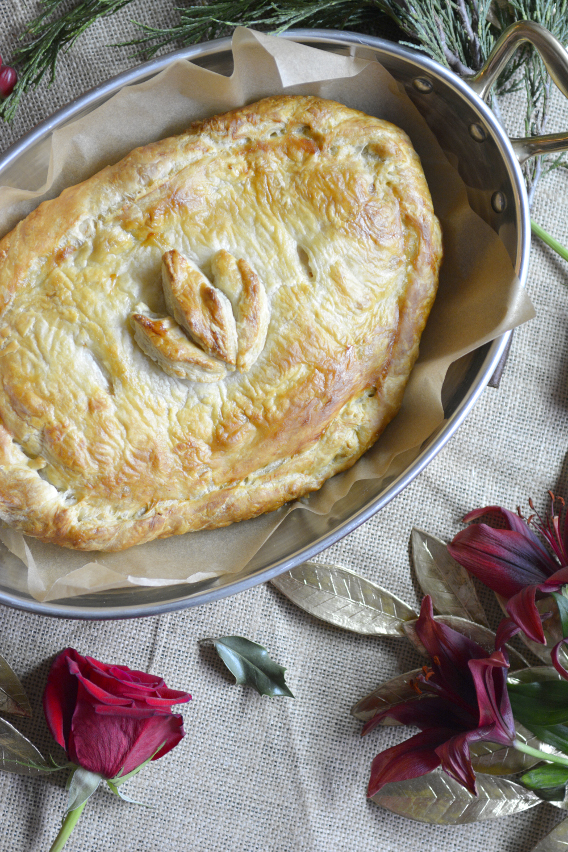 I just love how golden and puffy this dish gets! I had a hard time shooting it before digging in.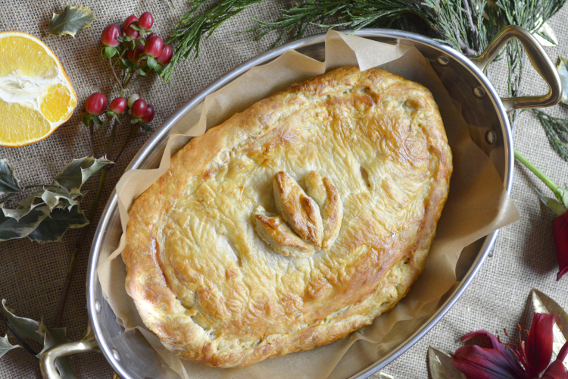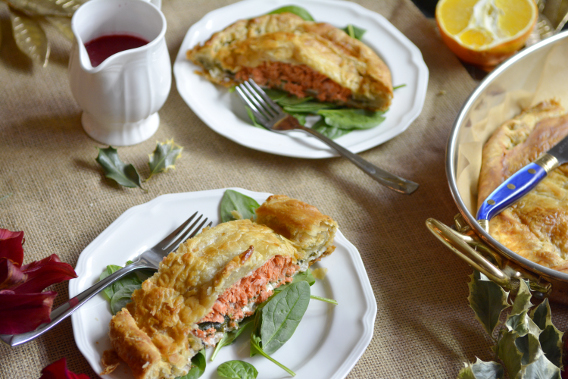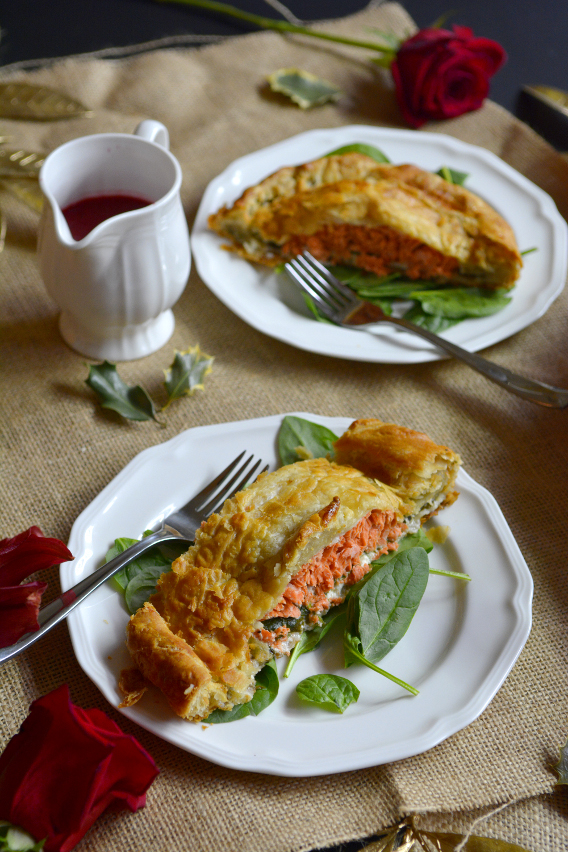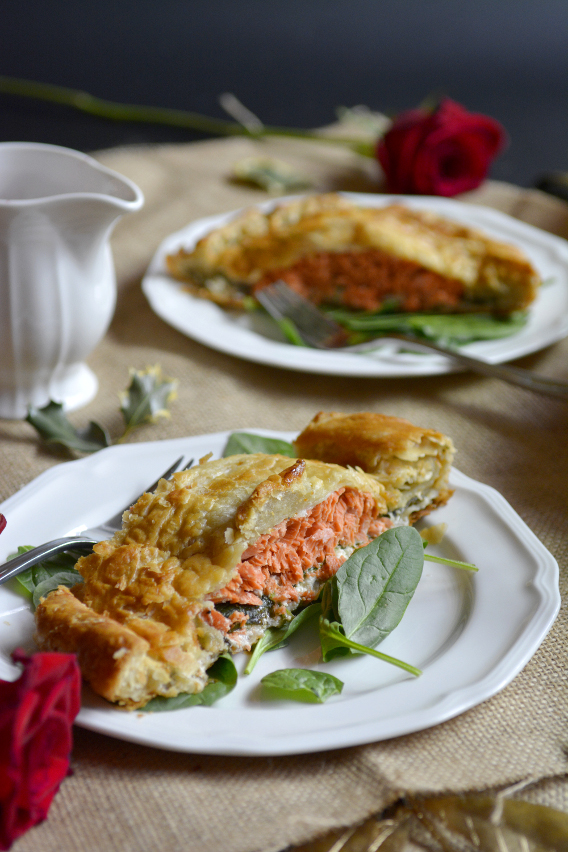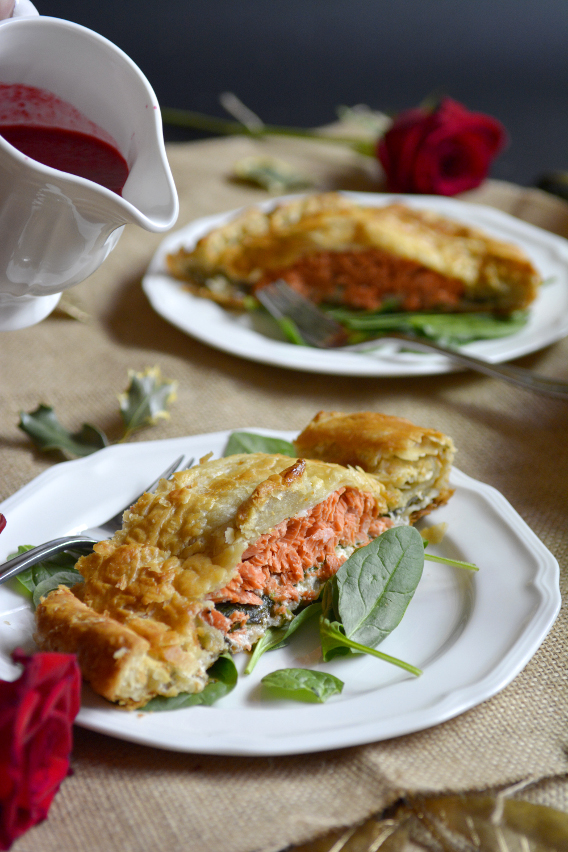 Time for the sauce!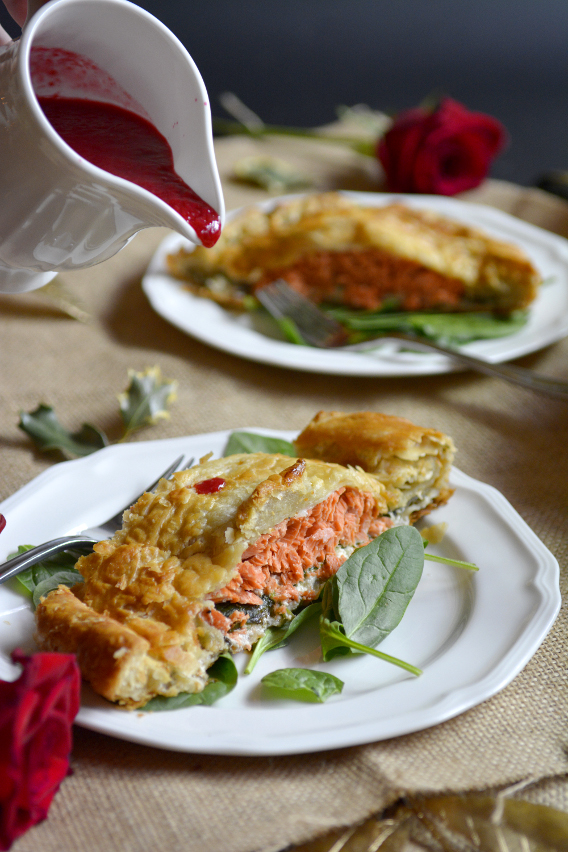 And…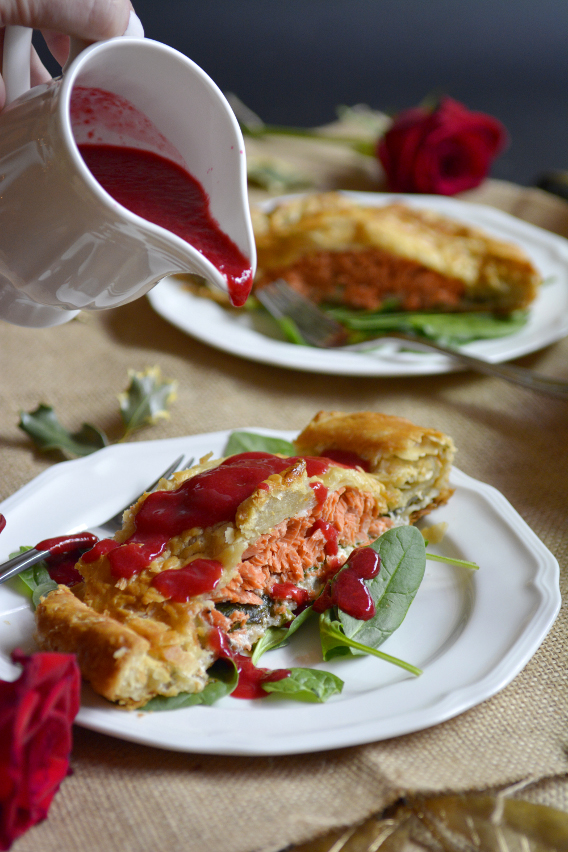 Douse!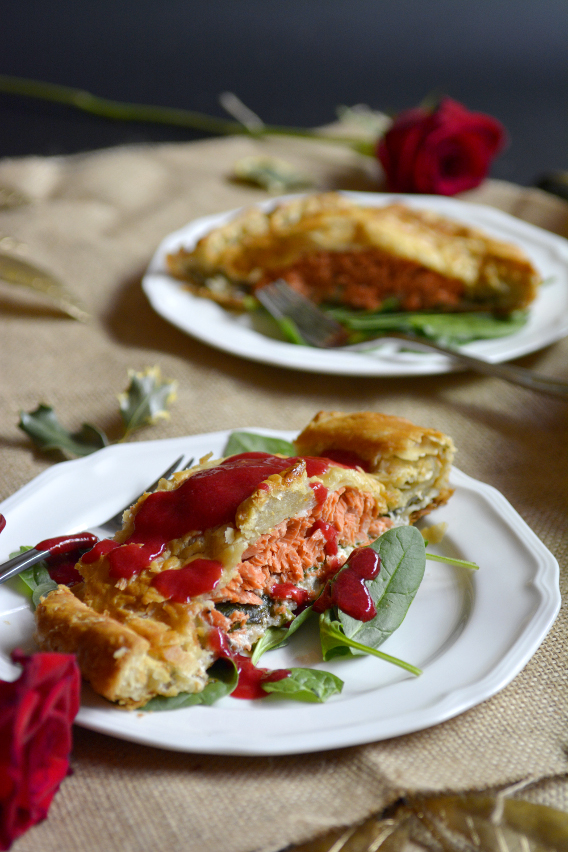 I told you this dish was Christmas on a plate!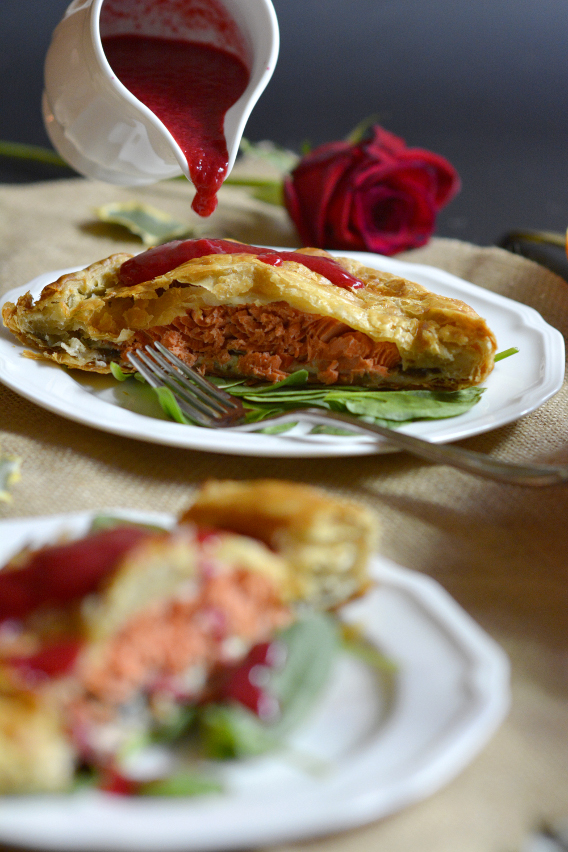 Be sure to share your salmon wellington on the #SedBona hashtag!
Happy Holidays from my kitchen to yours!
P.S. Many thanks to the wonderful team at Flowers for Dreams for sending me one of their new holiday bouquets which I used in this photoshoot. For $35, Flowers for Dreams will delivery a locally crafted bouquet anywhere in Chicago and proceeds benefit different local charities! Read through my studio tour of their space and learn more about their amazing business here.