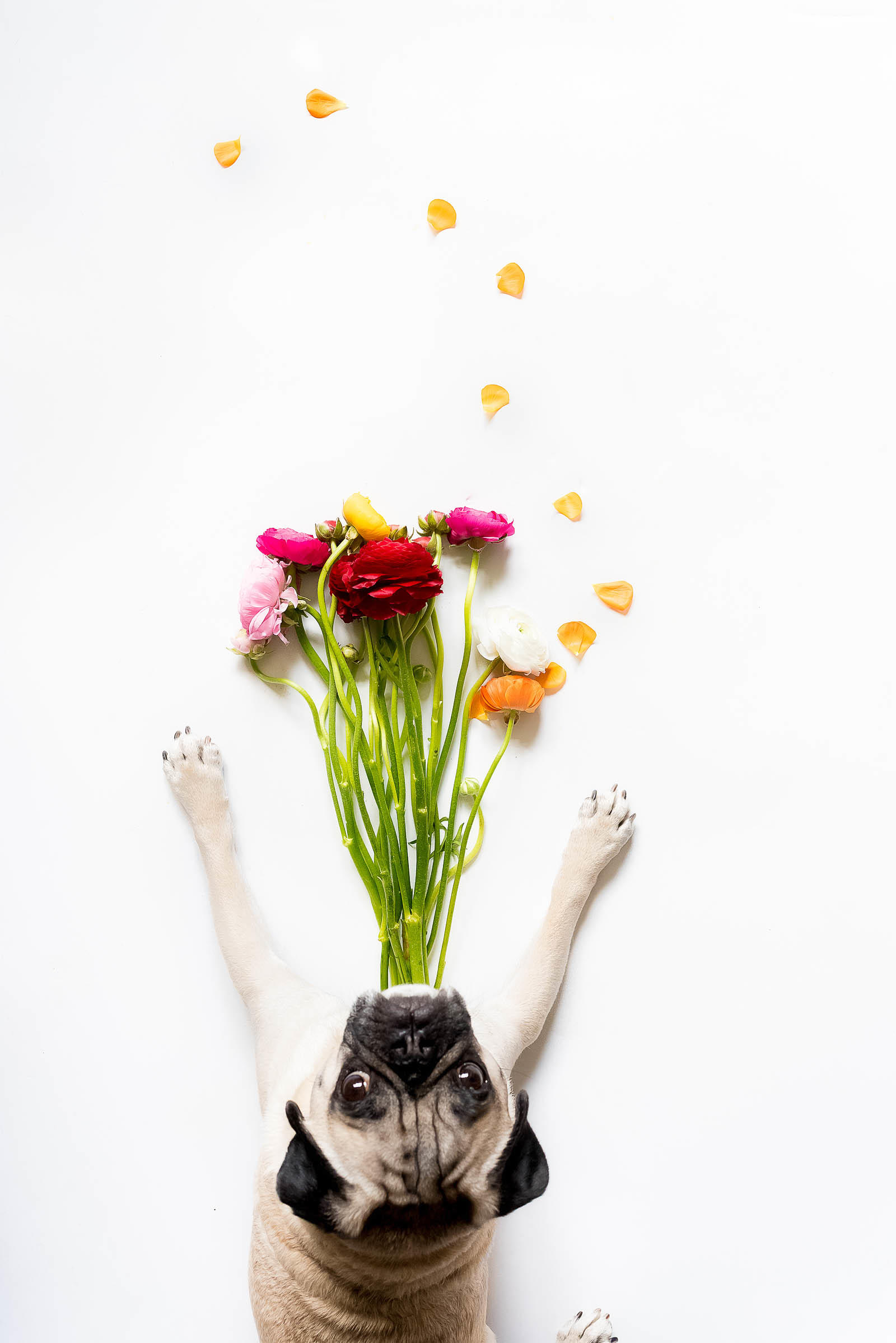 Years ago I began my Instagram account with no agenda whatsoever beyond making it a space of my own.
Slowly my followers grew, as did my content. And in early 2014, I began shooting a series of flatlays for my Instagram inspired by flower photography work I'd done in art classes in college.
I used to lay out flowers, rip off their petals, and make swirling large prints with them. The photo series was so successful it ended up being my first gallery show!
So, a few years later when I was playing around with flatlays, I had the idea to return to my previous work and improve on it.
But HOW?
Ironically I needn't have worried about it. Ironically my beloved pug Apollo already had the answer…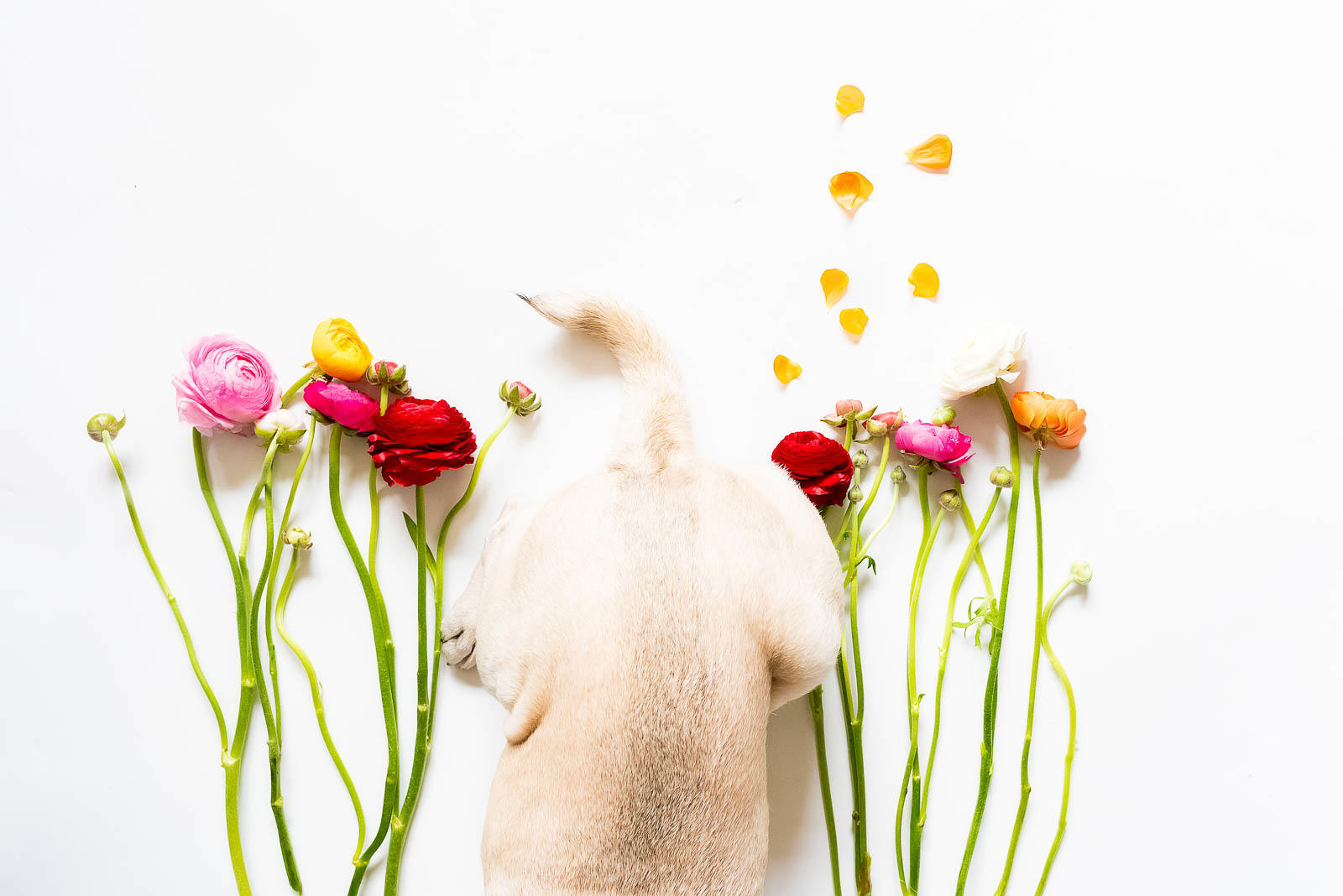 The very first time I tried to shoot a new generation of floral flatlays I had one simple bouquet of pink tulips.
I laid them down on my white backdrop with the intention of shooting them into some sunlight coming in from our living room window.
But Apollo had a very different idea.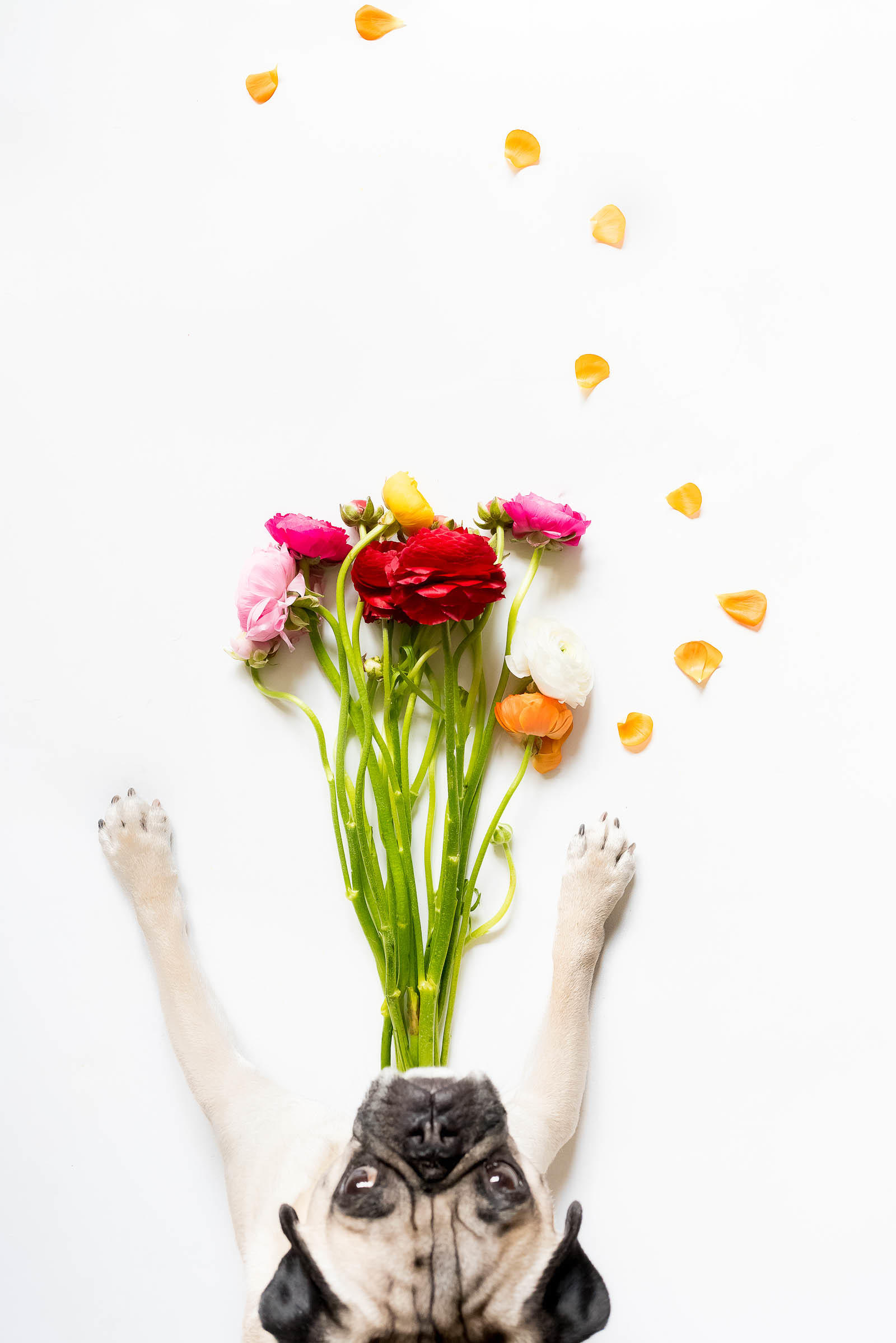 Apollo thought the flowers could use an extra douse of cute.
He laid on top of them, practically breaking all the stems in the process, and promptly settled in, waiting for his photoshoot.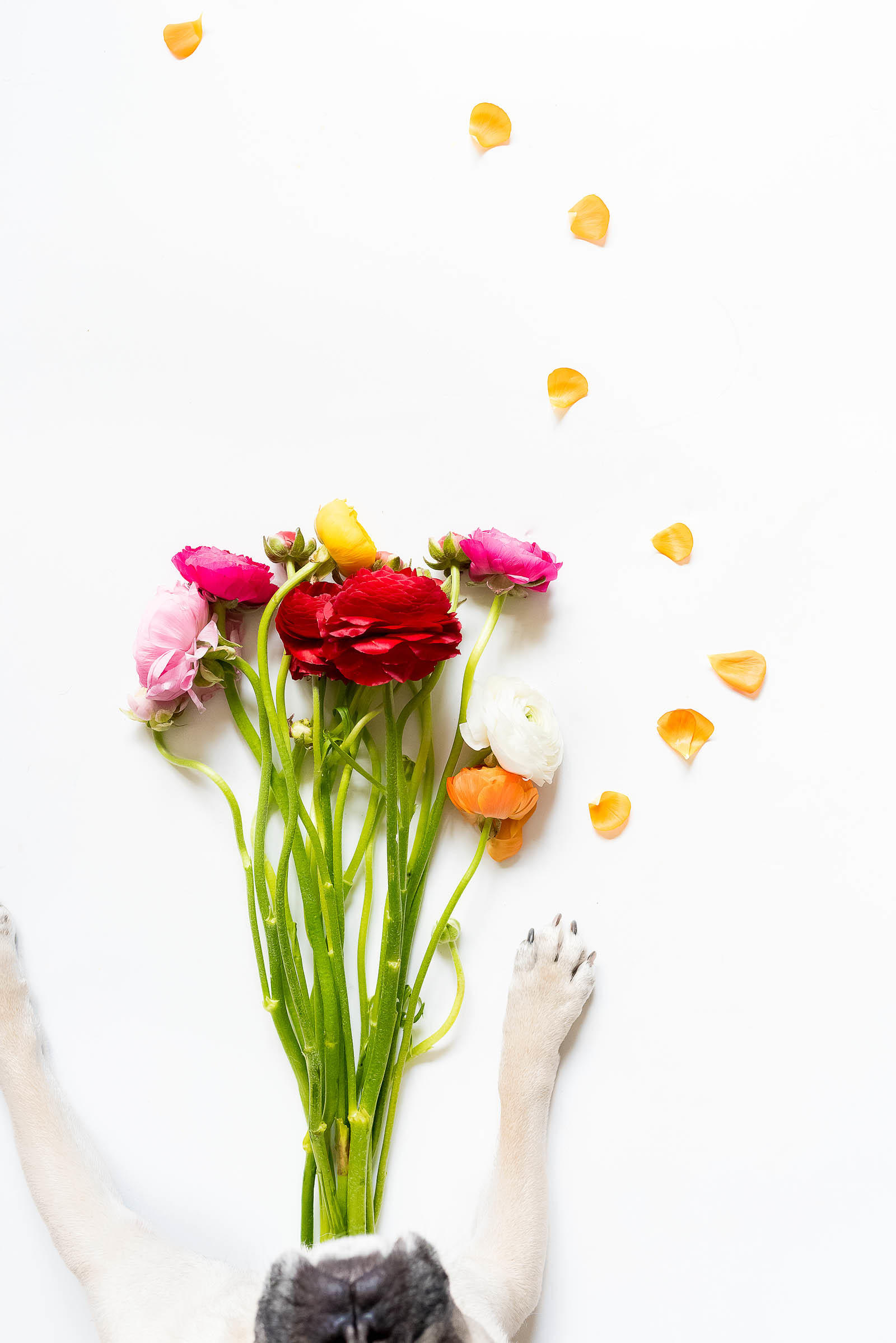 Now, if you know ANYTHING about Apollo this behavior won't come as a surprise.
He's the definition of an attention whore. Literally.
And if a camera or phone are pointed at anything BESIDES him, he'll promptly remedy the oversight. I mean, let's face it, the camera was probably SUPPOSED to be on him anyways.
Right?!?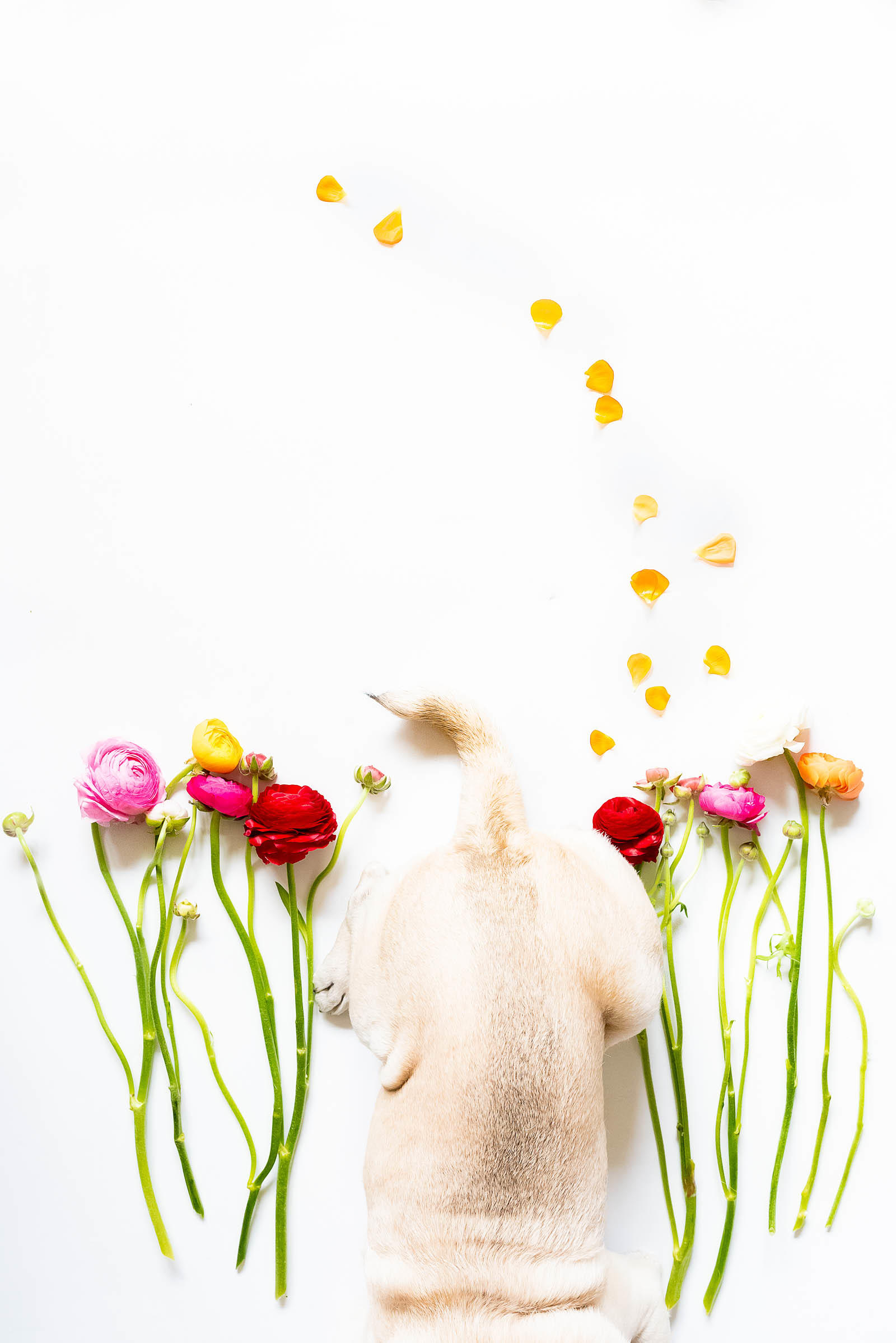 But from that fateful moment on, the #PugVase was born.
And slowly over the last three years, Apollo has starred in a wide variety of magnificent Pug Vases (explore more in my hashtag) but somehow not ONE of his pug vases has ever made it here on the blog.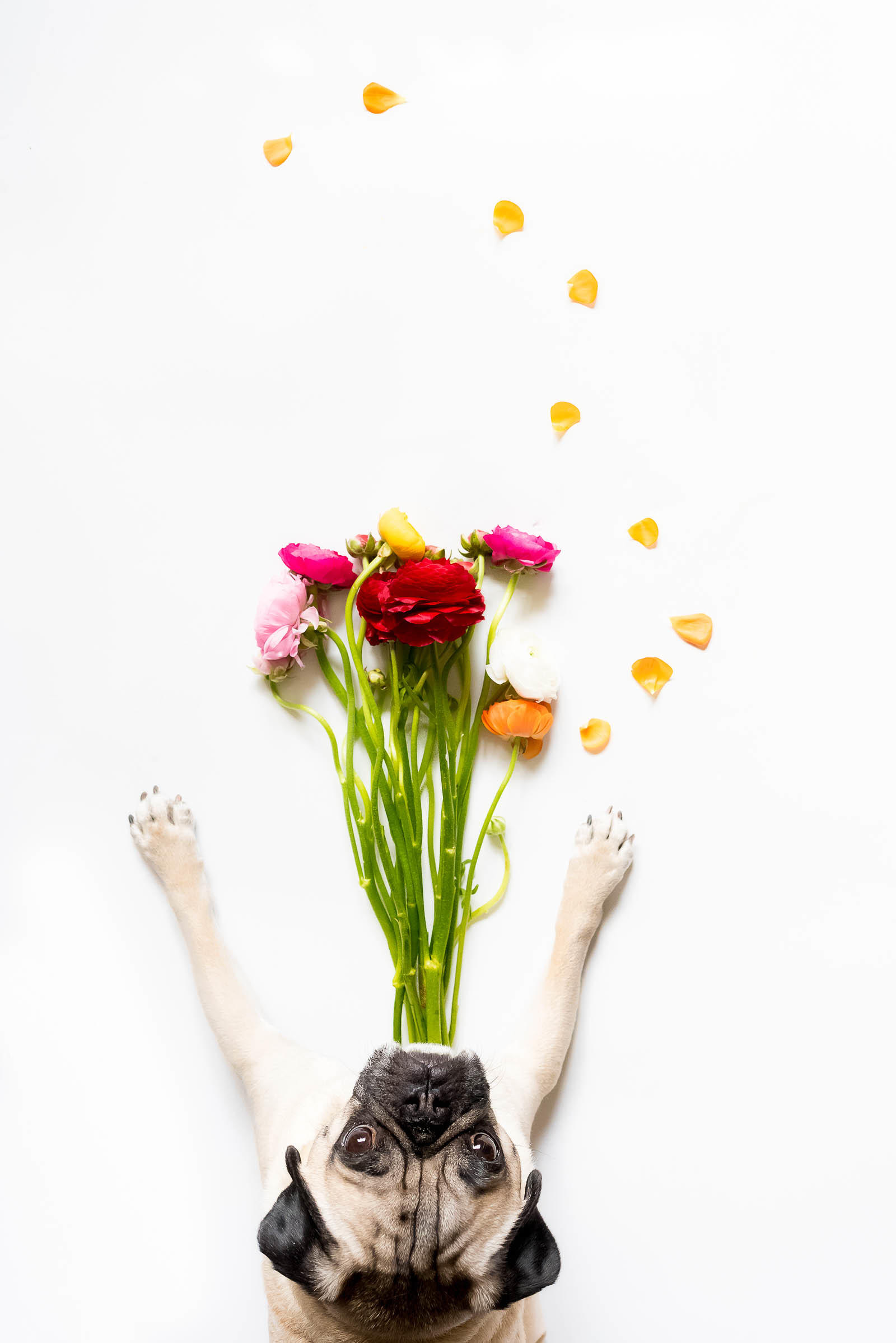 And that hasn't been from NOT wanting to publish Apollo's greatest masterpieces here on Sed Bona but primarily due to my fervent desire to only showcase DSLR work here on the blog.
See, generally speaking I shoot Pug Vases with my iPhone. While Apollo is a GREAT canine model (he was a certified therapy dog after all!), he's still canine and spunky by nature. Shooting with him is temperamental at the best times and — much like human models — he'll fatigue and bore of the project quickly. So I have to work fast. And so far an iPhone has made shooting these a lot easier.
But lately I've found myself lamenting the fact that Apollo's most famous achievement hasn't once made it to the blog. Well unless you count his not-so-welcome appearance in this post.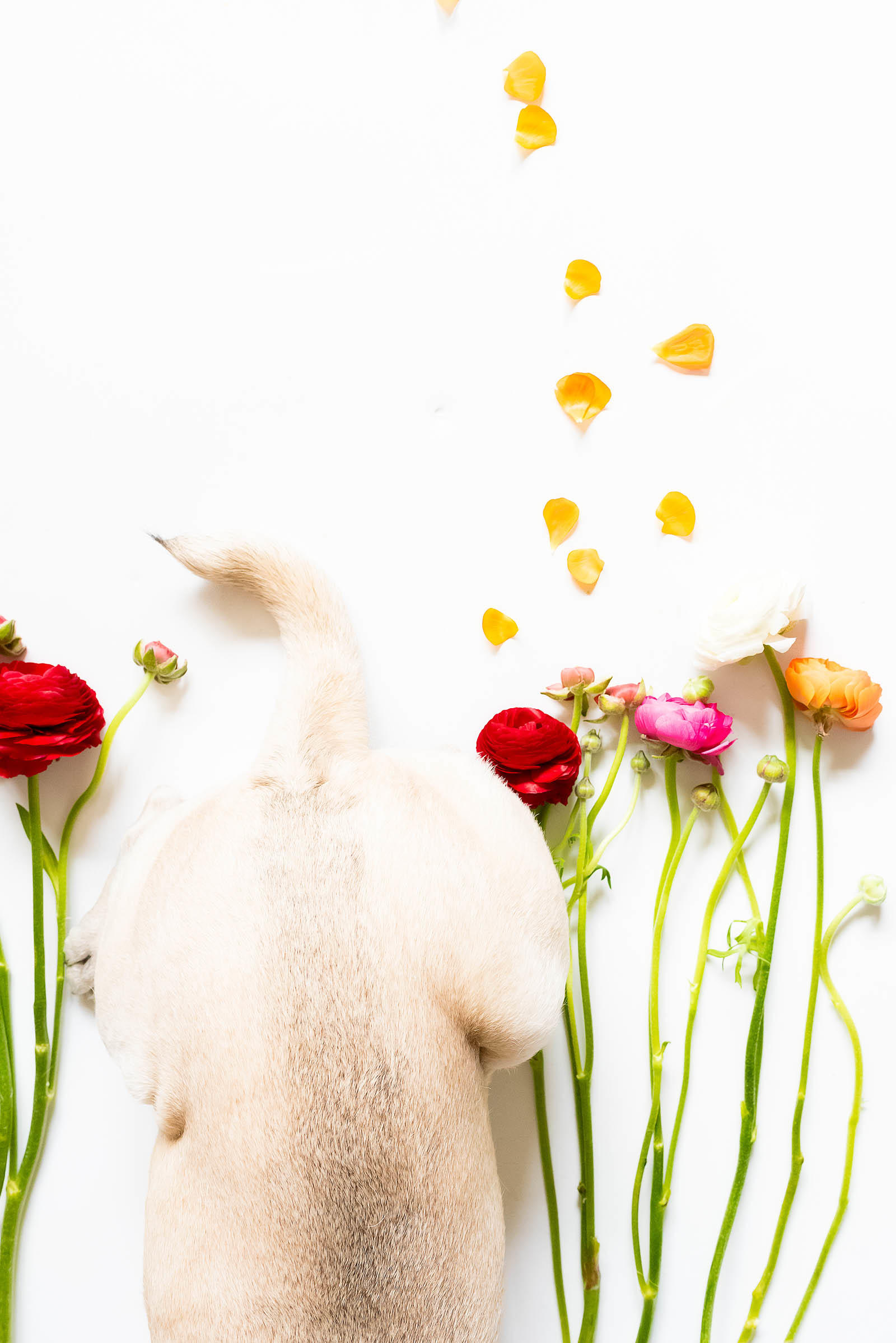 It's high-time I started a blog series of Pug Vases, don't you think?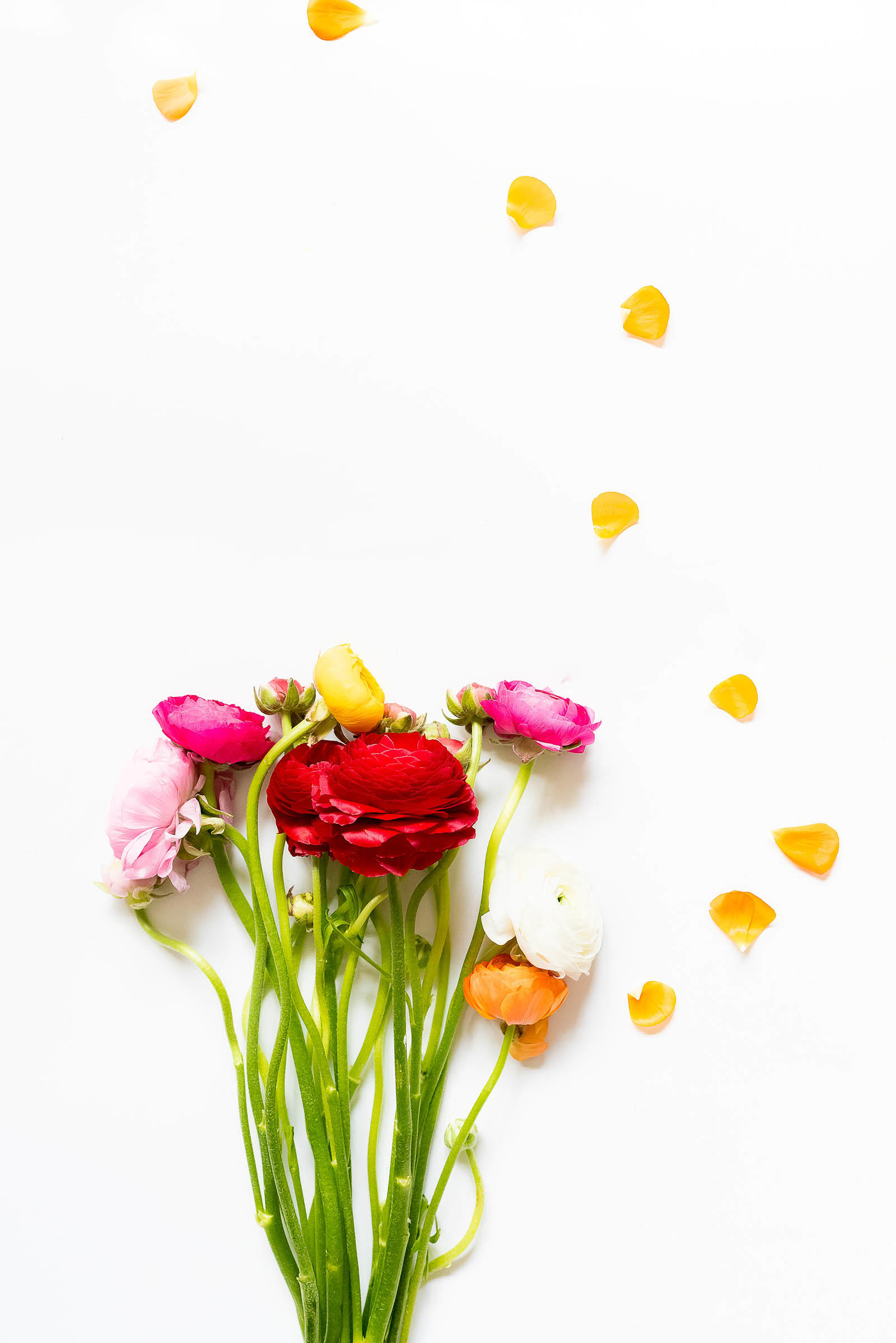 So earlier this month I whipped out my DSLR, gave Apollo an extra long walk (if he's fatigued he's a more cooperative model), and settled him into my home studio with plenty of squeaky toys, distracting music (Apollo prefers Mozart), and a determination to finally capture a DSLR Pug Vase.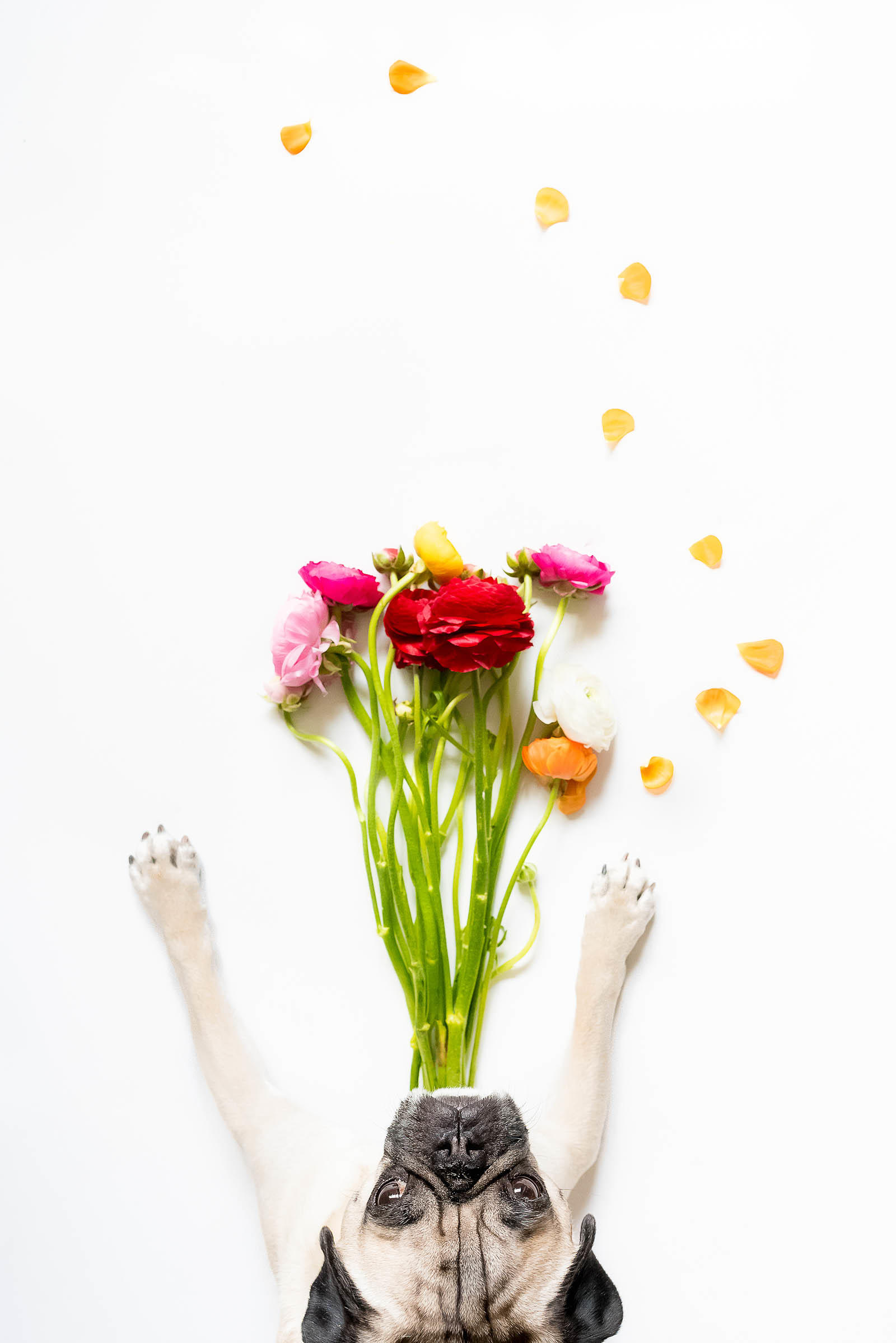 I'd say our first session was a success, wouldn't you?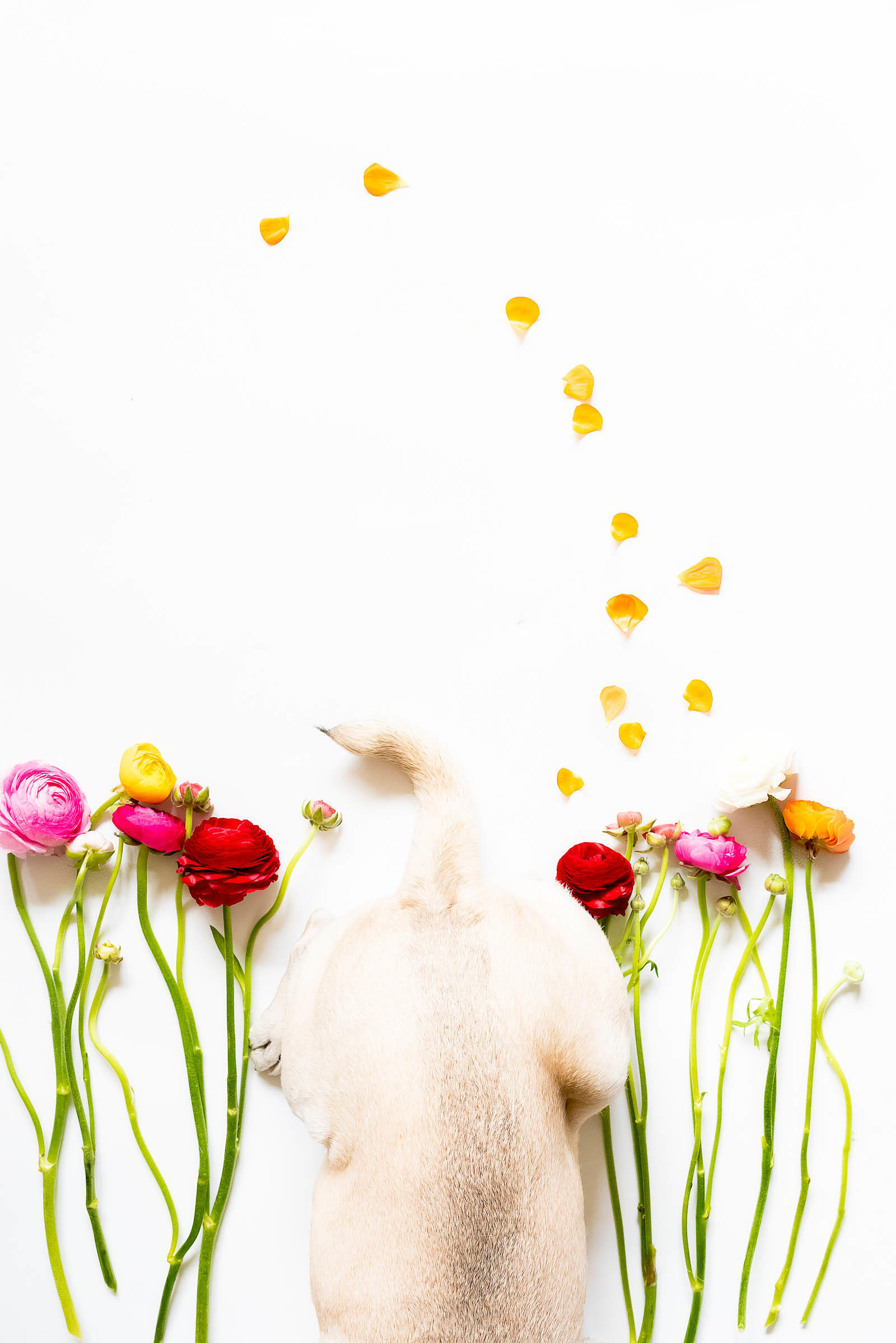 Now tell me — what sort of pug vases would YOU like to see over the coming months?