There are few things I love more in life than a good dessert.
But after New Years (and all the food we consumed in London before Christmas), my body was feeling sluggish. My energy was zapped. My insomnia returned in full force. And I began carrying a few extra pounds.
I had to start taking my health seriously. If only to prevent me from having to buy new clothing one size up!
So I began cleaning up my act. I gave up drinking (mostly), carbs (mostly) and desserts (again… mostly). I've never believed in completely eliminating things in my diet, just adjusting their moderation and frequency. But when it came to moderation for dessert, I was stumped.
Most of the recipes I make involve copious amounts of sugar and butter. I make brownies from the Zingerman's cookbook, shortbread cookies from one of my favorite spots in Paris, and my own pound cake FAR more often than any other desserts.
Not exactly "clean" eating.
But after some research, I began playing around with simple fruit salads (with a little lime zest on top), chia puddings, and what ultimately became today's recipe: zesty blueberries and fresh whipped cream.
There's something delightfully simple about today's recipe, being only 4 ingredients in total. And it couldn't be simpler to make — taking less than 3 minutes from start to finish.
It's a great snack when you have a sweet tooth, when you're hangry, when you want to enjoy something fresh, and when you don't want to feel bloated or overly full after.
All-in-all, since I started making this after Christmas, it's become my absolute favorite dessert. And I sincerely hope it'll become one of your favorites too!
Zesty Blueberries & Whipped Cream
Yields 1 Serving
1 – 2 Handfuls Fresh Blueberries (organic when possible)
1/2 Cup Whipping Cream
1 Tbsp Powdered Sugar
1 Lime
This is undoubtedly one of the simplest recipes I've ever shared with you, seeing as it's ready in less than 3 minutes.
All you need is an electric whisk or immersion blender (I swear by mine)!
Begin by whisking or immersion blending the whipping cream with the powdered sugar. Once the whipped cream is almost ready (i.e. it's light & fluffy), grate some fresh lime zest in. I like my whipped cream to be really "lime-y" so I generally use the zest from an entire lime but that may be too much for you. Start with 1/4 zest and continue to taste as you mix.
Once the whipped cream is ready, your dish can be assembled. Drop a large handful of blueberries in a bowl. Top with zesty whipped cream and perhaps even a garnish of more lime zest for color.
And Enjoy!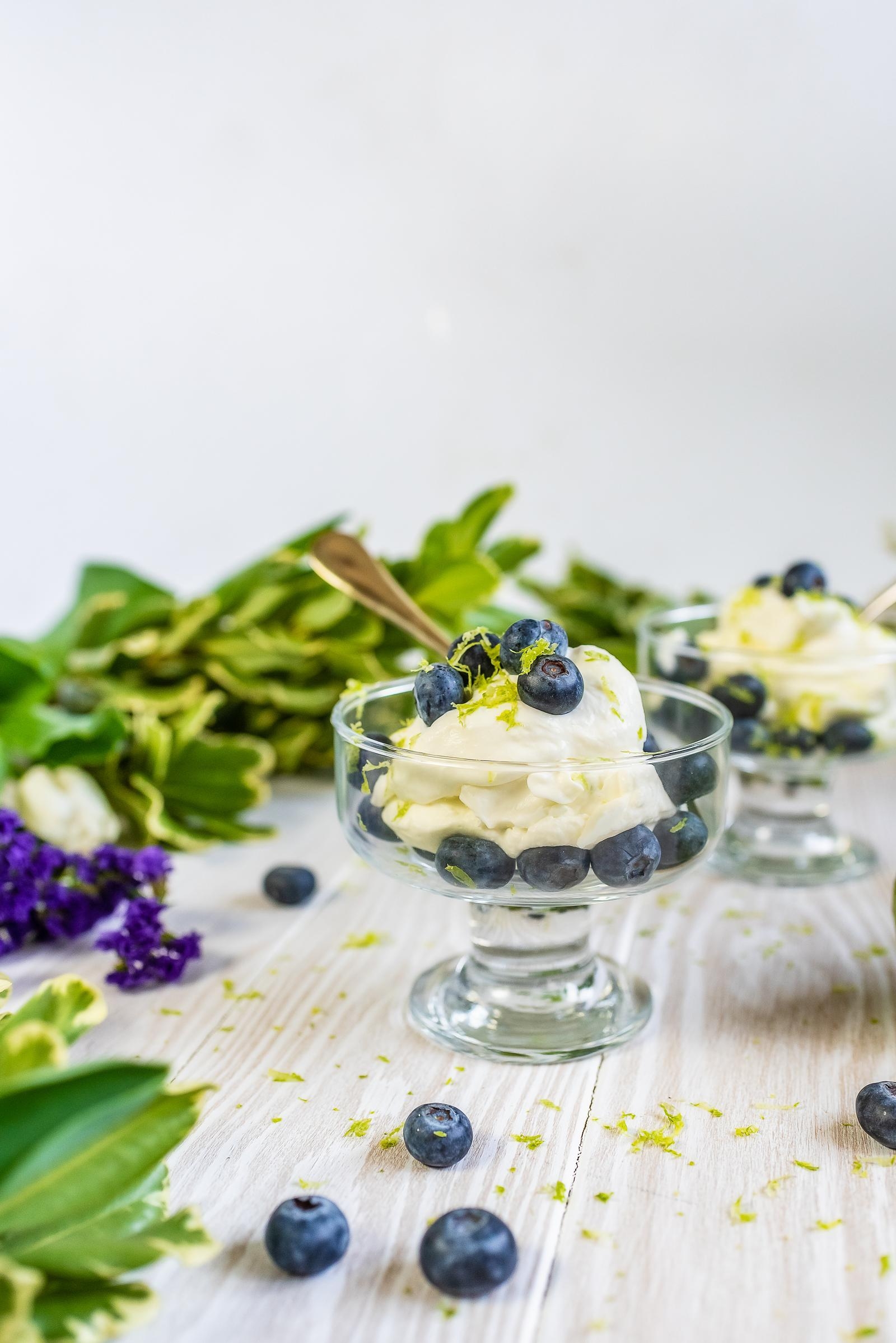 Love this post? Save it on Pinterest! And don't forget to share your Zesty Blueberries & Whipped Cream photos with the #SedBona tag on Instagram and Twitter!