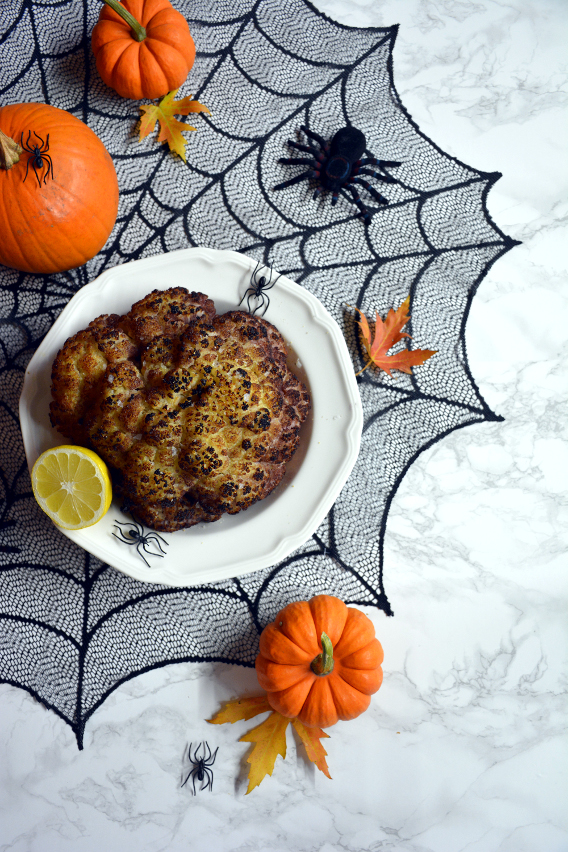 It's finally Halloween week! So today, I wanted to share this deliciously simple yet oh-so-spooky cauliflower dish which works well as an entrée or an appetizer and comes out of the oven actually looking like a roasted brain. Creepy yet delicious! If you haven't tried a whole roasted cauliflower, you don't know what you've been missing out on. This recipe is one of H and I's favorites both before and after Halloween. But this particular dish makes a delicious yet carb-free appetizer for a Halloween party or a simple entrée for an intimate dinner party for two. The way I see it, having this as an appetizer or entrée gives you complete permission to eat a few extra pieces of candy… right? I thought that was the point of healthy Halloween food…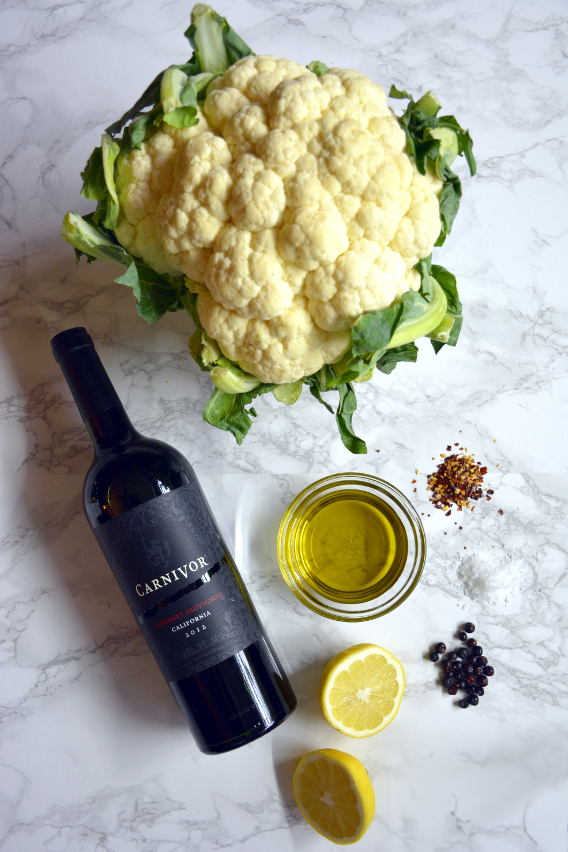 Part of what makes this meal so decadent is the additional of about half of this bottle of wine (the rest is for you, bien sûr!)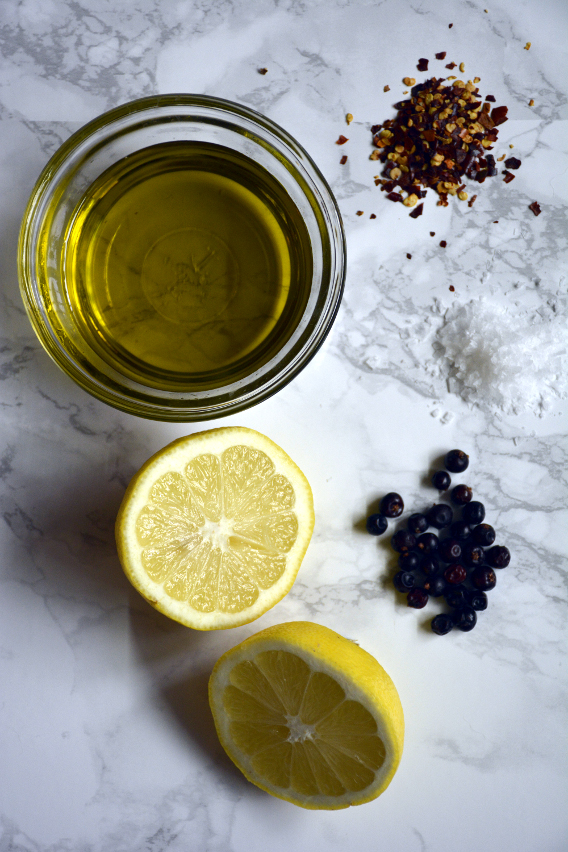 And the seasonings of lemon, olive oil, juniper berries, sea salt and crushed red pepper flakes make your kitchen smell sooo…divinely…good. I often make this recipe when we have company because then I know our apartment will smell delicious when they arrive too — I like a meal that multi-tasks like that, don't you?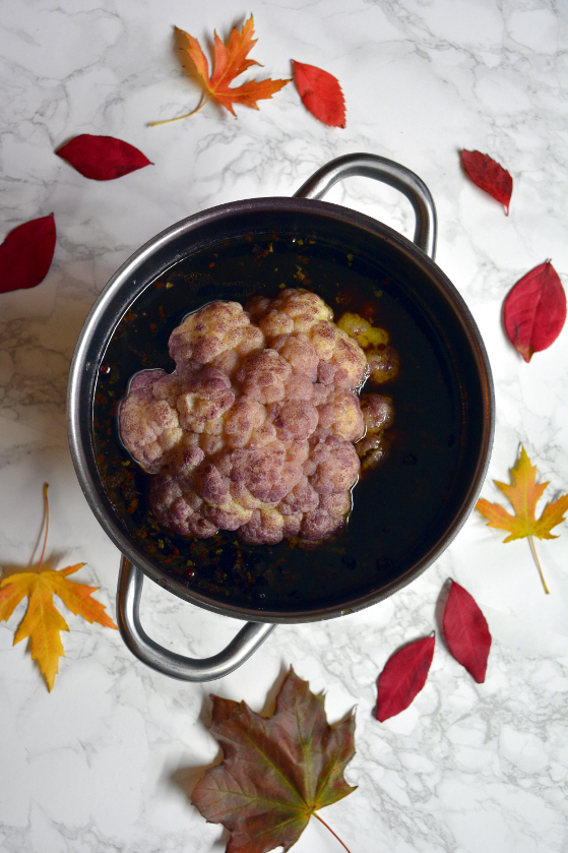 See what I mean by Cauliflower "Brain"? The addition of red wine to the seasoned broth gives an eerie purplish-tinge to the cauliflower, morphing it from brassica oleracea into brain. Proof that adding vino to anything produces magical results!

Whole Roasted Cauliflower Brain
(Adapted from this brilliant recipe). Makes 6 servings.
1 Head of Cauliflower, leaves removed
8 Cups of Water
2 1/2 Cups Dry Red Wine*
1/3 Cup Olive Oil
1/4 Cup Kosher Salt
3 Tbsp Fresh Lemon Juice
2 Tbsp Unsalted Butter
1 Tbsp Crushed Red Pepper Flakes
1 Tbsp Sugar **
1-3 Bay Leaves***
Preheat oven to 475 degrees Fahrenheit. Combine all ingredients except the cauliflower in a large pot and bring to a boil. Add washed and trimmed cauliflower head, reduce heat and simmer for 15-20 minutes, remembering to rotate and turn the cauliflower periodically. Remove the cauliflower once a knife inserts easily. Gently lift out of the wine mixture with two slotted spoons and drain thoroughly. Place on a wire baking rack and roast in the oven, rotating periodically, for 30-40 minutes. Remove when brown and toasty all over.
To serve, you can eat it with the whipped feta dip recommended in the original recipe. But H and I find this delicious on its own so we serve it with a drizzle of olive oil on top then sprinkled with sea salt and more crushed red pepper flakes. Cut with a large knife into wedges or slices. Serve hot.
*The original recipe calls for white wine which is what H and I usually use. This "brain" recipe calls for red to give the roasted cauliflower a purplish-hue similar to an actual brain. Feel free to substitute in white wine if you prefer.
**H and I found that adding a full tbsp of sugar to this recipe can be too sweet depending on the type of wine you choose. If your wine is on the sweeter side, cut back on the sugar in the recipe.
***I used juniper berries in place of bay leaves and both work well.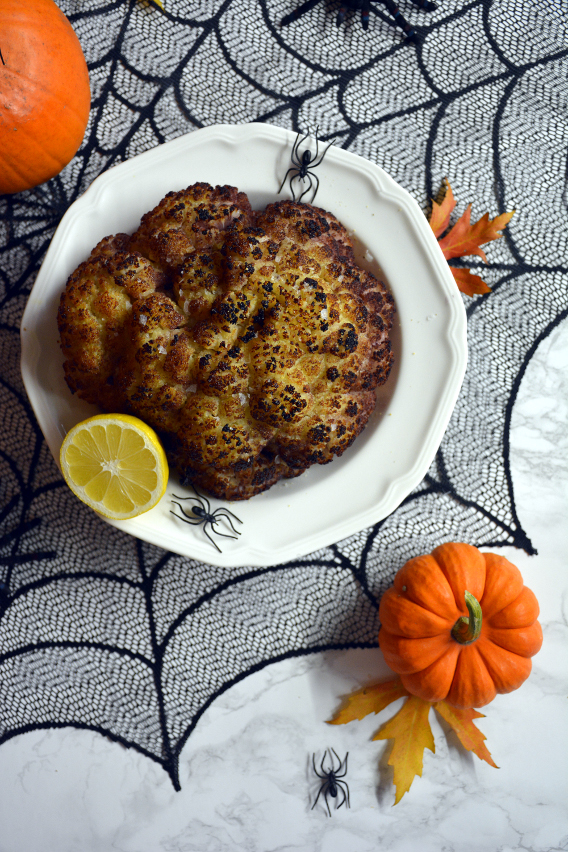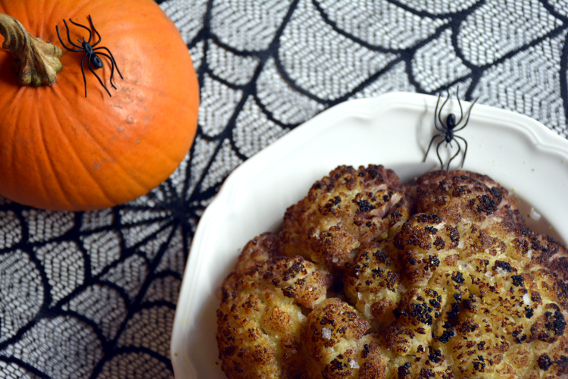 Buttery, roasted perfection! With the right amount of snap and crunch, this meal feels so much more decadent than a simple head of cauliflower should. A true trick for Halloween!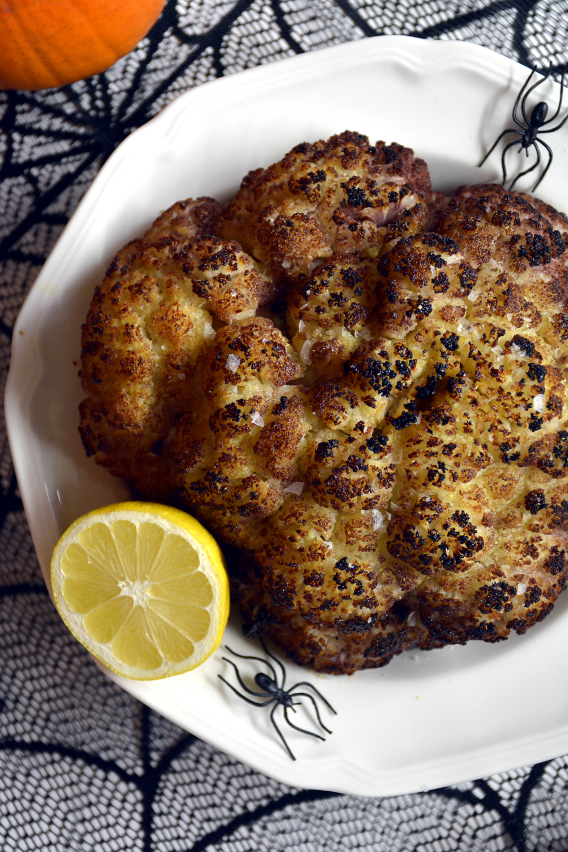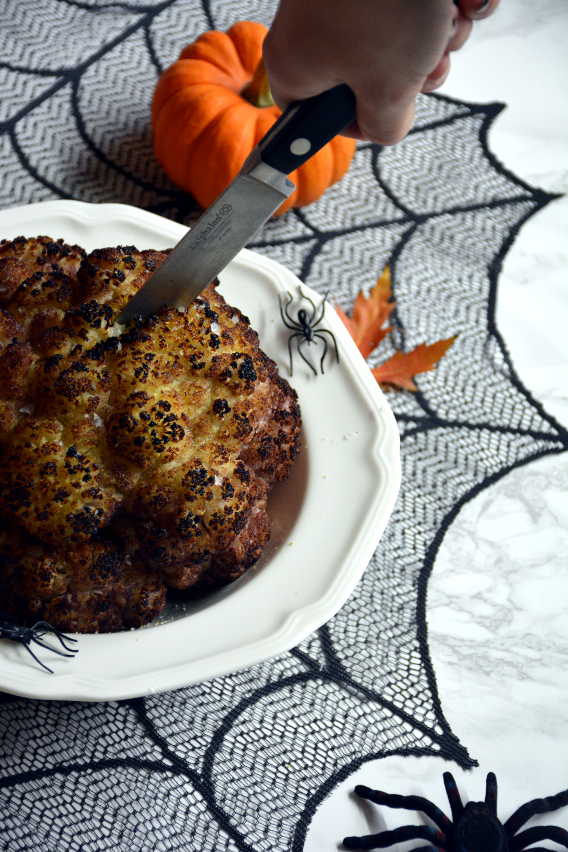 Slice and be sure to serve with a cackle! Share your cauliflower brain photos with #sedbona too.