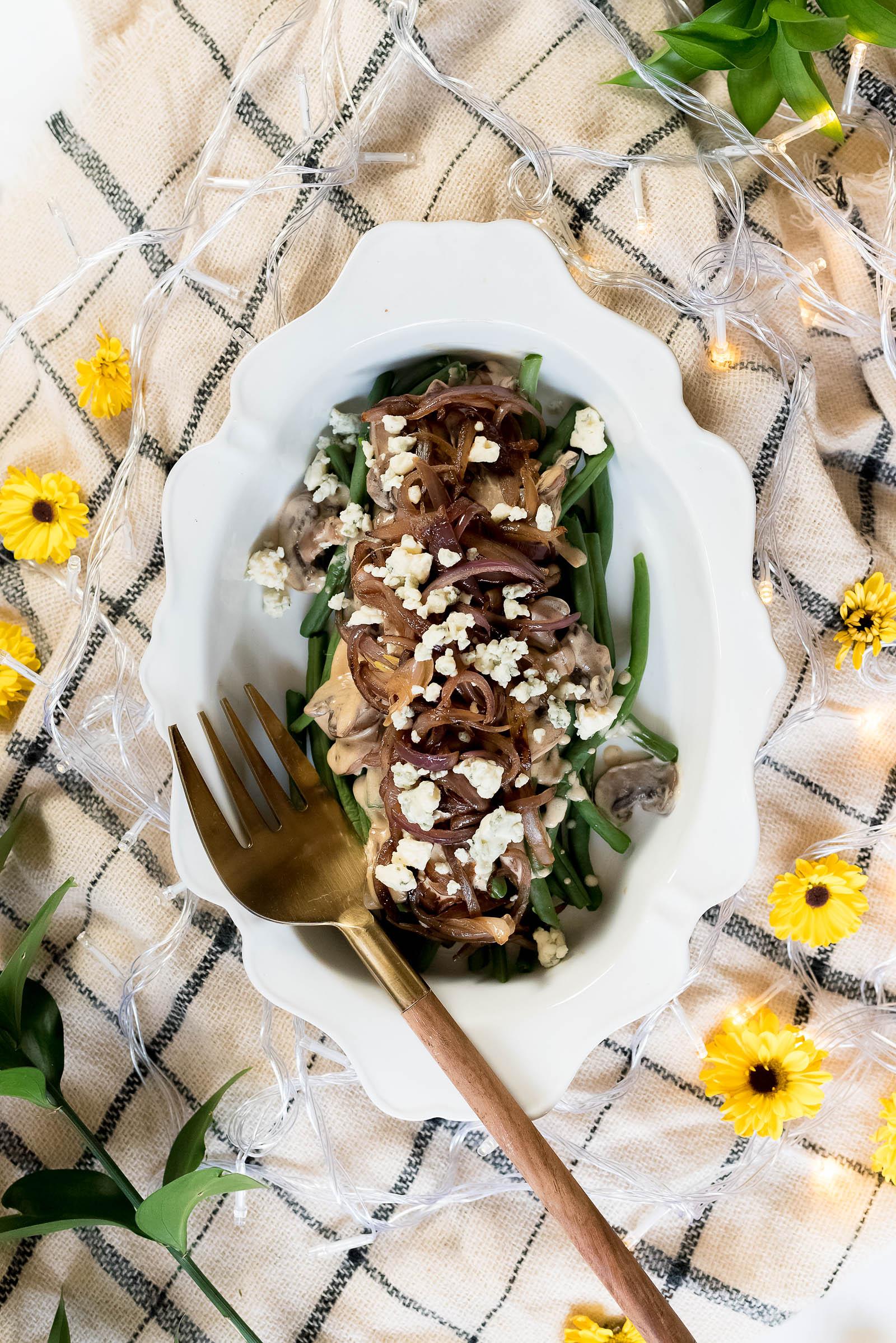 OMG it's Thanksgiving — every foodie's favorite holiday!
And when I think of Thanksgiving dishes I MUST have at Thanksgiving, I think of my Dad's sweet potato cups and my grandmother's green bean casserole.
But is anyone else as grossed out by condensed soup as I am? My grandmother's recipe for green bean casserole is a family favorite but each year I make it, I cringe buying condensed mushroom soup.
And then I cringe even more when I open the can and watch that somewhat plastic-y mound of gray goop flop into the casserole dish.
Mmmm, certainly not my favorite part of holiday cooking…
So this year I set out to change that. This year I set out to make a fresher, from-scratch "no wobbly condensed soup" version of my favorite Thanksgiving side dish. It's similar in flavors to another favorite holiday recipe of mine and a lot healthier than the original casserole version too… even with the wine in the sauce!
Believe me when I say this version is a winner. So creamy, delicious, and not nearly as naughty as my grandmother's beloved, if out-dated original!
Happy Thanksgiving!!
Deconstructed Green Bean Casserole Recipe
Yields 4 Servings
16 Mushrooms, Washed & Sliced
2 Cups Heavy Cream
2 Tbsp Olive Oil
1 Cup White Wine*
Salt & Pepper to Taste
2 Red Onions
1 Tbsp Olive Oil
1 Handful Crumbled Blue Cheese (or Goat Cheese)
1 – 2 Lbs Fresh Green Beans
Make the Green Beans:
Fill a large bowl with ice water and set aside. Fill a pot with salted water and bring to a boil over high heat. Wash and trim the ends off the green beans. Add to the boiling water and blanch for about 4 minutes. Remove and place directly in the ice water for about 5 minutes. Drain on paper towels.
Make the Caramelized Onions:
Thinly slice the red onion. Add 1 Tbsp Olive Oil to a sauté pan over medium-high heat. Add onion and cook until browned and caramelized, stirring regularly, about 15 – 20 minutes.
Make Mushroom Cream Sauce:
Heat 2 Tbsp Olive Oil in a large sauté pan over medium-high heat. Add sliced mushrooms and sauté until browned, about 15 minutes. Add the white wine and cook down by half, then add the heavy cream. Bring to a boil then reduce to medium-low and simmer for at least 15 minutes to thicken. Season with salt and pepper
*Tart white wines like Pinot Grigio work best! You can also omit the wine entirely and substitute water or broth in its place.
P.s. you can make the green beans and caramelized onions a day in advance and assemble the "casserole" on Thanksgiving day with the fresh sauce and keep it all warm in the oven.
---
To Assemble: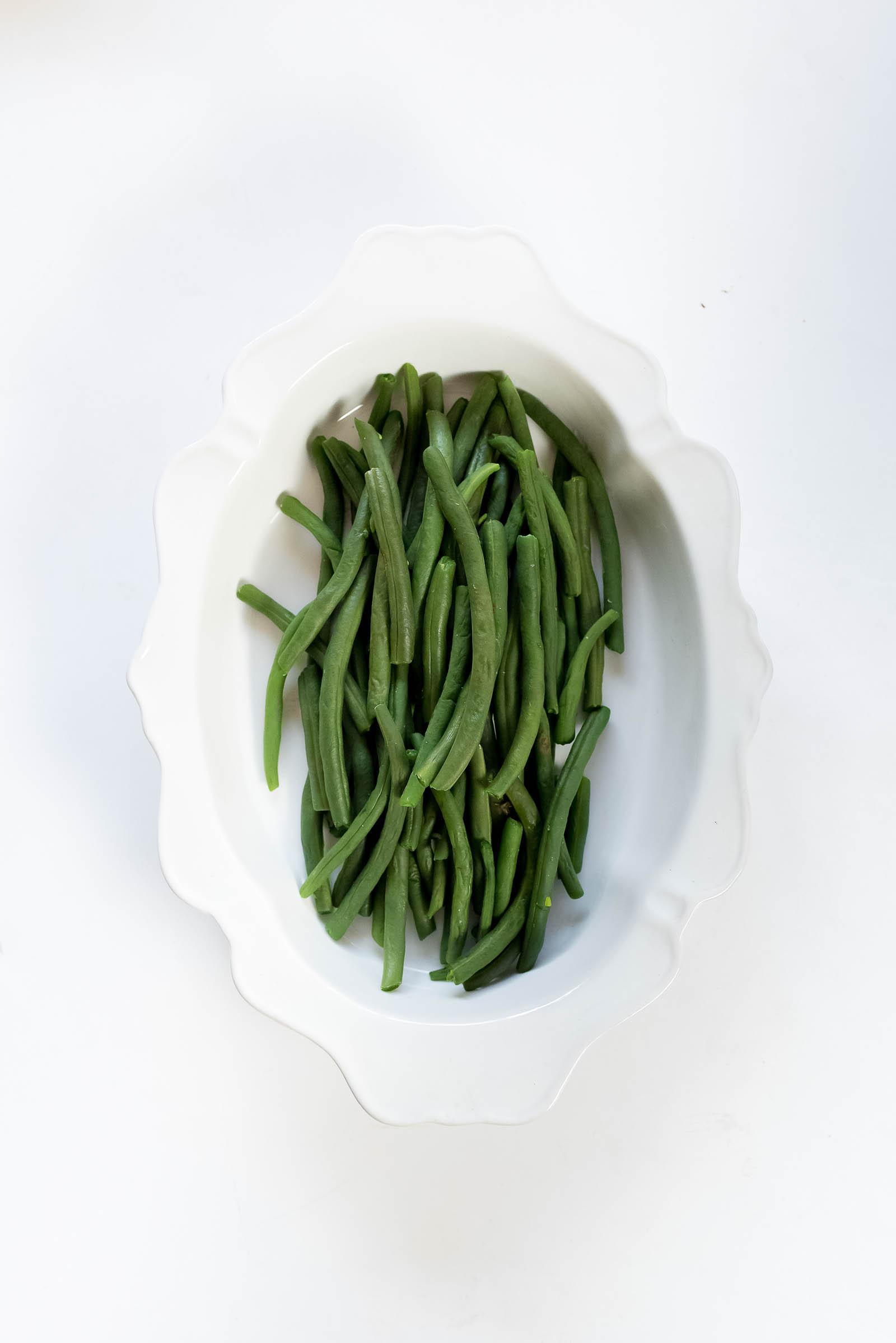 1. Layer In Green Beans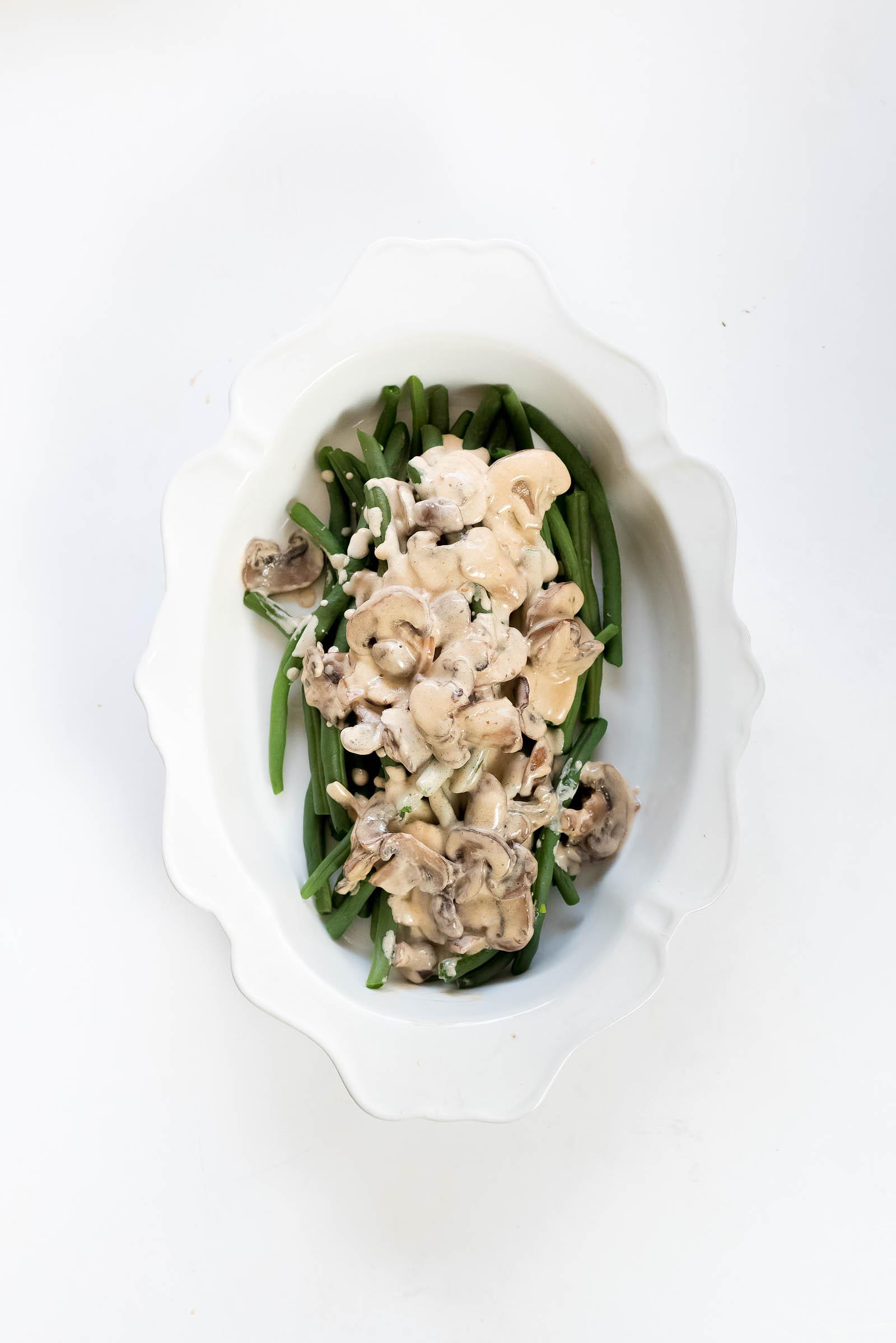 2. Drizzle on the Mushroom Cream Sauce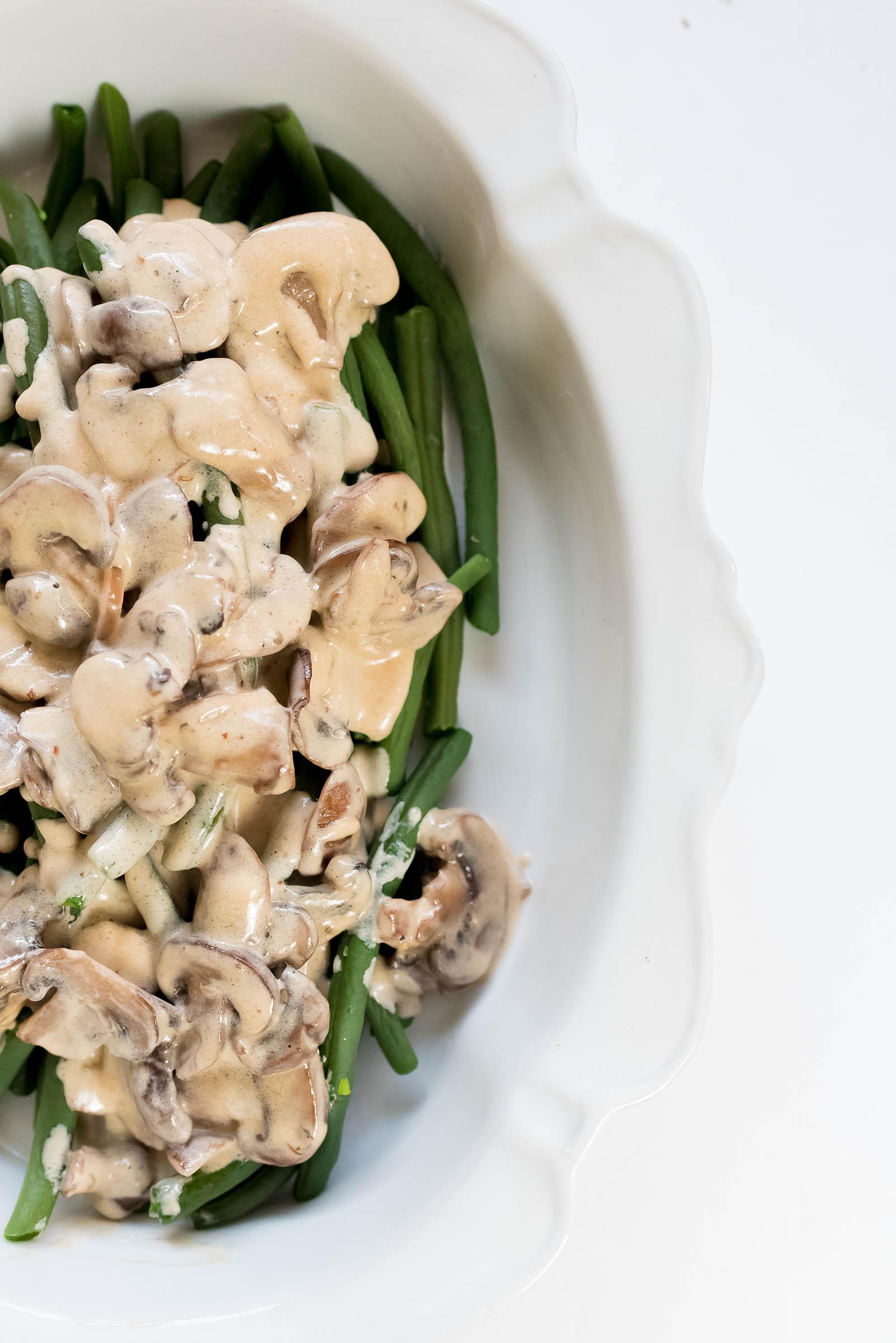 (Which is so sinfully delicious on other Thanksgiving favorites like mashed potatoes too!)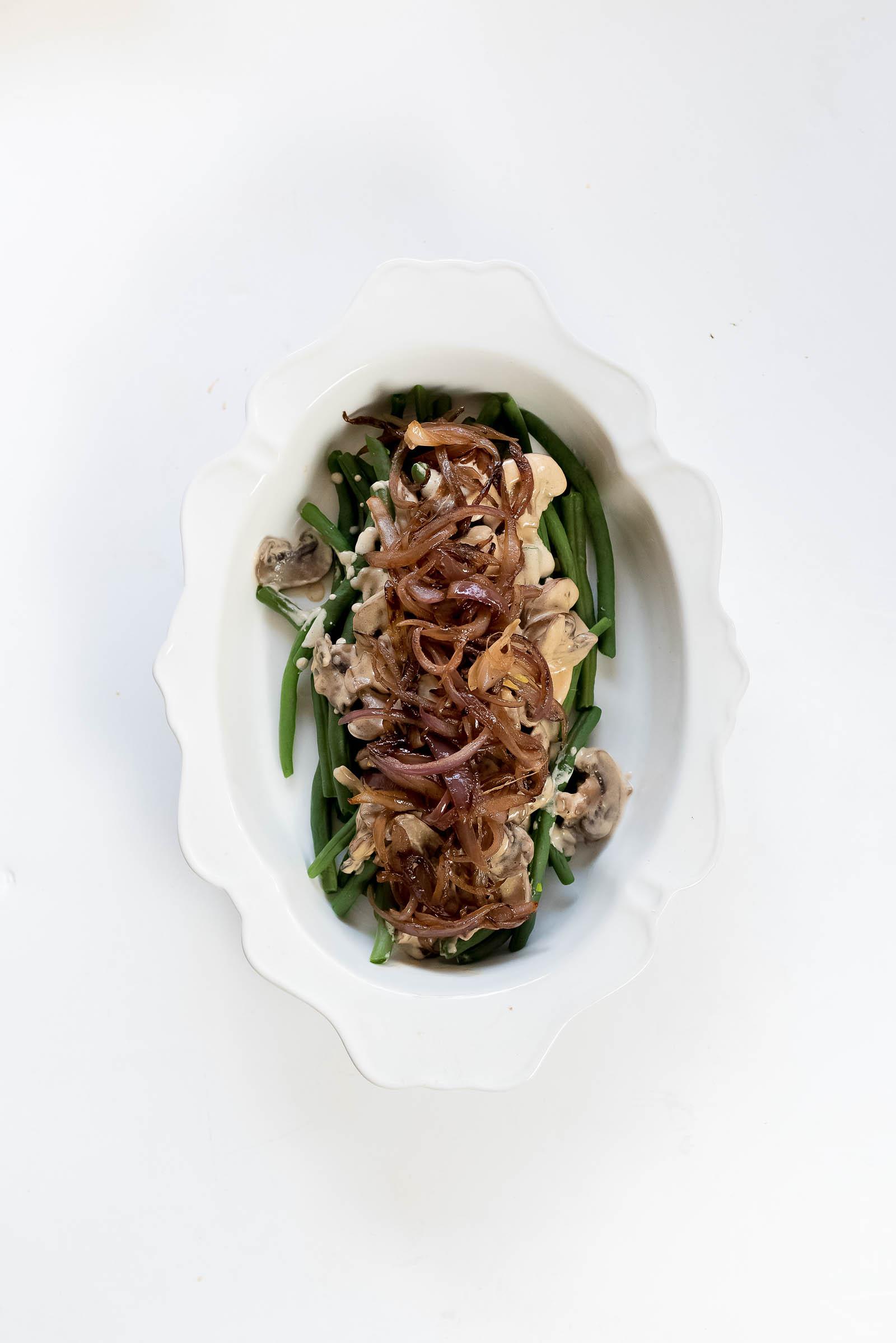 3. Layer on the Caramelized Onions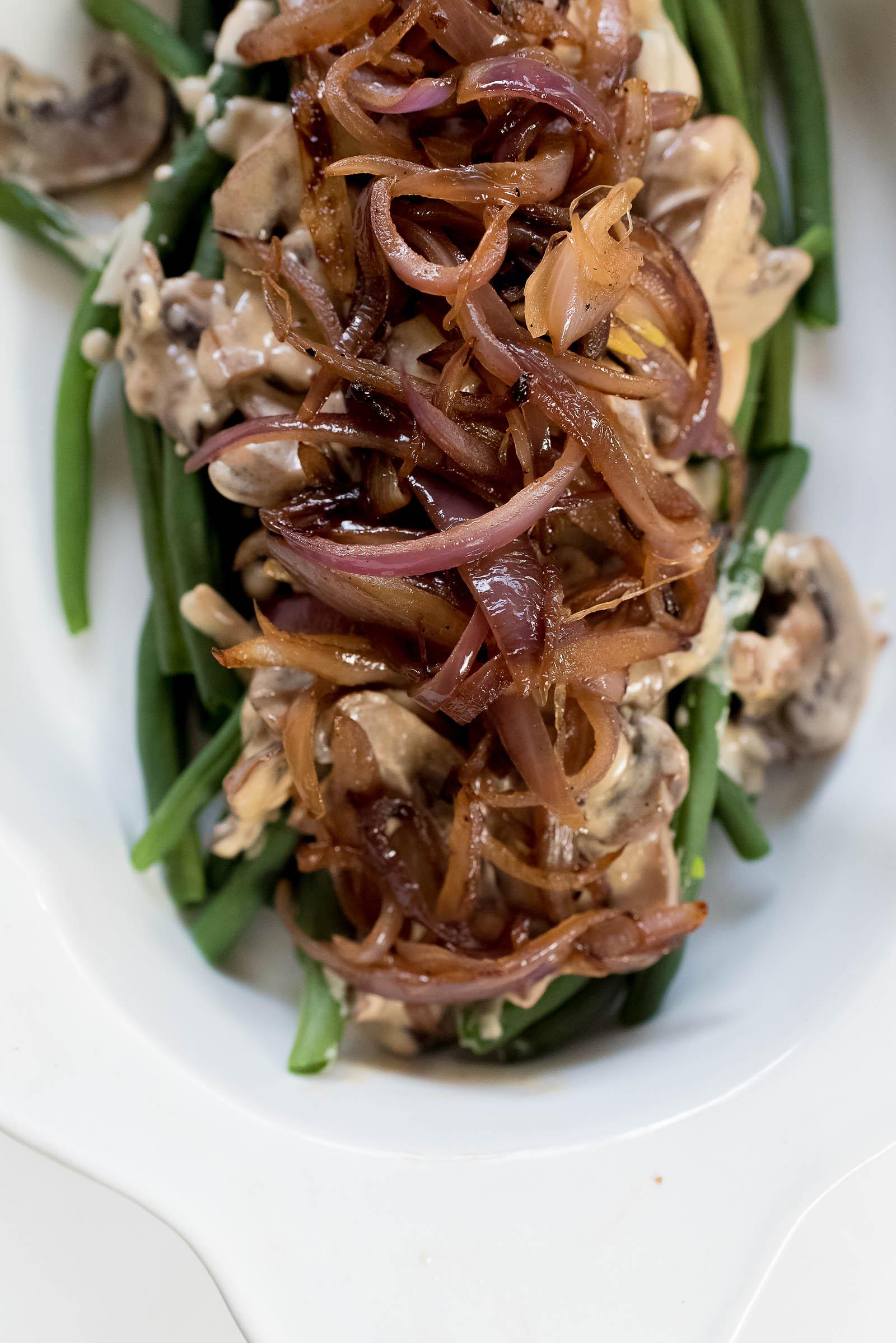 (Which offer lovely texture and innovative depth over traditional crunchy onions)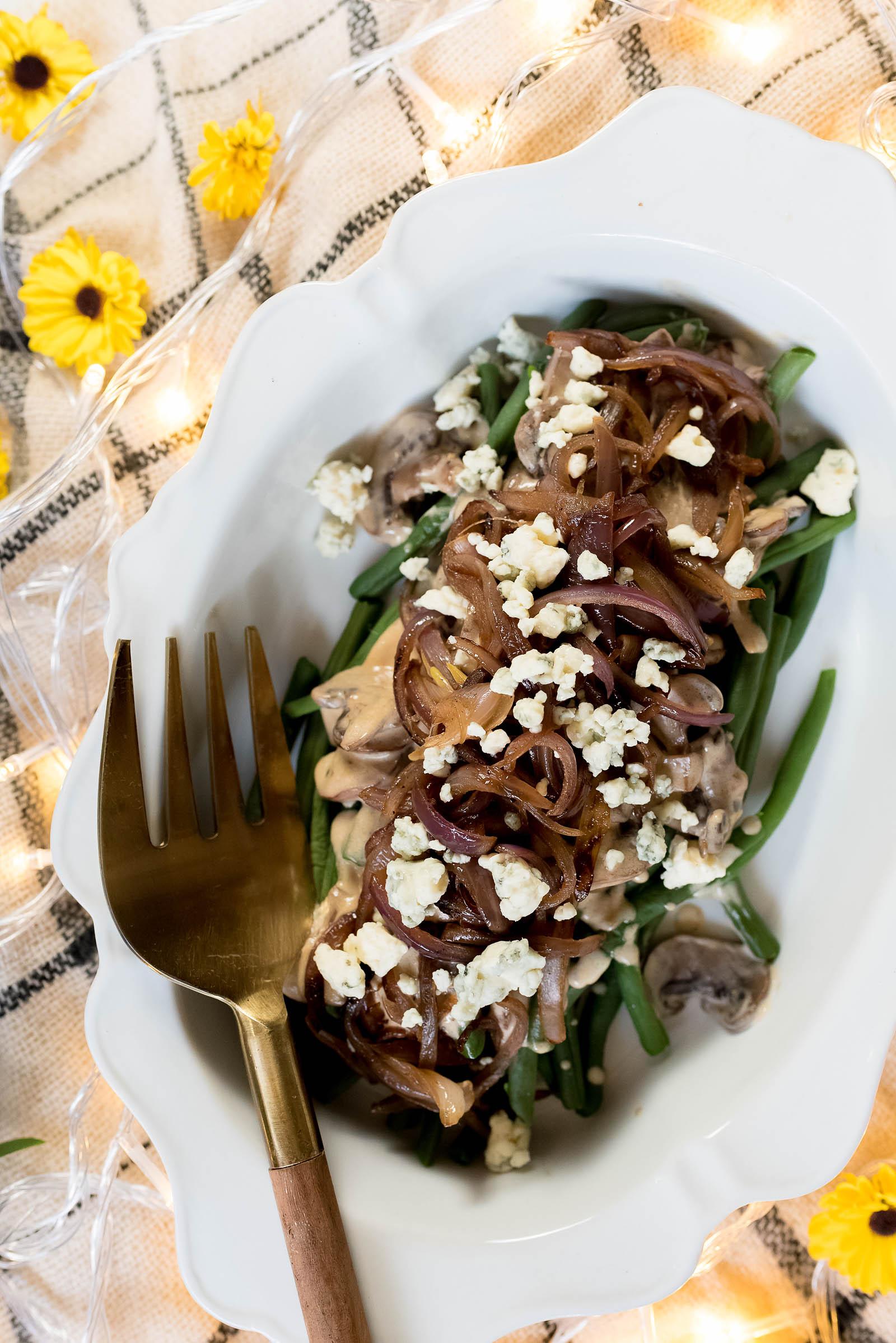 4. Garnish with Blue Cheese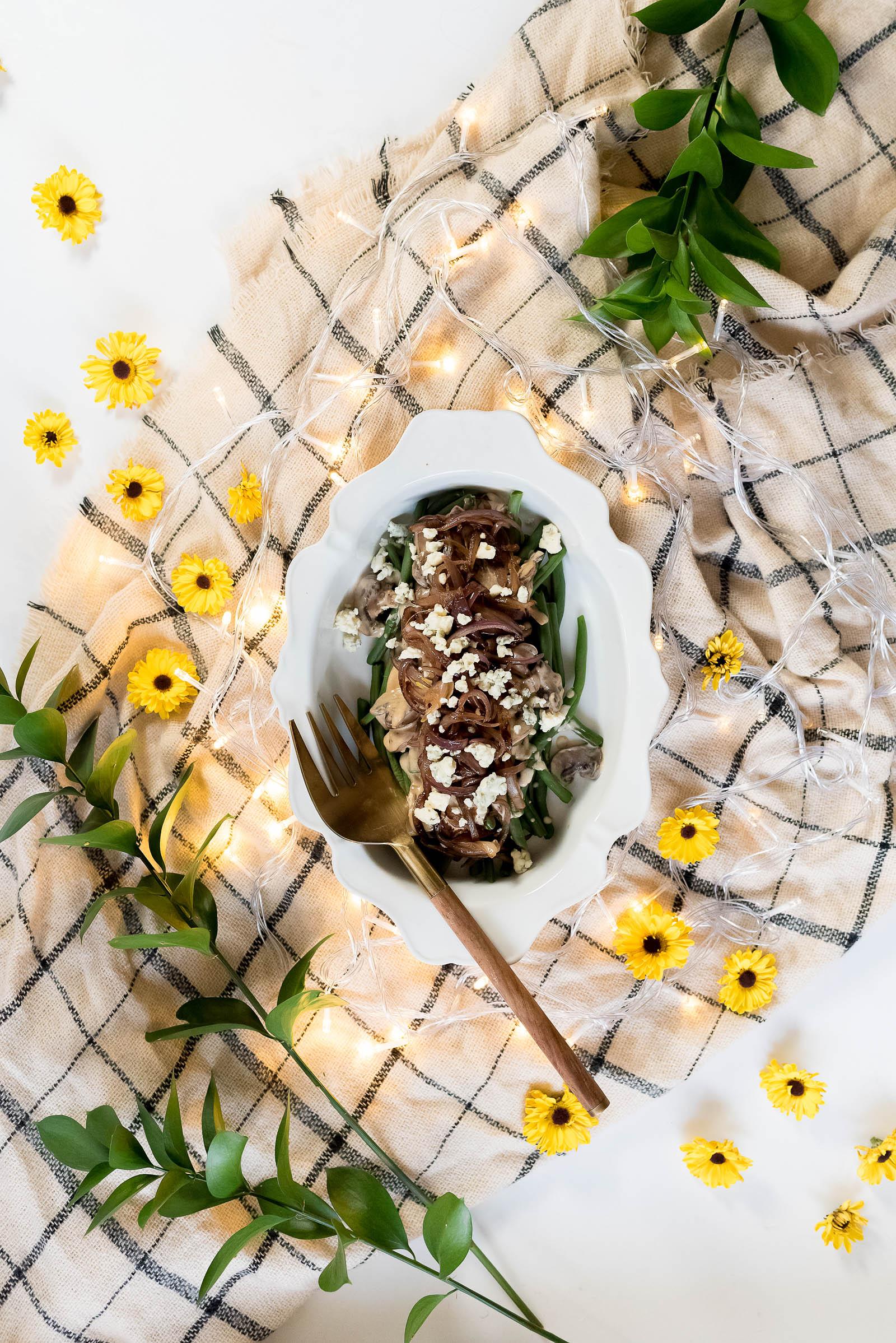 (Feel free to use goat cheese, parmesan, or any other cheese you'd prefer as a garnish. Or just leave it off entirely!)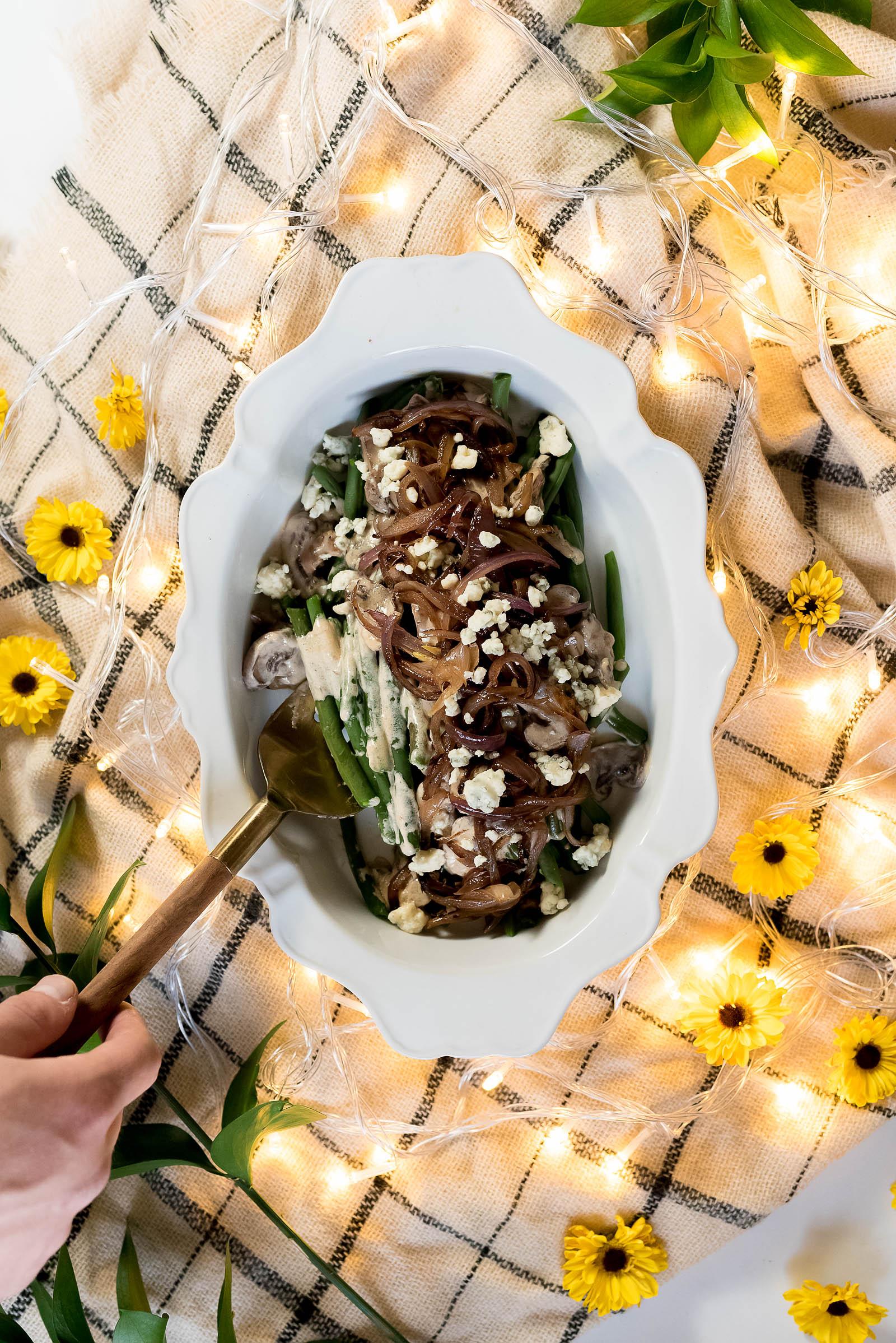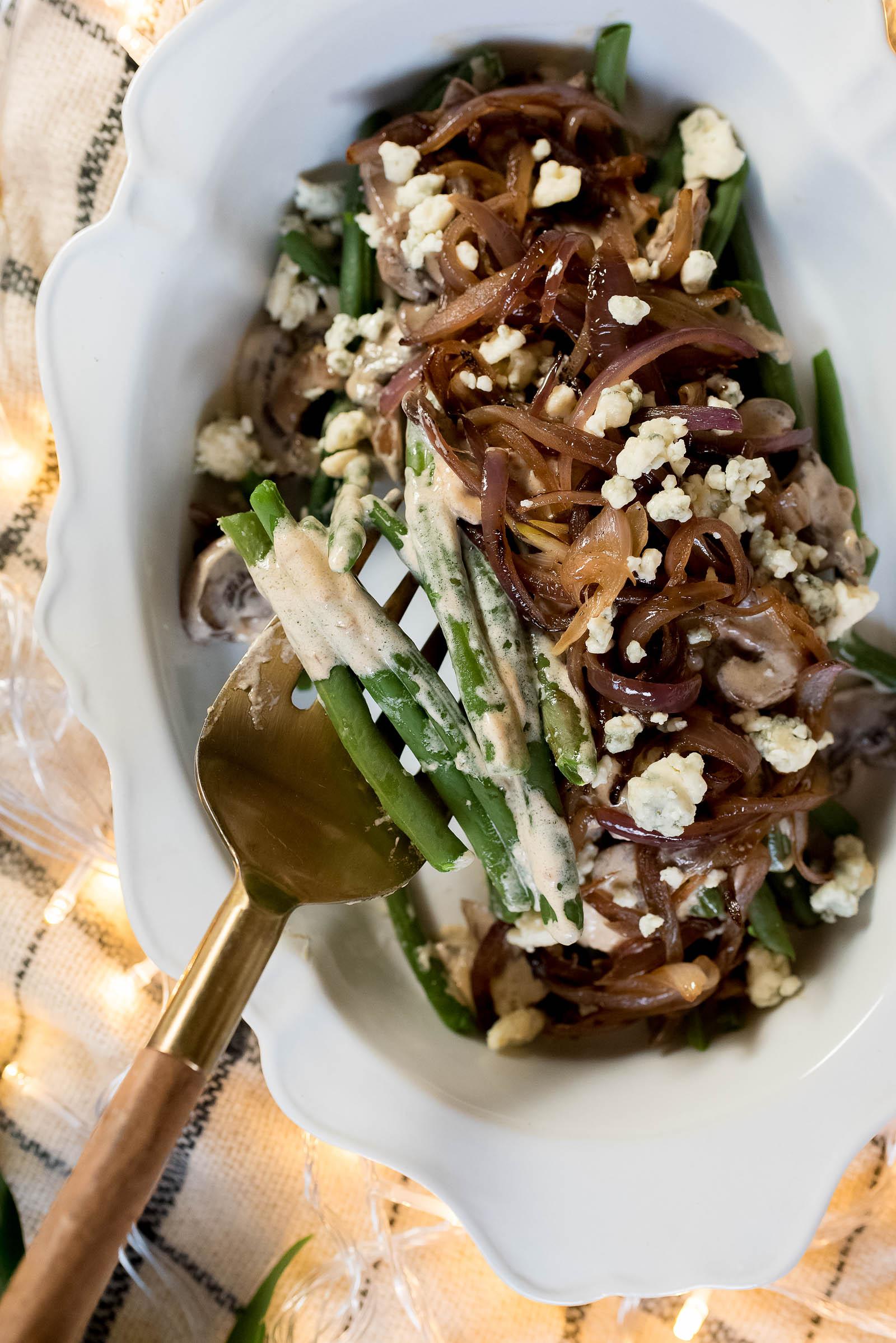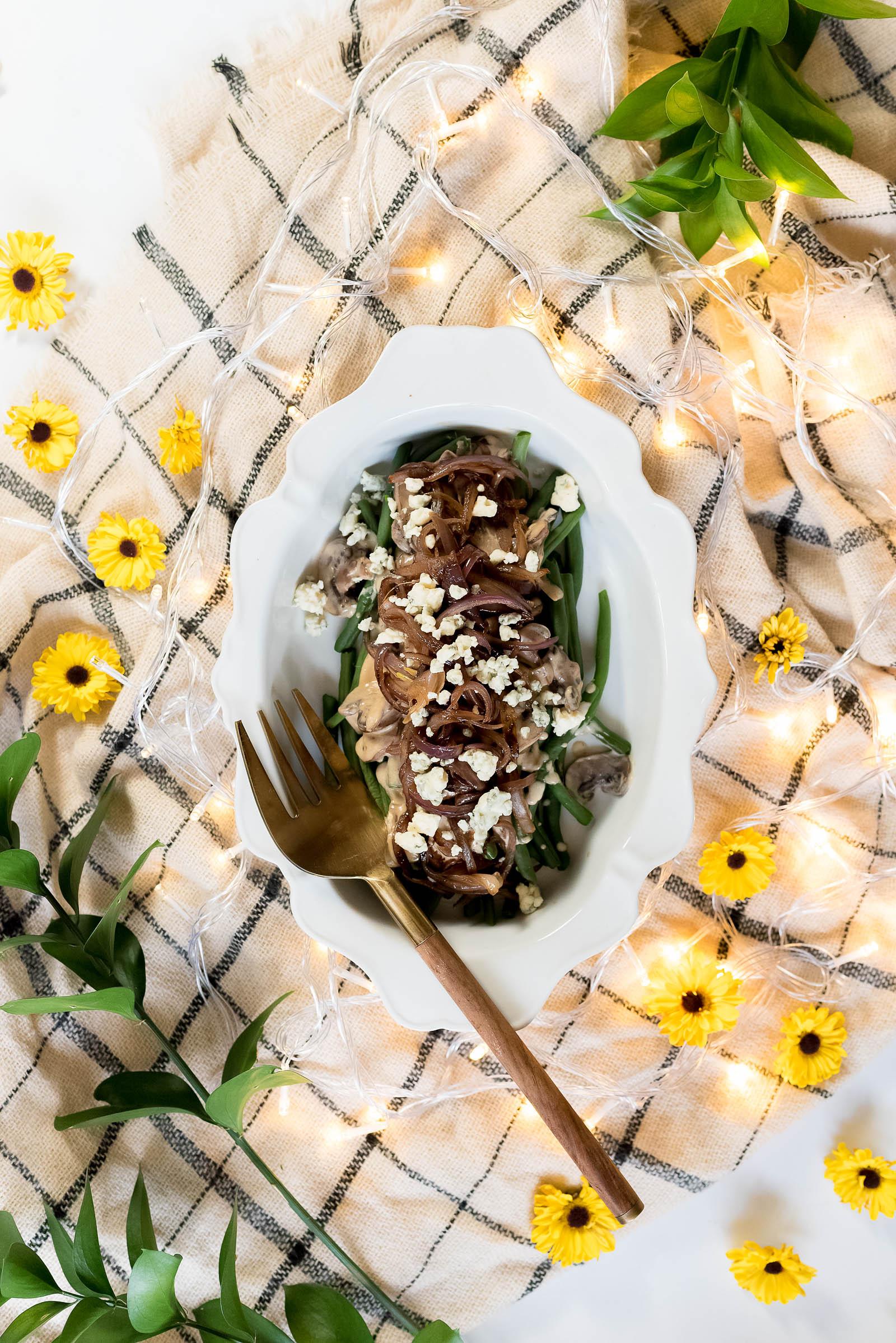 Don't forget to share your Deconstructed Green Bean Casserole photos with the #SedBona tag on Instagram and Twitter!