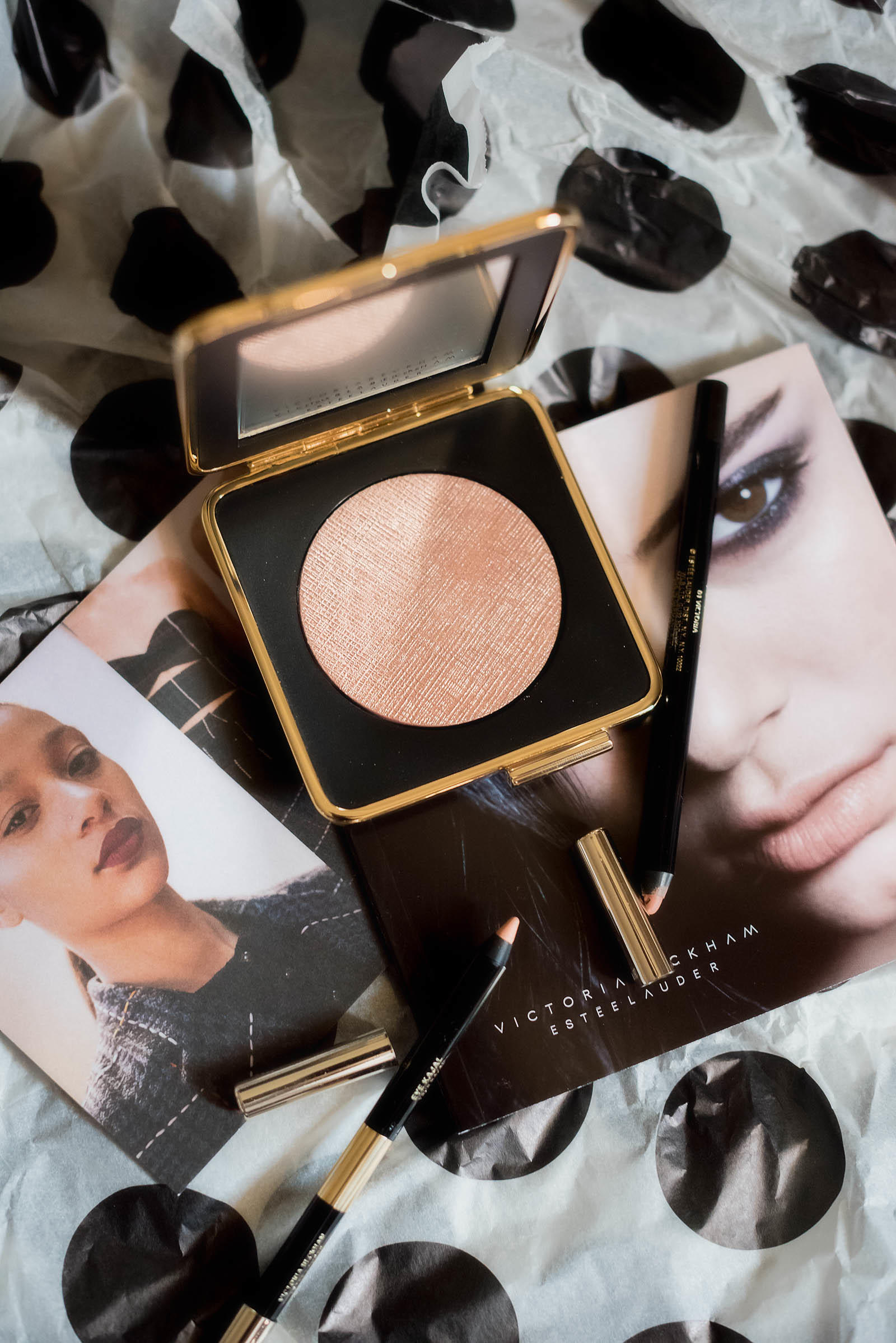 While my family and I were in London celebrating my sister's birthday last month, one of the most exciting make-up collaborations to ever hit shelves (at least in my humble opinion…) just so happened to launch on Dover Street.
Victoria Beckham's first ever make-up collaboration with Estée Lauder.
Filled with shimmering basics and impactful color, the entire collection focuses around daily make-up essentials that help you achieve that fresh, glowing complexion Victoria Beckham is so famous for herself.
Easy to use and packaged in luxurious blacks and golds, this is one of those make-up collaborations that has something for everyone (and just so happens to look pretty sexy sitting on the bathroom counter too).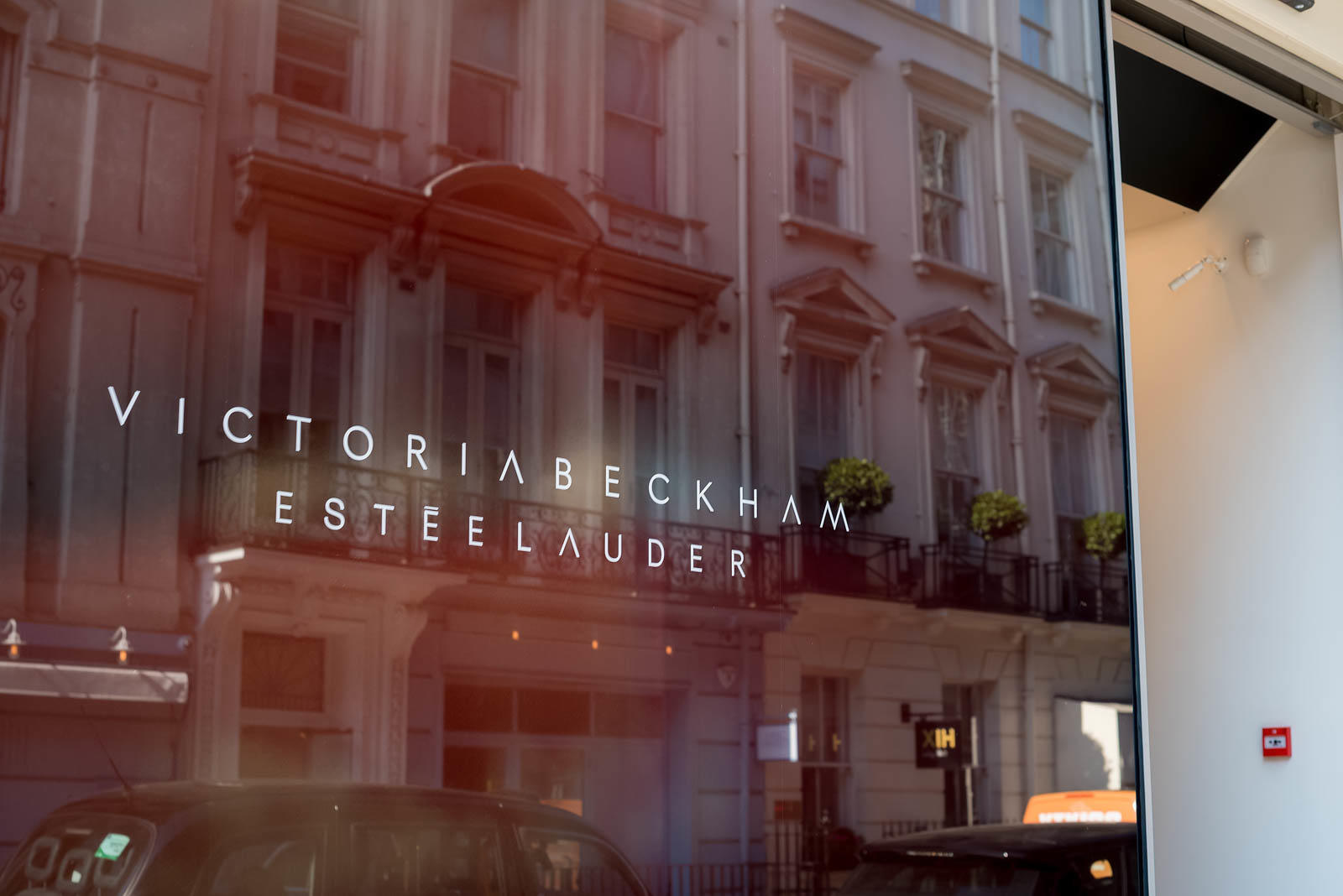 While the collection did not launch worldwide until October 1st this past weekend, the collection had a soft opening at Victoria Beckham's store in London on September 13th.
Knowing how much I adore Victoria Beckham as a style icon (and how obsessed I am with her Liberty Tote), I couldn't resist the opportunity to shop the collection at her store the very first moment I could!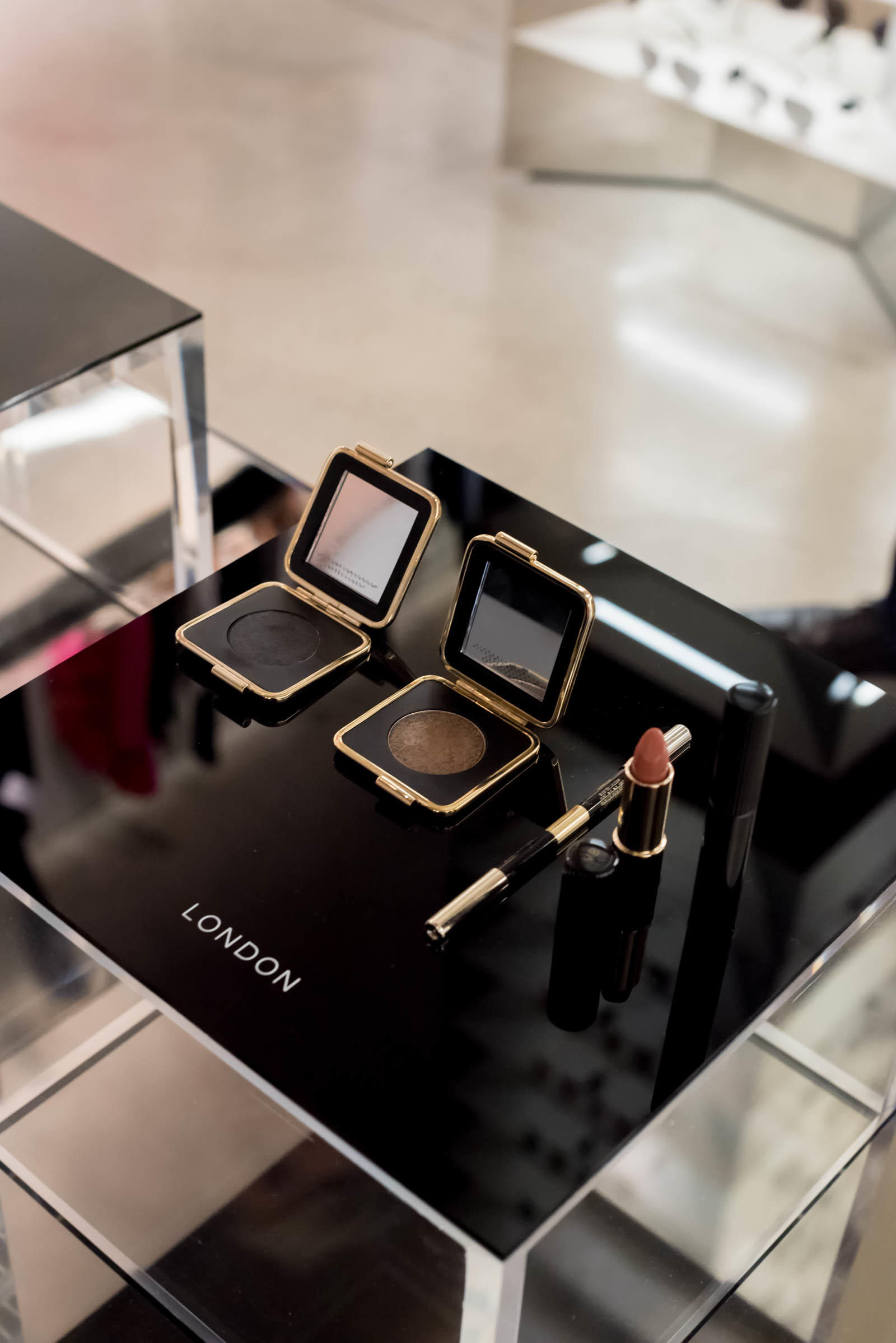 The collection itself sold out on Victoria's website before the store even opened that morning — considering the collection again sold out within hours of its worldwide launch this past weekend too, I think we can already safely say this has to be one of the most successful make-up collaborations of all-time.
Or at least the most buzz-worthy!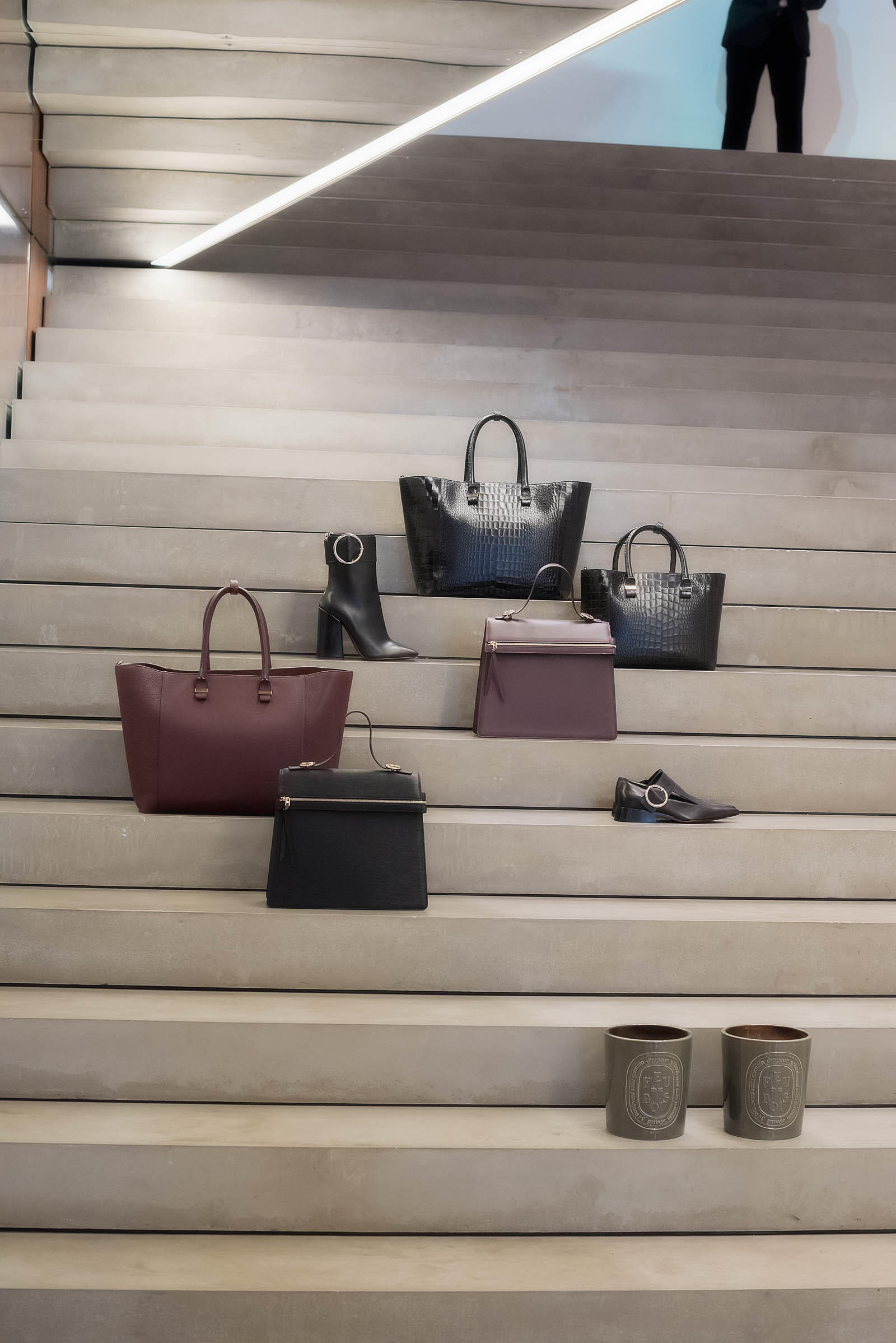 Victoria Beckham's Dover Street store itself is a stunning spot coupling clean, industrial minimalism with her signature structured bags and jewel-toned designs. And I've been dying to see it for myself ever since her Vogue 73 Questions Interview.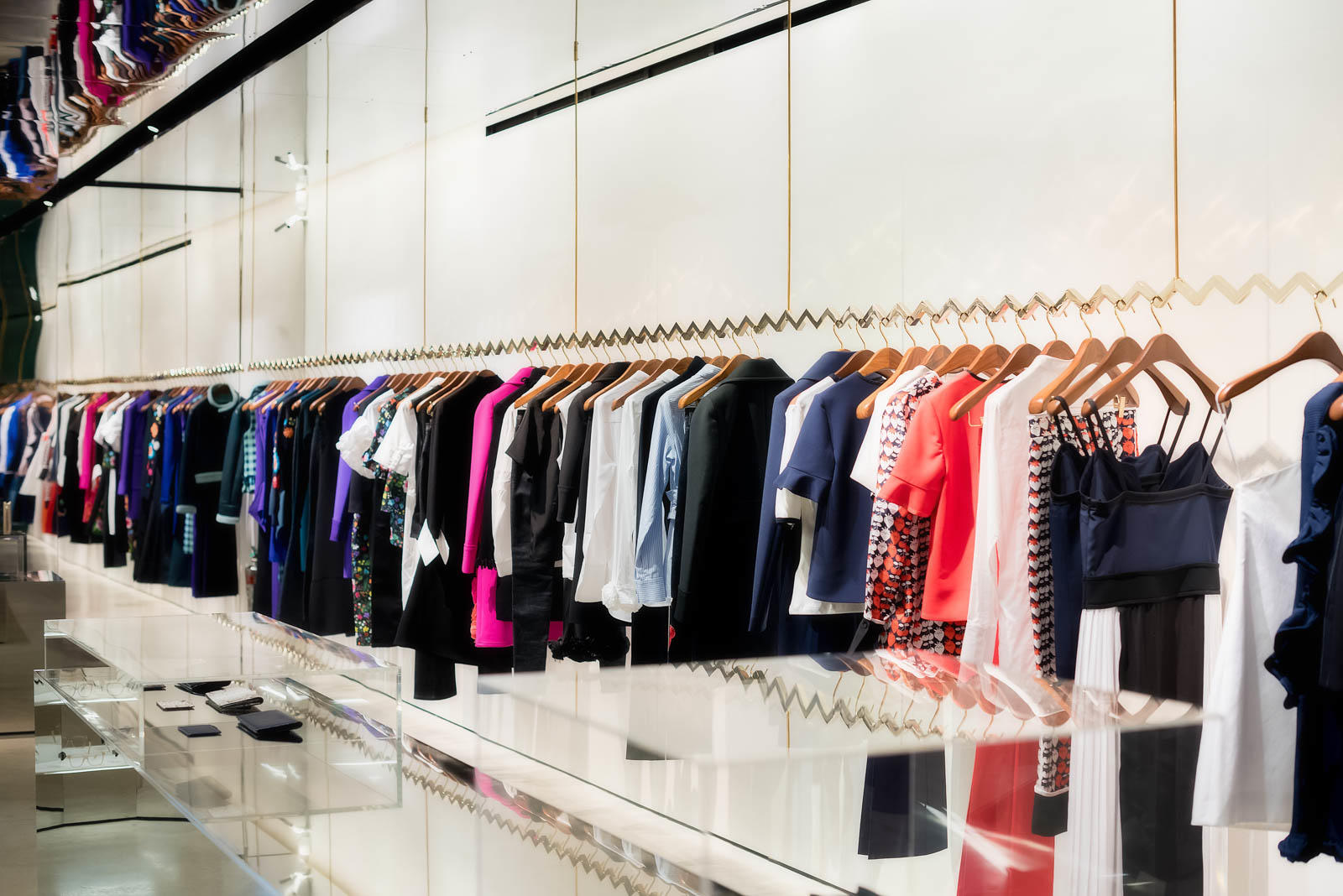 It was so magnificent to see all her designs up-close — each has such distinctive character — they really comes to life in person.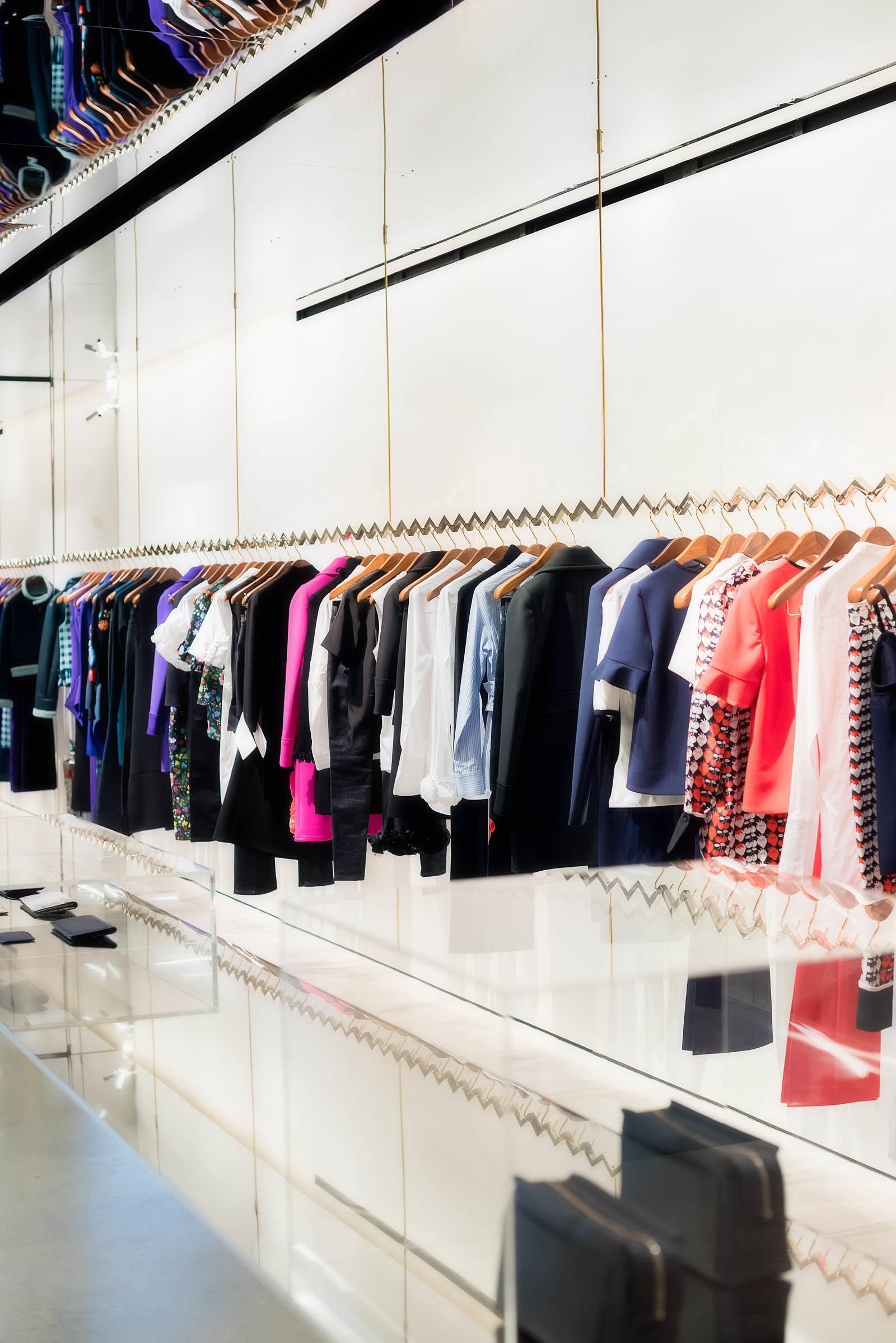 And I promise you, it was hard leaving with just a few small pieces of make-up when all those fabulous dresses were whispering my name…

But luckily I had my obsession-worthy Gucci bag with me to distract me…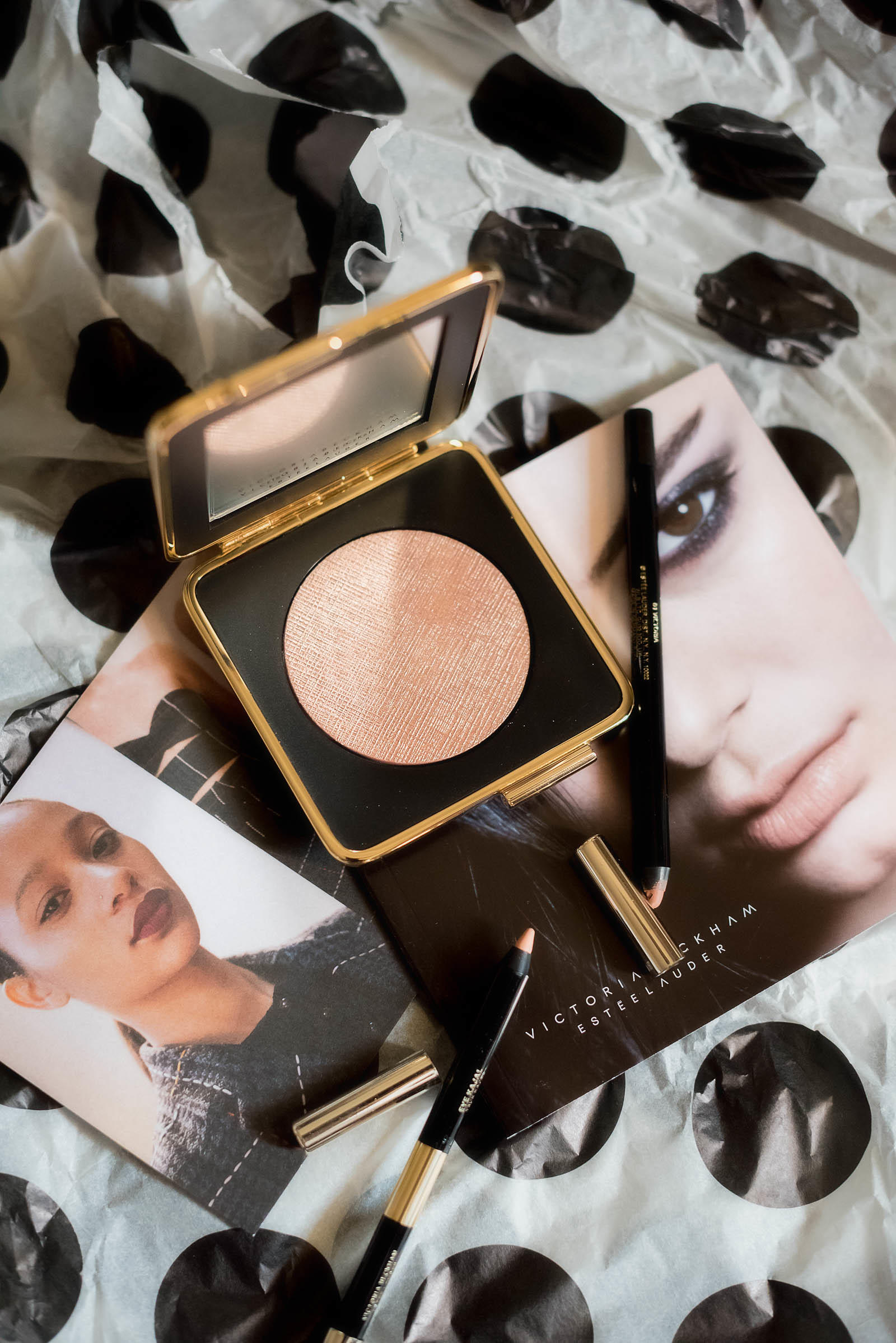 Ultimately I decided on three pieces from the collection (and my mother got an additional two).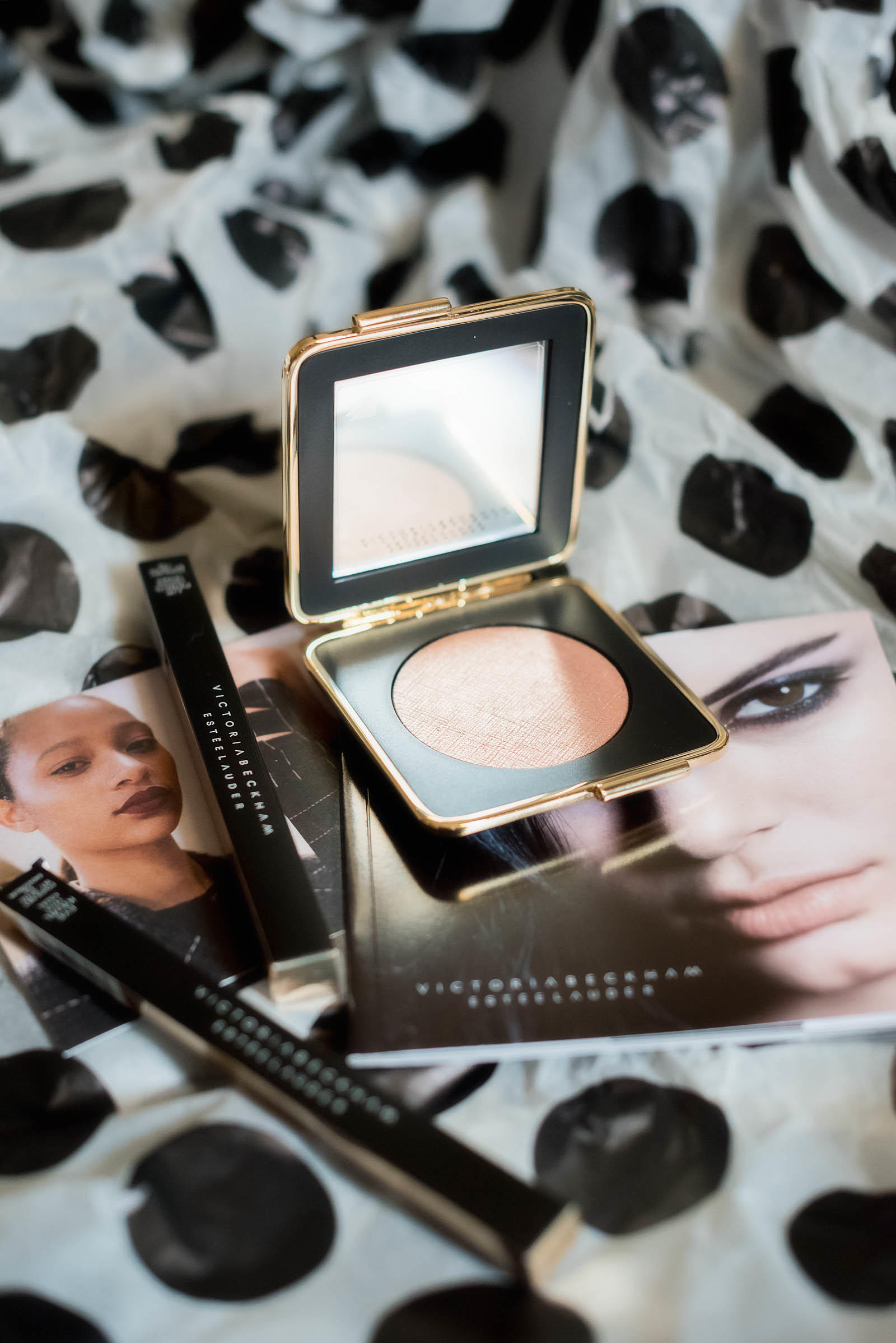 Victoria's
'Modern Mercury' Highlighter
, a rose-gold-hued highlighter that brings just the right amount of adult shimmer to your skin.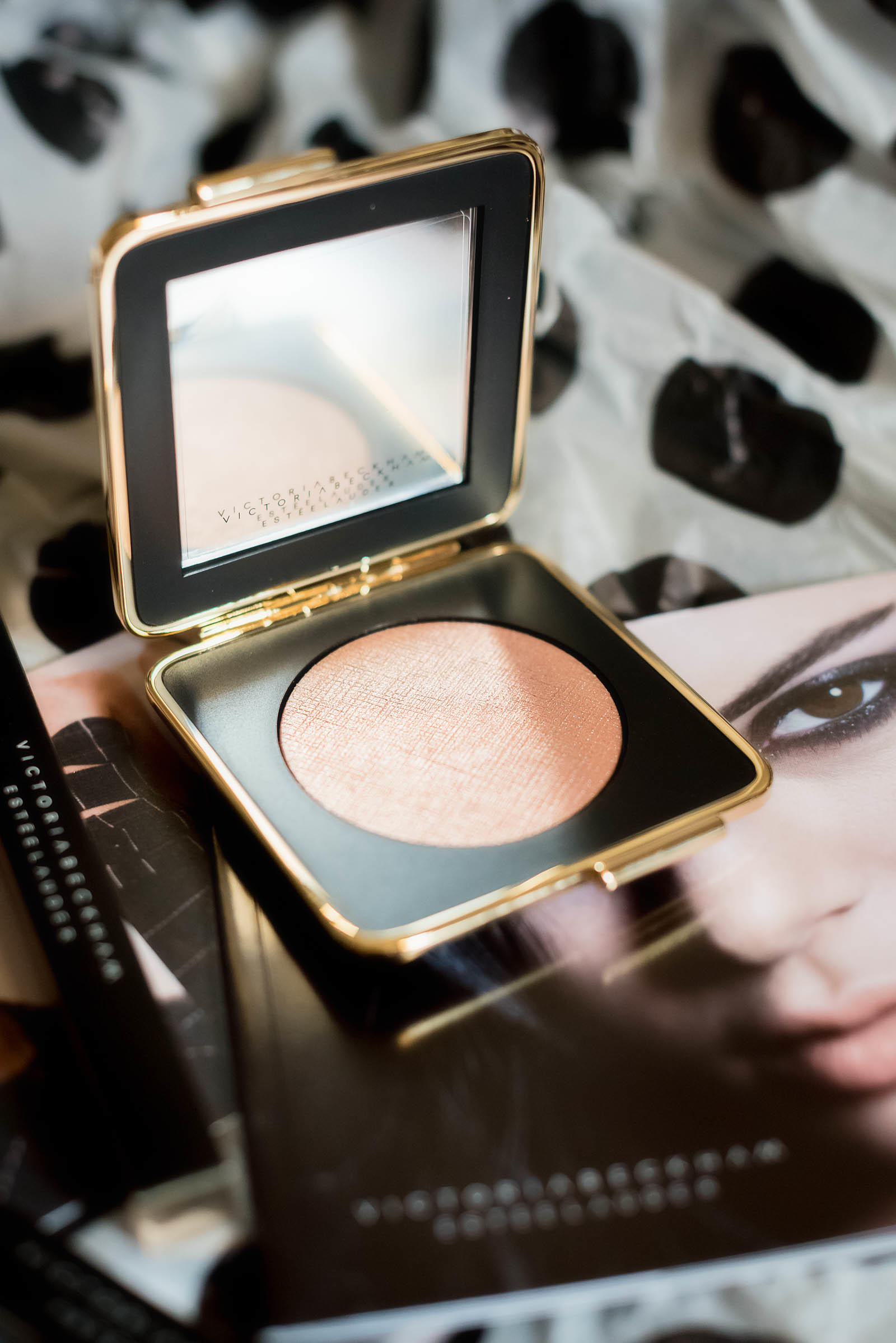 And looks beautifully fancy in its ridged black and gold case inspired by Estée Lauder's cases from the 1950's.
The formula glides on like a dream and instantly makes you look more awake thanks to the highlighting particles that feel more "dewy" rather than "shimmery".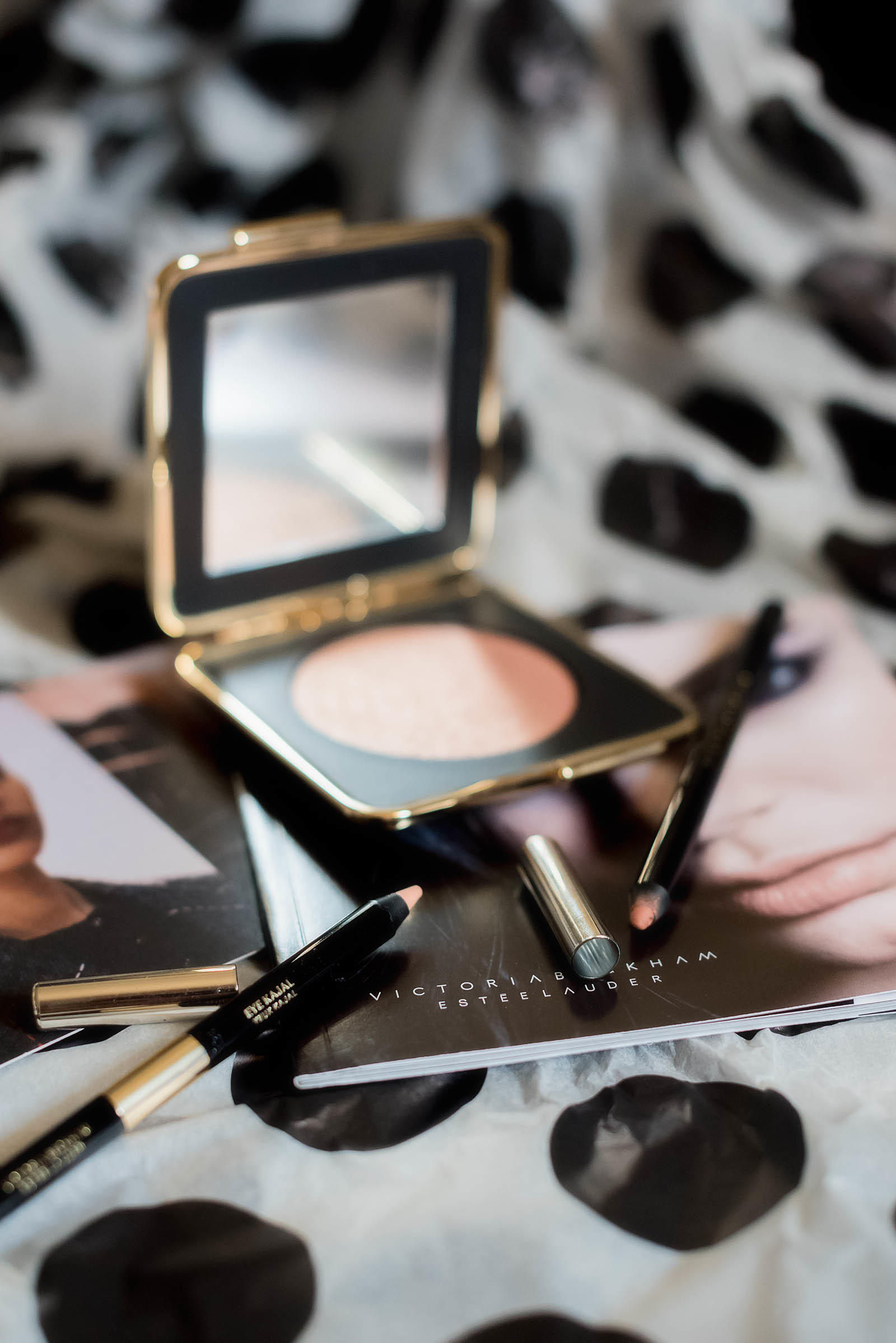 I also brought home the 'Victoria' lip liner pencil which is a great, all-purpose nude with some coral and orange undertones to keep it interesting. I've been filling in my lips with this liner (seen here and here) and loving how easy and polished it makes me look!
And the double-ended Eye Kajal pencil with black kajal eyeliner on one end and vanilla-hued nude on the other for lining your bottom eye line with for a more focused and alert appearance. Both ends glide on easily and are fun to smudge around for a slightly messy finish — Victoria's specialty!
My Mom ended up with Victoria's Brazilian Nude lipstick (a beautiful, terracotta-hued nude in a silky formula) and the Morning Aura Illuminating Creme which gives a subtle shimmer and tightening effect that primes your skin beautifully for foundation.
In all honesty I loved the products my Mom snagged too and ordered the Brazilian Nude lipstick this past weekend when the collection officially launched.
Interested in trying the collection for yourself? Watch Victoria's 5-minute face tutorial for her favorite products from the collection: And shop my favorites below: