Somehow during our hectic October, Hubby and I managed to take a morning to ourselves to sneak away to try a new-to-us brunch spot I've itching to visit ever since we came back from London…
Purported to be an authentic British gastropub right in Logan Square, you know my Anglophile heart just HAD to see it for myself.
And when it comes to trying any new restaurant for the first time, I always — when possible — opt to try their brunch. A) because it's the BEST meal of the week and B) because brunch is frequently the best representation of any restaurant's strengths. If a restaurant can't serve a decent brunch, run for the hills!
So one Sunday morning Hubby and I met up with one of our oldest friends and headed out for our first British culinary adventure since London.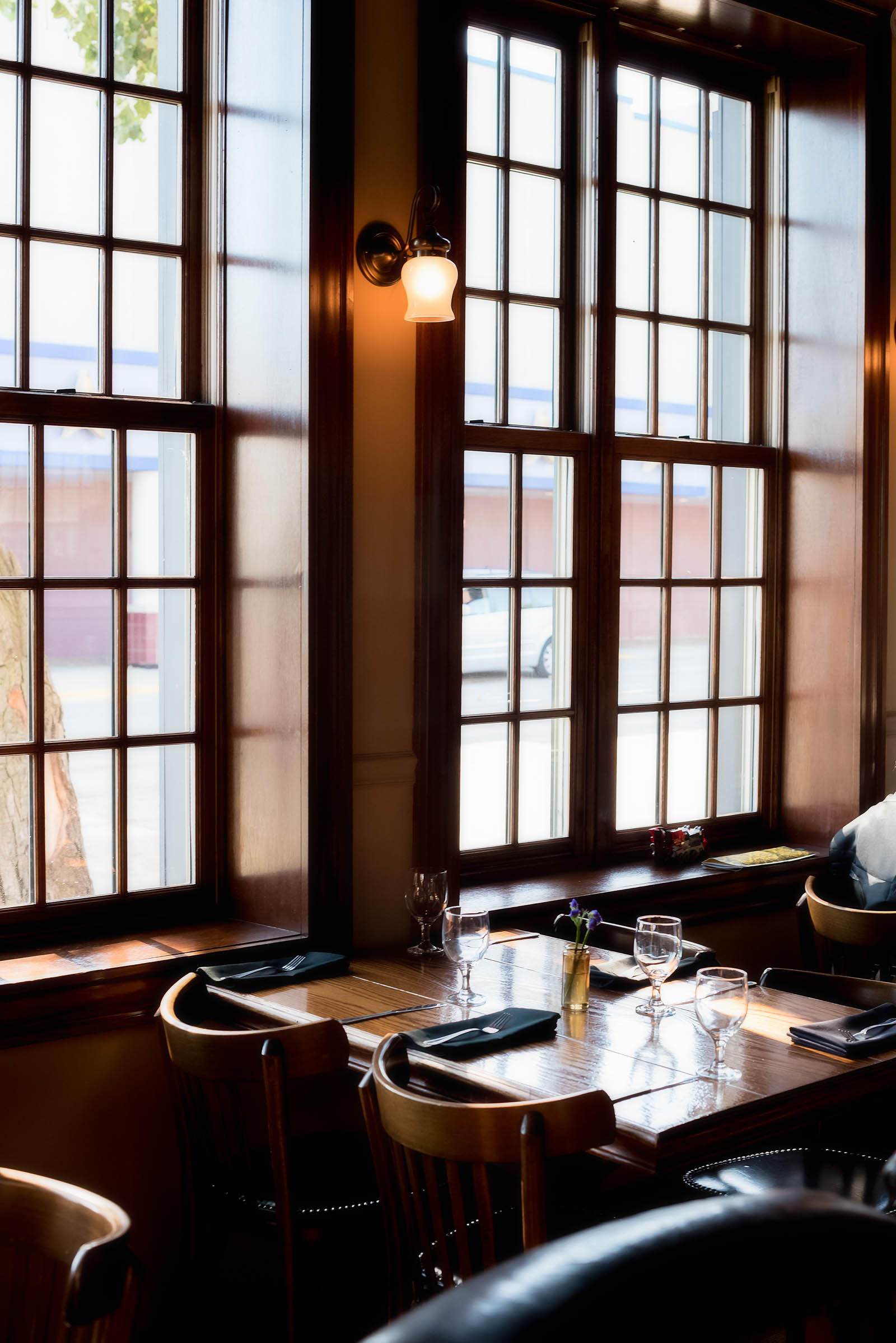 From the moment you walk in, the warm woods and cozy pub-like British aesthetic envelope you in a loving, comforting old-world hug.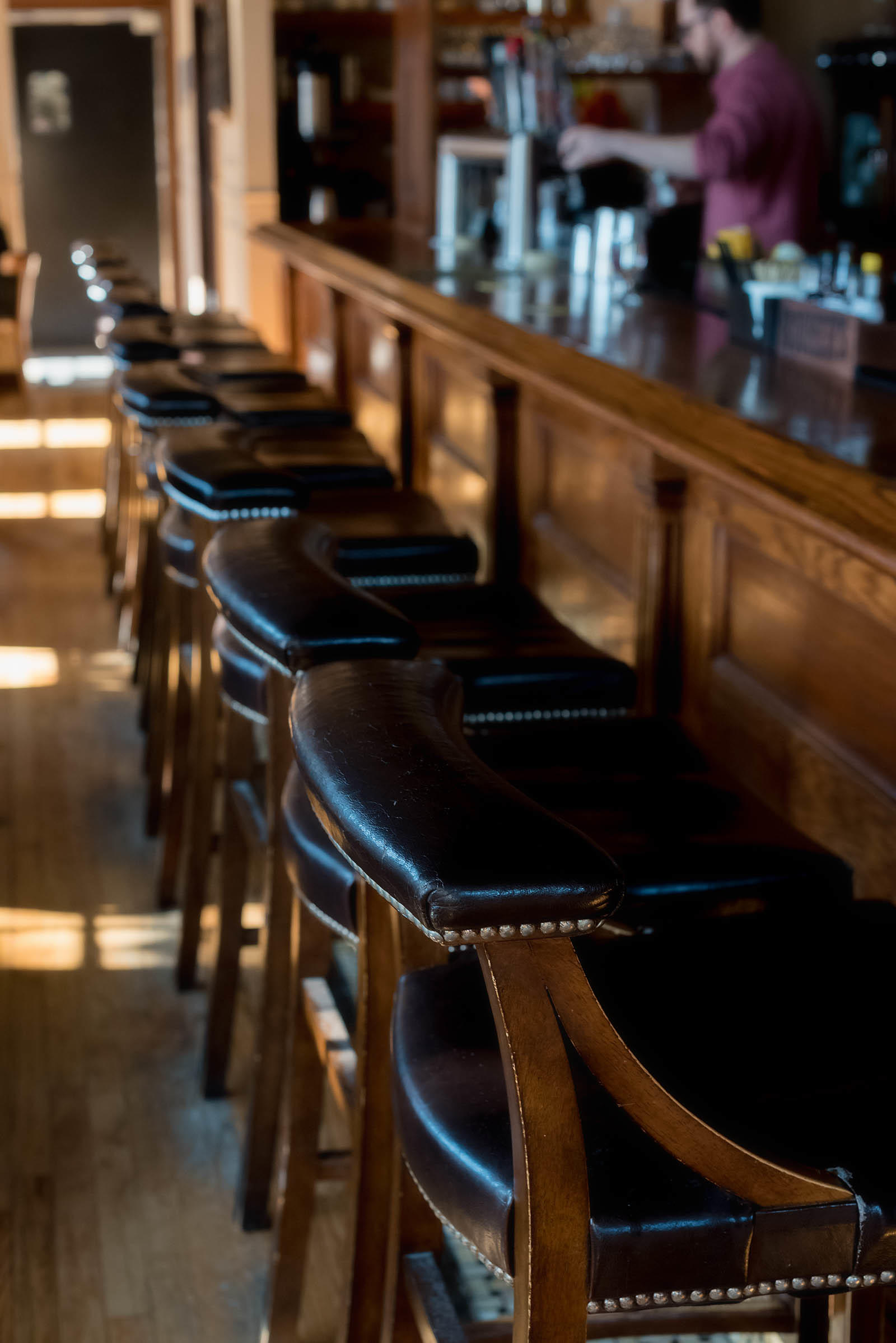 The bar area is incredibly cozy — so cozy I expect to be here frequently throughout the winter, most especially since Owen & Engine made this list too.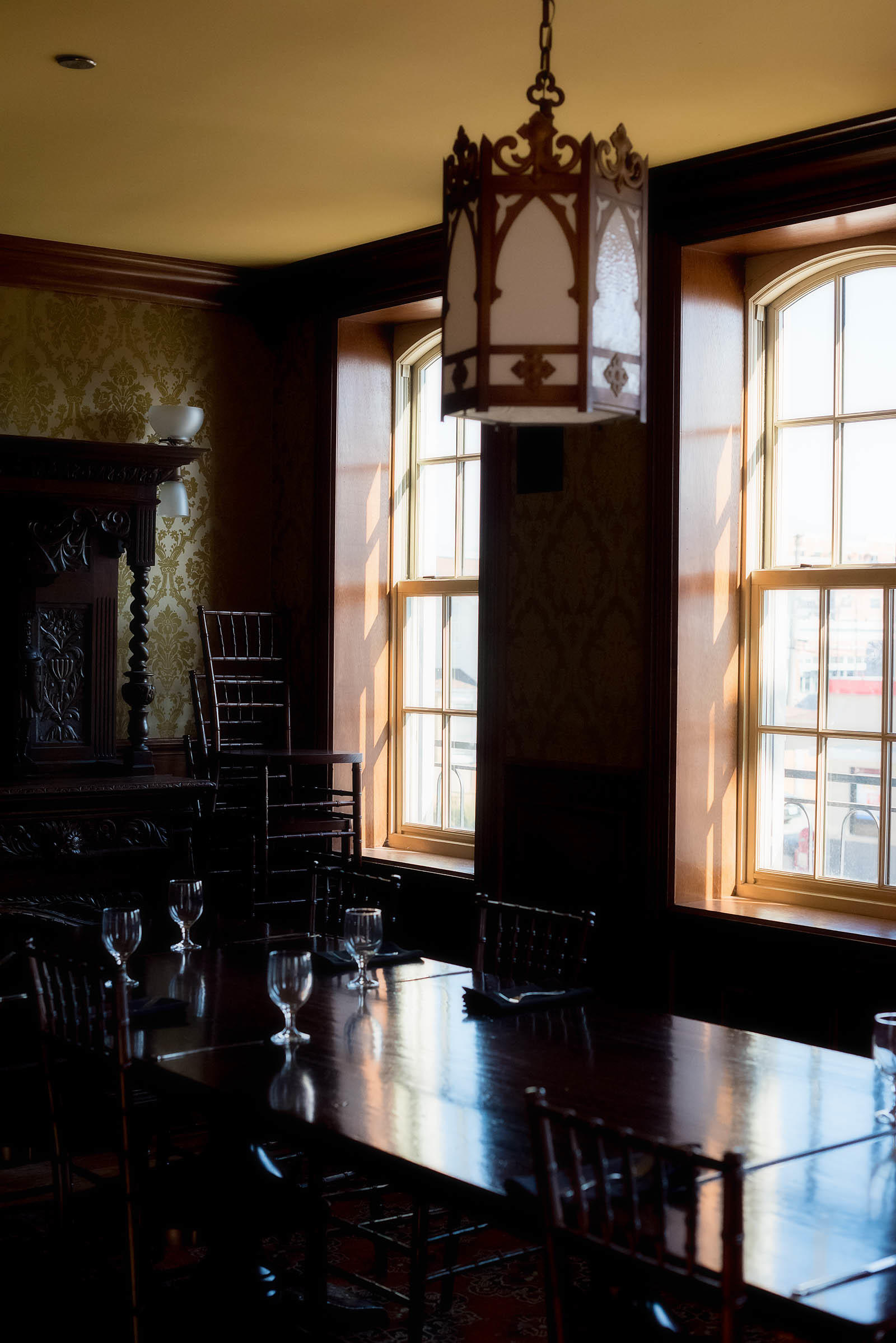 Head upstairs and you'll find another beautifully wood-filled dining room with plenty of quintessential British charm too.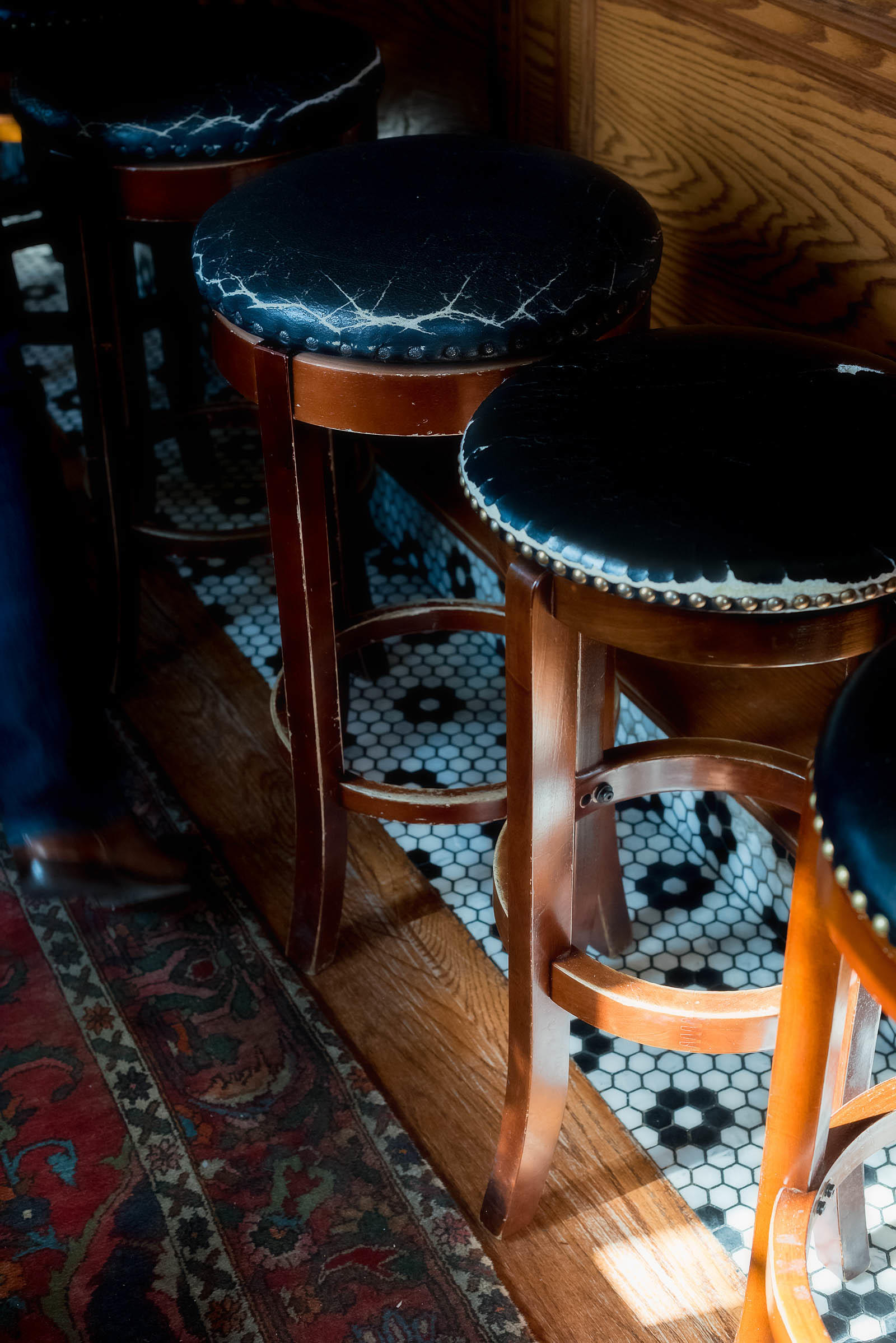 Down to the ornate rugs, massive wooden bar, and the well-worn furniture.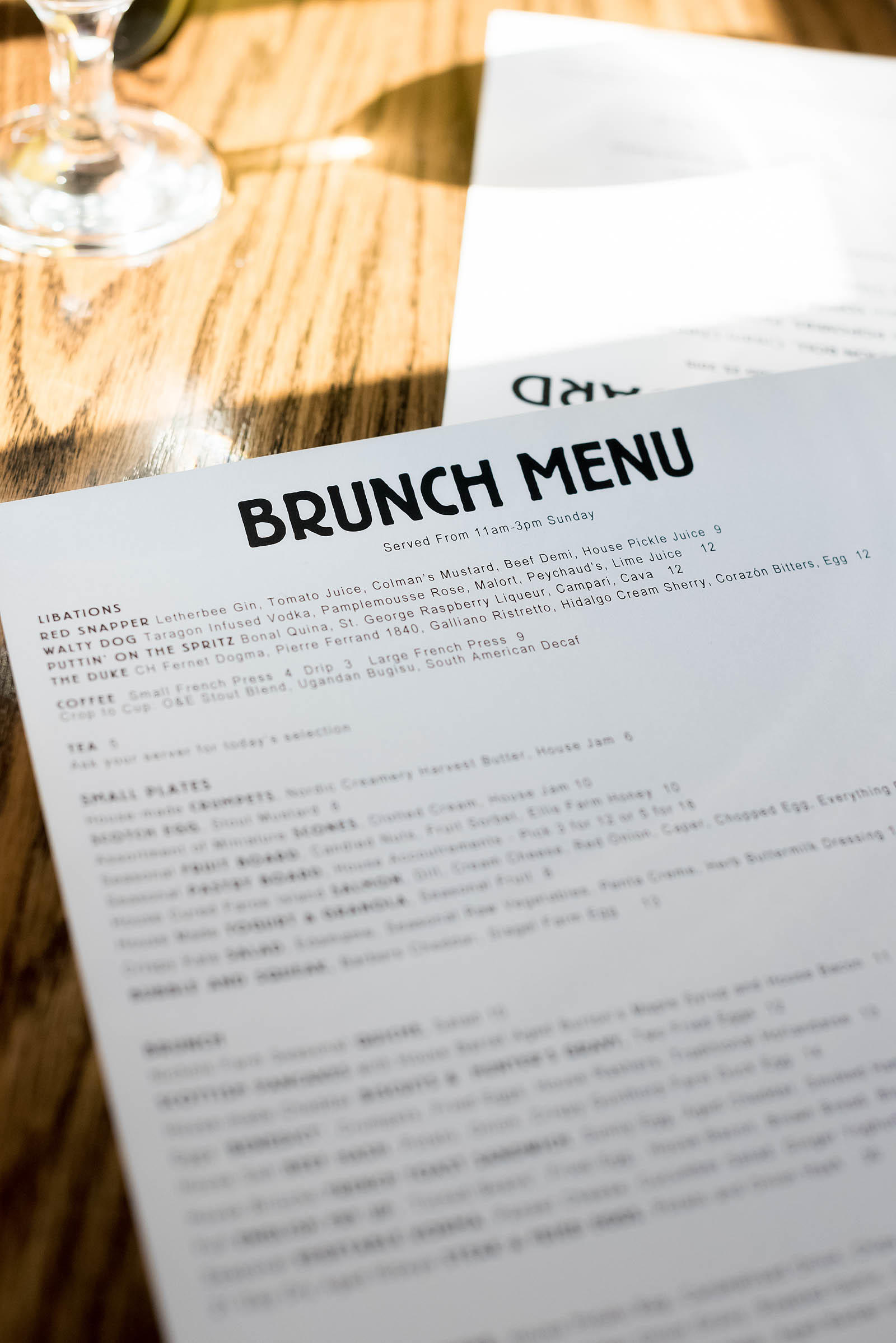 Their brunch menu is well thought out with plenty of "small plates" to share as well as both traditional brunch AND lunch dishes.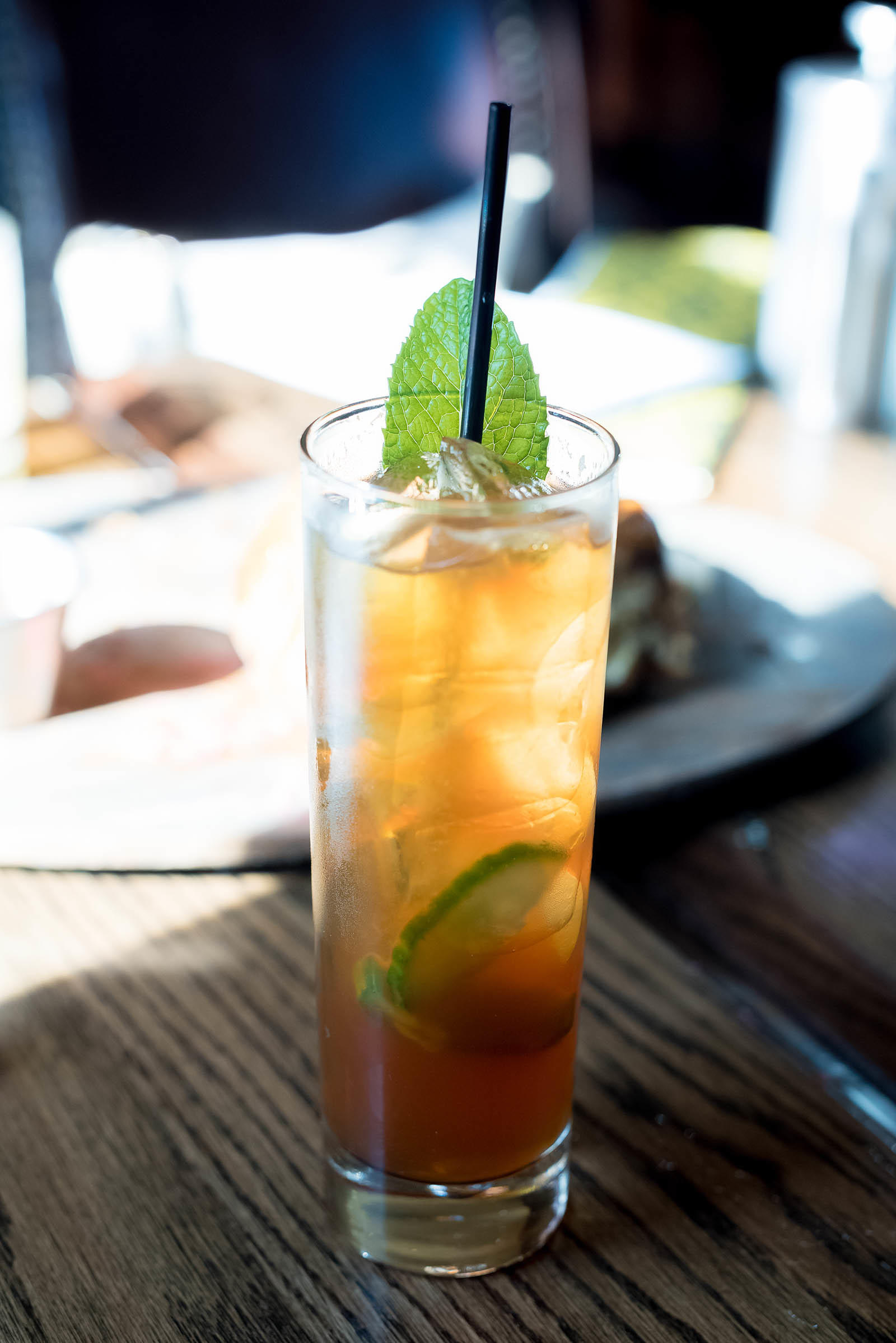 Naturally I couldn't help myself from immediately ordering one of their FOUR delicious Pimm's Cups, the Victorian. Made with Pimm's No.1 Cup, Fentiman's Rose Lemonade, Lemon, Pink Peppercorn Tincture, Cucumbers, and Rose Water, this is a delicate, floral, yet still surprisingly drinkable variation of my favorite British drink.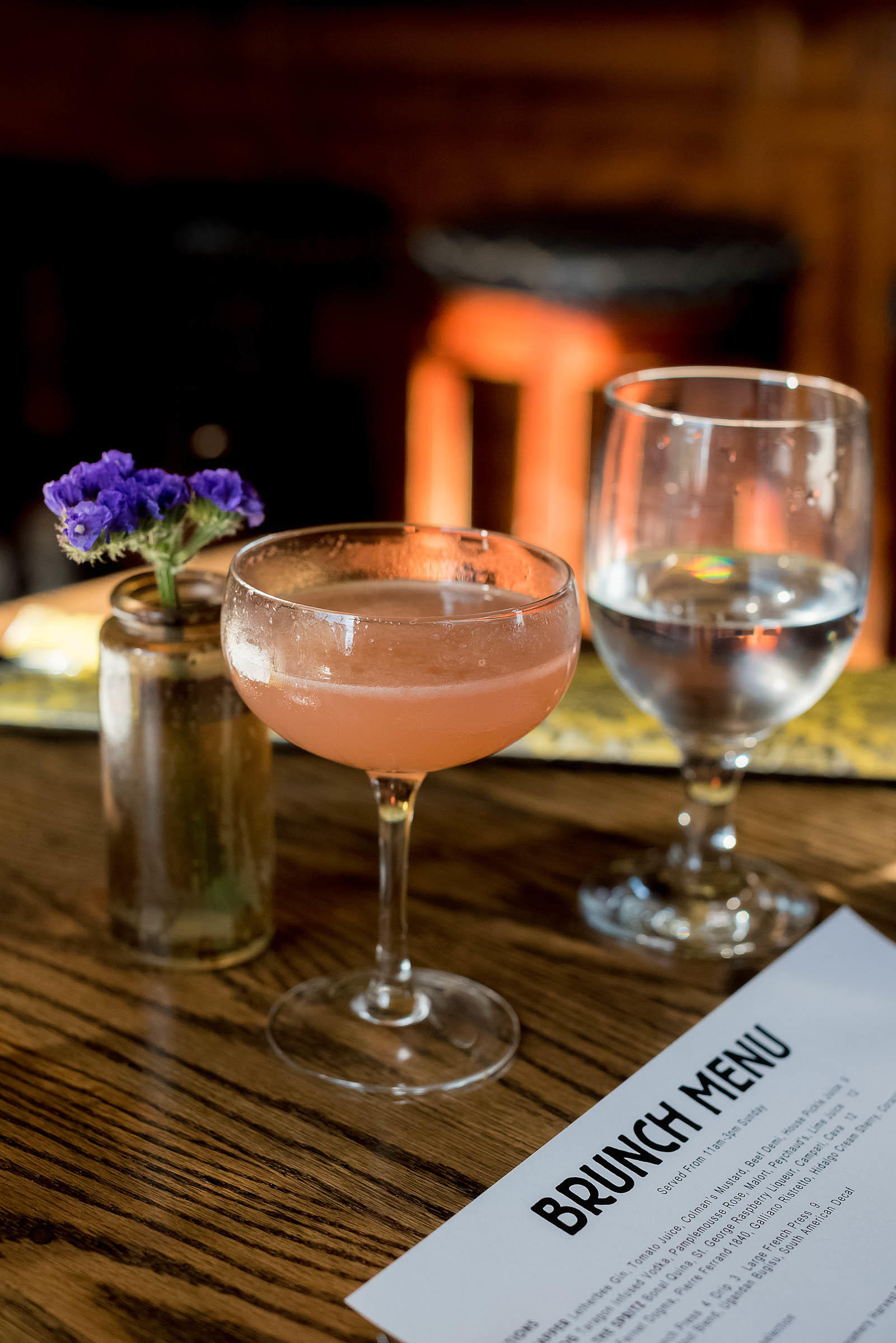 Hubby ordered the Walty Dog of Tarragon Infused Vodka, Pamplemousse Rose, Malort, Peychaud's, and Lime Juice. A beautifully refreshing cocktail for brunch that he loved so much he ordered a second one, too.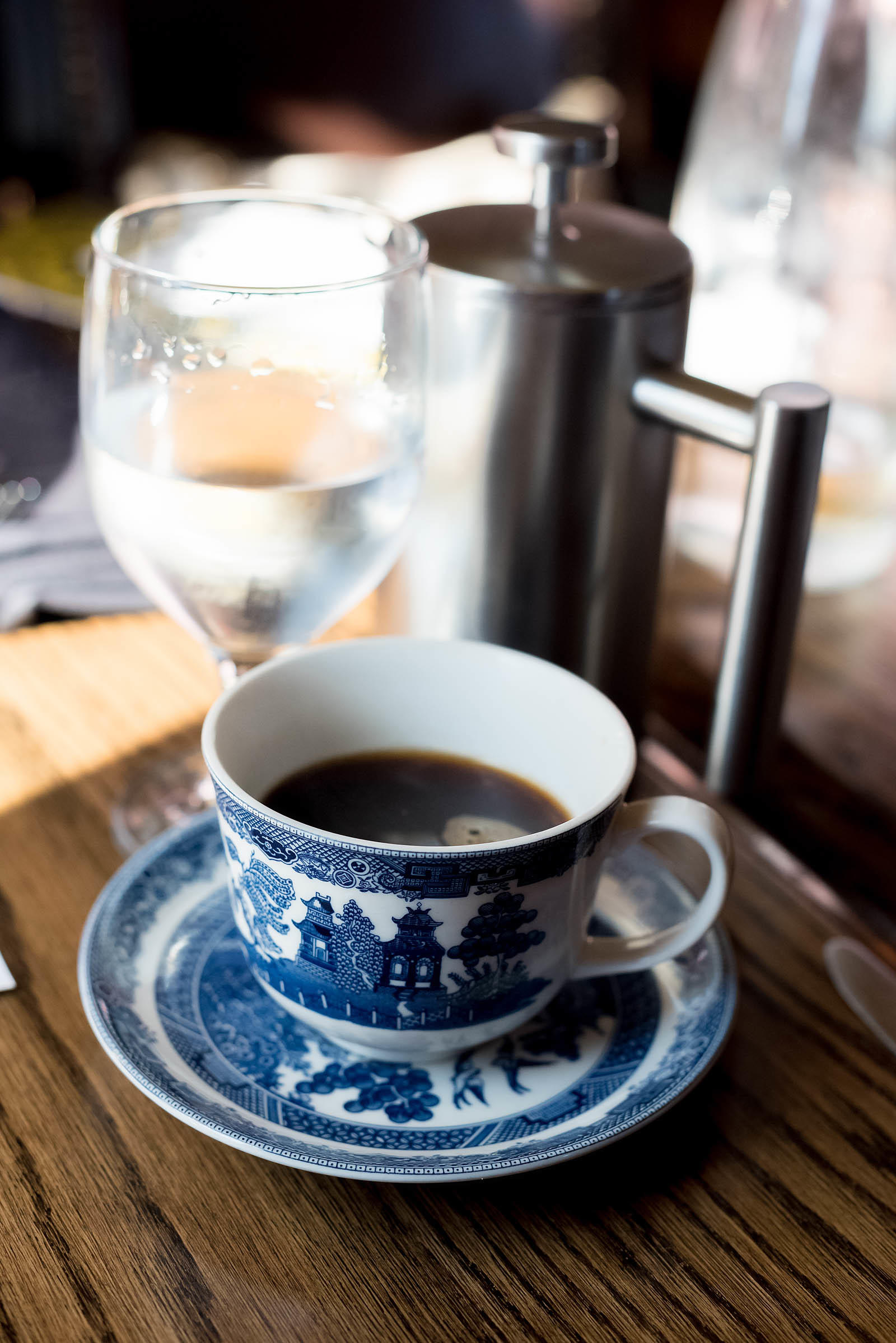 We ordered a few pots of coffee for good measure as well. This was — surprisingly enough — the part that made me happiest. The coffee is delicious but not anything truly outstanding and yet, it made all the difference.
See, in London, ordering "coffee" means a cappuccino, a latte, an espresso. Drip coffee is NO WHERE to be found. Especially at brunch. And French Press coffee is only JUST starting to surface…
For a "black coffee only"-loving girl who always starts her brunches with coffee, this was the most tragic thing I learned about breakfast in London.
Owen & Engine allows me to get my British brunch fix WITH real coffee. Hallelujah!
And in case that doesn't excite you like it does me, there's always Owen & Engine's delicious selection of housemade pastries…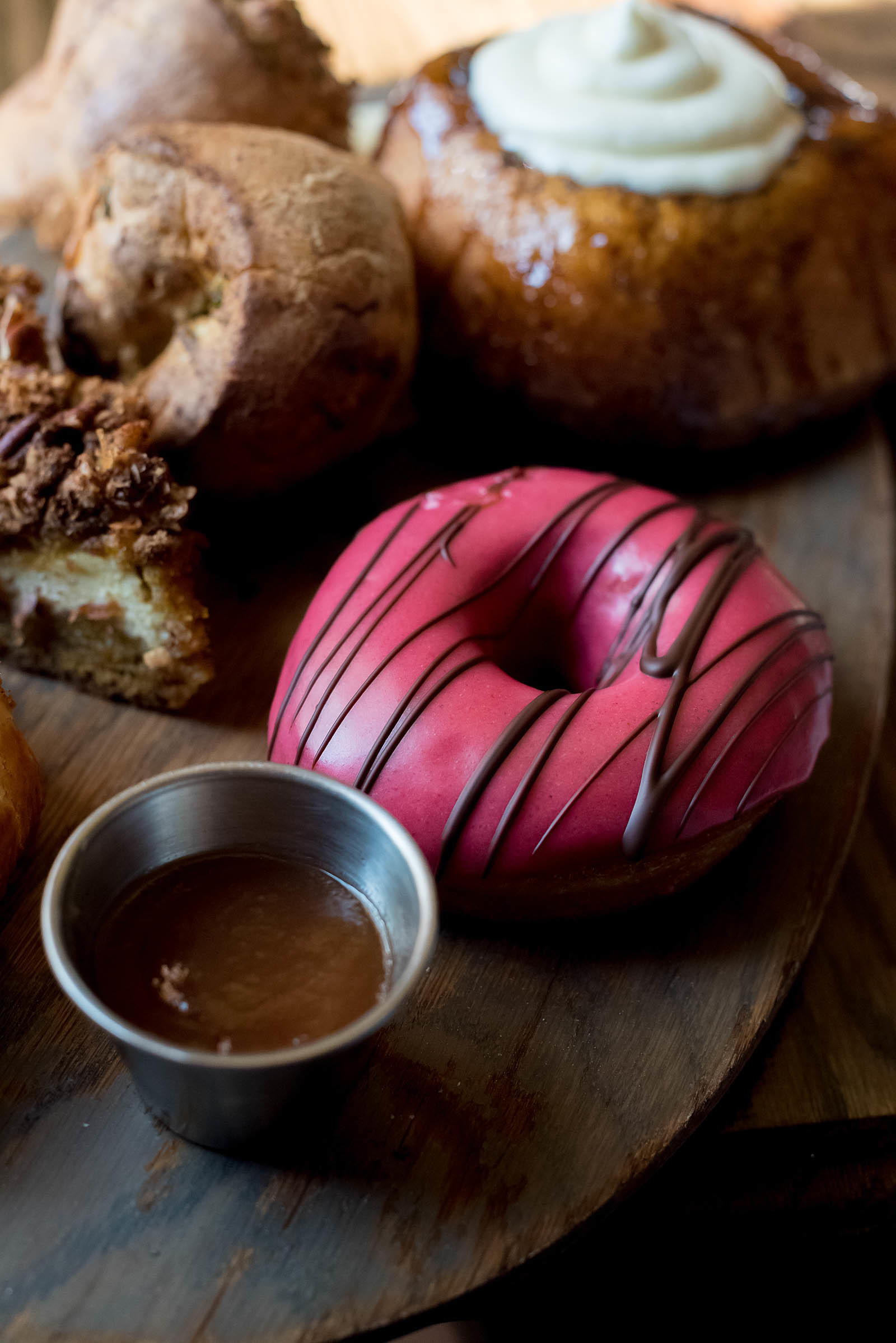 All sorts of seasonal options like cranberry donuts,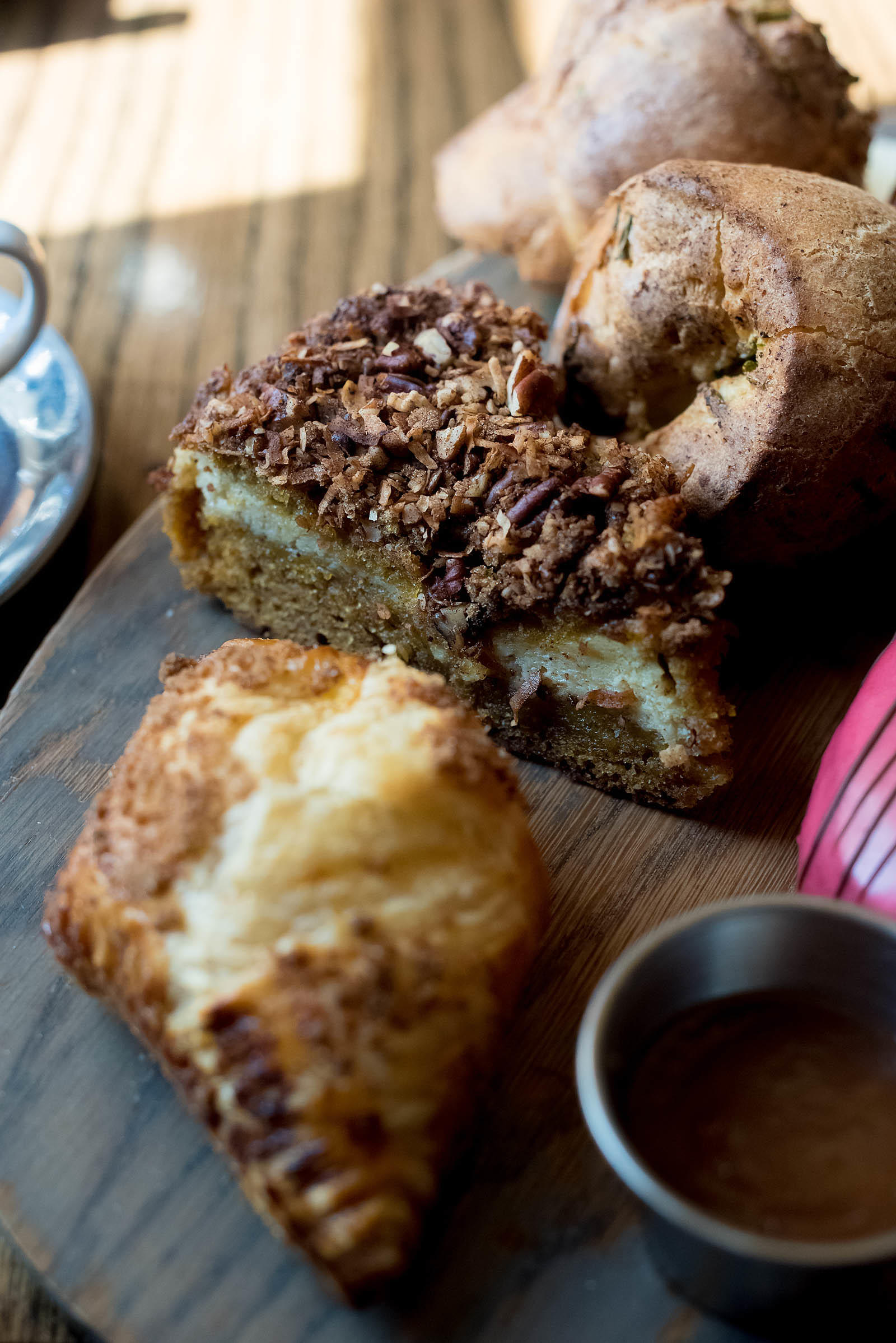 pumpkin coffee cakes,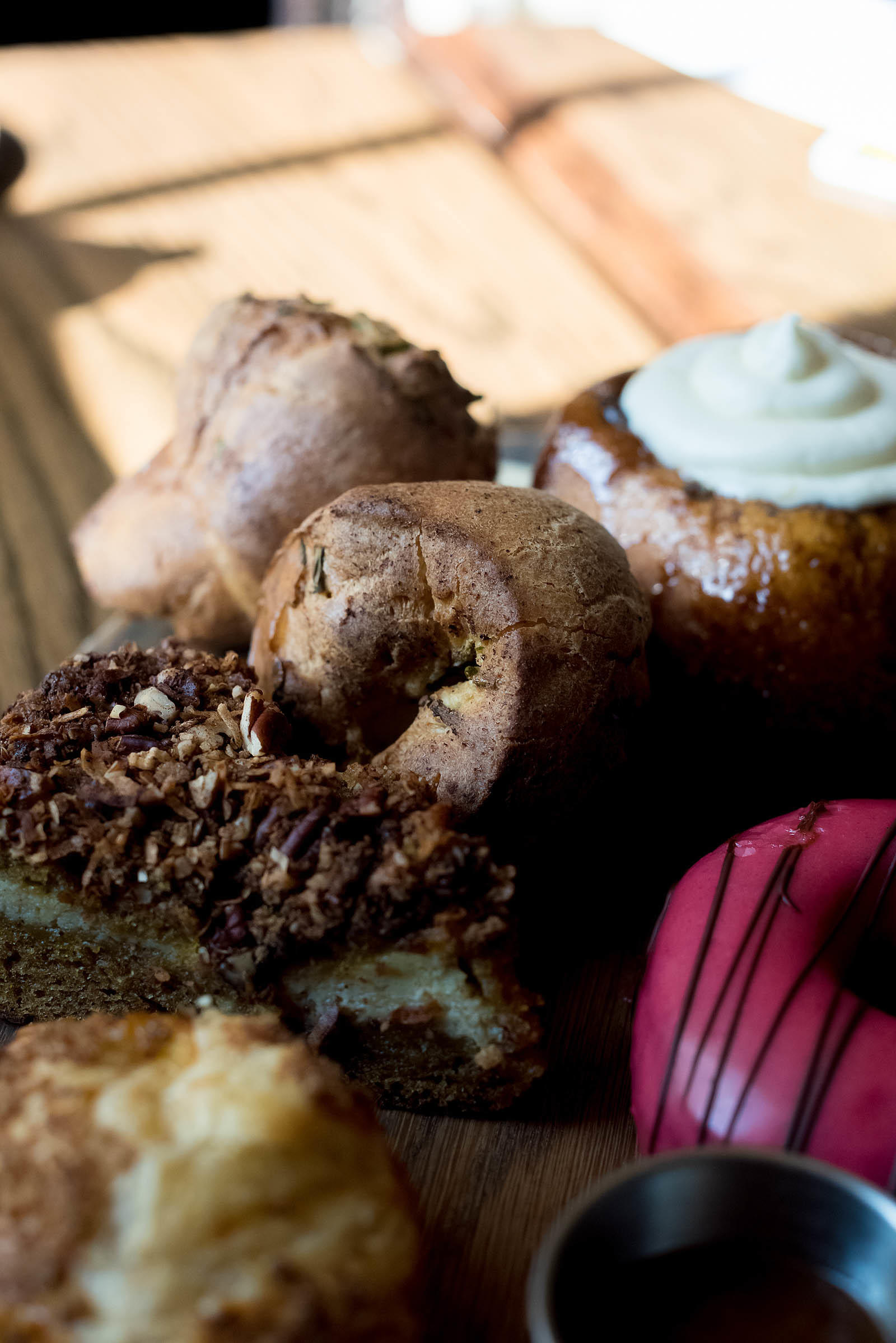 herbed popovers (very similar to the ones I make at home but without the cheese and a little prettier in shape),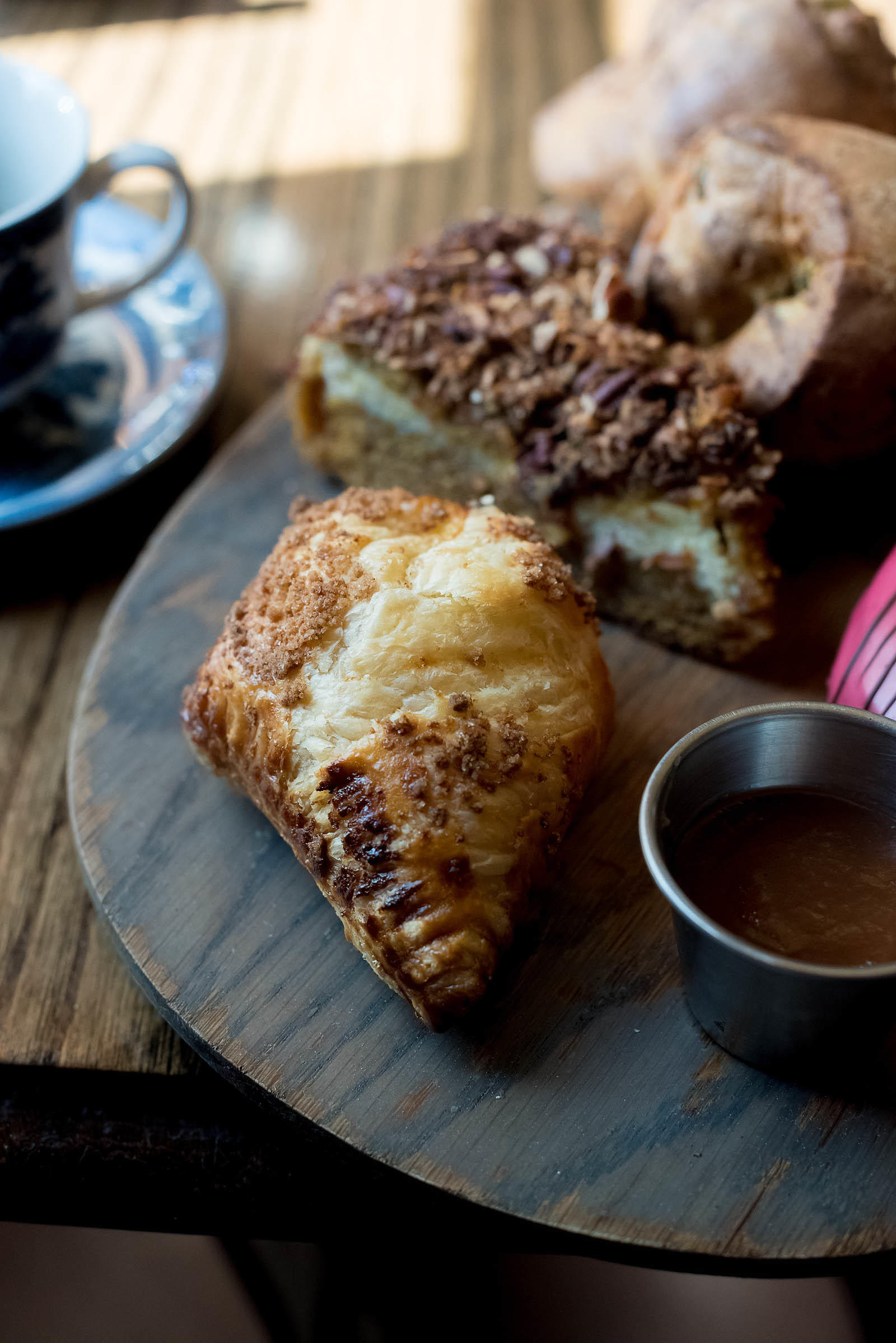 as well as danishes,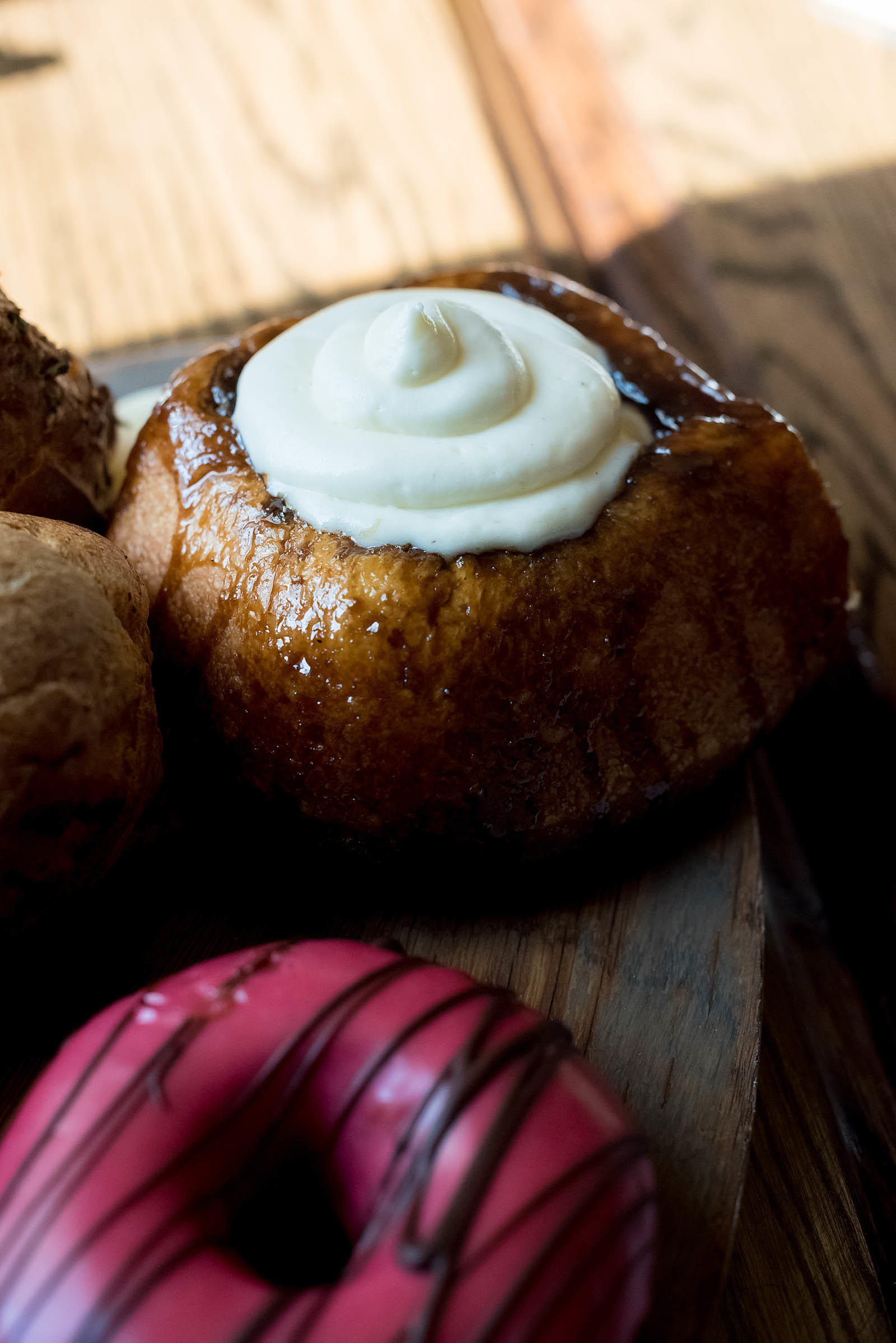 and even mega-sized cinnamon rolls!
Each was absolutely delicious but it was the lovely crusted popovers we all fought over the most.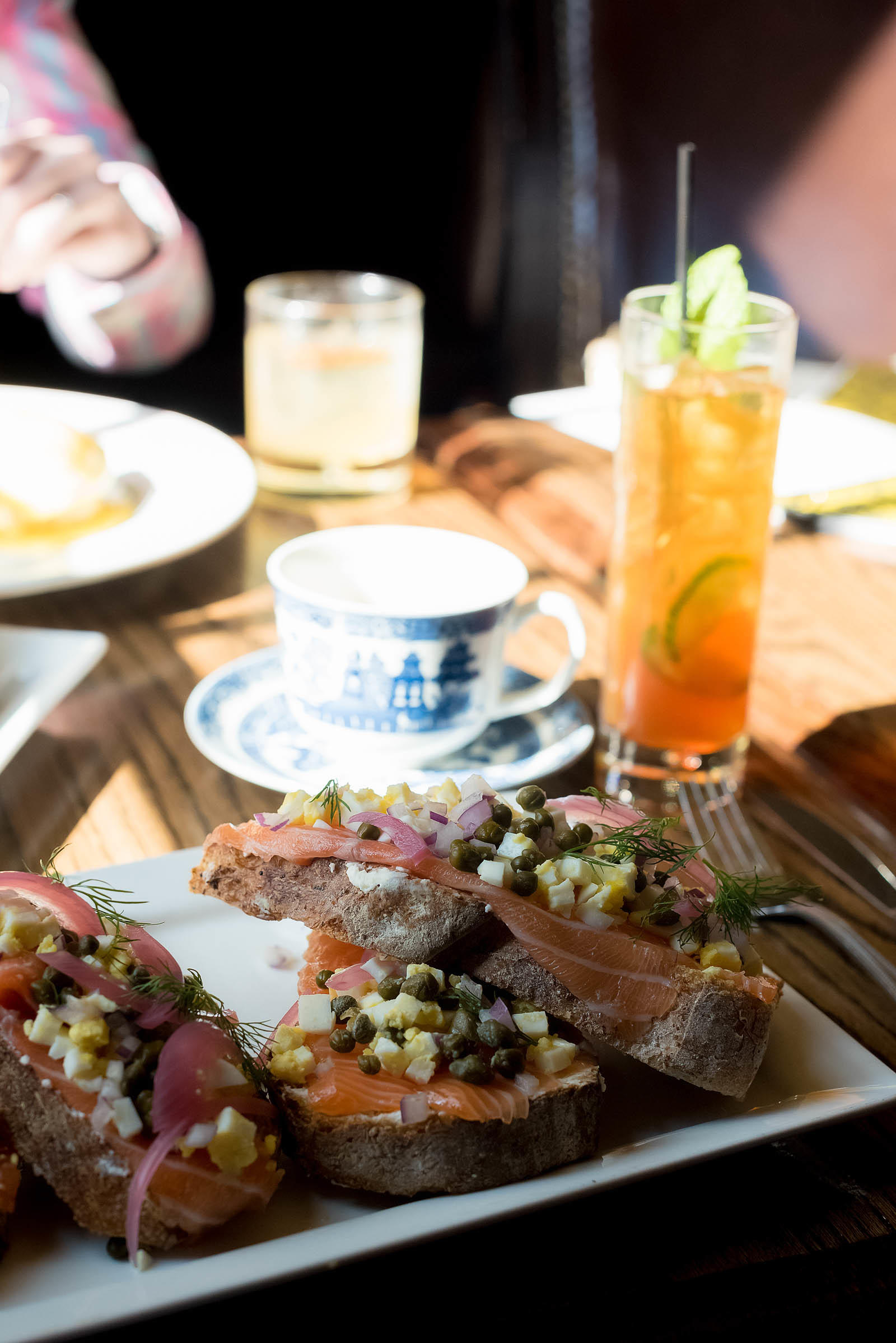 When our brunch arrived, it proved to be just as beautiful as the pastries.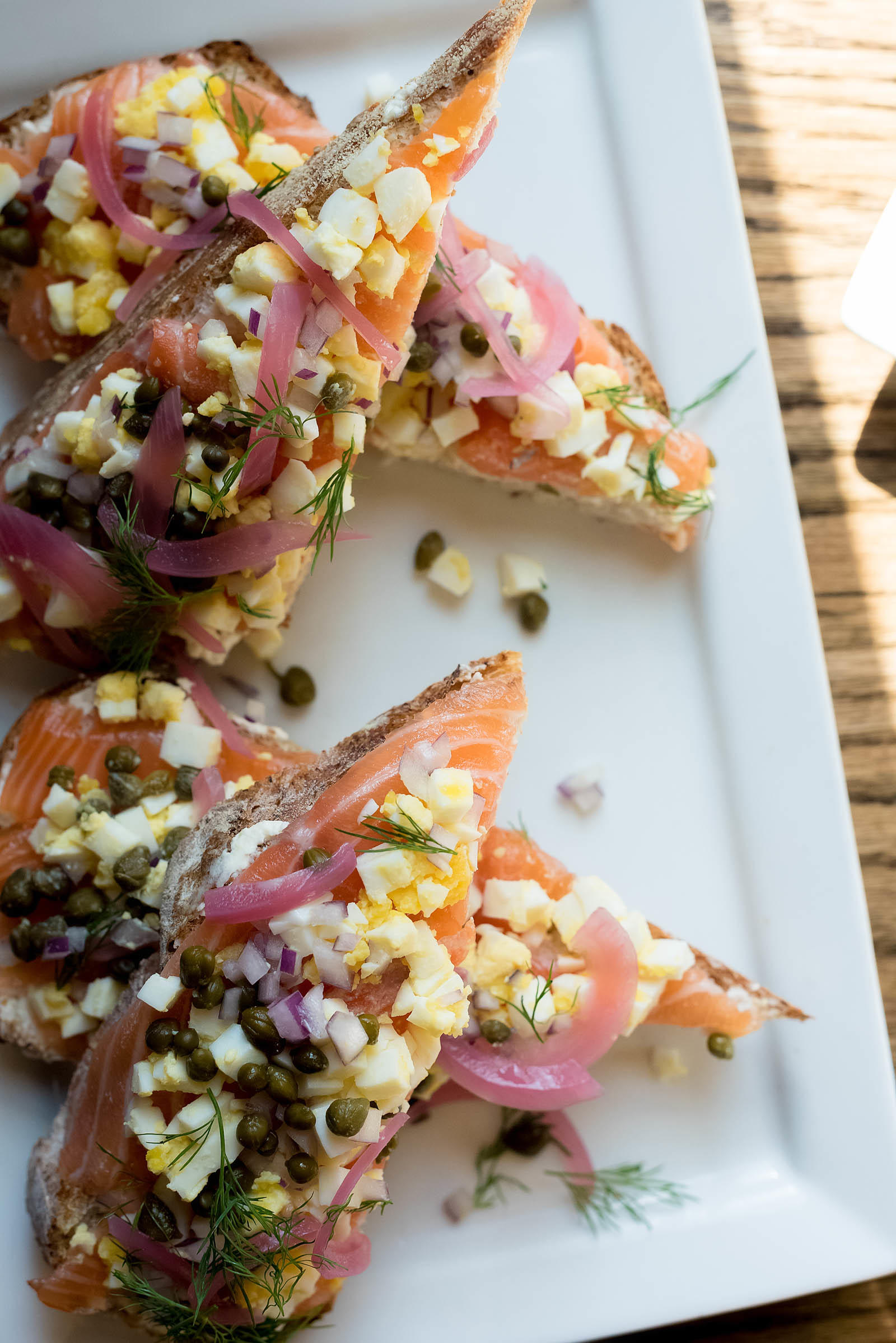 I opted to actually order one of Owen & Engine's "sharing plates" for my meal, the House Cured Salmon.
Covered in dill, cream cheese, red onion, caper, and chopped egg on everything bread, this is a beautifully British play on the more traditional lox & bagel breakfast.
A play I very quickly devoured after these photos were taken…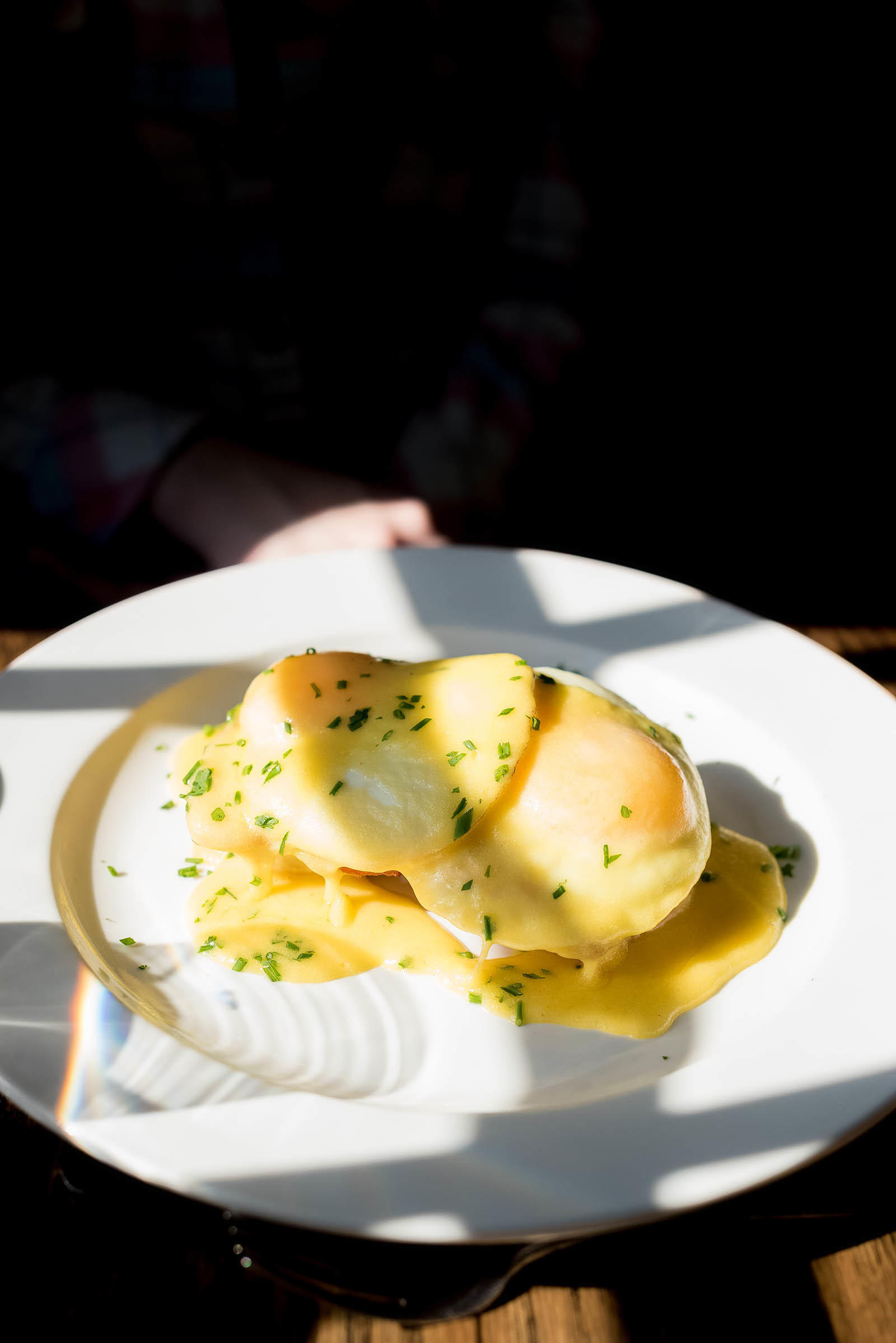 Our friend Janine ordered Owen & Engine's Eggs Benedict.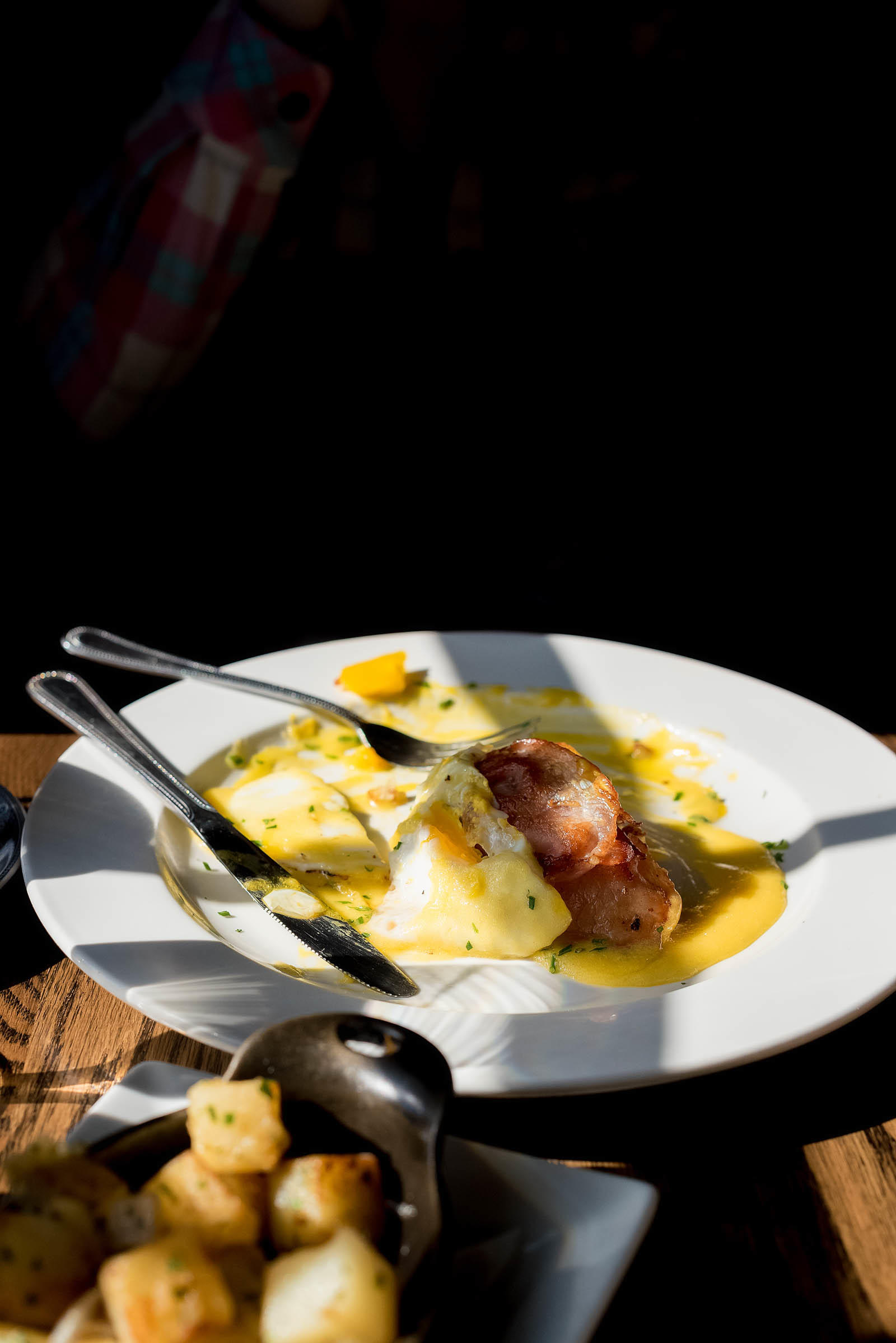 Which is served on a housemade crumpet and made with housemade rashers — a beautifully executed take on the brunch classic.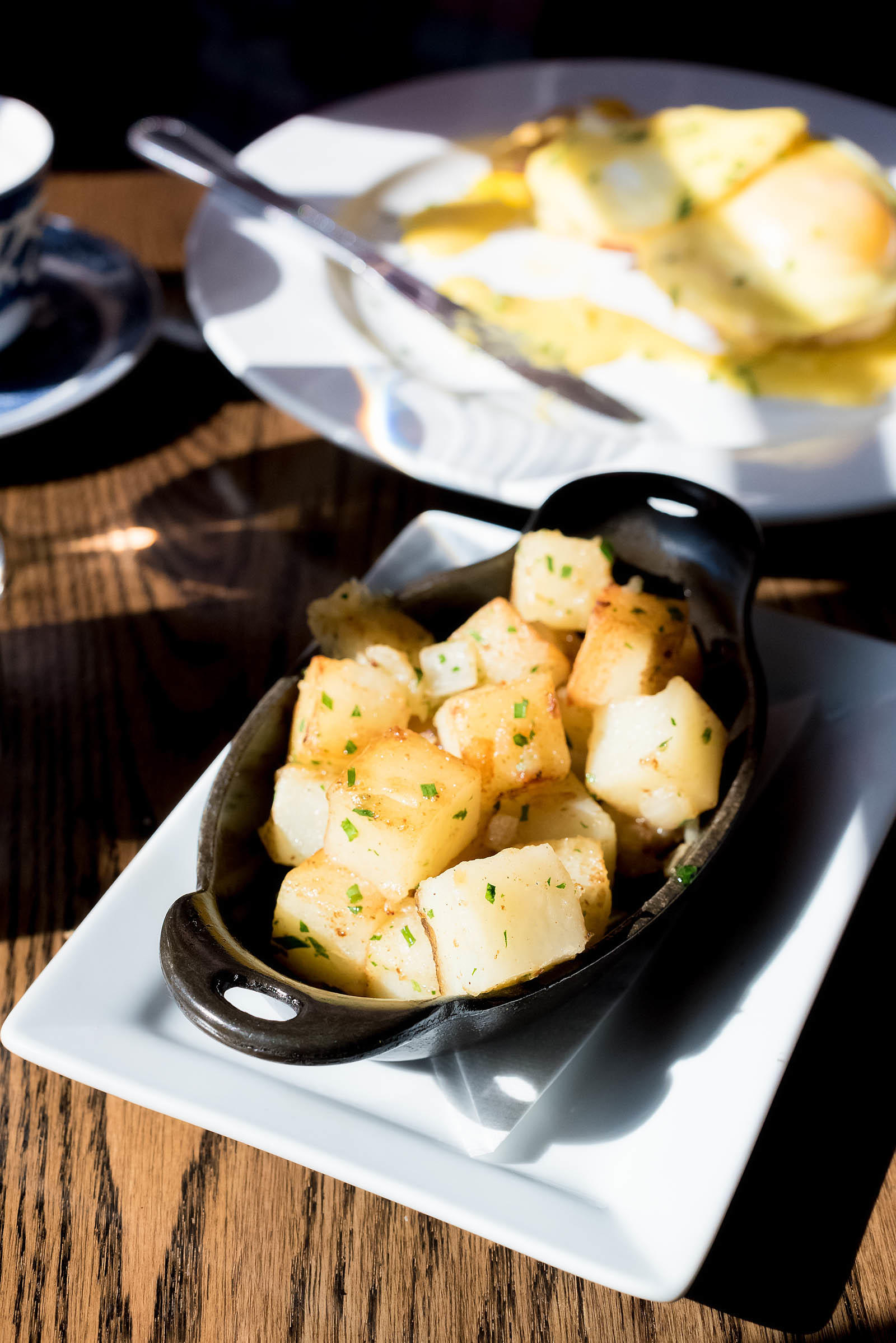 And pairs especially well with a side of potato hash.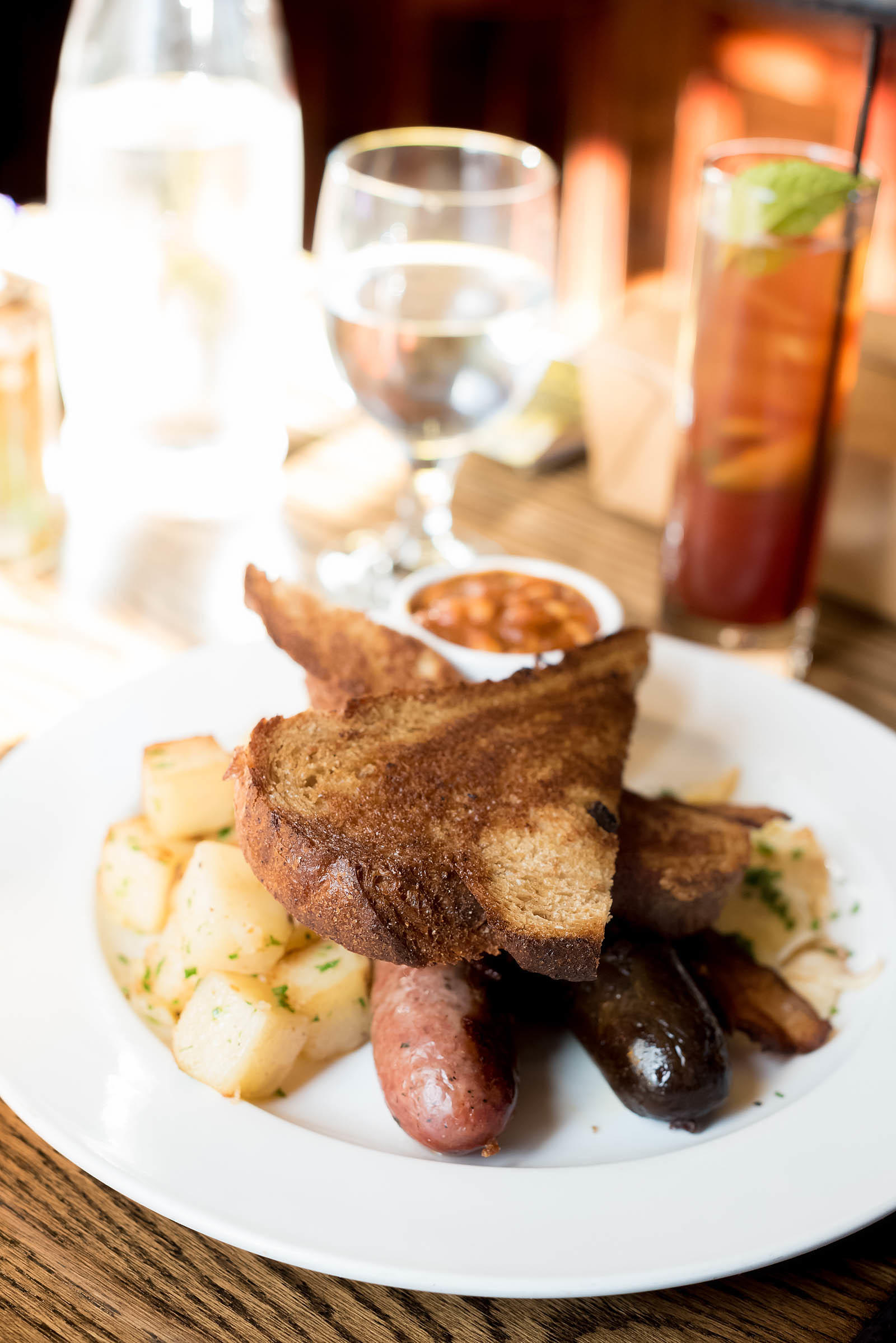 But Hubby won the "best brunch dish" with his…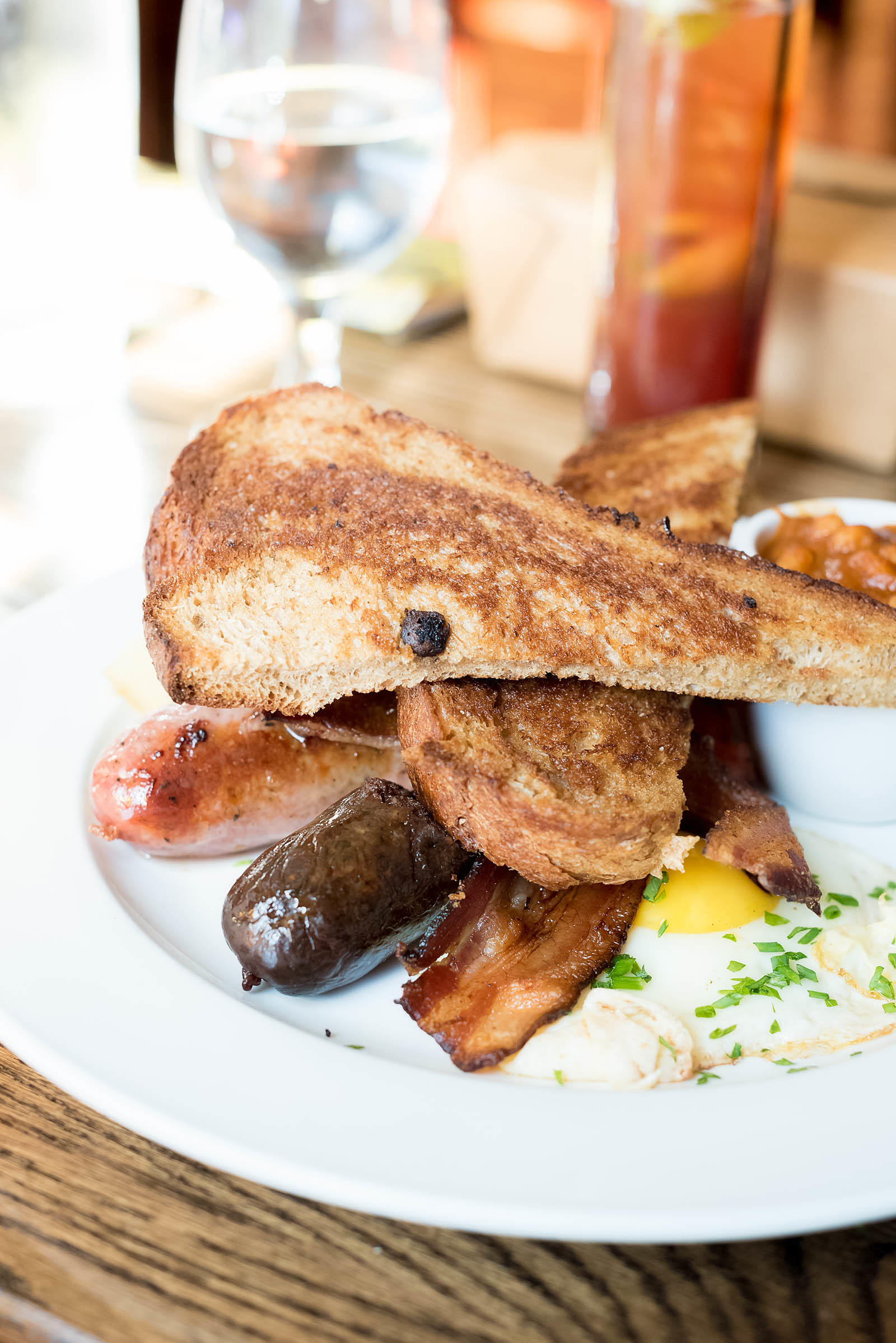 Owen & Engine's "Full English Fry Up" with "tinned beans", fried eggs, house bacon, brown bread, blood sausage, and bangers.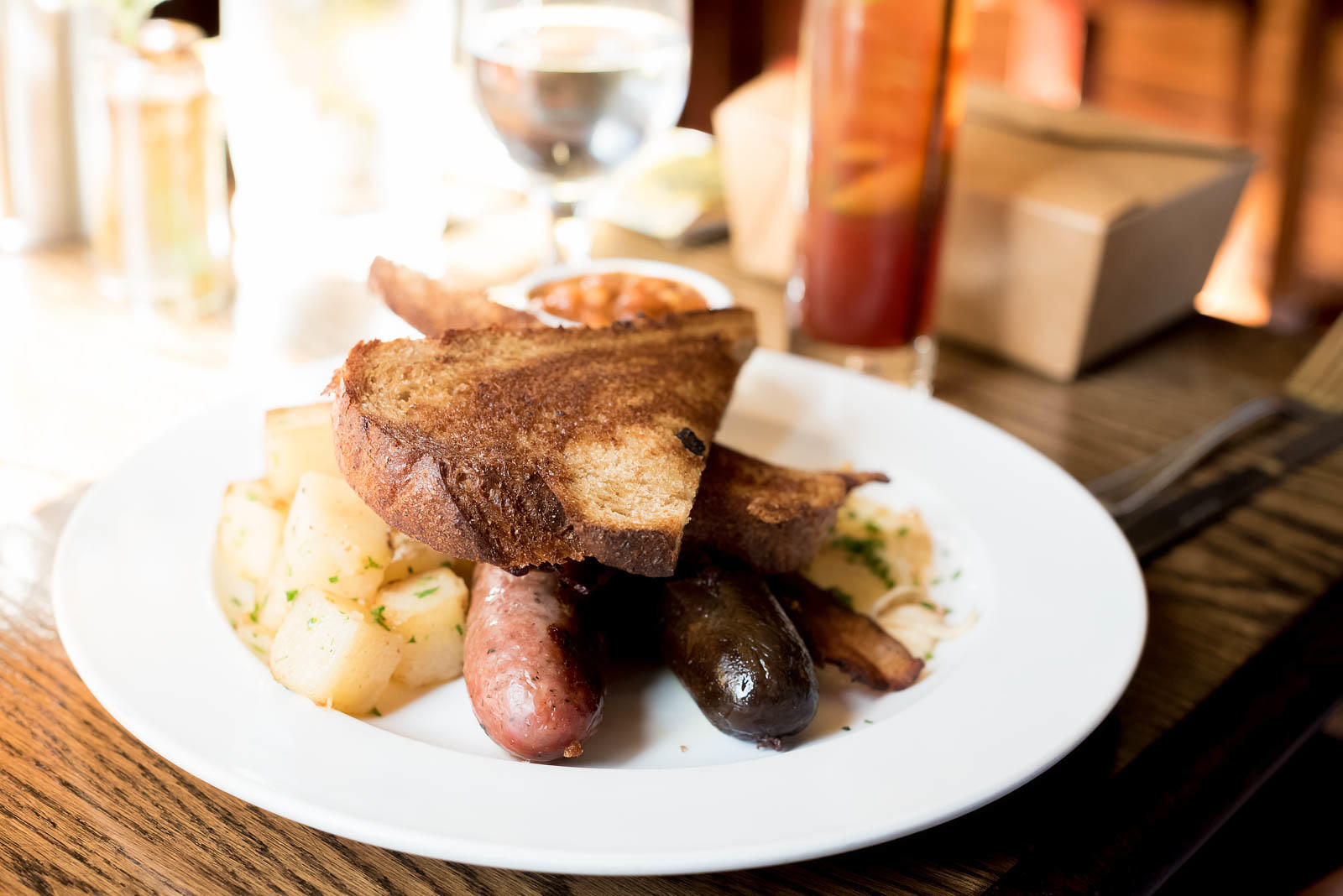 Hubby absolutely LOVES a good full english breakfast so this smashing and delicious version made him so happy. I'm thrilled I finally have a place I can ALWAYS count on him to want to eat at now…
If you're looking for a little spot of jolly England to liven up your Sunday morning, Owen & Engine serves a smashing, solid, and oh-so-British brunch that'll transport you to the streets of London town. Now if only they served brunch every. day…