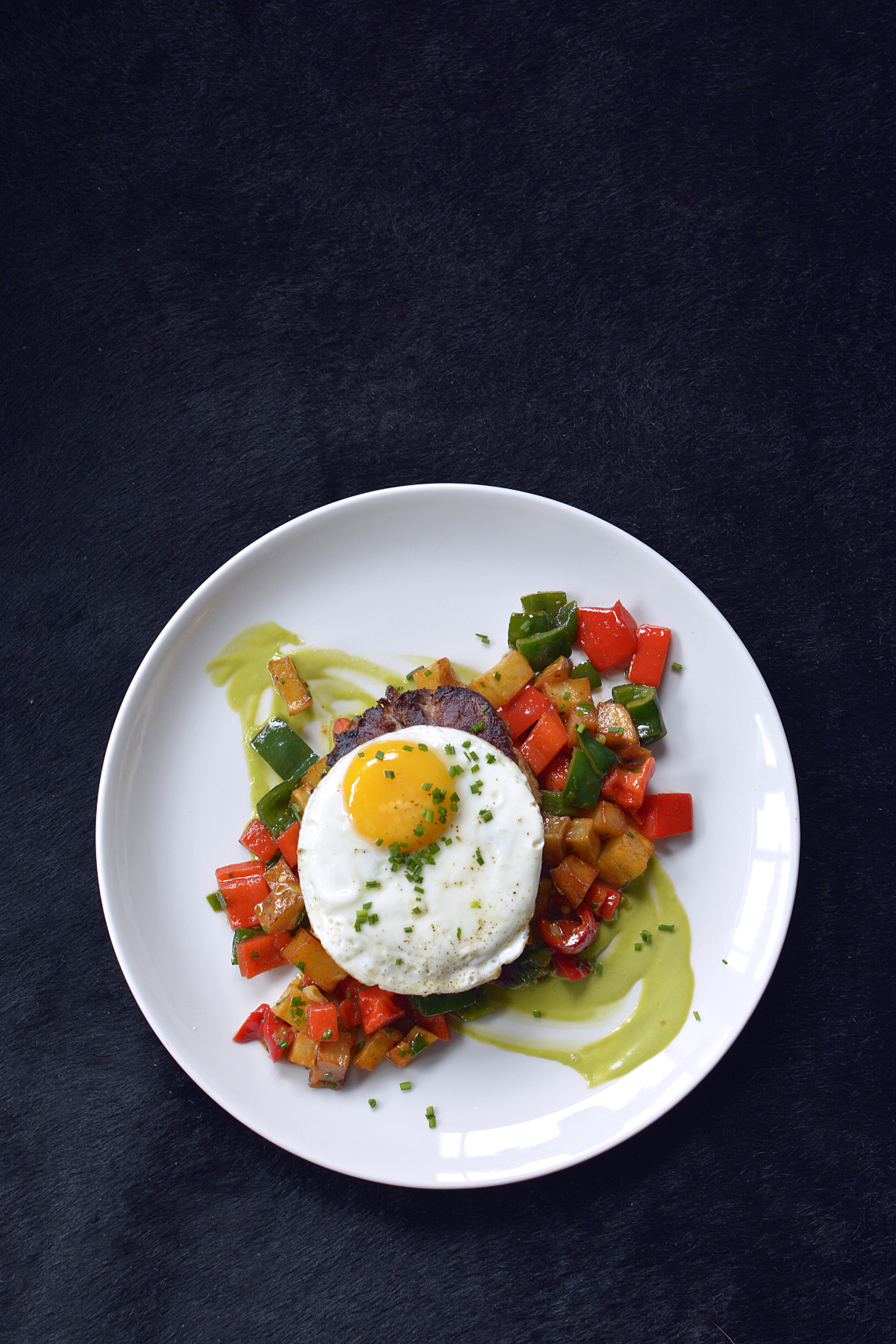 ** PLEASE NOTE: Presidio is now closed as of September 2018. But, since I enjoyed this spot so much, I'm leaving this post up in loving memory of their delicious food. **
Hey everyone, it's Sunday!
Or should I say Funday??
Why?
Because it's the only day of the week my restaurant soulmate, Presidio, offers their new brunch menu! Where else can you slurp on Banana Cobbler cocktails as you dive in to a massive bowl of Thai Shrimp and Grits?
I've gushed before about my love for this chic new Wicker Park spot and for good reason — I had one of the best dinner meals I've ever had there back in March! So the VERY moment I heard Presidio had begun to offer brunch on Sundays (11am – 3pm), I wanted to line up Saturday evening.
Yes, I really am THAT obsessed.
And luckily, my girlfriend Rachel is just as obsessed as I am (you can read her Presidio dinner review for yourself here), so the first Sunday we could, we booked it over to Presidio with empty stomachs and even emptier SD cards. Presidio is one of the most photogenic restaurants I've found in Chicago, after all!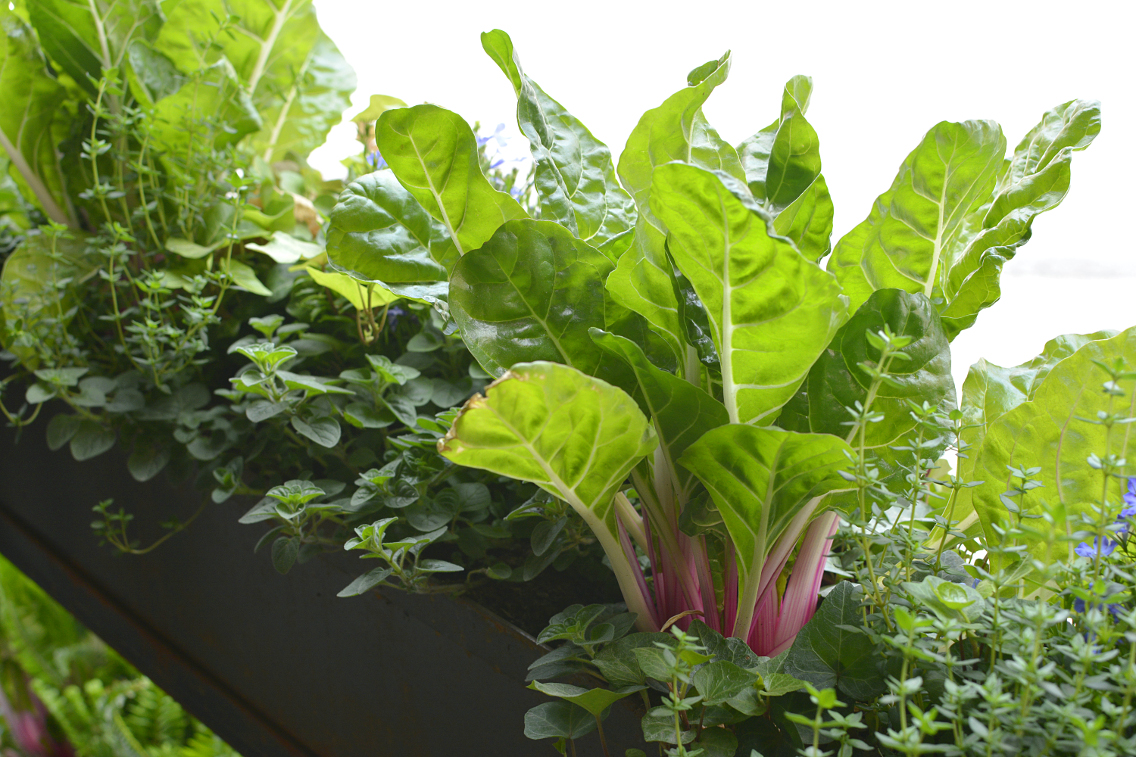 Now that the weather has warmed up, Presidio opens up their spacious front windows, all lined with beautiful herbs and other edible plants.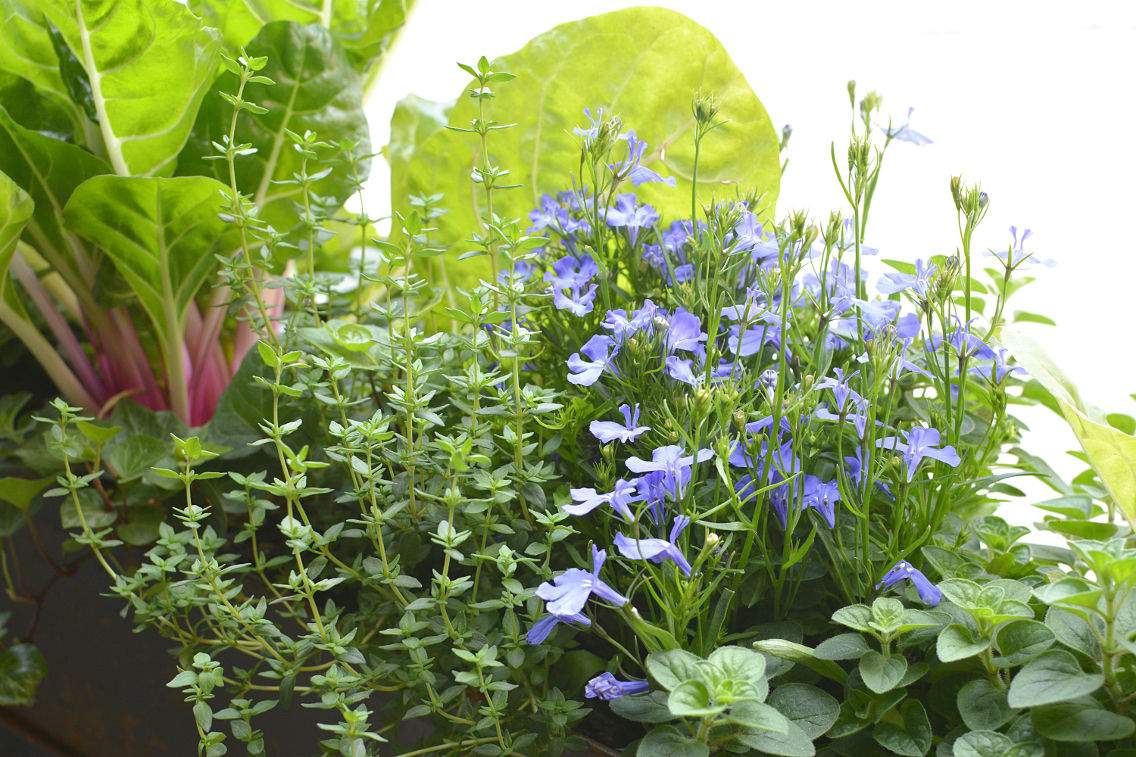 The extra greenery ties into Presidio's stunning vibe of luxe mid-century living room meets succulent botanical laboratory in such a perfect way for spring.
And the fresh warm air couldn't be more invigorating after a long winter!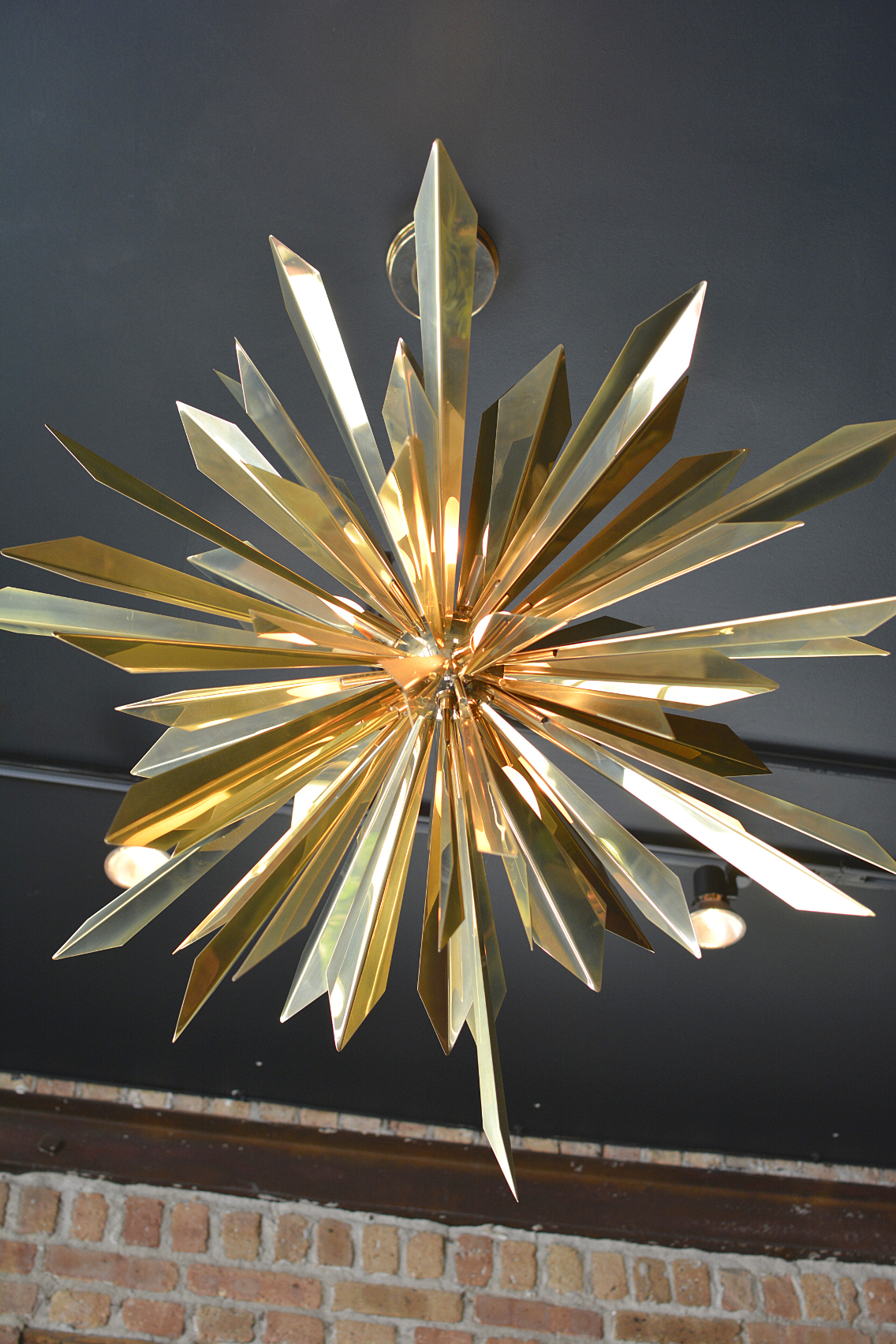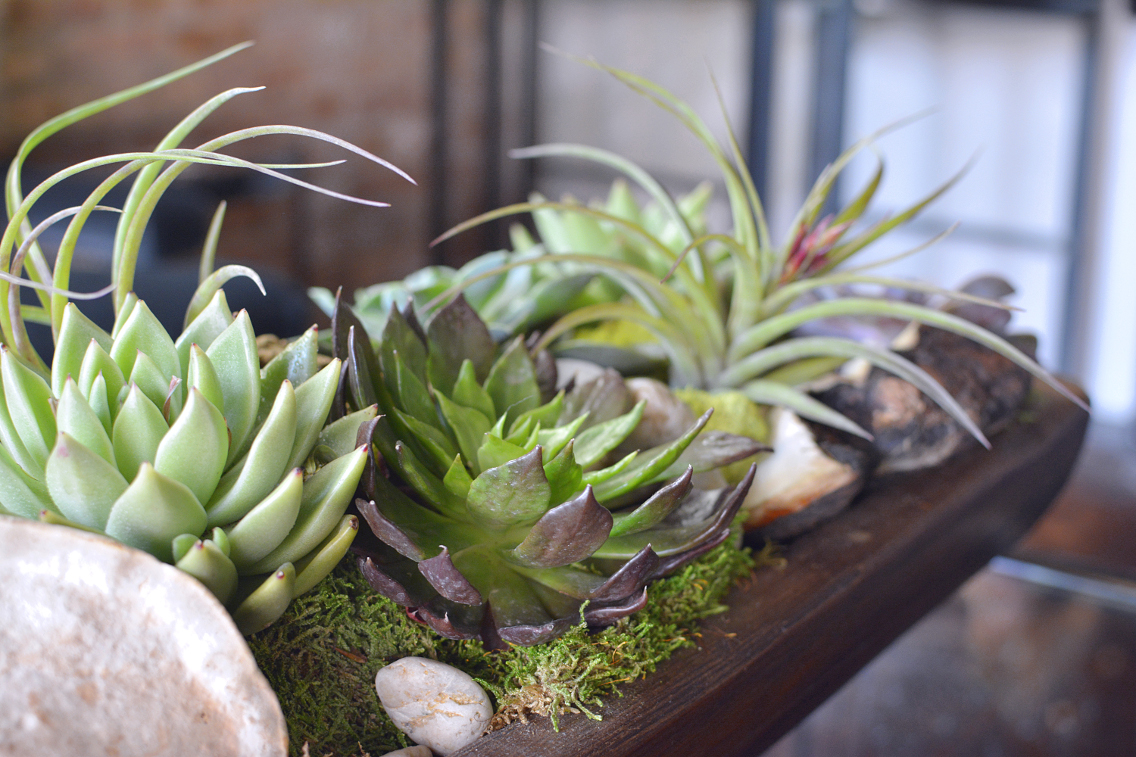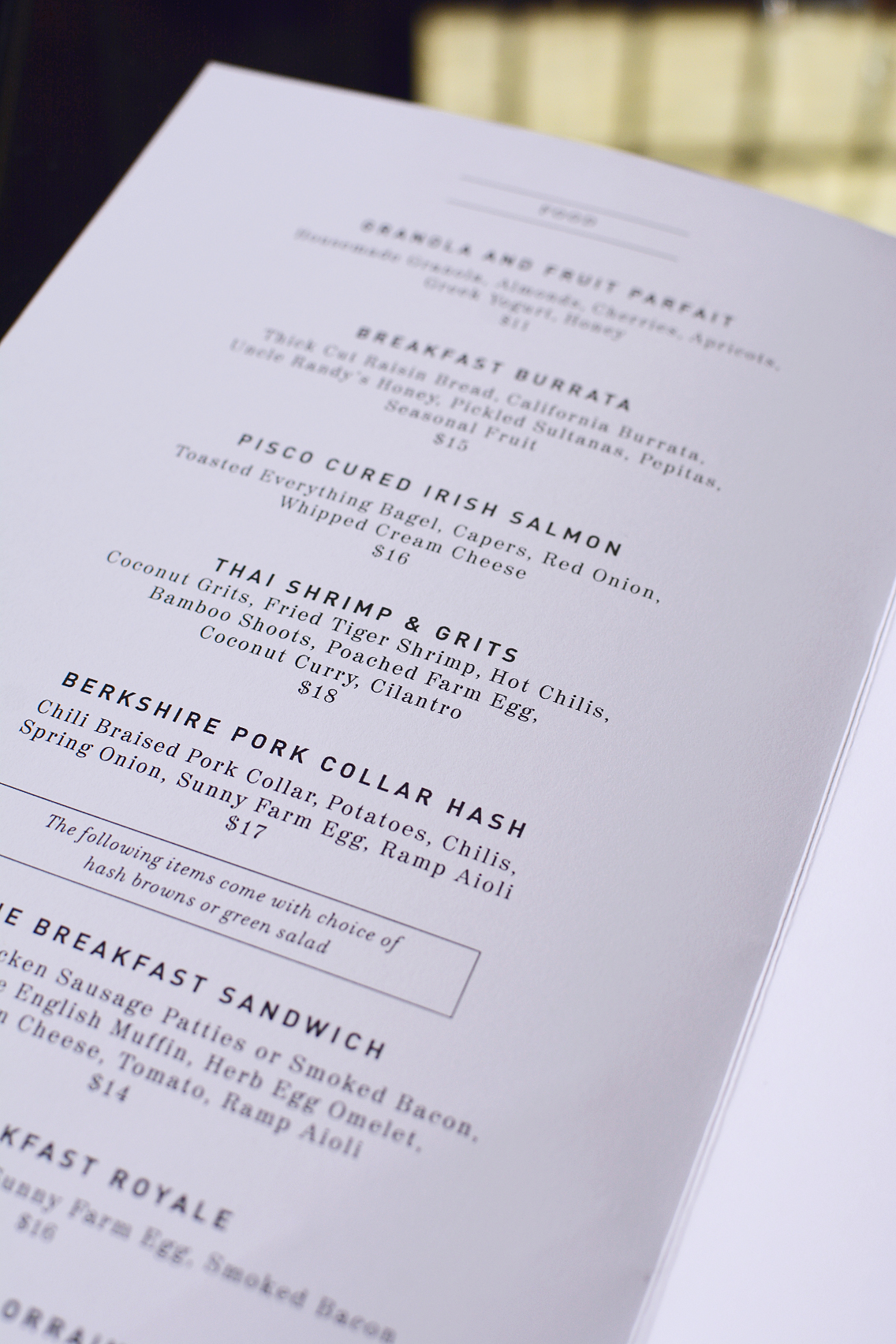 For having just launched their brunch, Presidio's menu is surprisingly extensive — almost as large as their dinner menu.
As a brunch aficionado, I couldn't have been happier to see all the variety… though I'll admit that I struggled on which of the dishes to try first so we naturally ordered half of the menu.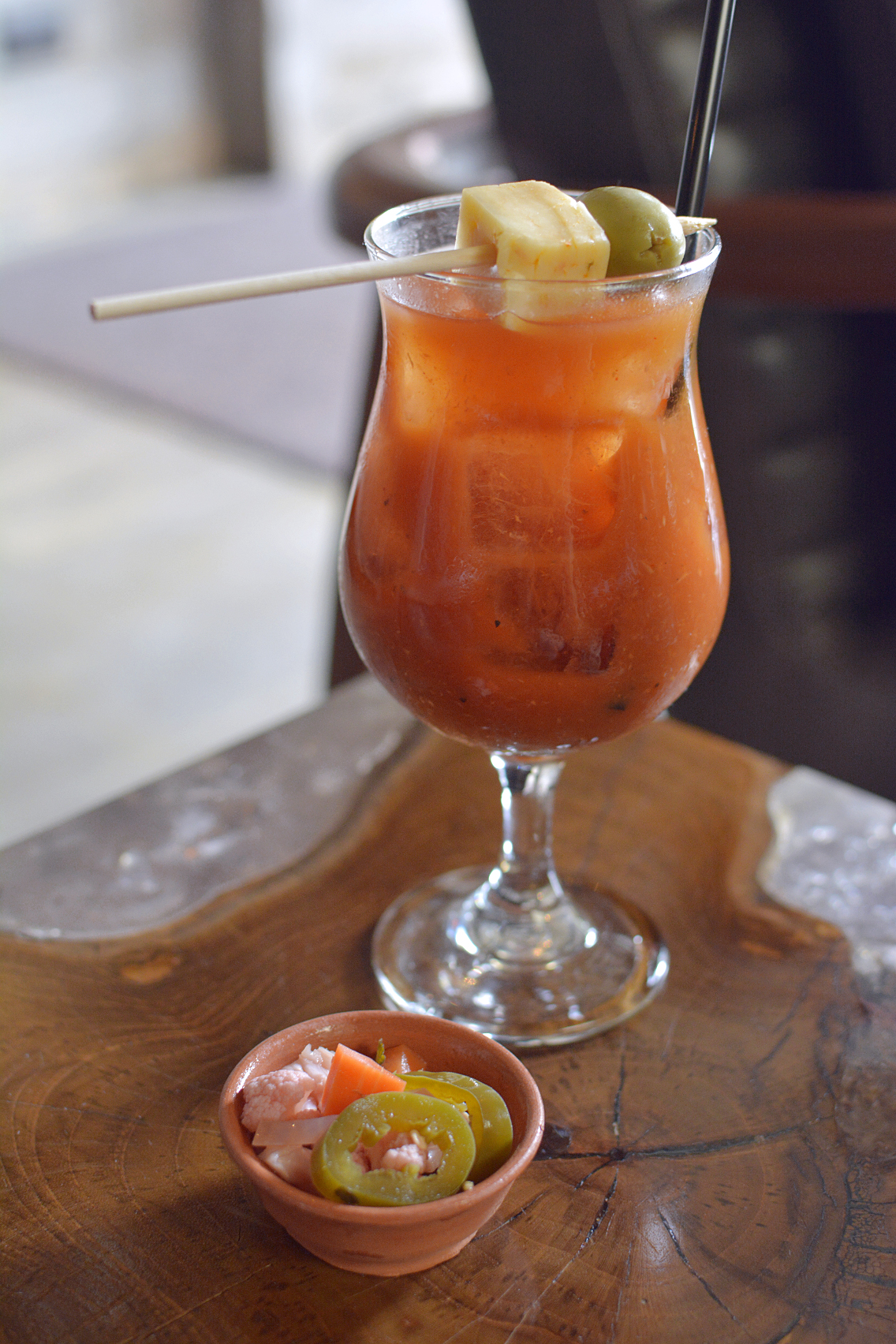 But before food, must come booze!
Rachel, being the Bloody Mary addict she is (remember her spicy order from Frontier?), opted to try Presidio's Mission Mary. Concocted from vodka, tomato, mango, horseradish, cholula, pastor pork, habanero cheddar, and escabeche this is one HELLOFA bloody mary.
Zing…
Pow…
Wow…
This baby is spicy and rich — the perfect savory start off to any brunch!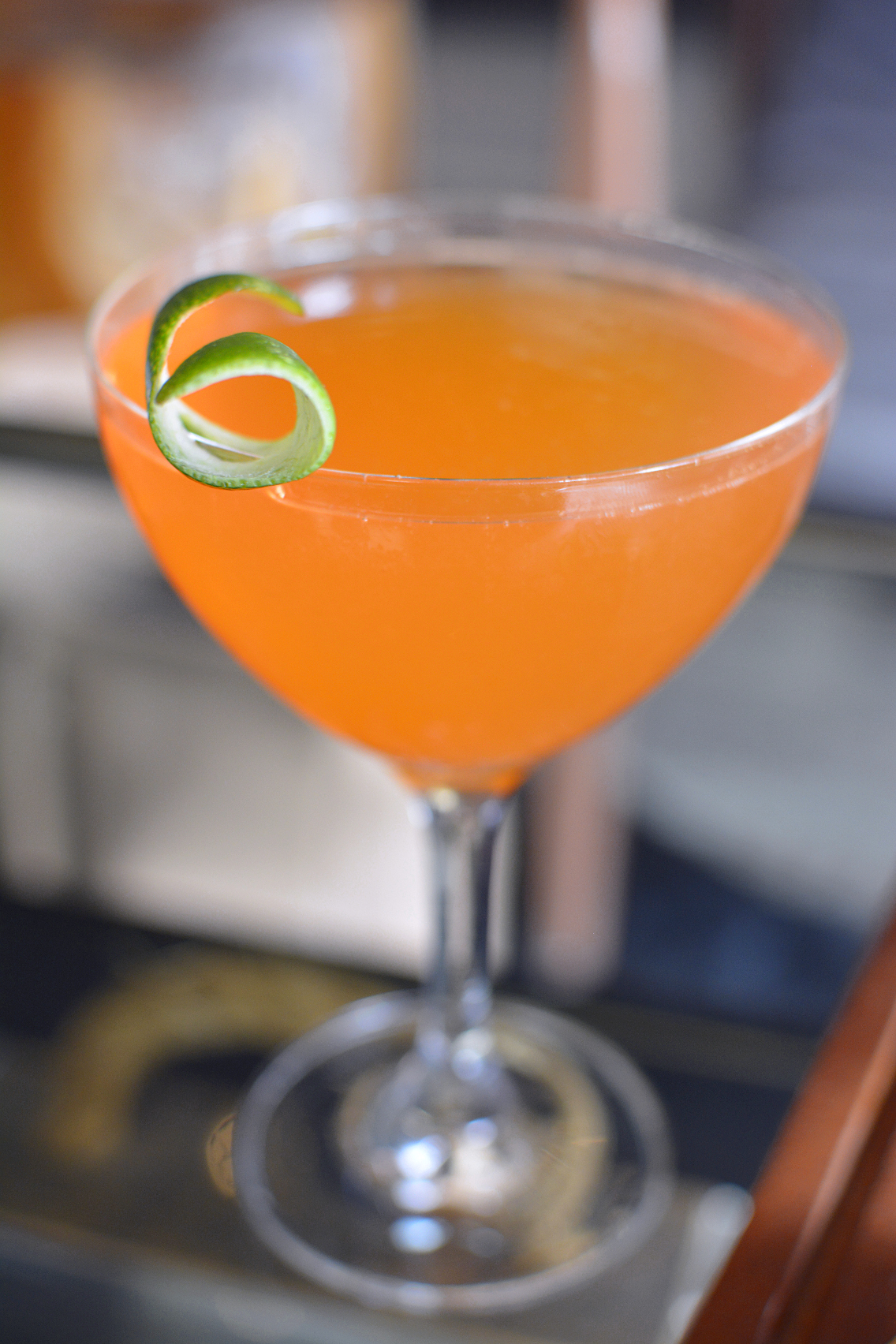 I began with this bright little number (and one I ended up ordering again later…), the Municipal Code. Sparkling wine, peach infused Aperol, orange juice and citric acid all mingling together to form the loveliest orange brunch drink I've had since Chop Shop's Orange Soda.
Sweet 'n bubbly but far more creative than your average mimosa!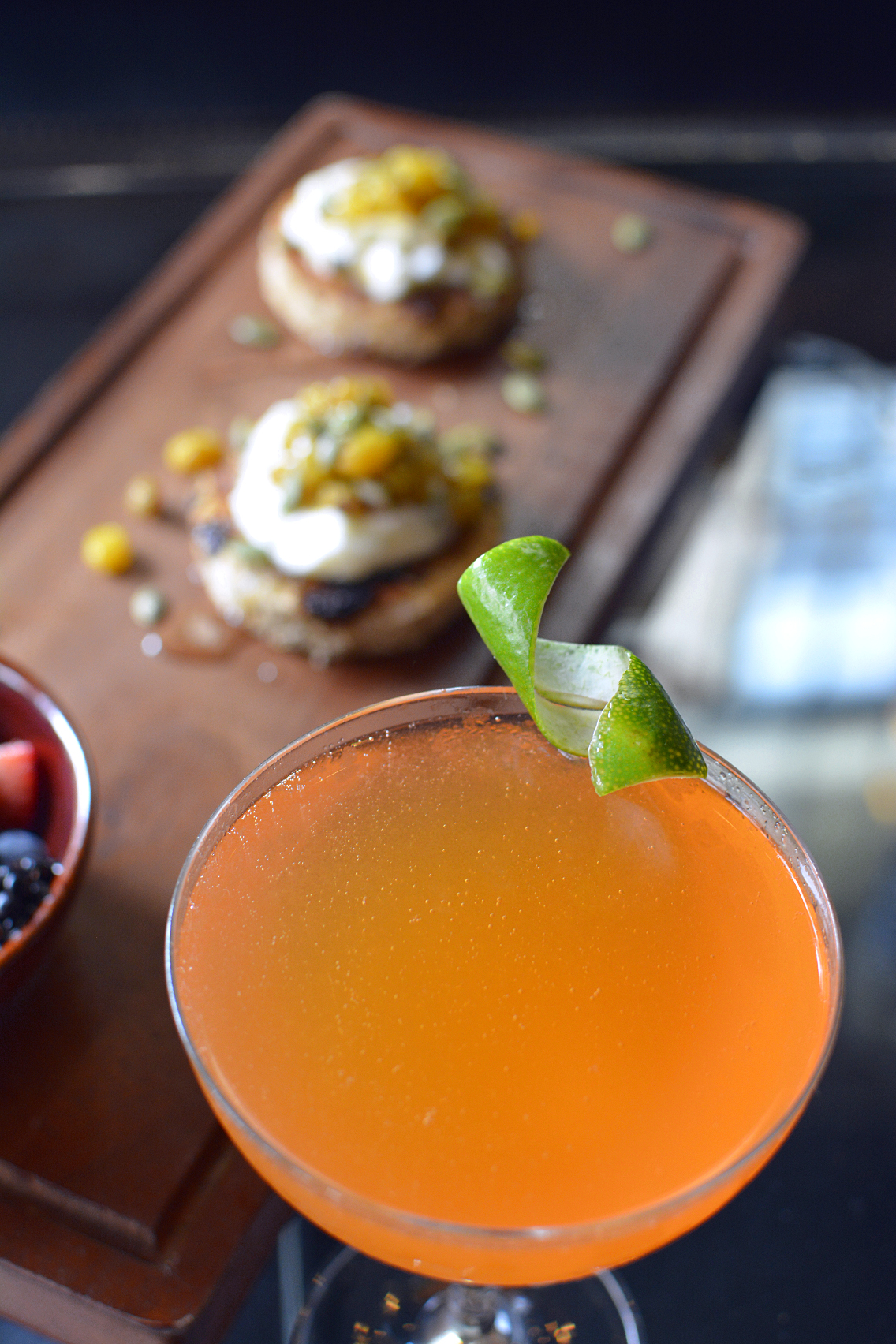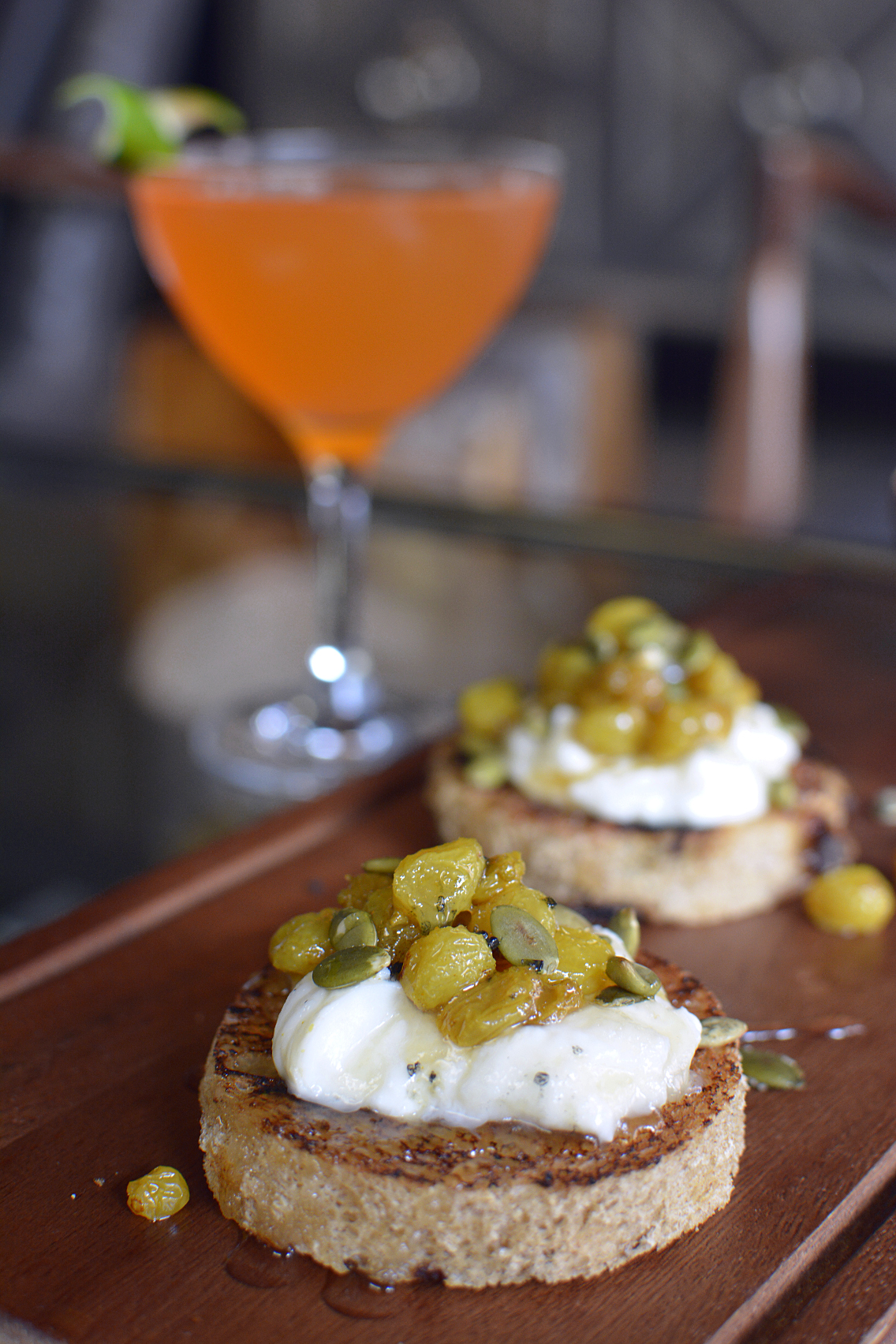 Next up came this sexy little appetizer…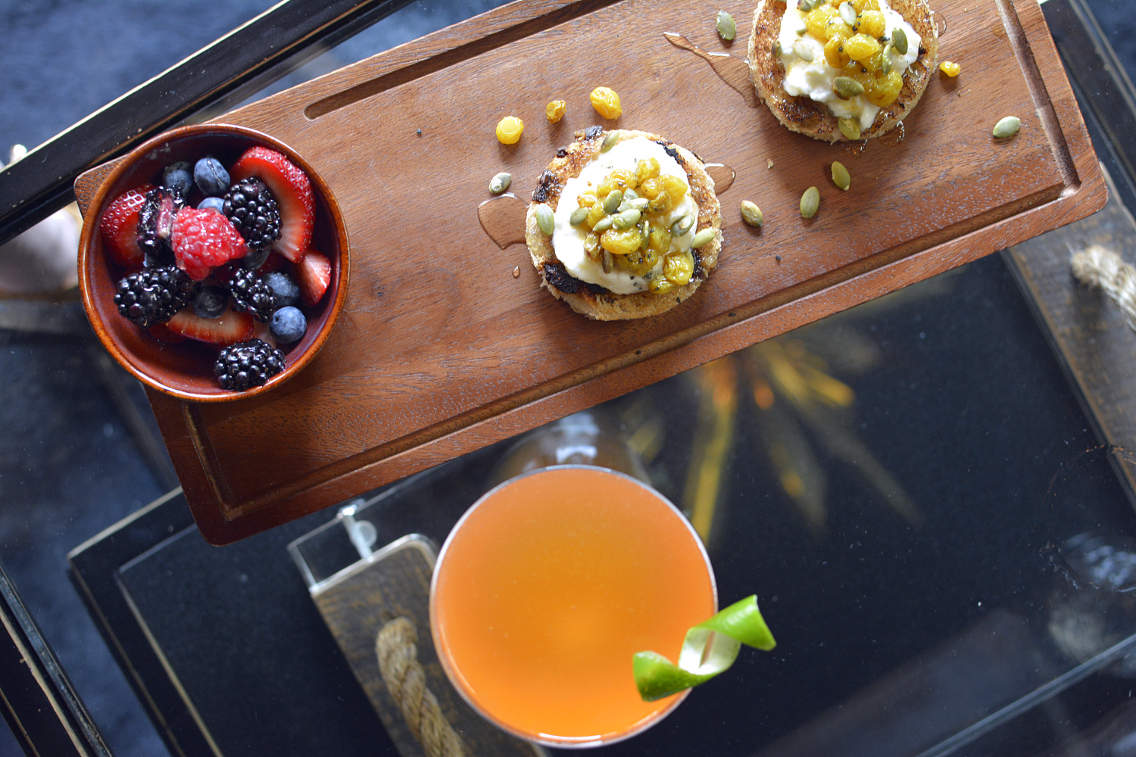 Alright, let's admit it — who doesn't love a heaping pile of burrata served to them at any restaurant?
Burrata is trending hard-core here in Chicago right now and I couldn't be more supportive of the movement. Ooey, gooey mozzarella-like cheese filled with rich cream?
*SWOON*
*SWOON*
*SWOON*
Oh, sorry — I'm supposed to be writing a review, not falling deeply into the sinful dream world that is Burrata Land.
Back to business!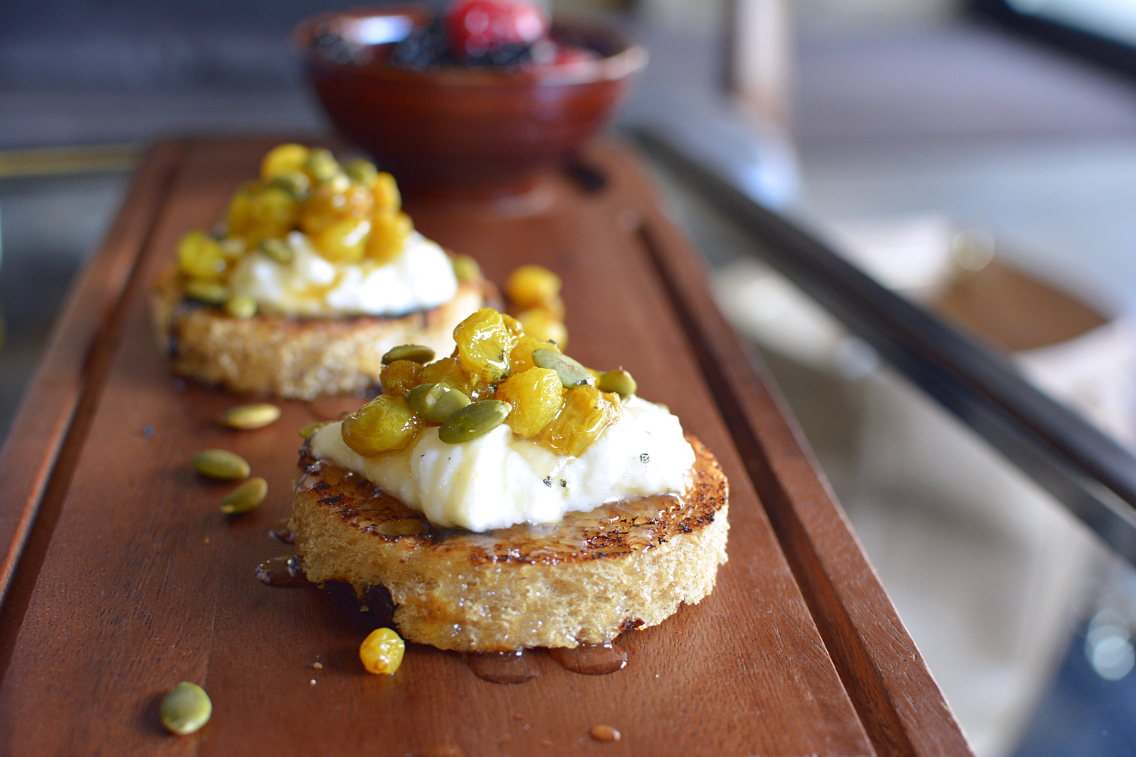 Now I've had a lot of delicious burrata dishes here in Chicago (Commonwealth and Summer House have two of my favorites). And most places keep the swoon-worthy cheese nice and simple with some toast (unless you're crazy like I am and you bake it in a Frittata).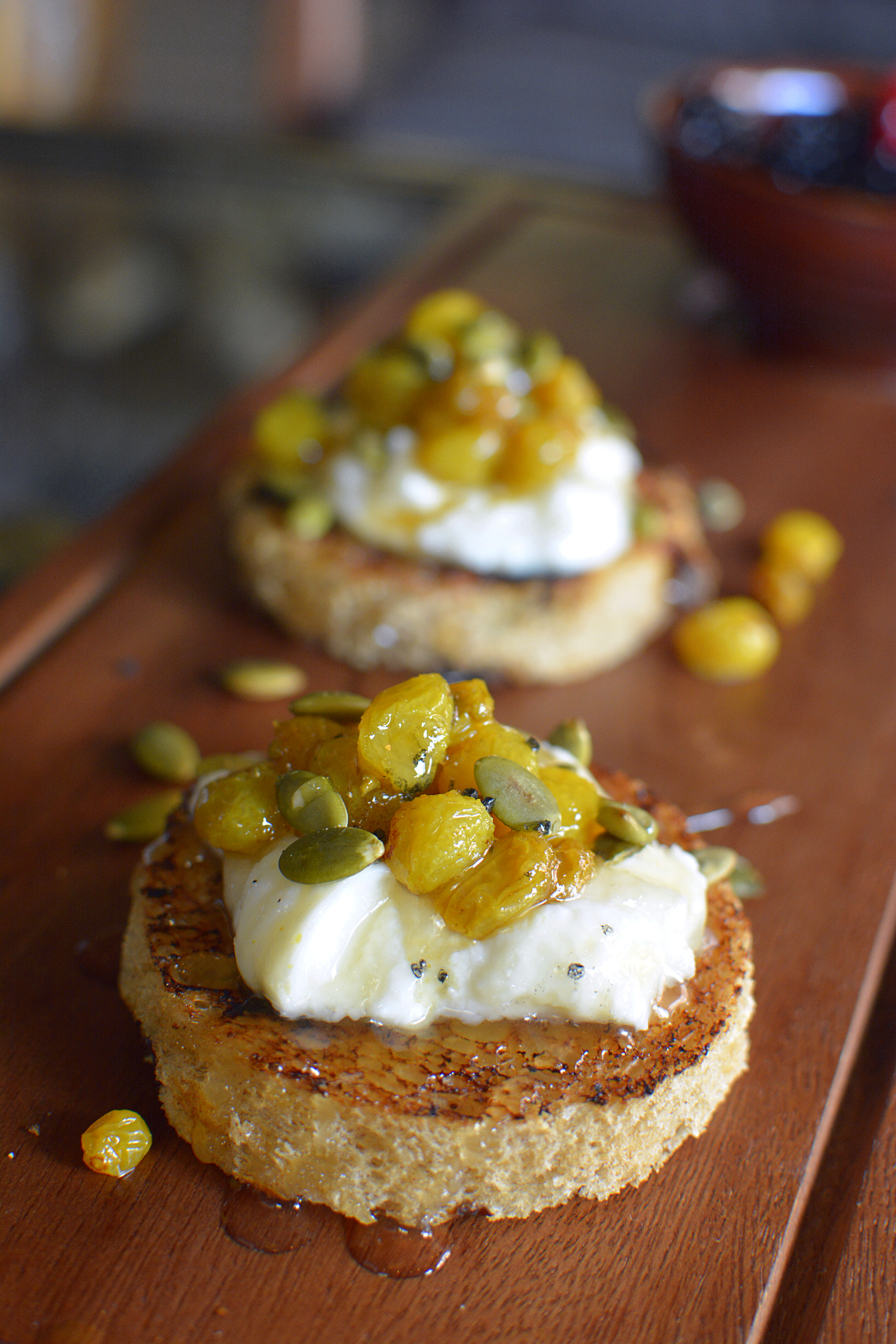 But Presidio holds the honor of offering the first Breakfast Burrata I've ever had! Thick cut raisin bread, California burrata, Uncle Randy's honey, pickled sultanas, and pepitas all served with seasonal fruit.
Has there ever been a more perfect brunch appetizer? Seriously creamy, rich, sweet and breath-takingly beautiful!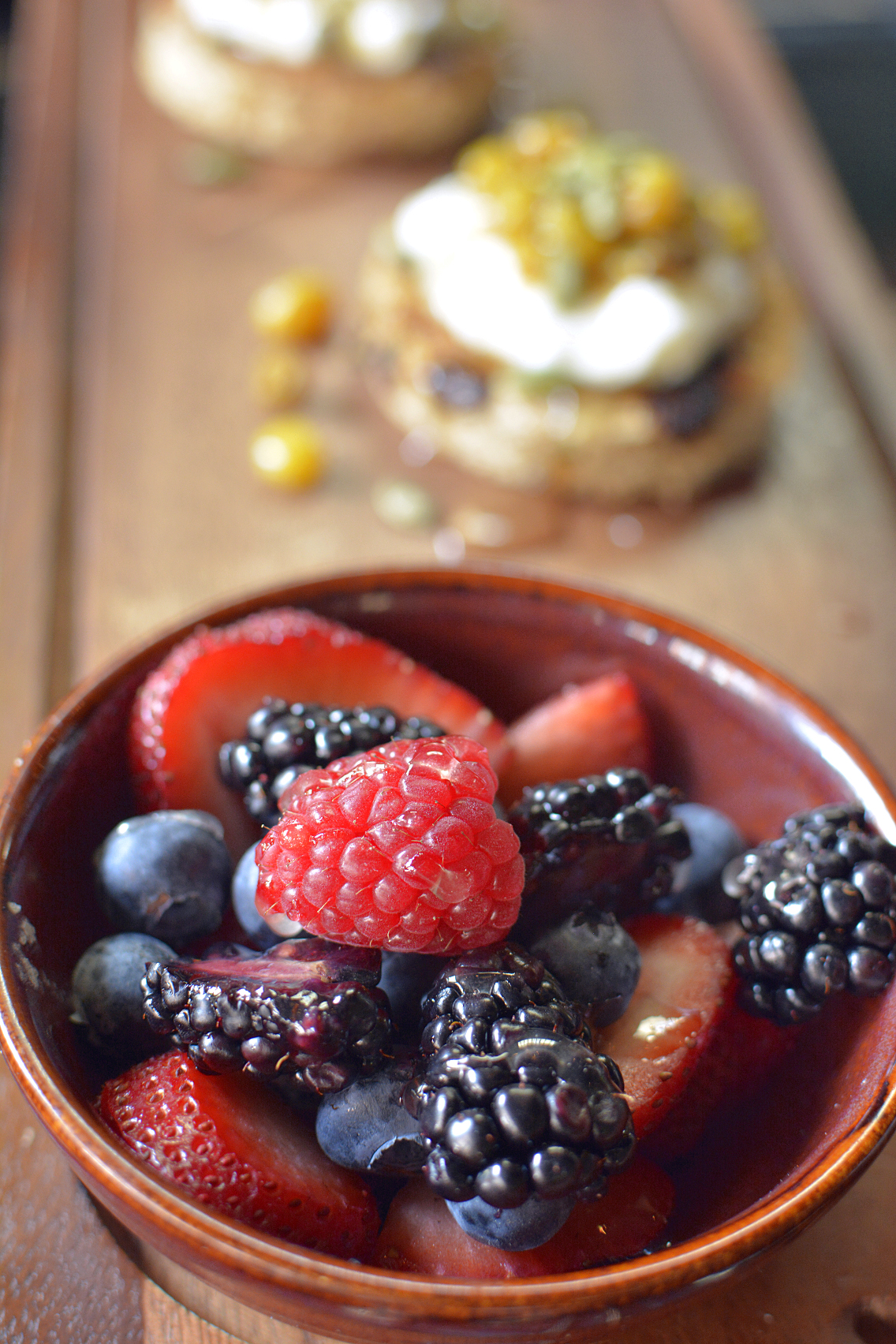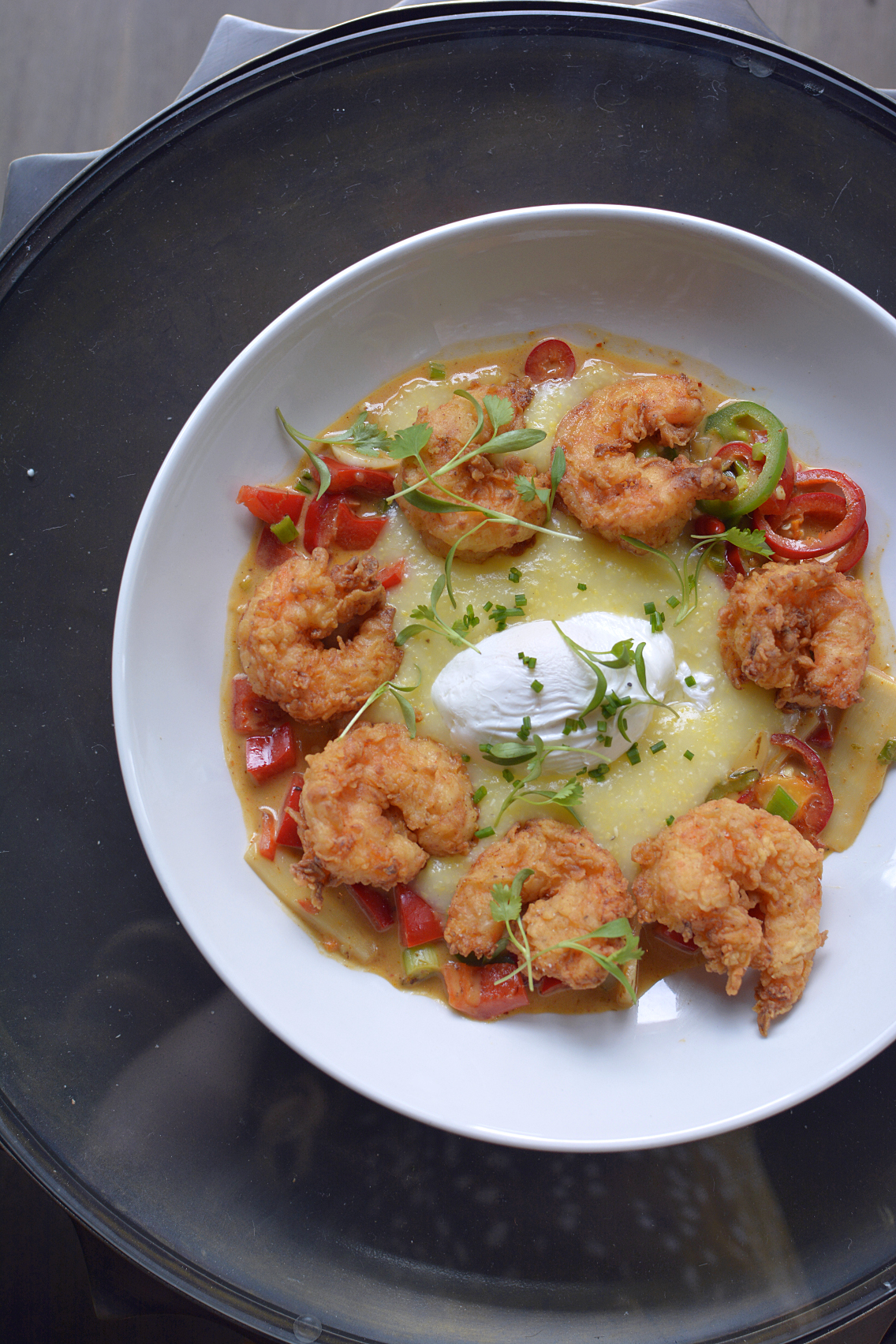 After we enjoyed our burrata (Reality: devoured it and then pleadingly looked around for seconds), we moved on to our first entrée: Presidio's Thai Shrimp and Grits!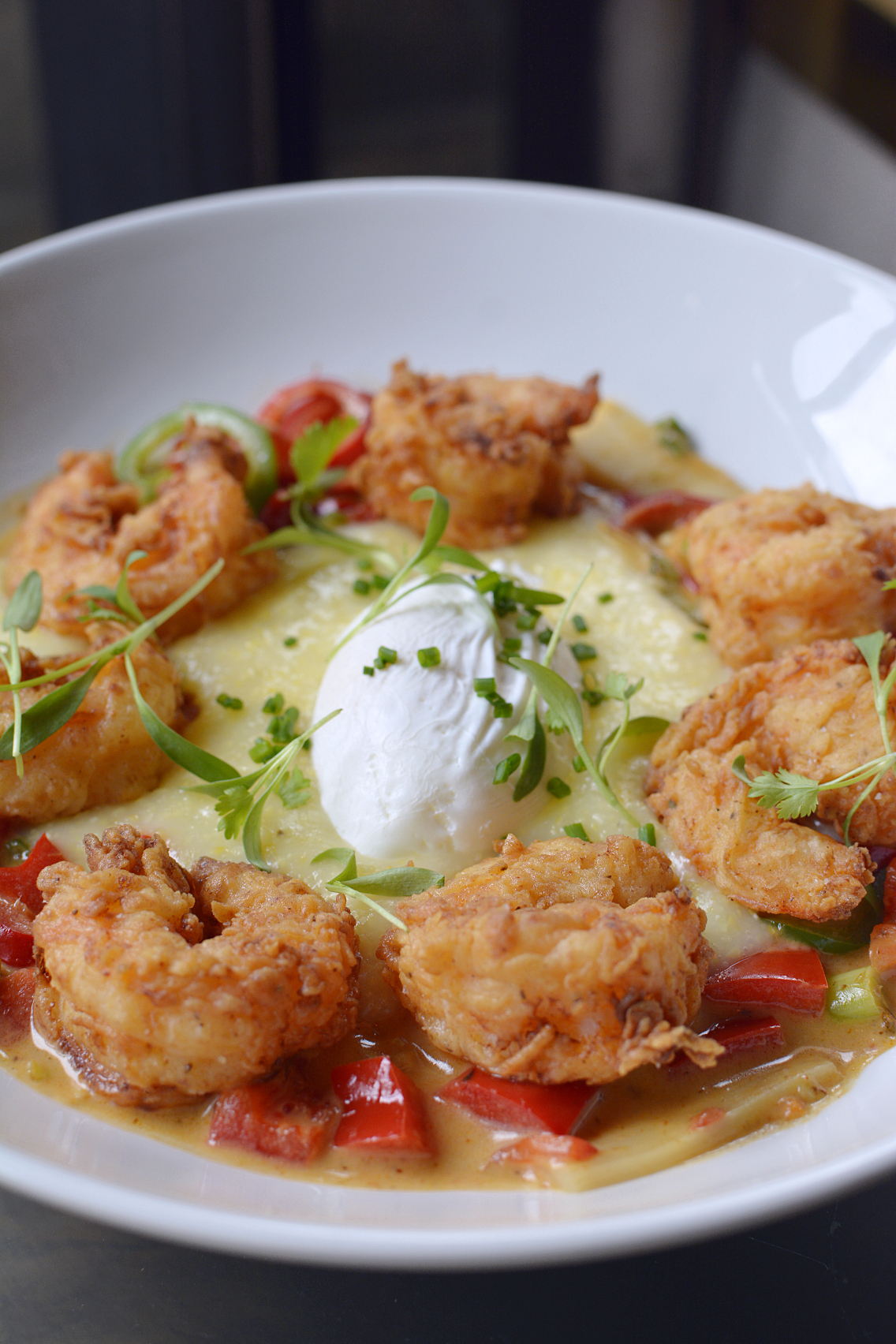 I was raised by a true Southerner so shrimp and grits is something I get pretty personal about. And I don't usually like it when too many non-traditional flavors are added in — this is supposed to be a bowl of spicy Southern comfort food!
But Presidio's executive chef Shaun Connolly has me completely converted! His Thai take involved bright coconut grits, fried tiger shrimp, hot chilis, bamboo shoots, poached farm egg, coconut curry, and cilantro. The flavors meld so beautifully together I found myself questioning why more Thai and Southern food don't meet together, fuse and make the most delicious culinary offspring more often.
Spicy and flavorful with comforting creamy curry notes make this an insanely delicious hangover cure too. Especially once you break into the perfectly poached egg and mix it all together!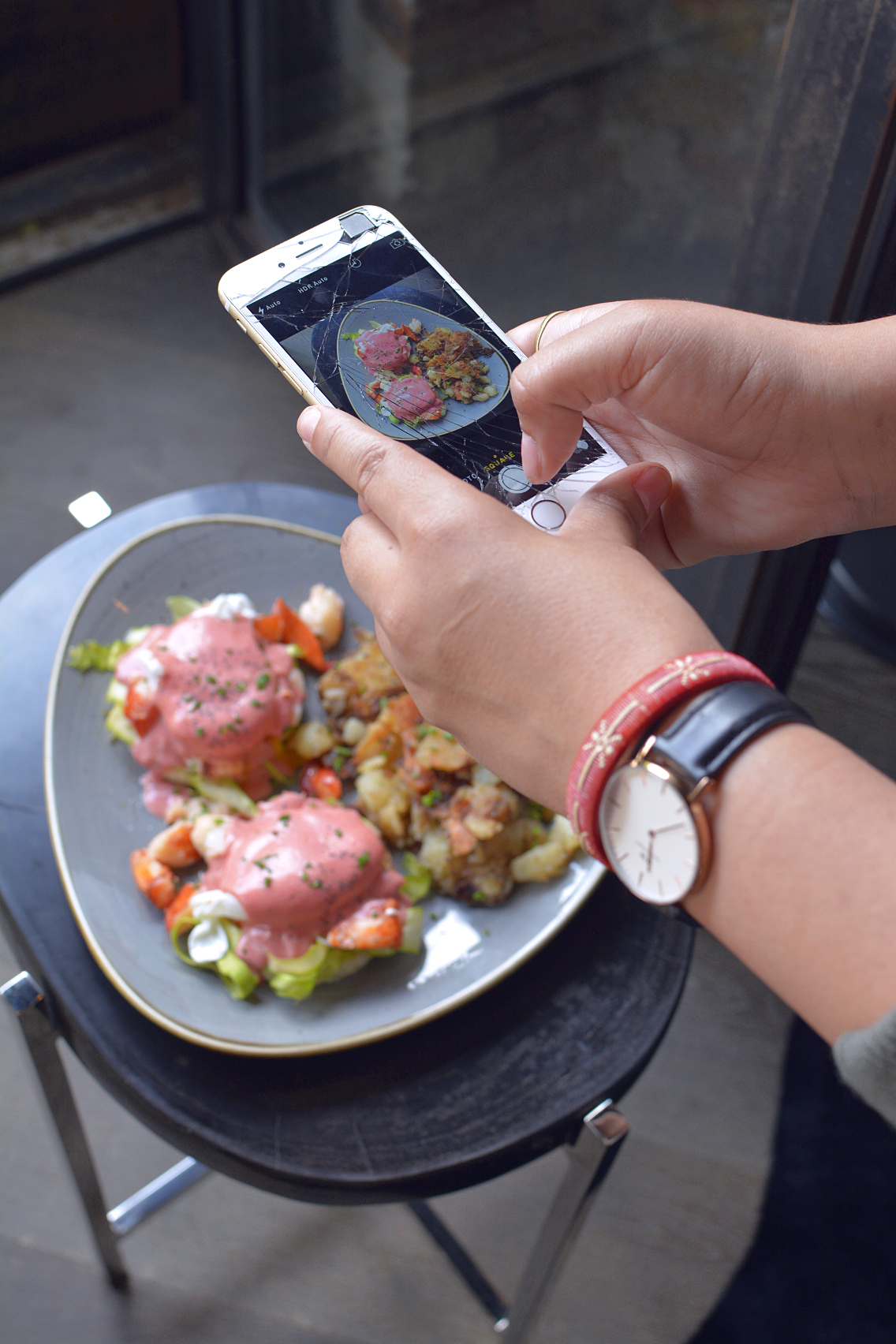 Though we thought it would be hard to rally after licking that shrimp and grits bowl clean, we managed to find a new wave of foodie energy when this stunningly photogenic dish came out!
It certainly helps that as photographers and foodies, we eat our meals at a slow tempo, taking time to shoot the food in between each course — here's Rachel working her Instagram magic as she worked up another appetite.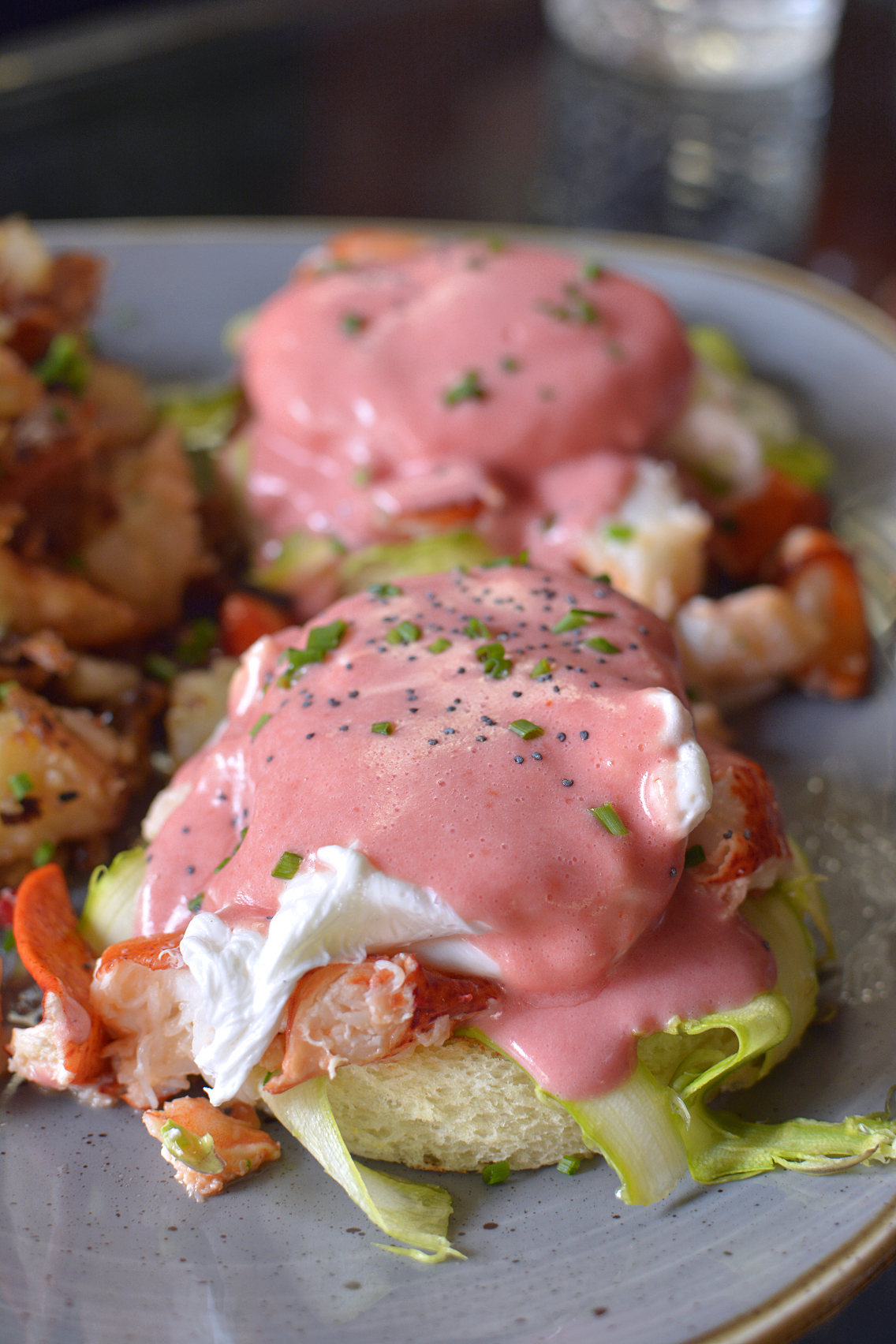 Meet Presidio's Lobster Benedict!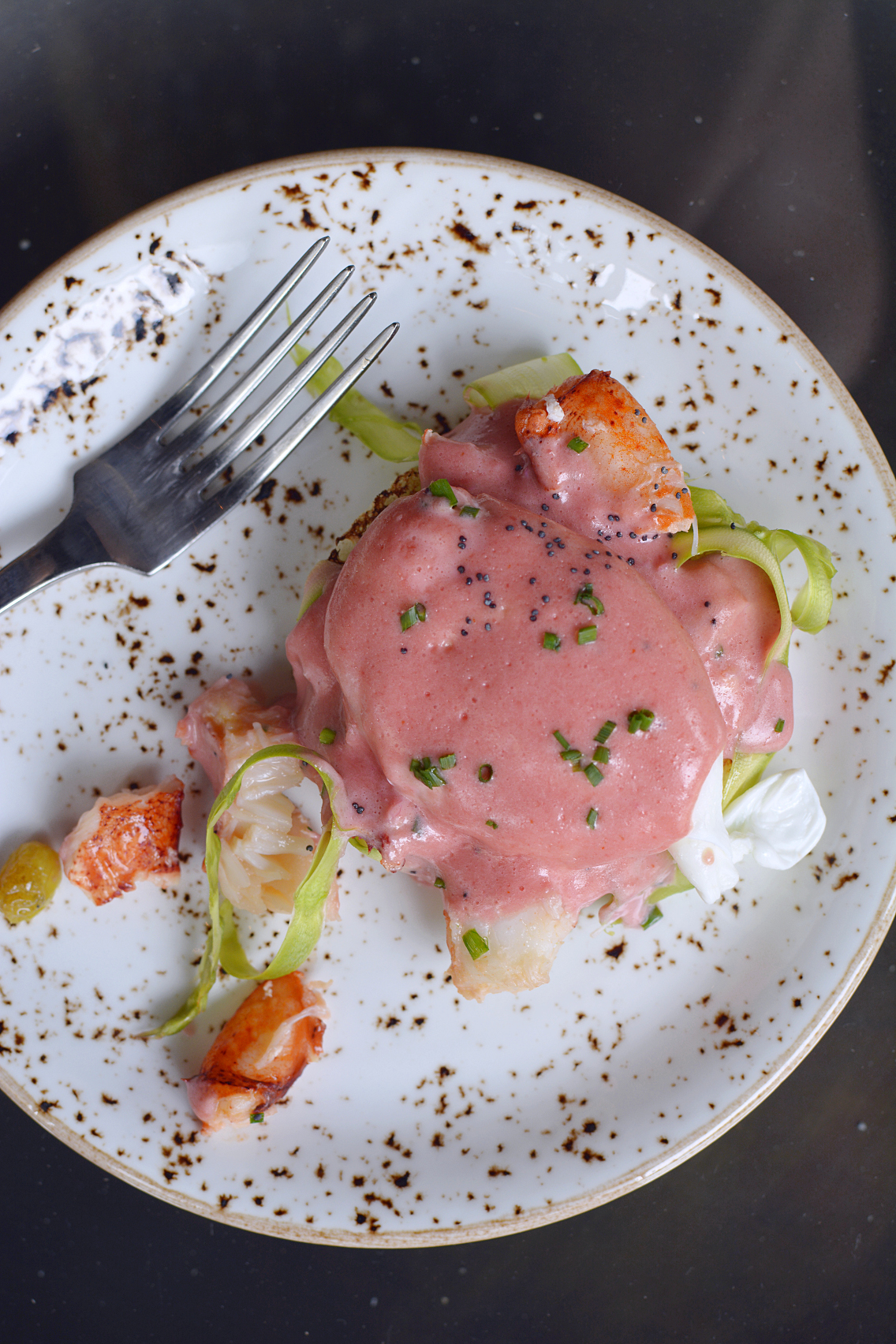 A sinfully airy mixture of poached farm eggs, thin shaved asparagus and lobster served on brioche, smothered in sauce Maltese (owing it's rich pink hue to beets and blood orange) and garnished with poppy seeds and chives.
The brunch gods have spoken — all lobster benedicts shall be served with pink sauce from here on out!
Can we please start the #ilikemylobsterbenedictpink movement?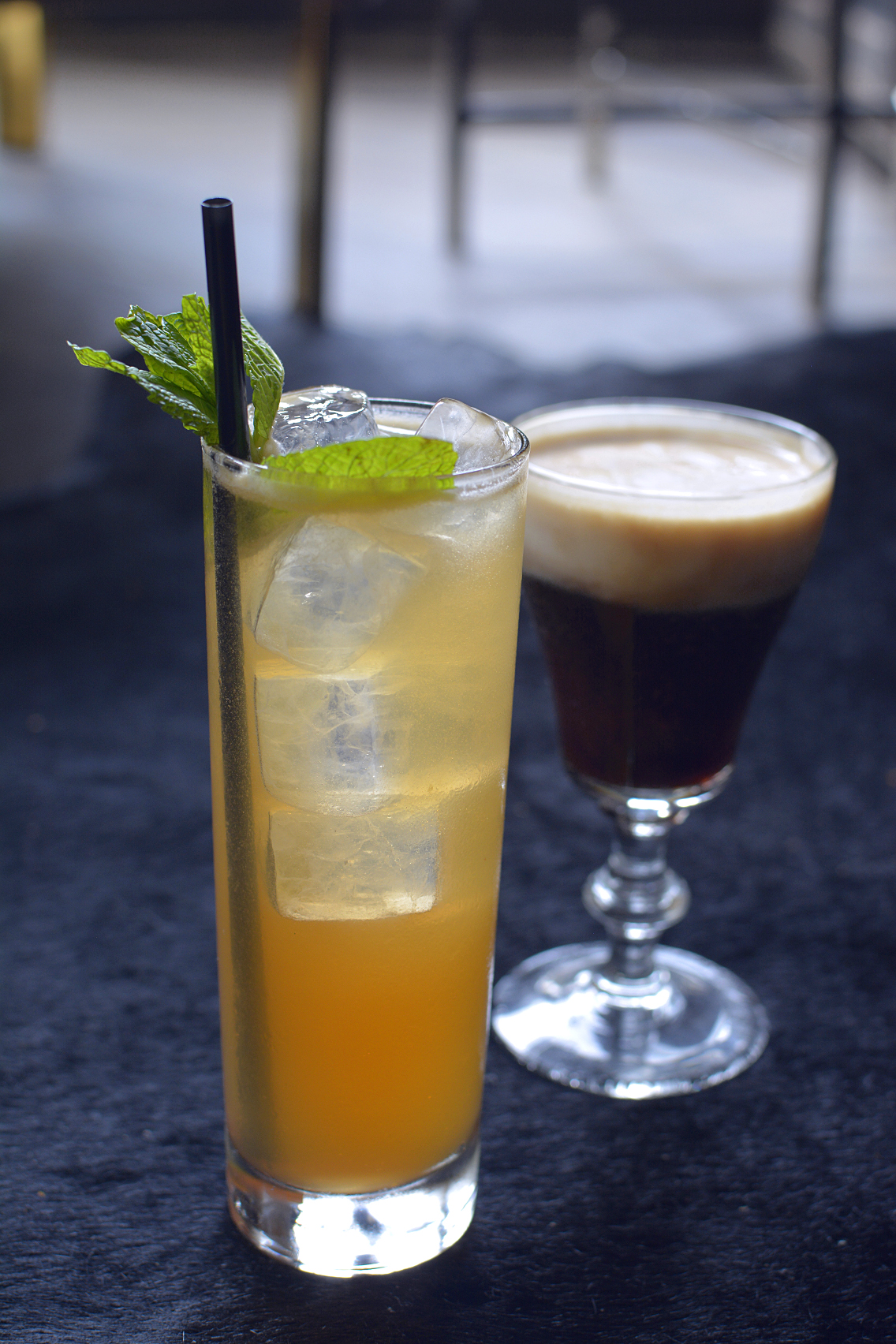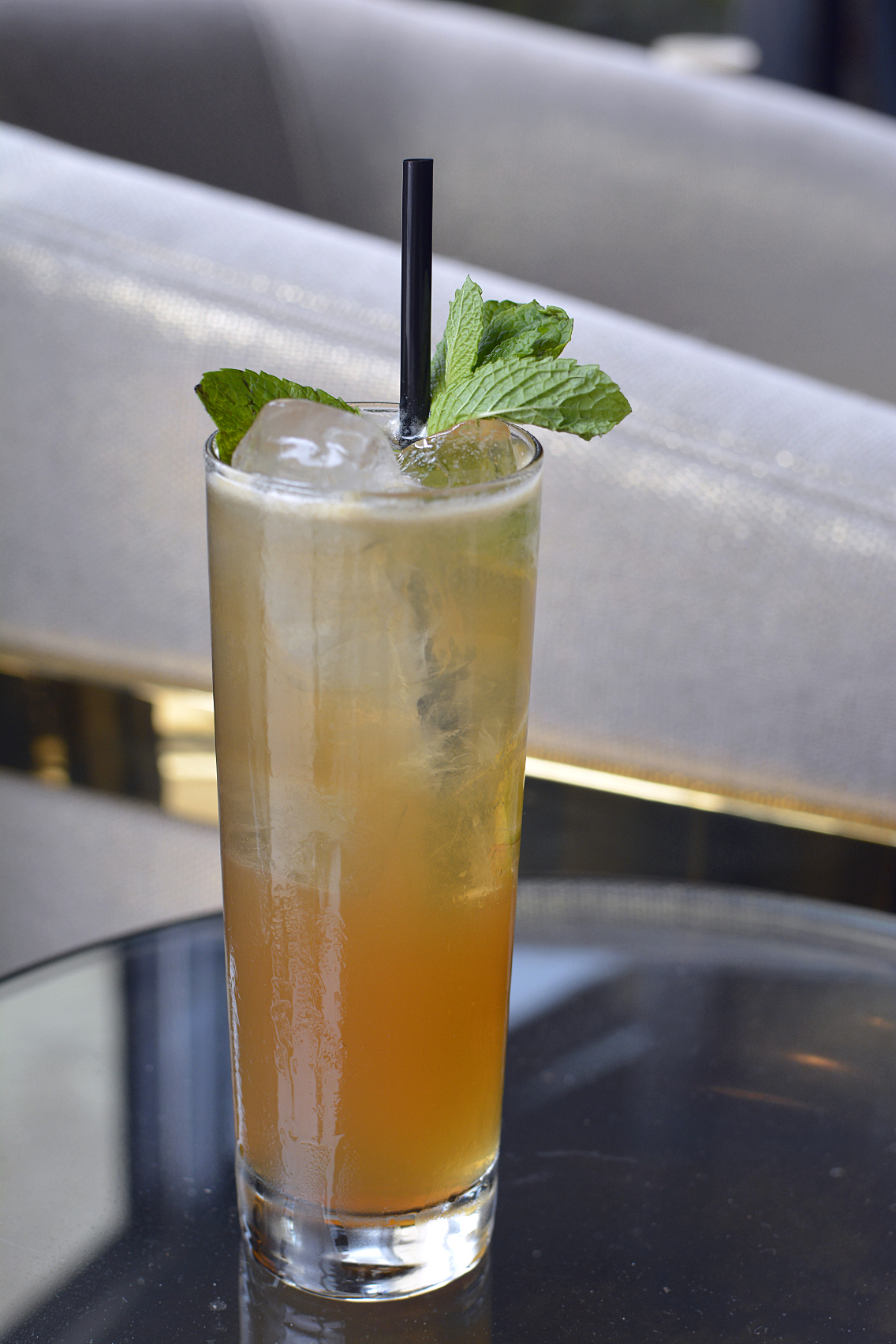 Before our next course (can you believe we still have TWO more?), we recharged with two more of Presidio's new brunch libations. This is the oh-so-drinkable Love & Haight. Gin mixed with strawberry-infused Pimm's (swoon), preserved lemon cordial and soda garnished with fresh mint.
One of my favorite summer drinks is a good ole Pimm's Cup! I became addicted when Hubby and I spent two weeks in London in summer of 2011. Fruity, boozy but not TOO overpowering, Presidio's fusion take with strawberry-infused Pimm's set my anglophile heart aflutter! This is the sort of drink you will want to marathon with during summer's patio season and it goes with pretty much everything on Chef Connolly's brunch menu.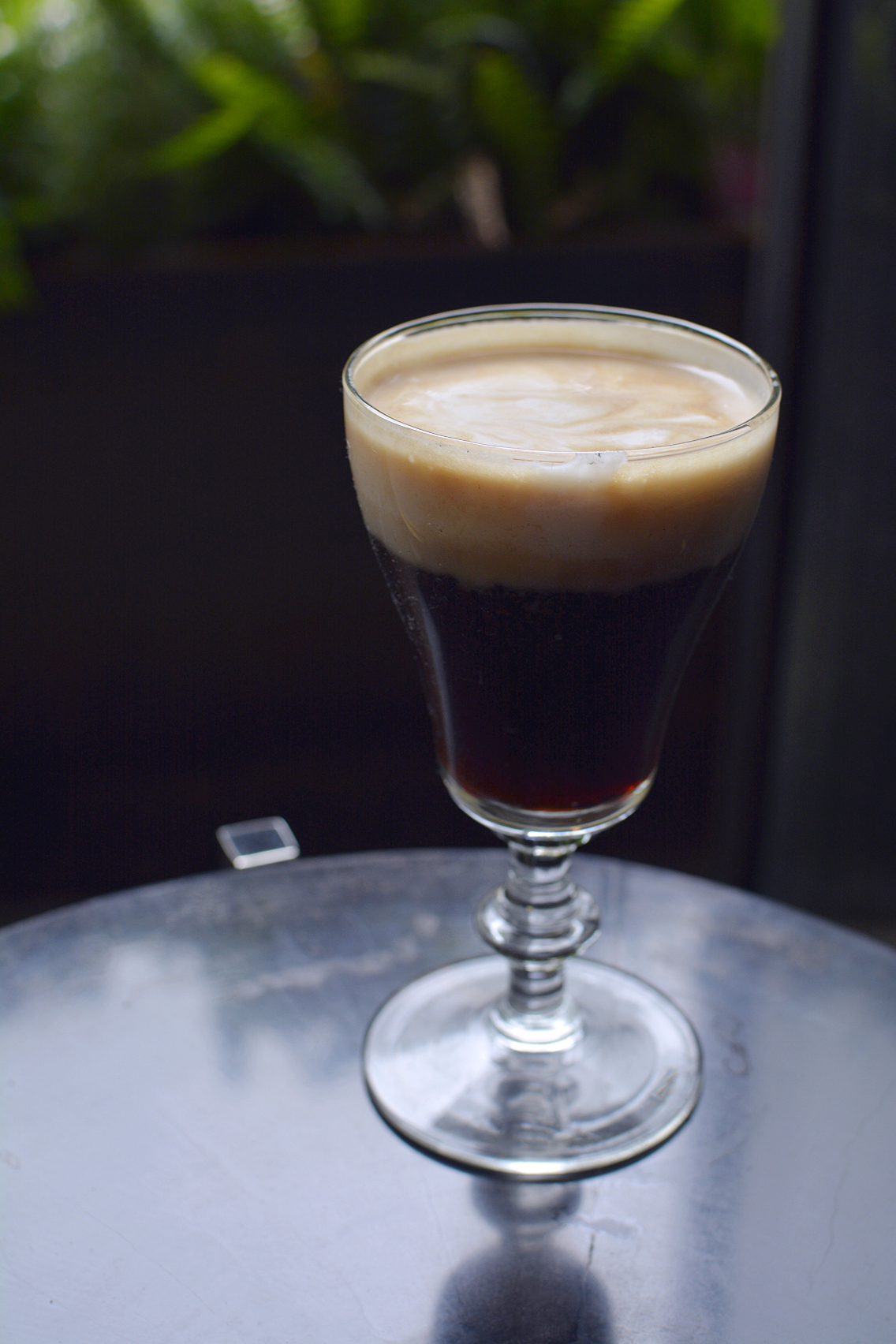 Rachel opted for this Wake Up Call: Luxardo Fernet, Creme de Cacao and Sparrow Coffee finished with coconut cream. A creamy, energizing and flavorful combination served in one of the most elegant glasses I've ever seen a coffee cocktail served in (besides maybe my footed French Coffee glasses…).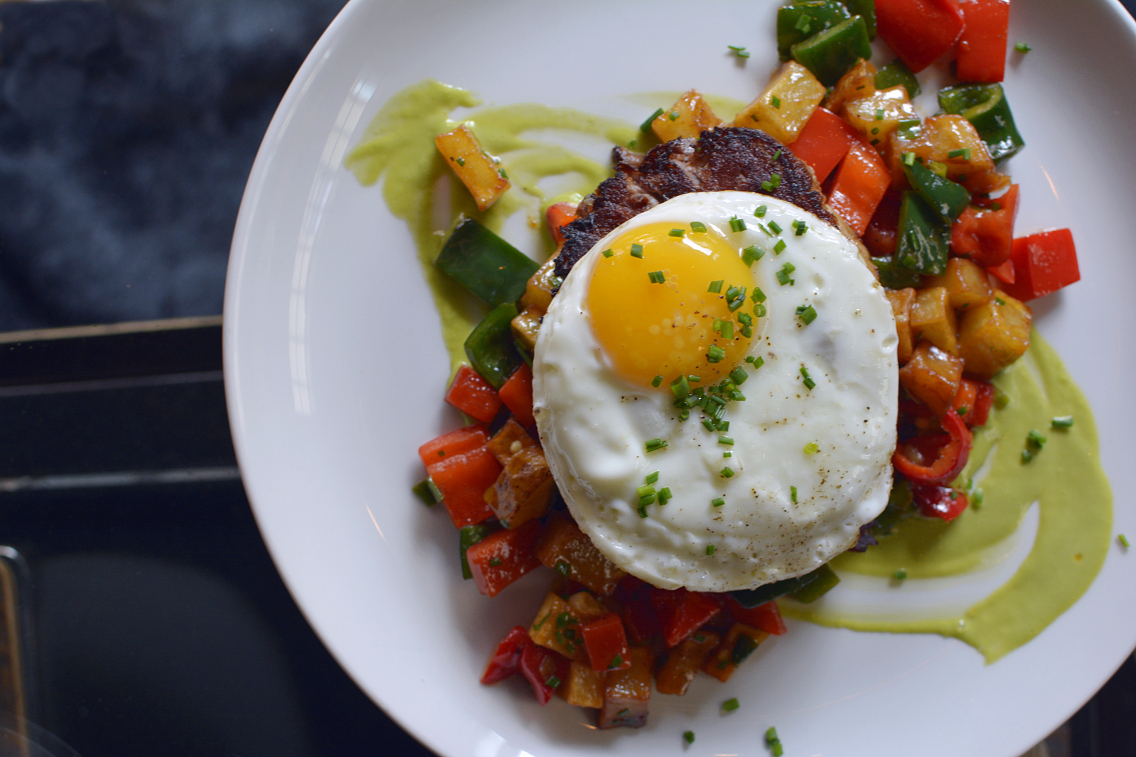 Next we moved on to something a little more traditional but no less incredible….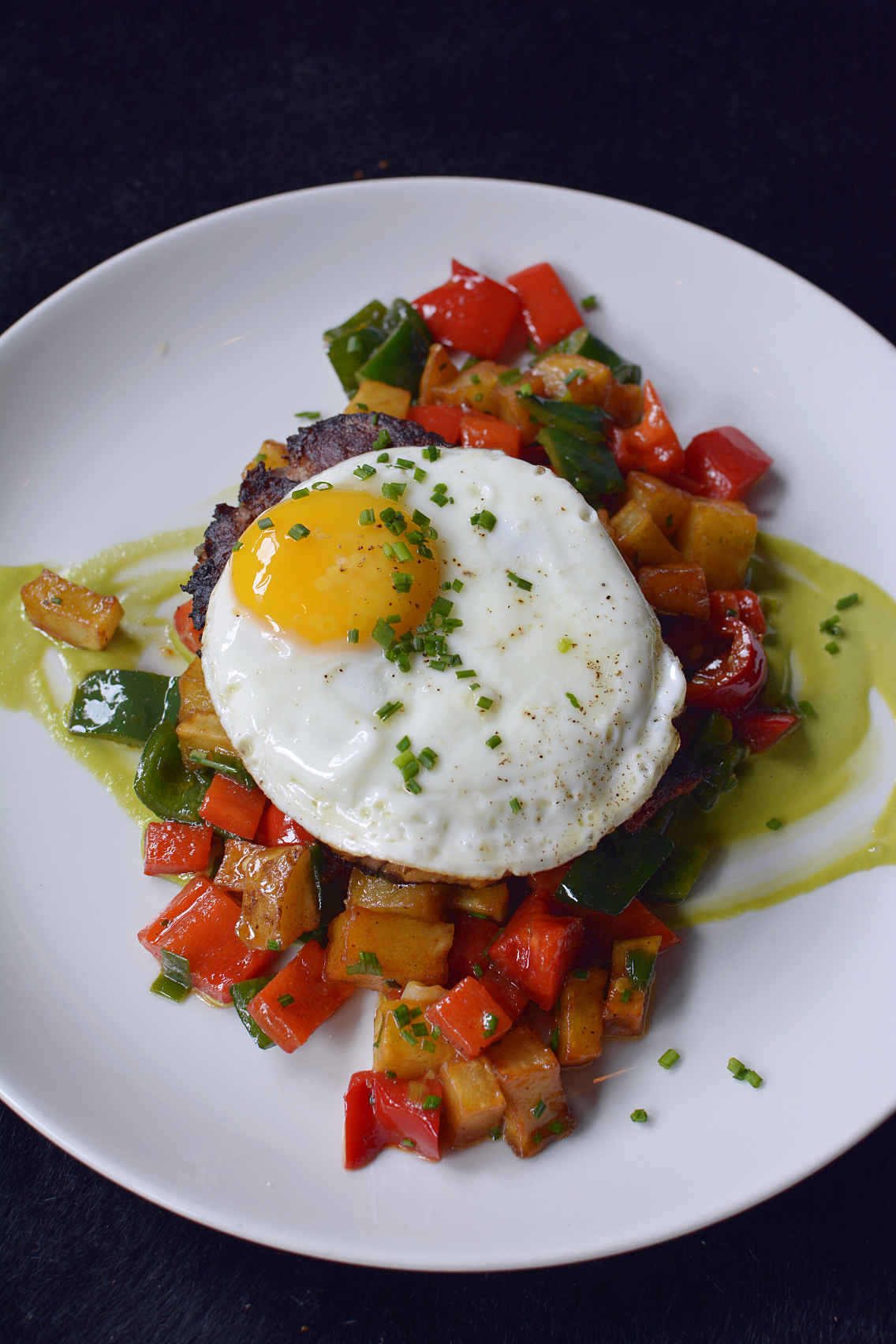 Chef Connolly's Berkshire Pork Collar Hash! Chili braised pork collar perched atop a bed of potatoes, peppers, chilis, and spring onion with a beautiful ramp aioli and perfectly fried farm egg.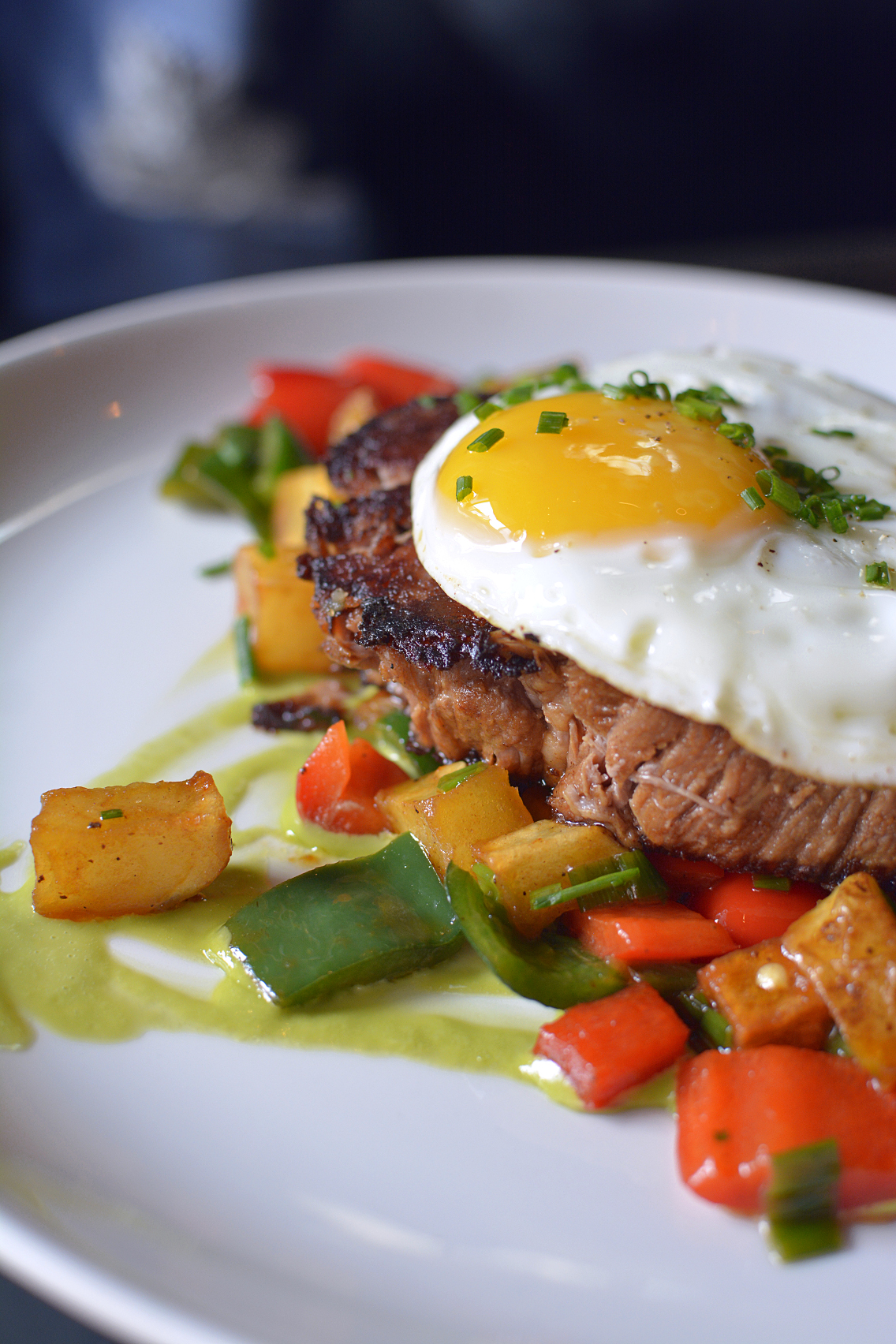 As far as breakfast comfort foods go, it doesn't get more "meat and eggs" at Presidio than this dish. The pork is spicy but mellowed out with the herbiness of the ramp aioli and the stout potato hash.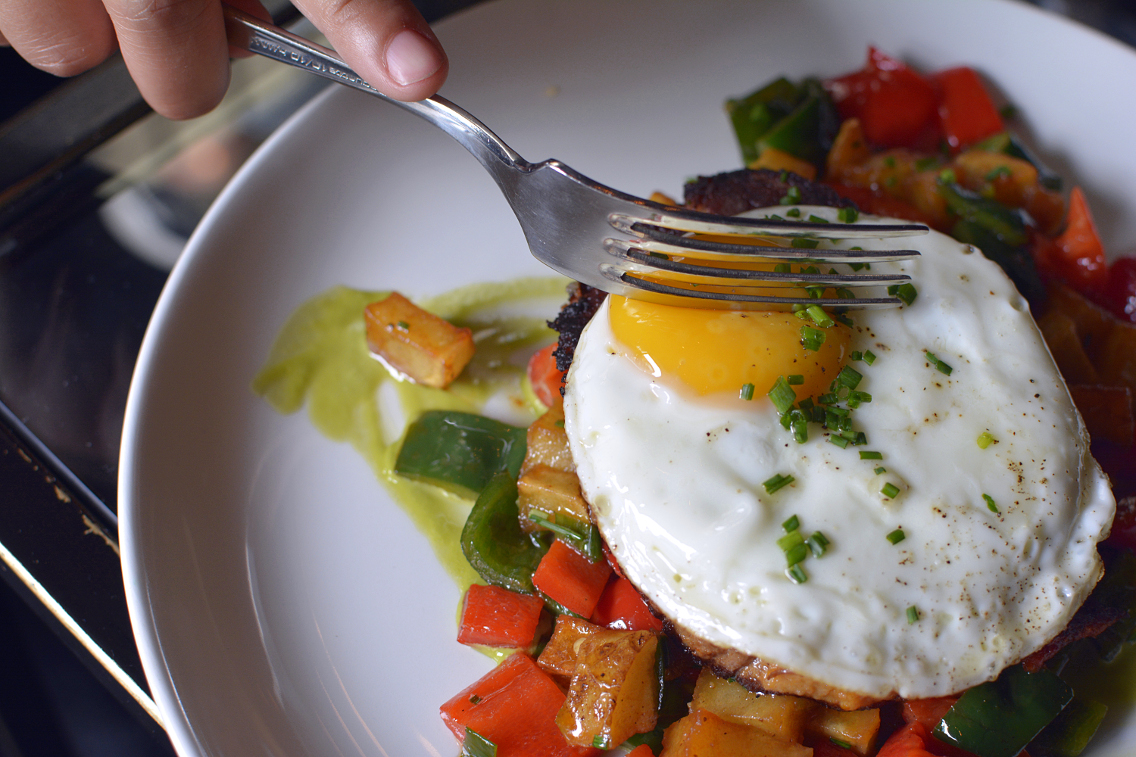 And once you break the egg this dish literally sings a song of brunch perfection: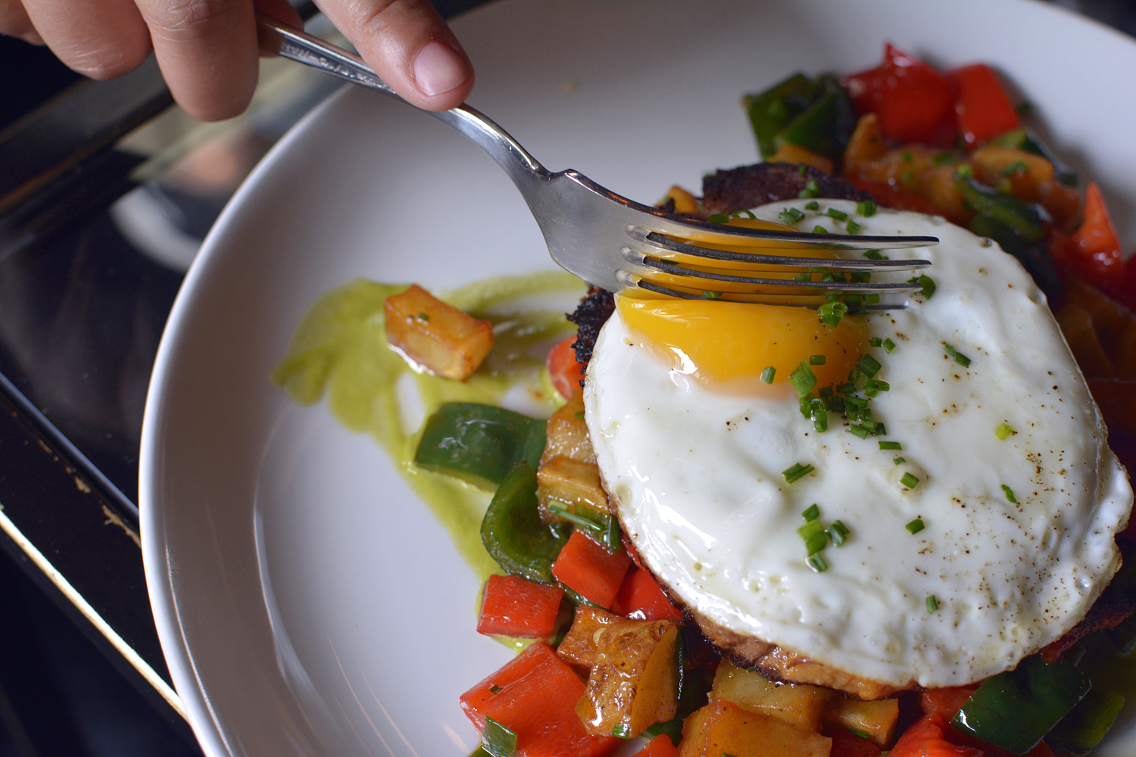 Breaking…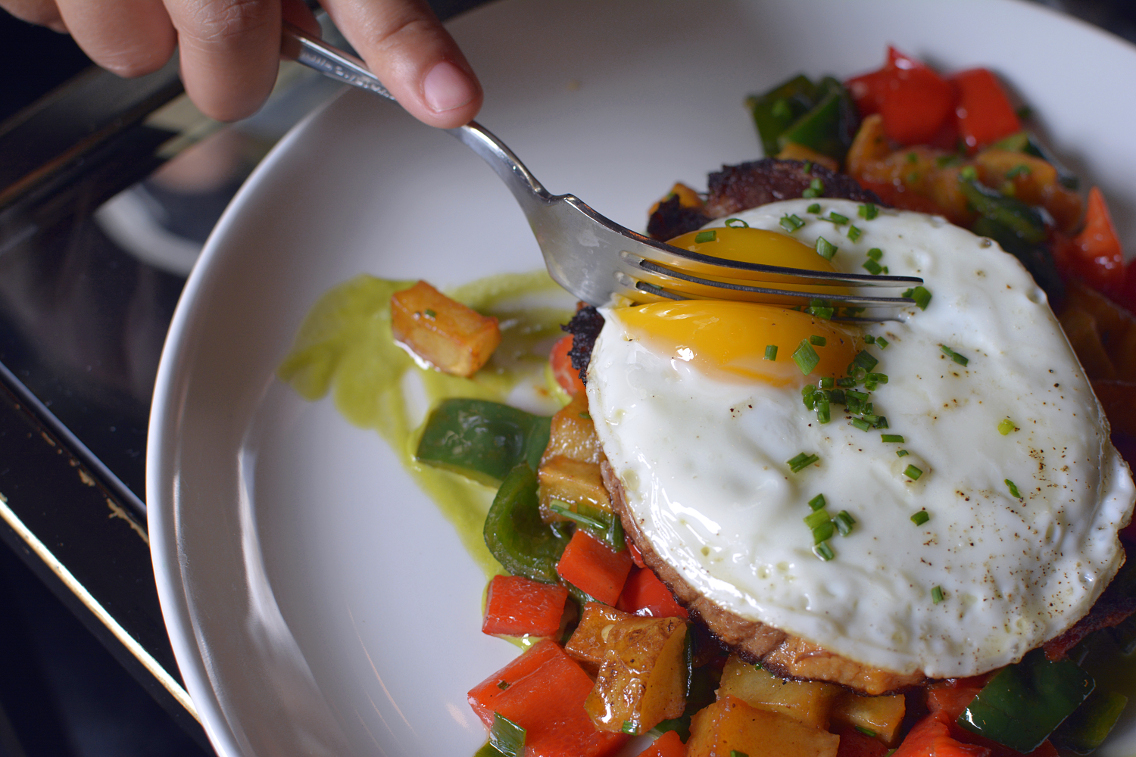 Breaking…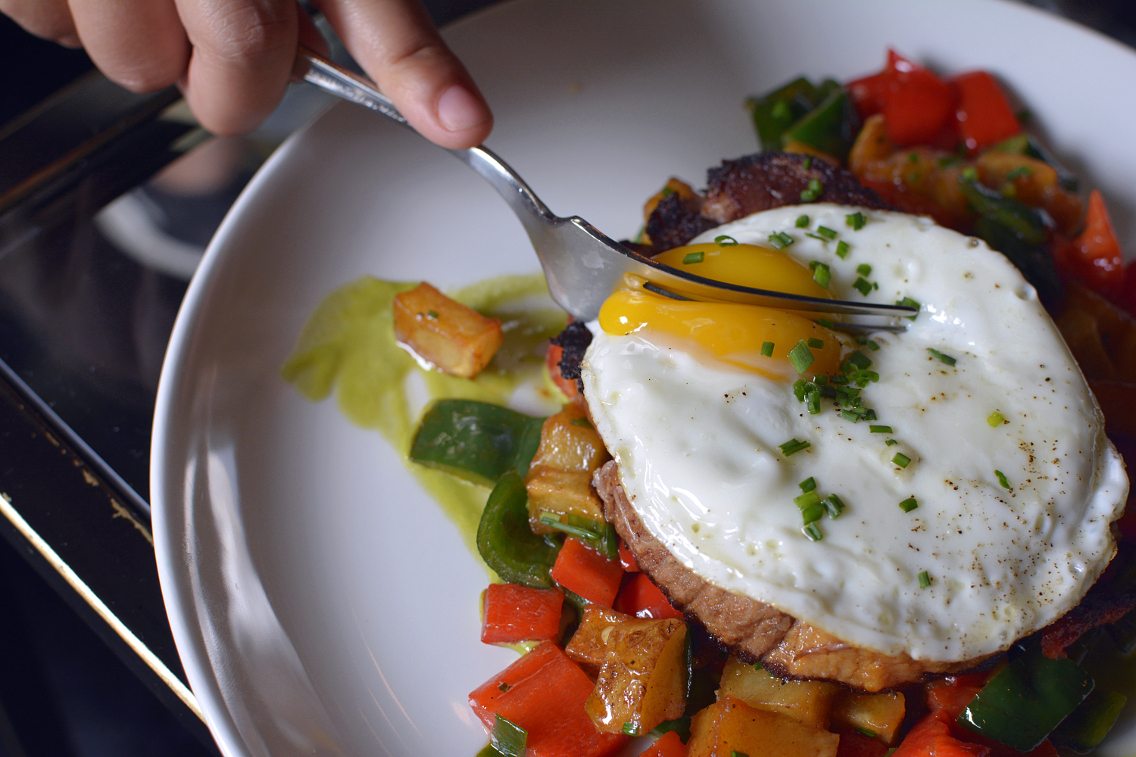 Breaking…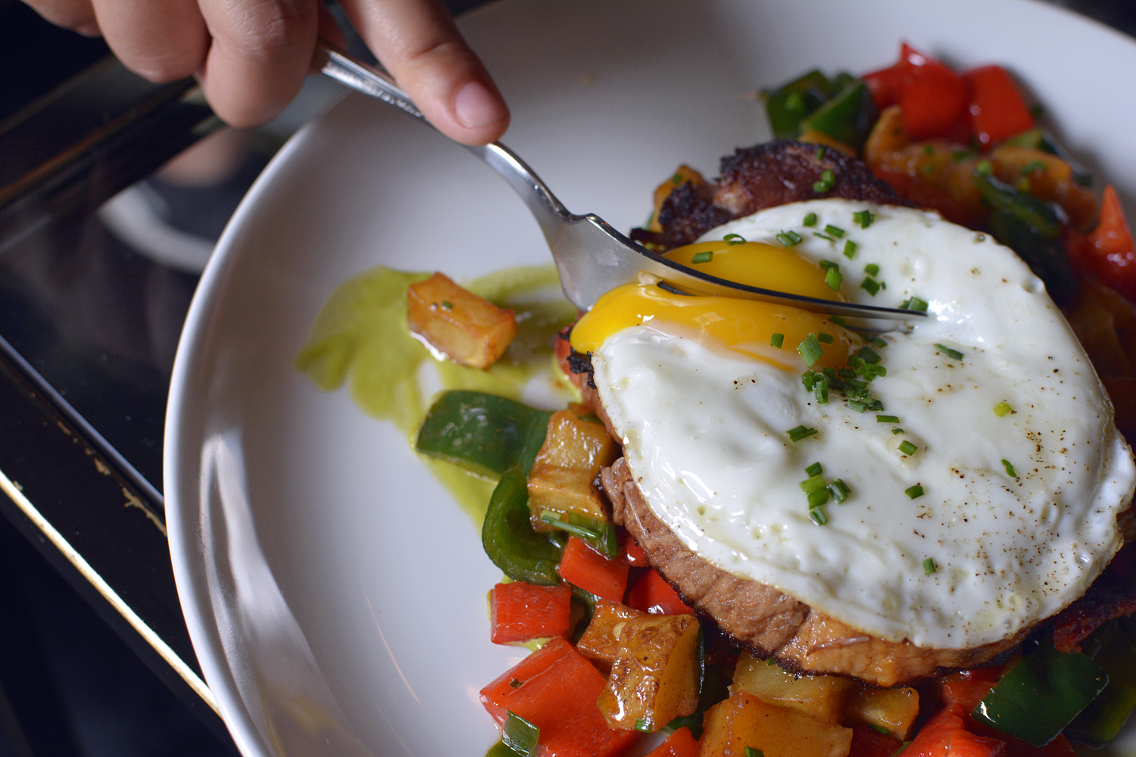 Broken!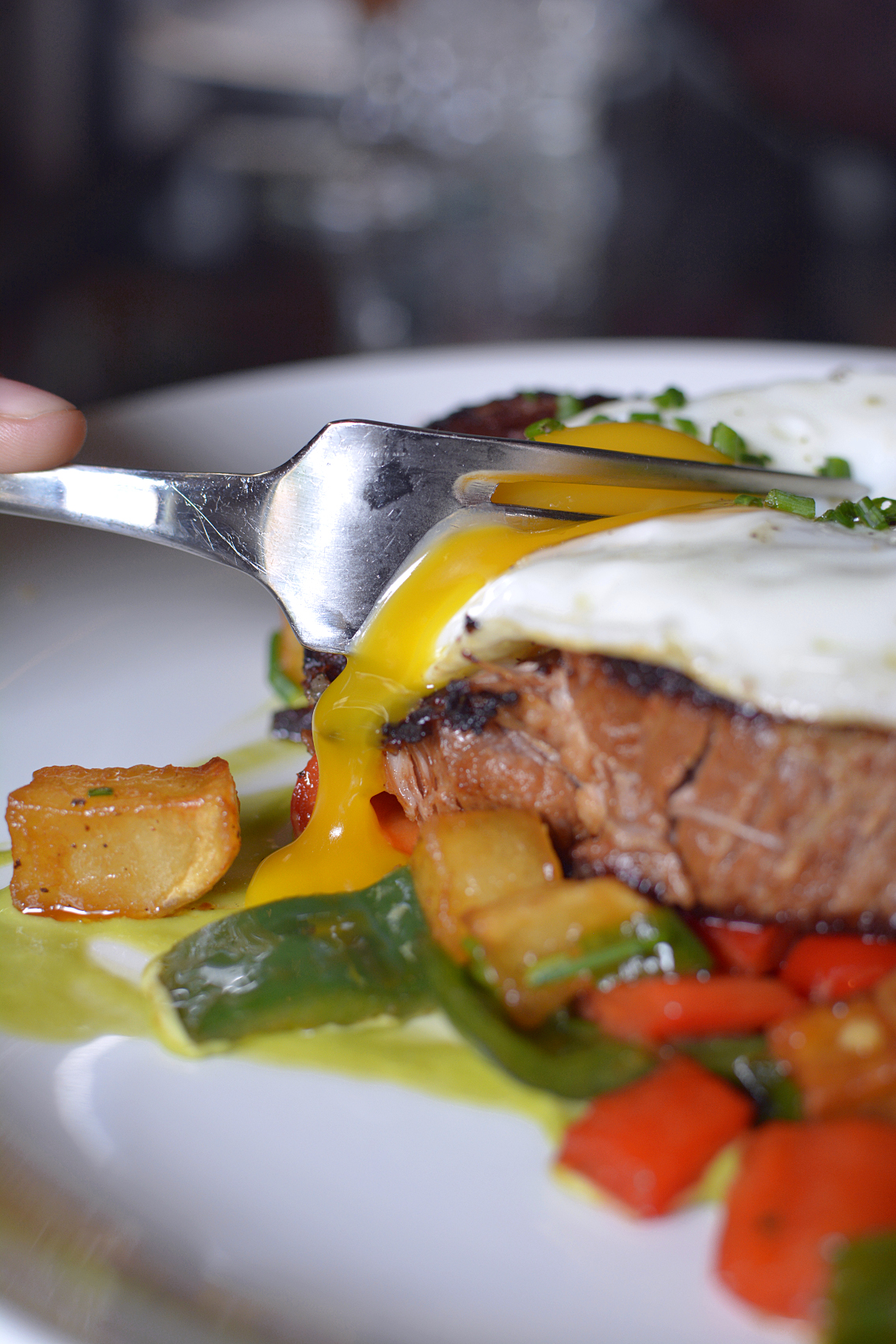 Look at that oozy brunch perfection!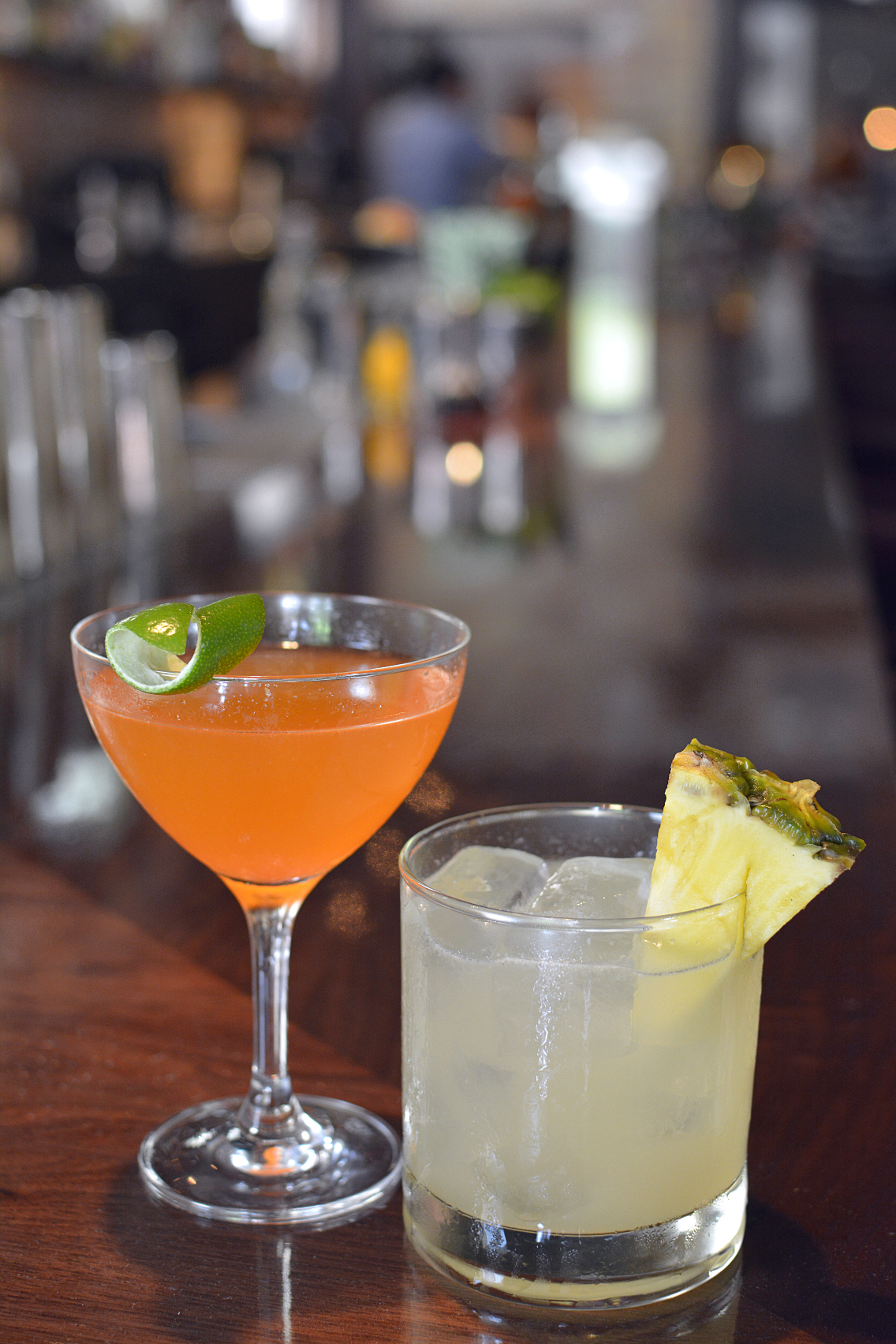 We slurped up a few more cocktails as we continued on — including another Municipal Code for me and this perfectly mixed Tommy's Margarita for Rachel!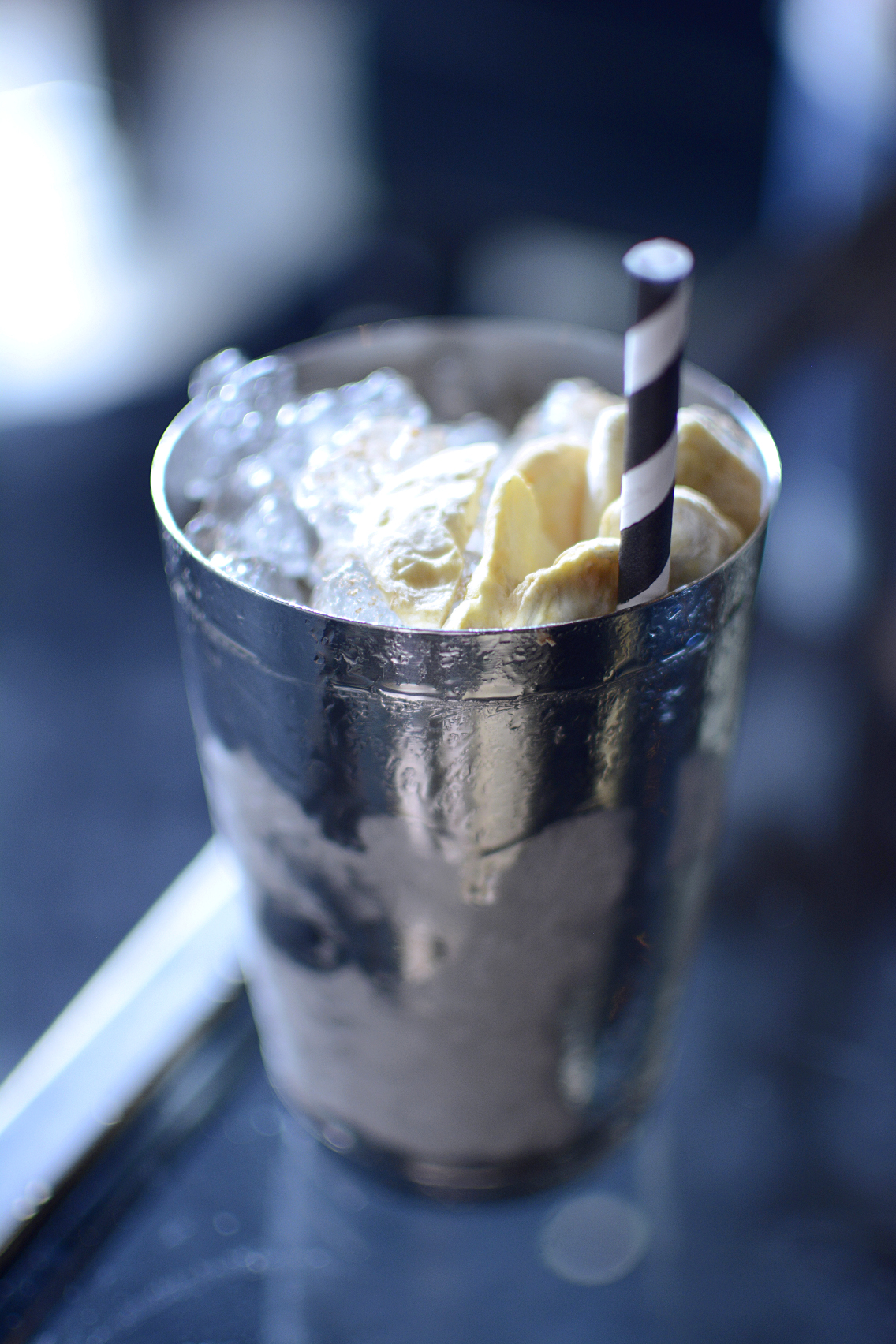 I also took Rachel's advice and sipped on one of her favorite dinner cocktails: the Banana Cobbler! Oloroso sherry, banana, lemon and nutmeg all served in one of the chicest little tumblers and completed with a quirky striped straw.
Slurpable, sweet and STRONG — it's a good thing I übered home from our brunch!

And last but CERTAINLY not least came this innovative take on the brunch classic of bagels & lox!
Pisco Cured Irish Salmon served with whipped cream cheese, capers, red onion, ramps (though sadly only when they are in season) and toasted everything bagels.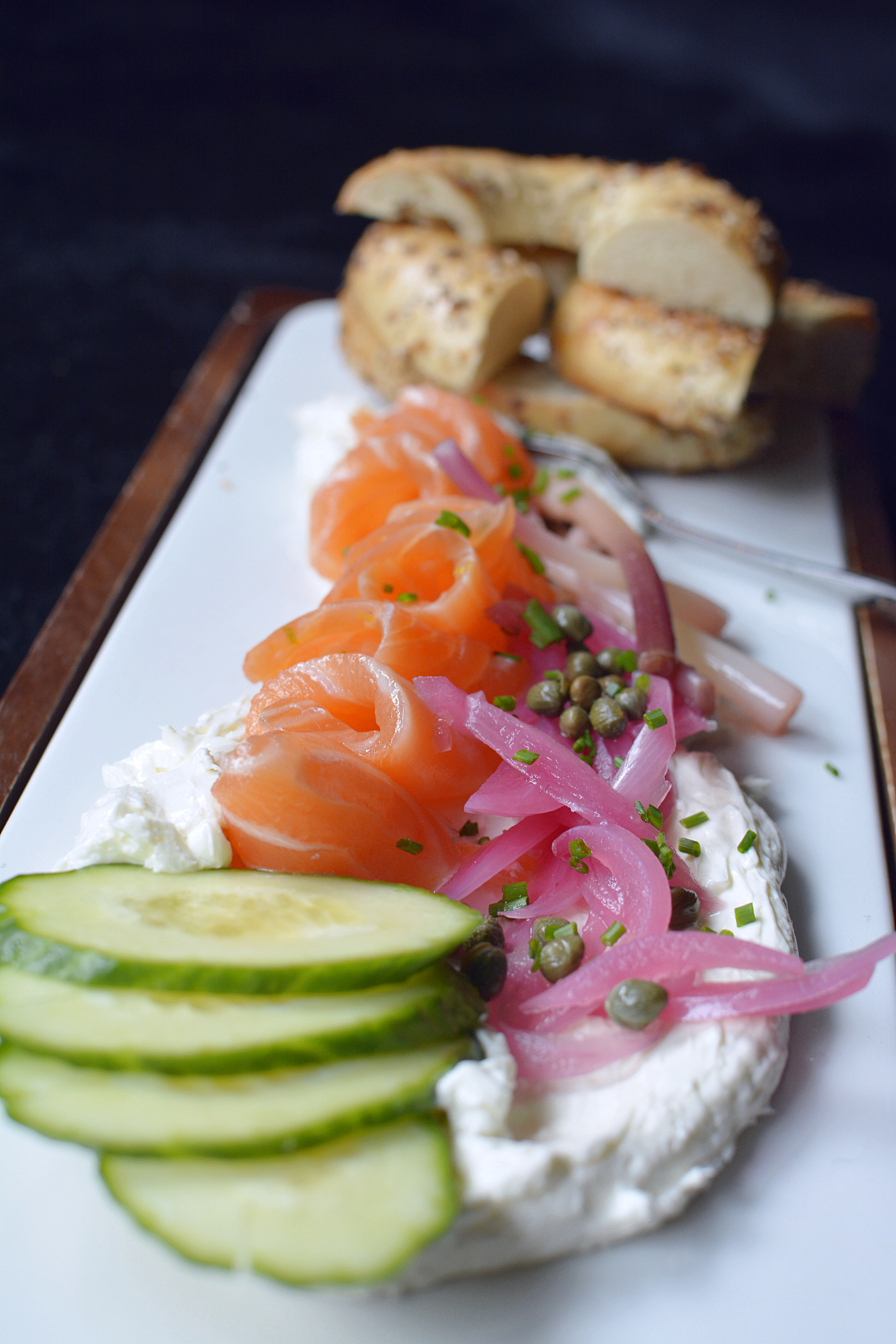 Lox & Bagels is one of my favorite brunch dishes. There's something so divinely perfect about silky smoked salmon in the morning!
Presidio's offering is light, delicate, airy, salty, creamy, cooling, zesty and tart (thanks to the picked red onion and ramps). It's pretty much everything you could ever want from lox and bagels presented in a stunningly perfect way!
I was blown away by the balance of this dish — each ingredient works so seamlessly with all of the others (though I have to admit I'll miss the ramps the next time I order this).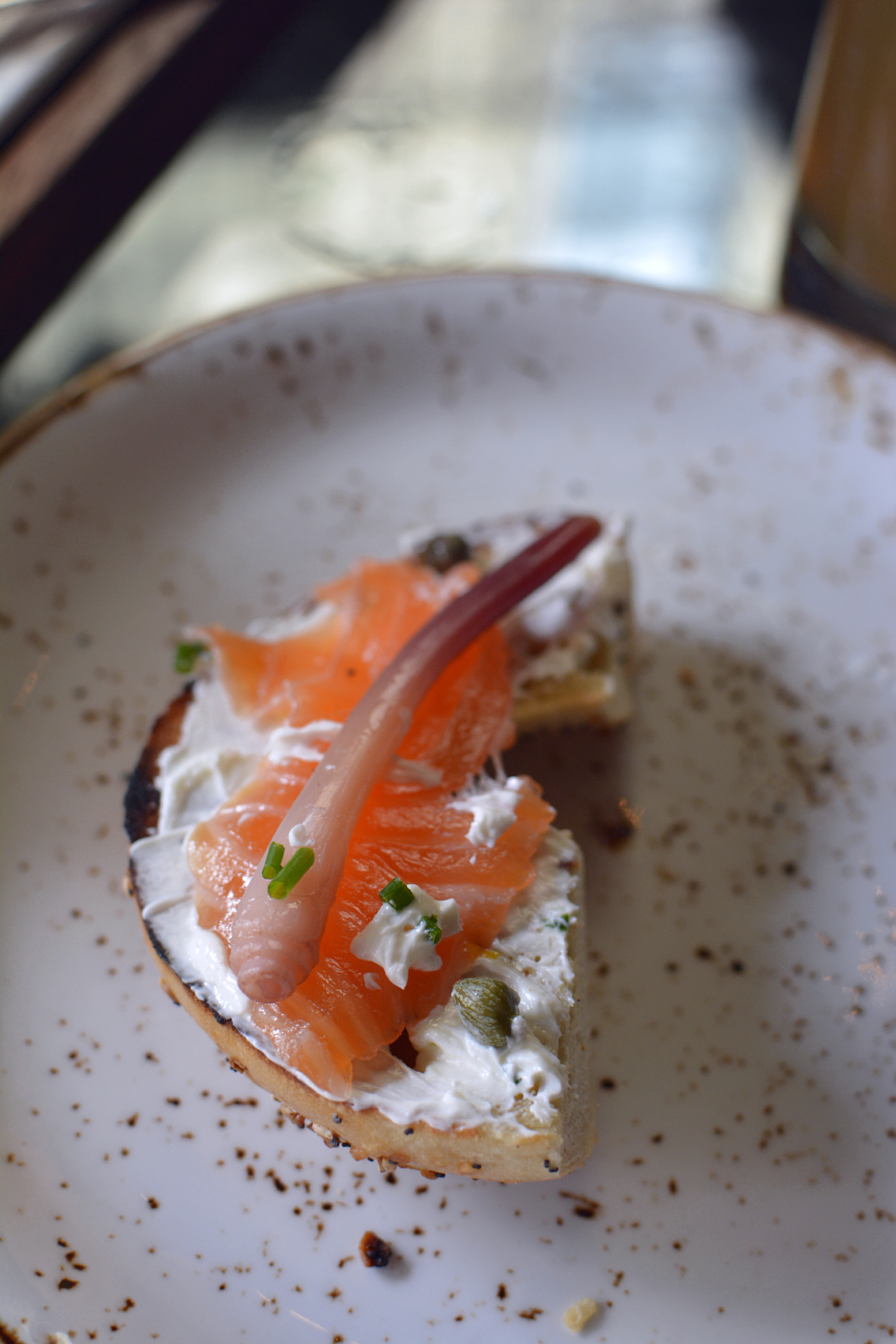 I had no idea I would love pickled ramps on my smoked salmon as much as I did, and happily devoured far more than I thought my stomach could fit after such an enormous feast.
So what are you waiting for?
Today is Sunday! It's a day meant for brunching and boozing! And no spot in Chicago will WOW you like Presidio. No spot with charm you with its innovation, its fresh flavors, its swanky atmosphere and epic brunch booze more.
It's really is the sort of space you have to experience for yourself!
Need more convincing? Read Rachel's drool-worthy brunch review here.
Disclosure: I received a complimentary meal to facilitate this post. Review and all opinions are my own.