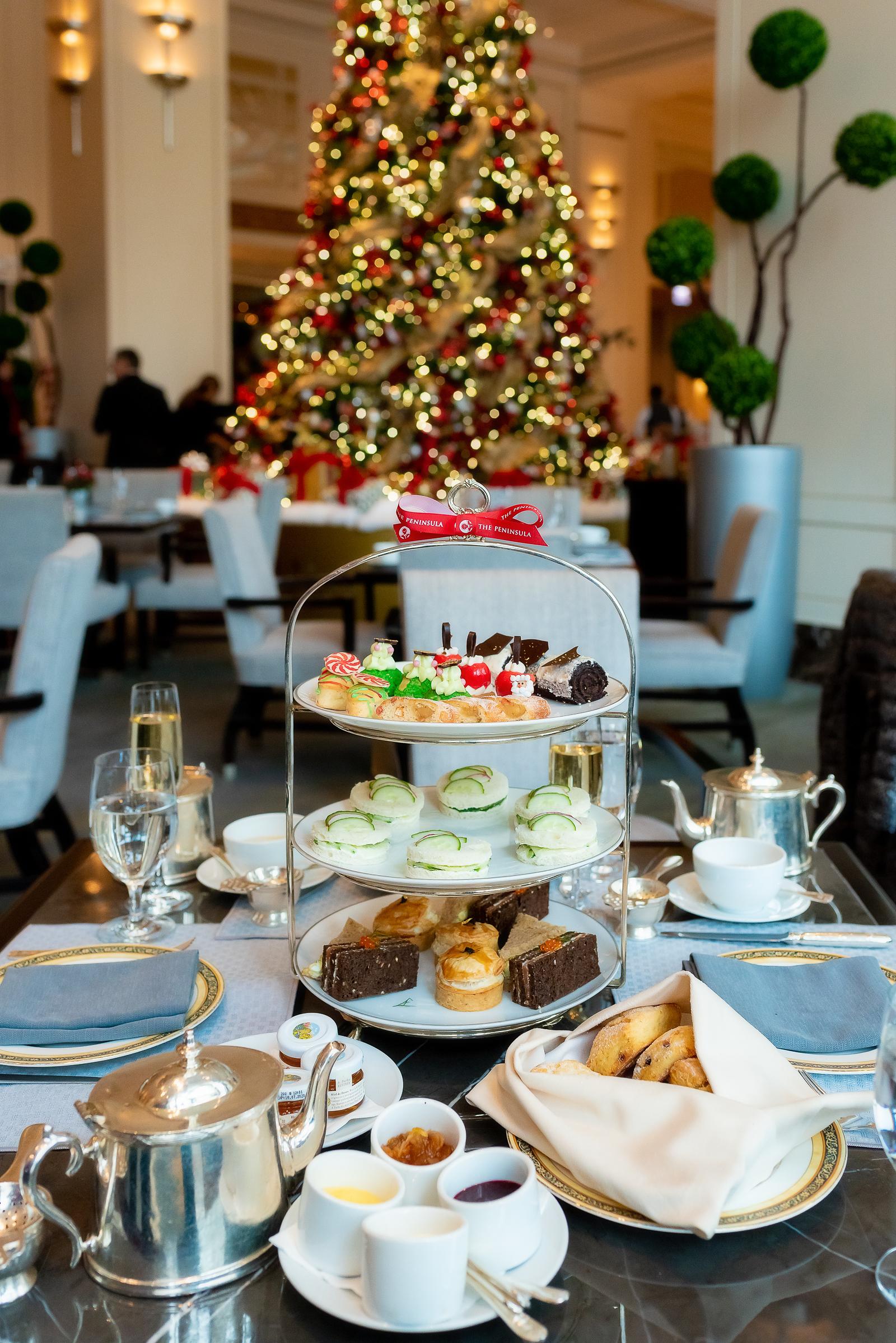 Each and every Christmas I look forward to one tradition the most: afternoon tea at the Peninsula.
I've been going religiously since 2012 (read my posts from 2014, 2015, and 2016 for further proof!). There's nothing like ringing in the most festive season of the year with dainty finger sandwiches, fluffy scones, and piping hot tea.
And while I love afternoon tea year-round, there's just something so special about enjoying tea under a giant Christmas tree with a live quartet playing carols.
After our pup's tragic and unexpected passing last week, I've been almost inconsolable. While I've lost quite a few family members these last three years, the grief I've been experiencing over Johnny has been deeper... and very, very different. Probably because he was mine. He was my dependent and my baby. I sometimes still feel him napping next to me on the couch, only to turn to find it was my imagination.
It's been harder to cope with than I dare admit.
But during the darkest of times, there is always light.
And luckily for me Starr, Gigi, and I had scheduled a "friends Christmas" with afternoon tea at the Peninsula a few days after Johnny's passing.
So despite the fact that I was terrified to leave the house (I wasn't 100% confident I wouldn't burst into tears every 3 minutes), the pull of taking Gigi and Starr for their first afternoon tea at the Peninsula was TOO STRONG.
And not only did our tea together provide a delicious distraction from the sorrows of the last week, but it reminded me of all I have to be thankful for.
I am so grateful to be able to experience so many amazing meals with those I love most. And so grateful to have such wonderful kindred spirits to pull me out of my darkest moments with such kindness and light.
Especially when that light comes softly from a Christmas tree...
Holiday Afternoon Tea At The Peninsula
---
The Decor
Afternoon Tea at the Peninsula is always a lavish affair but during the holidays, their soaring Lobby positively glitters with tinsel and trimmings.
From the bedecked lions that greet you at the front door to the massive two-story Christmas tree in the Lobby to the ice rink six-stories above Michigan Avenue... there's really no hotel in Chicago that does Christmas like the Peninsula.

The Food
If you've never done afternoon tea before, you may be duped into thinking a meal of "dainty" finger sandwiches, scones, and sweets wouldn't be filling.
Hardly a meal at all, right?
WRONG.
I don't think I've ever left an afternoon tea service without feeling stuffed to the brim. The sandwiches are endless. And the desserts (which you'll inevitably take home with you because you won't have room) will have you licking your fingers clean.
I like to think of afternoon tea as a 'trial by tiers' (tiers of food that is... and no, I don't care if you hate my pun). If you make it through them all, you deserve an award.
The Sandwiches
Black Forest Ham with clove cream cheese, gruyere cheese, & maple caviar
Catsmo Smoked Salmon with cinnamon cream cheese & trout caviar on pumpernickel

Egg Salad with tomatoes & herb cream cheese on sprouted wheat pullman
Cucumber Sandwich with allspice spread & radish on soft white pullman

Butternut Squash Pie with candied pecans, truffles and gold leaf
The Sweets
Fruit Cake

Stollen

Chocolate Yule Log

Raspberry Pistachio Cream Puff (my favorite!)

Mandarin Coconut Ornament
Mini Pumpkin Spice Bread (to take home! Such a clever idea)
The Scones
Traditional and Cranberry Orange Scones
served with clotted cream,
raspberry jam,
lemon curd,
& seasonal spiced apple jam

The Tea
All afternoon tea services must have at their heart a beautiful selection of teas.
The higher the tea quality, the higher the experience. And I love that each and every year I've come for holiday tea at the Peninsula, they've had at least three special teas offered just for the holidays.
My current favorites include:
Festive
with cocoa, orange, and grape notes
Chamomile Apple Spice
Jasmine Pearl
Earl Grey Imperial
Forest
with elderflower and raspberry notes
But let's not forget -- afternoon tea service also comes with a champagne toast too (which I secretly love even more than the tea).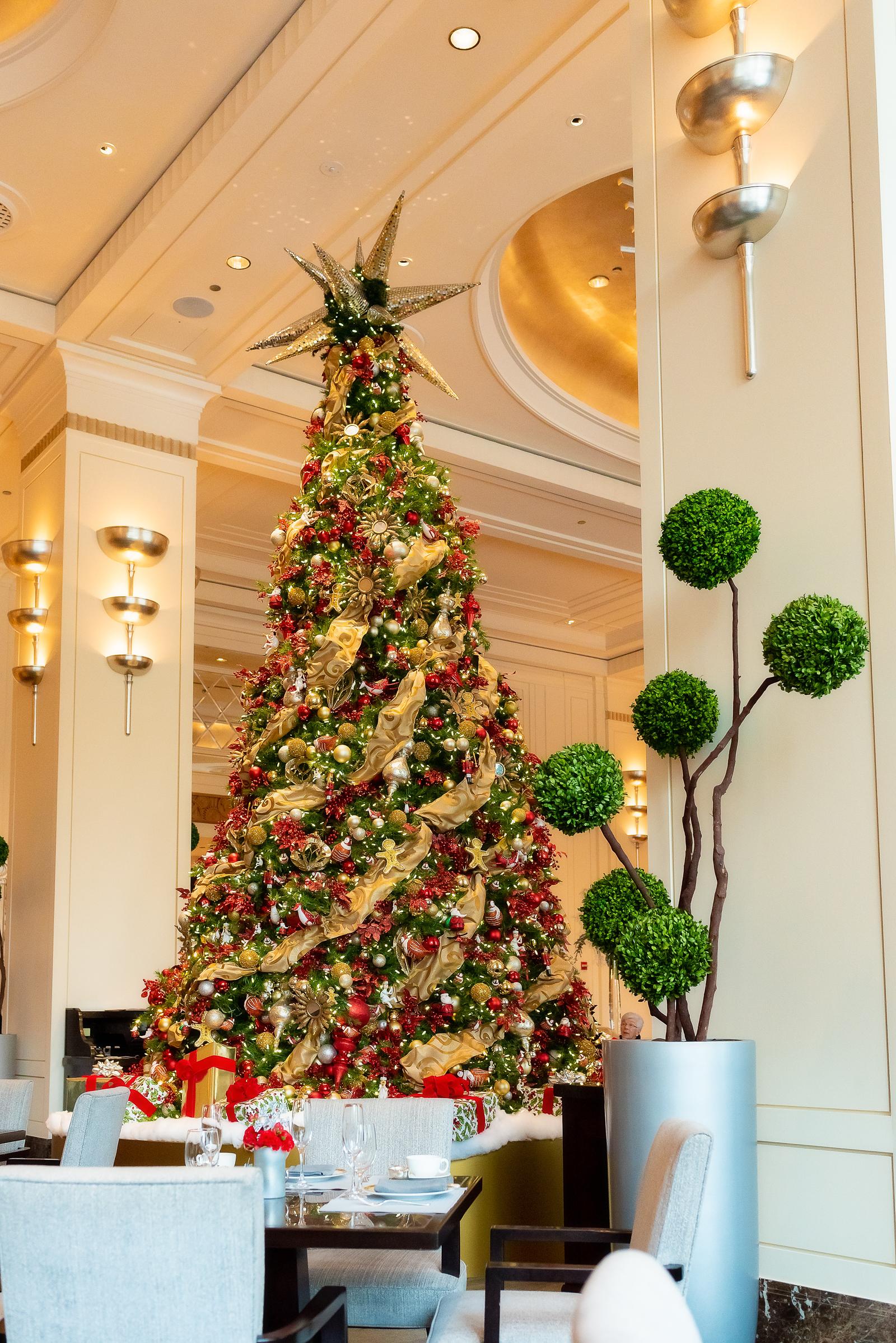 FINAL THOUGHTS...
Despite the trials of the past month, this year's holiday afternoon tea at the Peninsula is my favorite thus far. Not only were the sandwiches spot-on (I had three egg salad ones alone...) and the raspberry pistachio cream puff THE best dessert they've ever done (please bring it back next year!) but the decorations are more magnificent than ever.
Thank you to my friends and to the amazing team at the Peninsula for kicking off my holiday season so brightly!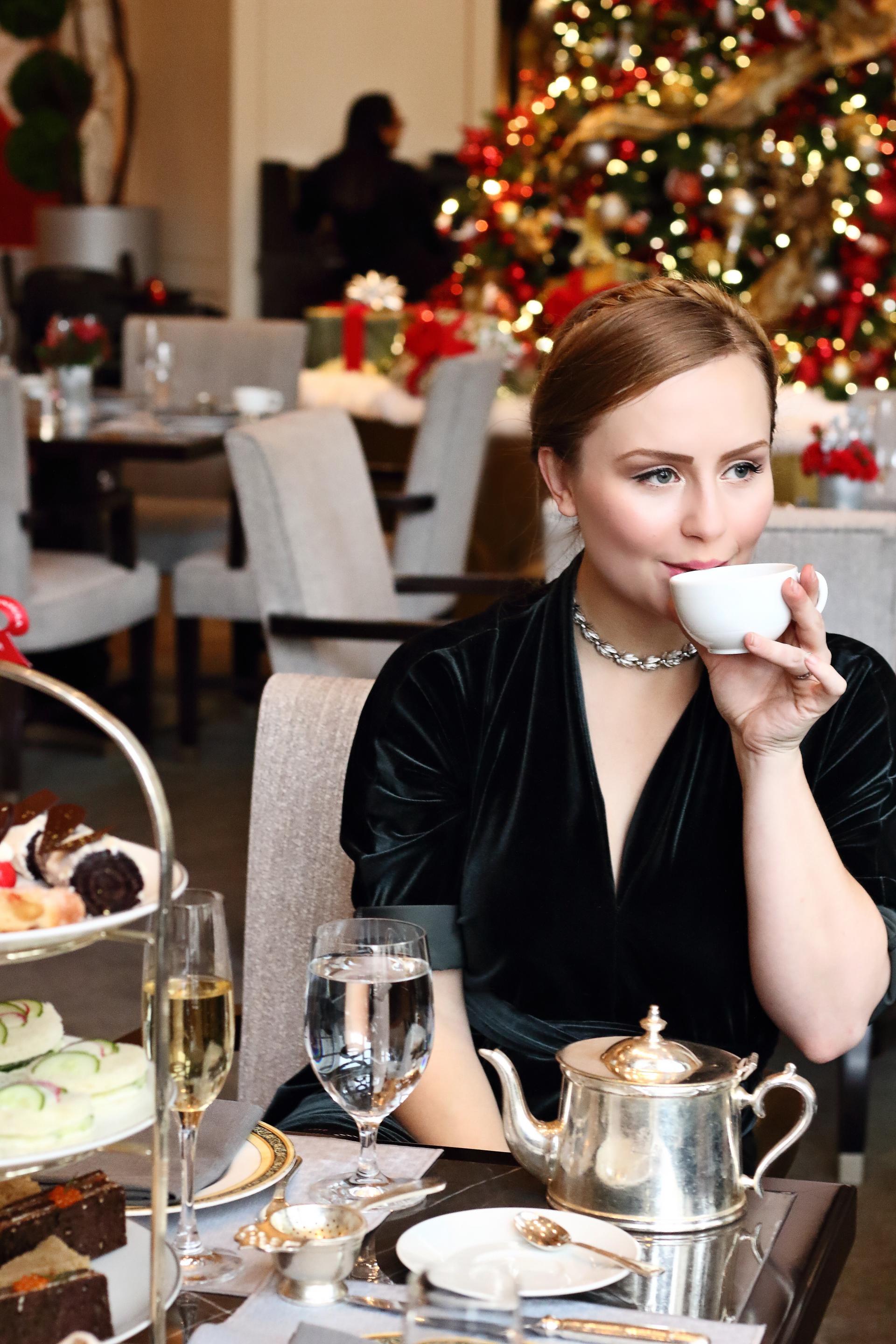 Photo Credit || Gigi Baith
Disclosure: We received a complimentary meal to facilitate this post. Review and all opinions are ALWAYS my own.