"As long as we are [persistent] in our pursuit of our deepest destiny, we will continue to grow. We cannot choose the day or time when we will fully bloom. It happens in its own time."
— Denis Waitley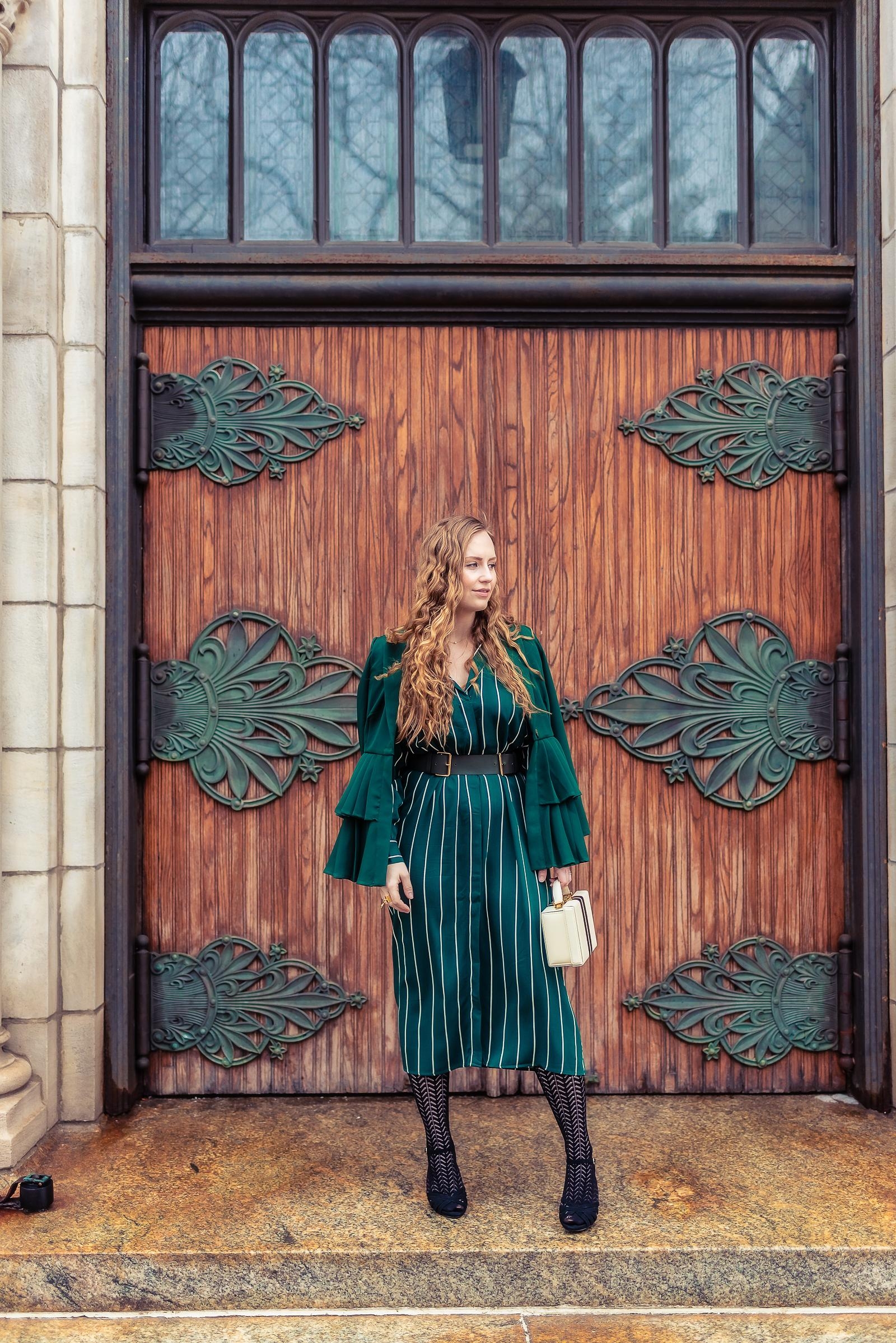 SHOP THE LOOK:
Blazer – c/o SheIn || Dress – H&M || Bag – Mark Cross 'Grace' || Pumps – Asos (similar) || Belt – Marni via The Real Real || Tights – Asos || Ring – Victoria Haynes || Necklace – Tiffany & Co.
I know, I know, a St. Patrick's Day look in February?
You're probably thinking "this frigid winter has pushed her off the deep end".
And in a way you'd be right. Completely right.
As you could probably tell from yesterday's Instagram post, I'm pining HARD for spring.
The bare trees, the constant snow (and the shoveling that comes with it), the gray/brown days with no sunshine… this winter is getting to me.
So I'm sharing my all-green St. Patrick's Day look with you a little early because
a) St. Patrick's Day is only 19 days away! I promise it'll be here in a flash. (And I love showing that an all-green outfit can be stylish… and not even in a Leprechaun-ish way)
AND
b) It's an outfit I'll probably be wearing all spring long, holiday or no holiday. Once the weather warms up enough to wear anything besides boots that is.
And maybe that's the worst part of it? Stores are flooding their shelves with breezy dresses and sandals that would lead to hypothermia on a typical Chicago winter day.
And that only makes me want to wear them MORE.
But because I can't physically, I certainly can mentally. Any of you with me? I'm opening up my Spring Shop a few weeks early for those of you pining for warmer weather and blooms too.
Here are a few of my favorite pieces from the shop:
While I don't plan on doing too much shopping this spring after my wardrobe purge last month, just looking at spring pieces feels like therapy for the winter-worn, no?
As does spending ample hours pouring over spring inspiration on Pinterest…