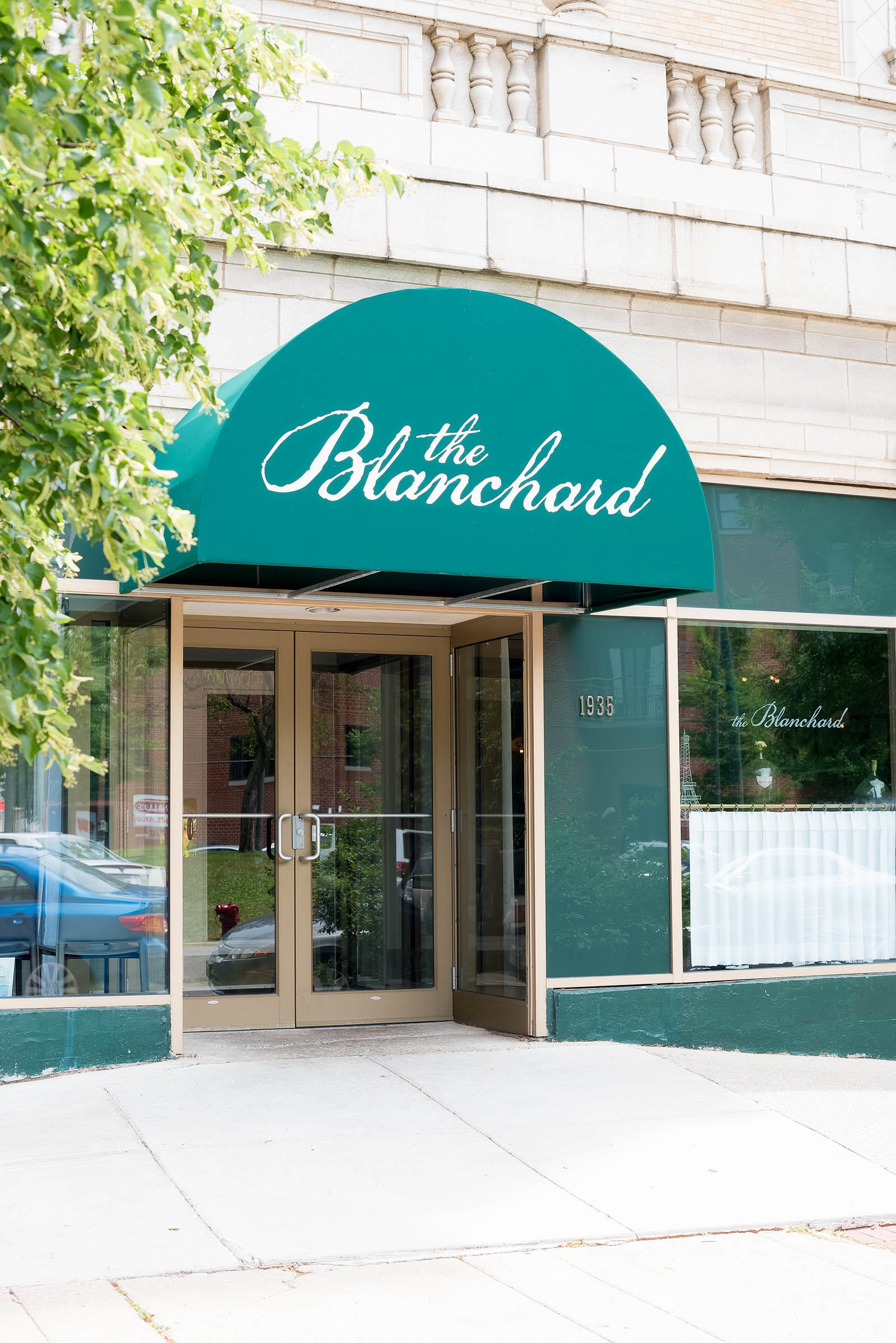 ** PLEASE NOTE: The Blanchard is now closed. But, since I enjoyed this spot so much, I'm leaving this post up in loving memory of their delicious food. **
There are few things I love more in this world than brunch. If you ask me, it's the BEST meal of the week!
And there are few cuisines in this world I love more than French cuisine. Which, quite possibly, may be the best cuisine in the world if you're an indulgent foodie like me.
But combine French cuisine AND brunch and you have one of the most beautiful meal marriages ever conceived. Especially if you can enjoy it al fresco during the beautiful summer months.
Here in Chicago, I know of no better spot serving up chic French brunch dishes with true Parisienne flair than The Blanchard.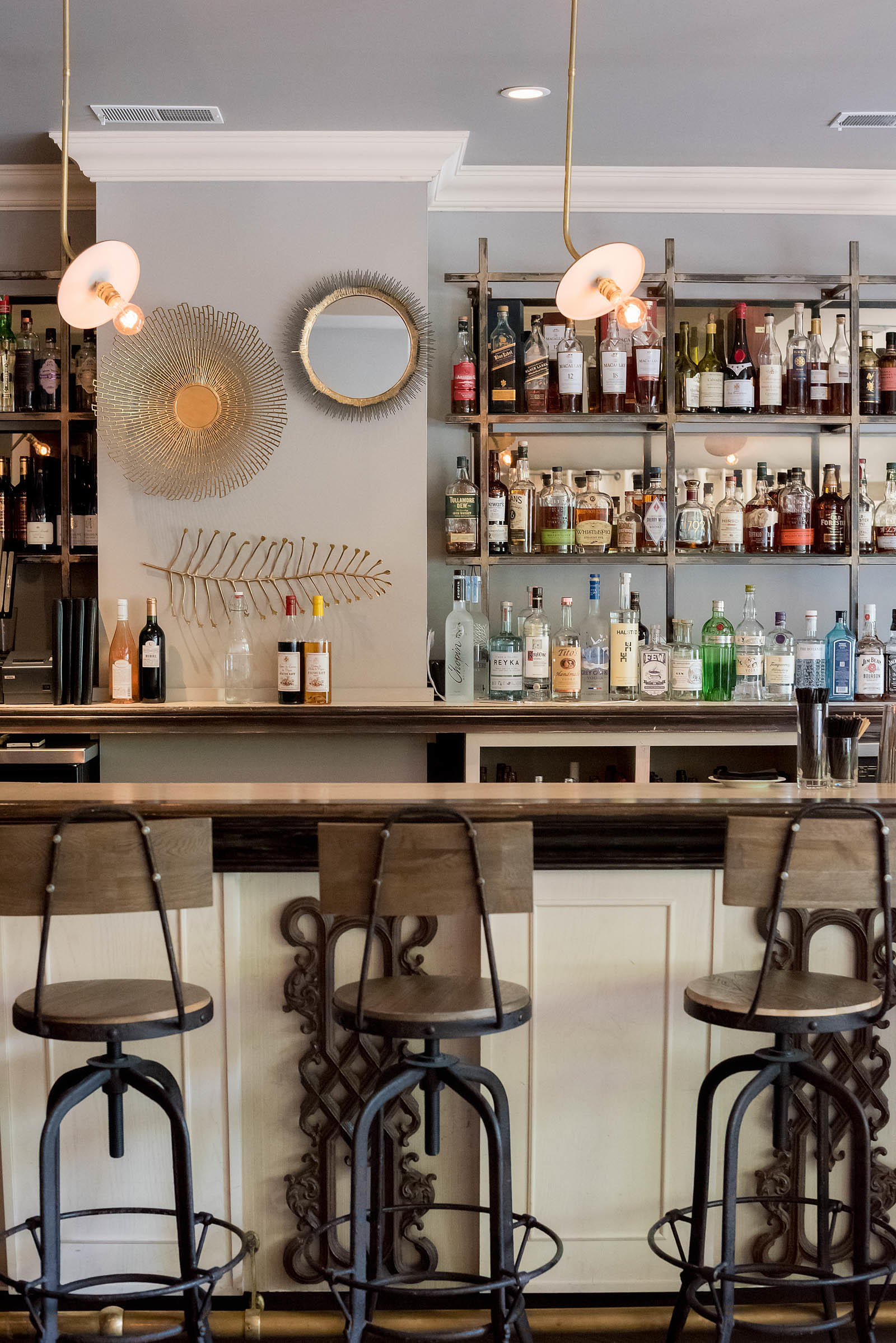 Since opening it's doors almost exactly one year ago, The Blanchard has taken Lincoln Park by STORM. Topping "must try" and "best restaurant" lists all over the city, this chic, swanky, restaurant has Chicagoans positively entranced with its approachable yet enigmatic french cuisine.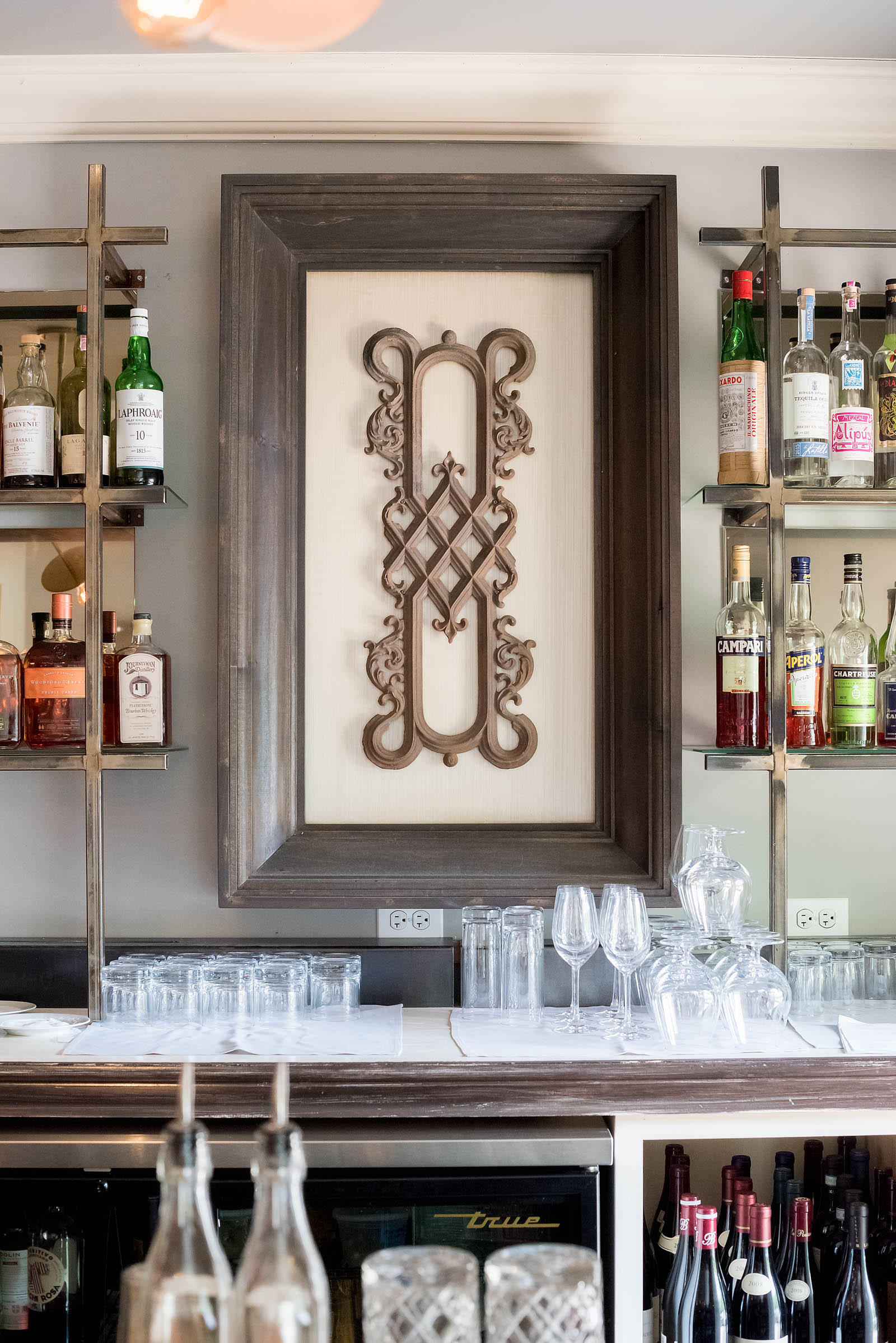 And the beautiful, light-filled space couldn't be more charming with its Parisienne details and cozy lounge chairs.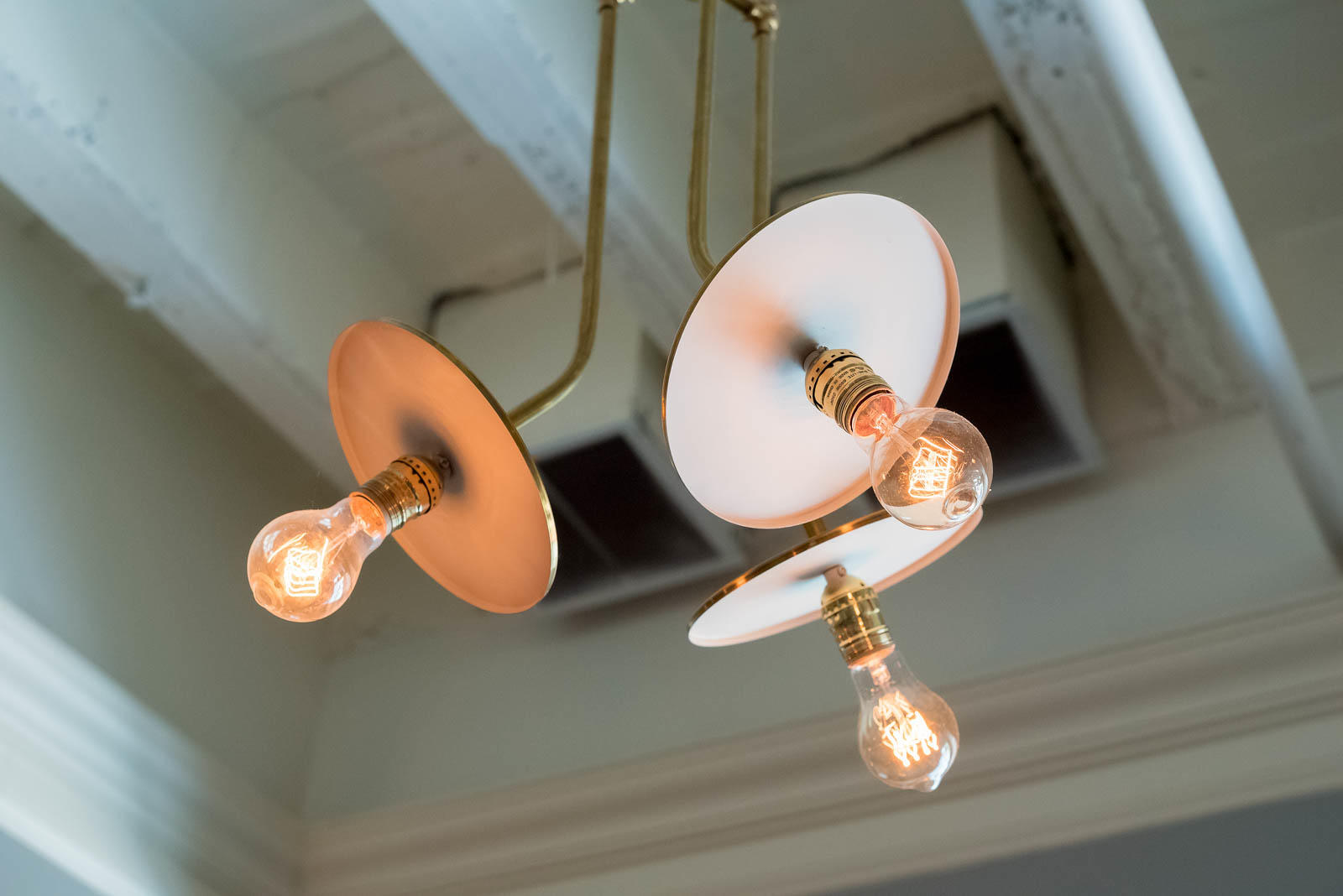 Every detail is positively beautiful — I know of no other Chicago restaurant that truly feels like it's been transported from Paris like The Blanchard.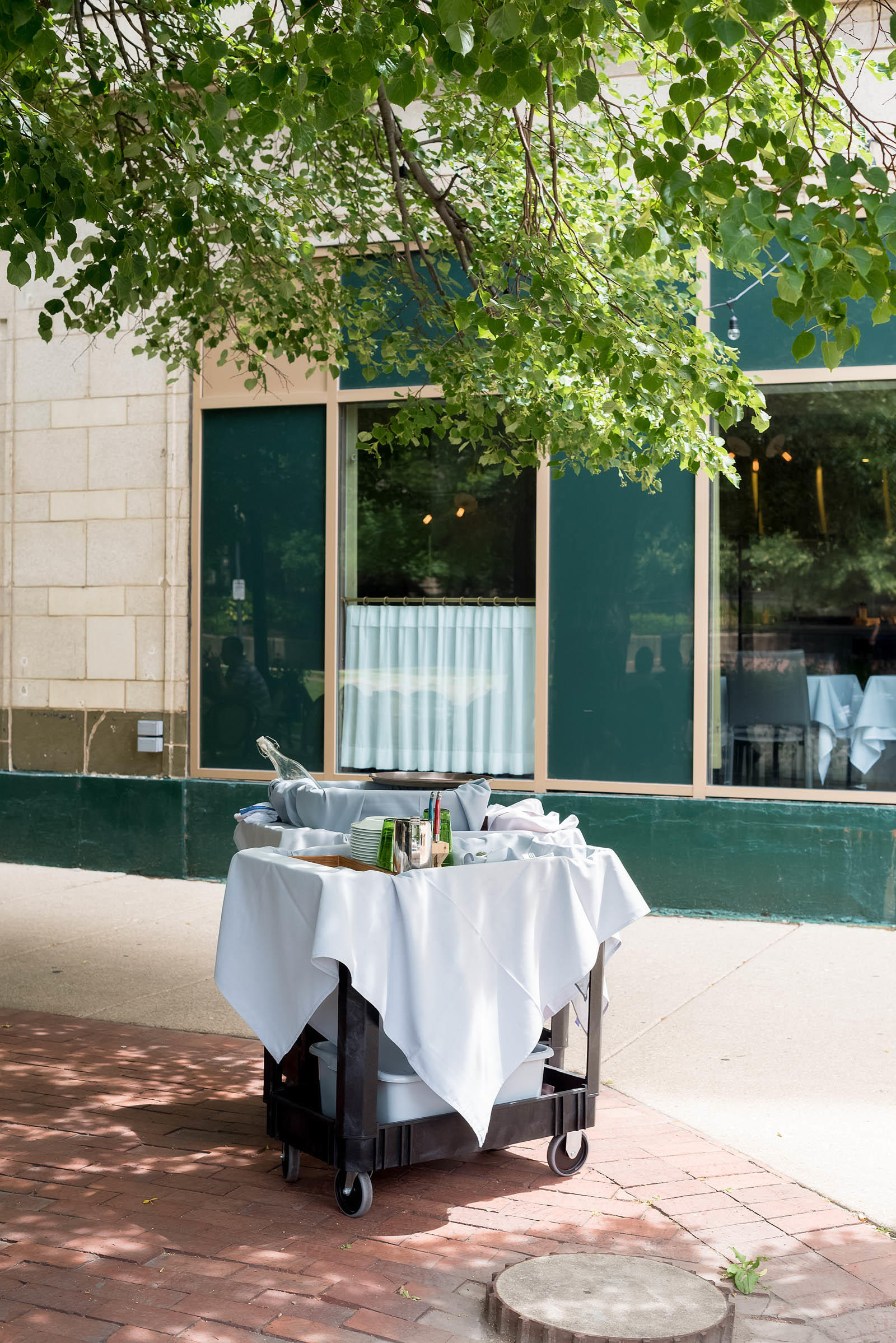 But the gorgeous patio space tucked under massive Lincoln Park trees is where you should dine for these last few beautiful days of summer. It's a quiet patio considering that it's only about three blocks away from the Lincoln Park Zoo and that famous Honeycomb structure I'm always shooting at (seen here and here).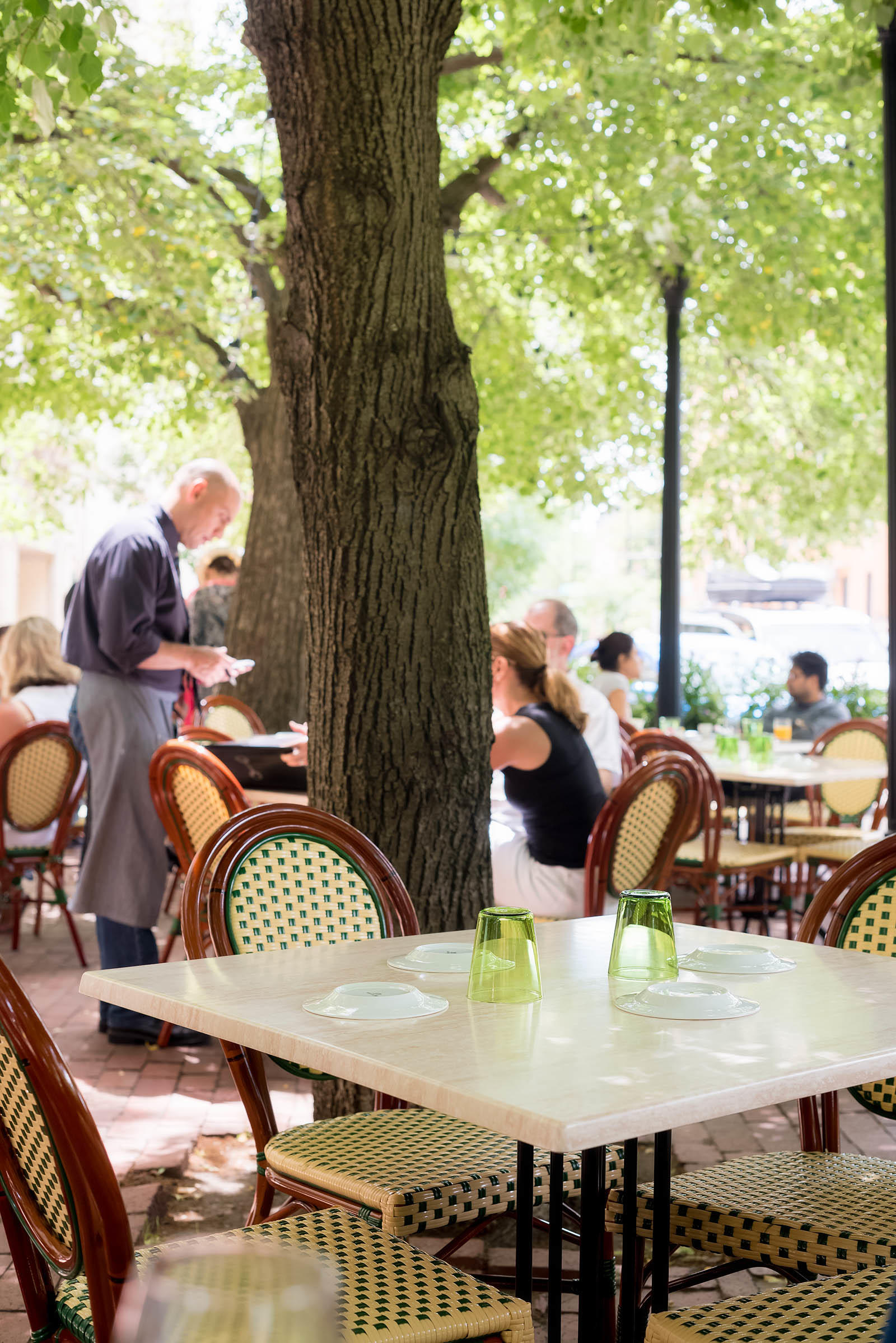 Quiet and beautiful — it's the ultimate oh-so-Parisienne brunch experience here in Chicago.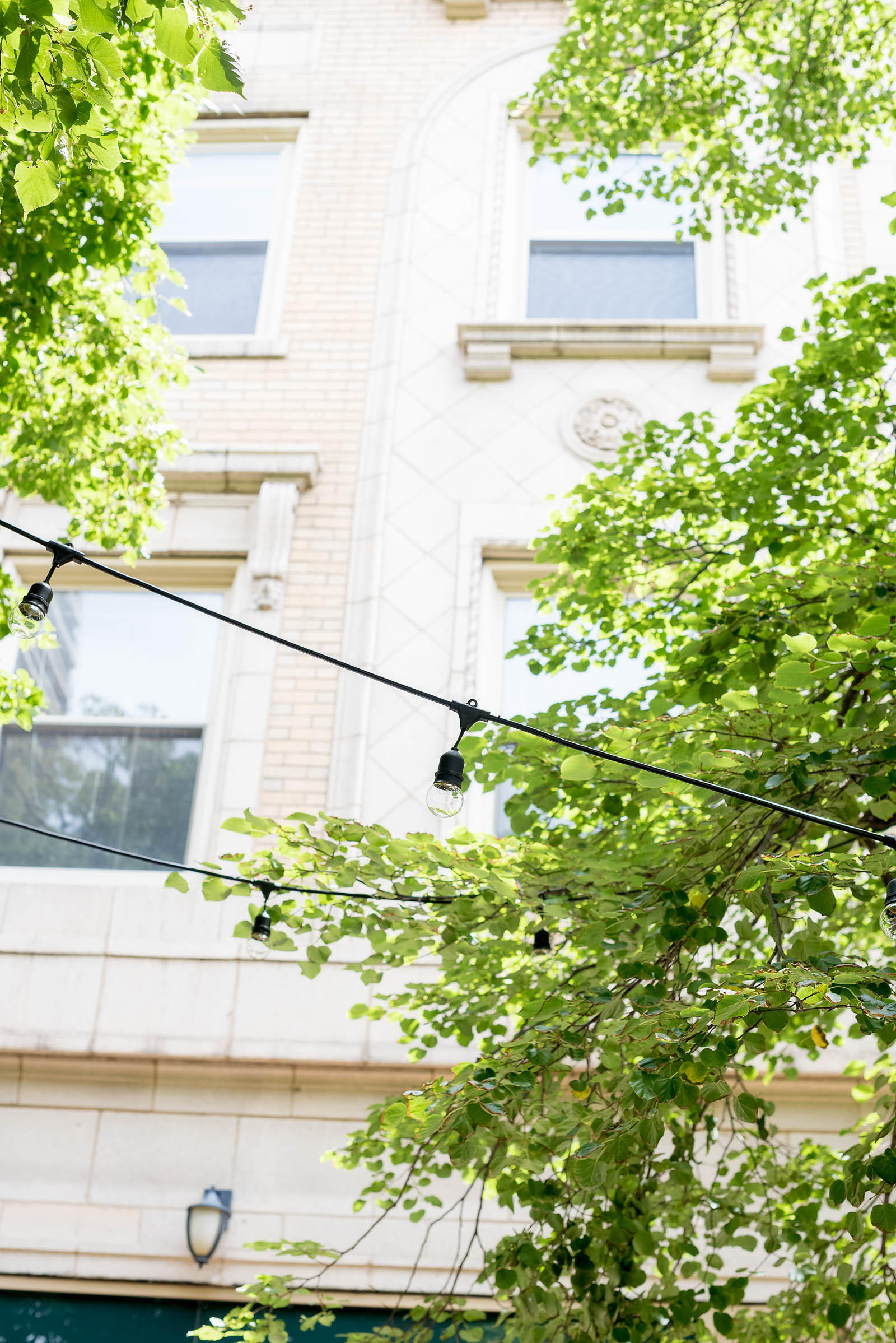 And the perfect way to wake-up on a warm Sunday morning.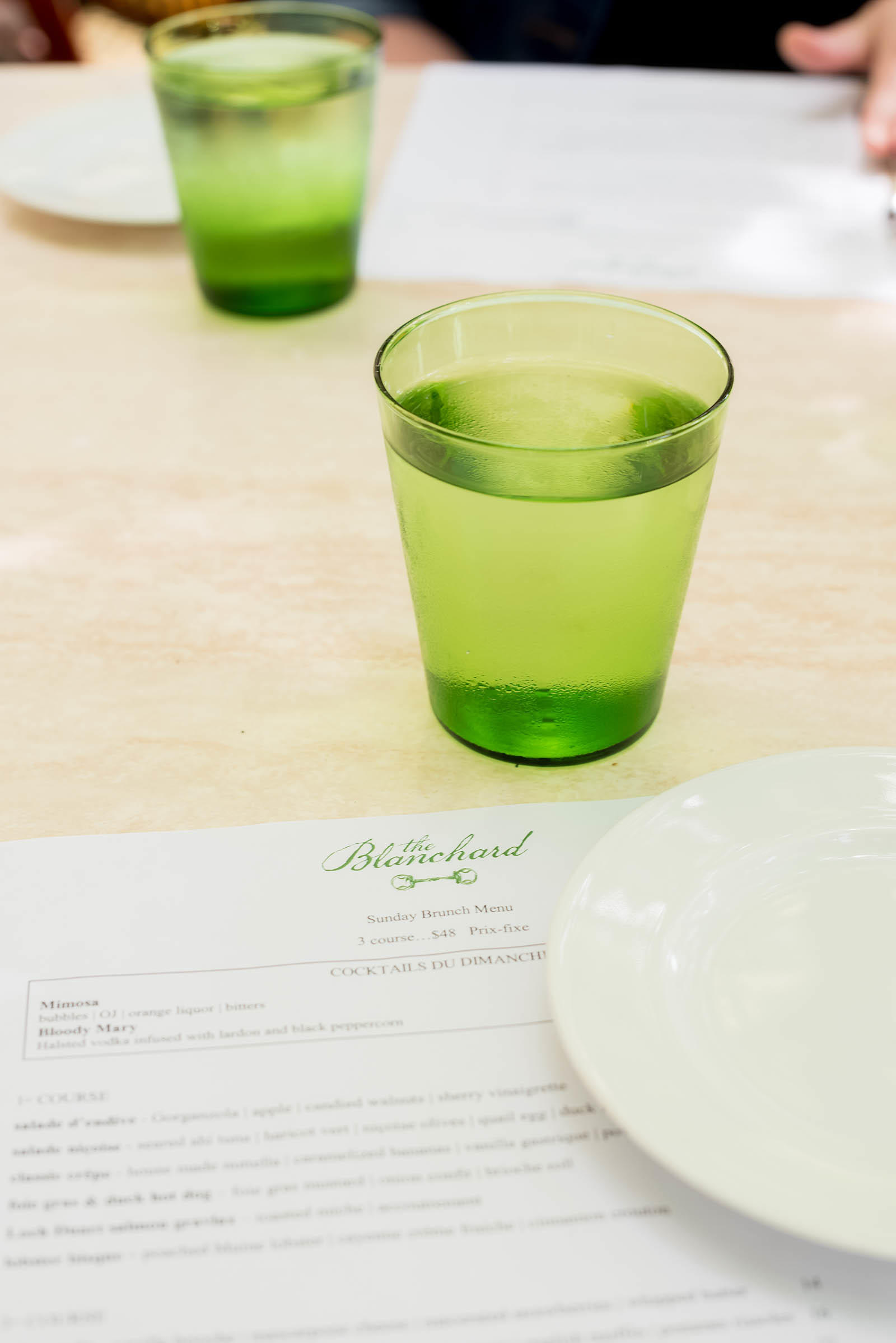 Brunch is served every Sunday from 10 am to 2:30 pm but I highly suggest budgeting for extra time to enjoy sipping a mimosa on the patio leisurely. Because, I assure you, you won't want to leave quickly once you've settled in!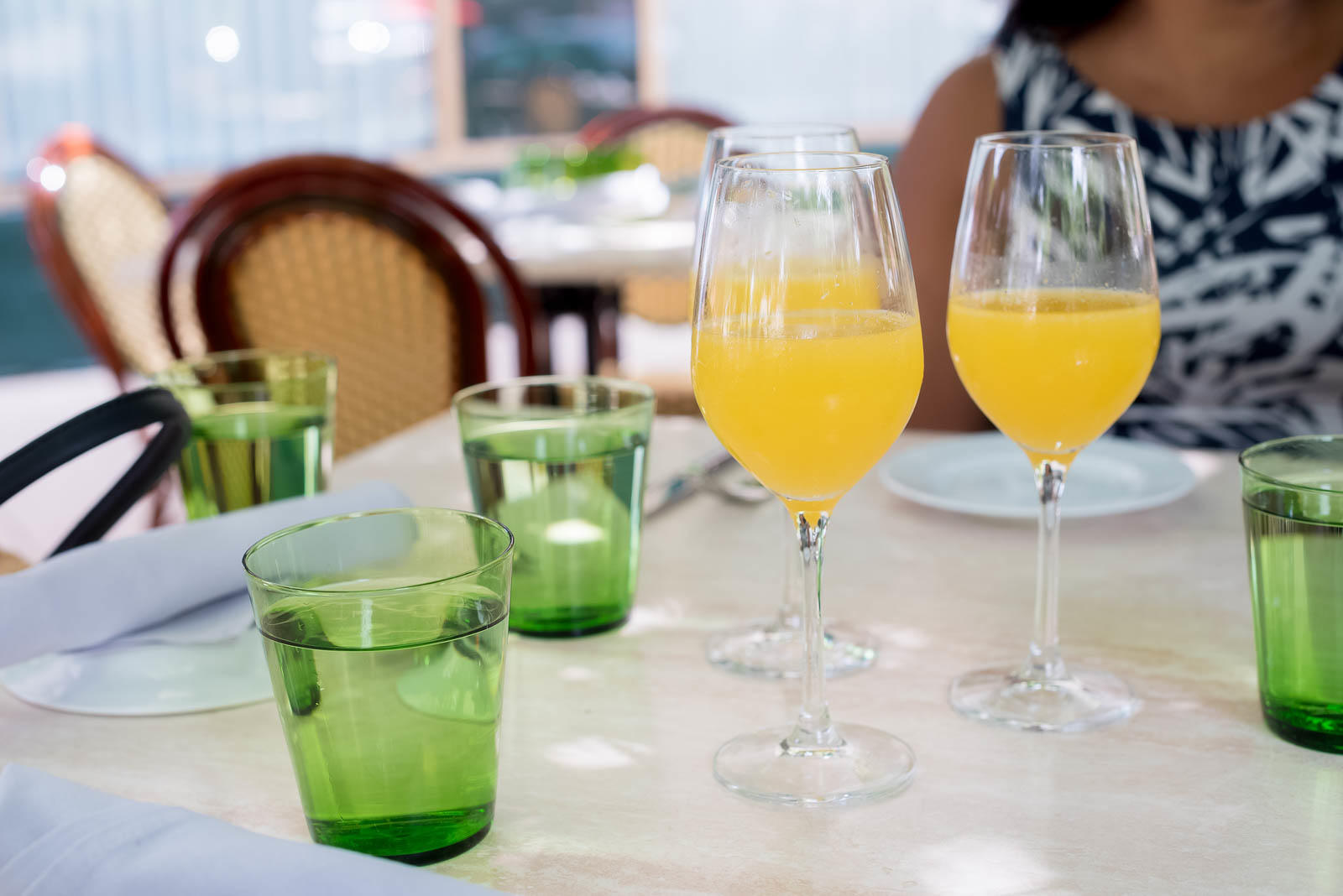 The Blanchard offers a few brunch cocktails but I highly recommend The Blanchard Mimosa with St-Germain, Muscadet, tangerine, and (of course!) bubbles.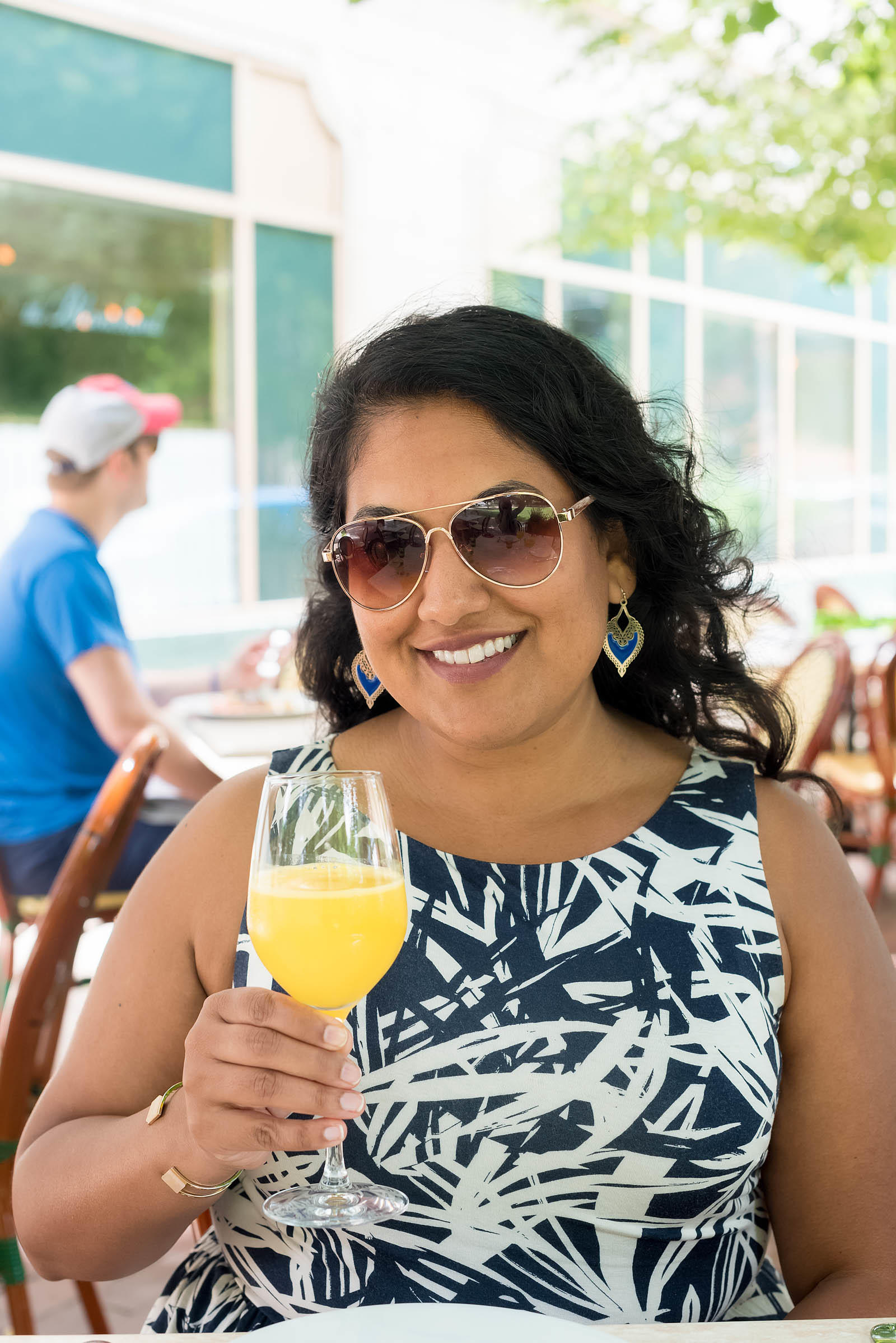 It's such a fresh and crisp start to your meal — Sapna and I couldn't get enough of ours and may or may not have ordered a few rounds between us.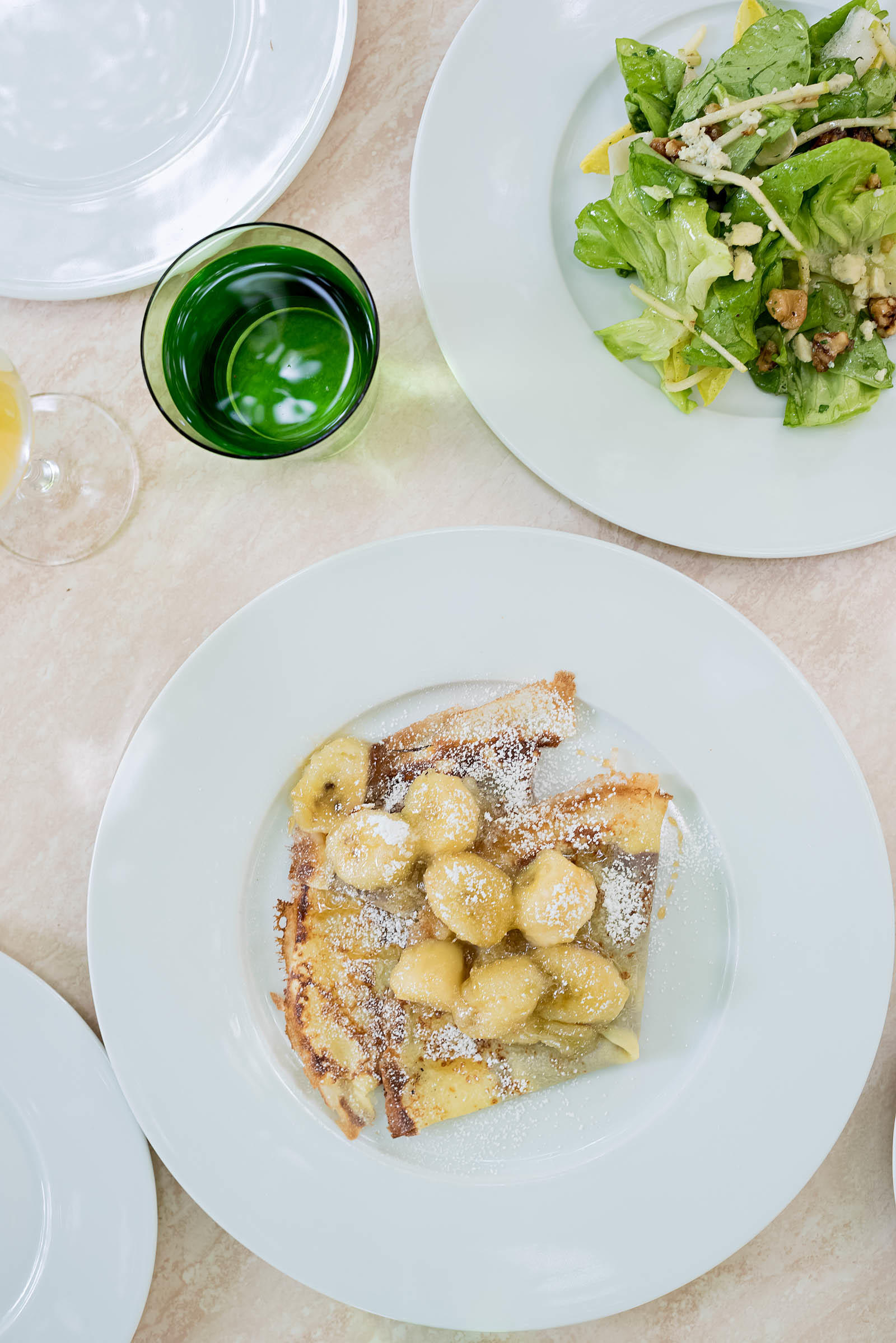 The Blanchard separates their brunch menu into 1st courses and 2nd courses. It's a ridiculously clever idea if you're like me and can't ever seem to make up your mind what you want to order.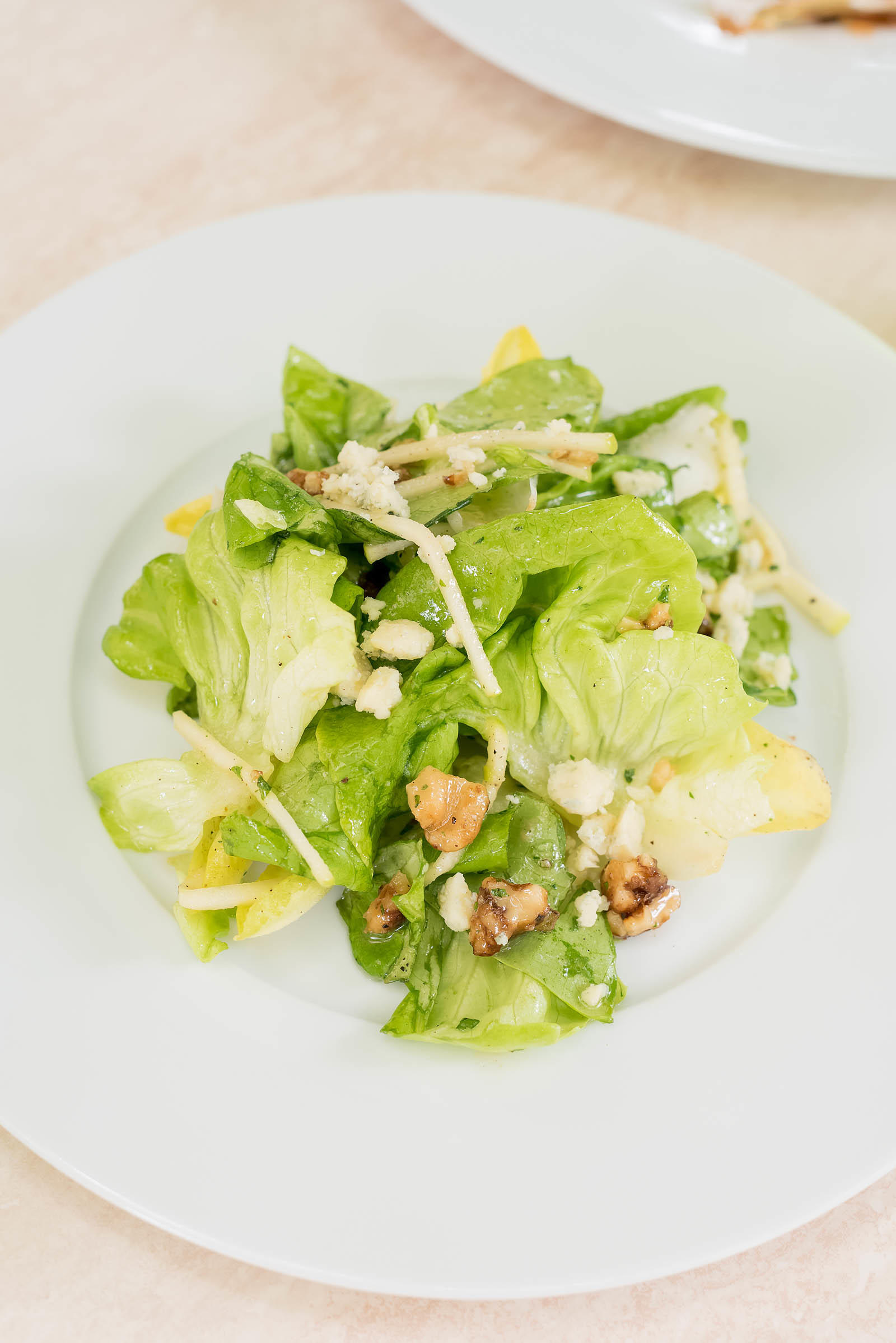 For the first course I highly recommend this refreshing Salade d'Endive with gorgonzola cheese, apple, and noix (walnuts) all tossed in a tangy sherry vinaigrette.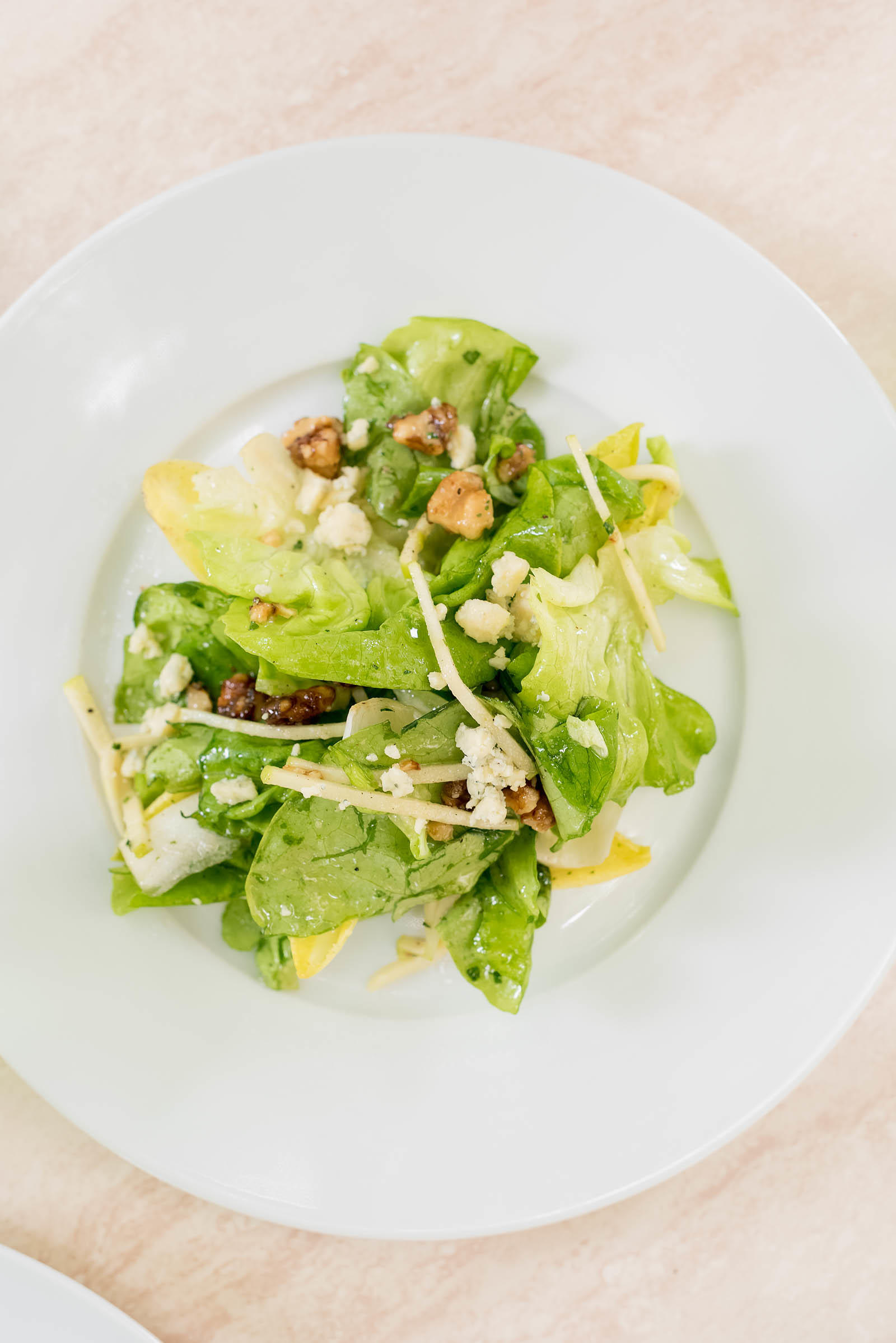 Such a fresh and bright start to any brunch meal!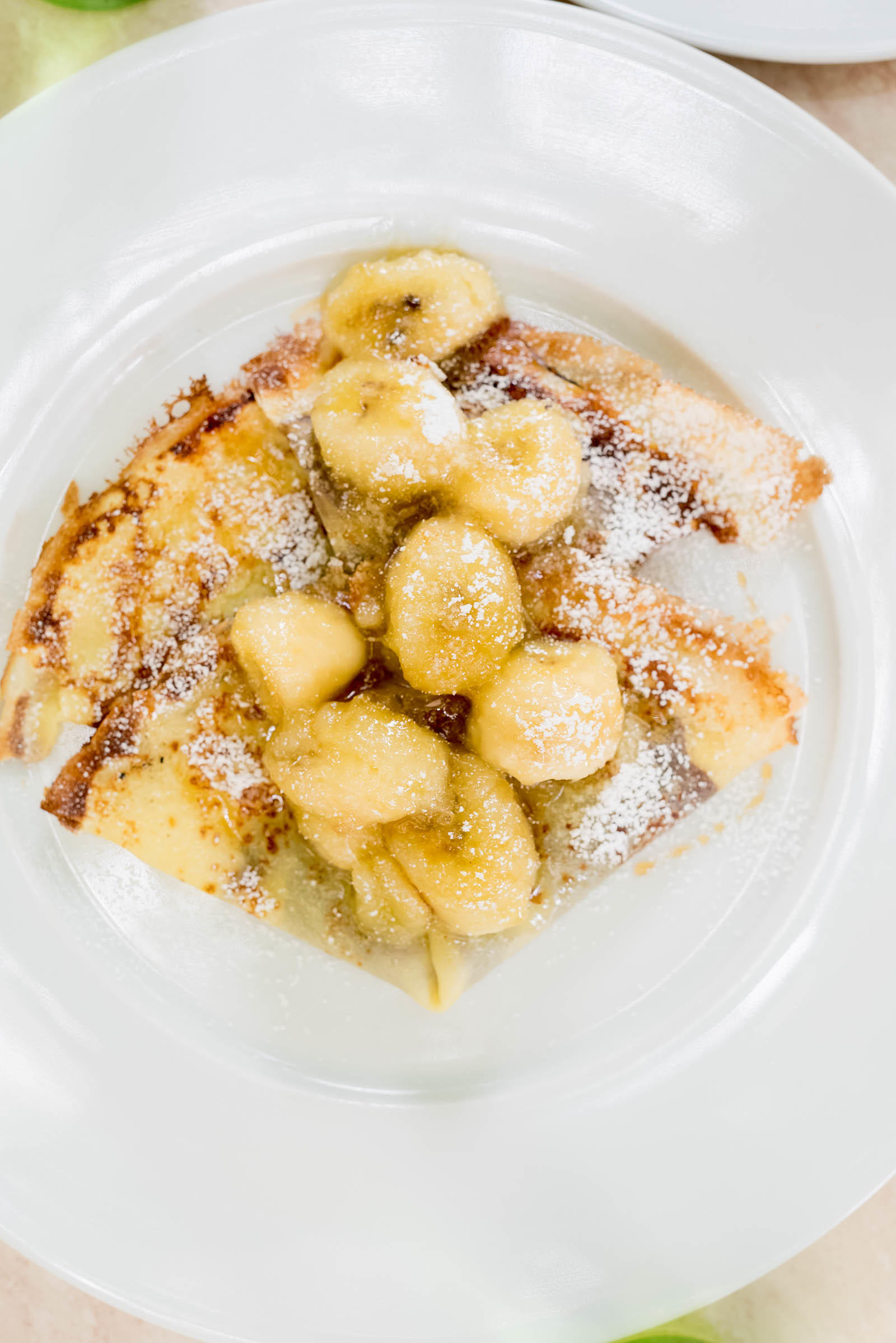 But if you only order ONE thing for your first course, make it these divine Classic Crepes.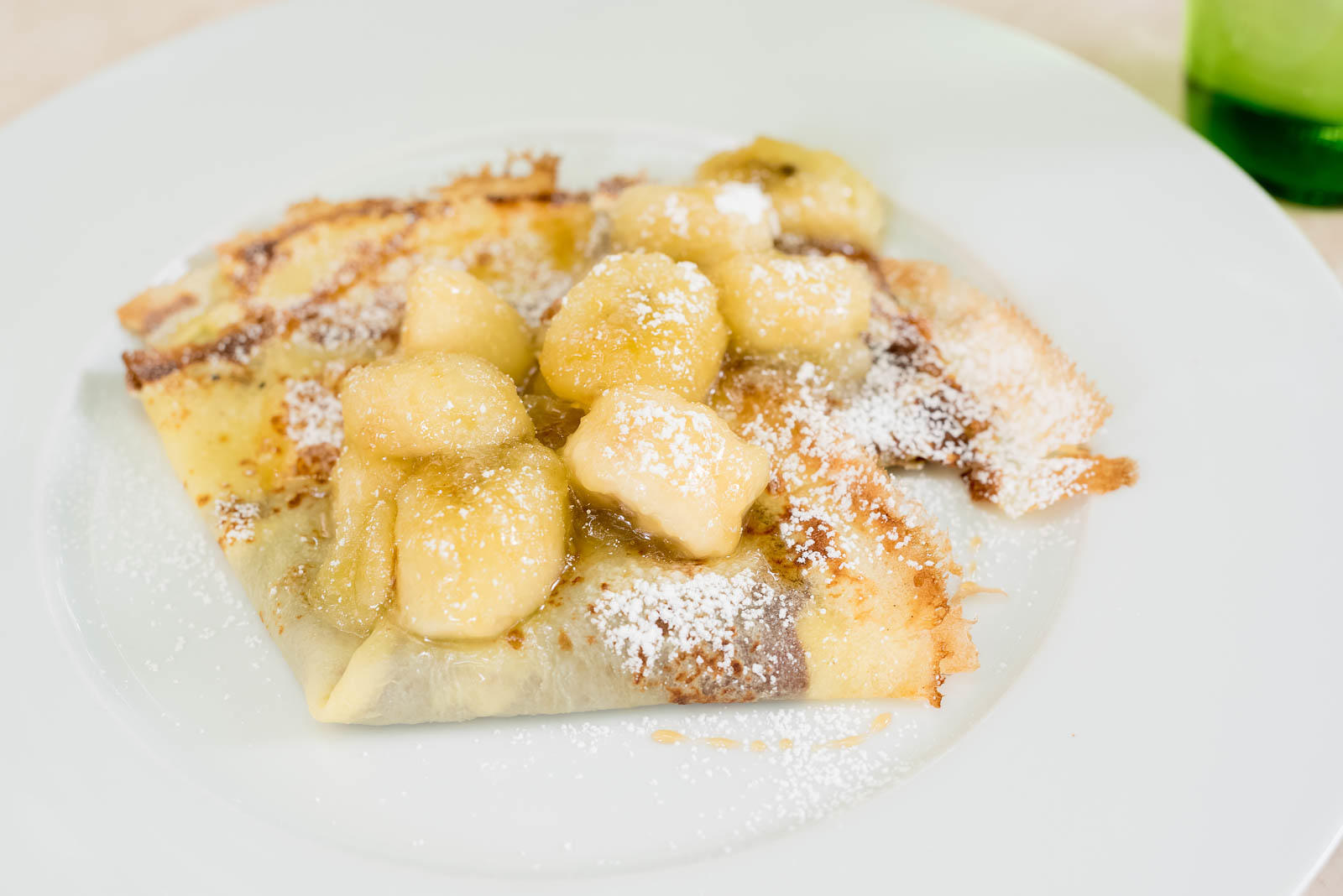 Filled with house-made nutella, caramelized bananas, and banana marshmallow brulée, it's easily one of the most unique crepes I've ever dived into. And yet still so reminiscent of all the sinful, classic crepes I've had on my visits to France. Traditional and yet innovative at the same time — like all of The Blanchard's offerings.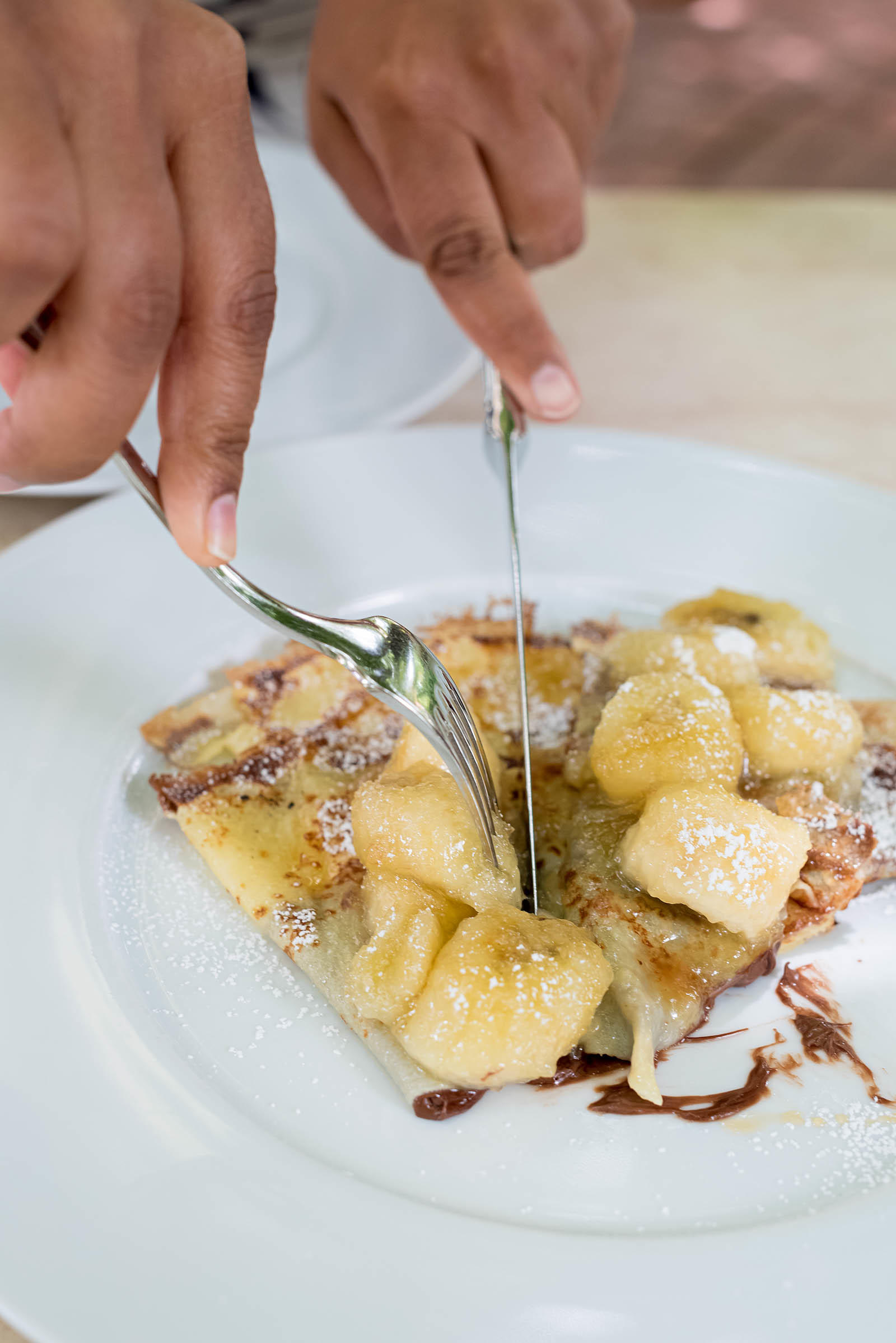 Care to try a bite? Just wait until you try that housemade nutella!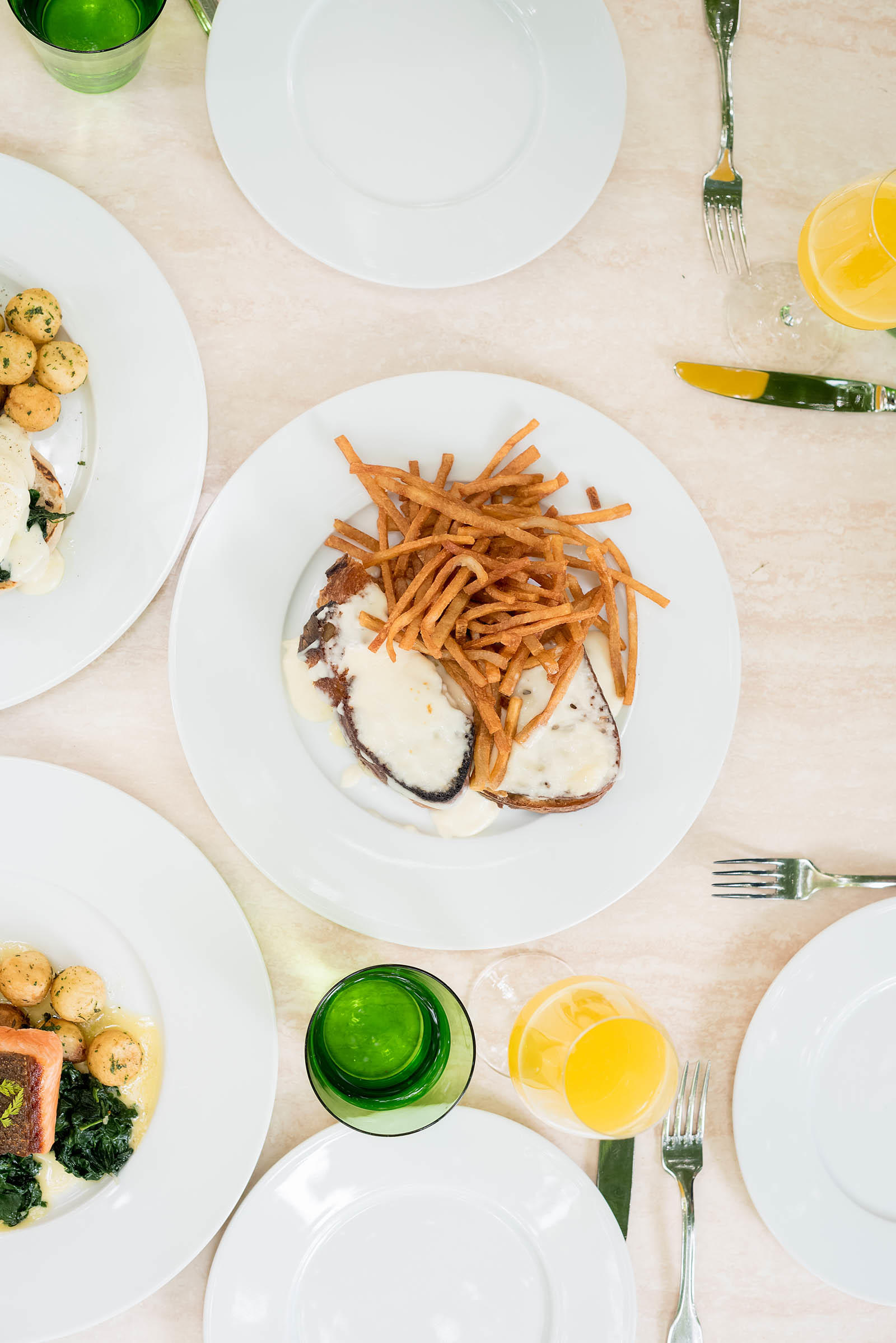 But don't fill up on JUST crepes, The Blanchard has quite a few dishes you'll want to try for your second course, too!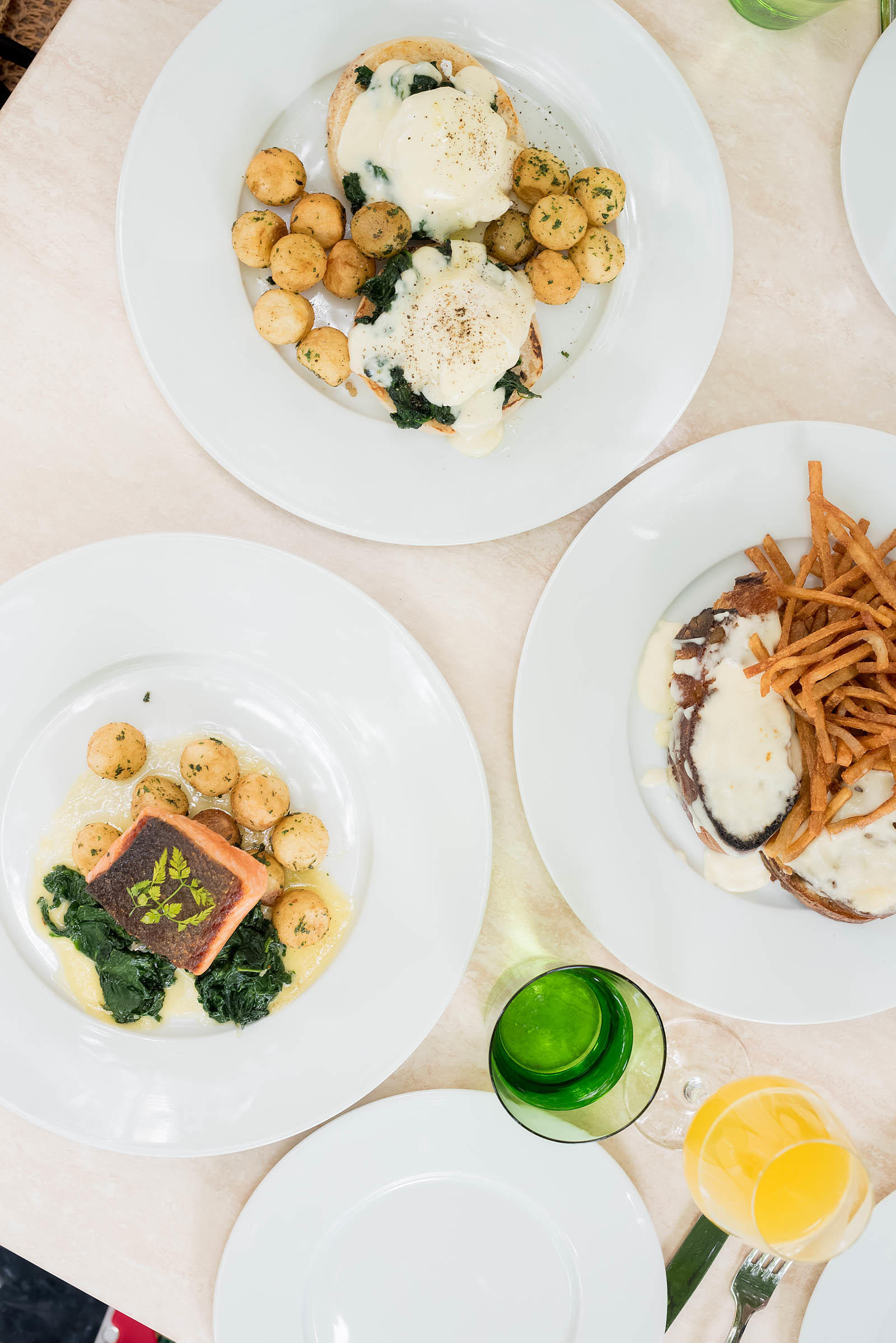 Each offering is positively delicious, so plan to order as many as you can manage!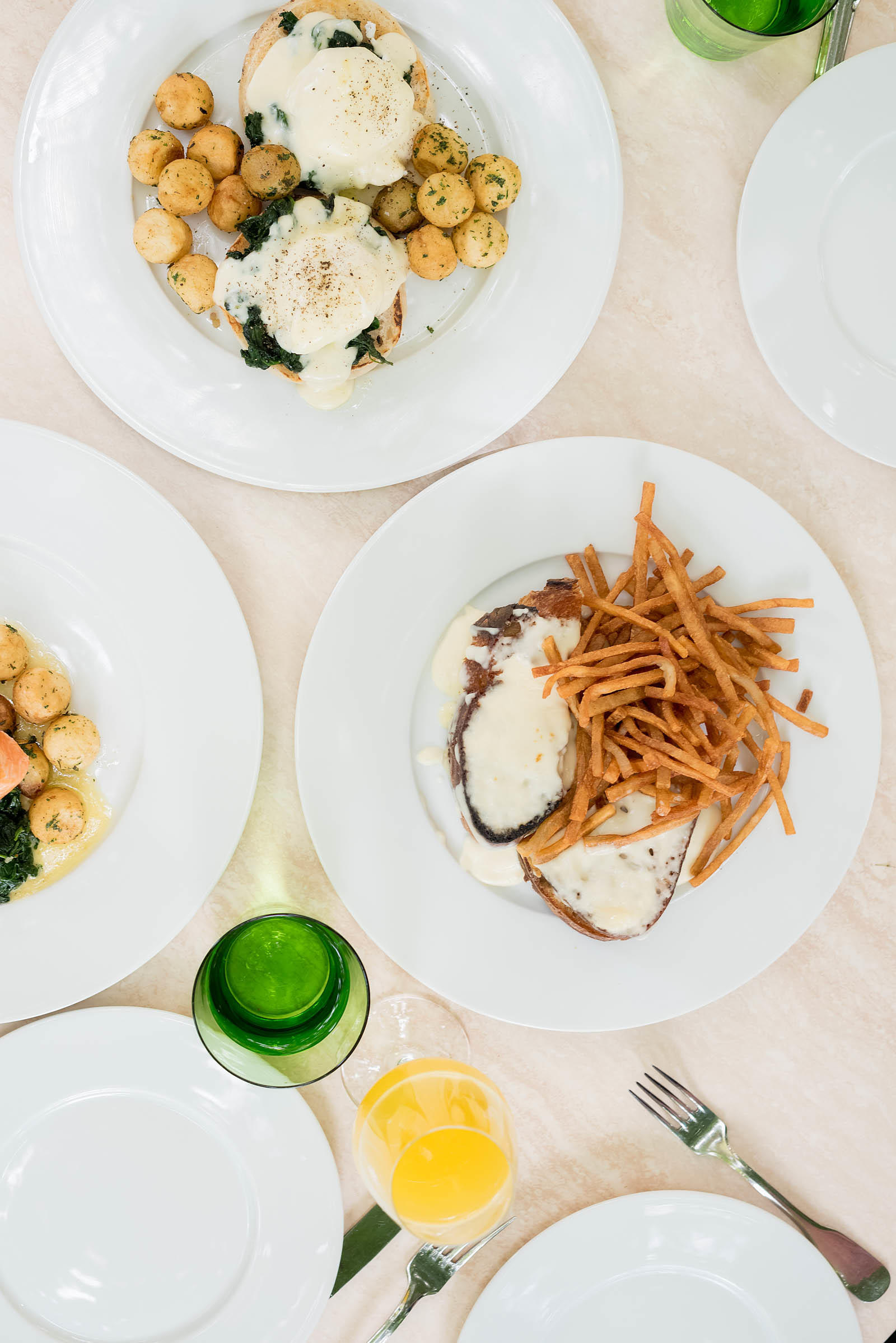 Doesn't it make a beautiful spread?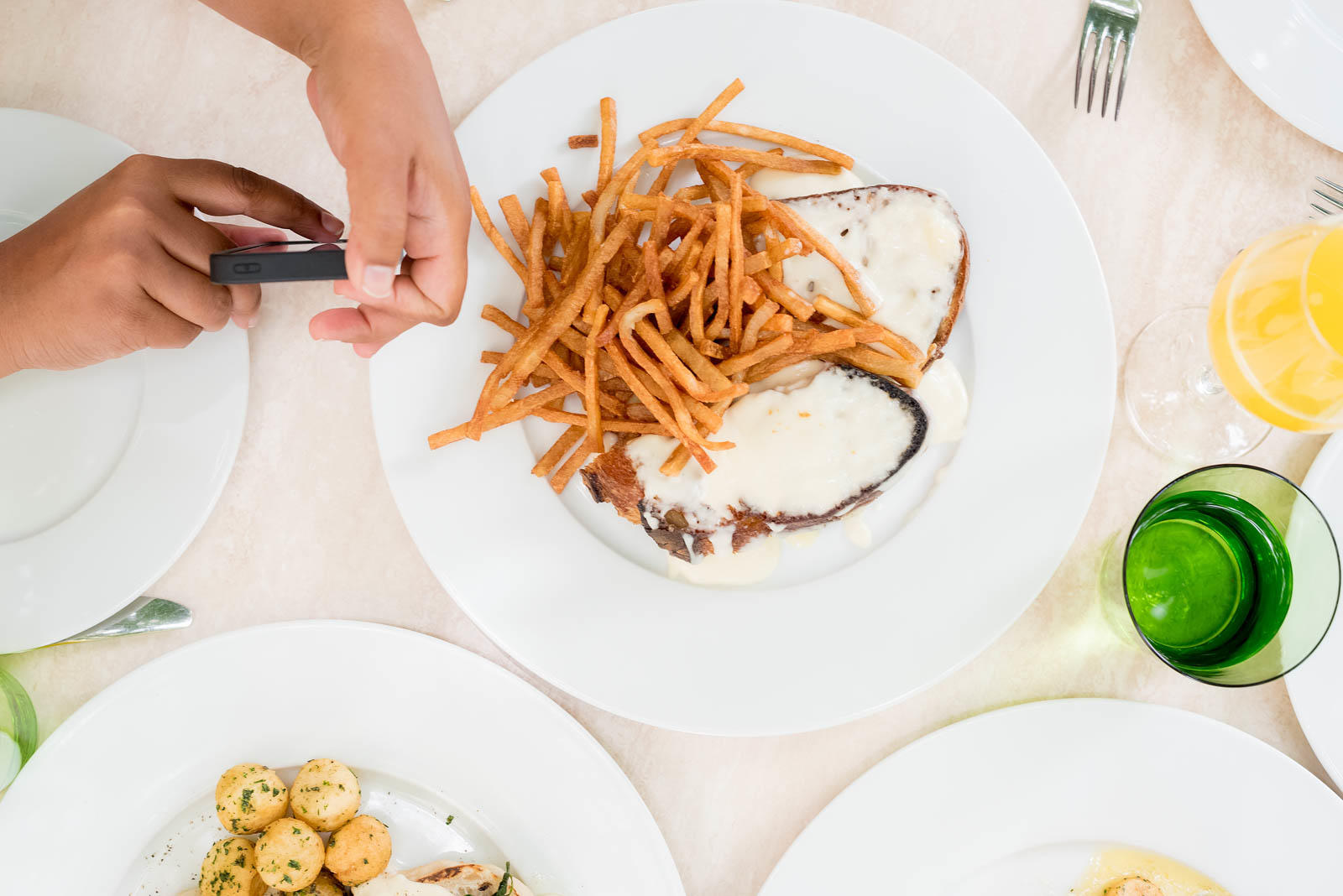 Be sure to snap an Instagram shot before you dive in!

They offer this beautiful Norwegian Salmon with pommes hash, garlic spinach, and a citrus beurre blanc sauce.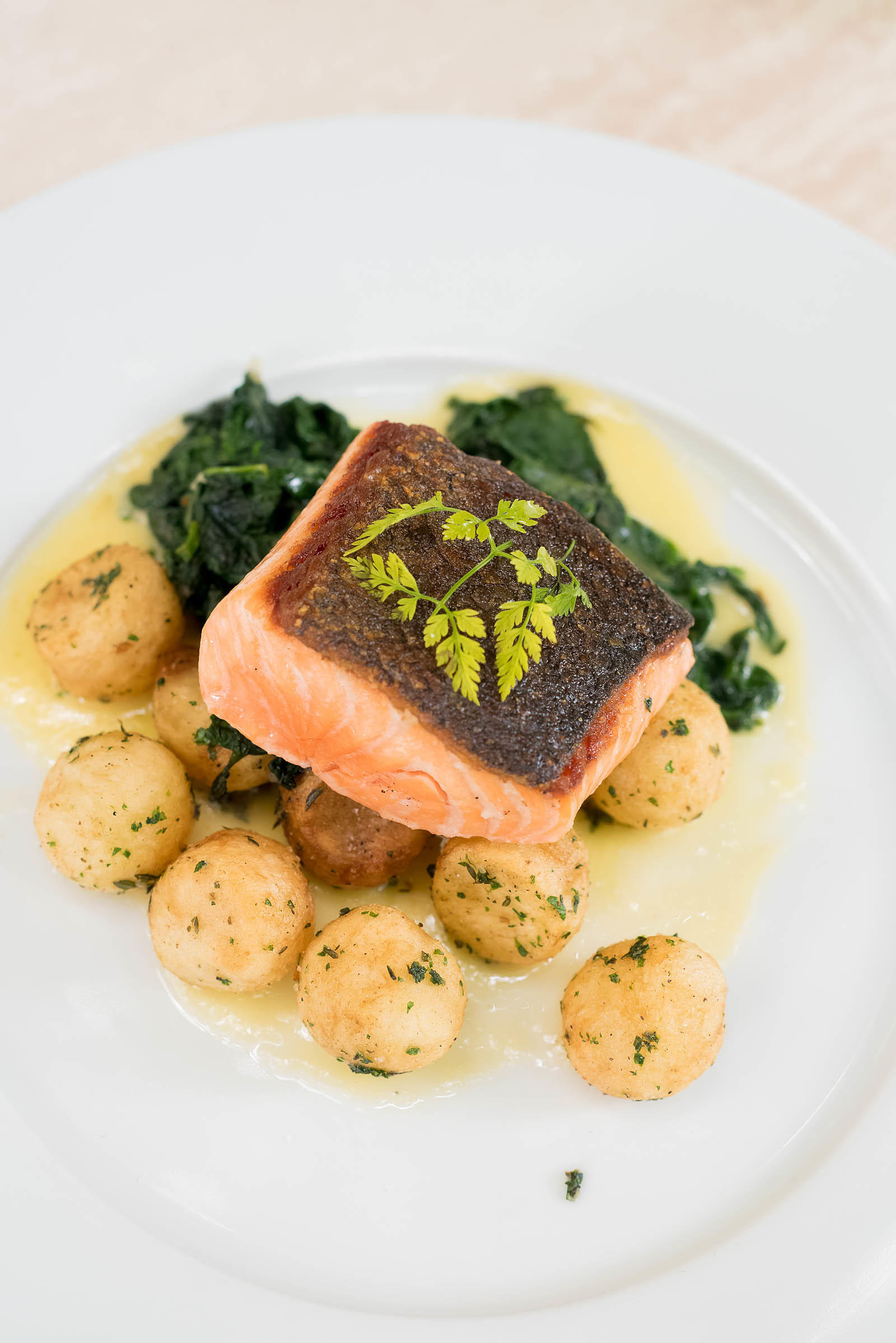 That just melts in your mouth (and is a great option for anyone in your group who may not love brunch food like you do).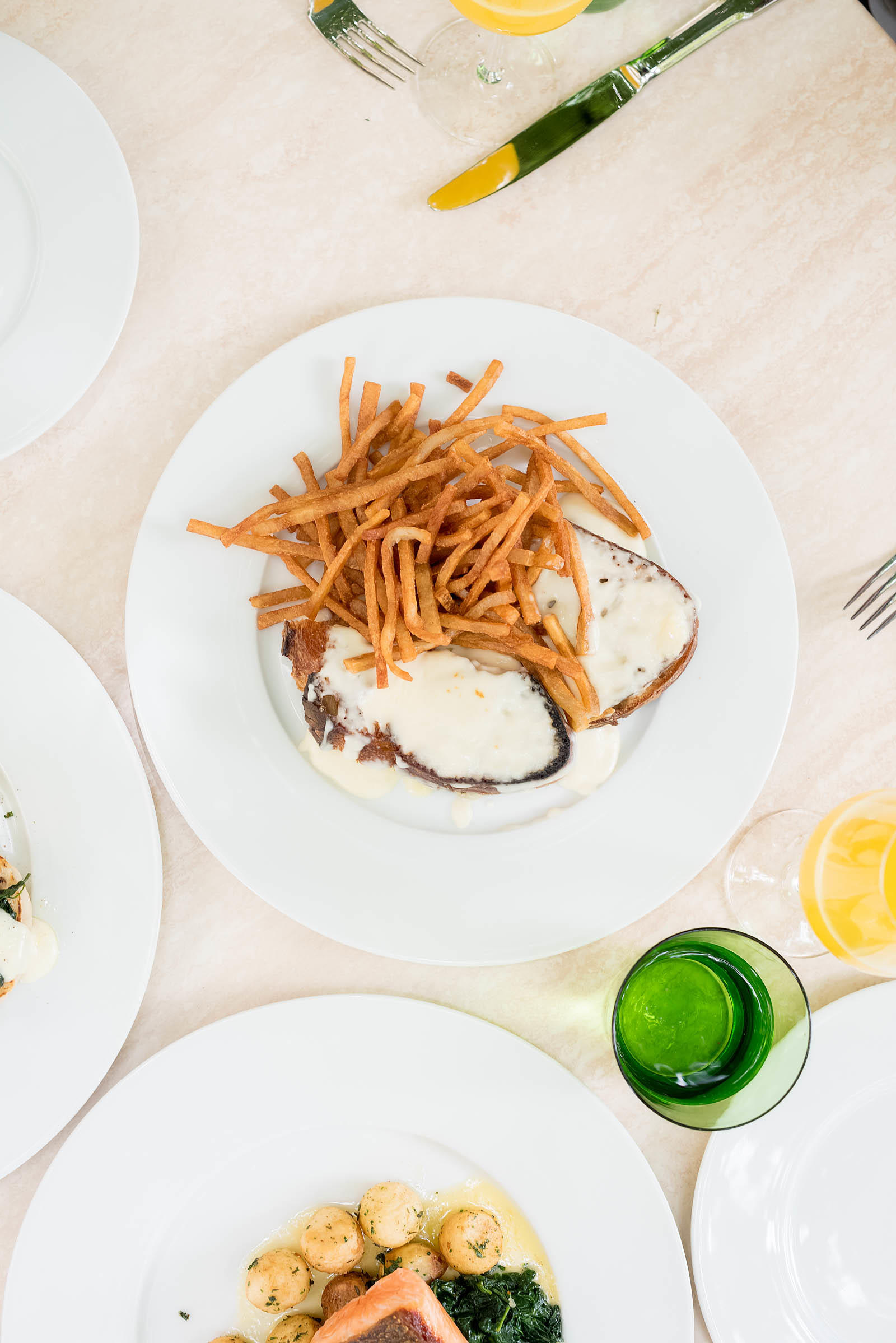 Or this sexy little Croque Monsieur.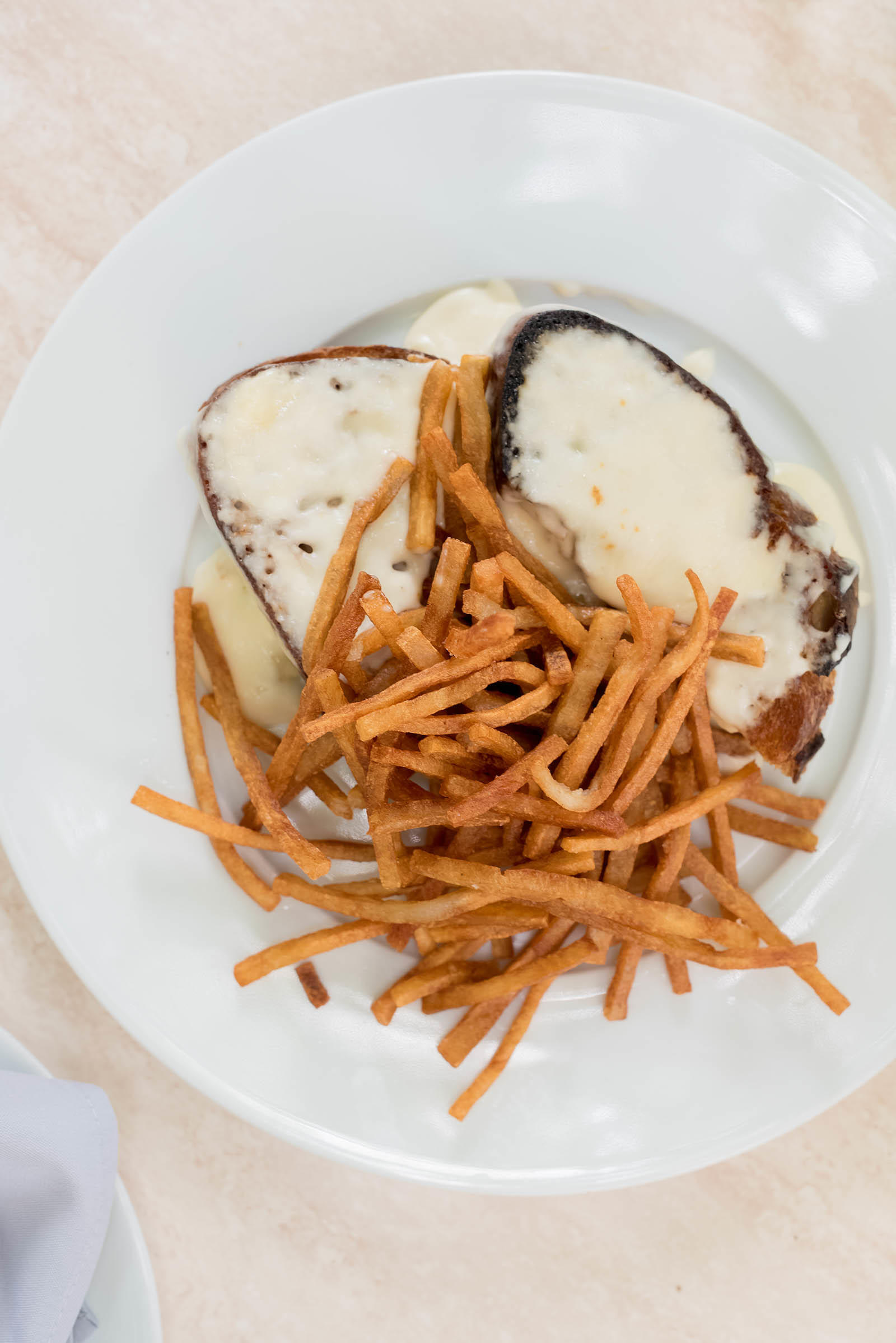 Served with a heaping pile of crispy pommes frites (french fries)!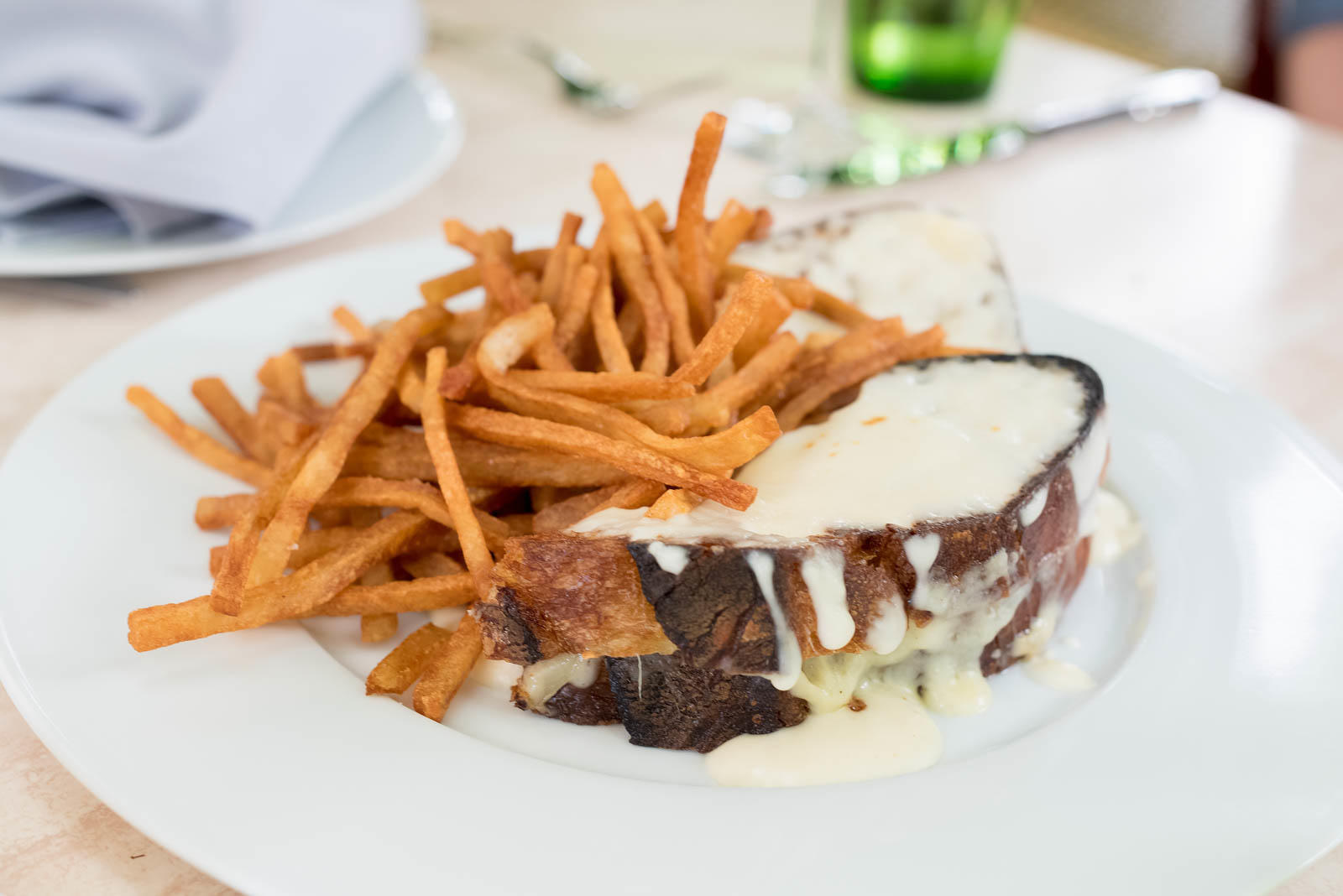 Which is positively delicious, even if you order yours vegetarian like we did! It made for one of THE most divine, breakfasty grilled cheeses I've ever had. Especially doused in that sinful, rich béchamel sauce.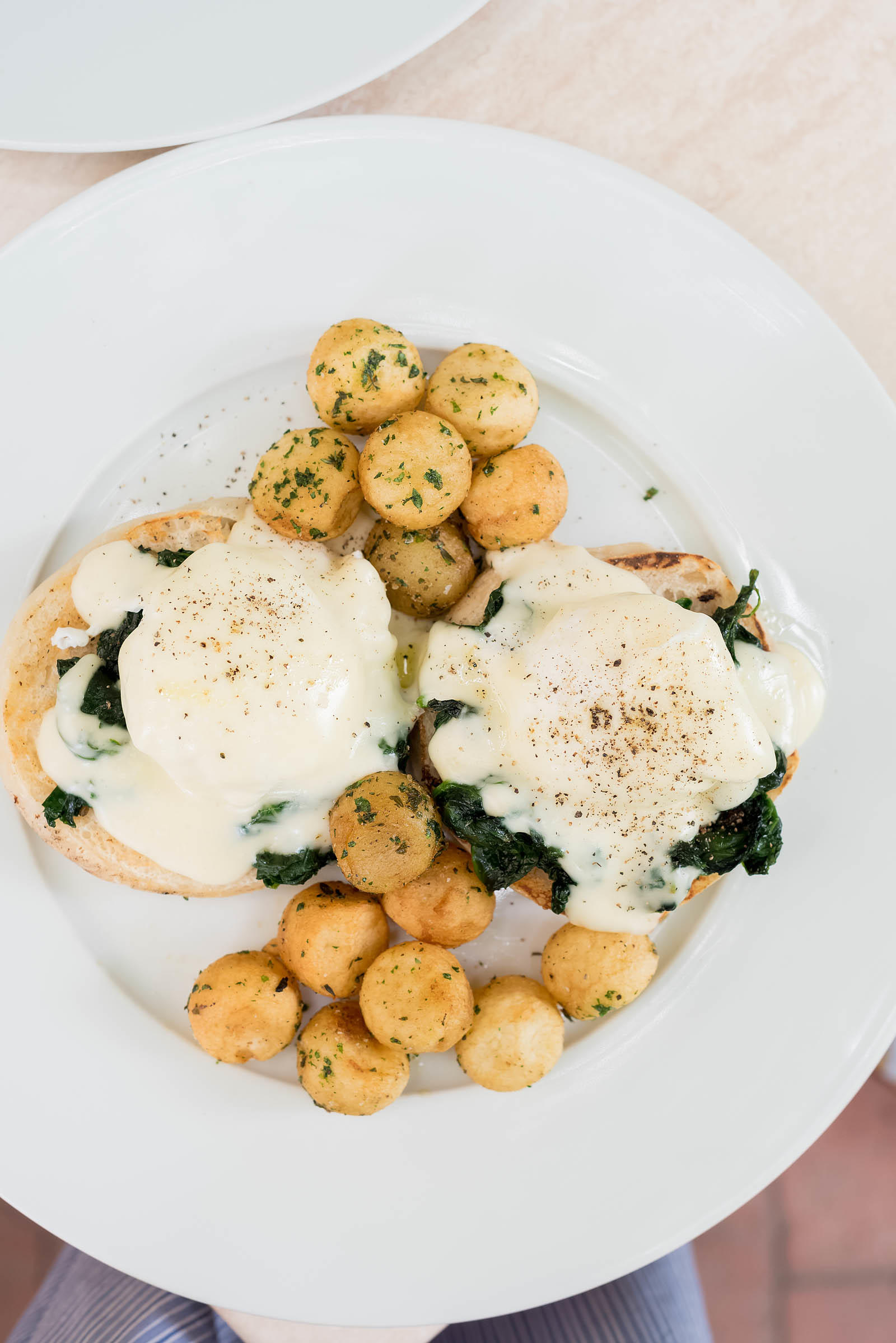 But my personal favorite is this simple, perfect little plate of Oeuf à la Florentine.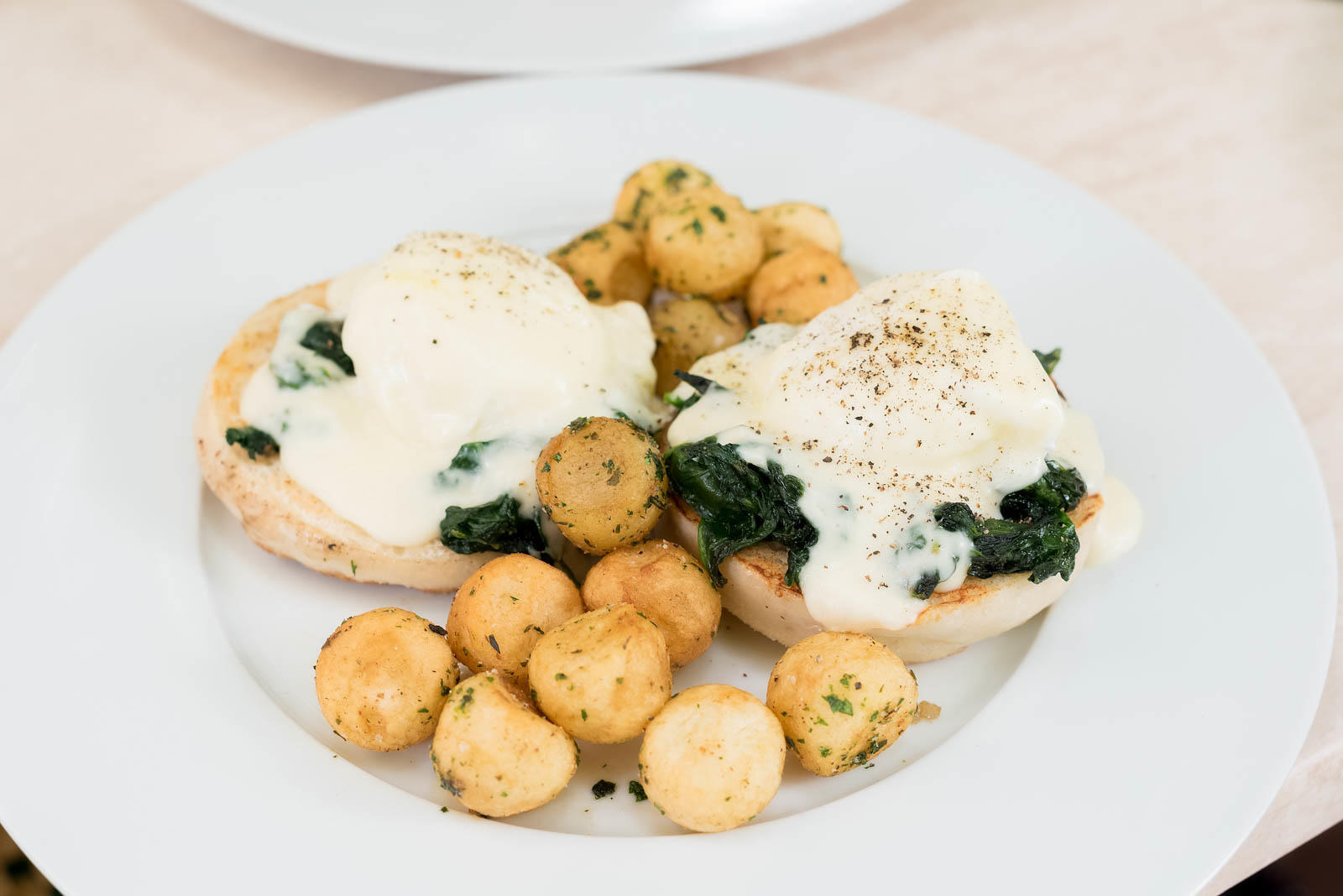 Poached eggs atop spinach and an english muffin all doused in Mornay sauce and served with pommes rissoleés.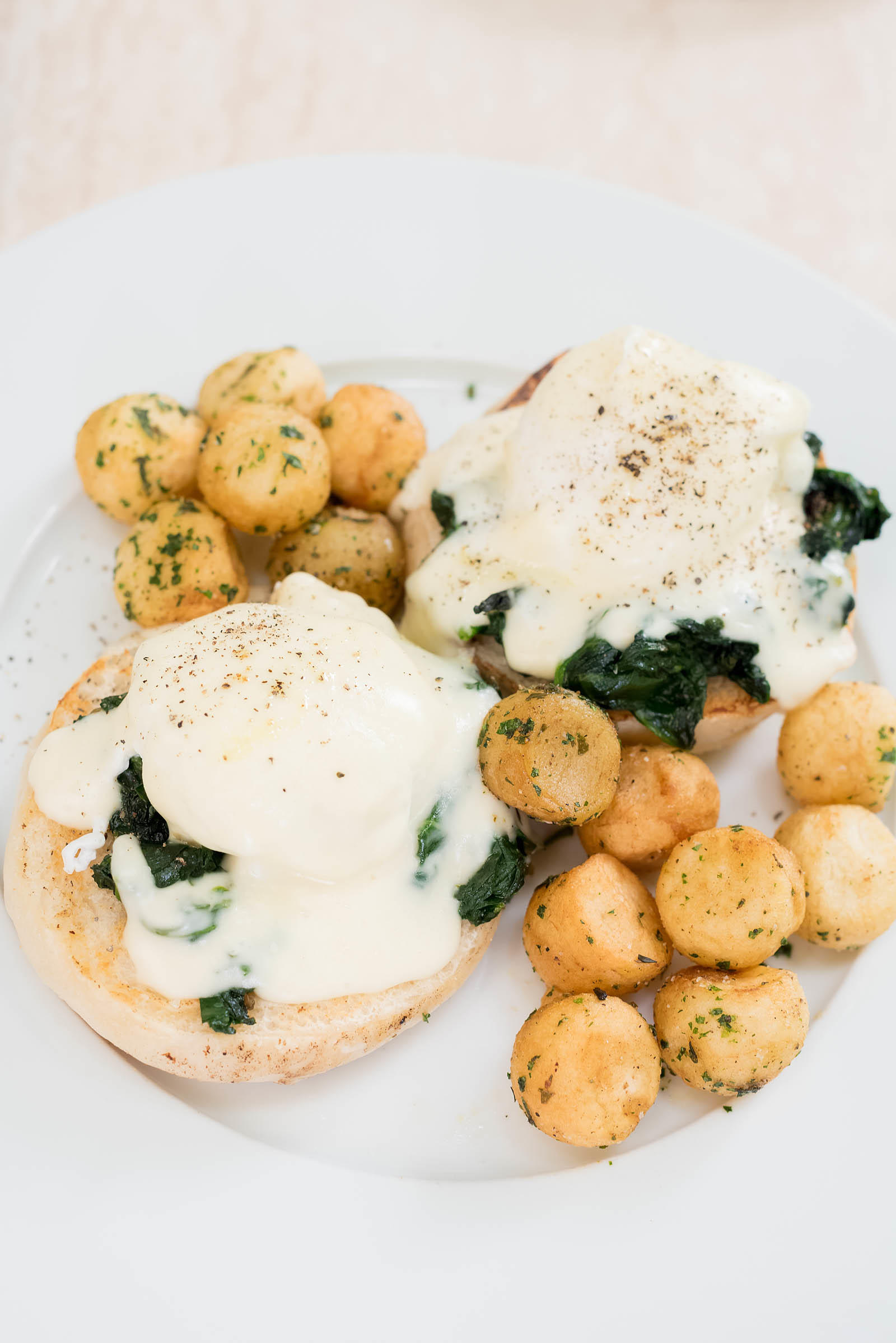 It's french brunch heaven on a plate!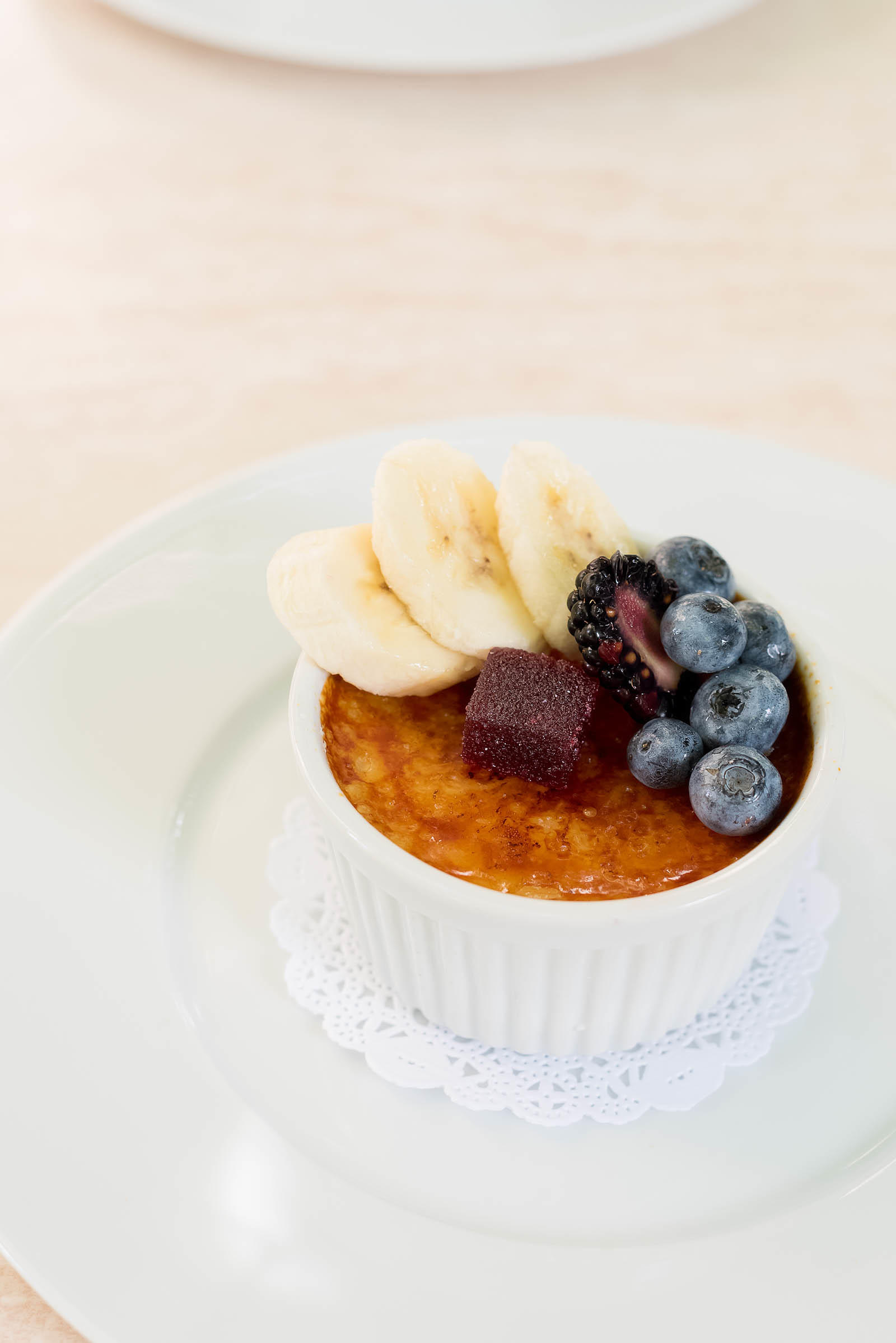 But, as the French pride themselves, on their desserts, make SURE you save room for at least one end-of-meal sweet at The Blanchard too.
Like this picture-perfect Lavender Crème Brulee with raspberry pate de fruit, berries, and banana for a fresh, brunchy-take on this French classic. The lavender-infused cream makes for an especially interesting variation I've yet to see anywhere else.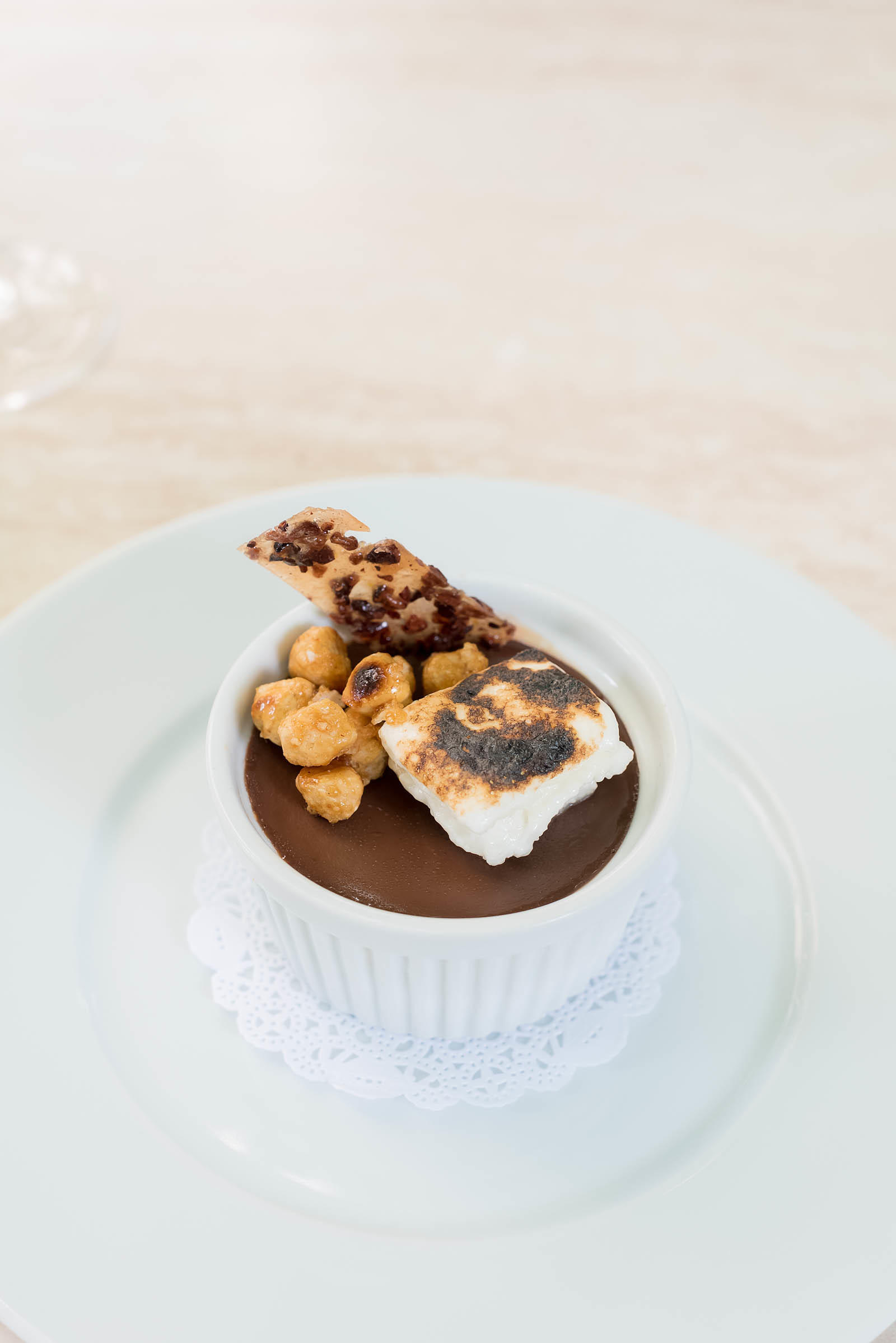 But if you're a chocolate-lover than you MUST order the Pot de Crème au Chocolat with gianduja guimauve and grue de cacao.
Rich, silky chocolate complimented with beautiful roasted hazelnuts for crunch? This dessert may be simple but that makes it NO LESS memorable.

If you've been searching for a true slice of Paris in Chicago, look no further than The Blanchard. Just be sure to arrive with a VERY empty stomach and a willingness to embark on a marathon meal of French classics with a twist. And don't dare forget to order dessert!
Disclosure: I received a complimentary meal to facilitate this post. Review and all opinions are my own.