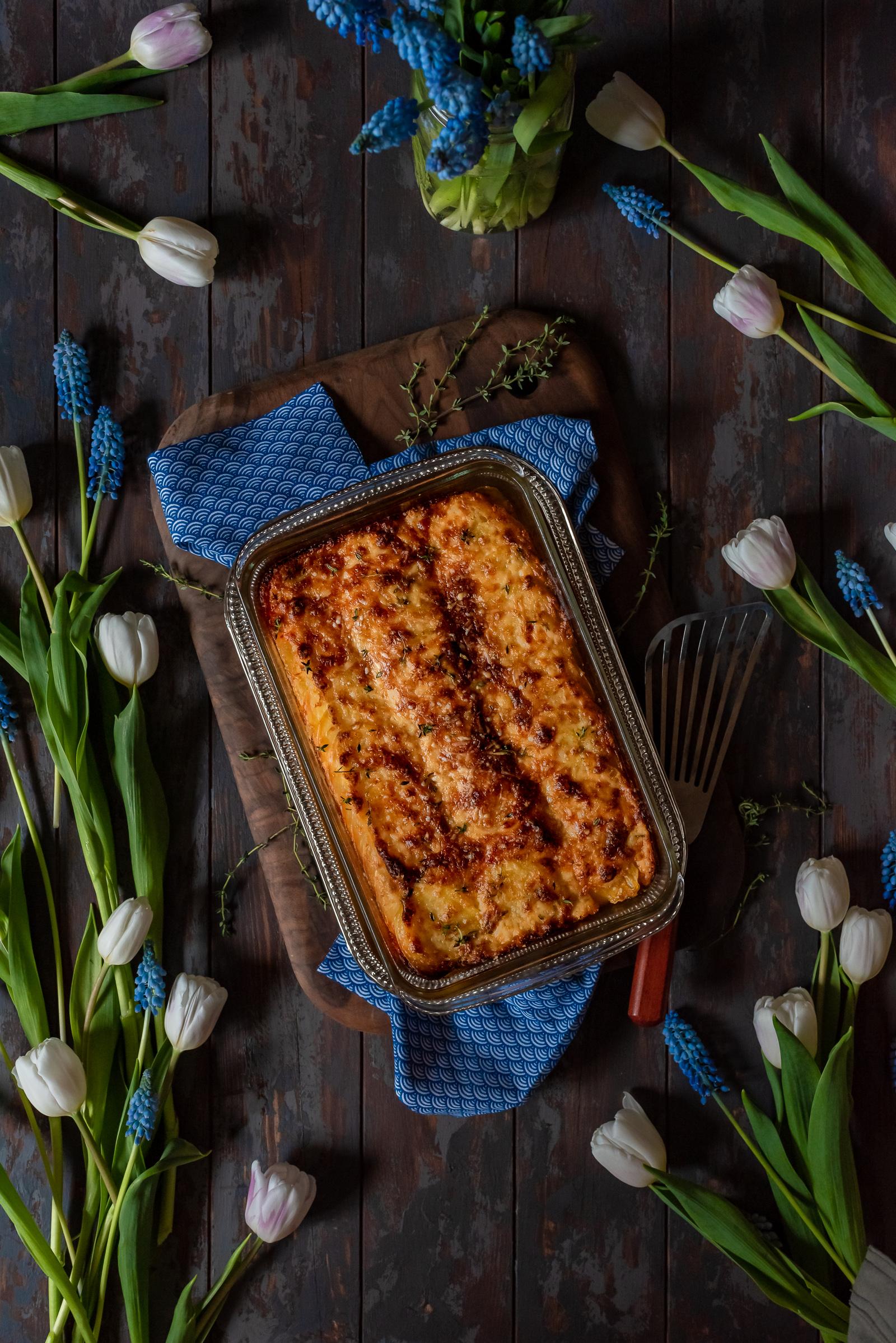 I have to begin this post with an apology…
I am SO sorry I didn't post this recipe last year. Or the year before. Or the year before that.
Because I've been meaning to share it with you since I began this blog back in 2014.
Not only is this my FAVORITE Easter recipe (my family requests it at most other holidays too), but despite looking complicated, it's actually quite simple to throw together. And something your friends and family will eat in a split second. I can almost never keep leftovers of these potatoes au gratin around for long.
They really are THAT addicting.
All you need to ensure success is a mandoline — those deceptively tricky looking slicing contraptions most Americans DON'T own. Don't let their appearance fool you — this tool is one of the easiest and coolest kitchen gadgets you can own.
And vital for making a melt-in-your mouth potatoes au gratin.
I recently invested in this pricier one and love it but you can find high-quality mandolines for under $40 too. I use mine at least one a week: to slice down sweet potatoes, shred carrots, and to thinly slice zucchini for my zucchini carpaccio. And it's the perfect tool to ensure you get extra-thin slices of potato for this recipe. Otherwise the sauce and potatoes might not be properly cooked!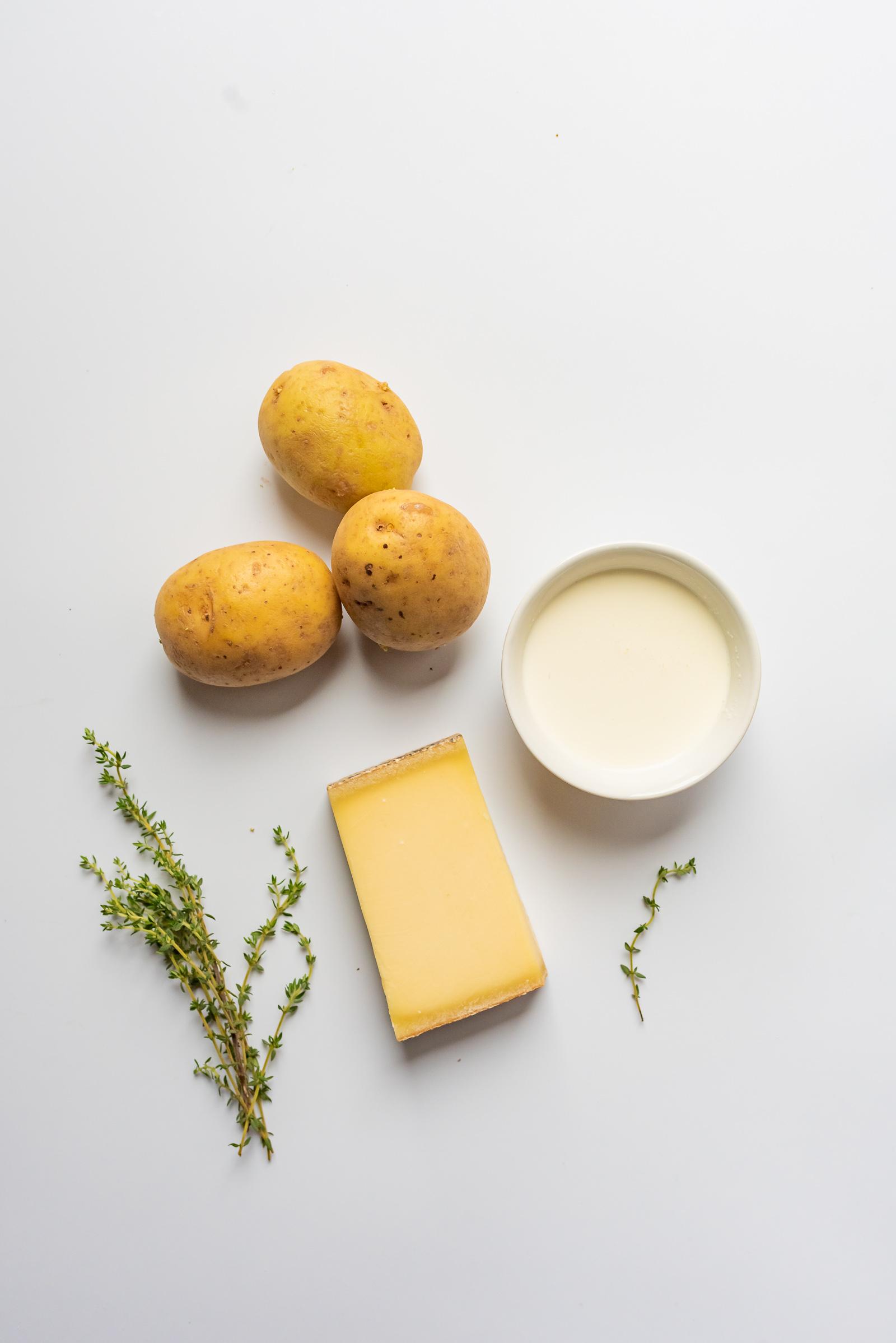 Gruyère Potatoes Au Gratin with Thyme
Yields 4 – 8 Servings
4 Cups Potatoes (I always use Yukon Gold)
3 Tbsp Butter
3 Tbsp Flour
1 1/2 Cups Milk
1 1/2 Cups Gruyère Cheese, Shredded
2 Tbsp Parmigiano-Reggiano Cheese, Grated
1 Handful Fresh Thyme
Salt and Pepper To Taste
First, preheat your oven to 350 degrees Fahrenheit.
Next, thinly slice your potatoes with a mandoline (or by hand if you're a glutton for punishment) and set aside. If you're cutting the potatoes by hand, try to get them as thinly sliced as possible (and perhaps leave your potatoes in the oven 10 – 15 minutes longer to ensure thicker potatoes slices are cooked through).
Spray a 1.5 quart casserole dish (an 8×8 brownie pan works just as well) with nonstick cooking spray.
In a small saucepan, begin melting the butter over medium-low heat*. Whisk in the flour, a handful of fresh thyme leaves, and salt and pepper to taste. Slowly pour in the milk, whisking as you go. Reduce the heat to low and bring your roux mixture to a small boil, whisking occasionally.
Add one cup of the gruyère cheese and stir to combine. Remove from heat and set aside.
Begin assembling your potatoes in your pan. Lay the potato slices as neatly in the pan as possible to form one layer. I tend to bring a stack of potato slices to the pan and fan them vertically in lines like a deck of cards. It's fast and the effect is really beautiful.
After you have your first layer of potatoes neatly in place, add half of your roux. Top with another neat layer of potatoes and the rest of the sauce. Top with the remaining 1/2 cup of gruyère.
Bake uncovered in the oven for about 1 hour. I always set my timer for 30 minutes, rotate my pan and check to ensure the topping does not need to be covered.
Once baked and cooling, sprinkle the parmigiano-reggiano over the top and allow to melt. Garnish with more sprigs of fresh thyme and ENJOY!
---
*Occasionally, when I'm feeling ambitious, I'll add a parmesan rind to my melting butter and allow it to melt on low heat for five or ten minutes to infuse more cheesy flavor into my roux. This step adds a beautiful depth of flavor and is worth it if you have the time and rind!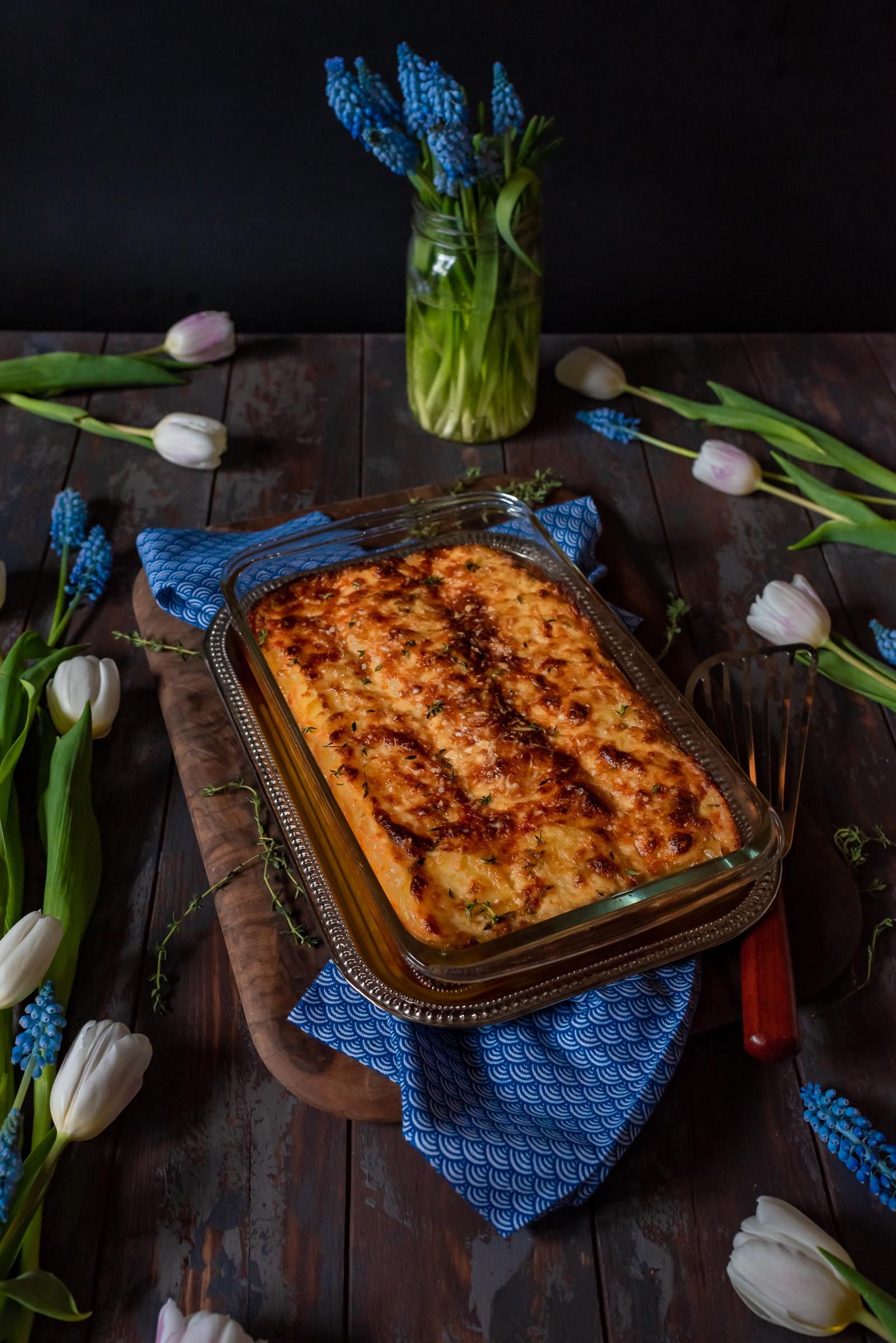 Pro Tip: Feel free to use any of your favorite melting cheeses in this recipe, gruyère is just our preference. I've used cheddar, chihuahua, and mozzarella all to great success.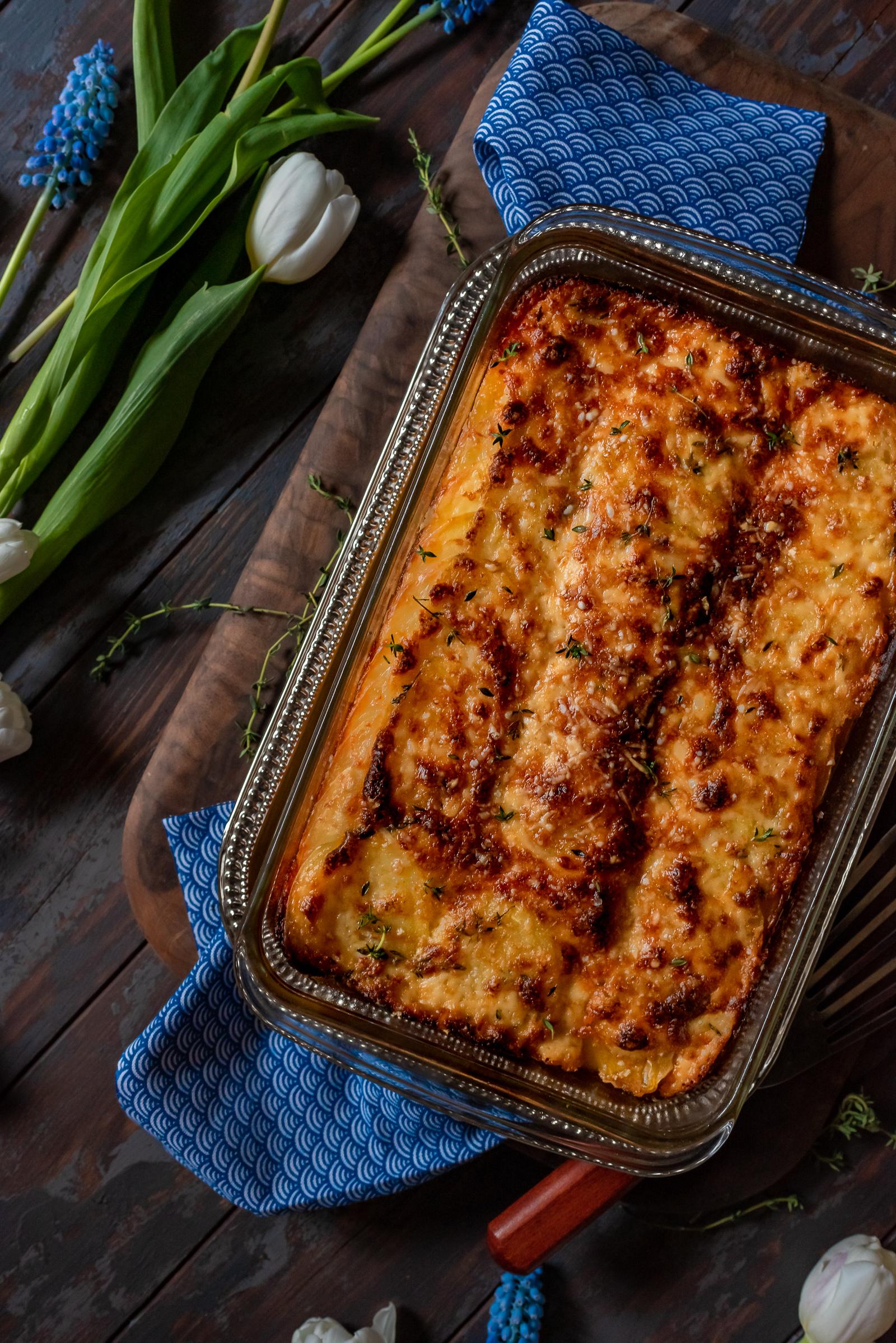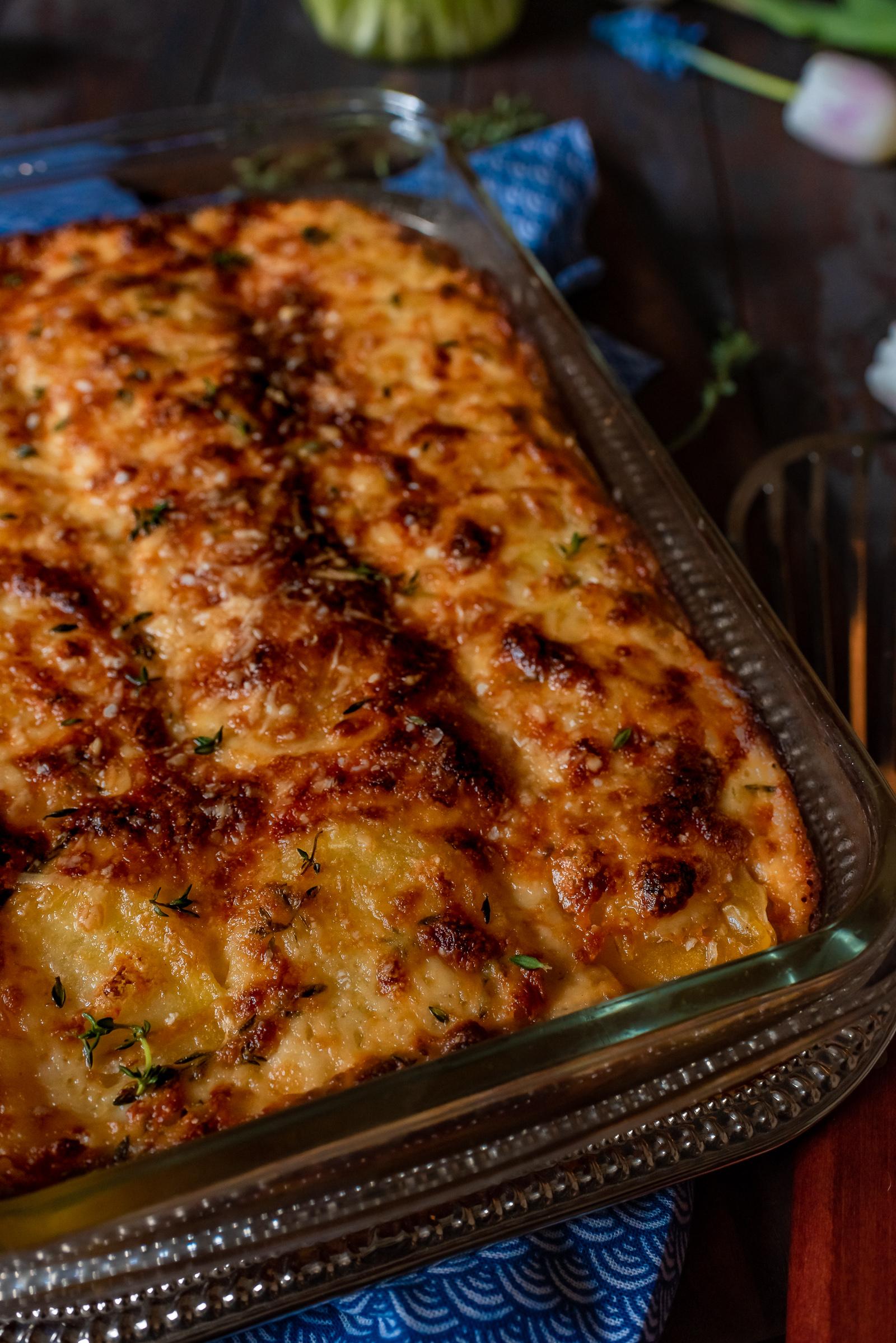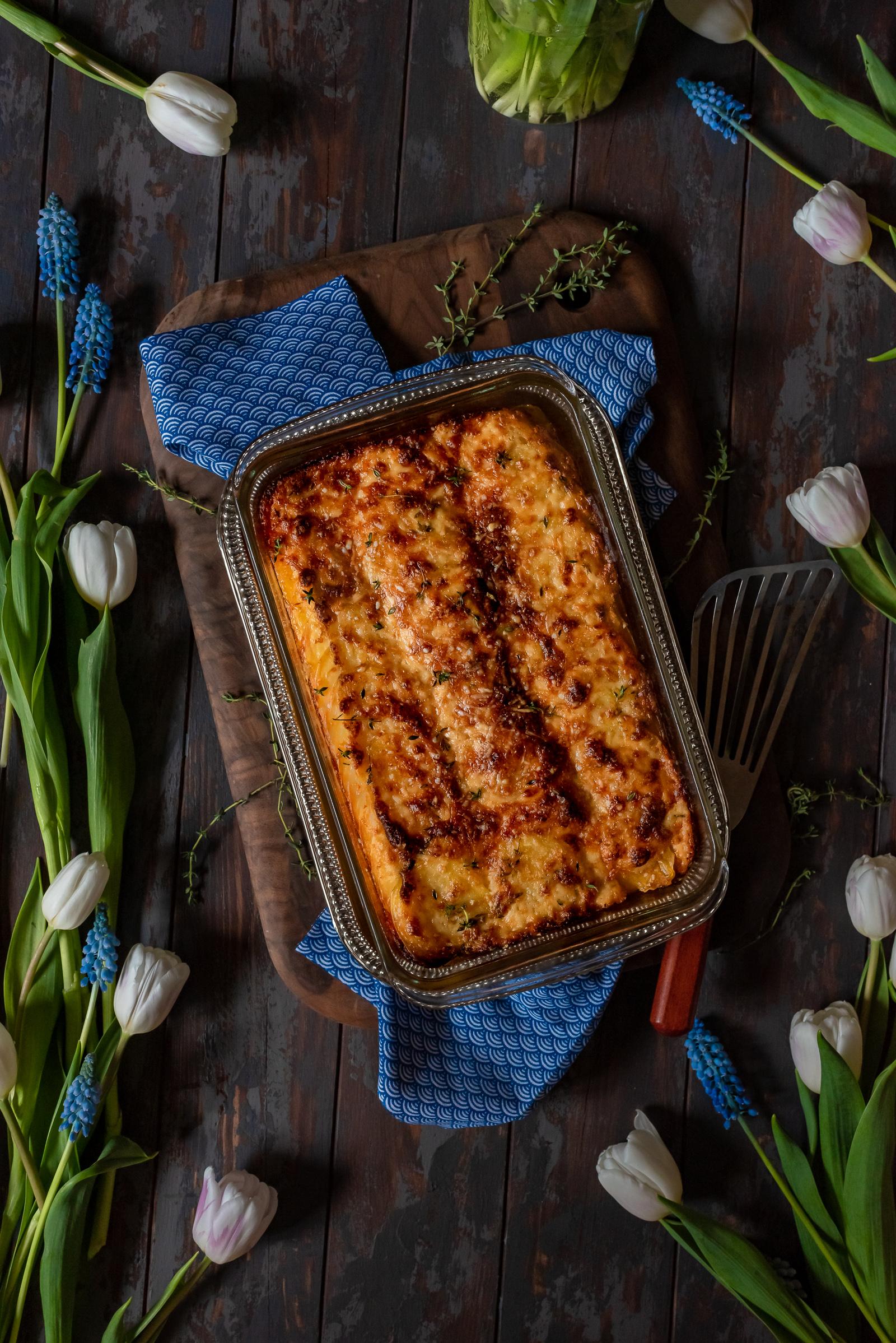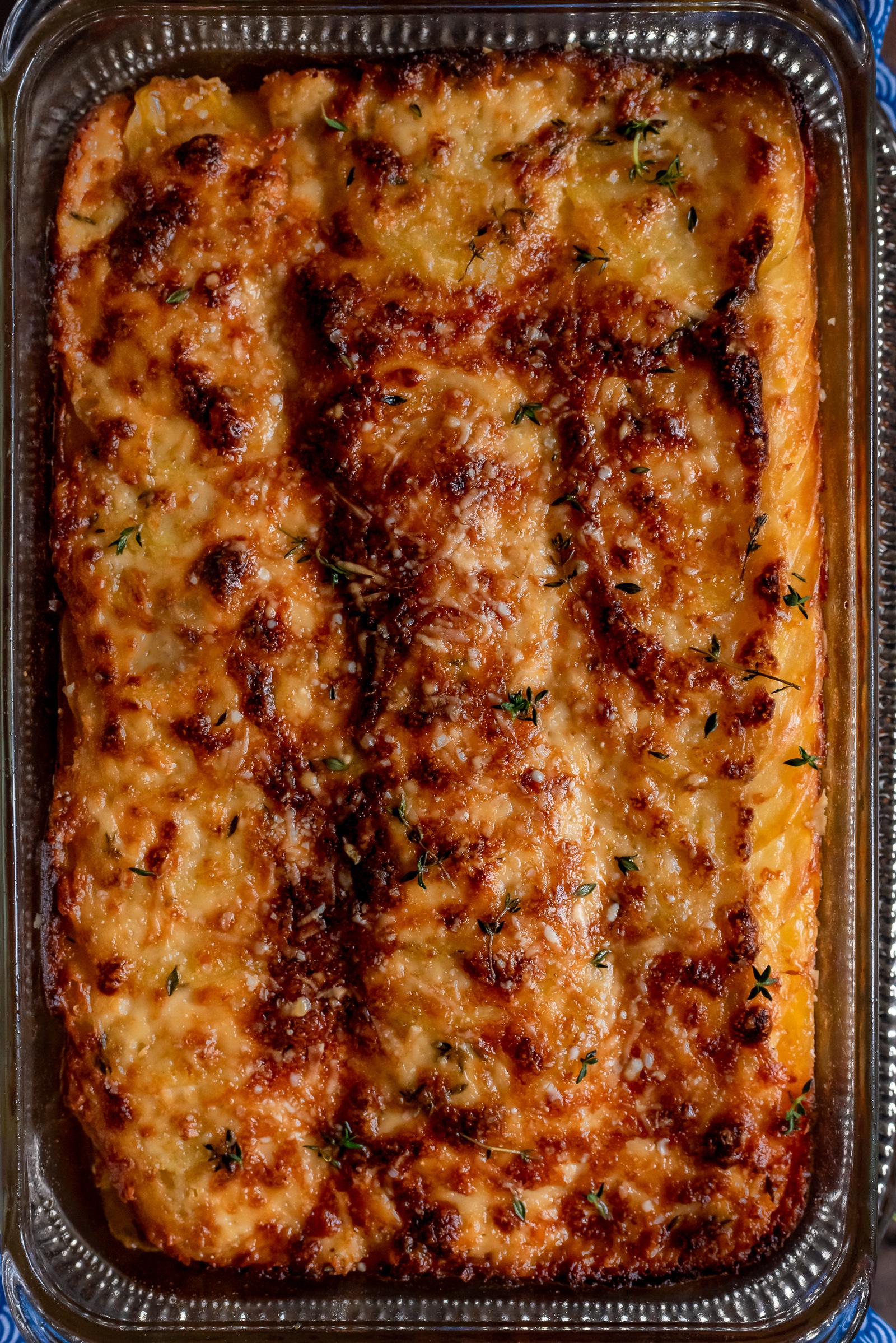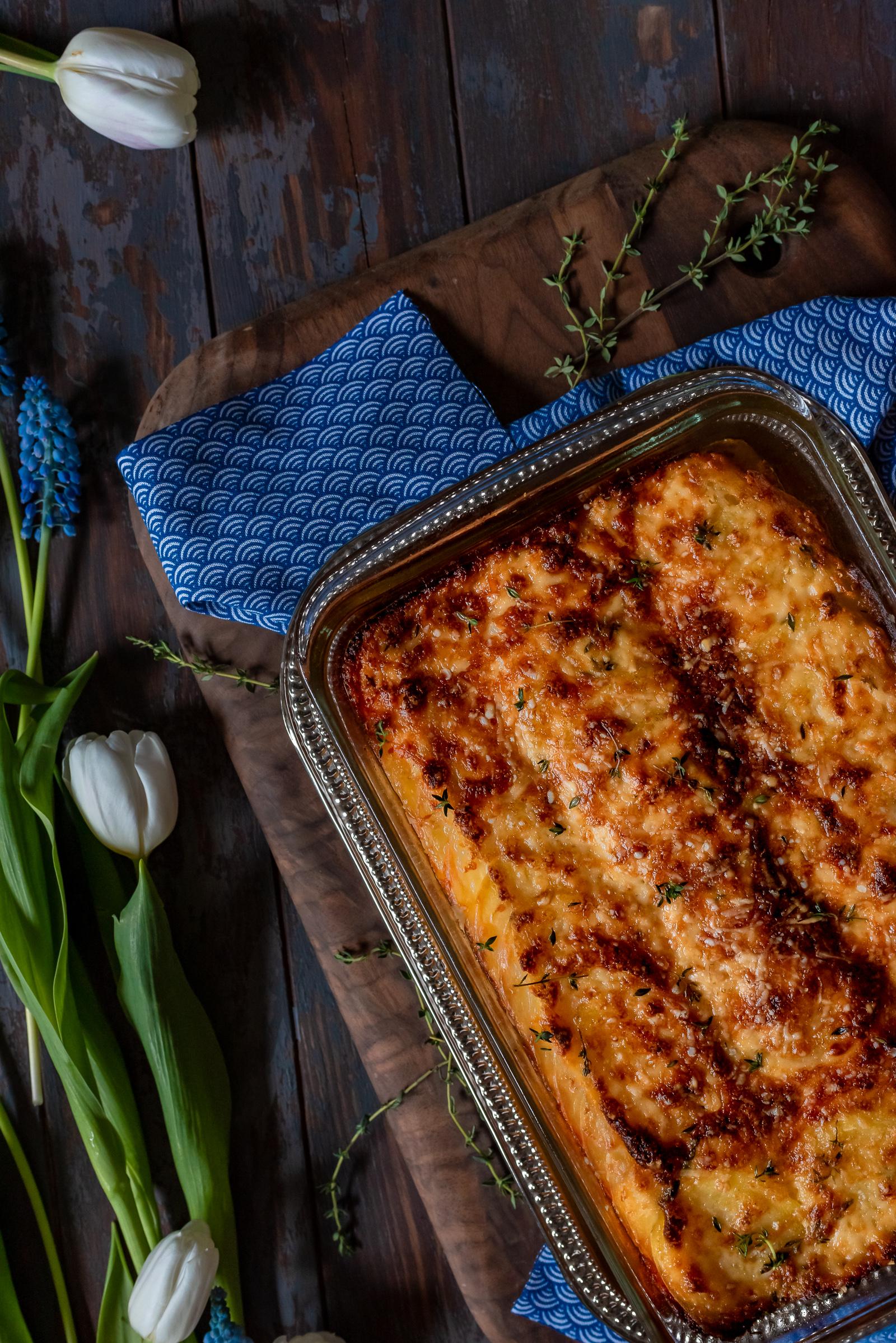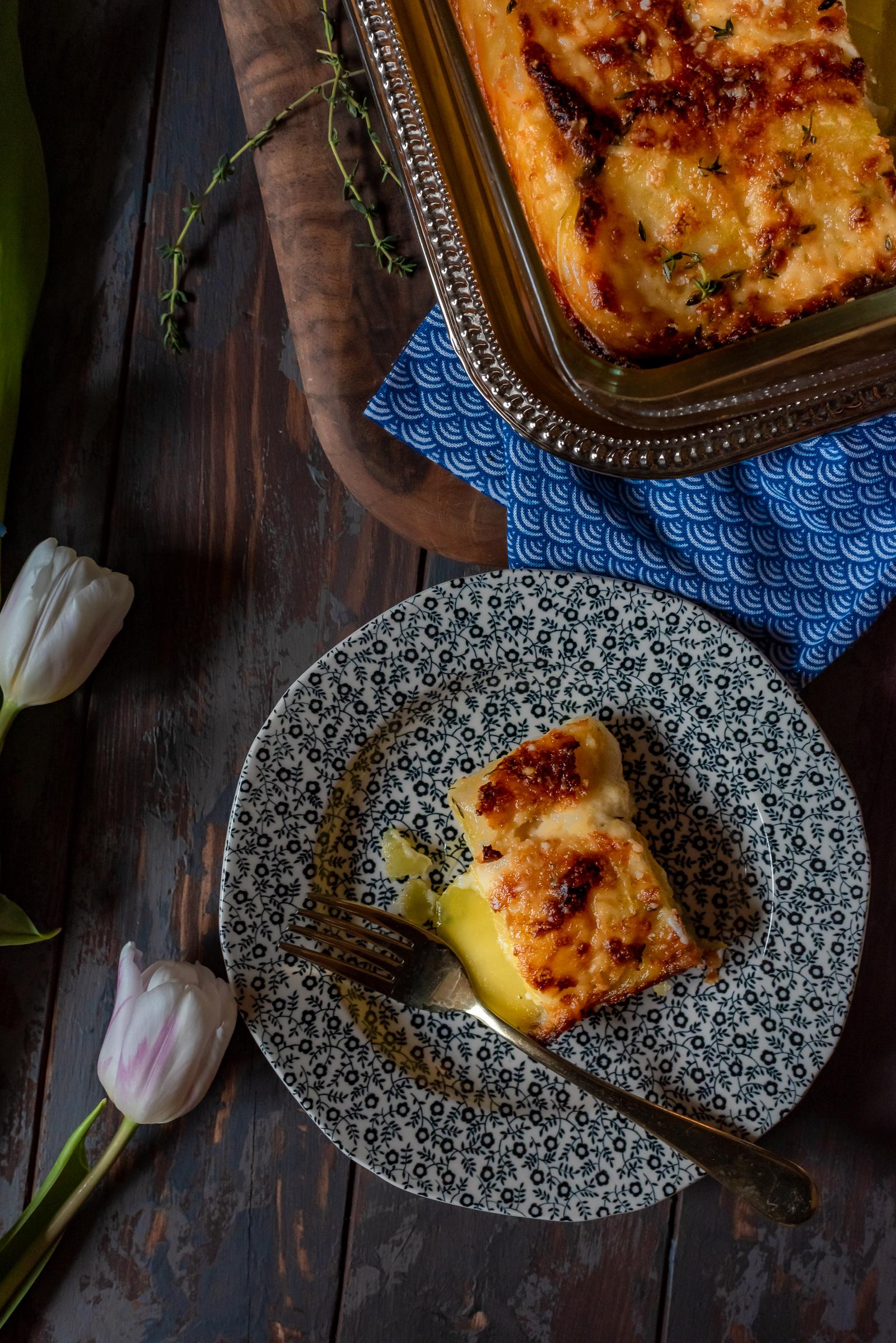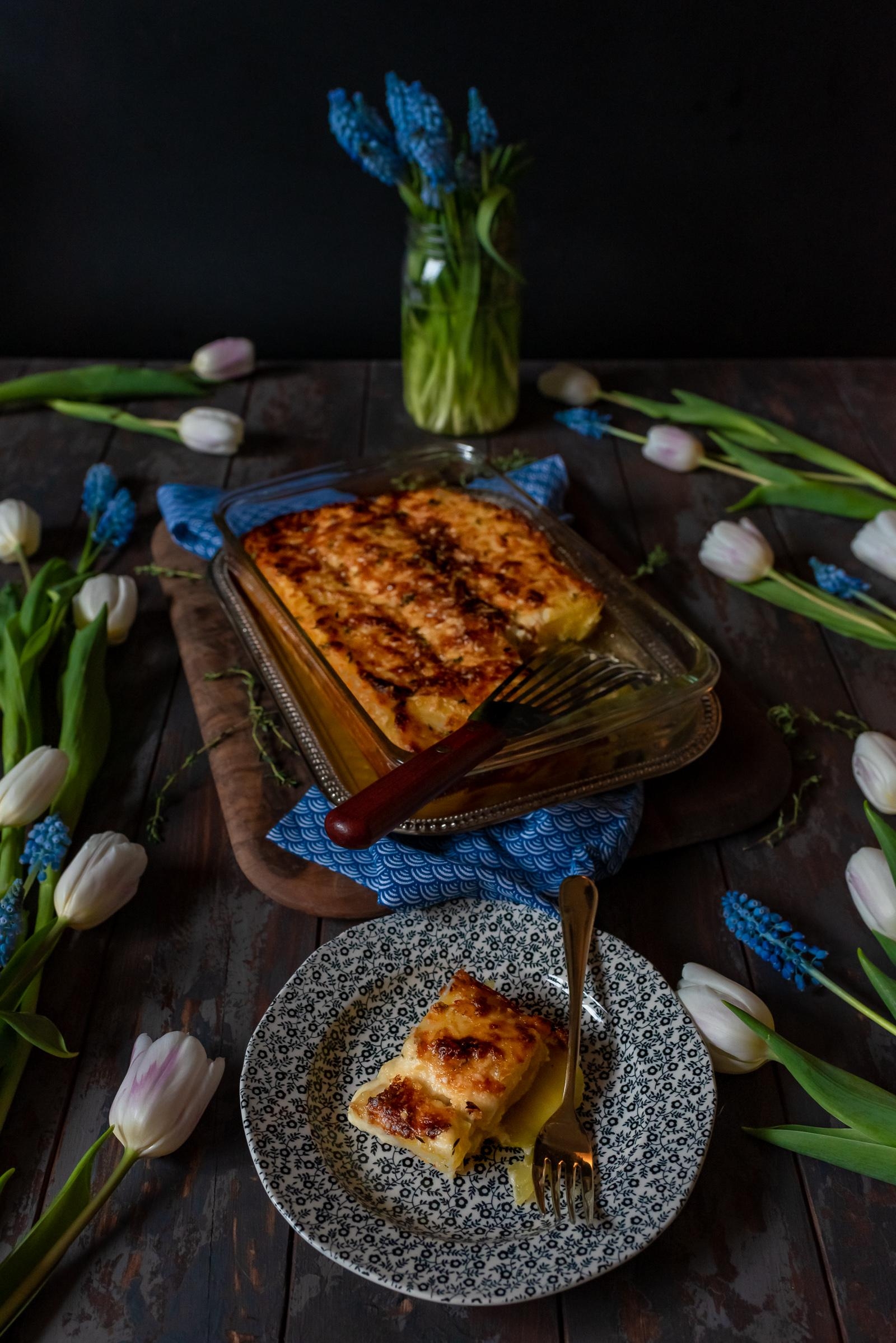 Love this post? Save it on Pinterest! And don't forget to share your Potatoes Au Gratin photos with the #SedBona tag on Instagram and Twitter!