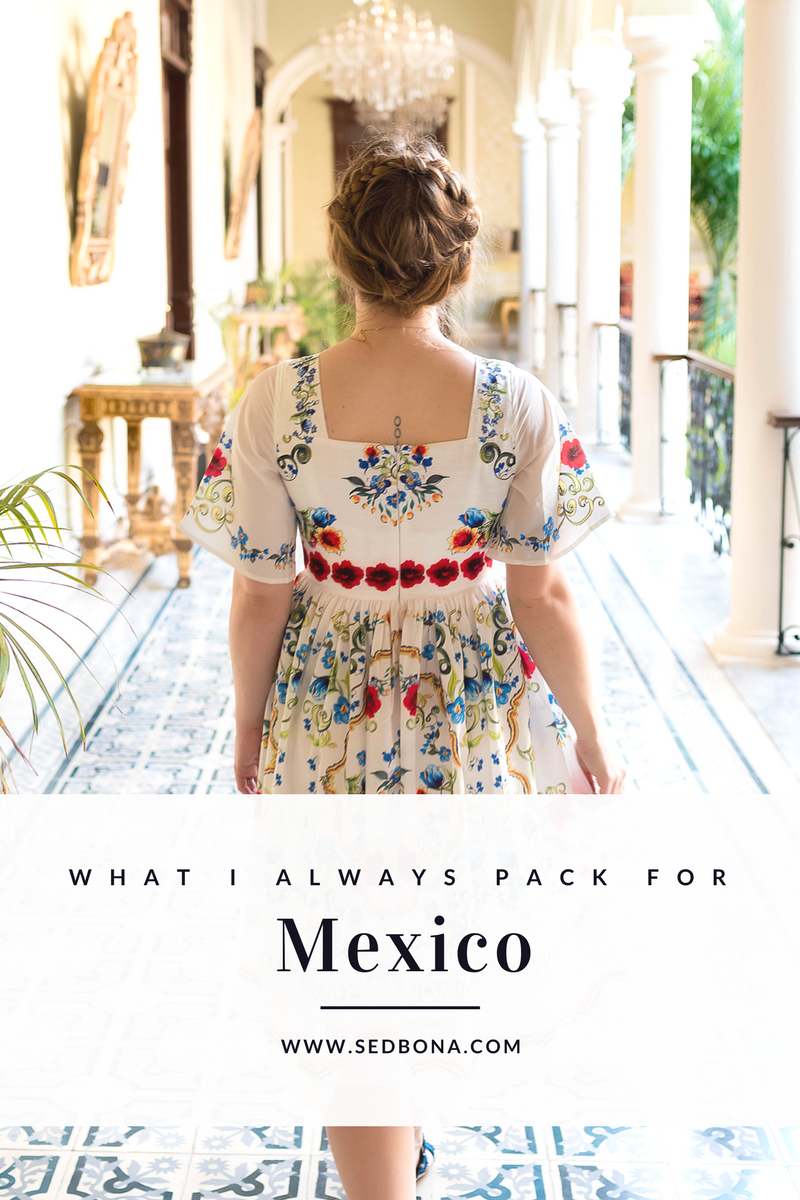 This week I've been in GOOOOOOORGEOUS Los Cabos for the very first time and it's literally taken my breath away.
But whenever I come to Mexico, I feel like it takes my breath away. Beautiful, beautiful Mexico.
Over the years I've traveled here enough to learn what to pack and what not to. It's so easy to go overboard or to dangerously under prepare -- I've learned BOTH the hard way.
So today I'm sharing my essential list of what to pack when it comes to traveling to this amazing country. What things I should always pack to ensure I have as stress-free of a time as possible.
The true necessities.
Pack these for your next trip to Mexico and you'll be ready to just about anything!
What I Always Pack for Mexico
Duh and duh.
Mexico is beautiful but with that beauty come the realities of a tropical climate... i.e. bugs. And I'm not sure exactly why but the mosquitoes in Mexico LOVE me. As in 30 minutes without bug spray has me looking like I have the pox.
Talk about a bikini confidence killer...
The first time I came to Mexico I didn't bring any bug spray. I suffered for 2 days straight. By day 3 I was so defeated by the bugs that I bought the most expensive resort bug spray I've ever bought in my life. Save yourself the trouble and find a good, travel sized bug spray to pack in your carry-on. Pack it and hoard it -- inevitably your friends will need some too so be sure to save yourself enough for your entire trip!
2. Sunscreen
Mexico is a hotter, sunnier climate than Chicago and for pale girls like me, sunscreen is an absolute necessity.
I usually bring a few types with me since I get tired of using the same formula after a day or two. I bring a spray oil (so wonderful to rub on next to the pool), a face stick (easy and not messy to carry in a small bag), and a regular waterproof sunscreen. Protect your skin and bring a sunscreen with an SPF of at least 40!
3. The Perfect Fiesta Bag
I LOVE wearing colorful outfits in Mexico -- the vibrant, stunning hues of the country are such an inspiration.
A bright colorful bag is the easiest way to transform any outfit into a fiesta-ready ensemble.
4. Big Sunglasses
Sunshine can be overwhelming in many parts of Mexico, whether you're on the Gulf Coast, the Pacific Coast or inland so be prepared and bring at least two pairs of big sunglasses.
BIG sunglasses. HUGE sunglasses. Something that'll really ensure you're protecting your eyes and not spending your entire trip squinting.
5. An Bright, Easy Dress
Most women pack an easy dress whenever they go on vacation so this point really does go without saying. But when it comes to Mexico, be sure to pack at least one really vibrant, fun dress that'll take you from day to night, beach to bar.
A life-saver for those afraid to have stomach issues but love to indulge in local food! Grapefruit Seed Extract has incredible antibacterial properties and helps with any dietary adjustment issues I've had in Mexico. I used to take it when I lived for four months in India and never once had any issues.
Grapefruit Seed Extract isn't a natural antibiotic as many people tout it as (source) however it is a really great short-term, over-the-counter solution to those who want to be prepared without having a doctor prescribe antibiotics.
7. A Comfortable Bathing Suit
You'll find pools or beaches around most of Mexico so be prepared and pack a comfortable bathing suit.
Something bright with fun details like scallops or ruffles earns you extra credit.
8. Healthy Appetite
Who doesn't love Mexican food?
Mexican food is easily one of the most diverse, delicious, and fabulous cuisines ever to have appeared on earth. And I eat like CRAZY when I'm in Mexico. I drink Micheladas constantly and NEVER pass up a good taco, torta, or ceviche.
Not super familiar with authentic Mexican foods? Here are a few you absolutely should try!
9. At Least One Hat
Because of the sunshine, hats in Mexico are essential. Bring a breathable one that's easy to pack (or something that'll be easy to wear on the plane). And makes sure, whatever you do, you don't bring a BLACK hat!
10. My Camera
Mexico is easily one of the most colorful, beautiful, and lively places I've ever visited. And I LOVE shooting it.
When I head to Mexico I ALWAYS bring my full-frame DSLR (I shoot with the Nikon D750) and my iPhone for quick shots. Going forward I'll be packing a GoPro with me too!