Alright, it's the foodie recap we've all been waiting for… THE BEST THINGS I ATE IN 2014:
Antique Taco's Habanero Popcorn. Spicy, vibrant and addicting.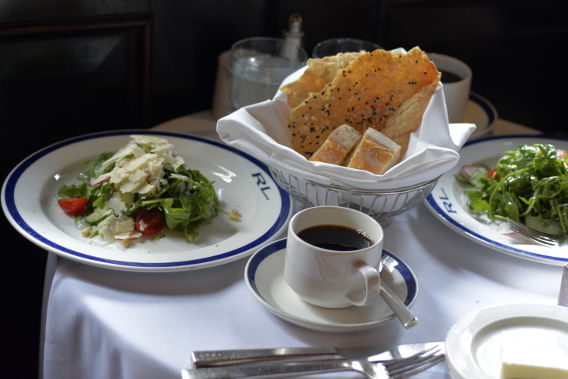 RL's Bread Basket (primarily those large parmesan crisps you see towering over the rest). I have a really difficult time not eating all of these any time I eat here, they're THAT good…
Yum Cha's Crispy Cauliflower with Chili Pods blew me away! Who knew vegetables could be this delicious?
Deca's Vanilla Ice Cream Pop drenched in fresh, organic Maple Syrup then flash frozen. Best ice cream pop ever? Or maybe that's my Maple Syrup addiction talking…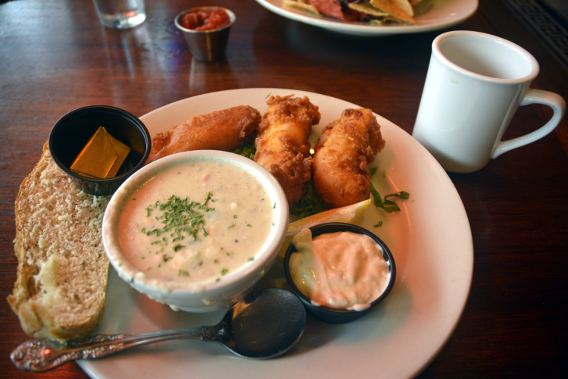 My first ever halibut in Ketchikan, Alaska this summer was simple seafood perfection. I really did not know what I was missing! 
THIS Baked Alaska on our cruise through Alaska had to be included! I've never had a Neapolitan one like this and the meringue topping was downright SINFUL!
Le Pain Quotidien's (LPQ) Avocado Toast topped with cumin, chia seed and a healthy drizzle of olive oil… #swoon
BUT their Avocado Toast has nothing on this bad boy! LPQ's whopper of a French Cream Donut is BY FAR my favorite pastry of the year. I mean just look/drool at it!
After getting addicted to salmon chowder on our cruise through Alaska, I just had to concoct my own back home. My Salmon Chowder Recipe is far and away my favorite homemade soup and without a doubt Hubby's most requested dinner of the year (not even adjusting for the fact that I only started making it in October). He pretty much wants this for dinner EVERY. SINGLE. NIGHT.
Napolese's Dessert Pizza: flaky, slightly crunchy dough drizzled in rich nutella, chocolate chips, powdered sugar and an extra-creamy scoop of vanilla gelato. Hello Happiness!
I devoted an entire post to how much I love Lincoln Park's Summer House and this fresh Burrata appetizer paired with a slow-cooked tomato jam and served with house-made toasted bread points has turned me into a serious burrata devotee!
Not to mention that their Biscuits and Honey are pretty much one of the most delicious things I've ever had ANYWHERE in ANY year. Flaky yet crusty biscuits drizzled in honey and finished with poblano-honey butter? Yes, please, I'll take a dozen! And no, I will NOT share.
And since I need to round out all the bread I devour during the appetizer rounds, I always fall hard for Summer House's Ahi Tuna Salad as an entrée: perfectly spicy seared ahi tuna, a glorious mound of heart-healthy avocado, mizuna and napa cabbage and a tempura nori (seaweed) 'crouton' all married together in a yuzu sesame vinaigrette. I call this healthy #foodporn.
Speaking of healthy #foodporn, Logan Square's hottest new juicery, Owen + Alchemy deserves a mention on this list. Their seasonal blend juice of heirloom pear and mulling spices was the best thing I drank all year, hands down!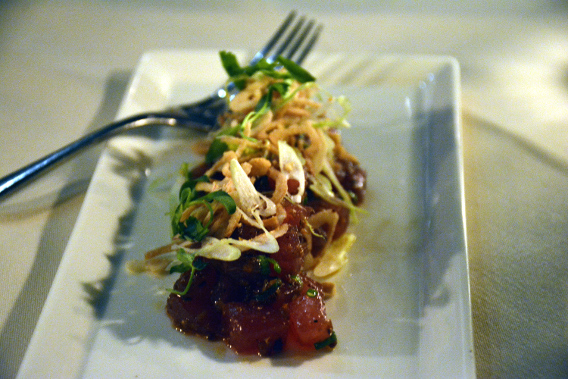 And when we're talking about new players on the Chicago restaurant scene, I undoubtedly need to include Virgin Hotel's Chicago 'peep show' dinner meant to showcase what their new hotel restaurants will be offering in 2015. Chef Gresh's Tuna Tartare with ginger, crispy shallots, and peanuts boasts unique asian flavors and a bright mixture of textures to compliment the fresh tuna and turn a tartar lover like me into a Gresh convert!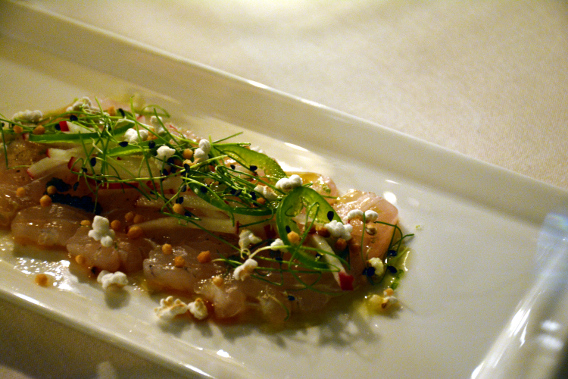 Virgin Hotel's Snapper Crudo with radishes, sea grapes and jalapeno was so unique I had to include it too.
Another hot new Chicago restaurant that managed to WOW this year was Dove's Luncheonette. Launched by the creators of Big Star, this Mexican-diner fusion fare is a serious game changer and their Vuelve a la Vida ceviche had me swooning. Fresh seafood lightly marinated in tomato, orange and lime juice tossed with tomatoes, habanero, avocado and cilantro. Vuelve a la Vida means 'back to life' in Spanish and I have to say, this little number would make a seriously good hangover cure (it's like seafood and a bloody mary met, married and are making music together in a sundae glass).Crio's Salmon Al Pastor: A butter-y salmon fillet marinated 'al-pastor'-style with grilled pineapple and onions. This was the best latin-inspired salmon dish I've ever tried! The savory, slightly spicy sauce was perfectly balanced by the grilled pineapple. Crio also happens to have my new favorite dessert in all of Chicago: a perfectly sweet yet airy panna cotta with a divine raspberry reduction sauce. This sauce is so good, it inspired me to make my own and I even served it with my savory Salmon Wellington for Christmas Eve.

The Winchester's Famous Waffles: chewy, Belgian-style waffles with a beautiful old-school malty flavor dotted with pearlized sugar and browned to perfection in a waffle iron. A signature of the restaurant, my waffle-snob mentality was FLOORED by these babies. So delicious and crusty that you can eat them without any syrup, butter, jam, etc. I would like to go back and grab a bag of these to take home and freeze for busy mornings when I want something to snack on with my coffee. 
The Winchester's Avocado Toast rivals my beloved LPQ Toast (earlier on this list) but has the added satisfaction of allowing you to spread the guaco-goodness on as thick as you could possibly want. Winchester whips their spread with grapefruit and chili notes and serves it with whole grain toast making it heart-healthy yet still delicious.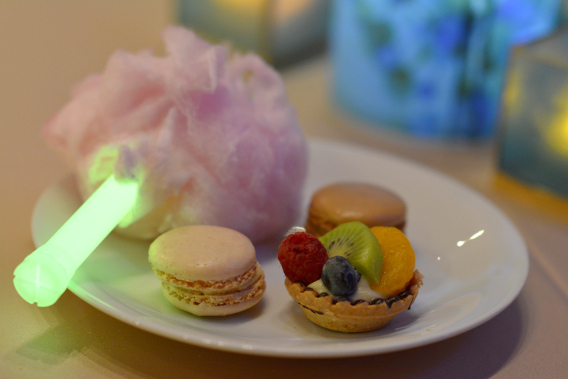 Glo Stick Cotton Candy at MSI: Fashion Forward. I know this isn't a particularly sophisticated dessert to include but since it was the first cotton candy I'd had in decades, nostalgia won.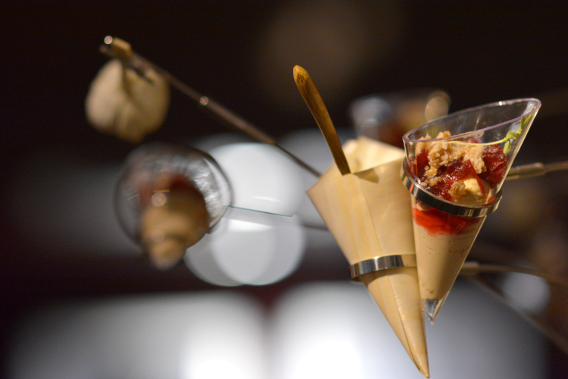 At Sofitel 'Revealed' these surrealistic dessert and appetizer wire trees were set up in the center of the exhibit, allowing guests to "pluck" their nibbles like apples out of a real tree. I loved attending an art exhibition that encouraged me to get my appetizers as creatively as possible.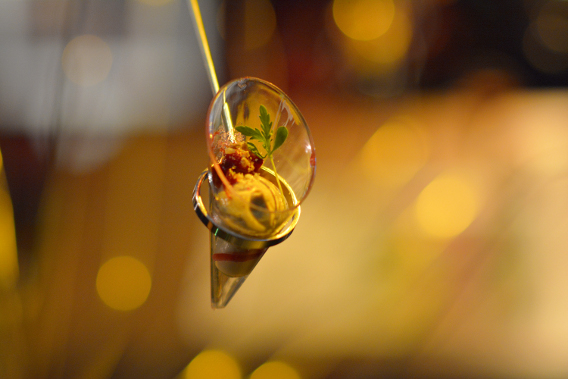 And each appetizer and dessert was more delicious than the last.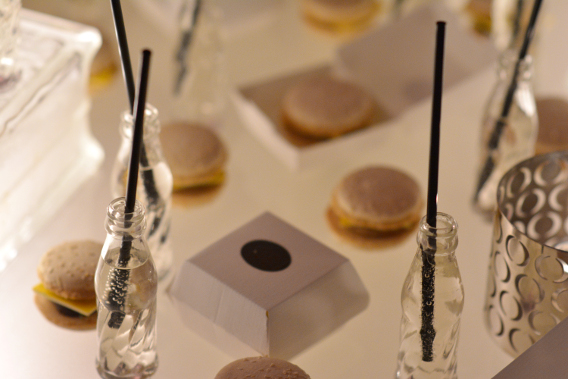 Sofitel's Burger Macarons and Mini Cream Sodas were so unique I had to include them as well.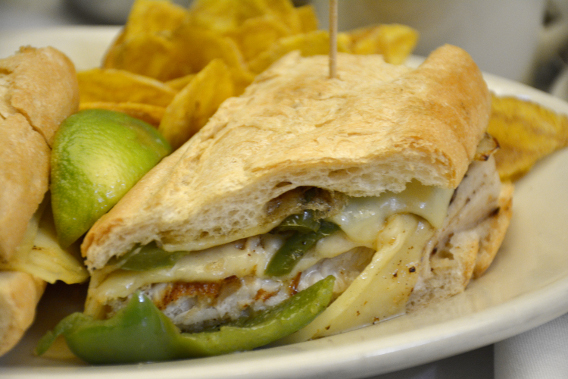 The Columbia Mahi Mahi Cubana. As far as Cuban food goes, it doesn't get more deliciously cliché than a Cuban sandwich but this unique spin will convert you. Dubbed "the best fish sandwich north of Havana", this whopper is packed with grilled mahi-mahi and topped with sautéed onions, mushrooms and green peppers. Then everything is all smothered in cheese on a Cuban bread loaf. Uh… only one word: WOAH! Ooey, gooey cheese dripping over the grilled fish — does it get any better than this? I highly recommend squeezing a generous amount of lime over the fish as the bright citrus flavor makes this sandwich sing a sweet, Cuban lullaby of "eat me and die happy".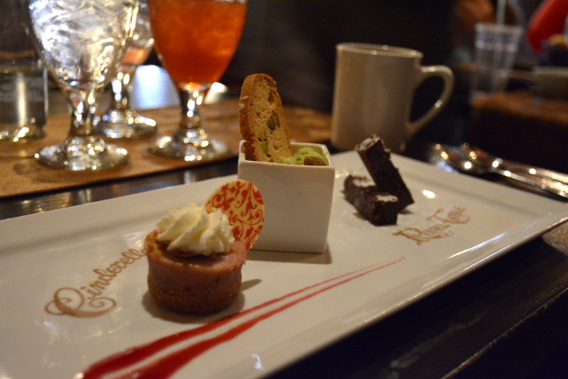 While my sister and I were reliving our childhood at Disneyworld's Magic Kingdom (Part One and Part Two) we couldn't help ourselves from dining in Cinderella's Castle like we did when we were wee ones. I didn't have high expectations for the meal…
at all…
really…
no expectations whatsoever except to be the only adults dining sans kids. But the dessert trio and especially that center ramekin of magical pistachio mousse had me humming "Be Our Guest" for the rest of the evening.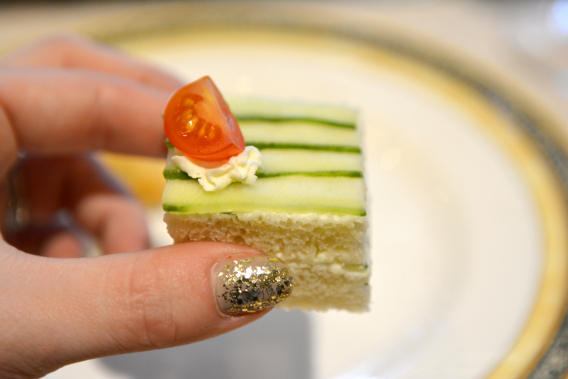 It's a truth universally acknowledged that you can always judge an afternoon tea service by their cucumber sandwich. And the Peninsula's does not disappoint. Fresh, crisp and creamy — the perfect cool compliment to a pot of hot tea.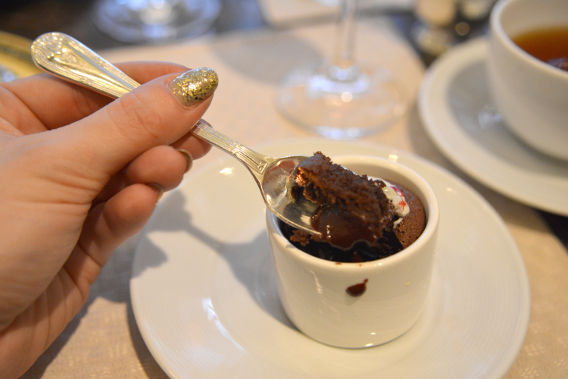 But the Peninsula's Afternoon Tea desserts always FLOOR me and this molten chocolate cake was no doubt blessed by the chocolate gods as a small miracle in a ramekin. I loved it so much and devoured it so quickly I couldn't even get a decent picture of it! When a blogger can't get a shot of something because they are enjoying it TOO MUCH, you know it's a WINNER!
While this isn't even close to a complete list of my favorite meals from 2014, it's a delicious representation of my year. Now tell me — what were the best things you ate in 2014?