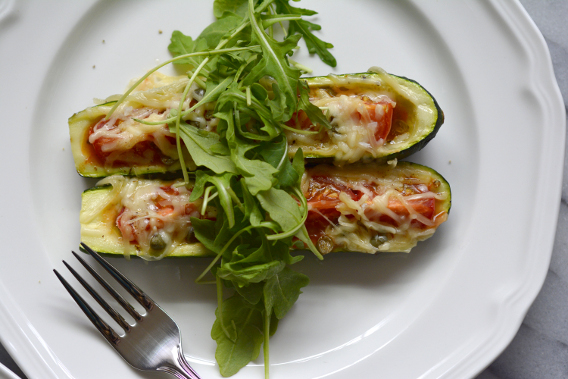 After Thanksgiving it's practically an American tradition to feel "stuffed" for days after the Feast. And while our stretchy leggings have again come to our rescue, it doesn't hurt to jumpstart some healthy eating habits before the onslaught of holiday parties begins.
That's where this recipe comes in… gooey cheese, zesty tomatoes, and peppery arugula all turn a simple zucchini boat into an indulgent yet quick 'n easy healthy meal post-holiday food coma.
In the film Kate & Leopold, Leopold is asked to do a commercial for fat-free butter. While the butter is awful and he eventually backs out of the commercial on moral grounds, his butter tagline actually feels very suiting for these zucchini boats: "You shall receive [pizza's] luxurious comfort into your mouth, without adding to the luxury of your waistline".
So let's get cooking!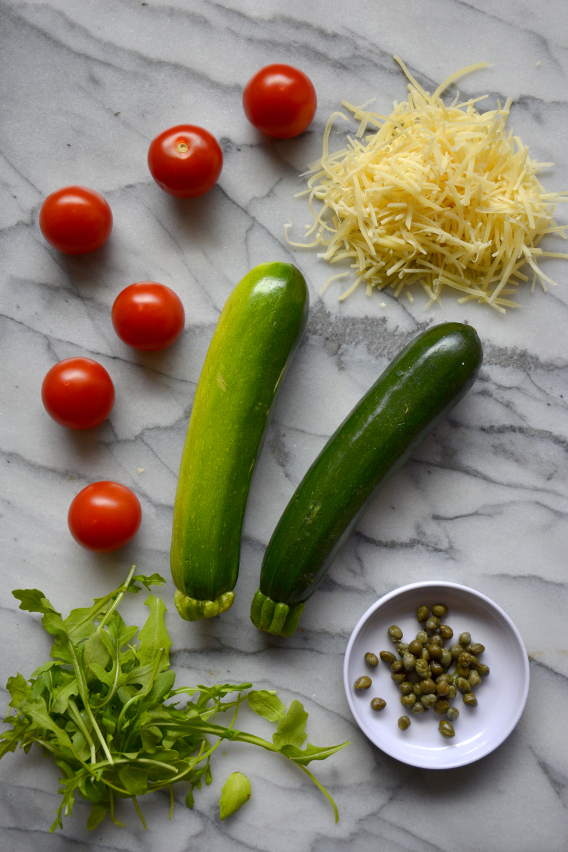 This recipe leaves a lot of room for personal interpretation so get creative!
Don't like capers? Leave them out!
Want to use goat cheese instead of parmesan? Sounds delicious!
This recipe is just one of many combinations you can use to make a delicious and light zucchini pizza. Get creative and don't forget to share your #sedbona zucchini pizza creations on Instagram and Twitter!
Tomato & Caper Zucchini Pizza
Makes 4 servings.
2 Large Zucchinis, Rinsed and Scrubbed Clean
Handful of Plum Tomatoes, Quartered*
2 Tbsp Tomato Sauce
1 Tbsp of Capers, Drained and Chopped
1/2 Cups Parmesan Cheese, Grated
Handful of fresh Arugula
1 Tbsp Olive Oil
Salt & Pepper**
Preheat oven to 375 degrees Fahrenheit (190 degrees C). Trim ends of zucchini and then split in half lengthwise. Use a spoon or melon baller (I used this) to scoop out the interior to create a long "bowl" for your pizza ingredients. Brush zucchini halves with olive oil, season with salt and pepper (and any other herbs you want — again, get creative!), and put on a baking pan. Roast the zucchini in the oven for 8-10 minutes until partially cooked through.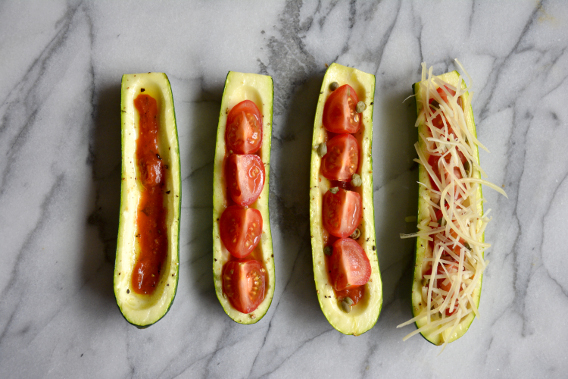 Remove the zucchini from the oven and assemble your pizzas. First spread a small layer of tomato sauce in the bottom of each zucchini boat. Layer with quartered tomatoes then chopped capers. Finally sprinkle parmesan cheese. Bake zucchini pizzas in the oven until "set", approximately 5 minutes.
To serve, place zucchini pizzas on a plate and top with a large handful of arugula. The pepper-y flavor of arugula pairs really well with the zucchini and makes this dish feel more like a substantial meal. Serve and enjoy the delicious flavor of pizza without the bloated after-effect!
*I like plum tomatoes for this recipe but you can use any type of tomato you prefer or leave them out entirely and double the tomato sauce used.
**Feel free to add additional seasonings to switch up the flavors of your pizza. H and I have used rosemary, italian seasoning, chili powder and hickory smoked sea salt all to delicious success.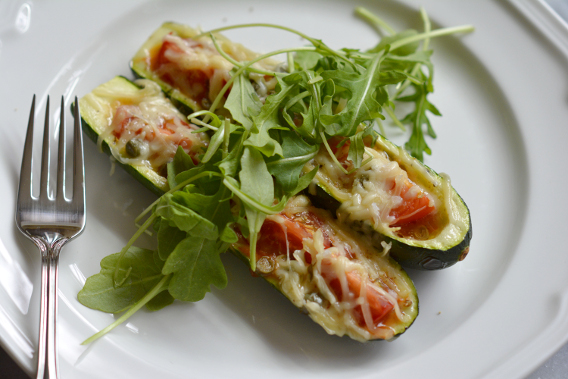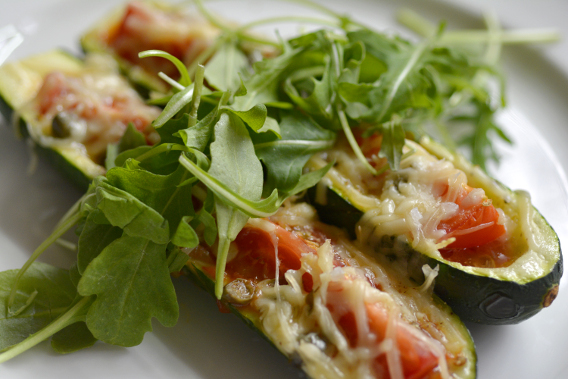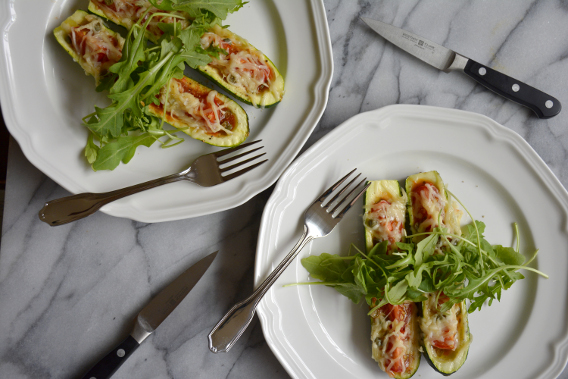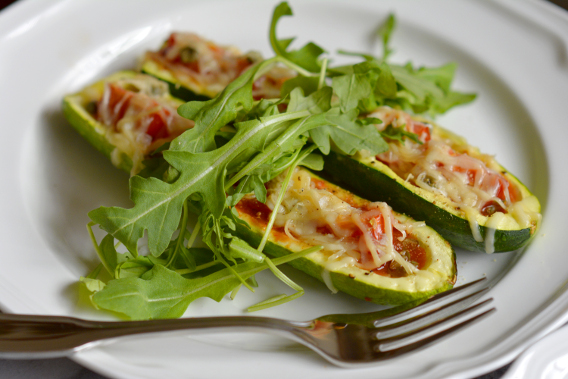 So tell me, do you have healthy recipes you turn to after the holidays?