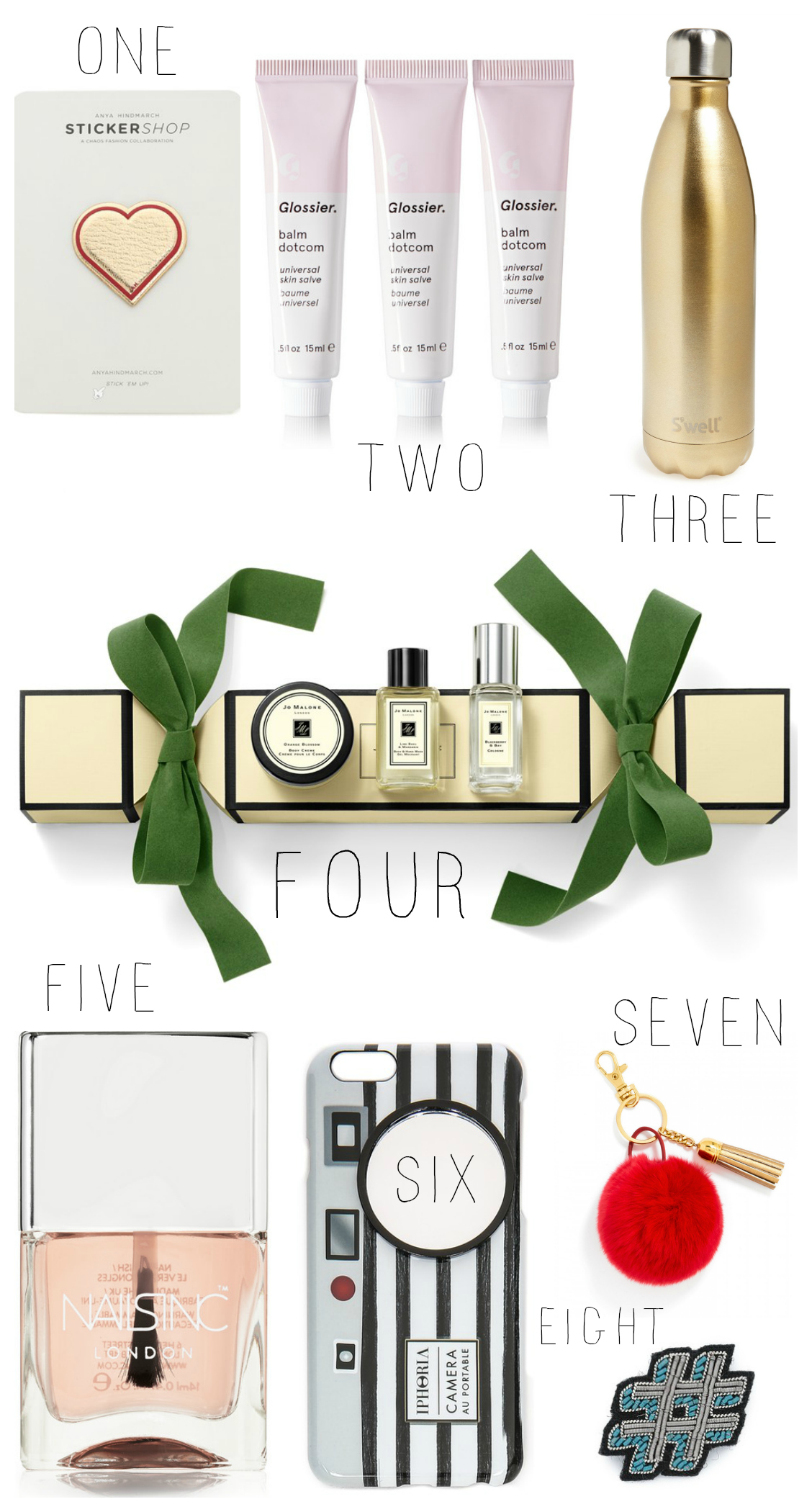 Alright everyone… are you all ready for the best gift guide of them all!?
I might be biased but I think stocking stuffers are the MOST fun gifts to buy and often the most used/loved! Often it's the smallest gifts that have the biggest impact but it's important not to buy something TOO quirky and risk the item sitting in its box unopened until it's re-gifted at a Secret Santa the following year. So here are my top 8 picks for stocking stuffers that will be used long after the holidays are over:
Stocking Stuffer Gift Guide
1. Anya Hindmarch Heart Sticker ($70).
When Anya Hindmarch first came out with these ingenious leather stickers, I was positively smitten! Am I the only one who had a sticker obsession when they were little? Now grown-ups can embrace their inner kiddie and personalize their accessories with these upscaled leather versions making this the perfect gift of nostalgic creativity!
2. Glossier Balm DotCom ($36 for a set of 3).
This set of three is a great option since you can turn one box into three stocking stuffers! Give one to each of your friends — male and female. Why? This balm is a miracle worker — I use it on my elbows, my cuticles, and of course my lips to protect them from the winter frost and keep my skin from feeling tight. The legendary formula is moisturizing without leaving a sticky residue and I never leave home without a tube in my bag anymore.
3. S'well Sparkling Champagne Water Bottle ($25).
The ultimate in chic water bottles. These sleek S'well bottles comes in a myriad of colors and sizes making them the perfect gift since you can choose which one based on the recipient's personal style. They even come in wood finishes!
4. Jo Malone Christmas Cracker Set ($45).
I wear my Jo Malone scents everyday because they're timeless, unique, and so much fun to mix together into a signature scent. Just beware though, this gift may just cause an obsession for anyone you give it too — I know my obsession has only grown these last five years…
5. Nails Inc. Kensington Caviar 45 Second Topcoat ($15).
For the manicure-challenged (ahem… yours truly!), this topcoat is a game-changer. It completely dries your nails in less than a minute, a blessing for those of us who inevitably destroy our manicures moments after finishing them. And it helps prevent chips and protects your nails too! At-home manicures are sooooo much more realistic with a bottle of this topcoat.
6. Iphoria Camera iPhone 6 / iPhone 6 Plus Case ($55).
Ok this stocking stuffer is really for me more than anyone else — it is without a doubt one of the cutest iPhone cases I've seen come out this year. I love the graphic, monochrome print and especially the idea of transforming my iPhone into an old-school camera. Nostalgia for the win yet again!
7. BaubleBar Fuzzy Pom Keychain ($36).
The trendiest item on my list, poms are the cutest way to transform any bag for the holidays and beyond. They make any bag more luxe and are an especially fun way to infuse a pop of color onto a neutral bag. Buy more than one and let your friends pick their favorite colors!
8. Macon & Lesquoy Hashtag Pin ($28).
As much as I use and love Instagram, you had to know I wouldn't be able to resist this adorable little pin. It's the perfect gift for the social media lover in your life and is a cute alternative to my favorite @MushroomStew necklace.