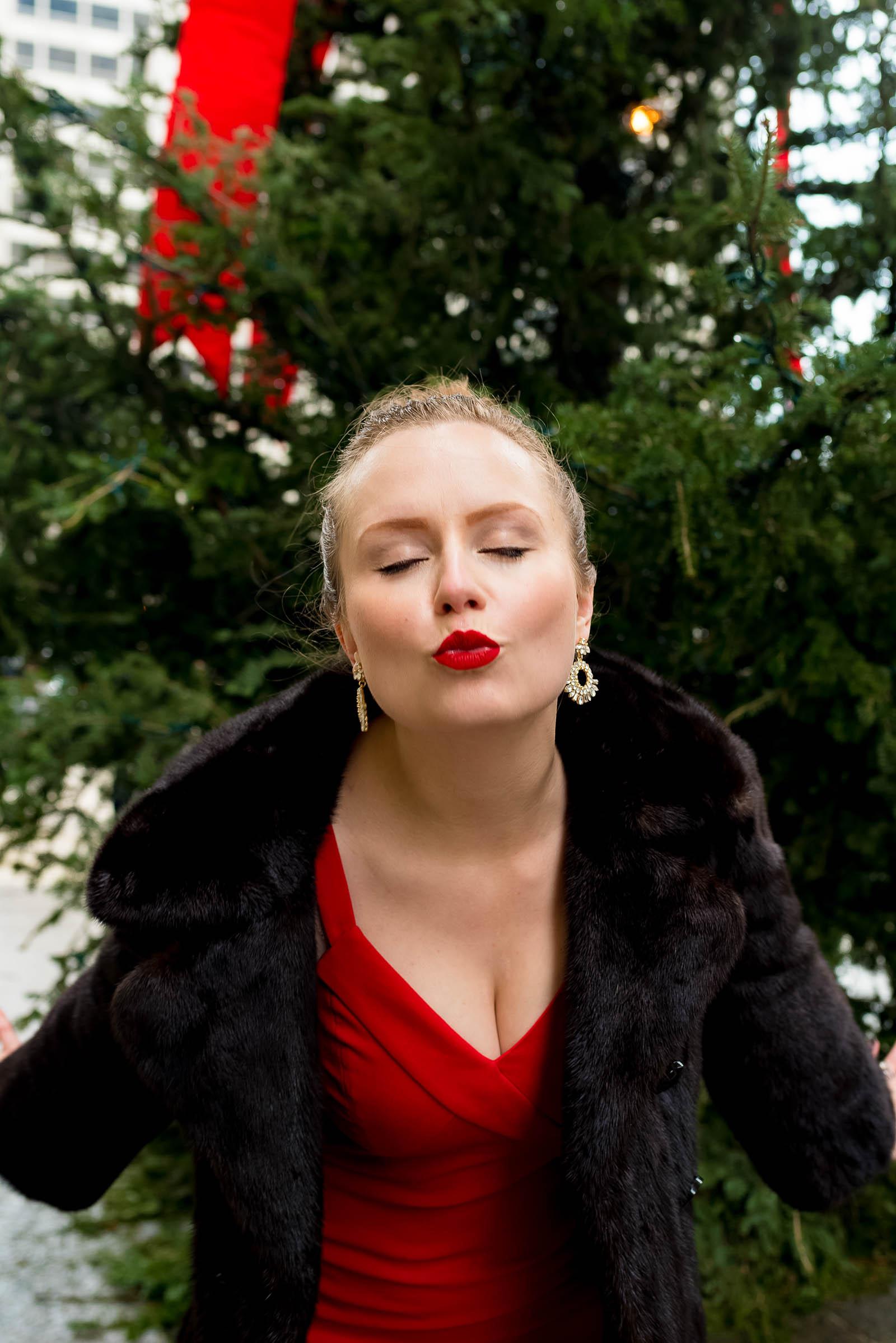 The holiday season is in FULL SWING! Christmas music is blasting EVERYWHERE. Holiday lights and trees are popping up all over the city. I've even spotted several "Ugly Christmas Sweater" Parties already!
And it's not even December yet!
But just in case you aren't already ALL shopped out from the Black Friday weekend and my earlier gift guides (Part One and Part Two), I'm sharing a slightly different gift guide today…
My Own Gift Guide Edit.
Eight things of the coolest, chicest, loveliest things on my Christmas List this year…
My 2017 Gift Guide Edit
---
I could write an entire post about this dress — it's the perfect, quintessential summer dress. I've been searching out a great white dress for what feels like AGES. This one is similar to the one I'm always borrowing from my sister (last seen in Lake Geneva) but with bolder buttons and thicker straps. I especially love the opalescent finish on the buttons and suspect this dress would be a staple in my wardrobe for YEARS to come.
Have you tried these?
Their decadent morsels of heaven, let me tell you.
I'm obsessed with these. They're easily one of the most sophisticated candies I've ever found! And they're positively delicious without being overly sweet. A perfect, nutty snack for when my ever-recurring sweet tooth hits.
I love shopping for antiques to put into my photoshoots, especially boards and trays I can use for backdrops in my recipe posts. And I've long sought out a large wooden board (larger than the cutting board I use often) like this one to add depth and texture to my shots. I love the grain and shape of this vintage french bread board and would love to have something like it to shoot with!
I spray my beloved Jo Malone cologne on my hair all the time but I've since learned that the alcohol in colognes can be very drying on hair, especially in winter. So after doing some research, I found these Byredo hair perfumes that are designed to be healthy and safe scents for your hair.
And yes, no one ever NEEDS hair perfume. But if you have long hair like I do, it makes for such a lovely (healthy) indulgence for your hair!
Those who know me will be in shock.
I never buy swim suits.
I hate the process with a passion. I'm curvy and well-endowed on top (32G Cup!) and finding a bathing suit that fits my curves and doesn't give me cleavage for DAYS feels like trying to find a needle in a haystack. Except you know the needle is in the haystack when you look for it — you DON'T, however, know that a bathing suit exists that can actually flatter your body when you start shopping for one.
It's infuriating.
I've needed a new bathing suit for what feels like FOREVER and have finally found the perfect one for me in this suit from Norma Kamali. It's modest but with a Marilyn Monroe sexiness I love. And it's GREEN. I don't know what has gotten into me lately but everything I want to buy is GREEN. This suit is one of the loveliest and most timeless I've come across in forever — yes it's a splurge but if it lasts at least four years, I'll be happy!
I already have a pair of white Celine sunglasses that I bought pre-owned on the Real Real. But while I was in Finland in March, the arm snapped on the left side and I've had a helluvah time trying to repair them. I wore them CONSTANTLY last year (Examples: 1 / 2 / 3 / 4 / 5) so I feel like asking Santa for a replacement pair will be well-worth it.
I've been following Emmakisstina's shop on Etsy for YEARS. Actually since at least 2011! She does the most amazing fashion-inspired illustrations and I've always wanted to order a few to hang in a boudoir (you know, when I move out of my tiny one-bedroom someday). But her custom "what's in my bag" illustrations are what I've truly been eyeing these last few years.
I love how clever and personal these illustrations are (and — since I did an entire "What's In My Bag" series here on the blog — I suspect it'll be very easy picking out the pieces I'd want in my own custom illustration).
Jo Malone London has long been my one and only brand for scents. So I've long been anticipating this biography about the woman behind the brand, finally hitting shelves December 5th. I fully expect it to be both empowering and inspiring, not to mention educational — I know almost nothing about the process behind creating perfumes and colognes!
What is on your wishlist this holiday season?