No matter the time of year or the occasion, you can ALWAYS count on me to be up for afternoon tea.
Everything from the elegant rituals to the delicious nibbles to the refined atmosphere has me positively smitten!
And over the years I've made quite a study of afternoon tea services, especially here in Chicago. But there's one tea service I've been dying to try for YEARS… the legendary Langham Wedgwood Tea.
Did you know that the traditional afternoon tea service first debuted at London's Langham Hotel in 1865? Seeing as they've MADE afternoon tea what it is today, I've been itching to try the Chicago Langham's version for what seems like forever.
And finally, for the start of this festive holiday season, I've had the opportunity to AT LAST try it for myself.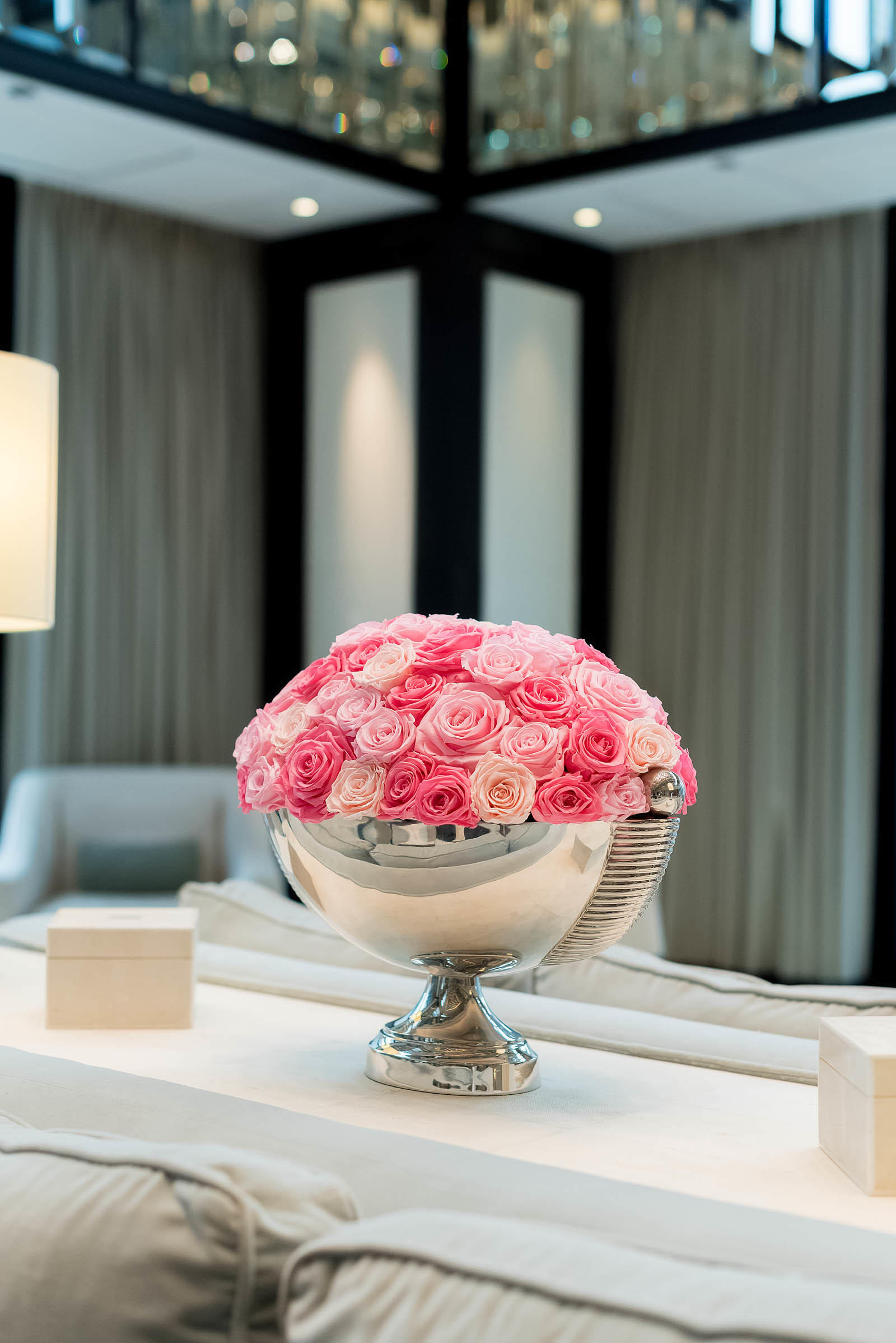 I mean, the Langham has one of THE most stunning Lobbys I've seen anywhere (it made such a glamorous back-drop for my holiday style shoot last month) — how could afternoon tea in this setting be anything less than perfect?
Refined, elegant, and yet modern…
I couldn't wait to finally dine under these metallic ceiling baubles!

Find yourself a cozy seat…

Preferably next to the fireplace or a window with a view of the bustling city below.
(How lovely is this Wedgwood tea service china!?)
First things first… NO good tea service could possibly start without TEA!
For the Wonderland Tea, the Langham has a limited edition blend dubbed the "Nutcracker" which I highly recommend! It's a full-bodied Ceylon Black Tea infused with the rich flavors of hazelnut and aromatic vanilla — such a festive, warming blend to sip on during the holidays.

It never hurts to order a glass or two of bubbly for good measure either… you know, to keep you occupied until your food arrives…

One thing I immediately discovered when our food came is that the Langham serves their afternoon tea nibbles a little differently than most — serving the savories BEFORE the desserts and warm scones as opposed to everything at the same time.
This "tiered" approach to the afternoon tea nibbles (PUN INTENDED!) is quite a clever idea. At the very least it ensures that I don't just immediately dive into the sweet section…
Which I've been known to do…
From time to time…

Luckily the savory sandwich options are positively delicious! Each one I tried was a really innovative mixture of rich flavors and textures.
Including a Butternut Squash & Goat Cheese Tartlet with tuscan kale and medjool date compote…

Big Eye Tuna Belly Rillette with sicilian caponata and celery hearts served in a charming jar with toast on the side…
English Cucumber Sandwiches with castelveterano olive butter, watercress, and toasted quinoa which makes for a surprising crunch (this is easily the most innovative cucumber sandwich I've ever had!)…

Curry Chicken Salad Sandwiches with dried currants, valencia oranges, and arugula…
and a Braised Portuguese Octopus Open-Faced Sandwich with spicy romesco, crispy chorizo, and pickled onions!
Something important to note is that the Langham is great about substituting any and all savories based on your dietary restrictions so don't be afraid to ask. They swapped my chicken salad sandwich for a beautiful caprese pesto toast in the blink of an eye!
Next up we have desserts!

For their Wonderland-inspired tea service, the Langham is offering a delicious selection of holiday sweets like Chestnut Petit Gateau with mascarpone mousse and cinnamon sablee… 
"Cookies and Milk" consisting of gingerbread batonette with an eggnog mousse and nutmeg… 

a Chocolate Peppermint Bar with candy cane brownie and dark chocolate ganache…
 and — my personal favorite — the Speculoos Cookie with milk chocolate ganache and raspberry caramel!

And finally comes the most traditional part of any tea service… SCONES!
TWO festive flavors of beautifully warm scones actually: Orange Cranberry Scones and spicy Gingerbread Scones. 

Served with the traditional accompaniments of Orange Marmalade, Raspberry Preserves and Devonshire Cream, of course.
Nothing warms the soul better during the holidays than a warm gingerbread scone smothered in imported clotted cream and jam!
And finally, to finish off the delicate feast, servers kindly bring around these snowball-inspired chocolate-covered strawberries.
You know, just in case you hadn't already had enough to eat!
I've waited FAR too long to try the Langham's legendary afternoon tea service. Served in one of my favorite hotels (Travelle is just next door too!), I couldn't be happier to finally tick this afternoon tea service off my Chicago Bucket List. Especially since I got to experience their special Wonderland Holiday Tea!
If you're looking for the perfect afternoon meal to fuel you during a day of holiday shopping along the Magnificent Mile, look no further than the Langham's Wonderland Tea. Just make sure you come on a VERY empty stomach!
Disclosure: I received a complimentary meal to facilitate this post. Review and all opinions are my own.