Spring is THE season of rebirth. The bare, dreary days of winter give way to growth and vibrancy.
Suddenly the world has come to life!
It's freeing… liberating… inspiring…
I absolutely adore spring (once it's stopped being schizophrenic, of course). I love the lightness spring brings to my attitude, my palette, and especially my wardrobe.
No one wants to wear bulky winter layers in spring! I'm all about keeping things as light and free as I can this time of year.
A lighter season means a lighter life.
And a lighter load.
AND another What's In My Bag post!
Spring is the season shed all my winter necessities and strip my daily essentials down to the bare minimum. I leave my enormous totes behind, preferring to sling on a chic crossbody and go hands-free — gives me more opportunities to shoot all the beautiful blooms we've had this spring.
This is the season I opt to carry around as little as possible — care to see what I AM toting around?
What's In My Bag || Spring 2016 Edition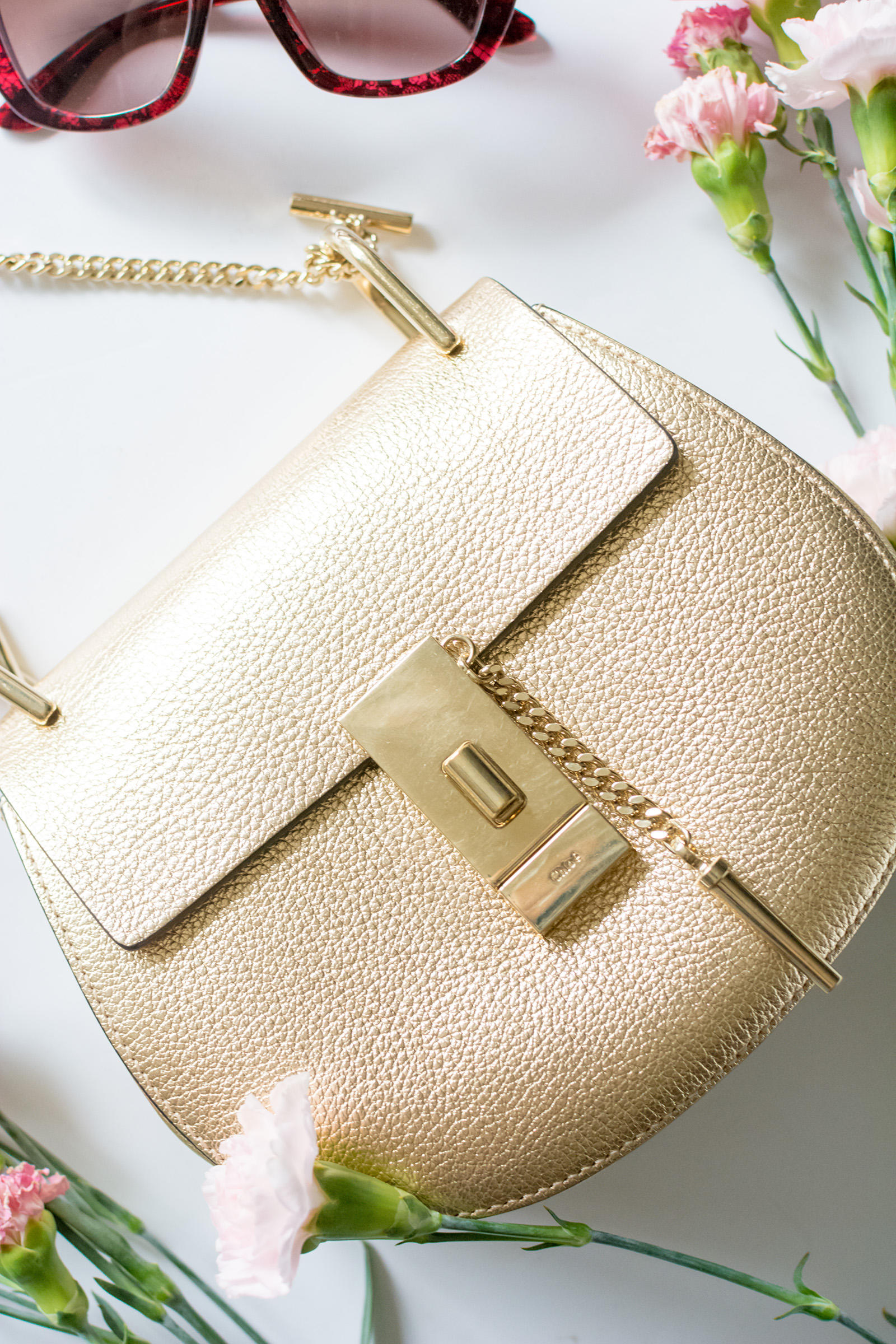 Chloe 'Mini' Drew in Pale Gold
I'm obsessed with this bag. And for good reason. It's exactly the bag I was missing from my closet — a glamorous crossbody to take me from day-to-night. Something versatile that adds a dash of casual luxury to just about every spring outfit.
The Chloé Drew one of those "it" bags that I totally get why it's become an "it" bag after owning my own. It's one of the only crossbody bags I've ever seen to have no leather in the strap (an aesthetic I detest in most cases) and the gold chain makes this bag feel almost like a piece of jewelry as opposed to a purse. Instant glamour!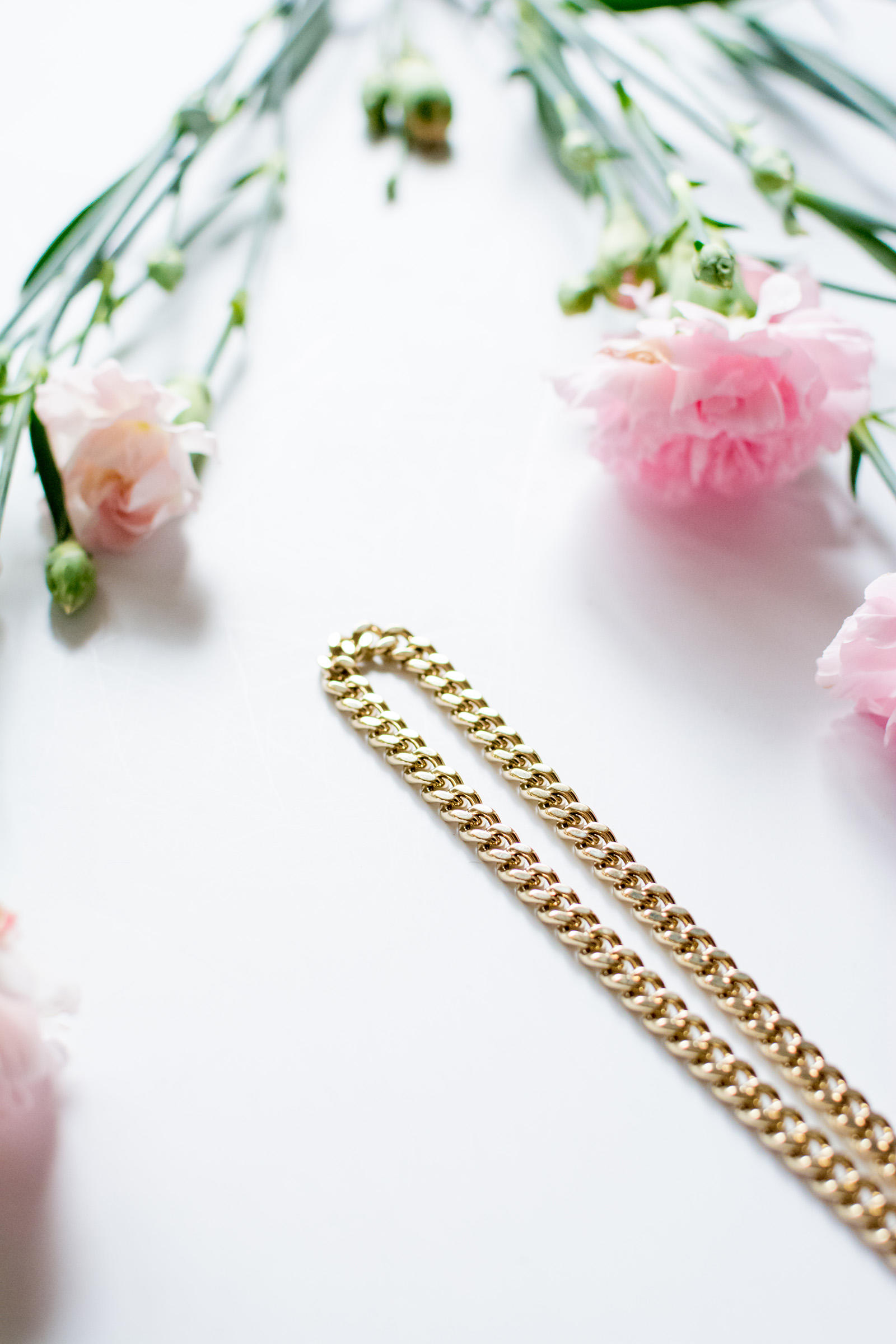 P.s. if you're afraid the chain strap will cut into your skin, don't be! The flat-link design makes this strap surprisingly comfortable and wearable, even on bare shoulders! This may be a problem on the larger sizes of the Chloé Drew (again mine is the "mini" size) since you can fill them with heavier items and that may lead to pressure in the chain that could become uncomfortable. But so far I've loaded my Drew up heavily without any problems!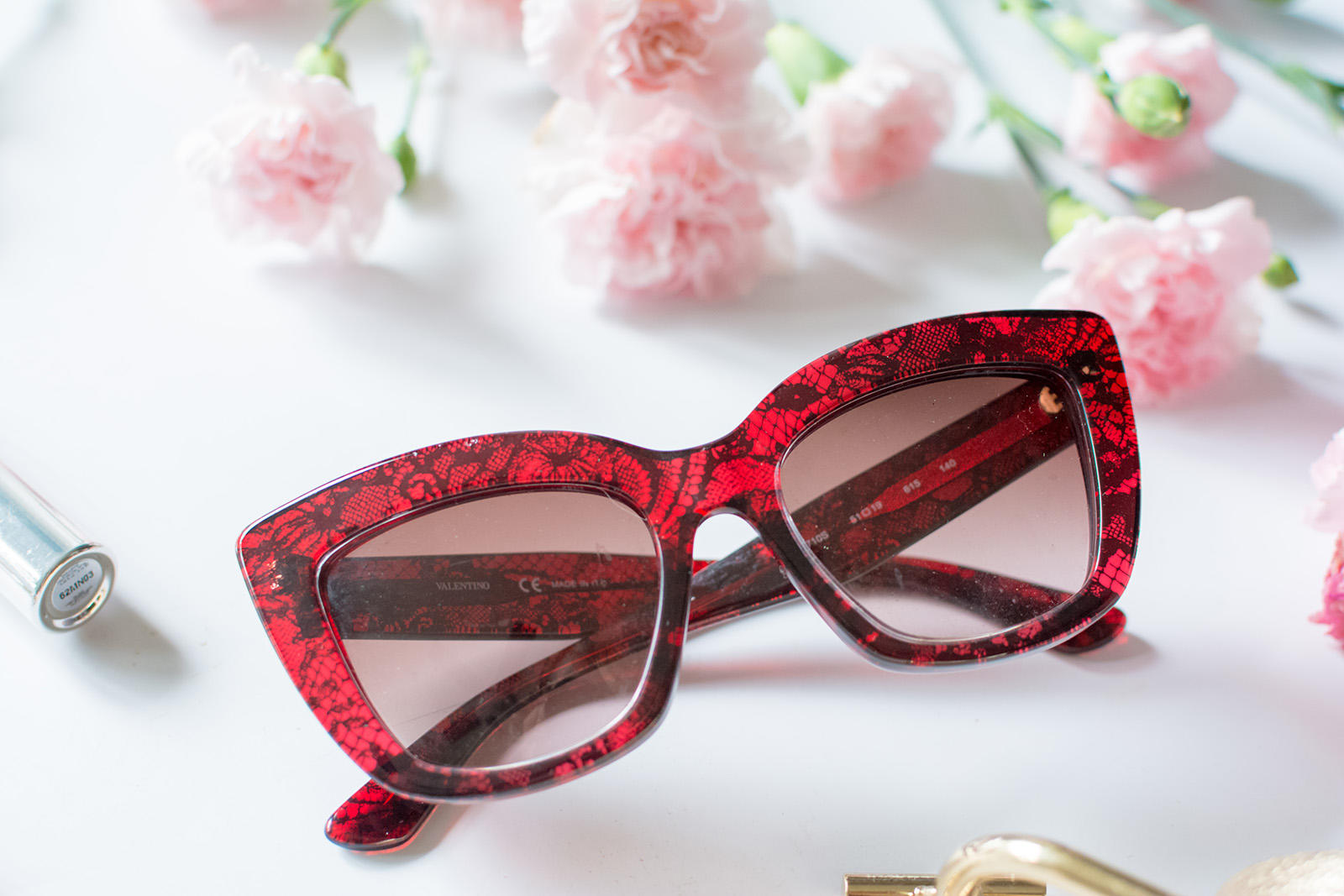 Valentino Cat-Eye Sunglasses in Red Lace
Without a doubt these are the most expensive sunglasses I own!
Truth be told, I have a soft-spot for all things Valentino. As a fellow pug-owner I've long loved him and his work AND his choice in dog breed (pugs really do make life better). These sunglasses have been my favorite pair since I bought them last summer. They're the perfect mixture of eclecticism and femininity for spring. And the red hue goes smashingly with a bold red lip (have you found your perfect red lipstick yet?).
So far these sunnies have taken a beating (as you can no doubt tell by the dirt on the lenses) but without a single scratch to the hardware or any functional issues. They wear WELL and I always get compliments on them. Especially when the sun catches them from behind and you can see the distinctive lace pattern!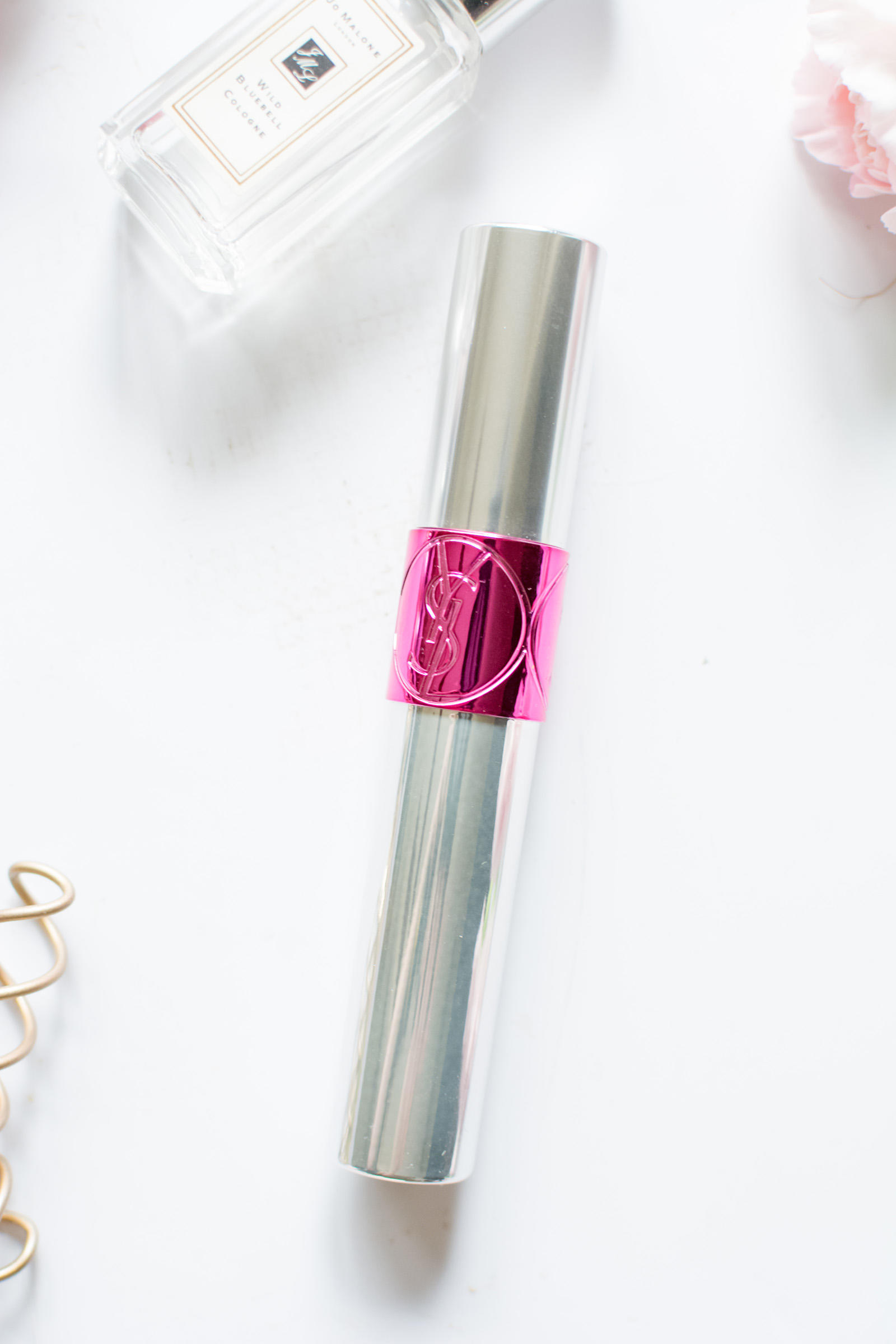 YSL Tint-in-Oil in No. 19 'Pink Me Now'
Last summer it was No. 7 'Crush Me Orange', this spring it's No. 19. I love YSL lip products of all kinds — if I'm not wearing my favorite red lipsticks, I'm undoubtedly in YSL. But I especially love these tint-in-oils.
They have a silky, moisturizing formula with a pleasant — not plastic — taste. But the real genius is the tint-infused into the gloss. As you apply, you build a lovely tinted color on your lips that lasts long after the gloss has. It's literally a lip tint WITH gloss to moisturize. GENIUS! It's the simplest way to ensure you're wearing a healthy lip hue on the go. And with life as busy as it has been lately, anything that makes me look polished on-the-go is worth its weight in gold.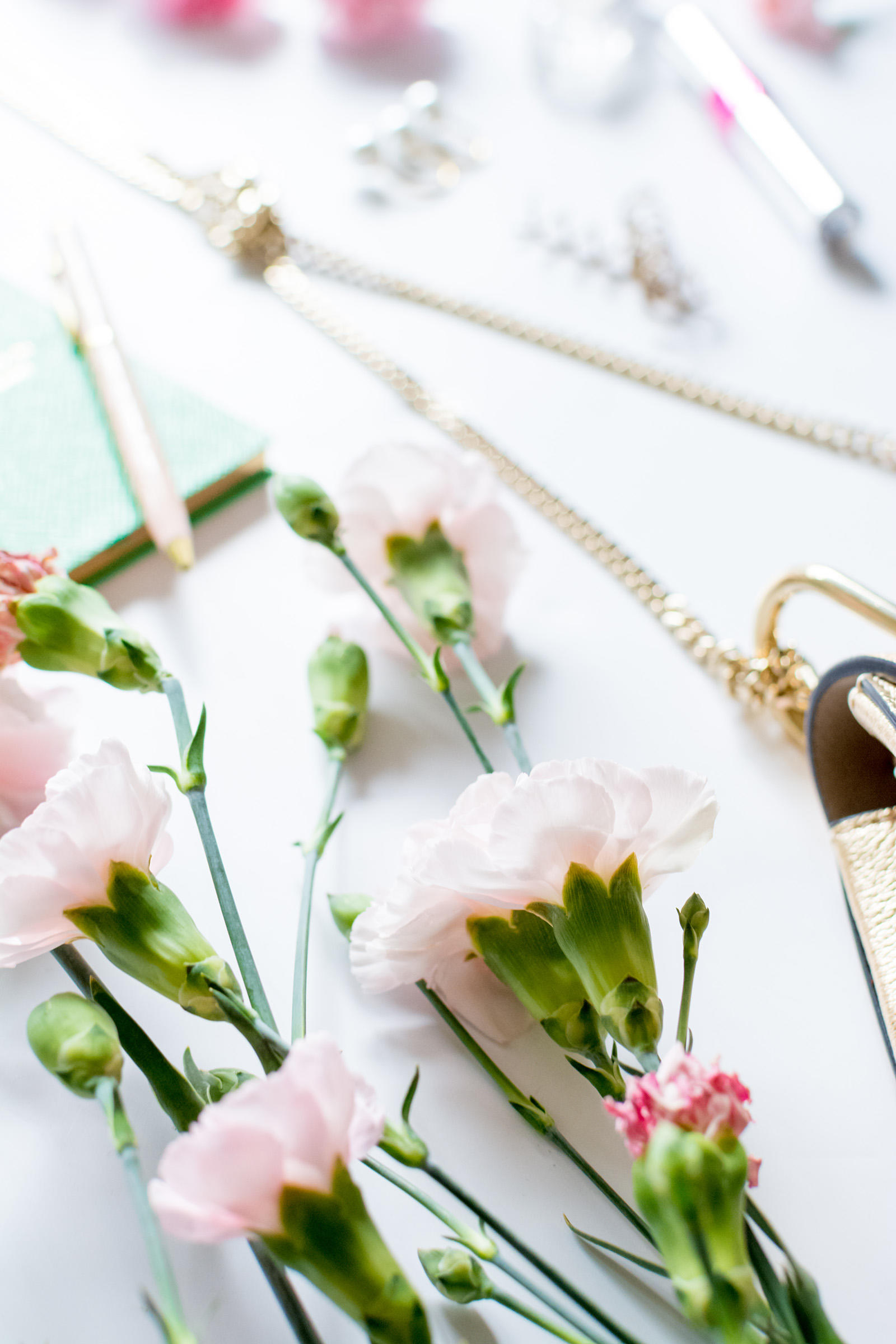 Smythson 'Keep A Song In Your Heart' Notebook
I doubt I'll ever stop using Smythson notebooks as long as they make them.
I know it's the digital age but I swear my best ideas always happen on paper. The tiny size of these notebooks mean I can carry them everywhere (even in a small crossbody bag!) so I'm ready whenever a great idea strikes.
Yes I could just buy a small memo notebook at Walgreens but Smythson's have so much personality and charm, it's hard not to start collecting them! Somehow writing my ideas down into a cheeky-yet-fancy notebook makes them feel more poignant. And at least allows me to FEEL productive on the run!
Noir Jewelry Pearl Double Ring
The easiest way to look prepped for the evening when you haven't had time to change is to swipe on red lipstick and pearls. It instantly elevates every look, lending a polish to even the frumpiest of outfits.
So recently I've started carrying this ring around in my bag to wear it for cocktails in the evening — it looks so much more expensive than it's $23 price tag! And with a swipe of red lipstick it at least helps me feel prepared for an impromptu date with Hubby or a last-minute dinner at Nico with Anna.
Need proof? Look at how much this ring elevates all sorts of outfits: 1 / 2 / 3 / 4.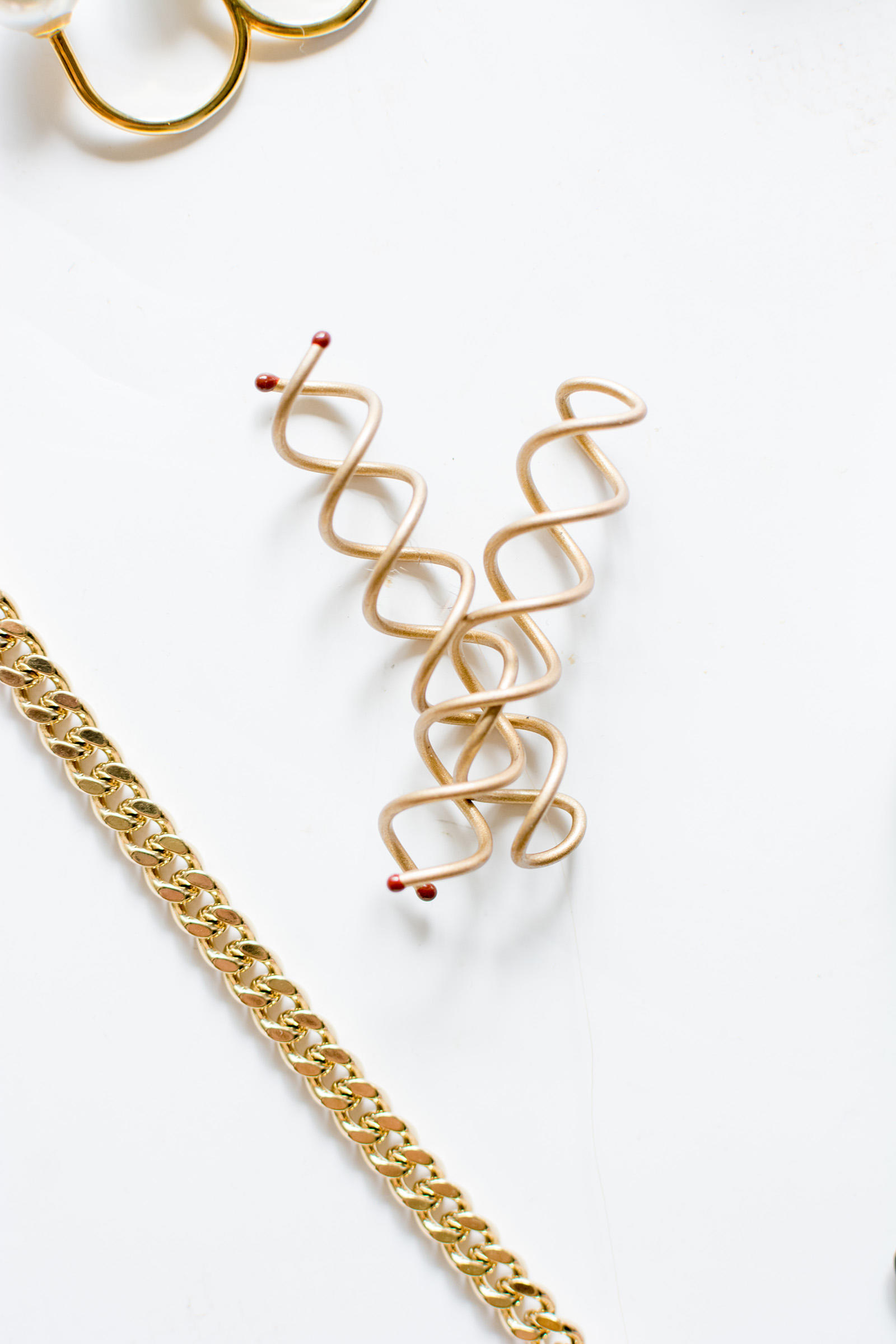 Goody Spin Pins
The easiest way to prepare for crazy hair weather — especially if you have long hair like me!
This spring especially, the weather has been changing on a dime — one minute it's sunny enough to burn you, the next the frosty wind is WHIPPING around. These nifty spin pins allow me to quickly pin-up my heavy hair into a bun on windy and rainy days. It looks more polished than a ponytail and is a god-send during windy shoots when my hair starts to curl its way in front of my lens. Which has happened FAR more times than I care to admit!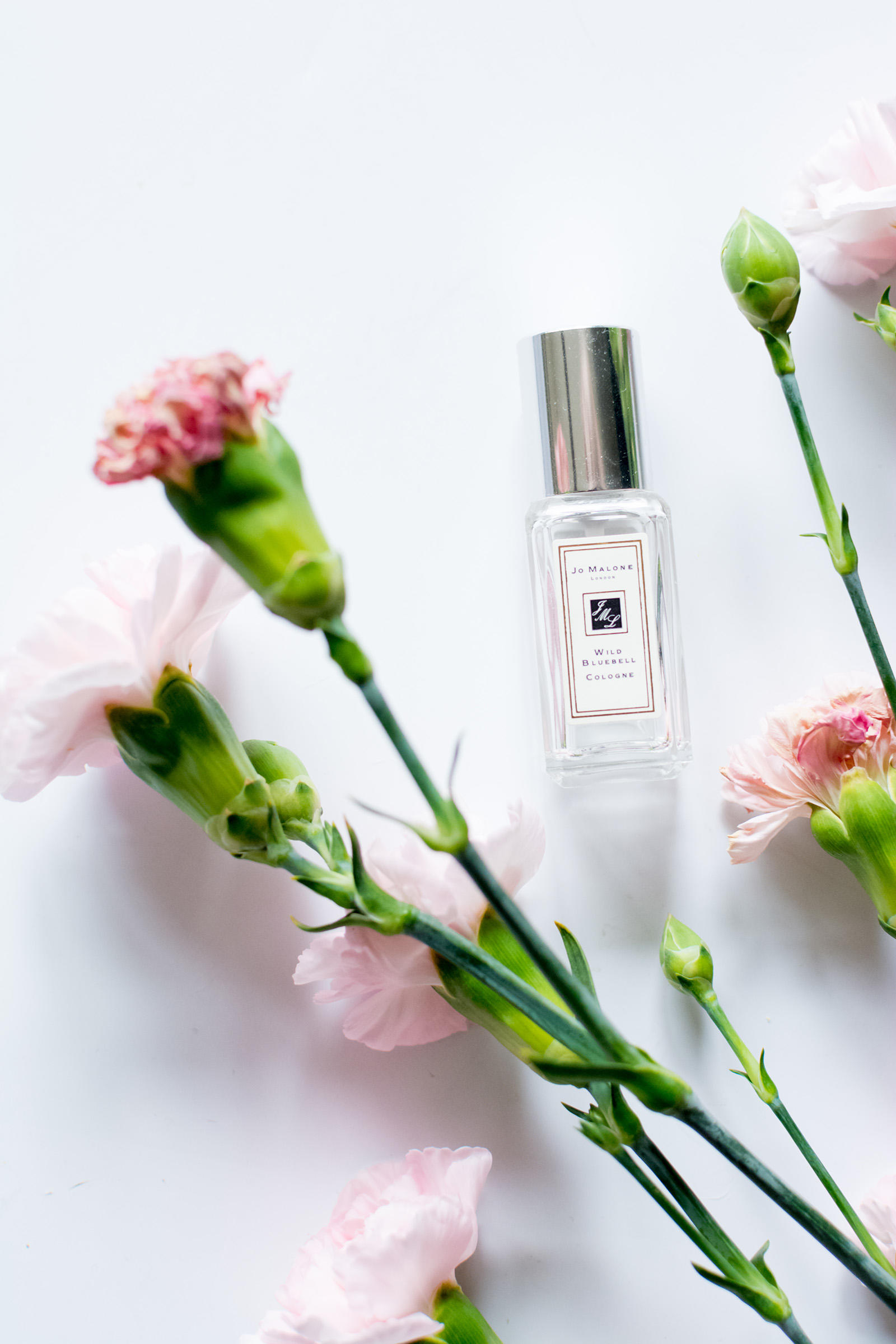 Jo Malone Cologne in 'Wild Bluebell'
Despite being one of my favorite Jo Malone colognes (I have been long-obsessed with their scents), this is the first time I'm sharing it here on the blog.
Which is funny considering that I've long touted Wild Bluebell to friends as the perfect spring scent. It's floral, light, and effervescent. It's delicate but with a subtle earthy note that gives the bluebells some real PITH.
Like most Jo Malone fragrances, it has so much more going on underneath the floral notes.
My only complaint about this scent is that it really doesn't last long on my skin (I often prefer to buy the candle or shower gel which seem to have a stronger version of the addictive fragrance). But if I get it in the smaller travel sizes than I can carry it around with me, reapplying happily the moment I need a delightful dose of spring fragrance. 

What's in your Spring 2016 bag?