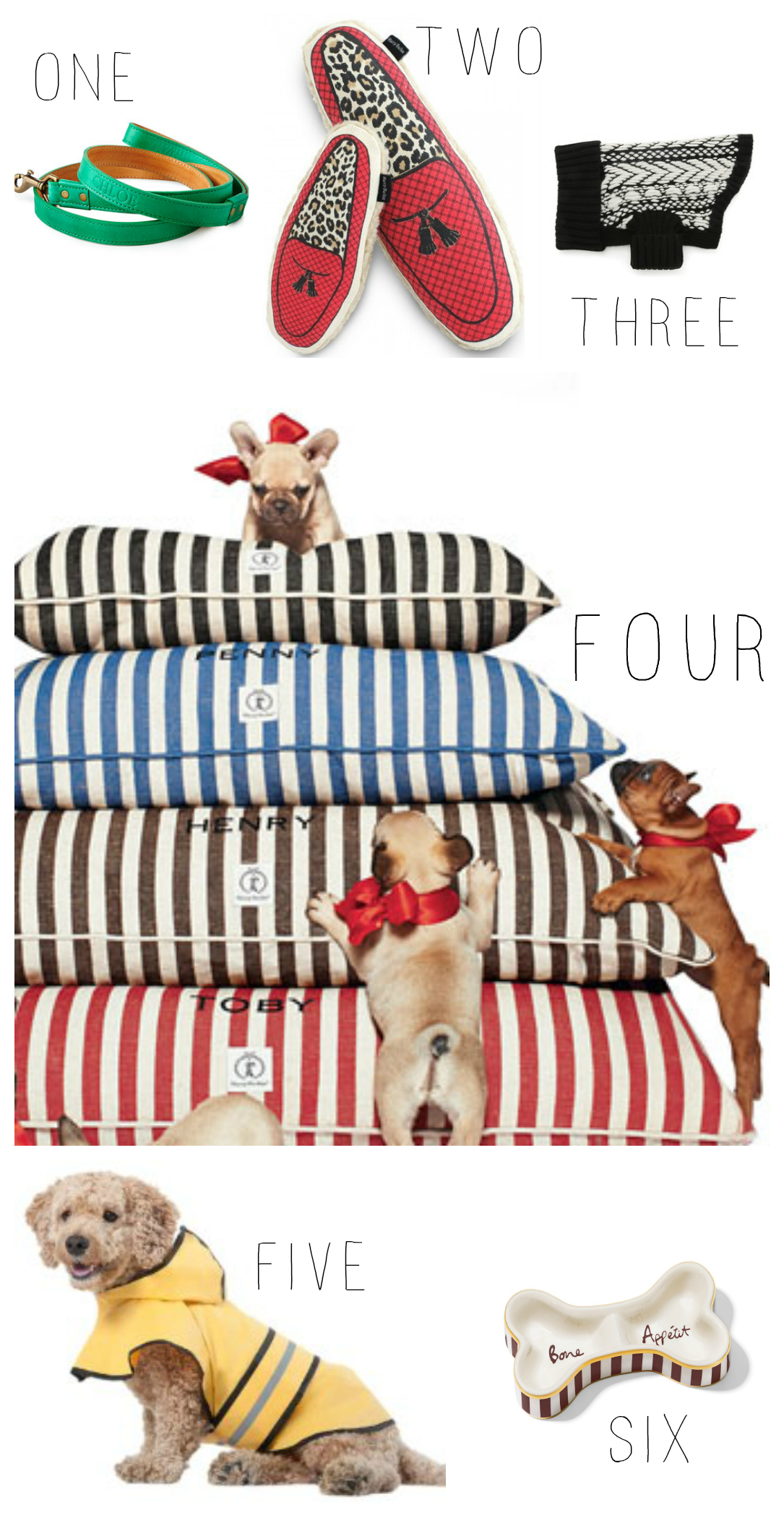 One of Hubby and I's favorite holiday shopping "chores" is to pick out a few cute and useful things for our two pugs, Johnny & Apollo. They make our lives so much better so it's nice to return the favor and let them tear into a few puppy-centric gifts under the tree every Christmas.
But buying gifts for dogs who have every toy known to mankind can be tough so I've rounded up a few of my favorite pup gifts, sans squeakers (well, ok, I put in one squeaky toy for nostalgia's sake), so you're sure to be giving a gift they can use!
Gift Guide For Canines
1. Graphic Image Personalized Dog Collar ($90).
With as much as humans love to personalize their own things, it was about time we got around to personalizing our dog's accessories as well. These leashes are hearty, durable, and easy to identify thanks to the embossed name of your favorite pooch being front and center.
2. Harry Barker Leopard Slipper Dog Toy ($15).
I had to include at least ONE squeaky toy and found these to be the most charming. Gift this adorable toy with a smile and a note saying "a slipper they CAN chew on".
3. Club Monaco Trisa Dog Sweater ($70).
It can be really hard to find a stylish dog sweater — hilariously hard, actually. I remember it took me 14 months to find the first one I ever bought for Apollo. So now I always save and bookmark cute options I find so I'm not struggling to find one last-minute every winter. And no one makes nicer human sweaters than Club Monaco so this luxe canine version is bound to last through years of rough winters (or should I say ruff winters?).
4. Harry Barker Vintage-Inspired Personalized Dog Bed ($125 – $145).
Everyone deserves their own special bed, even our fur babies! Yet another way to make your dog feel extra special and cozy all while being easy to clean too.
5. Rainy Day Yellow Slicker Raincoat ($13).
I bought these raincoats for our pugs several years ago. They're inexpensive, durable, and super-practical thanks to the great cape design around the shoulder. Our pugs don't even mind wearing the hoods! Plus the reflective strip across the belly is useful on all those dark December walks.
6. Henri Bendel Bone Dog Bowl ($58).
No one makes chicer dog accessories than Henri Bendel and this season's dog bowl is no exception. Done in the company's signature striped pattern, this little bowl makes every meal cheeky and gourmet.