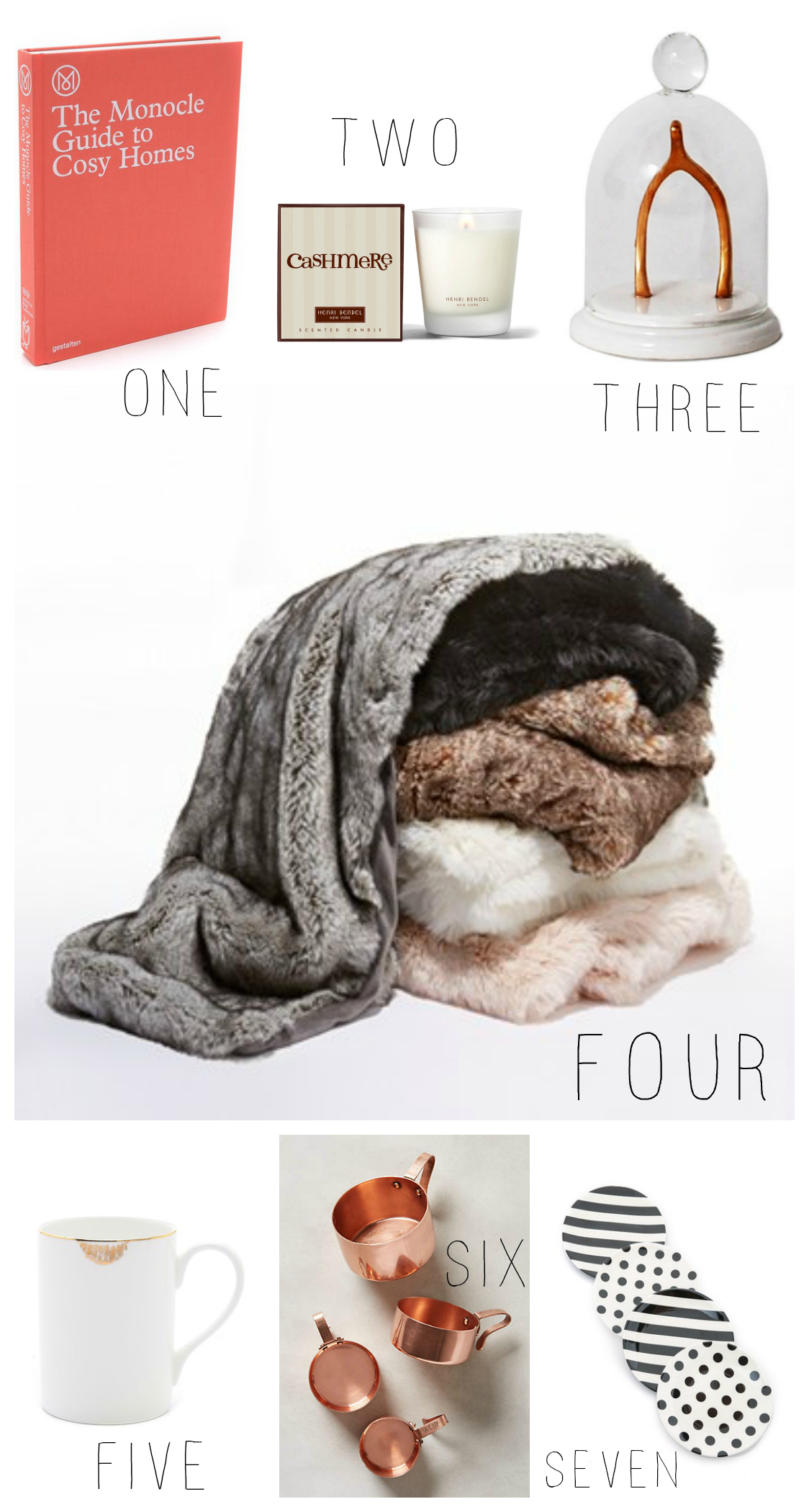 Of all the gifts you can give, the ones for the home can often be the most loved and most frequently used. But you have to be careful to gift something practical AND stylish without picking something too terribly distinctive (you don't want your gift to clash with the recipient's home decor). I like to find a quirky mixture of common daily items that feel innovative to ensure that you're giving the kind of gift they WANT to receive:
Gift Guide For The Home
1. The Monocle Guide to Cosy Homes ($60).
The definitive guide to turning your house into a home. Filled with stories and inspiration, this is the sort of coffee table-esque tome that they'll end up reading cover-to-cover in a single sitting. Perfect for the home-body in your life.
2. Henri Bendel 'Cashmere' Candle ($30).
Nothing makes your home smell more luxurious than a Henri Bendel candle! This beautiful cashmere scent is a glamorous, gender-neutral fragrance that lingers in any room it's lit in.
3. Wishbone Bells of the Ball ($40).
This interesting knick-knack is as versatile as it is distinctive. Use it as a sophisticated centerpiece, a jewelry holder, or a lucky desk ornament.
4. Faux Fur Throw ($148).
Nothing makes a home comfier than a furry blanket! Gift the gift of a cozy snuggle (though be warned, pets are likely to love this blanket even more than their humans!). Plus these blankets come in six color and are machine washable and dryable.
5. Reiko Kaneko Lip Tease Mug ($25).
I've had and loved this mug for years — the modern design is simple but elegant. It makes a morning cup of coffee so much more glamorous! Plus the gold accents look luxe but at a reasonable price.
6. Russet Measuring Cups ($28).
I absolutely love copper accents for the kitchen — even my kitchenaid mixer is copper! These adorable little measuring cups are a beautiful, practical option that also work as a great stocking stuffer for the foodie in your life.
7. Kate Spade Tidbit Plate Set ($25).
Yet another item I own and love (I always prefer to recommend things I've actually bought myself). These tidbit plates are a fun, quirky take on traditional appetizer dishes. Plus they're easy to care for and look great in photos: