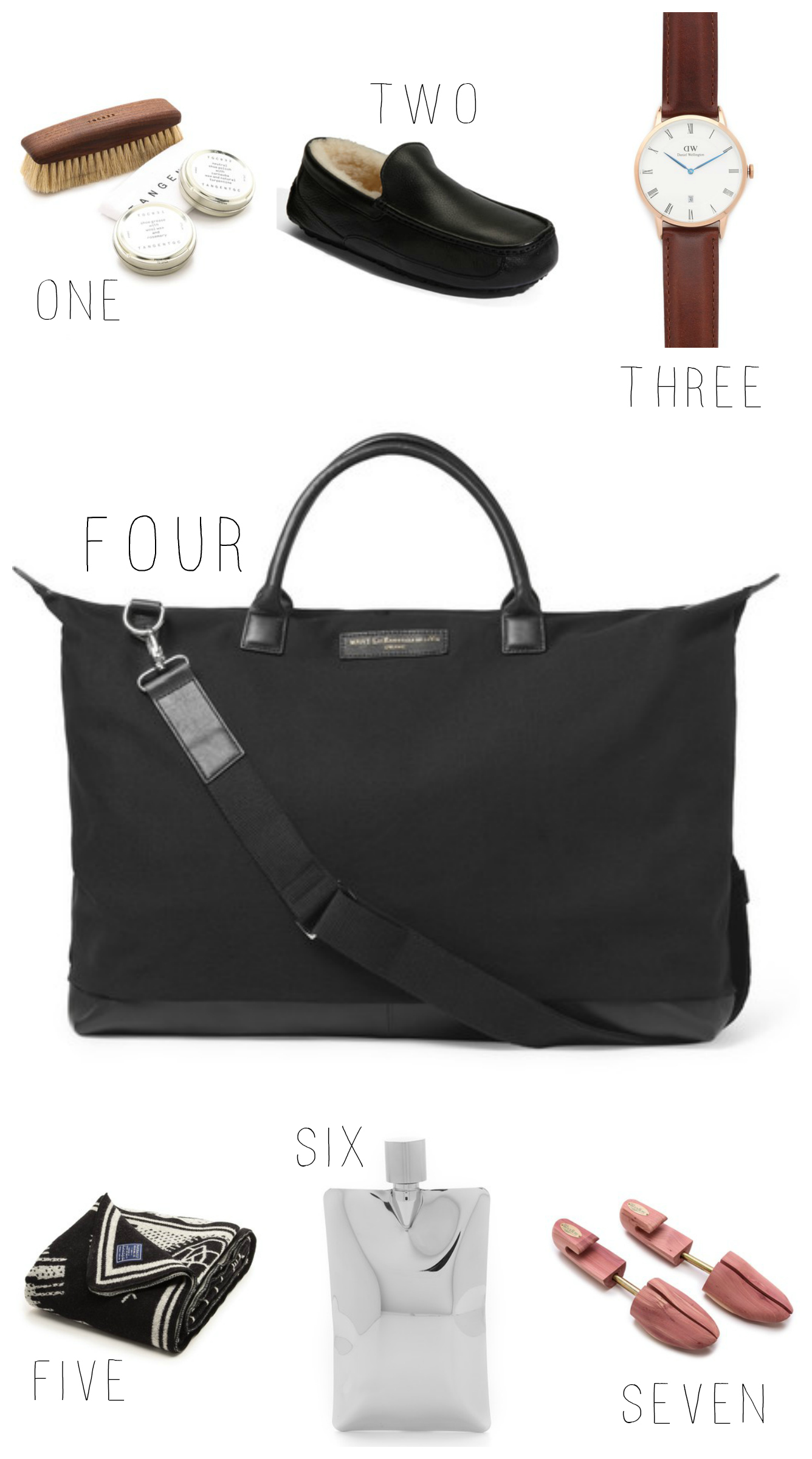 As much as it shocks me to admit it, the holidays are upon us!
With Thanksgiving and Black Friday already on the horizon this week, it's safe to say the holiday shopping season is in full swing. This also happens to be the week when most of us frantically realize we have A LOT of holiday gifts to buy and then subsequently panic over WHAT to buy.
But, after last week's 'For Her' gift guide, I promised you more to make the holiday shopping season a little less overwhelming. Today's gift guide is all about the wonderful men in our lives — I tried to find a mixture of fun, quirky items that are practical at the same time (many of which I've personally bought for Hubby!).
Gift Guide For Him
1. Tangent Shoe Care Kit ($90).
There's nothing my Hubby hates more than seeing a sad pair of men's dress shoes — he absolutely loves getting his shoes shined! This little kit is perfect for in-between touch-ups and shoe TLC. Or to give a quick shine before a big meeting!
2. Ugg Ascot Leather Slipper ($119.95).
I bought these slippers for Hubby several Christmases ago and they've been HIS slippers since. Warm and fuzzy on the inside with a durable leather outside and no-slip traction sole. Yes, they're Uggs but they're a classic silhouette he'll end up wearing for years… I know my Hubby will be. The chestnut color is particularly gorgeous in person.
3. Daniel Wellington Dapper St. Mawes Watch ($299).
Yes, we live in the digital age but a classic leather watch will never go out of style. And no one makes more beautiful, reasonably priced watches than Daniel Wellington (I've had mine for years!). This watch is a simple piece that'll age beautifully as he uses it all while helping him look polished and professional.
4. WANT Les Essentiels de la Vie Hartsfield Holdall Bag ($450).
Designed with the "intelligent simplicity" of the entire WANT line, this organic cotton-canvas bag is the perfect carry-all for the man on the go (ahem, my Hubby). Durable, practical, and all with a simple stylishness that'll never go out of style. Just be sure to give him this gift a week or so before the holidays start — he'll love it even more if he can use it traveling to visit family THIS year!
5. Faribault Woolen Mills New York City Map Throw ($240).
With its graphic map of NYC, this is undoubtedly one of the most manly throws I've ever seen. The pattern is interesting without being emasculating, and the monochrome palette goes with almost any decor. PLUS — if you're cold-natured like I am — this guarantees that there will be a blanket to cuddle in whenever you visit. Selfish? Maybe. But he'll love this throw regardless.
6. Areaware Liquid Body Flask ($60).
Every guy needs a flask, even if he just fills it with water! It fits in pockets and coats making it super-portable and with this unique, modern design, also super-stylish. Gift this flask with a bottle of his favorite spirits and give him the gift of booze on the go!
7. Woodlore Cedar Shoe Trees ($25).
Yet another gift I bought Hubby for Christmas some years back that he still uses and loves. These shoe trees keep expensive leather shoes in perfect form (AND they reduce unwanted odors!). PLUS they make our closet smell amazing! Gift them with a new pair of shoes or a bottle of cedar oil to freshen them up with every few months.