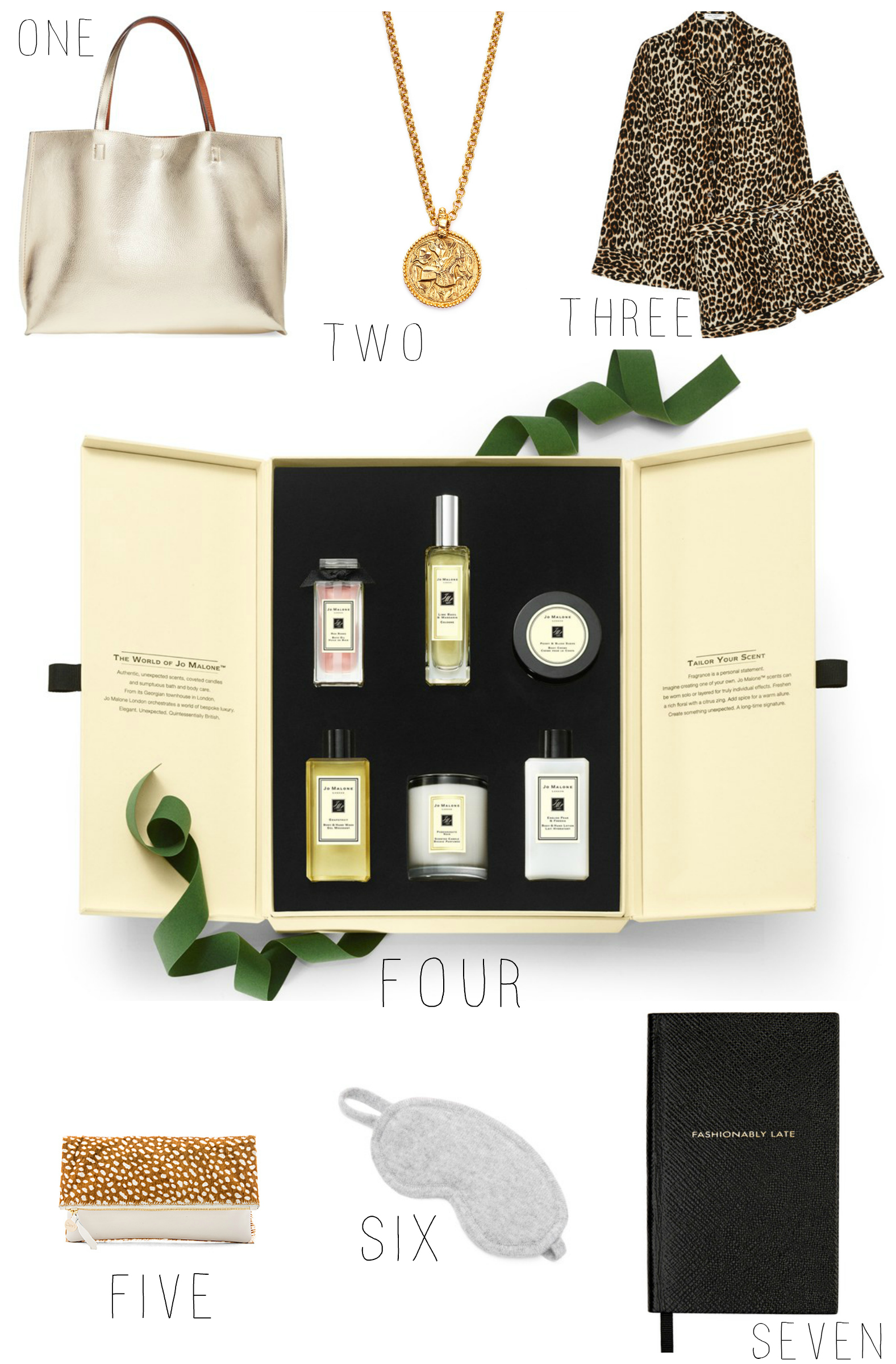 Can you believe Thanksgiving is already next week? I hardly know where these last few months have gone — it feels like just yesterday I was canoeing in Wisconsin waiting for summer to arrive.
But despite my surprise the holidays are coming… and FAST! Which means it's time to start buying gifts for your loved ones! Today I'm sharing my seven favorite gifts for the loving girls in your life!
Gift Guide For Her
1. Street Level Reversible Faux Leather Tote & Wristlet ($48).
If you're anything like me, you're always on the go. That means I depend on a large tote to carry all my daily essentials. This one is a great option for any busy women in your life because it comes in so many chic color combinations, is completely reversible, and really is 2 bags in 1 thanks to the interior wristlet (which works as an evening bag on the go), all for UNDER $50! Is it any surprise that I made it my #1 gift?
2. Julie Vos Coin Pendant ($165).
The kind of necklace that makes any outfit chic! Romantically engraved with a knight on horseback, this piece is like a treasured vintage heirloom and yet feels modern at the same time. It's a versatile necklace that works with so many styles (and it comes in silver too)!
3. Equipment Washed-Silk Pajama Set ($390).
The pajamas that will ruin you for all others! Equipment has long built a reputation for having the best silk blouses around but their pjs are just as fantastic. One night's sleep in these soft, weighty pjs will convert you — they really are the ultimate luxury. Plus, they come in all sorts of colors and prints AND are packaged in a lovely matching silk case. You can see me wearing my favorite pair here (yes, I have more than one set — proof that I put my money where my mouth is).
4. Jo Malone 'House of Jo Malone' ($205).
It's no secret that I'm obsessed with Jo Malone and I do my best to convert everyone I know! Their scents are long-lasting, unique, and haunting. This beautifully packaged, limited edition set is the perfect introduction to their line containing one of each of Jo Malone's most popular products: cologne, lotion, bath oil, cleanser, body creme, and a travel candle. The variety of scents is sure to please, as is the festive packaging!
5. Clare V. Foldover Clutch (ON SALE, $165).
A foldover clutch to add that perfect pop of neutral texture to any ensemble. Clare V. makes chic, durable bags that look FAR more expensive than they actually are. And the simple design of this clutch gives it the perfect timeless look despite being one of the trendiest bags of the season.
6. White + Warren Cashmere Eye Mask ($98).
Soft, warm cashmere lined in silk crepe? Yes, please! Any busy woman will love the simple luxury and coziness this little eye masks lends. It's especially fabulous to wear on planes in lieu of those scratchy cotton ones provided by the airlines but is also perfect for hotels or even at home (especially if you live in the bright city like I do!).
7. Smythson Notebook ($80).
Yes, these notebooks are pricey.Yes, we live in the digital age where most of us tote around phones with notebooks pre-programmed in. But as I told you this summer, these cheeky notebooks are worth every penny. They take a beating like none other and make every idea and memory I joy down in them feel so much more profound and exciting. I carry one with me almost everywhere now and get asked all the time where to find them. Their clever covers always bring a smile!
Stay tuned for more gift guides coming your way! Happy Holidays!!