While I like to pretend otherwise, there are so many problems in life that can be cured simply with a piping hot bowl of pasta or a crusty pizza.
Few cuisines feel as comforting and healing as Italian fare. A beautiful pile of pasta seasoned with care works wonders on the soul — the moment I take my first bite I slow down and close my eyes as I feel my troubles melt away.
Good food cures all!
So one warm afternoon I grabbed Rachel and headed over to the newly opened Godfrey Hotel to try an Italian spot whose pizza is already rumored to be legendary here in Chicago (no mean feat considering the fact that we're a city KNOWN for pizza)… Dolce Italian!
Meant to encapsulate the romantic mid-century aesthetic of Fellini's Rome, the space feels like a nouveau set straight out of Mad Men.
With charming accents everywhere you turn!
But no Chicagoan in their right mind sits indoors when it's nice enough to dine al fresco! Rachel and I found a cozy spot to people watch and ordered a pair of Bloody Marys to start.
The balance in these bloodys was delicious and SPICY!
We perused the menu as we sopped up olive oil with toasty bread (as if we weren't about to eat our individual weights in carbs as it was). 
First we started out with Dolce's Asparagus Soup with parmesan broth and crème fraîche.
Poured tableside.
Don't dare overlook this simple soup! Executed to delicious, umami perfection (thanks to the parmesan broth) this is hands down the best asparagus soup I've had here in the Second City.
With none of the stringy, graininess that plagues so many other variations, this soup is a smooth, light burst of fresh flavor.

We then moved on to Dolce's elegant Tuna Tartare.
Yellowfin tuna, seared fennel, romesco, and mandarin all come together to form a nicely flavored and beautifully presented dish that feels like a far more sophisticated version of chips and guac!
Being gluttons for punishment we also opted to try Dolce's Fritto Misto appetizer: calamari, shrimp, perch, vegetables, and mustard seed aioli.
Each piece was so delicious!
The breading had a hint of spice to it without being greasy — similar to a tempura batter but far more unique. I don't often stuff my face with an entire plate of fried food but from now on, this dish will be the exception.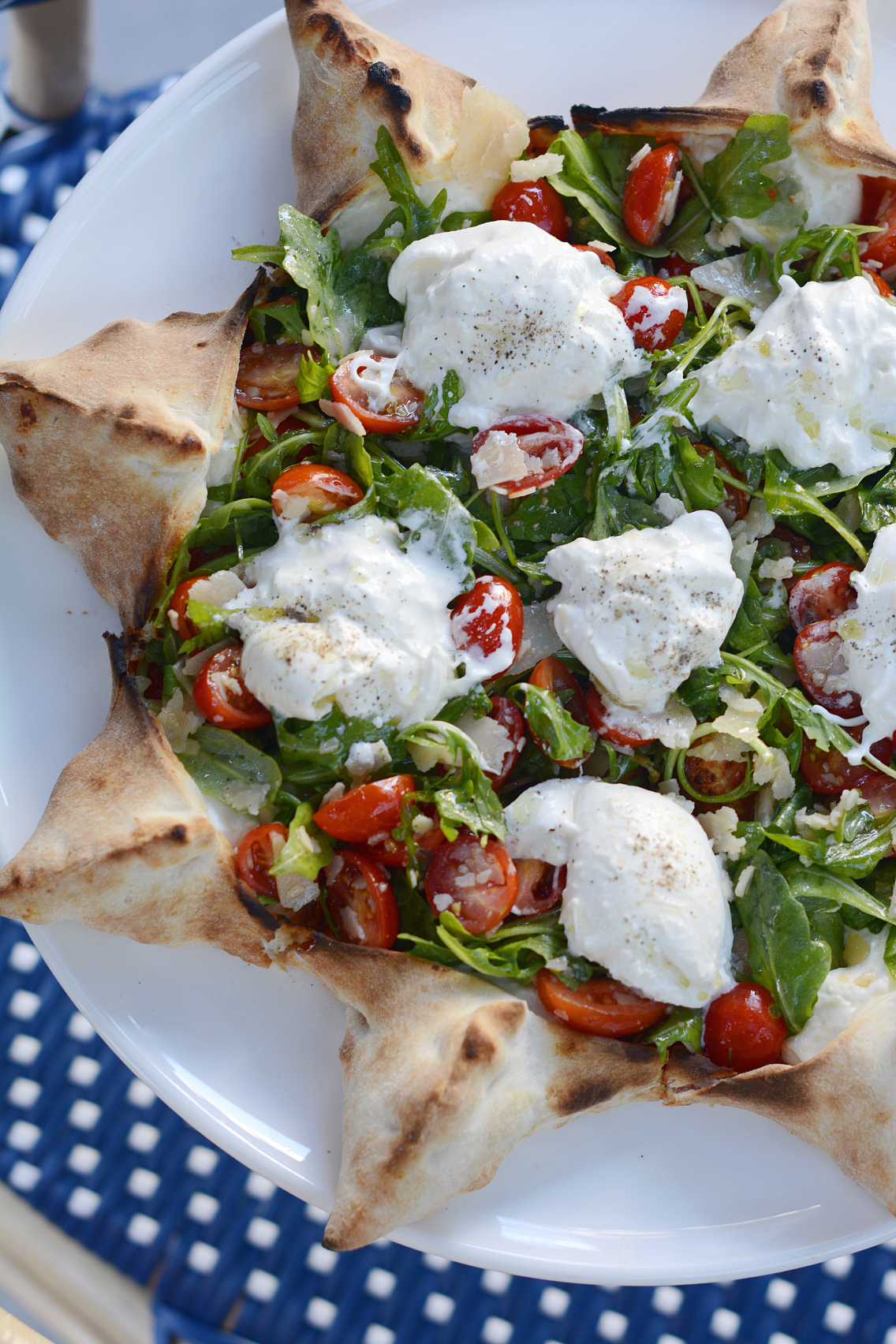 But I promised you legendary pizza and Dolce DOES NOT disappoint. Offering their pizzas in a stunning star shape with stuffed crust, this is the sort of pizza you can't find anywhere else in the city.
And WOW is it worth seeking out. We tried the Primo Amore: burrata, arugula, san marzano tomatoes, and parmigiano. 
As a self-proclaimed burrata lover, I just about face dived into this pizza when it arrived… no joke. 
After we had the opportunity to shoot it…
And post to Instagram:
Between the addictive crust (I normally never eat pizza crusts but finished all of mine), the creamy burrata, the fresh arugula, and the bright tomatoes, this is one seriously addicting pizza. I can't wait to go back and try Dolce's other varieties!

But no Italian meal is complete without a heaping bowl of pasta either!
I opted to try Dolce's lunch-only dish of Linguine Vongole: littleneck clams, zucchini, white wine, and garlic.
Unassuming in appearance but mind-blowing in flavor. The richness of the clams and garlic were a beautiful compliment to the delicious pasta and I especially loved the addition of zucchini noodles for a change in texture!
This dish alone is worth running over to Dolce for lunch!

Rachel ordered her favorite, the Pappardelle Alla Bolognese: braised beef, veal, and pork ragu.
Which looked incredible too! 

As full as we were we couldn't resist the allure of Dolce's desserts either!
This was a banana gelato stuffed chocolate bomb with toasted meringue that literally melted in your mouth the moment it touched your tongue.

We also tried Dolce's classic tiramisu. An elegant presentation of simple flavors amplified by the cocoa nib chocolate brittle it's garnished with. I never thought I would really enjoy the combination of chocolate and tiramisu together until this dish! And the strong espresso flavors were the perfect pick-me-up after our coma-inducing carb feast!
Few new restaurants this year have impressed me the way Dolce has. Every ingredient is chosen with conscious care and the execution is superb. Come here for comfort food, for gorgeous food, for the food you can't find anywhere else in Chicago.
In short, just come to Dolce! You'll probably see me face-diving into another pizza while you're there!
Disclosure: I received a complimentary meal to facilitate this post. Review and all opinions are my own.