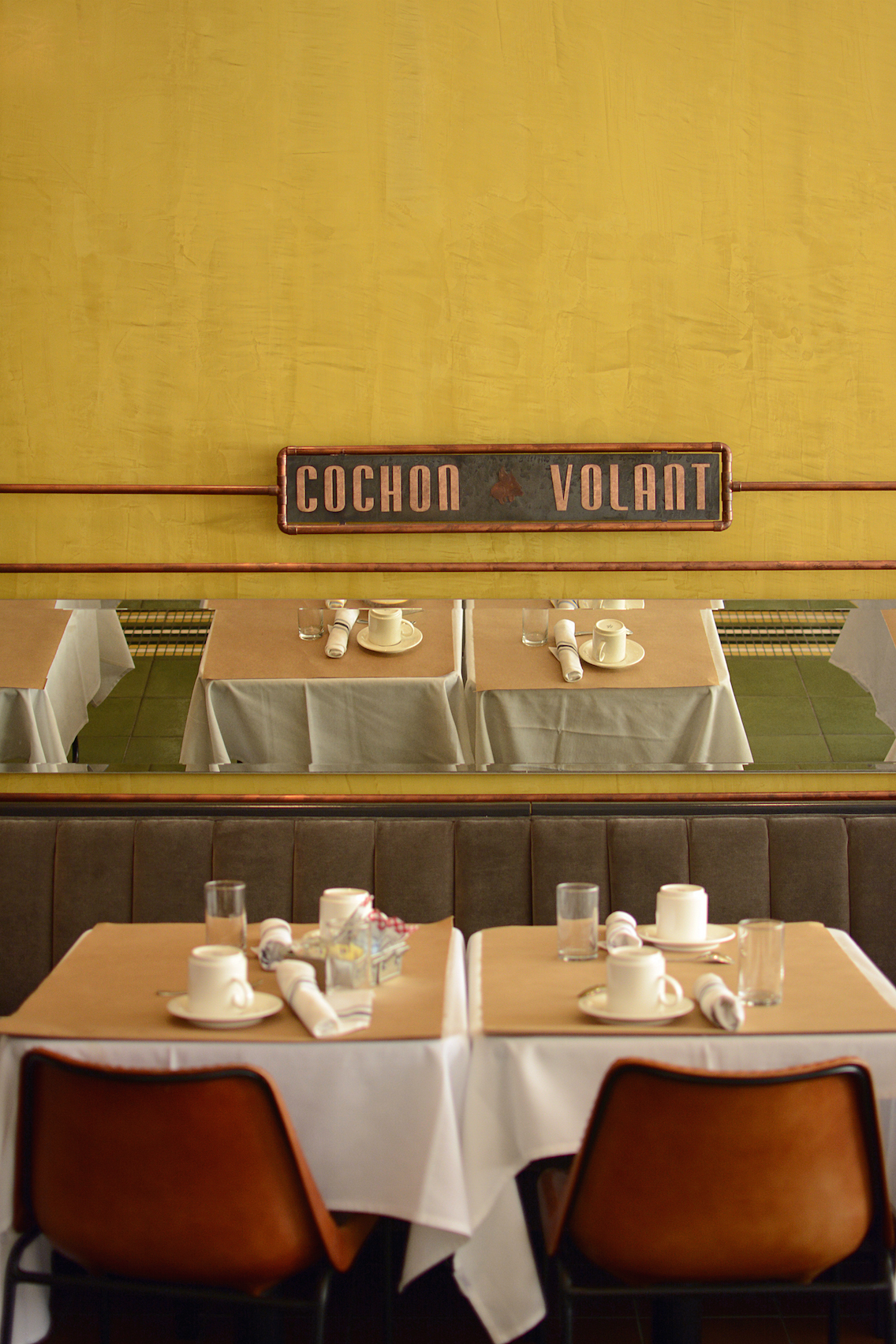 Few restaurants in Chicago transport you from the Windy City to a space of true culinary genius more than Cochon Volant.

Heralded as one of the newest gourmet hot spots in the Second City, this charming café feels more Parisienne than Midwest in nature. In the few short months its been open, it's successfully converted the entire city to its simple, perfectly executed French dishes sans pretension.
Their burger is even rumored to rival Au Cheval's!
With determination and empty stomachs, Starr and I popped in one morning for breakfast to see what all the buzz was about.
The bar is très chic with lovely marble, copper and tile accents everywhere. 
Complete with a beautiful circle chandelier above.
Not to mention these lovely woven leather bar stools.
The restaurant aesthetic itself feels almost exactly like a scene out of one of my favorite French films, Amélie. From the rustic velvet and leather furniture to the charming green and yellow hues, the space is the type of place you want to cozy into with a laptop all day while doing some seriously awesome people watching.
Starr and I grabbed a table, placed our order and waited eagerly!
First up is this innovative and vegetarian take on Eggs Benny…
Cochon's Super Green Benedict composed of housemade english muffins, avocado, spinach, crispy artichoke, and hollandaise.
This dish is far from the boring veggie benedicts that haunt so many well-respected restaurants here in Chicago. The fried artichoke adds a brilliant crunch to the creamy avocado married with the poached egg and hollandaise all atop the fresh english muffin.
It's a heavenly and addicting combination that's as satisfying as avocado toast but way more unique!
And being the world's biggest self-proclaimed avocado toast fan, I couldn't pass up ordering Cochon's option too.
Avocado Toast 'n Eggs: smashed avocado, house toast, maldon and eggs your way. 
The avocado was creamy, fresh, and flavorful — not to mention spreadable. 
I especially appreciated how well it paired with Cochon's thick house toast (and the pickled red onion made a perfect, briny garnish).
Man, am I making myself hungry again!

But it was Cochon's legendary burger that we came for…
Meet Le Burger Royale: prime beef, cheddar and bacon. 
So simple but so divinely executed. This is the sort of Instagram-worthy burger that foodies like Starr and I dream of. Each ingredient is freshly sourced and properly prepared without the sort of vainglorious ego many burgers here in Chicago have.
Far from being disappointed, we were left with the realization that Cochon may have actually exceeded our expectations.
Because Cochon really is all about simple French fare prepared in gourmet fashion without the pomp and circumstance. Any spot this popular and yet this casual is bound to find a permanent place in Chicago's heart (or at least Chicago's stomach).
Disclosure: I received a complimentary meal to facilitate this post. Review and all opinions are my own.