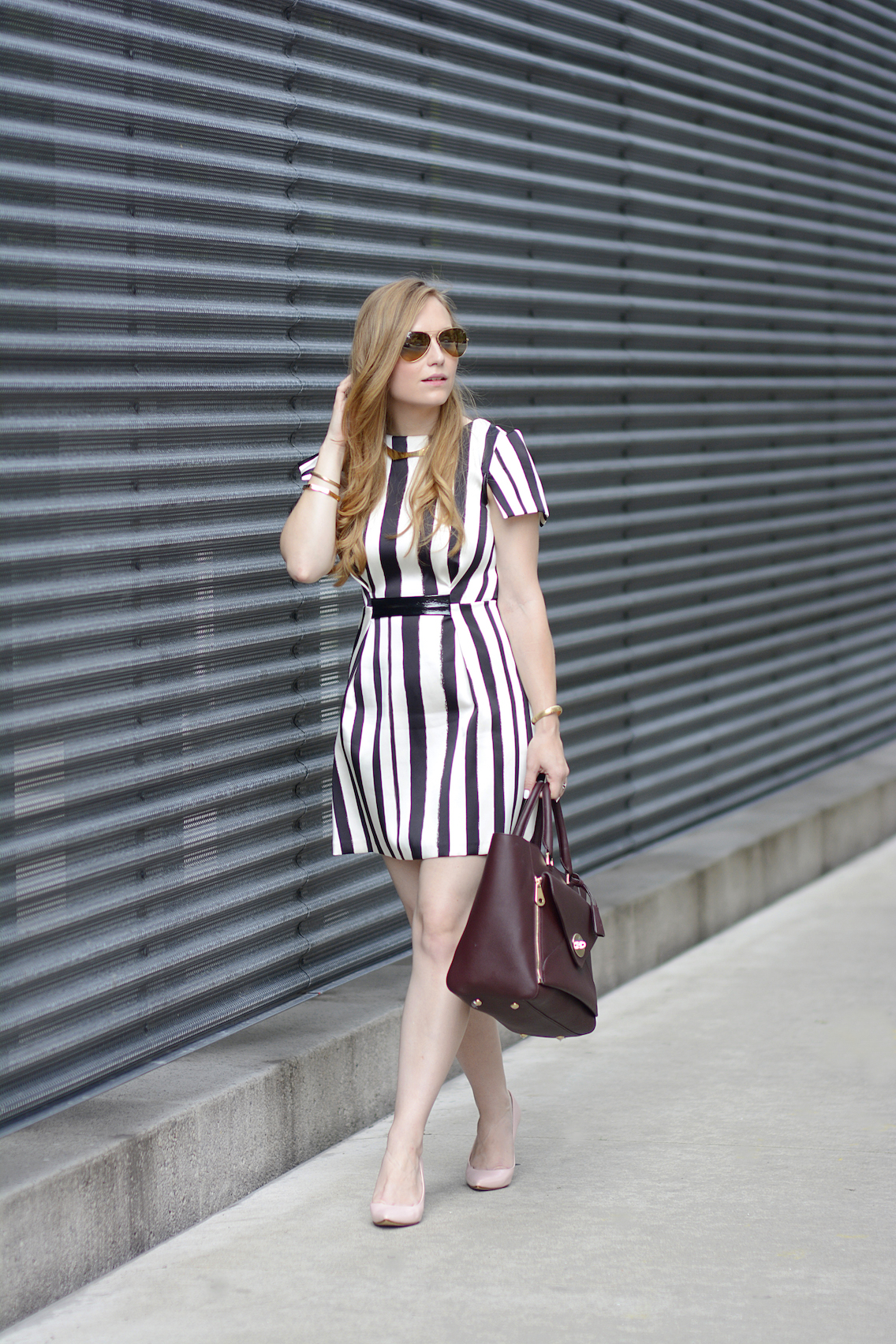 "Simply Stylist is a way for like-minded women to come together, learn from one another, get inspired and to network. It's a place where we showcase the true trendsetters and uplift fashion and beauty tastemakers of the future."
— Sarah Boyd, Founder of Simply Stylist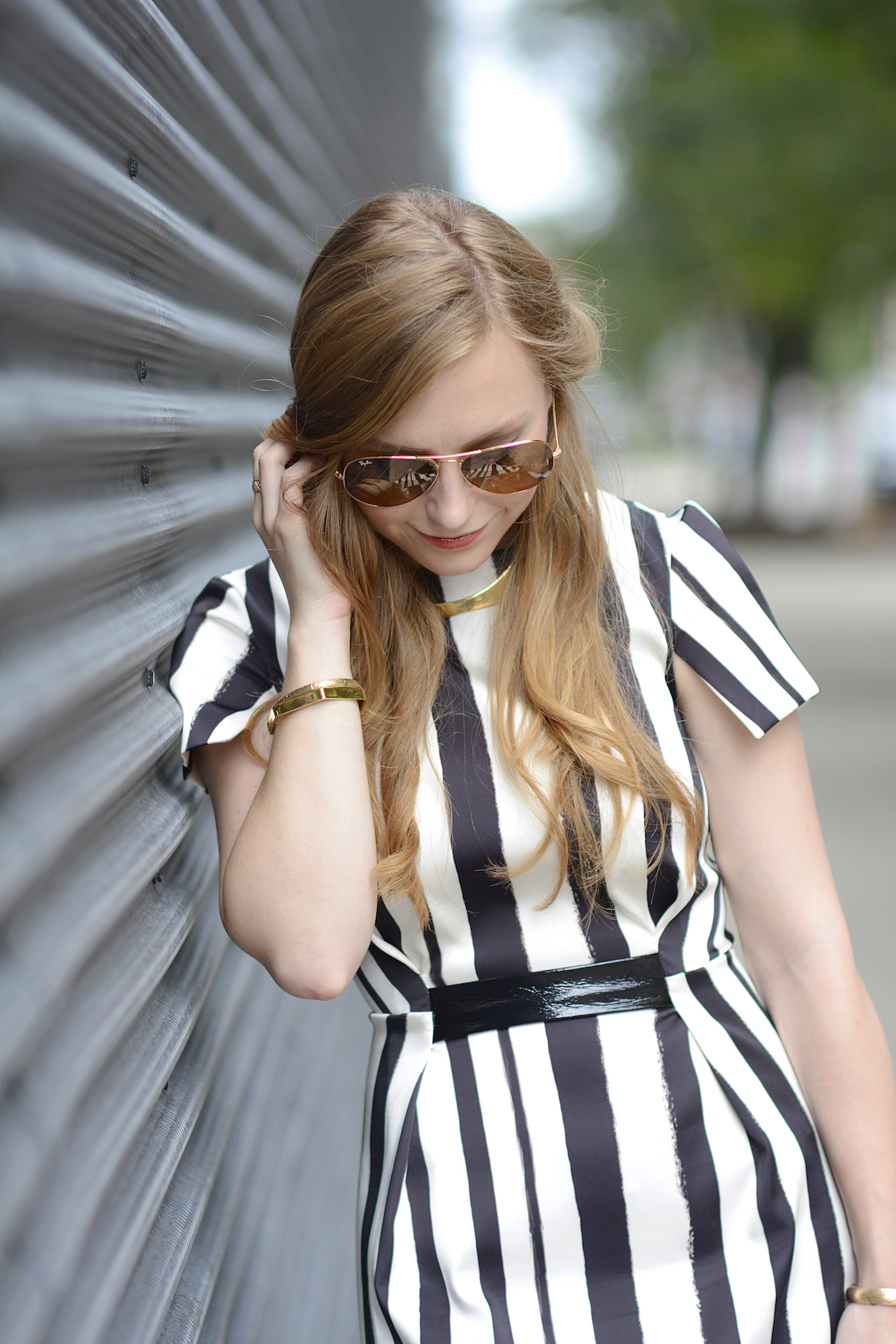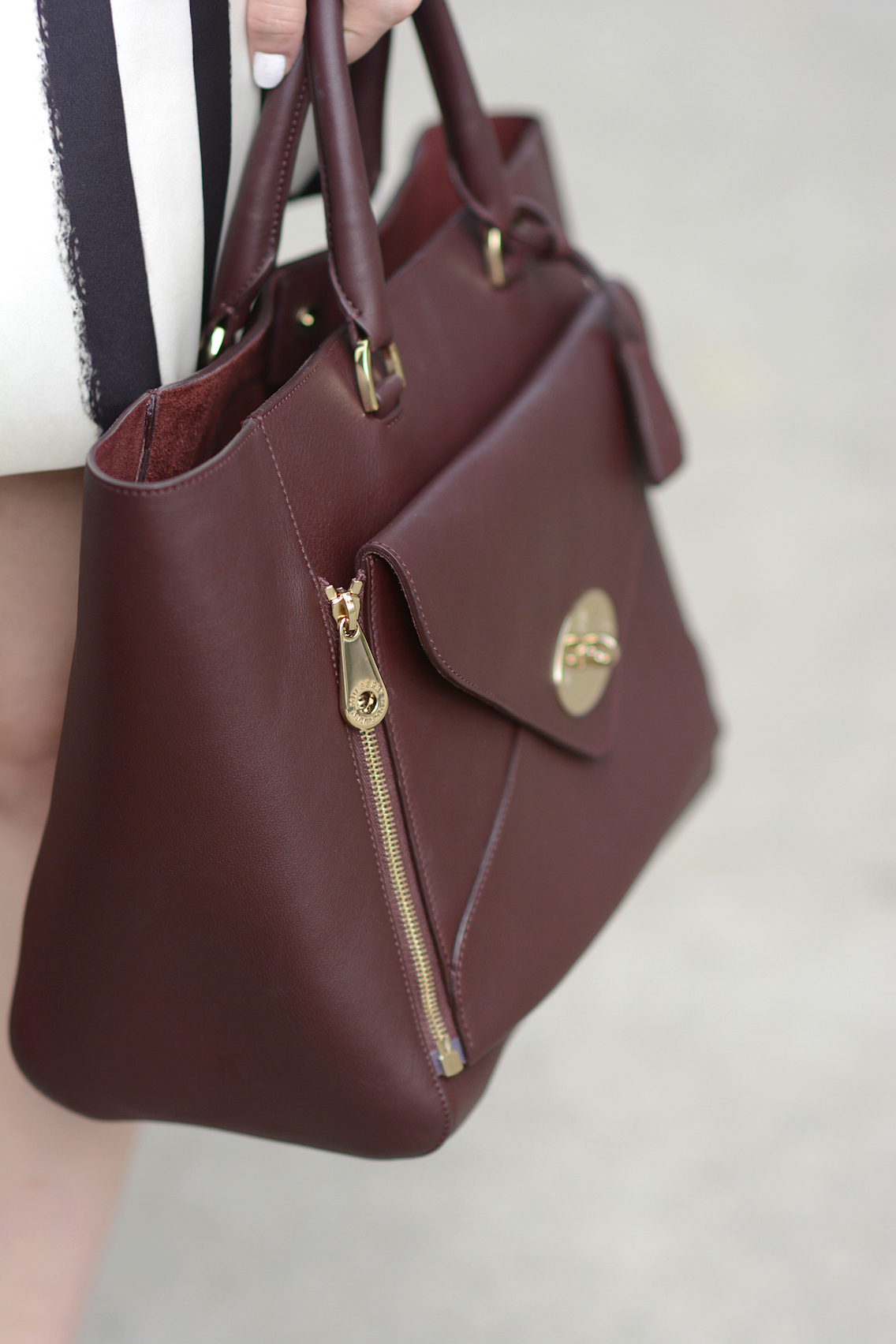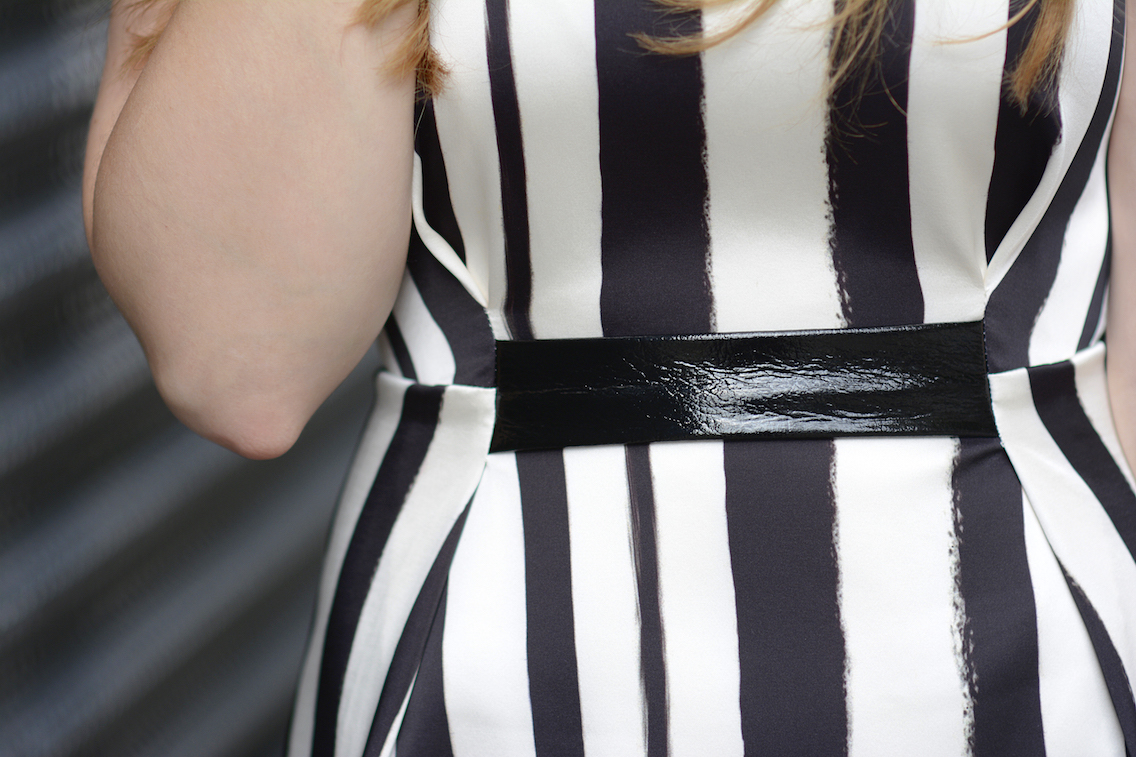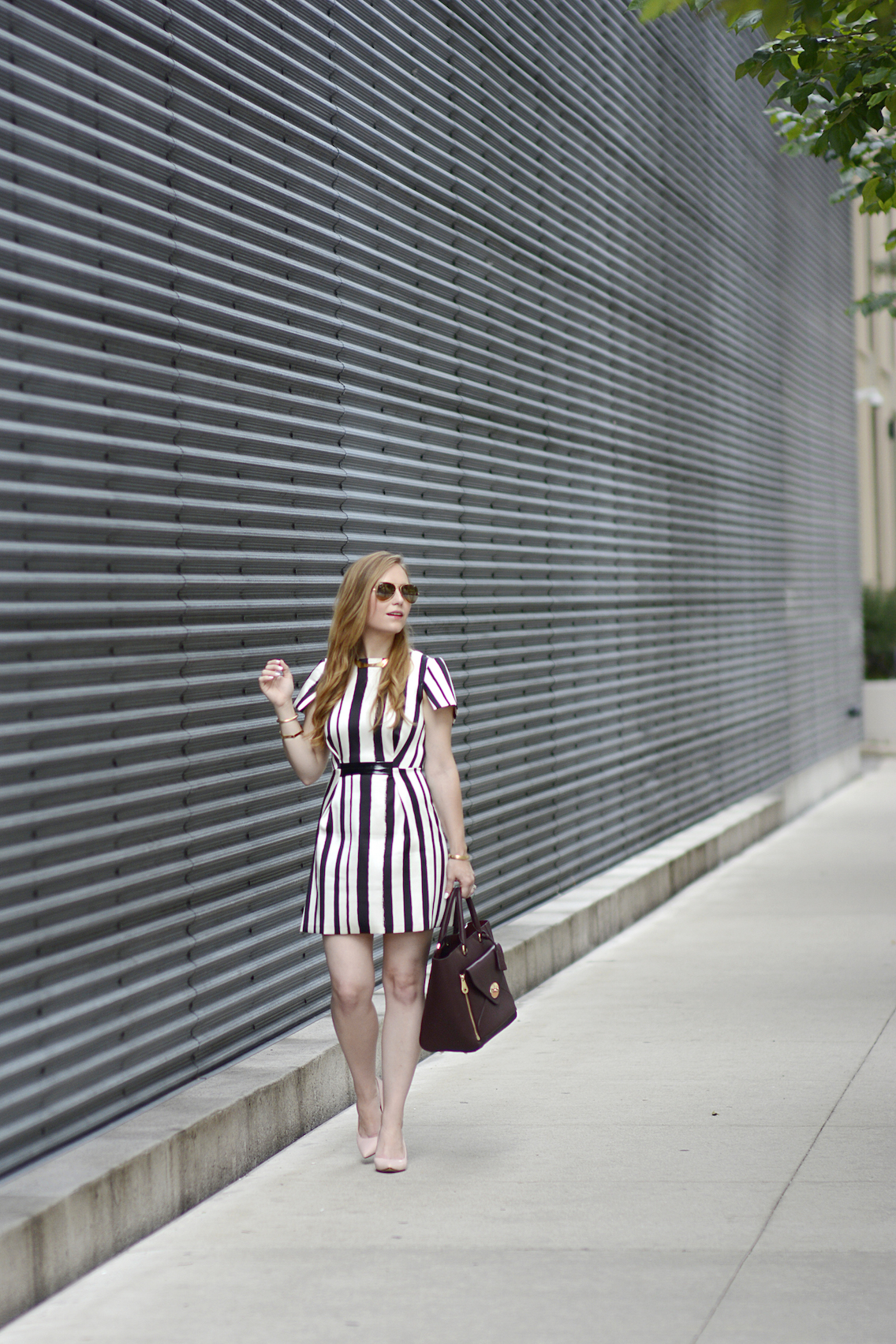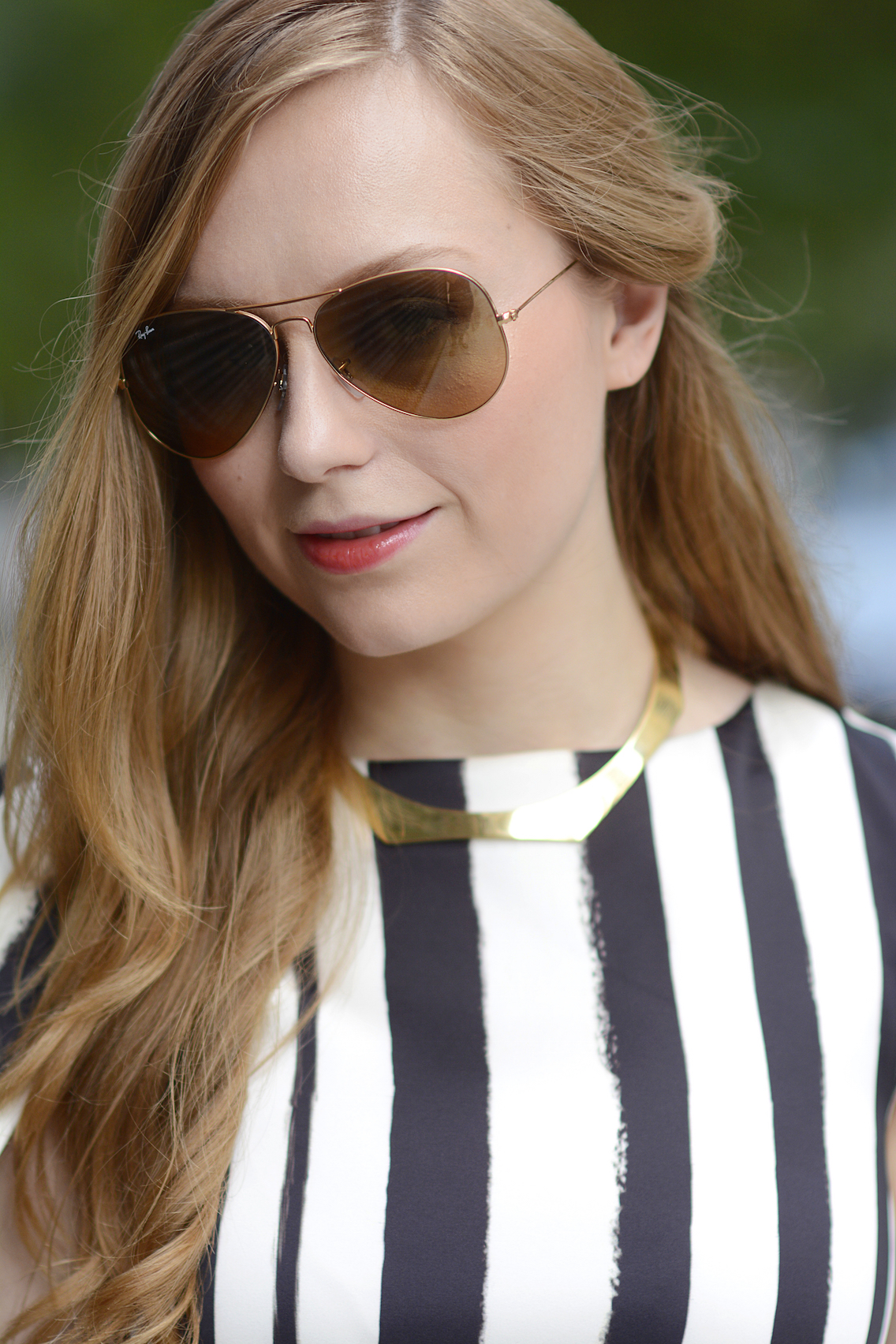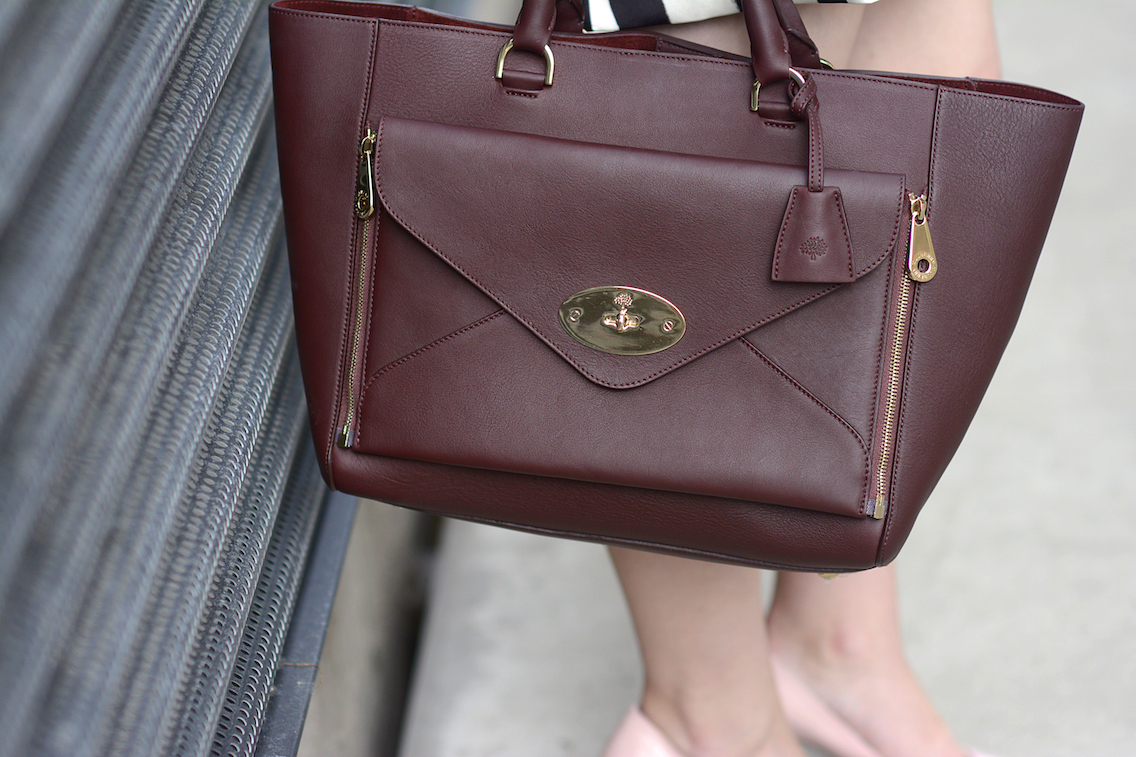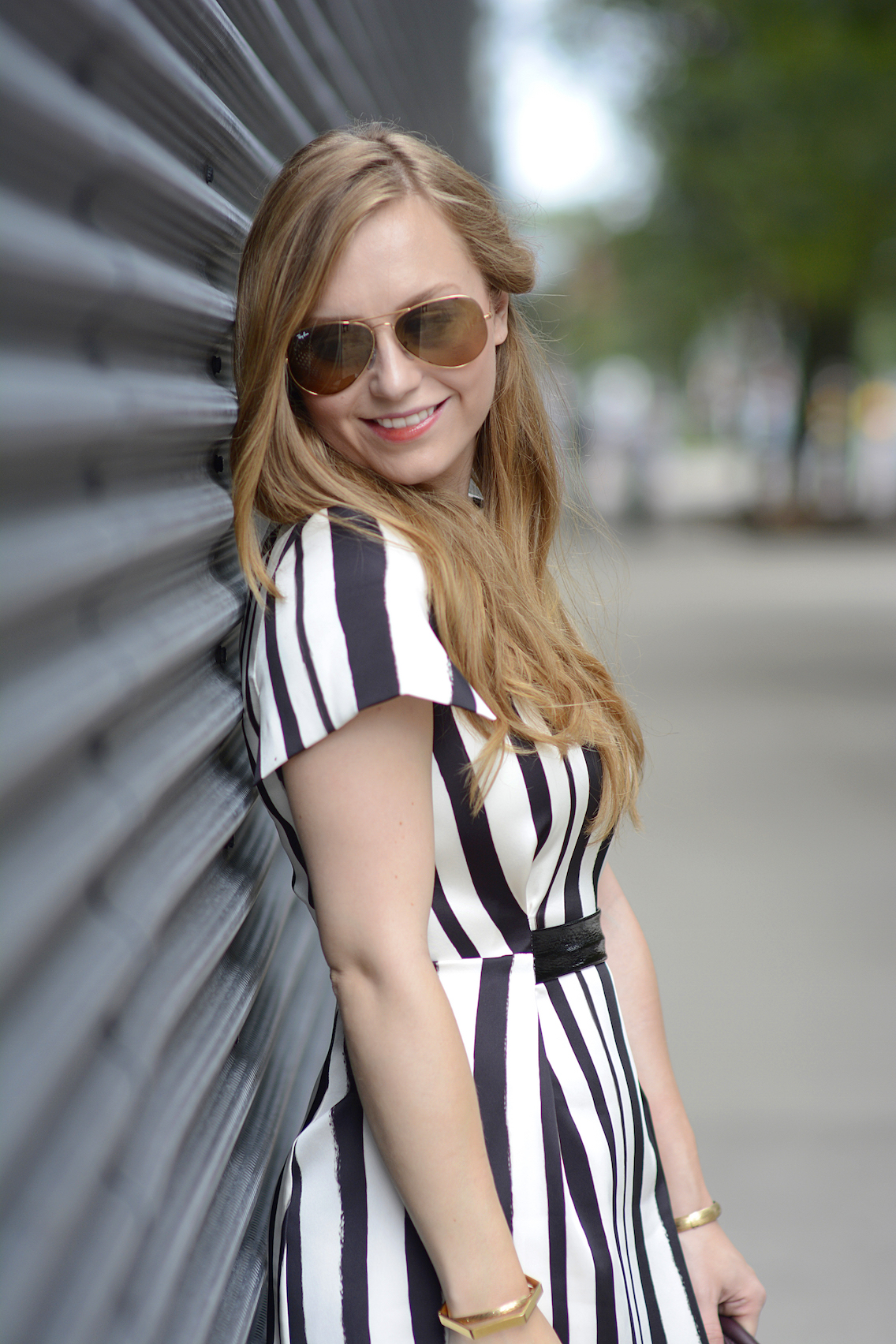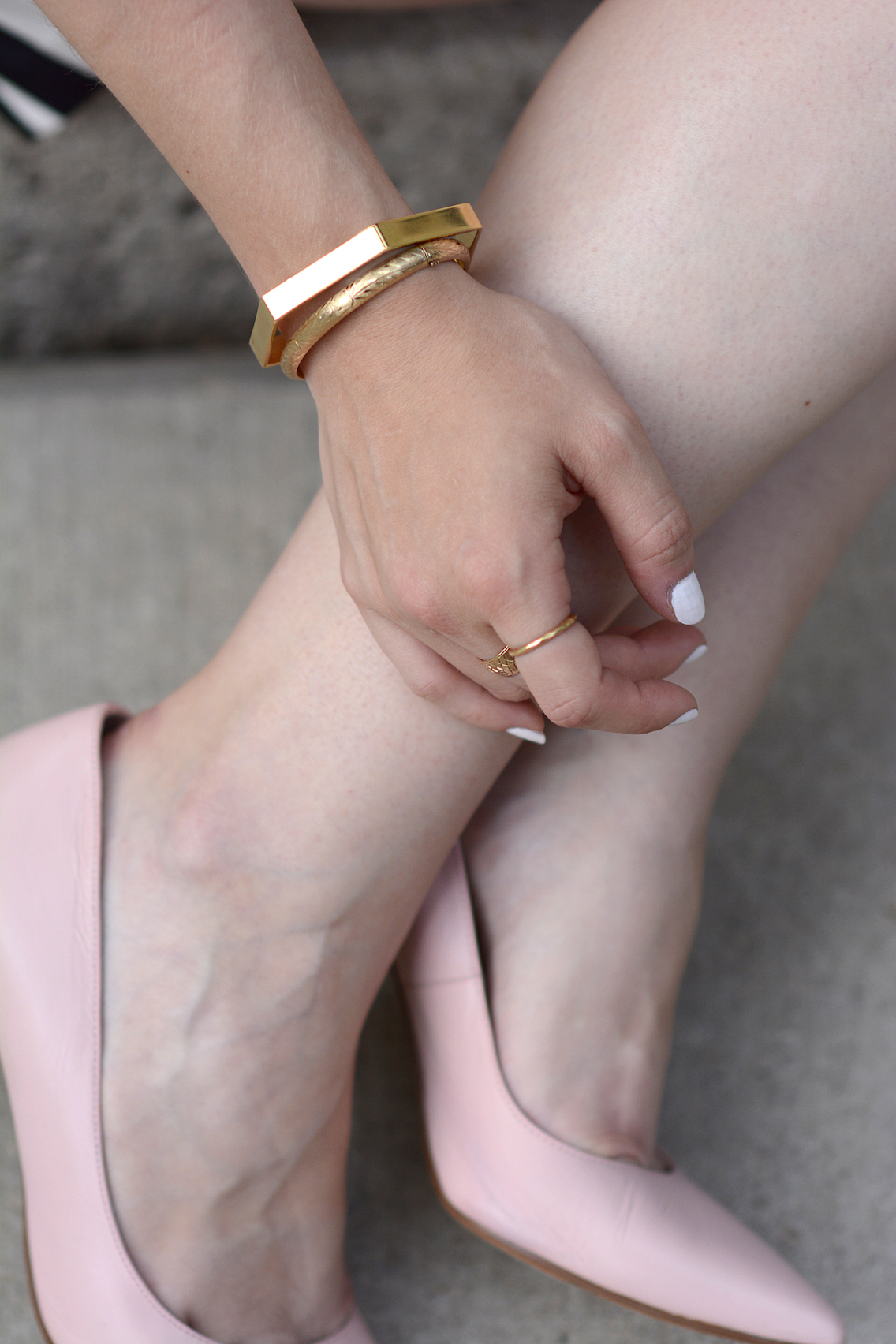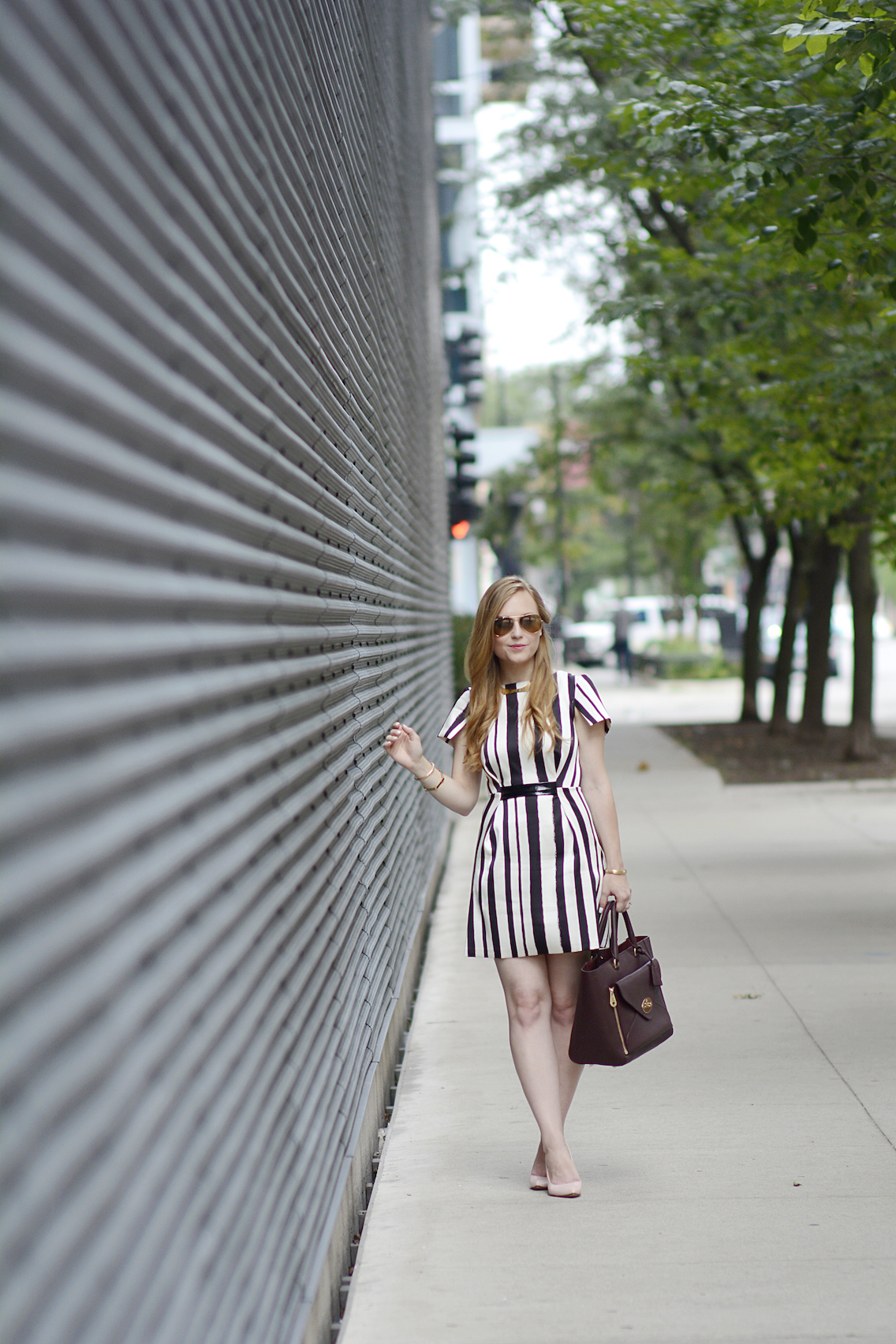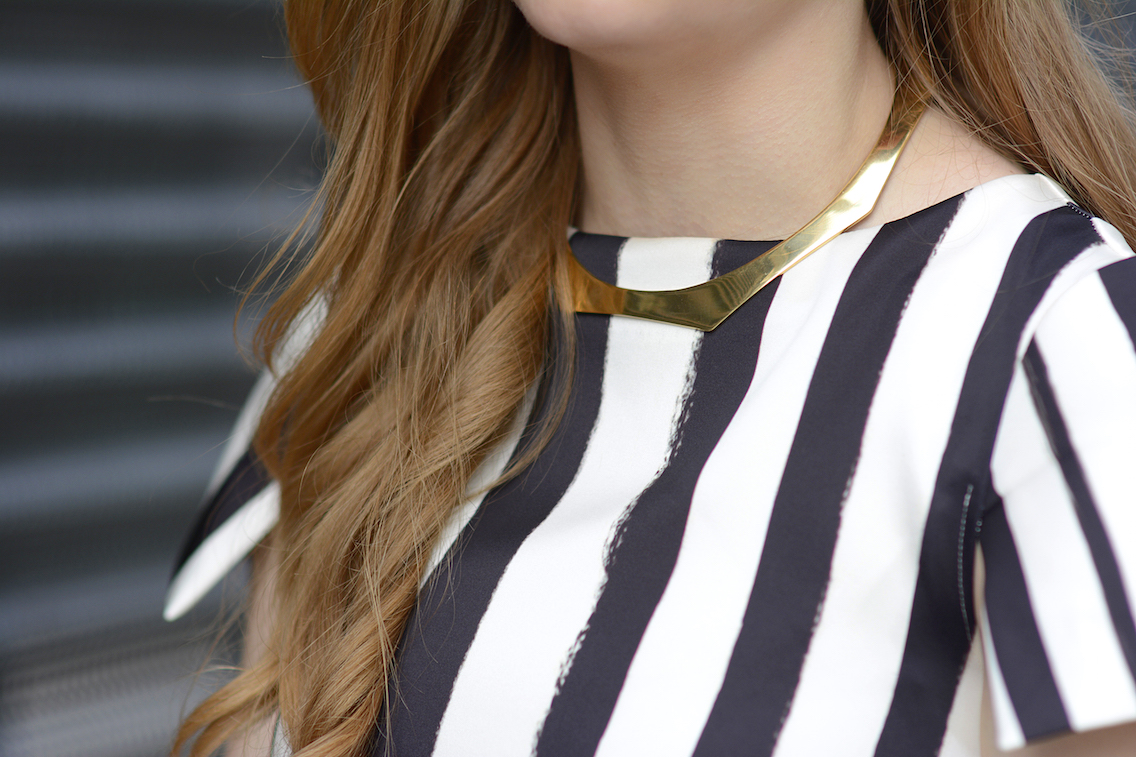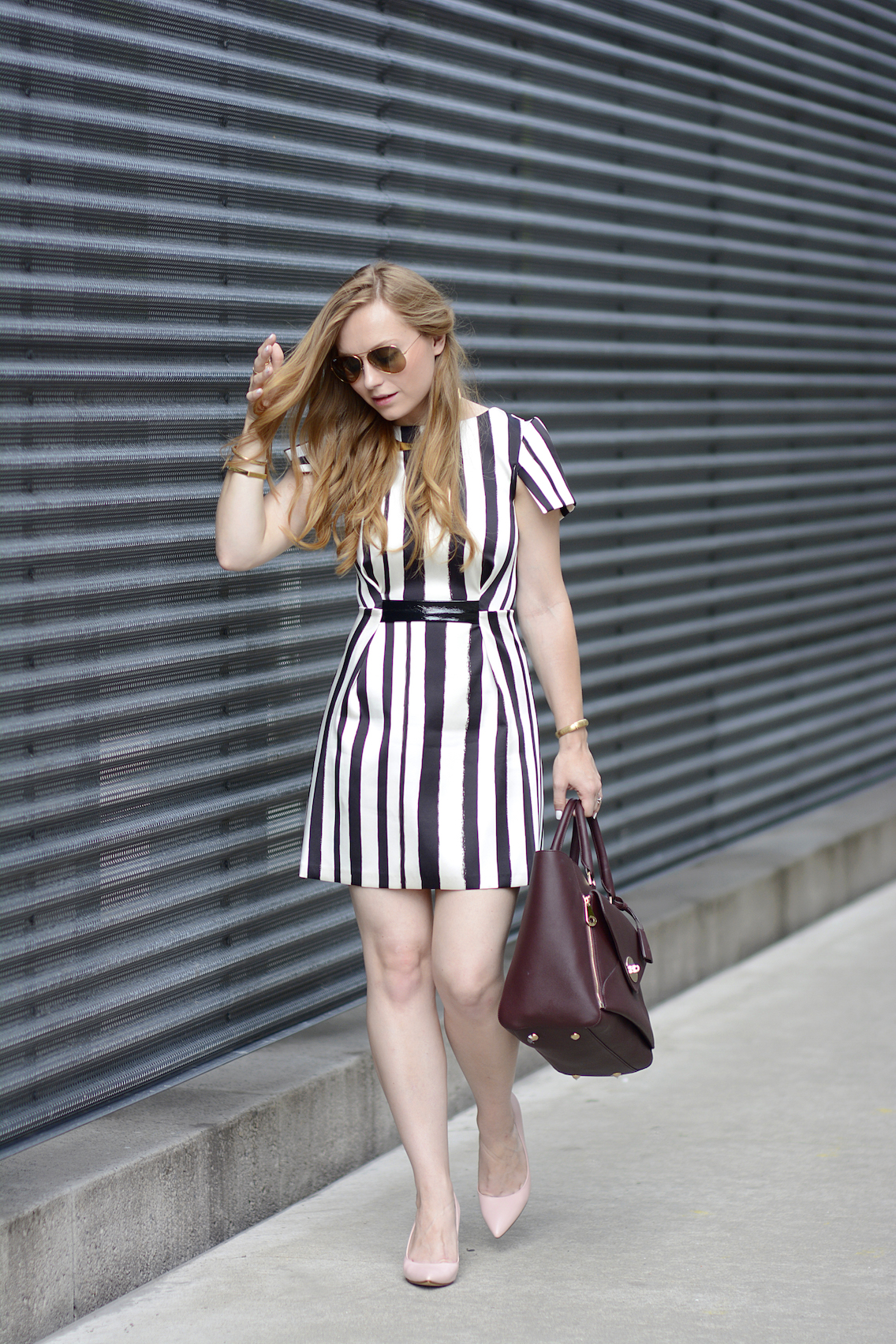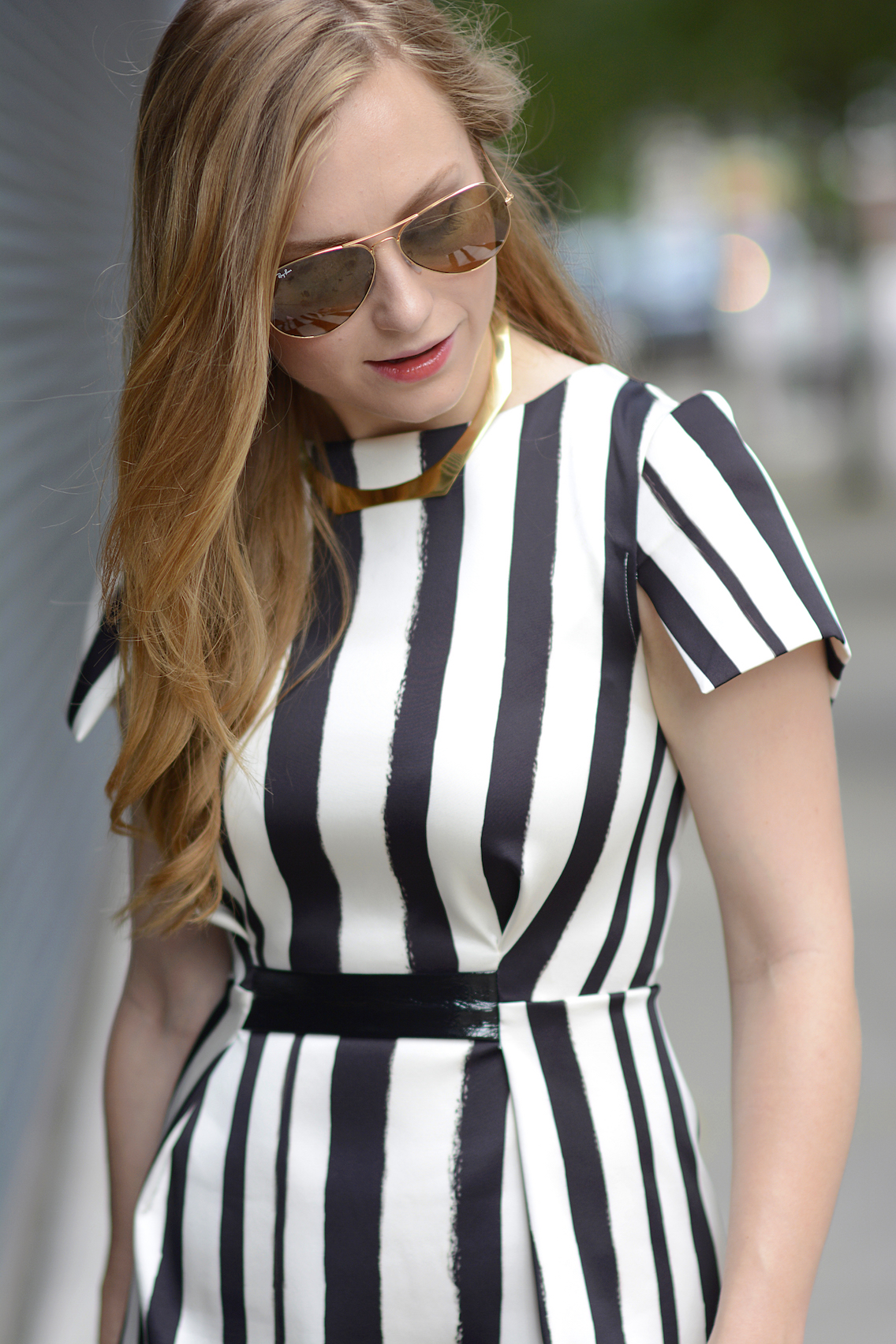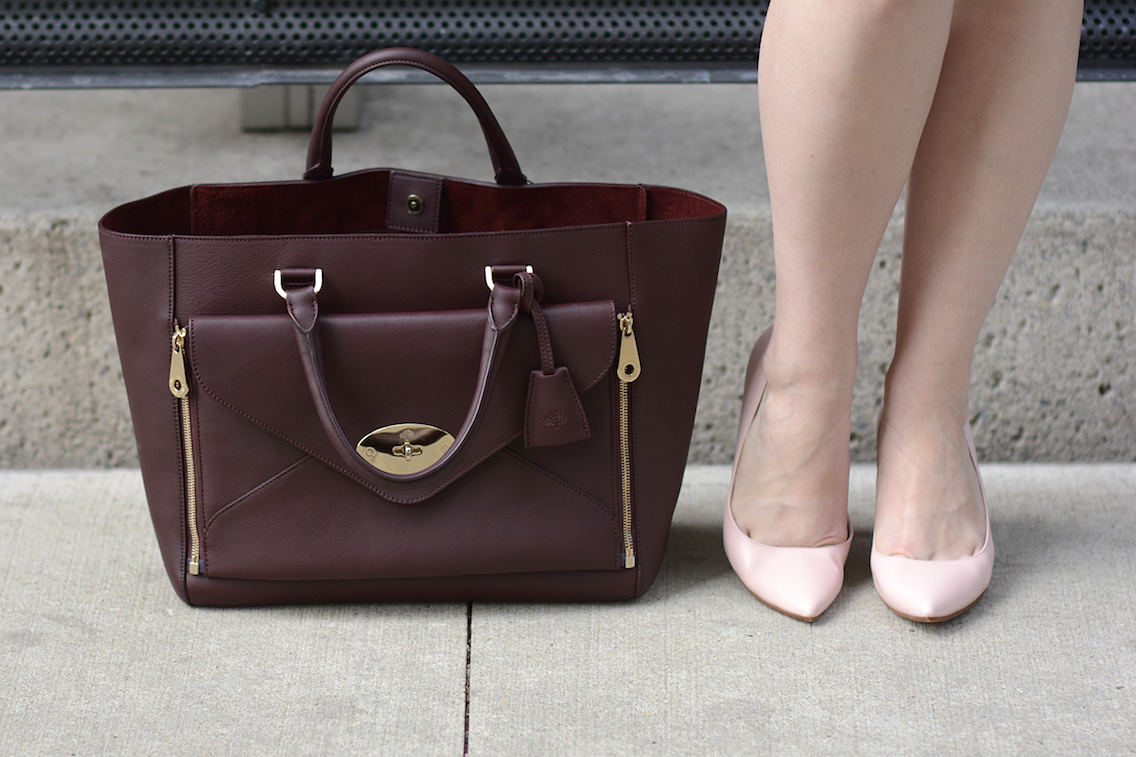 SHOP THE LOOK:
Dress – Topshop || Tote – Mulberry 'Willow' || Pumps – Dune London (similar: 1 /2 / 3) || Jewelry – J. Crew and Vintage || Sunglasses – Ray-Ban || Nails –Deborah Lippmann 'Amazing Grace' || Hair – c/o brilliant Jordan (who gave me my killer haircut too)
Photos courtesy of blogger Anna
Last month I attended the Simple Stylist Chicago conference for the second year in a row (last year). This year's keynote speakers, hosted again by Catt Sadler of E-News, included Founder & Owner of eDrop-Off, Corri McFadden, Jacey Duprie of Damsel in Dior, Celebrity Hair and Makeup Artist Joey Maalouf, and Blogger and YouTuber Sazan Barzani.
It was an all-star panel and the conference itself was packed with the most stylish Chicago bloggers. I chose this simple striped dress from Topshop to stay cool but polished, breaking up the monochrome pattern with an oxblood tote, pale pink pumps and plenty of gold jewelry.
Jordan styled my hair in soft curls and swept it back on one side of my face to make it easier for me to shoot without my hair getting in the way. I just love how thoughtful he is!
We started the day out with a bright brunch (though more mimosas and photogenic food would have made the brunch better… but then again when won't more mimosas and photogenic food make a brunch better??). 
Founder Sarah Boyd spoke during our meal about her passion for connecting creative tastemakers — a passion which is truly contagious to be around! We all instantly started networking and passing around business cards the moment she finished talking.
But then it was time to sneak into the press room to meet some of the panelists!
Meet Rachel Zoe's BFF, hairstylist, and make-up artist, as well as theglamapp.com founder, Joey Maalouf! He was such a positive, energetic person to be around!
What have you been up to since you arrived in Chicago five hours ago?
I love Chicago, I actually just walked around and took really pretty pictures of the sky and the buildings.
What are you planning on doing while you stay here?
I am such a big supporter of Simply Stylist. I did it in LA in March and I had such a great time. Sarah Boyd is a genius and I think it's an amazing thing what she's doing bringing all of us together to inspire one another. So I'm literally getting on an airplane after my panel because I just came out to support this event. I'm such a big fan.
What was your favorite part about the Simply Stylist event in March? What expectations do you have for Simply Stylist Chicago today?
You know I didn't know what to expect when I first did it [in LA in March] and I had a lot of fun because I felt it just brought so many different kinds of people together — some girls wanted to come up and ask me questions about their personal hair and make-up while others wanted to know how to break into the industry:
"I'm fabulous — how do I present myself to the world?"
And then there's other people like Catt Sadler who are amazing human beings who are people who want to be creative and learn more about themselves and find their niche. I think it's such a great event, it makes me very happy… it's so ME! 
What general hair and make-up advice do you like to give?
Find what looks good on you, and then have different variations of it. You know, my best friend Rachel Zoe would say "find your outfit that you run to get coffee in" and then have your "night-time" outfit and your "work" outfit. And have a bunch of variations on that so if you love an all-black silhouette, find a bunch of blazers that work with that. I'm the same with make-up and hair — find what works on you and have different variations of it.
You know what's a really great tip? I think that girl's over-product their hair before they blowdry it and I think using things like hair oil or a really lightweight blowdry cream or something that just gives really great lustre and shine is so important. And I think instead of doing those stiff mousses that give your roots such an over-done look. I think less is more and you know more can be more in a Kardashian-fabulous way but you need to make sure it works on you. You don't want to be bronzing and contouring but end up looking dirty. You need to be light with it. Use cream blushes because they can double as lip balm, too.
What is your favorite beauty trend for 2015?
I love no make-up make-up! I think that as a make-up artist for 15 years, I think you kind of come into your own and I've realized that my make-up isn't really a certain look, I just like to make whoever I'm working on look drop-dead gorgeous! So whether it's lashes and a red lip or just dewy sun-kissed glowy, I like to give somebody a signature and make them look gorgeous. I'm all about a blushing babe and no make-up make-up kind of look.
And you can't really be mad at a statement lip. You throw on a pair of sunglasses, à la Rachel Zoe again, and you always look fierce. You know she takes five minutes to get ready? It's because she created an aesthetic for herself, she knows what works on her and I think that's the exciting part for girls is to figure that out. I think by the time you get to your late-twenties, early-thirties you've had so much fun and you kind of figure out what you want to look like and then you give yourself that signature. It's almost like building who you are from the outside in a weird way. Wear everything with confidence — you can wear and do anything as long as you're confident about it. Don't you think? Girls are scared to try on orange lipstick — it's not scary! It's scary to get a tattoo but you can just wipe orange lipstick off. Just wear it and wear it well. Wear it for no reason.
Nicole Pearl of thebeautygirl.com interviewing Joey after my interview. Be sure to watch her interview with host Catt Sadler too — she has some great beauty tips!
Next I had the honor and privilege of interviewing Jacey Duprie of Damsel in Dior, one of my all-time favorite bloggers!
So what have you been doing since you arrived back here in Chicago?
Well, I went to Portillo's which was amazing! I saw my two best friends from college which was also amazing and I went for a run on Lakeshore Drive so I'm going home a very happy girl. I'm going to head back tonight but I got in on Thursday so it was nice to be back for a few days.
You have had an incredible blogging journey these last several years. How has it been for you?
It's been so great. It's been kind of unreal, I never ever thought that when I started my little blog it would turn into such a strong and growing readership. Which I'm so thankful for — I worked very hard for it. But it's kind of surreal at times, depending on what the experience is. Sometimes I think to myself "wow, I get to do this?", it's amazing. But it definitely took a lot of hard work.
You started at E! News [with panel host Catt Sadler], what did you do when you started?
I started as the assistant to the vice president there. I was actually an assistant for quite a few people before I started my blog. I had a lot of corporate jobs which I think definitely strengthens those admin skills.
Where are you planning on taking Damsel in Dior in the future?
I just relaunched the site in March which released a couple of new categories. Our home renovation category will be done in September so we're rolling out a huge video series hoping to document the entire damsel home renovation project. We're hoping to do a lot more with interiors. And then I also am releasing a capsule collection with Splendid in November. This event is actually my "coming out" for announcing that. It's all cotton too!!

Once the panel actually began, the party really started!
Each panelist shared their creative journey, both the hardships and the rewards, and offered plenty of advice.

But the most shocking revelation of the entire panel was when Jacey Duprie revealed that if she could do something different, she would choose a different name than Damsel in Dior for her blog!

I'm fairly certain you could have heard a pin drop the moment she said it!
After the panel Anna (my partner-in-crime for the day) and I mingled on the rooftop patio taking pictures and networking before the break-out sessions. Don't you just love the neckline of her blouse?We also ran into beautiful Jill (see her outfit details from the conference, shot by yours truly, here).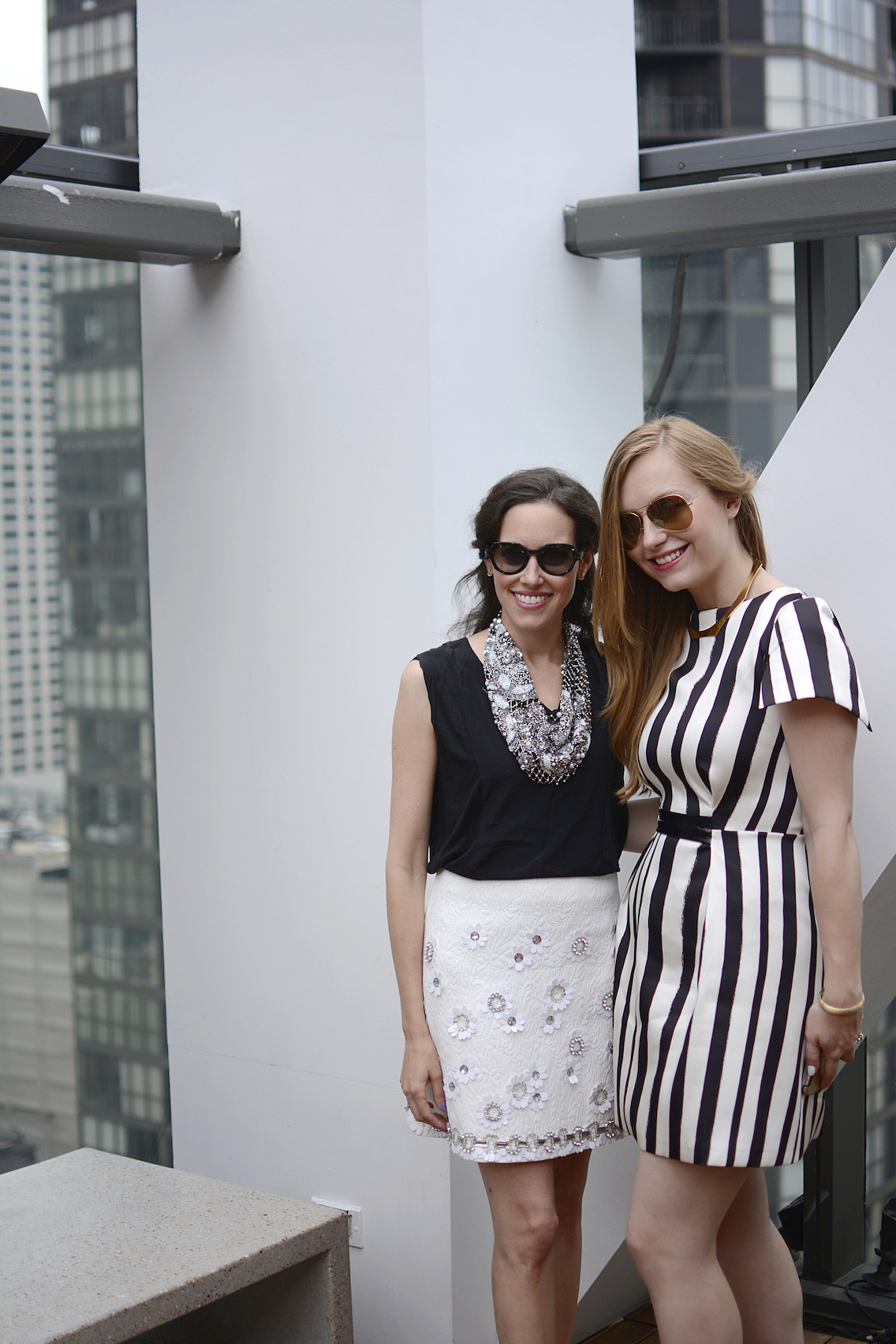 And Nicole and I had to stop for a photo together.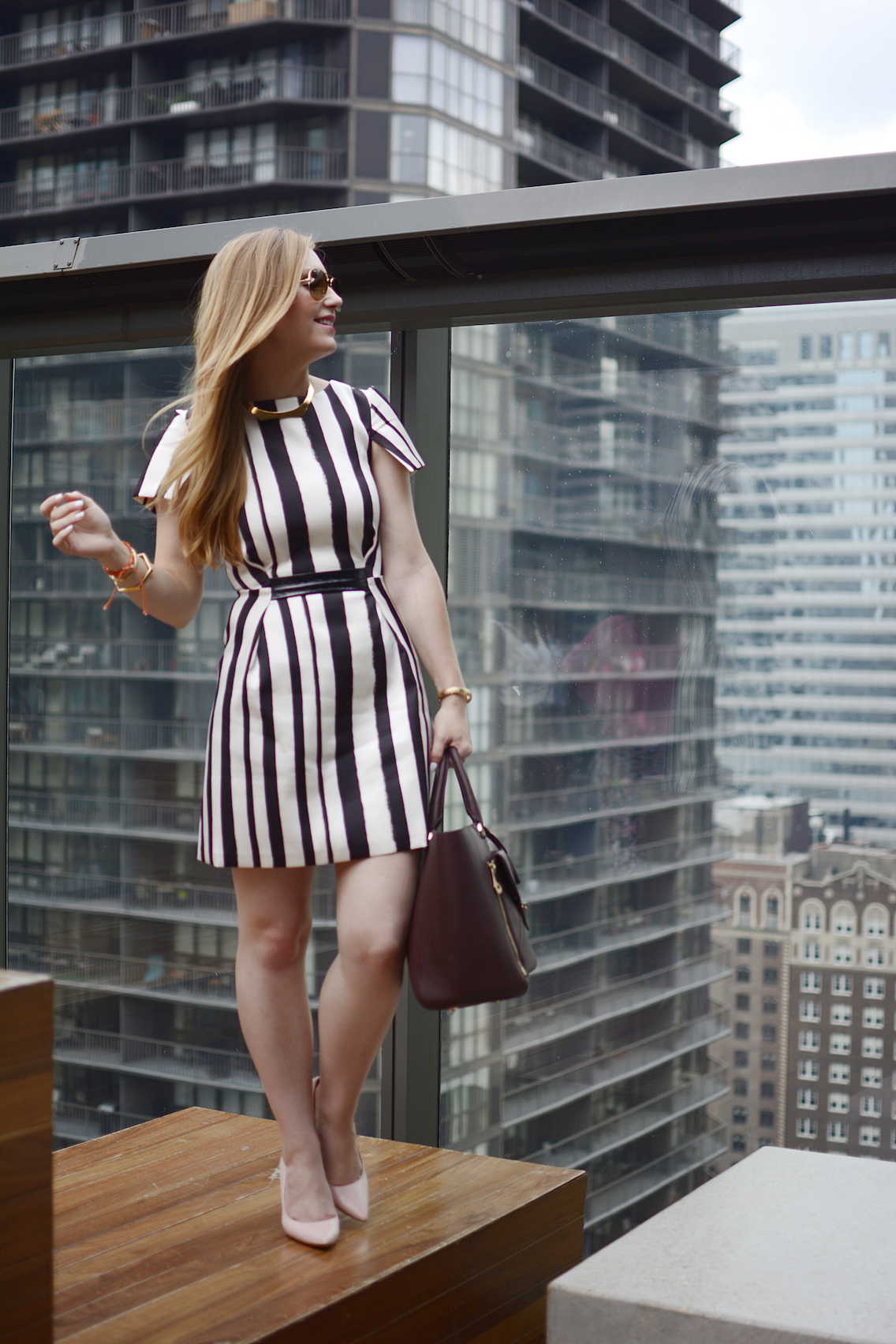 And then I proceeded to take even MORE outfit photos from the roof…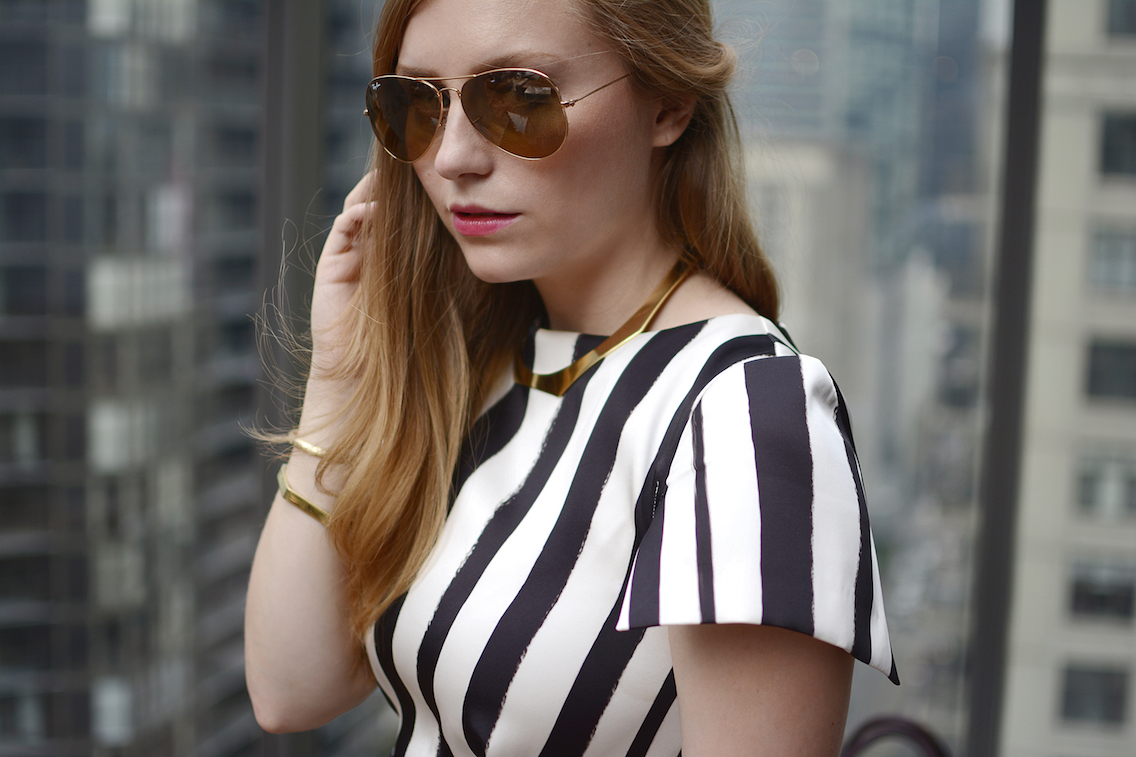 Because how can you say no to that backdrop?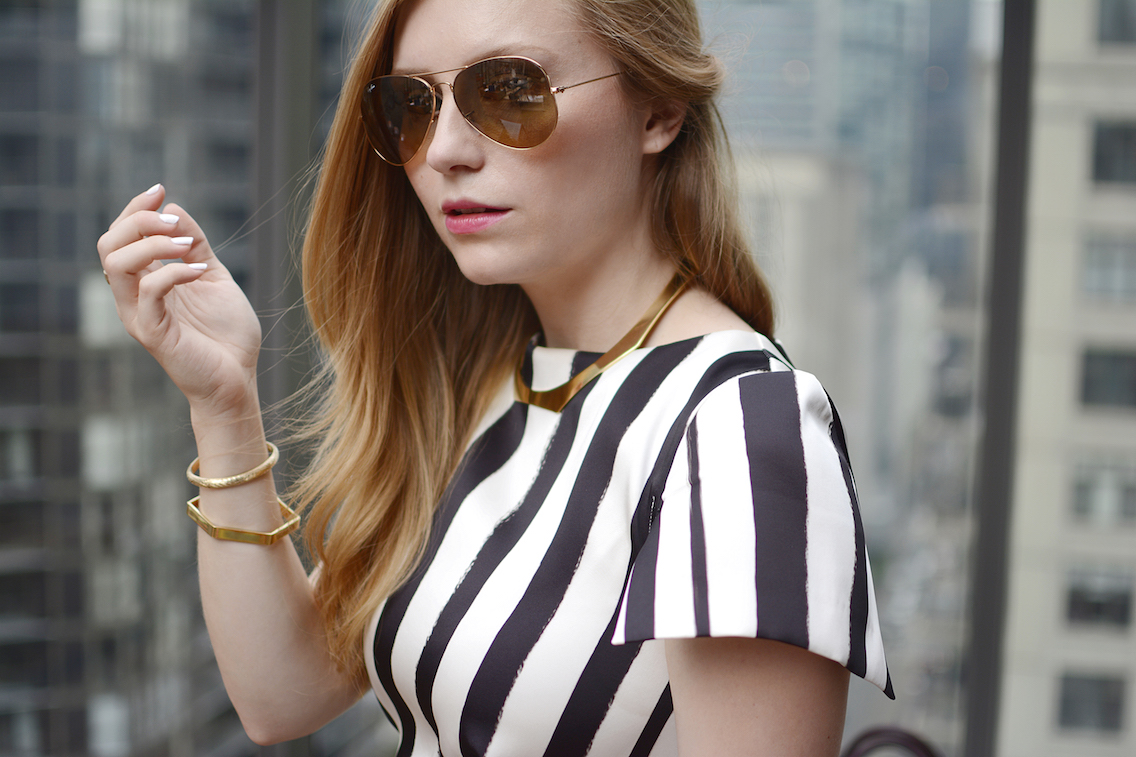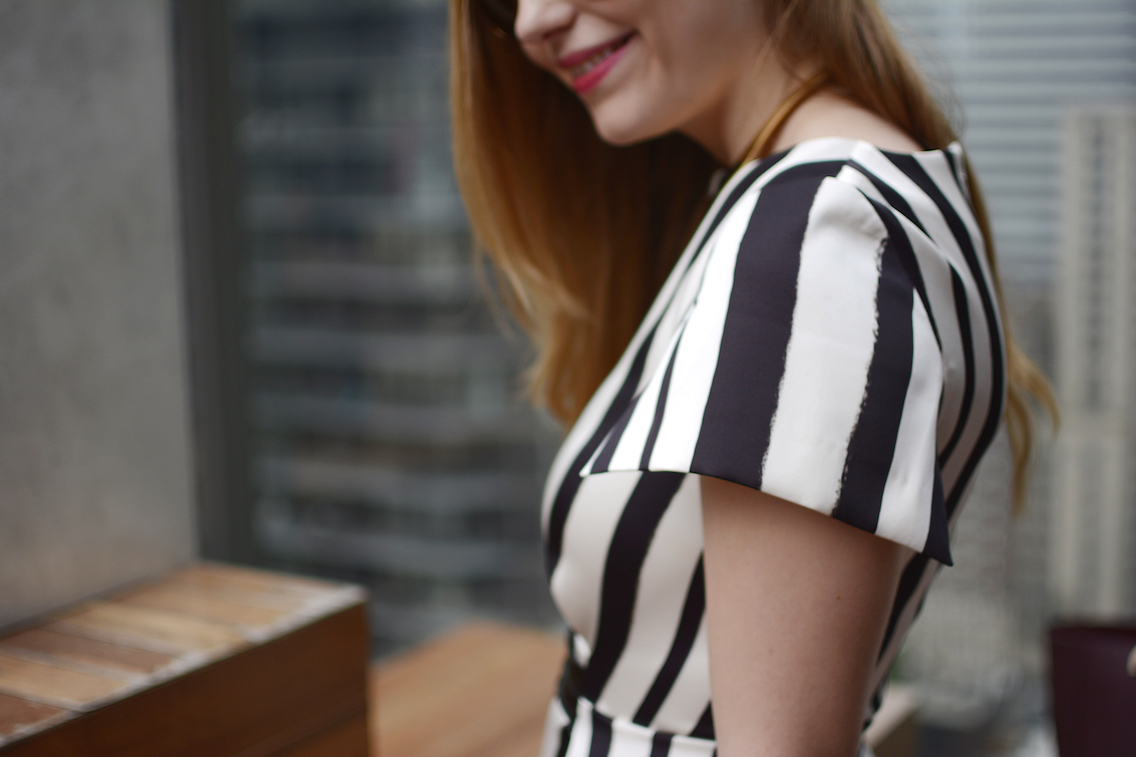 Many thanks to Jill for snapping these before we headed back in to finish the conference!
This year's Simply Stylist event left all of us inspired, energized, and ready to take on the challenges of the blogging world — smile and all.
"There is simply no substitute for hard work when it comes to achieving success."
— Heather Bresch