"This is my kind of town, Chicago is
My kind of town, Chicago is
My kind of people, too
People who smile at you
And each time I roam, Chicago is
Calling me home, Chicago is
Why I just grin like a clown
It's my kind of town"
— "My Kind of Town" Lyrics by Sammy Cahn, sung by Frank Sinatra
If there's a restaurant with more significance or grandeur in Chicago than Public Chicago Hotel's Pump Room, I haven't found it.
Favored by celebrities since it's opening in 1938, (noted guests included Frank Sinatra, John Barrymore, Judy Garland, Bette Davis, Beverly Sills, David Bowie, Natalie Wood and Robert Wagner, Paul Newman and Joanne Woodward, Humphrey Bogart and Lauren Bacall, John Steinbeck, Ronald Reagan, Paul Harvey, Helen Hayes, Clark Gable, Sammy Davis Jr., Jerry Lewis, Dean Martin, Elizabeth Taylor, Lena Horne, Joan Crawford, Tallulah Bankhead, Audrey Hepburn, Liza Minnelli, Robert Redford, Bill Murray, Josephine Baker, Phil Collins, Gertrude Lawrence, Eddie Fisher, Michael J. Fox, John Belushi, Eddie Murphy, Gene Wilder and Gilda Radner, Mel Brooks, Olivia Newton-John, Peggy Lee, Mick Jagger and many others, according to Wikipedia), this restaurant is as beautiful as it is iconic.The interior is large and luxurious with dozens of luminous lamps hanging in beautiful sculptural patterns from the ceiling.As well as plenty of cozy booths!
I met up with fellow foodie Starr, my sister, and a friend for dinner to finally try the Pump Room's famed Jean-Georges Icon Menu. But when we arrived at that magical space, we truly had no idea the culinary perfection that awaited us (and the subsequent food babies)…
No good meal begins without a killer cocktail — especially a killer flaming cocktail!
This is the Hell Hath No Fury: Botran Blanco, cilantro-infused rum, flaming green chartreuse, lime, pineapple, and simple syrup.

We also sampled this Corpse Reviver #2: Langley's #8 gin, Lillet Blanc, combier orange, and lemon.

This Sour Cherry Old Fashioned: Jim Beam bourbon, sour cherry-yuzu, and angostura bitters.
And this bright Ginger Margarita: Herradura Blanco tequila, Combier Orange, ginger, and lime.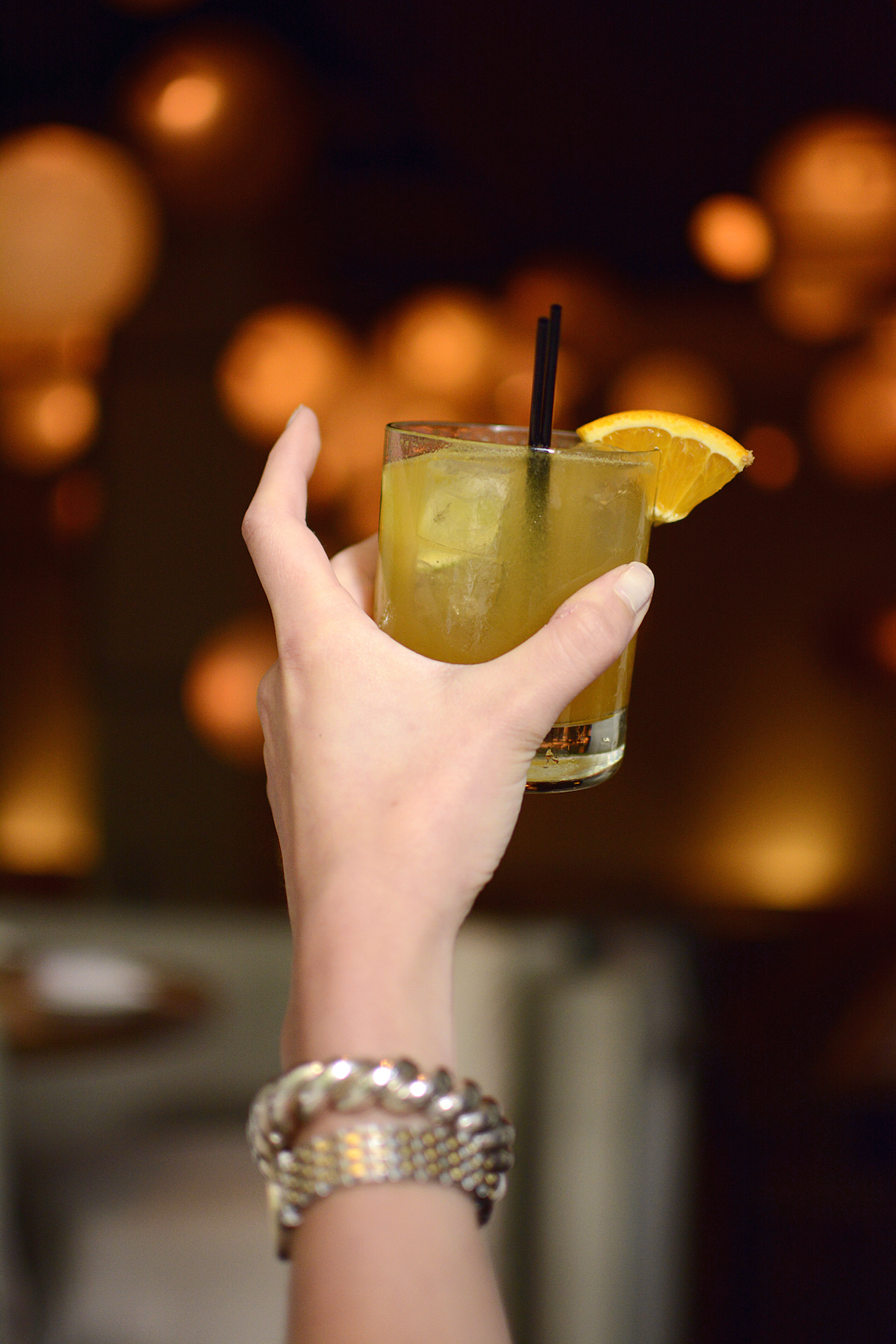 Cheers!

Expertly crafted cocktails in hand, we began our gourmet journey with Pump Room's magnificent Tuna Tartare with radish and ginger dressing.
Care for a bite?
The unexpected asian flair of this dish is what really makes it stand out from other tartares I've had here in Chicago. The creamy avocado compliments the tuna texture beautifully without mellowing the strong POW of ginger.
I could do some serious damage to this dish. Well, more like three portions of this dish…
But then this stunning fresh ricotta appetizer with strawberry compote served with grilled sourdough arrived.
How beautiful yet simple is that presentation?
And so divinely refreshing as a starter!
But it was our first course that will live forever in our memories.
It was our first course that will undoubtedly have a well-earned spot on this year's Best Things I Ate list.
These are Pump Room's innovative little salmon and crispy rice sushi with chipotle aioli.
These bites will woo you the way other dishes dream of wooing you. The sushi rice is soft on the inside but seared with a crispy crust on the outside. The raw salmon is fresh and rich, melting in your mouth as you bite in, with the zingy chipotle aioli tying the whole experience together into one soft, crusty, spicy and decadent bite that lingers in your memory for days after.
If you never thought you could be seduced by sushi, you haven't tried the Pump Room's!
I'm practically covered in drool just writing about it!! 
Our second course was note-worthy too, not to mention beautiful. A perfectly grilled octopus served with crispy potatoes, smoked paprika and herbs that rivals my favorite grilled octopus at Pierrot Gourmet.
The crunchy charred pieces of octopus married the potatoes and paprika sauce in a seriously scrumptious way!
And our entrées were just as delicious! Three of us tried this delicious crispy skate salad with tartar sauce.
While Starr opted for this perfect plate of taglietelle carbonara with smoked bacon, roasted corn and pecorino.
Can we pause to appreciate that beautiful #eggporn?
We also sampled a few of Pump Room's side dishes (as if we needed more food…). This is their fresh broccoli rabe with lemon and mint.
And their insanely addictive crunchy polenta with fontina and parmesan.
But the real winner was this simple bowl of sautéed sweet corn with pecorina and lime.
Be still, my corn-loving Midwestern heart!
After gorging ourselves on more gourmet calories than any of us cared to count, we couldn't resist finishing our meal with some dessert too.
Or maybe four desserts?
We tried this "Deep Dish" Chocolate Chip Cookie with malt ice cream.

OMG!
This simple, unassuming Yuzu Pudding Cake with toast almond sorbet.
It literally melts in your mouth with a sinfully addictive citrus bite that is mellowed by the toasty sorbet and garnishes. And how beautiful is that presentation??
We all swooned over this salted caramel ice cream sundae too with candied peanuts, popcorn, whipped cream, and chocolate sauce. 
I mean, how innovative and delicious does that look?
Our fourth and final dessert was this stunning plate of greek yogurt cheesecake with citrus grapefruit curd and mandarin sorbet.
It was one of the most memorable meals I've had all year thanks to Pump Room's impeccable attention to detail and their innovative gourmet offerings that haunt you for days after.
If you're searching for a meal that'll surprise you with its beautiful presentations,
gourmet ingredients,
and seriously addicting flavor combinations that somehow feel as familiar as your favorite comfort foods but with a unique twist that will forever imprint itself in your memory, the Pump Room will undoubtably become a new favorite.
Frank Sinatra sings, "Chicago is why I just grin like a clown"… and I suspect that's exactly what he did every time he ate at the iconic Pump Room.
Disclosure: I received a complimentary meal to facilitate this post. Review and all opinions are my own.