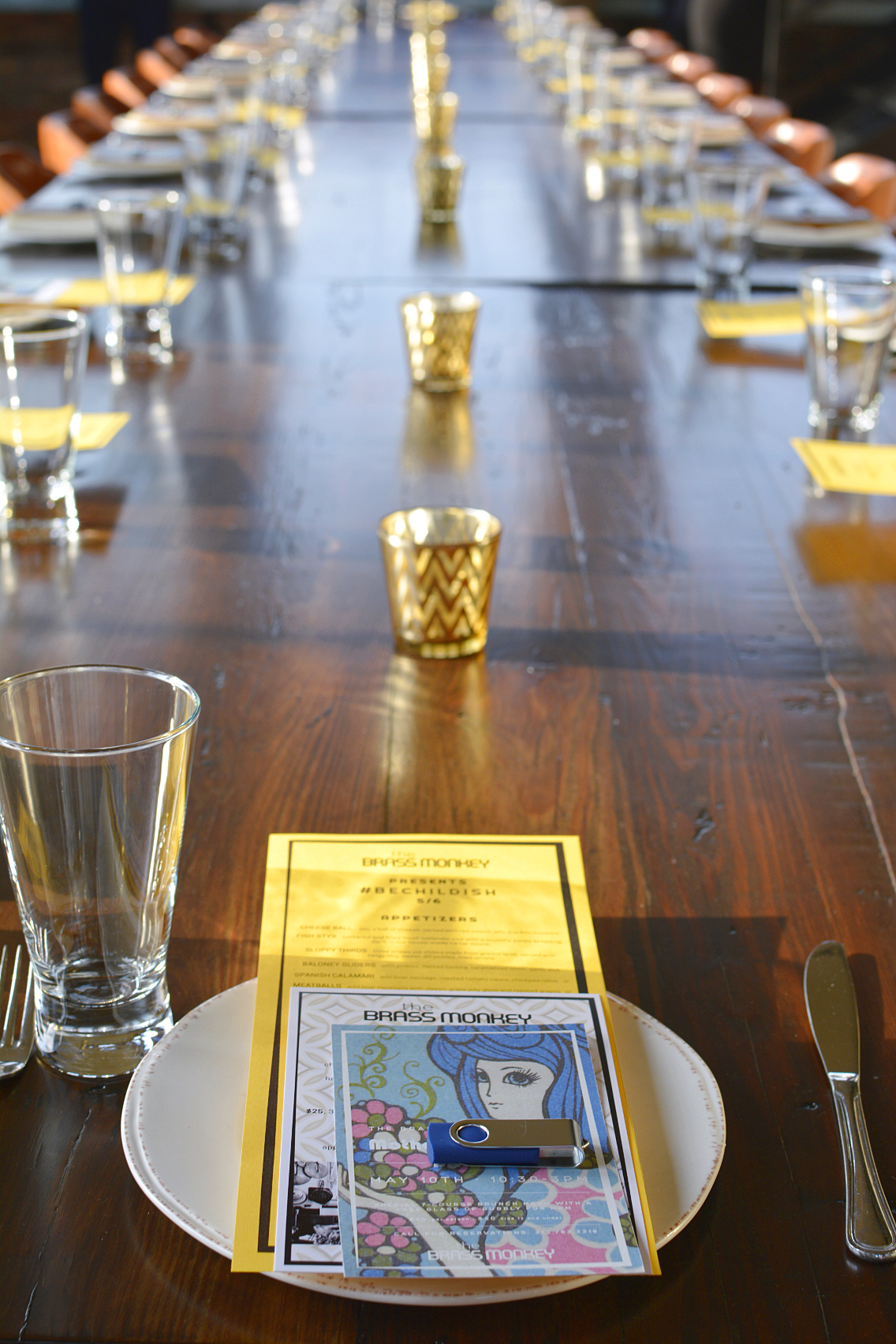 With as many restaurants and concepts as there are in Chicago, few bridge the gap between fine dining and good old fun. There are low-key spots and fancy spots… Diners tucked into small alleys and world-class restaurants with soaring views over the city…
But what about fine dining without the fuss? What about fine dining melded with pure, unadulterated childhood nostalgia? How about childhood nostalgia with a 70's theme?
Welcome to Brass Monkey!
Everything from classy Julia Child-inspired French fare to processed childhood comfort food made sans processed ingredients, Brass Monkey has something for everyone! Fun guaranteed!
This hip West Loop spot is decked out in funky, psychedelic prints in browns, yellows, golds and brass, a color palette that seems to draw inspiration from one of my favorite television kitchens: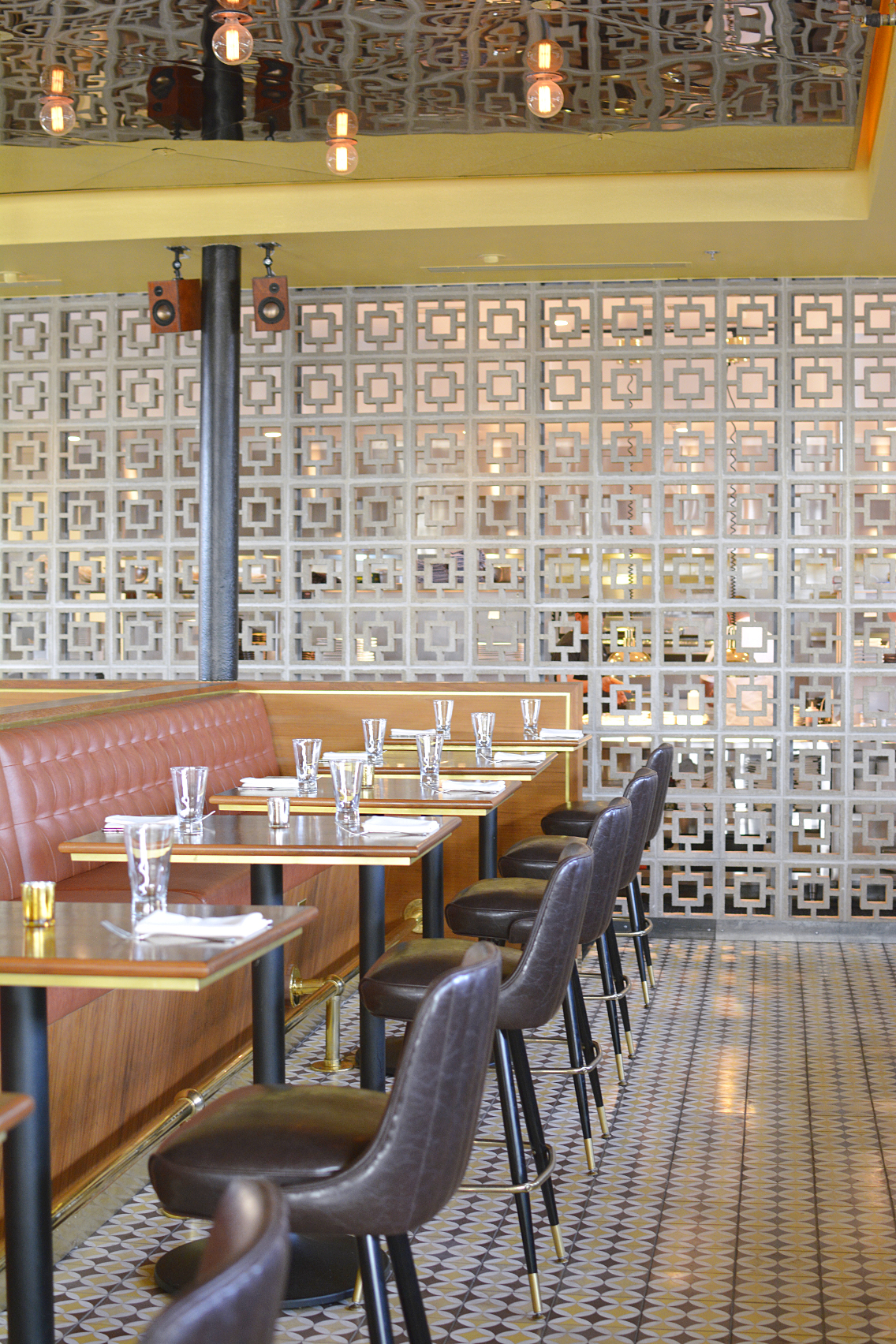 But with a far more sophisticated feel! The kind of space you might expect to find Ron Burgundy belting out a jazzy flute serenade, even.
We like to stay classy in Chicago, after all!
The private dining room is a gorgeous space too with enormous two-story windows lining two of the walls, allowing for ample natural light (a photographer must!).
That evening I joined Starr and Diana (also of Chicago Foodie Girl) for our culinary journey back to childhood which naturally started with a glass of bubbly! We're being childish after all, not actually reliving our pre-21 "yes, I'll take any booze anyone will buy my underage self" days.
There's a magic that only comes from being an adult and acting as childishly as possible WITH booze, after all!
The private dining room is lined with enormous collections of period records to peruse during the cocktail hour. Naturally ABBA's Greatest Hits was front and center but the selection of original records was seriously impressive!
One of our friends even proclaimed "if this were a record store, I would be broke!".
Popular 70's appetizers were brought out to whet our appetite as we sipped our bubbly including this tried-and-true favorite: the Cheese Ball! Served old school with red pepper jelly and Ritz crackers, this salty, crowd-pleasing concoction is a relic of it's era brought to modern-life!
There's really nothing so American as breaking into a giant cheese ball and slathering it on Ritz crackers!

No good 70's shindig would dare forgo the "Fish Styx" either! Brass Monkey's were so much more than the processed frozen sticks of doom many of us grew up with. Each bite was brimming with flakey, moist fish in a nicely seasoned crust — no freezer flavor allowed!
Brass Monkey is all about recreating and reinventing the processed food of America's youth with as few processed ingredients as possible. I love the concept but loved Brass Monkey's execution even more. I expected them to take fish sticks and try to make them "gourmet" or kitschy — instead they stuck closely to the original flavors but with as many fresh ingredients as possible. Fresh, delicious but satisfying in the way that only childhood favorites can be.
Other offerings included these "Baloney Sliders" with pickles, melted fontina cheese, carmelized onions and garlic aioli.
And these classic Sloppy Joe sliders made with ground lamp, tangy BBQ sauce, sweet dill pickles and fried onions!
But it's Brass Monkey's cocktails that really stole the show — while they may not be true childhood favorites, they're certainly new adult ones!
We started with this gorgeous SoCal 75: brandy, drambuie, bitters and sparkling cava. Slightly sweet and so much fun to swirl around as you drink!
Once our seated dinner began, the mixture of Julia Child French favorites and 70's staples became instantly apparent. We started with this gorgeous Spanish Calamari tossed with wild boar sausage, roasted tomato sauce and chickpea relish.

Then came the entrées! Brass Monkey's Seared Duck Breast was a clear favorite for everyone — juicy, rich and beautifully presented! It's served with a peppercorn reduction, haricot vert and duck confit all atop creamy polenta.
The Pork Chop & Apple Sauce with squash purée was beautifully presented as well but a little drier than the duck.
But when you're going to a "childish" dinner evoking the best of 70s Americana cuisine, you had better expect to see a play on the TV Dinner! Brass Monkey's upgraded offering comes with a shortrib meatloaf, house-made A1 glaze, mashed potatoes, creamed corn and peas.
Childhood, front and center!
The creamed corn was the real surprise! Creamy, fresh and slightly sweet, a delicious take on one of my least favorite childhood foods. Funny how much professional techniques and high-quality ingredients can transform a dish!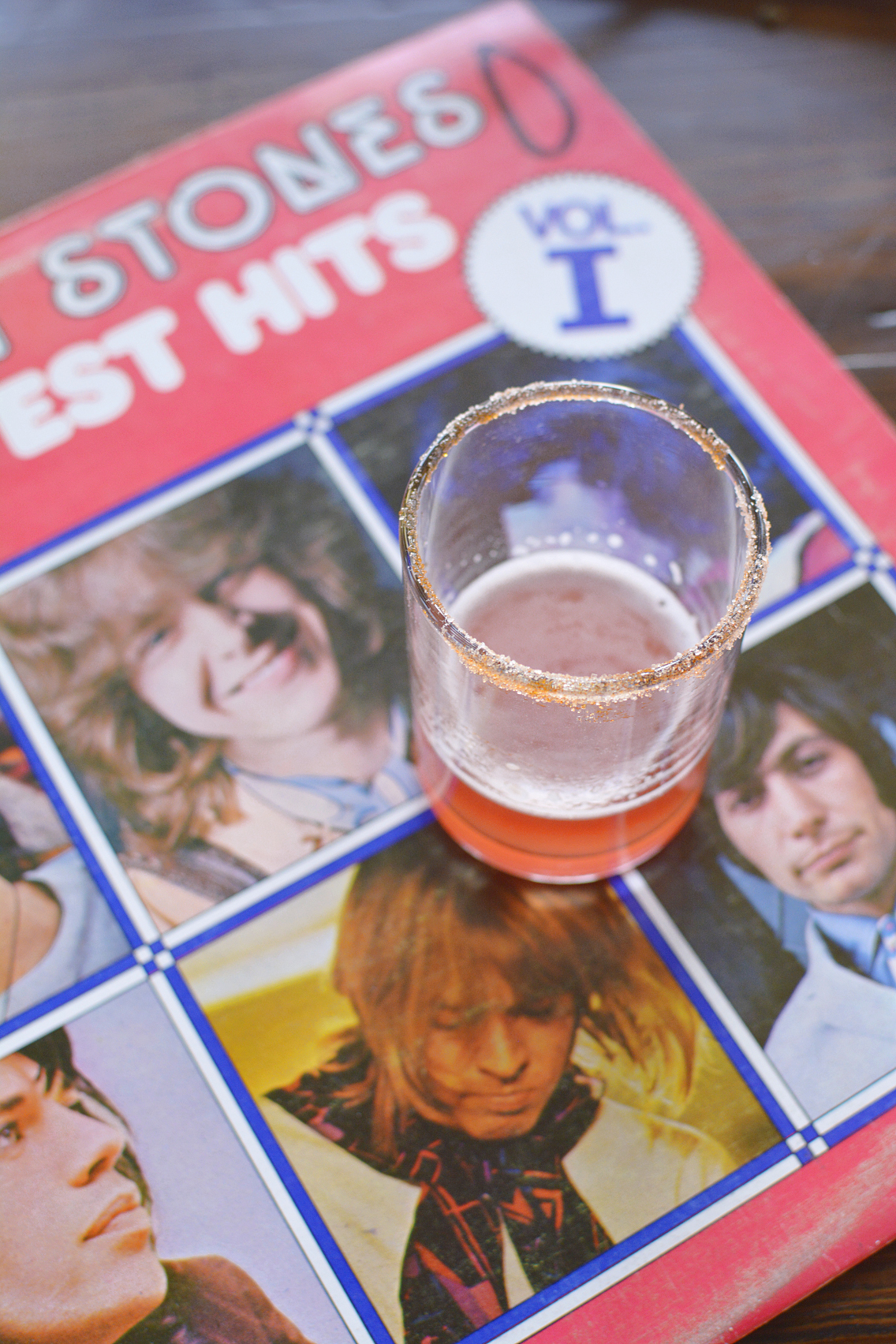 Speaking of hated childhood nostalgia — my favorite drink of the evening ended up incorporating one of my least favorite drinks as a child, Tang!
"Tang sucks." — Buzz Aldrin
Brass Monkey's "Tang" cocktail mixes vodka, lemon, spiced pear, and cherry heering all finished with a TANG rim. Surprisingly delicious, bright and fun. I'm betting even Buzz Aldrin would become a Tang convert after this little number!
Other entrées included this Roast Amish Chicken with broccolini, roasted tomatoes, potatoes and lemon-truffle chicken jus.
And my personal favorite, the Roasted Salmon. Pulling from some of Julia Child's favorite 70's recipes, this Skuna Bay salmon was served with baby kale, roasted cauliflower, tomato relish, french lentils and buerre blanc.
I eat a lot of salmon — when I was in Alaska in September I practically ate my weight of it every day! And I absolutely love it! But few salmon dishes really feel "new" to my palette. This salmon blew me out of the water (pun intended!) with its beautifully seared crust and sophisticated, complimentary ingredients. And all swimming in a rich but not heavy buerre blanc sauce? Excuse me, I need to grab a tissue to wipe the drool off my mouth.
It really was that good!

Sides for our meal included fried brussels sprouts…
and one of the most heavenly mac 'n cheeses I've ever had. Executive chef Ryan Wombacher managed to somehow elevate my mac 'n cheese addiction with this White Cheddar bowl of comfort food — creamy, cheesy, salty, al dente pasta that literally had us all fighting over the leftovers.
Of all the dishes of my youth, mac 'n cheese was always my favorite but I wasn't prepared for just how incredible an adult version could be.
When I come back I'm ordering two portions of this! With the salmon… and the Tang cocktail…
For dessert we began with the most creative of Brass Monkey's cocktails: "Chicago River Water". Doesn't it look positively terrifying? I'll admit I took the first sip with trepidation… extreme trepidation.
I mean, all native Chicagoans are taught to avoid the waters of the Chicago River above all else! I don't even dip a toe in Lake Michigan during summer days at North Avenue Beach. And now Brass Monkey was expecting us to drink our worst fear, front and center!
But, man, am I glad I did!
Composed of scotch, gin, creme de violet, lemon and honey, this clever concoction was surprisingly palatable with a sweet finish that complimented instead of competed with our dessert course.
Which began with this beautifully presented S'Mores dish! Cinnamon gelato perched atop a graham cracker brownie topped with toasted marshmallows and chocolate sauce — is there any dessert that screams 70's childhood more?
We also sampled this lovely Flourless Chocolate Cake, served with pistachio gelato, Bailey's Irish Cream and candied pistachios.
As well as this incredibly rich Pineapple Upside-Down Cake. Topped with cherry pineapple relish, vanilla gelato, coconut milk cake and candied walnuts this buttery cake floored us all! It was the perfect fusion of nostalgic and modern dining.
My favorite dessert ended up being these delicious Bananas Foster Puddings complete with vanilla wafer crumble, banana pudding, Angel's Envy Bourbon caramel and caramelized bananas. Blending traditional bananas foster flavors with an easy-to-eat presentation, this pudding was light but still sinfully satisfying.

Care for a bite?
Or two?
If you're looking for a dining experience that embraces the fun, extravagance of youth with a core of satisfying comfort foods designed to transport you back in time, add Brass Monkey to your "must try" list. Just promise me you'll order the mac 'n cheese…
Be sure and read Starr's review of our evening here too!