Remember that sexy dinner party I attended in October previewing the cuisine for Virgin Hotel's first US location, right here in Chicago? Well, ever since Virgin officially opened its Windy City hospitality doors on January 16th, I'd been jonesing to check out the space and sample more of Chef Rick Gresh's delicious fare.
His Tuna Tartar made my "Best Things I Ate in 2014" list after all!
But as much as we love fancy foods, sometimes you just crave some good old comfort food — modern American diner-style.
And that's exactly what you get at Miss Ricky's.
Located right at the front entrance of Virgin's gorgeous hotel, this modern diner oozes in eclectic British charm while still remaining down-to-earth and very American.
Open practically all day every day (early morning through late night), this is a spot you go to for a comfort food fix round-the-clock.
Super casual with a cool, quirky aesthetic of velvet-lined booths, tin-top tables and a mishmash of vintage chairs, this diner is a great unpretentious space to relax, enjoy a cup of jo (or maybe one of their clever cocktails?) and some delicious grub.
I loved the retro charm of the chrome ceiling lamps!

And the front desk is covered in chopped neck ties — a charming nod to Richard Branson's #ByeToTheTie campaign. 
Katharine, Shaheen and her charming husband Trevor joined me for the media preview breakfast where we were equipped with piping hot mugs of coffee immediately upon arrival (my most important breakfast meal requirement!) to sip as we perused the menu.

Isn't this dairy cow creamer adorable?

Such a charming way to start the day! (rhyming not intended but appreciated)

We all opted to try each of the items on the media preview breakfast menu — their full menu can be seen here.
Trevor choose this whopping skillet of Smoked Corned Beef Hash Benedict which comes topped with poached eggs and a mustard & horseradish hollandaise. Isn't the blue skillet presentation positively charming?
Katharine chose Ina's Heavenly Hots. Dubbed "Chicago's famous pancakes" and served with local maple syrup infused fruit compote, this is a simple dish that's simply delicious.

Not to mention Instagram-able!

I ultimately ordered the Chilaquiles: corn tortillas, chipotle, queso, black beans, fried eggs. I'm a huge fan of Latin-style breakfast food after living off of fried eggs and salsa in college so I knew I'd love Miss Ricky's take on chilaquiles.
This dish was good and hearty with a zingy salsa, zippy queso and satisfying crunch all topped with beautifully fried eggs. My one criticism would be that there weren't enough black beans in the mix.

But Shaheen's meal of Chicken & Waffles was the clear winner…

Sriracha chicken infused waffle batter all topped with buttermilk fried chicken and sriracha honey sauce — can you say #foodporn loud enough!?
**DRIZZLE**
Shaheen deserved to earn an award for her artfully pouring that morning!

How positively photogenic is this dish? A clear favorite of everyone at breakfast that day and certainly worth making a pilgrimage for if you're a chicken and waffles devotee!

The genius himself!
Proud Chef Rick Gresh was everywhere the morning of our breakfast, overseeing the cooking and greeting all the patrons like the pro he is. After cooking one of the best meals I've ever had FROM A POP-UP KITCHEN TENT back in October, I can safely say I will eat any dish this man sets in front of me. 
After our filling meal we took the opportunity to explore the spanking new hotel space.
I think Apollo would have been quite at home in the lobby dog bed!
And I loved this trumpet sculpture over the lobby desk.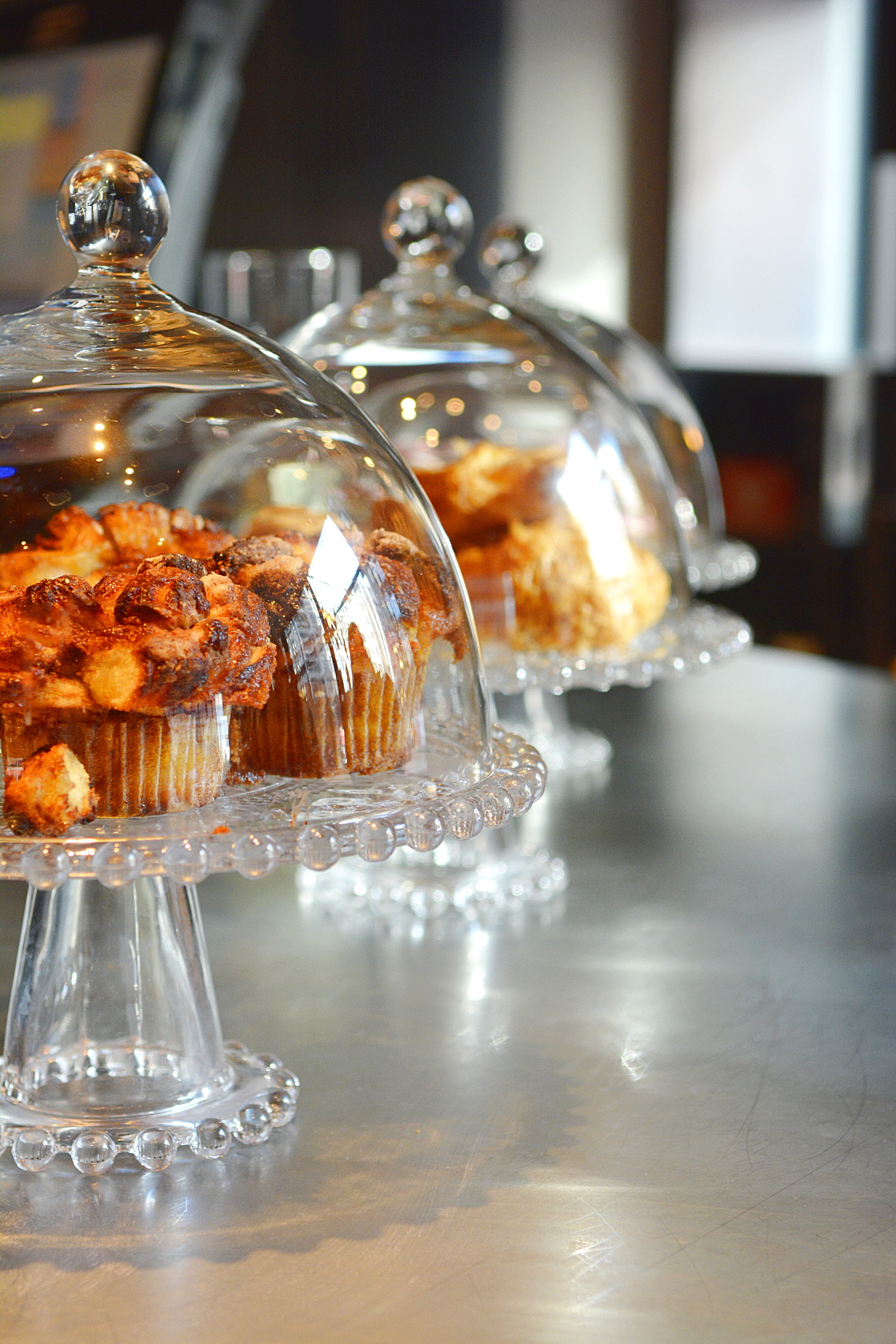 There's also an adorable coffee shop, Two Zero Three, on the first floor with delicious nibbles and a swanky but chill vibe.
Walk up the main staircase and past this unique ceiling sculpture…
And you find yourself in the Commons Club — a chic spot with one of the coolest atrium chandeliers I've ever laid eyes on! It's a great place to grab a drink, or some swankier food if diner-fare isn't your thing, and enjoy the people watching on the street below. 

As part of the fun and playfully sophisticated atmosphere Virgin cultivates at their hotel, it's customary for the employees to forgo the applause and instead declare "you are so good looking!".
Well Miss Ricky's, YOU are so good looking!!
Welcome to Chicago, Virgin Hotels!
Disclosure: I received a complimentary meal to facilitate this post. Review and all opinions are my own.