At Christmastime, Chicago becomes over-run with European Christmas traditions, thanks to Chicago's one-and-only Christkindlmarket. This German Christmas Market, run by the German American Services, encompasses the entirety of Daley Plaza and is absolutely brimming with German goodies: everything from cheese fondue, Bavarian cuckoo clocks and glass ornaments to mulled wine, authentic German stollens and gingerbread can be found here. And while I know Christmas was a few weeks ago, visiting the Market has become a family tradition and I wanted to share our very last 2014 Christmas adventure with you!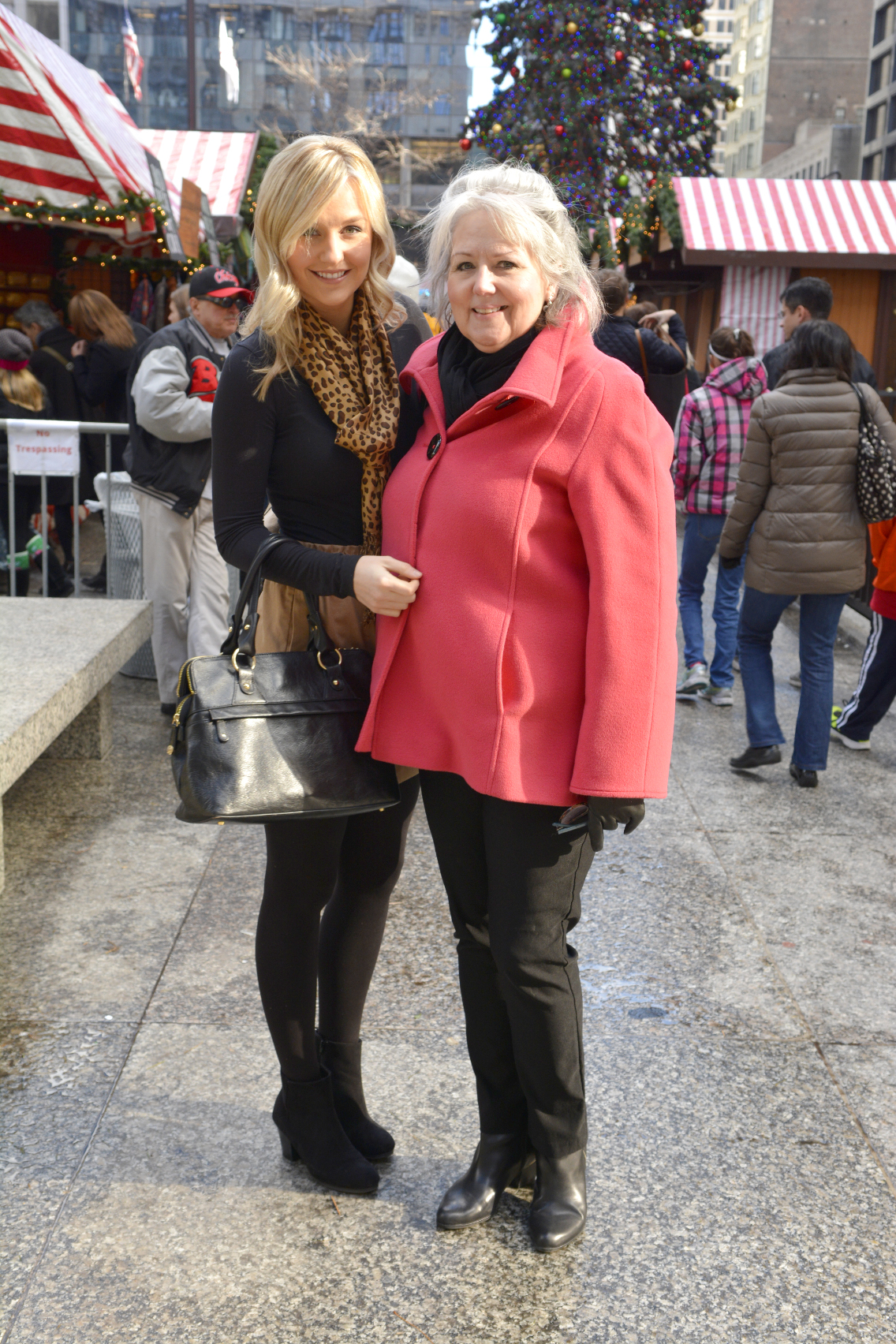 Hubby and I met up with the crazies (last seen here) — my Mom and sis — the day before Christmas Eve for some last-minute shopping and Christmas adventures.
We tried to take a family photo together but inevitably whenever the three of us try to shoot together, one of us always ruins it with talking or rambunctious laughing. Family #Fail. 
As I mentioned earlier, the Market is set in the heart of Daley Plaza… 
Surrounding this untitled Picasso Statue.
Little cottages and shops line the entire market with a gigantic central Christmas tree towering over the merry crowds. This Christmas market is actually considered one of the best in the world due to its excellent vendors and charming atmosphere.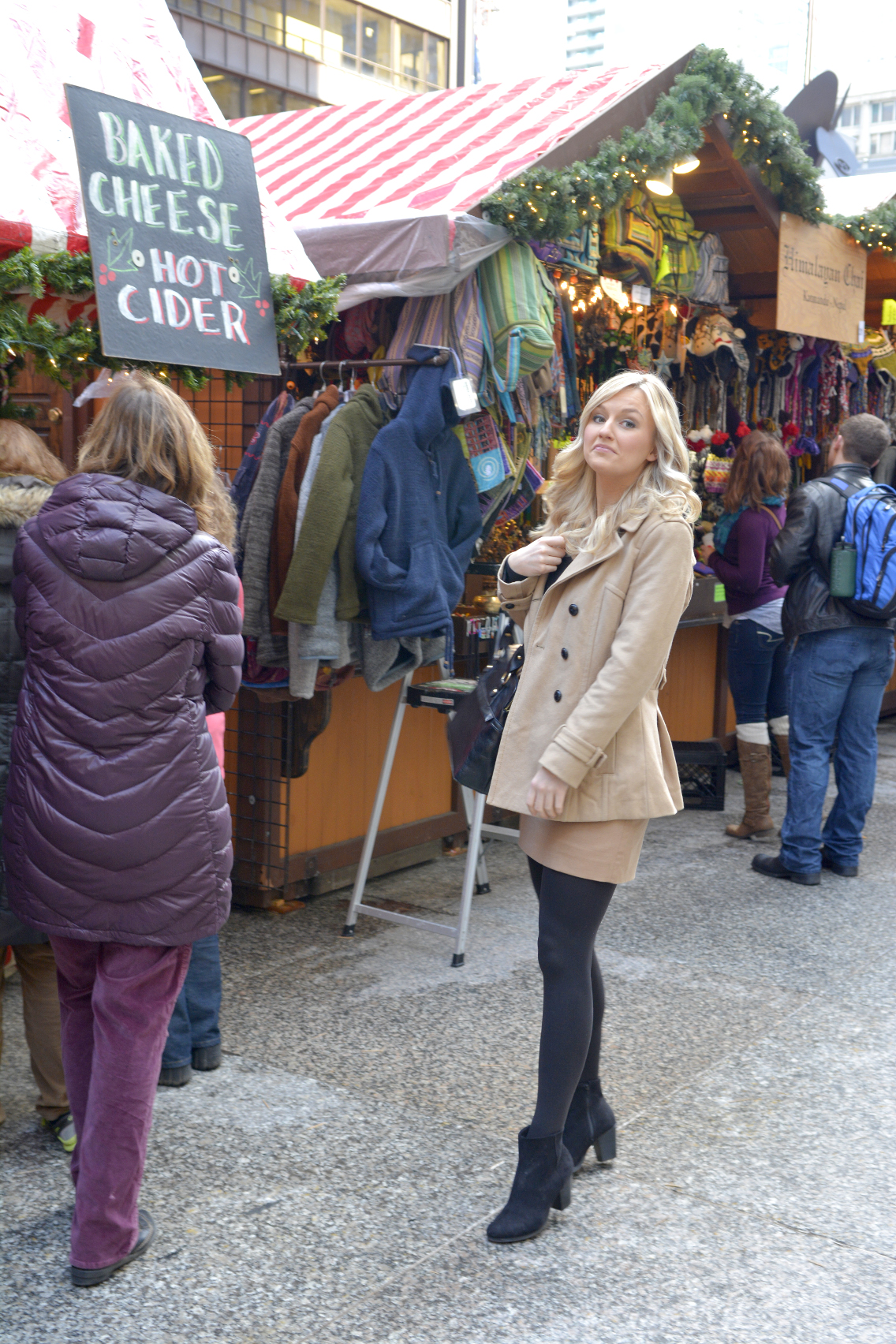 Emmie passed the Baked Cheese shop and got HUNGRY! So we headed over to the food cottages to pick up a variety of nibbles…

Like bratwurst for Hubby,

And piling orders of potato pancakes and sauerkraut for us. After snagging some hot mulled wine and beer, we headed into one of the indoor dining halls to enjoy our German feast.

The dining hall even has its own chandelier.

My festive manicure of gold glitter-dipped white nails (Deborah Lippmann 'Amazing Grace', here with Essie 'Rock at the Top' Glitter, currently sold out). 
A family toast to the holidays!
Being half-Polish with a decent amount of German blood too, Potato Pancakes are an entire food group for me! I live for the perfect potato pancake: crispy, appropriately greasy and soft on the inside. And while I will always firmly believe that my mother makes the best (hers are crispy and thin like crepes… I promise to share her recipe soon!) these are fairly decent stand-ins.
German Kraut Happiness!

After finishing our meal we waited in line for our favorite shop: the Candy Cottage!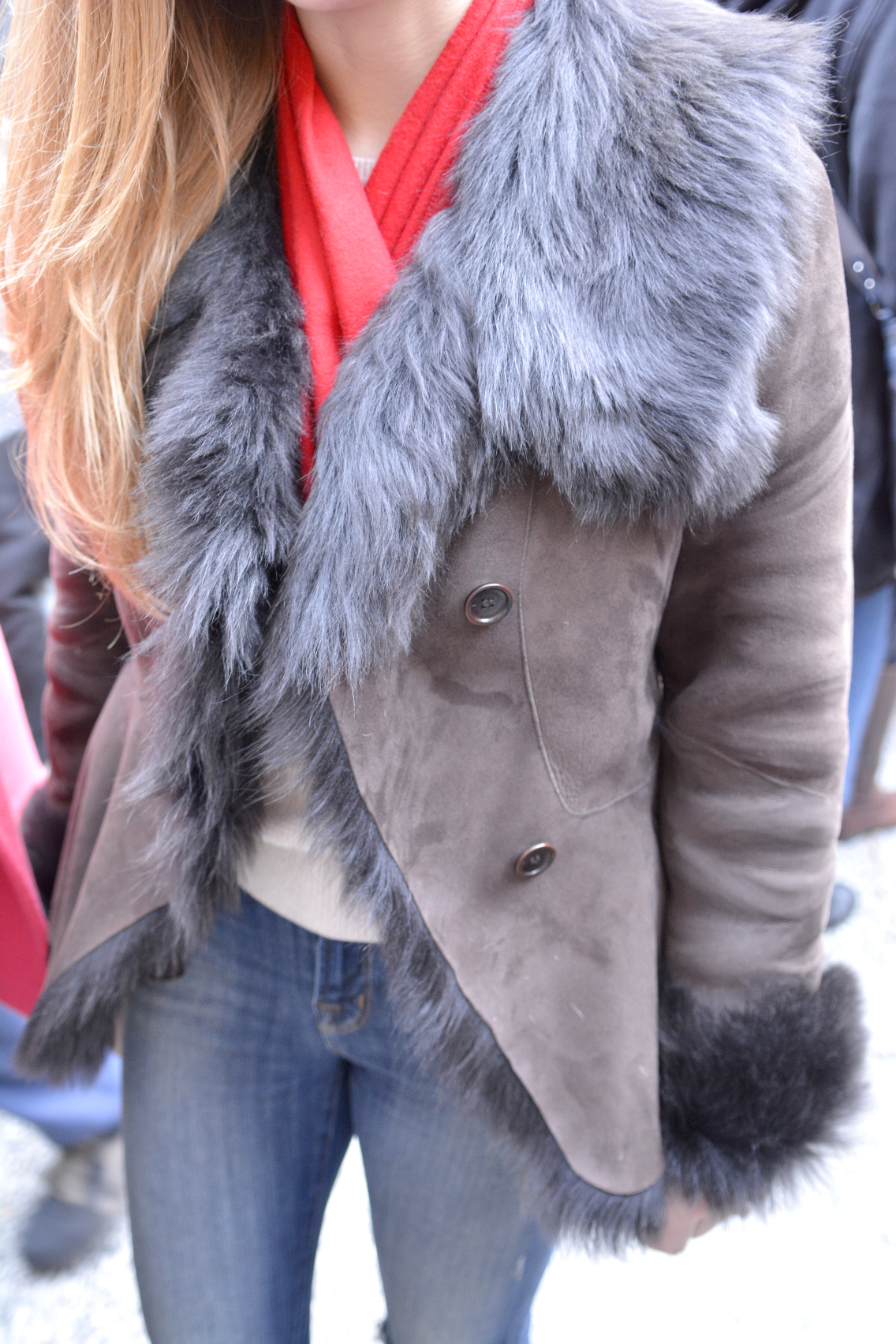 What else is there to do when you're waiting in line than take outfit pictures? 
Before you even enter the Candy Cottage you can smell the intoxicating smell of cinnamon roasted nuts wafting out of the cottage and settling among us poor souls waiting in line.
There is nothing in this world that smells quite as divine as freshly made cinnamon roasted nuts. They ARE the smell of Christmas! So when we finally were admitted to the cottage we immediately grabbed a bag and munched as we continued shopping through the candy aisles…

brimming with every flavor of hard candy, 
and piles and piles of German cookie imports, like these little Stollen pieces. 
Sis looking gorgeous in the hideous overhead lights of the candy cottage (why didn't I get those genes?).
After leaving the candy cottage with significantly more shopping bags (if you go the day before Christmas Eve all the candies and sweets are on sale!), we walked past more of the food cottages and
the Official Market souvenirs cottage.
Then got in line to visit my second favorite shop: the glass ornament cottage!
This cottage is a magical place, resplendent in colors and ornaments of all shapes and sizes… literally!
They even organize the ornaments by color!
Mom found this beautiful Eiffel Tower in the travel section.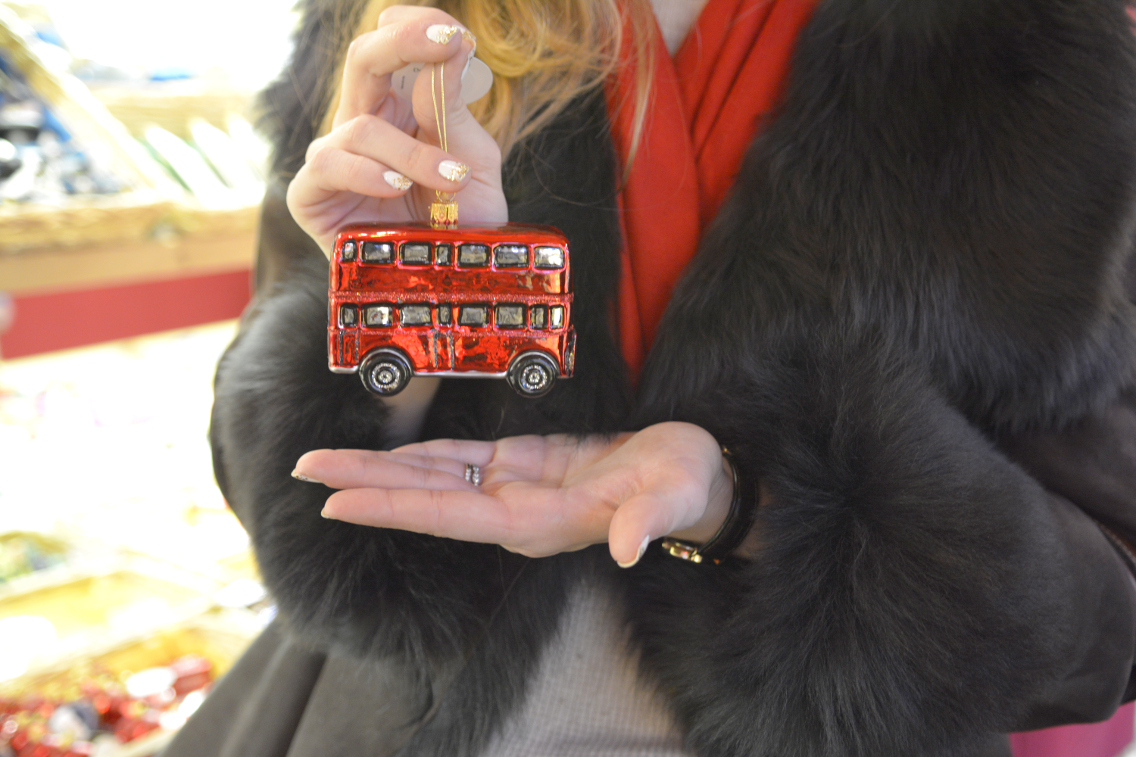 While I ended up taking home this adorable little London double-decker bus. 
The Pickle ornament section! This is where I bought my Christmas pickle years ago – can you believe how many types, sizes and finishes there are?
You didn't know you could get decision fatigue from a pickle ornament did you?
Lovely traditional bells.
And adorable, Mario-esque mushrooms.
As well as cans of Caviar!
Em was trying to decide between these two ornaments and ultimately decided on the green one.
Our filled ornament basket. Our mother always buys my sister and I an ornament each year — when I moved to Chicago in 2010, unfortunately many of the ones she gave me were stolen right out of my storage unit so I'm glad to be building up a collection from her once again! My little bus made the cutest new addition to our tree this year.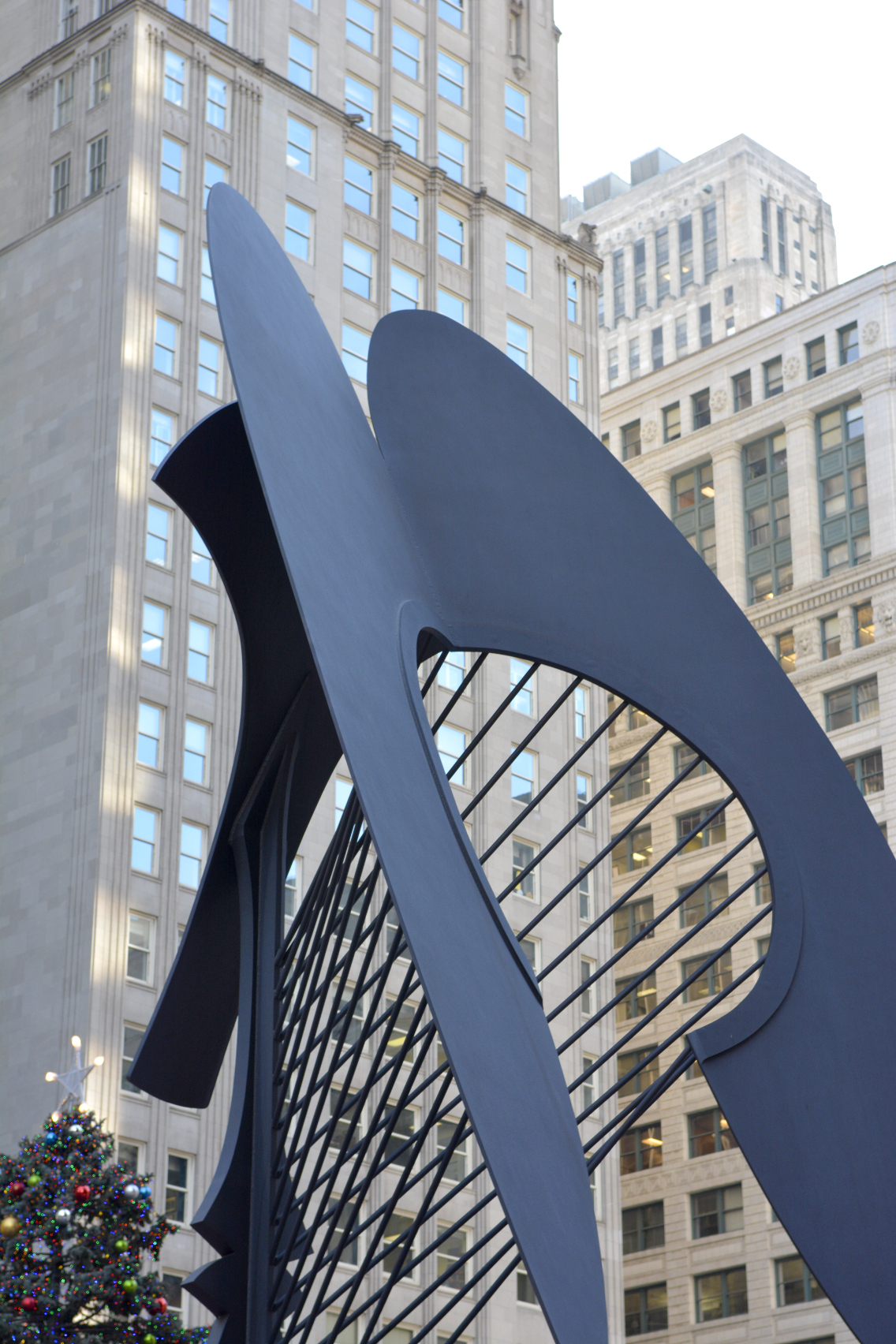 After gorging ourselves on potato pancakes, cinnamon nuts and quite a few glasses of mulled wine, not to mention shopping ourselves dead – we called it a day.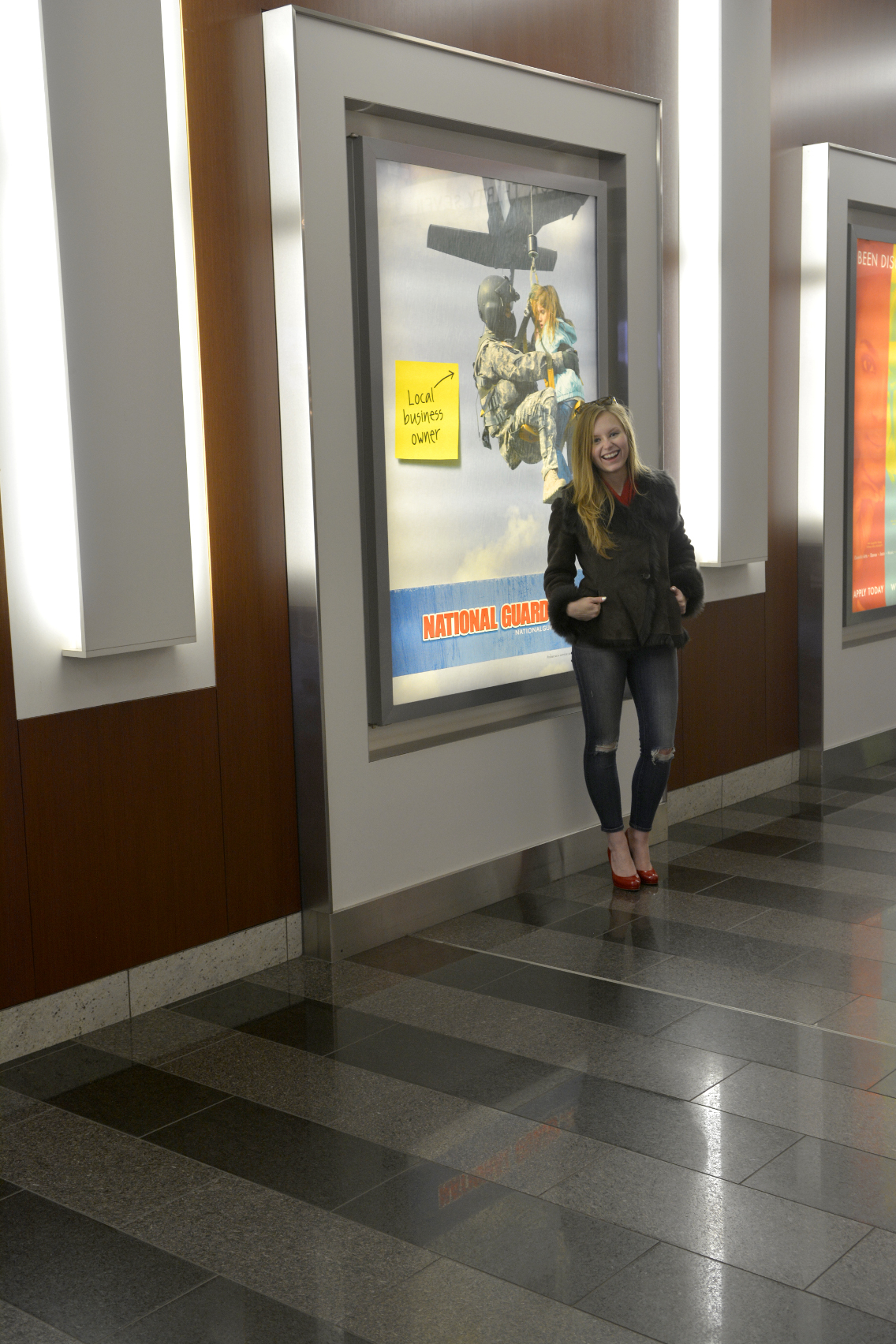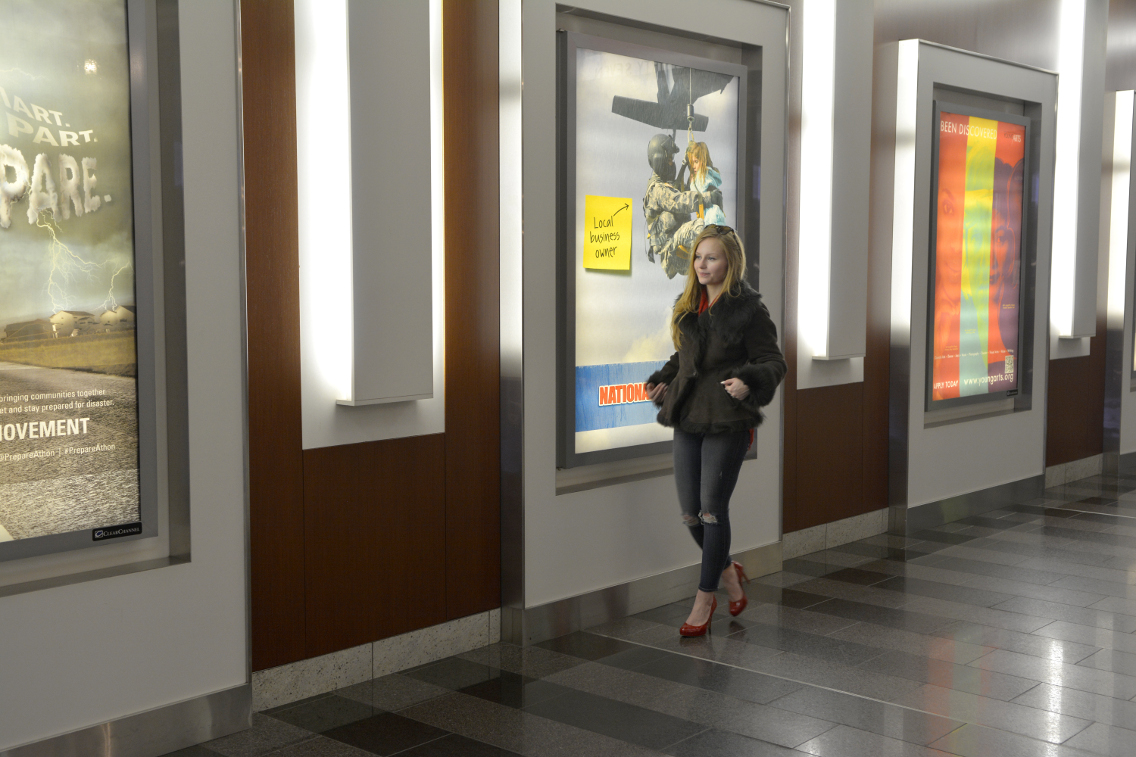 Coat – LK Bennett 'Darwin' in Chocolate Shearling (currently out of stock but found here)
Jeans – J Brand 'Misfit' Crops (ON SALE here and here)
Pumps – LK Bennett 'Sledge' in Red (similar here and here)
Scarf – Reiss (VERY similar for $15 here)
Sunglasses – Ray-Ban 'Wayfarer' in Tortoise (here)
Watch – Daniel Wellington 'Classy York' in Dark Brown Crocodile (here)
What a beautiful day with beautiful Christmas memories and a wonderful ornament as a memento!