Finding the perfect burgundy wardrobe staple is a bit like finding a needle in a haystack — at first you think you've finally found it but then you realize sadly that you've just got a shiny piece of hay.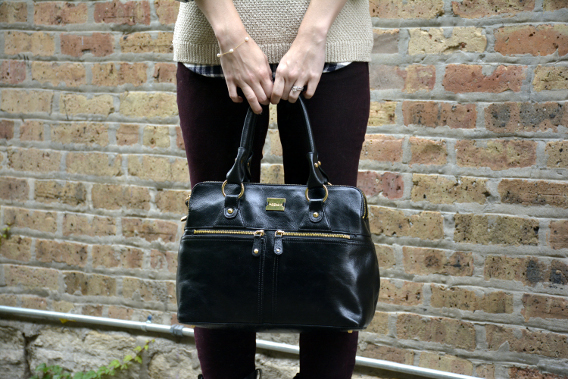 Sweater – Massimo Dutti (no longer available but similar here and here)
Plaid Shirt – Elizabeth and James (old, new season embellished-version here and similar color-scheme available here)
Skinnies – Burberry Brit 'Westbourne' (not currently available in burgundy but available in a medium-wash blue here and black here)
Boots – Roper Chunky-Heeled Cowboy Boots (old but similar here, here and here)
Purse – Modalu London 'Pippa' in Black (here)
Earrings – Tiffany & Co Pearl Studs (here)
Bracelet – Tiffany & Co Elsa Peretti 'Pearls By the Yard' (here)
For three years I've been searching for a pair of burgundy jeans to wear around autumn but could never find the right hue and cut. While snooping around Nordstrom Rack a few weeks ago I came across this Burberry Brit pair and was smitten (especially with the 73% off price tag). They are skinny without being skin-tight, have a slimming vertical seam down the back and the color mixes in so well with my autumn closet staples (like this sweater which I also featured in this post) that it acts like a neutral. Finding these felt like the autumn closet jackpot!
And if this purse looks familiar, it's because you've seen it before in its gray 'brogue' incarnation. I cannot say enough about how much I love this bag — years ago, after Pippa Middleton sparked a worldwide obsession carrying it around London after the Royal Wedding, I knew I had to have one of my own. It's the perfect blend of classic chic and practicality (it even fits my enormous DSLR) that coordinates with pretty much any outfit. I'm a firm believer in finding what works for you and this purse meets all my needs perfectly — I suppose that's why I own it in two colors.
What are some of your favorite wardrobe pieces for autumn?