Once I returned from Alaska, the girls and I were desperate for a reconciliation. Gigi, Starr, Katherine and I met at the new Lincoln Park location of Le Pain Quotidien (LPQ) for a much-needed blogger reunion over good food and strong coffee (emphasis on strong coffee). 
Gigi's bright pink raspberry lemonade made a lovely contrast to our bowls and bowls and bowls of java that morning.
Life is a lot better when you have a giant mug of coffee in your hands, don't you think? Being with good friends is a lot like riding a bicycle — it doesn't matter how long it's been, you pick up right where you left off! Gigi, Starr, Katherine and I shared our stories and adventures over the past few weeks like no time had passed at all until…
OUR FOOD ARRIVED! Starr's side of smoked salmon had us all drooling…
As did Gigi's smoked salmon omelette. I deeply love good brunch food but I especially appreciate all the lox options here around Chicago. LPQ serves their omelettes with crusty bread and a side salad drizzled in basil oil… swoon!
But because Food 52 had declared that week 'Avocado Toast Week', I could not resist celebrating and ordered LPQ's famous-version.
Their avocado mash is topped with citrus cumin salt, chia seeds, a simple drizzle of olive oil and fresh-squeezed lemon (if desired). The zesty bright flavors work beautifully with the cooling creaminess of the avocado and the crusty bread adds that necessary "crunch" factor. I love how simple and elegant this meal is while still feeling substantial and decadent. The monounsaturated fats don't hurt either.

Taking my first heavenly bite.
But the real brunch champion was this whopper of a bakery order…. THE FRENCH CREAM DONUT! Look at this mega-monster of a breakfast pastry — doesn't it just have you swooning in pâtisserie perfection? The donut itself is a spring-y golden dough stuffed to the literal brim with its namesake french cream filling: a divine marriage of a bright, true cream flavor and slight sweetness balanced with delicate flecks of vanilla bean. 
Just look at this whopper! I won't even attempt to show you the hilarious ways in which we tackled and ate this bad boy but it was comical, to say the least. Just promise me, if you haven't tried it, do so. Do so now! 
Now that it's fall, I have unabashedly abandoned my summer wardrobe for one filled with tans, camels, chocolates, and burgundies. This bag instantly transforms any outfit into an autumn ensemble and so I tote it around constantly throughout October (not available in my 'Burnt Camel' color but available in black here). I have this thing for anything pear-shaped so I consider this bag to be my satchel soulmate: large enough to carry my giant SLR but small enough to tote around pretty much anywhere. I think they call that "bag nirvana"?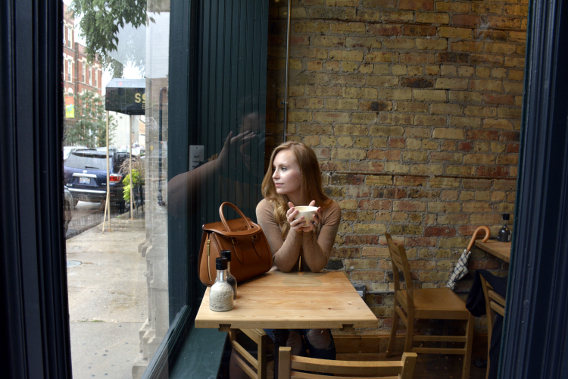 Gigi took this series of photos of me through the LPQ windows. I love this one the most because it's really a double portrait (see it?). Gigi is becoming quite brilliant behind the camera, isn't she?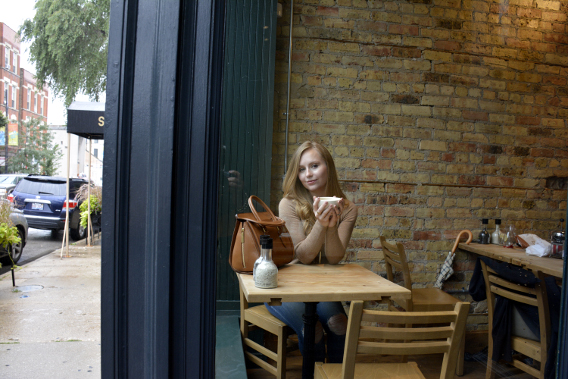 Just #coffeebowling and watching the rain…

After brunch we headed out into a slight drizzle. Luckily I always come prepared for the rain and brought my camel Tattersall Plaid umbrella from Brooks Brothers (here). My cashmere sweater is J. Crew (on sale here) and was featured in my neutral sweaters post last week. Jeans were a birthday present from Mom and Sis and are by J Brand (on sale here in select sizes and also available here). My tortoise-shell pumps are L.K. Bennett Sledges (no longer available but similar here and here). Mad Men-style pen necklace: Kate Spade (no longer available but similar here and here).
Pro tip: if you get caught in the rain in your good leather pumps, don't fret! Try and avoid as many puddles as possible then once you get home, wipe the soles thoroughly with a microfiber cloth and allow them to dry completely before storing them away. I always waterproof my leather goods with this and it works marvelously!
This gold ring was a vintage gift from my grandmother. The pattern on it has different 'X's and 'O' patterns on it so it was named the "love" ring. My nail polish is a smokey-rose nude and is OPI 'Dulce de Leche' (here).
Nothing says autumn more than a rainy brunch filled with hot coffee, excellent conversation, and lots of sweaters! Read Katherine's fabulous sweater post on our coffee date here.