It's been so long since my last post! Don't worry, I haven't forgotten about you all, dear readers. H and I just returned from an 8-day cruise to Alaska and I simply can't wait to share our adventure with you. But first, I need to tell you about a unique culinary event we were honored to attend back onAugust 22nd. A Magnificent Taste, an event benefitting Common Threads (an organization which teaches underprivileged children to cook healthy and wholesome meals), featured 12 Chicago restaurants showcasing their very best bite-sized delights under swanky white tents right on Pioneer Court. The event, part of the Magnificent Mile Shopping Festival, included many of Chicago's most well-known chefs as well as Top Chef's Sam Talbot (oh-so-appropriately dubbed one of People Magazine's Sexiest Men Alive in 2012).
Seth Moliterno's polenta, truffle, and heirloom tomato dish for The Lobby of the Peninsula Hotel.

Quartino's House-Made Duck Prosciutto and Cantaloupe Soup.
Chef Sam Talbot's Dungeness Crab, Collard Greens and Pimento Cheese Aioli on Toast (recipe found here). I would rather dub this dish "Heaven on Toast". This nibble was a divine marriage of salty, sour, and pungent flavors which, I'm embarrassed to admit, had me running back for more and more samples. This dish has inspired me to try my hand at Talbot's Crab Ceviche with Blueberries and Popcorn from his cookbook, The Sweet Life, too.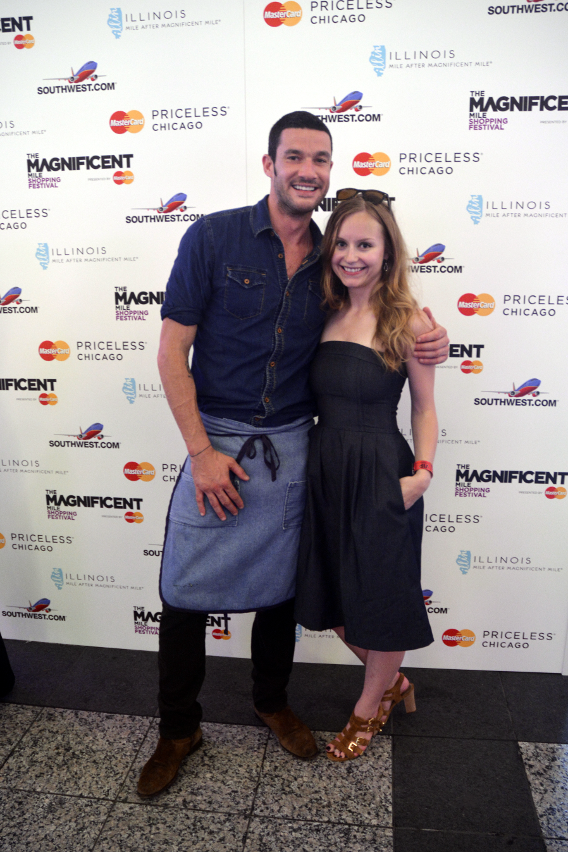 Getting to meet Sam Talbot in person was THE highlight of the evening for an amateur gourmand like myself. As loving and personable as he appears on television, Chef Talbot's passion for sustainable food and charitable endeavors absolutely floored me. Diagnosed with Type I Diabetes as a child, he now champions healthy lifestyles and diabetes awareness and is in the process of writing a children's healthy food encyclopedia, available next year. I also am now anxiously awaiting his new FYI network show "Reverse Course". Set to air in early 2015, it turns the farm-to-table dining concept upside-down by first showcasing the meal and then sourcing each of the ingredients and components of the meal in reverse (hence the witty title).
The high heat and humidity made dressing for the event a small challenge. I ended up donning my summer uniform, swapping out my sandals for these Dune London heels. Thank goodness I did – quite a few women were suffering so badly in their outfits that their make-up began melting off!

Allium's Lemon Fish Crudo with Heirloom Tomato, Verbena, Thai Chili and Basil Seeds deserves two photos. I love a simple seafood dish but the mixture of flavors and textures (thanks to the basil seeds) in this was masterful and beautifully photogenic.
With the summer heat in full swing, these vanilla ice cream pops draped in maple syrup from Deca were a swoon-worthy respite from the weather.Being raised by a true Southerner, I simply could not pass up Seasons 52's mini pecan pie dessert either!
Naturally I found Hubby constantly orbiting the Magnolia Bakery table…
Which totally deserved to be orbited – their frosting could solve world peace… in my humble opinion.
What an event, what a view, what a mouthful! I can't wait for next year!
Disclosure: I received complimentary admission to facilitate this post. Review and all opinions are my own.